The living room is the heart of the home. It's where you catch a family movie or just relax. To create the interior space of your dreams, there's no need to hire a professional interior designer. Whether it's time for redo or a quick refresh, transform your living space with these living room decorating ideas.
Before You Start Decorating Your Living Room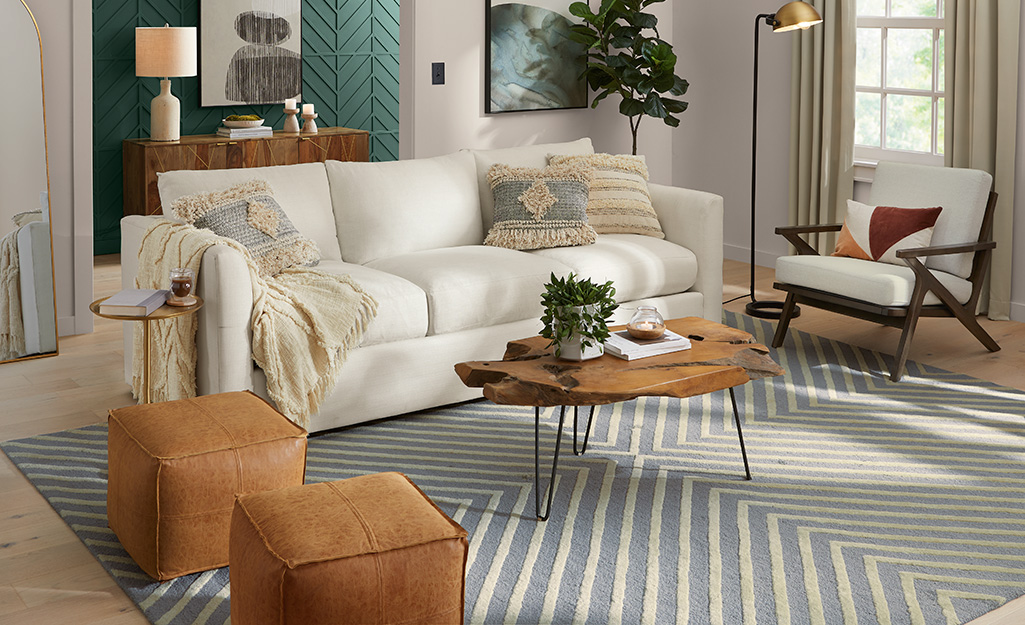 The first step to take when decorating a living room is to determine your style. Do you like traditional furniture pieces with claw-foot legs, dark woods and leather upholstery? Or, do you prefer the trendy mid-century modern living room ideas with its clean lines and organic curves? How about farmhouse living room ideas that include rustic finishes and vintage-look seating. Look through magazines or online photos to gather living room inspiration from popular living room decor ideas. Knowing your style will help you decide on living room furniture, living room paint colors, window coverings, rugs and accessories. Also, take into consideration what pieces you already have and if you plan to use them in your living room redo. 
Living Room Decorating Ideas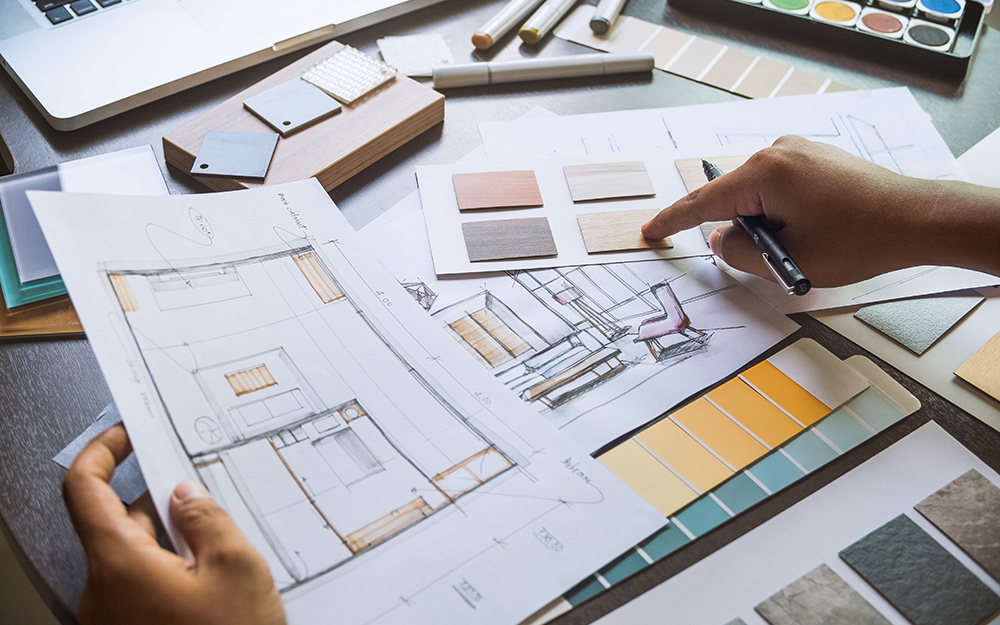 Before you stock up on the latest trends on family room decor and accessories, there are a few details to consider on how to decorate a living room. Here are some ideas for living rooms that will help you transform your living room into a space your whole family will love.
Size and Measurements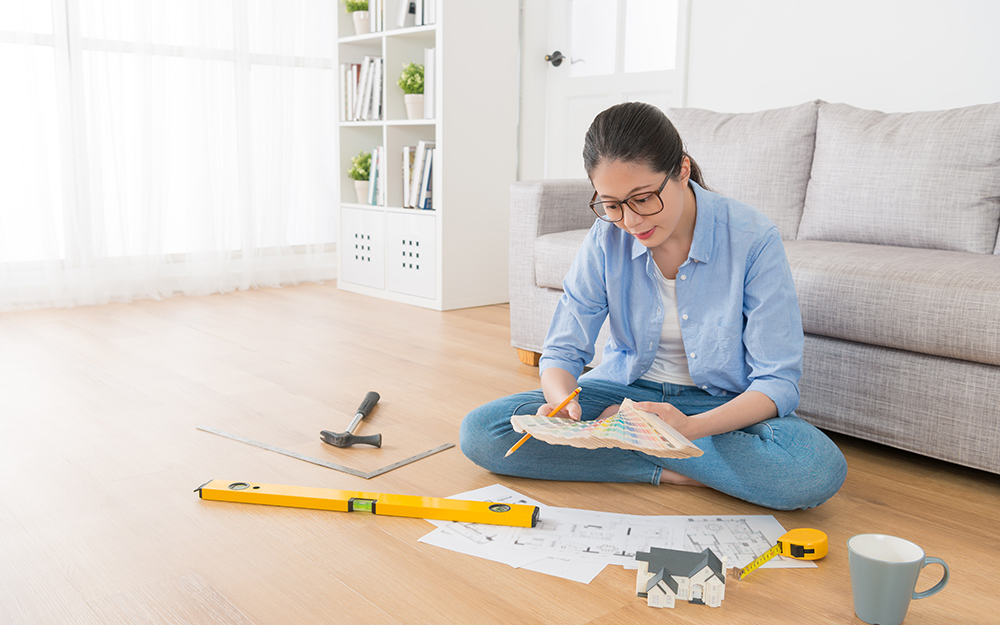 Take the room's measurements before you start decorating your living room. This will ensure you find the right size furniture, area rugs and art work. In order to balance your living space, your furniture and accessories need to be proportional to the surroundings. This is especially important for a small living family room. No matter what size your space is, having that information is vital. Here are some measurements to take as you plan:
Square footage of the floor. This will help you order the right amount of flooring or the right size area rug.
Square footage of the walls. This will help you determine the amount of paint to purchase and correctly-sized art pieces.
Perimeter. This calculation will help you determine the size and scale of the furniture pieces to use. 
Location of furniture. Before you start updating your living room, make sure your furniture is arranged the way you want it. Arranging furniture can change the whole feel of your space, making it feel more open and airy, or cluttered and full.
Paint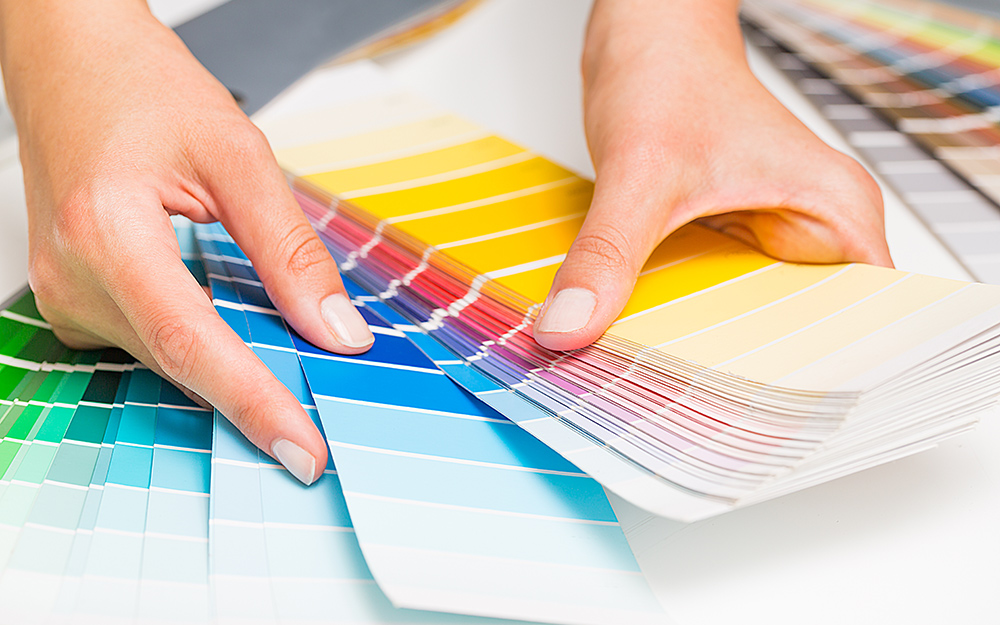 Choosing a palette for your living room is exciting, yet many people struggle with the decision. Don't let this step stress you out. Painting is inexpensive and temporary. It's the one thing in your design arsenal that will make a large impact in your space without breaking the bank. If you are at a loss on where to start, consider these elements to help you decide on the color palette for your space:
Focal point. Is there a piece of furniture, art or an architectural element in your living room you want to highlight? Take note of the colors and tones. You could paint an accent wall to highlight the focal point or to add pops of color to the space. 
Furniture color. As with the focal point, your furniture will help you decide what color to paint the walls. Is the furniture made with dark wood? Is the upholstery neutral or patterned with warm or cool colors? Is the furniture neutral-, warm- or cool-toned? The answer to these questions will help you determine the right color for your walls. 
Floor color. Even the tone and color of the floor plays a role in living room colors. As with the furniture, take note whether the floor is neutral, warm or cool. 
Light. The main light source in your room can affect the color of your walls. Paint small sample areas or bring home paint chips to your living room. Look at the paint in natural light and with the artificial light in your room. Examine how the color looks in both. Pick a color that looks good to you in both natural and artificial light. 
The easiest way to understand how color works together is to use a color wheel. It will help you see the relationships between different hues. Understanding the color wheel will help create a naturally balanced room. Use The Home Depot  ProjectColor App for paint color inspiration. 
Lighting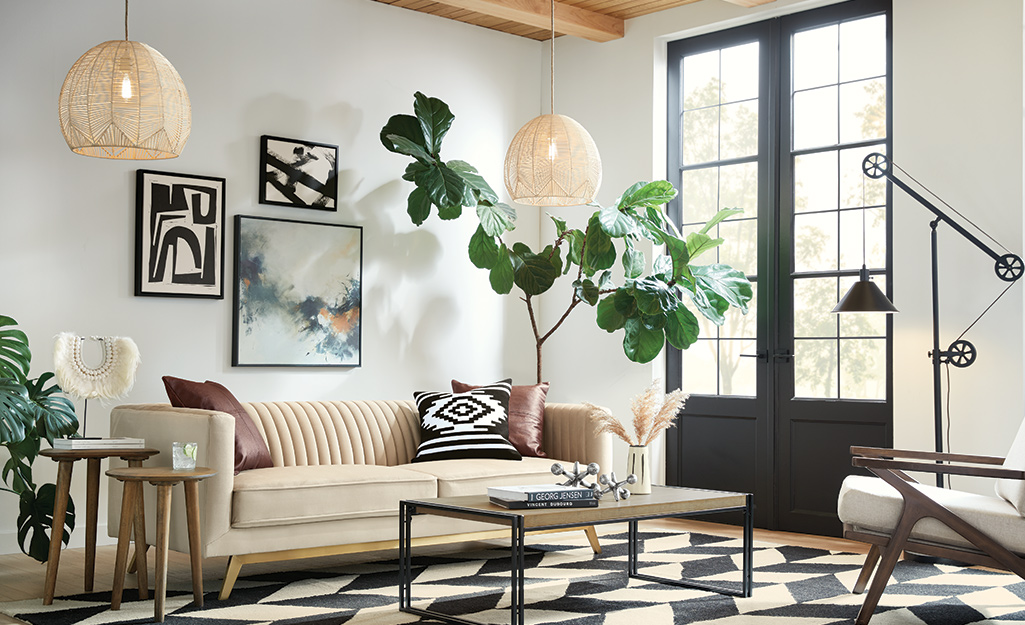 Lighting in a room serves to illuminate the space and to hightlight a focal point. Lighting falls into three categories: ambient, task and accent. Include each type of light in your room, if possible.
Ambient light is natural light. This is light that comes in from your windows, glass doors or skylight. You can control ambient light with the use of decorative curtains, shades or screens that match your space.
Task light is the main lighting in your space. Task light doesn't need to be bland either. Task lights will be the main source of light in your living room at night or when there is little to no ambient light. Set the tone in living room by selecting the task lighting that matches the mood of your space. If you wish to make the space bright and airy, use daylight or LED bulbs. If you prefer warm and cozy, consider light bulbs that cast a yellow light into the space.
Accent light is for small areas or objects you want to highlight. Accent lights are sconces, chandeliers, floor and table lamps. Use accent lights to highlight accessories and focal points, as well as, provide extra light to dark areas. 
Furniture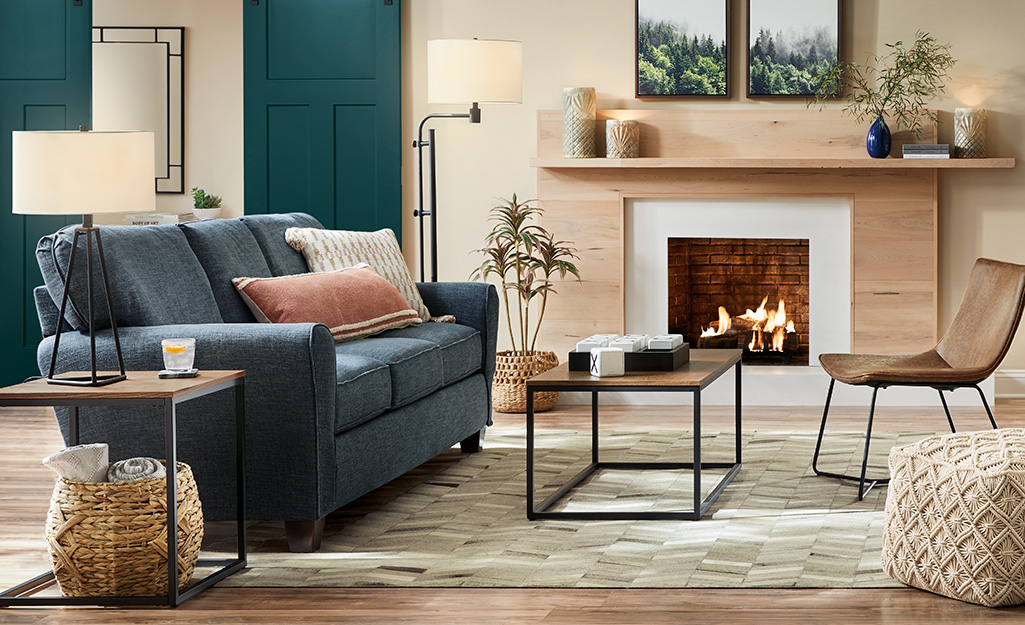 Furniture is the cornerstone of your living space. Once you've selected the pieces you plan to use, it's all about placement. Many homeowners struggle with furniture arranging. Here are some things to consider when you arrange your furniture:
Chose a focal point. This is an easy way to determine the flow of your living room. Some common focal points to use in a living room are a fireplace, a large mirror, a large piece of art or an accent wall. 
Create a conversation area. Leave open space around furniture to allow for easy movement. Don't push all your furniture along a wall. Pull in the seating into a living space to create a homier feel.
Rooms are all about balance. Group your furniture together and don't leave chairs all by themselves in a corner.
Determine traffic flow. You can control the movement in the space by strategically placing your furniture. Before adding furniture take into consideration doors and windows, and whether the door swings in or out. Leave 24 inches of space around your sofa, coffee table, accent table and end tables to allow for easy maneuvering. 
Rugs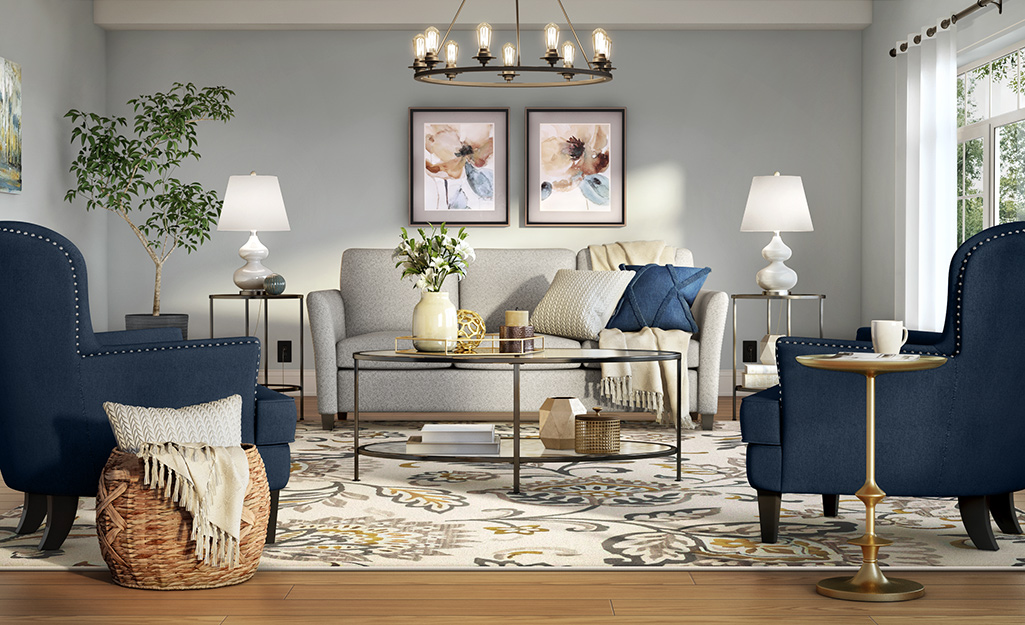 Rugs are great accessories that can hide trouble spots on your floor, add color and texture and bring a space together. The size of the rug is the most important factor in selecting a rug. If an area rug is too small, it will make the entire room look disjointed. All your furniture should be able to sit on top of the rug. Leave 10 to 20 inches of bare floor between the edges of the rugs and the walls. This will give your living space an overall cohesive design.
Art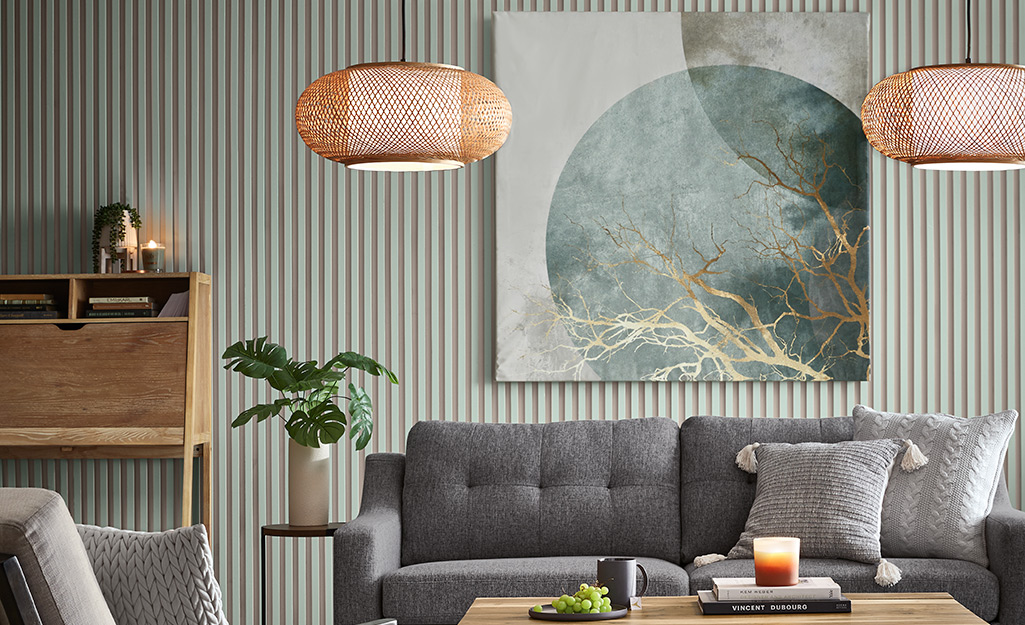 Empty walls make a room feel incomplete. However, you don't need to fill every inch of wall with artwork. Consider displaying family photos in a gallery style or highlight large wall art pieces on their own. There are no rules when it comes to displaying artwork. Just focus on balancing size and color for a cohesive look.
Tip: Art isn't just two-dimensional. Three-dimensional wall sculptures can add drama to a room.
Accessories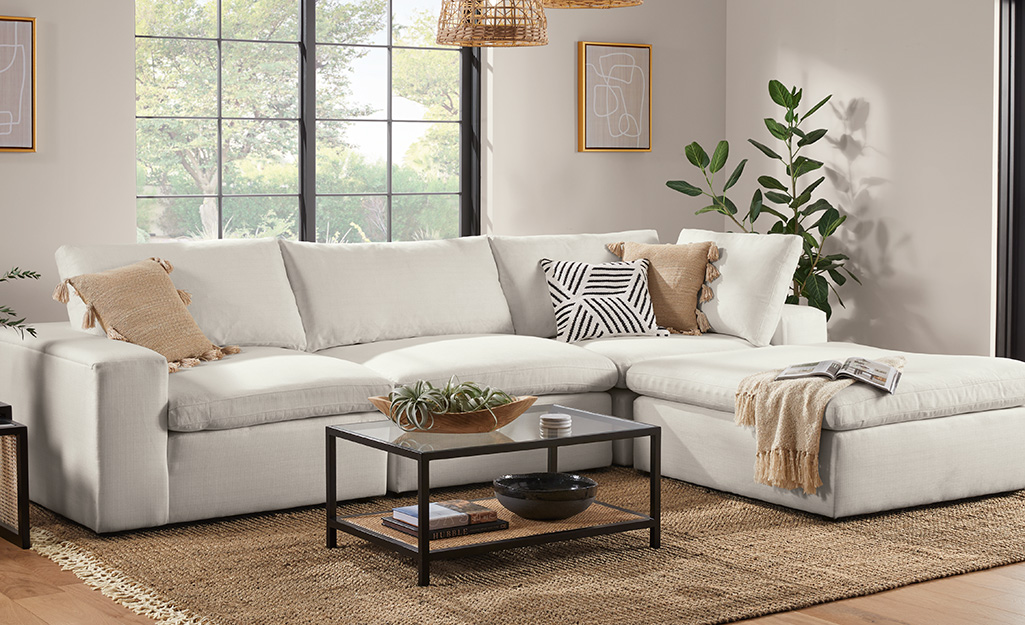 Nothing finishes a room like accessories. Throw pillows, curtains and blinds, throw blankets, baskets and more will complete the look of your living space. Let your creativity go wild when it comes to accessories, since they are temporary. Swap out patterns and colors depending on the season or if you want to quickly change the look of a room. We offer the latest styles in home accessories for all of your living room decorating aspirations.
Tip: Use a mirror in a small living room to make your space appear larger and more open, while also increasing natural light.
Wallpaper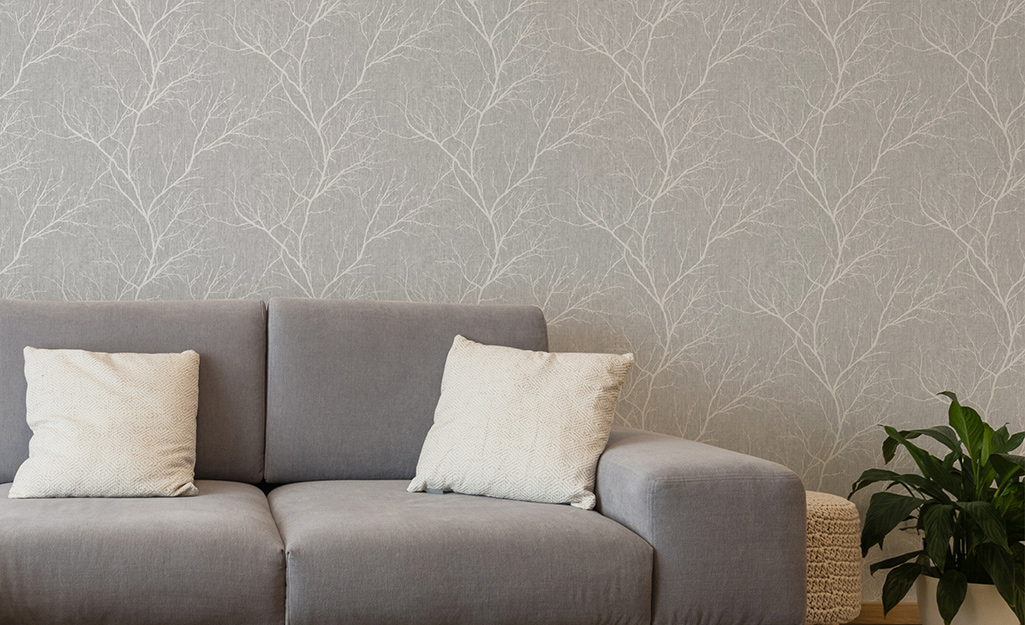 There are a number of ways to make sure you get the desired look from wallpaper when decorating your living room. For example, peel and stick wallpaper can transform a room almost instantly. You can install peel and stick wallpaper in minutes and remove it just as easily, without damaging the surface beneath. So whether you're looking to use wallpaper for farmhouse styles, contemporary looks and more, there will always be a wallpaper to use for living room decorating ideas.
You can use wallpaper on most areas of your living room, such as the ceiling, walls, in fireplaces and more. Use darker wallpapers to make the room feel smaller, cool and relaxed. Floral wallpapers draw the eye and can add welcome color to your space. Light colors make a room look larger and brighter, while large patterns create a more intimate environment. 
Decorating your living room doesn't need to be a hard or time-consuming project. There are many living room decorating ideas and ways to decorate, so you can adopt whatever decor works best for you. We offer the latest styles in pillows, rugs and other living room decorating ideas to complete your space. The Home Depot delivers online orders when and where you need them.