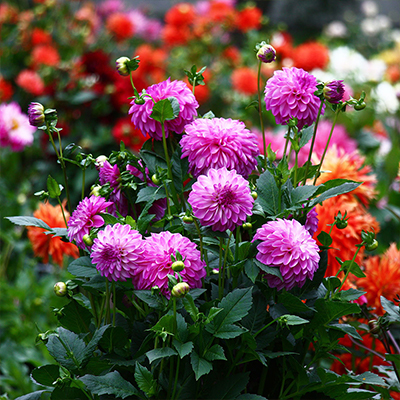 Fill your garden with beautiful blooms this year when you select colorful, durable perennials. You can fill your home with abundant bouquets when you add the best flowers for cutting to your garden.
If you're a new gardener, it's important to understand the difference between annuals and perennials. Annuals complete their life cycle in a single season. They add abundant color to your garden beds and containers. Popular examples you'll find in the Garden Center include impatiens, zinnias, marigolds and begonias.
Perennials, on the other hand, bloom in season, go dormant through winter, and emerge again the next spring. Roses are probably the most popular perennial for bouquets, but the category is expansive, including herbs like lavender and bulbs like lilies. 
Popular perennials for cutting include daisies, asters and chrysanthemums. Even shade lovers like hosta, heuchera and hellebores can be used in cut flower arrangements.
Of course, your hardiness zone determines what plants are perennial where you live. Learn more about hardiness zones and the differences between perennials and annuals.
Explore More on homedepot.com