If you're looking for an easy or different way to divide your room (without having to hire someone to install a new wall), or simply looking for a stylized way to create a makeshift headboard, room dividers will do the trick. It's possible to make a divider out of many different items. In this guide, we will go through room dividers that you can use in most homes, apartments and other small spaces so you can choose the room divider that's right for you. 
Wall Room Dividers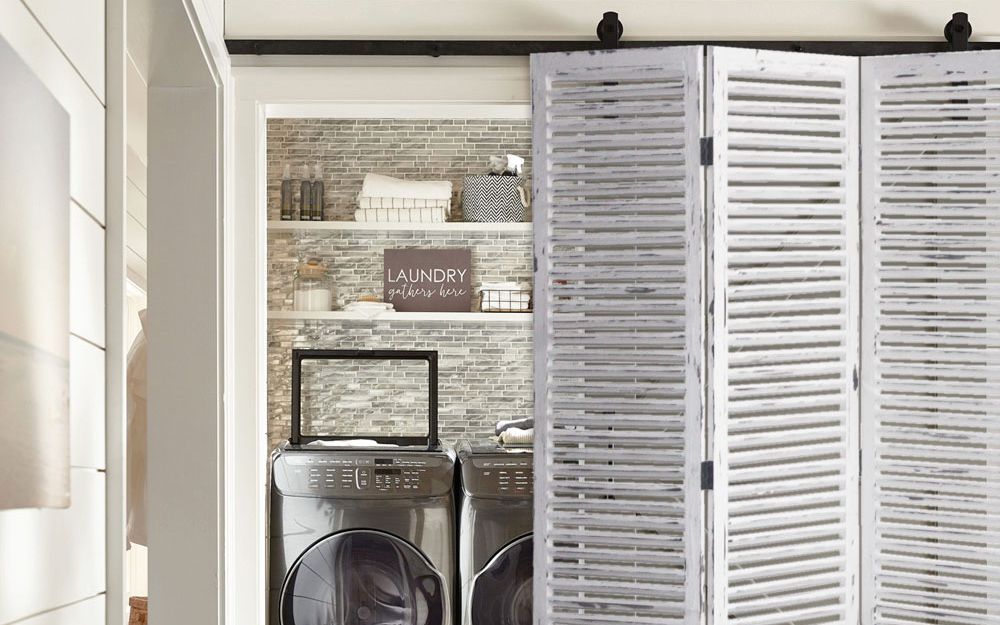 One of the most common dividers used in homes is a simple wall divider. Wall dividers can be placed almost anywhere and are made of various materials. They also come in different styles to suit your home's overall look and feel. If you're going for more rustic vibes, a wooden wall divider may be best. If your home has a more modern look, consider a sleek, white wall divider.
Some wall dividers are opaque while others may have open sections or panels. These are sometimes covered with glass panes, making them transparent in certain areas. This offers more of a decorative touch to your space.
If you purchase a wall divider for functionality purposes, make sure you know where you want it placed. Room dividers are essentially designed to help maximize your space. For apartments and smaller homes, placing a divider in a room can divide open areas into a bedroom, living room, dining room or even a mini home office. 
Bookcase Room Dividers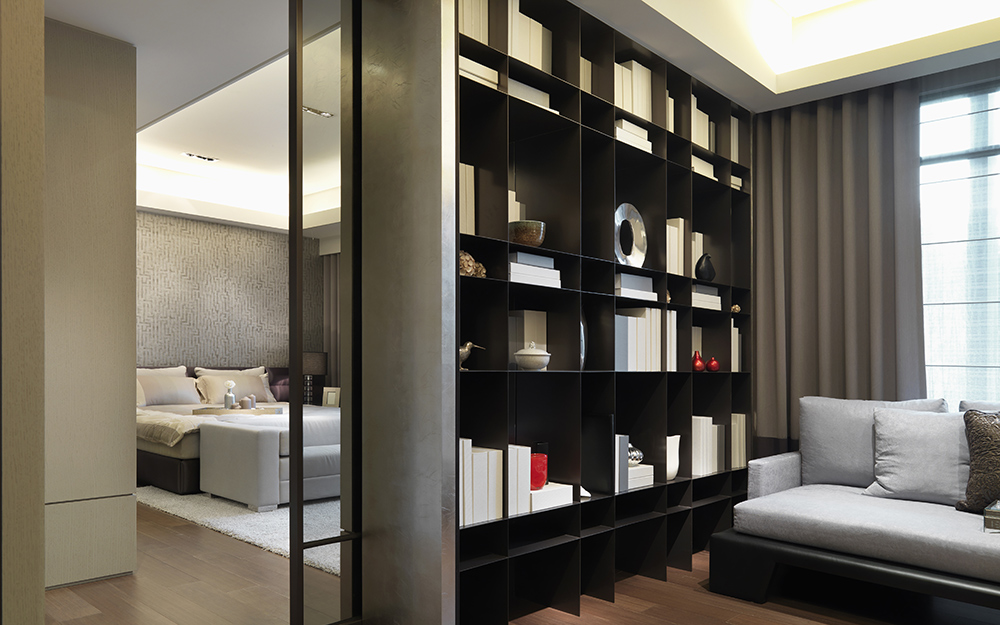 If you're looking for a more unique way to divide your space, consider a bookcase. Use multiple narrow bookcases to create a divider that's either short or tall. This is one of many room divider ideas.
Invest in a larger bookcase that creates one big divider while providing plenty of storage space. Open bookcases work best, but you can also get creative and find a bookshelf that fits your exact style. 
Hanging Room Dividers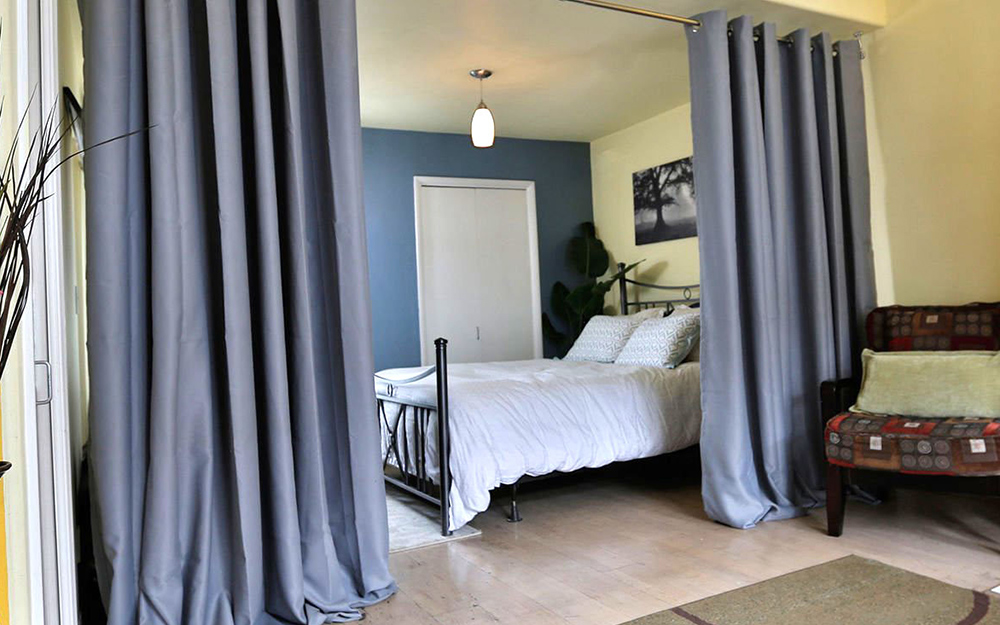 Hanging dividers are some of the most versatile options for room divider ideas. Not only can these dividers be made of curtains, sheets or tapestries, but they can also be hung almost anywhere. Using a rod or hooks, hanging dividers add a touch of elegance while carving out a bit of privacy. 
Curtain dividers can also come in handy if you live in a small space or studio. For example, if your living area and bedroom are essentially in the same space, a simple curtain, sheet or tapestry can add some separation. When you're not sleeping and ready to entertain, you can keep your bed hidden behind a curtain, or pull it back with ease to make the room appear larger. 
Door Room Dividers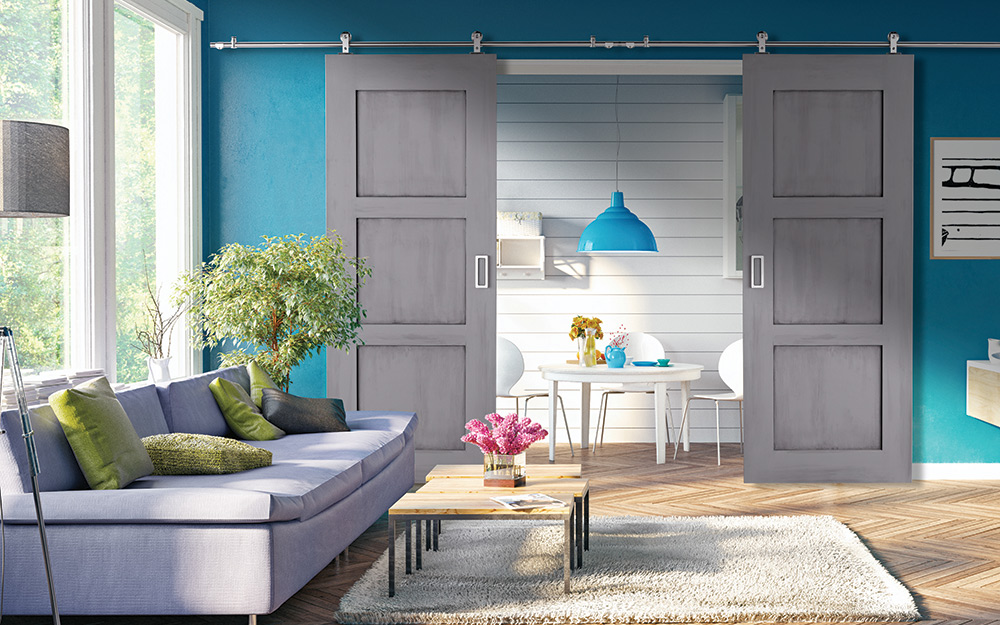 Another unique item that can be used as a divider is a hanging door. Already a natural divider between the outdoors and inside, you can take a door off its hinges and can fashion it however you please. 
The type of door you choose can help solidify a room's style. Barn doors give your space that rustic, farmhouse look, while sliding doors add a classic, sophisticated touch. 
If you're a fan of vintage-style doors, look for ones with an aged finish. Also consider mixing and matching doors or hinging them together to create a unique divider. If you want to add a pop of color, you can always paint your door divider in a vibrant hue. 
Plant Room Dividers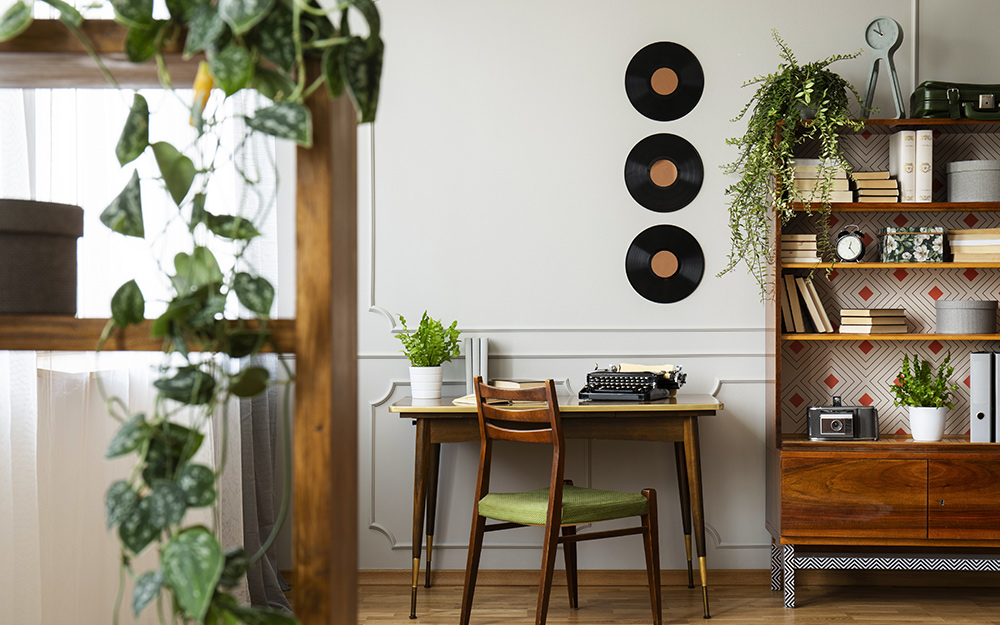 While a plant divider may be on the more difficult side, it's still possible to create. Use tree limbs or branches attached to a stable structure to create an all-natural divider. 
Another method is planting greenery on a trellis or in open storage and letting the plants wind their way up. As the plants vine and encircle the surface, the divider will turn into a wall of fresh foliage. 
Using room dividers like a folding screen, sliding door and plants are ways to create privacy in an open room. Room dividers are also great ideas for lofts and studio apartments. We're here to help you make the right choice for your needs. Ready to find the supplies you need in your local store? Use The Home Depot app to locate products and check inventory. We'll take you to the exact aisle and bay.  Snap a picture of an item you like and we'll show you similar products.
Explore More on homedepot.com