Ideas & Inspiration
Laundry Room Storage and Shelving Ideas
Turn your laundry room into an efficient, well-organized space in just a few simple steps. This guide will provide laundry room shelving and organization ideas, thoughts on laundry room design and help for storage between your washer and dryer. Read on to learn more about how to get the most out of this small room.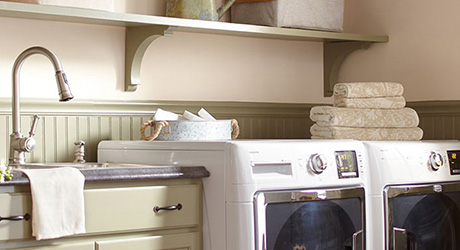 Laundry room organization seems daunting since you are working within a small space, but don't be intimidated. Take advantage of wall-mounted shelves and cabinets in order to save as much floor space as possible.
One of the most popular and functional uses for laundry room shelving is to add shelving or cabinets above your washer and dryer. This is an easy, convenient way to store your detergents, stain removers, dryer sheets and any other laundry must-haves.

The simplest way to add laundry room shelving above your machines is to install basic open shelving: choose from inexpensive wall-mounted wire shelves or more elegant wall-mounted wood shelves.

If you'd prefer to keep your space less cluttered, keep your laundry supplies stored behind cabinet doors. Install a standard two-door kitchen cabinet that matches your home's décor, wall cabinets specifically designed to take advantage of small laundry room spaces, or create a cabinet system to match your exact laundry room measurements with The Home Depot's Closet Design Center.
Once you've installed your shelves or cabinetry, get some containers to hold all of your laundry supplies. Select from small drawers and baskets, cubbies and cube storage, or other storage bins.
Tip: Install adjustable shelves that can be moved to meet your family's changing needs.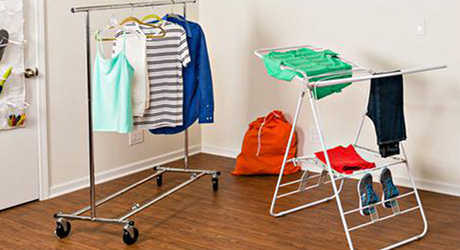 If you have stacking washers or a tight laundry space, a vertical wire shelving unit is a great addition to any laundry room. Make the most out of narrow spaces by adding wheels to tall shelving units and tucking them away when necessary.

You can also look for collapsible storage options that fold out from walls or the ceiling. Utilize a drying rack that hangs from the ceiling or the back of a door, a fold-away drying rack or ironing board that collapses into the wall, or a track system onto which you can attach shelves, bins or hooks.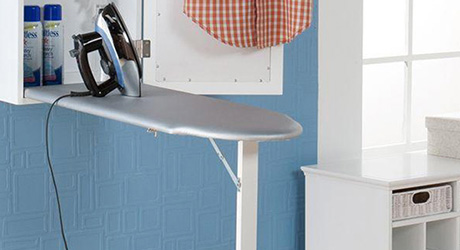 Having a variety of inexpensive, easy accessible laundry supplies on hand can instantly upgrade any laundry room.
Tip: Make sure at least one container serves a "junk drawer" of sorts to collect lonely socks, clothespins or buttons. Store an index card in there with stain removal tips for quick reference.
Ready to find the supplies you need in your local store? Use The Home Depot app to locate products and check inventory. We'll take you to the exact aisle and bay. Need it today? We'll deliver on your schedule. Order before noon for convenient scheduled same-day delivery.