Turn your laundry room into an efficient, well-organized space with just a few simple laundry room storage ideas. Organizing a laundry room can be as easy as trying out some new laundry room shelving ideas. This guide will give you laundry storage ideas and help you make the best use of whatever size space you have. 
Laundry Room Shelves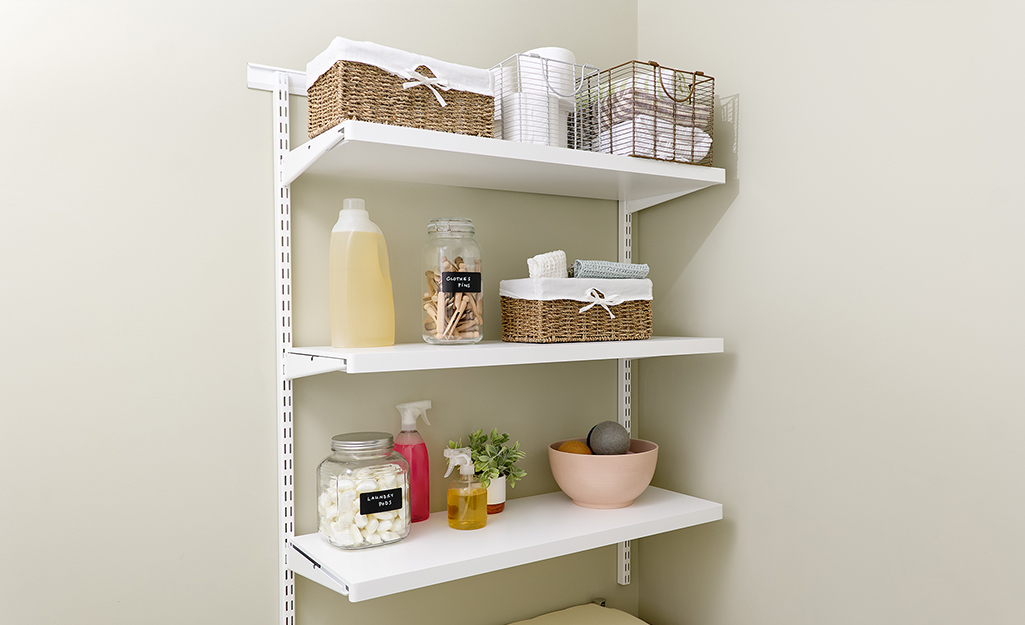 Laundry room organization seems daunting since you are working within a small space, but don't be intimidated. Take advantage of wall-mounted shelves in order to save as much floor space as possible. Try these laundry room shelving ideas:
Add open shelves above your washer and dryer. Open shelves keep detergents, stain removers, dryer sheets and other laundry supplies conveniently within reach.  
Install adjustable shelves that can be moved to meet your family's changing needs. 
Wire shelving is an inexpensive, easy-to-install option. For a more customized look, install wall-mounted wood shelves. 
Take advantage of all your available space with corner shelves. 
Repurpose an unused bookshelf in a laundry room that's low on built-in storage. 
Tip: If you have a top-load washer and dryer, remember to leave enough clearance for their doors to open.  
Laundry Room Cabinets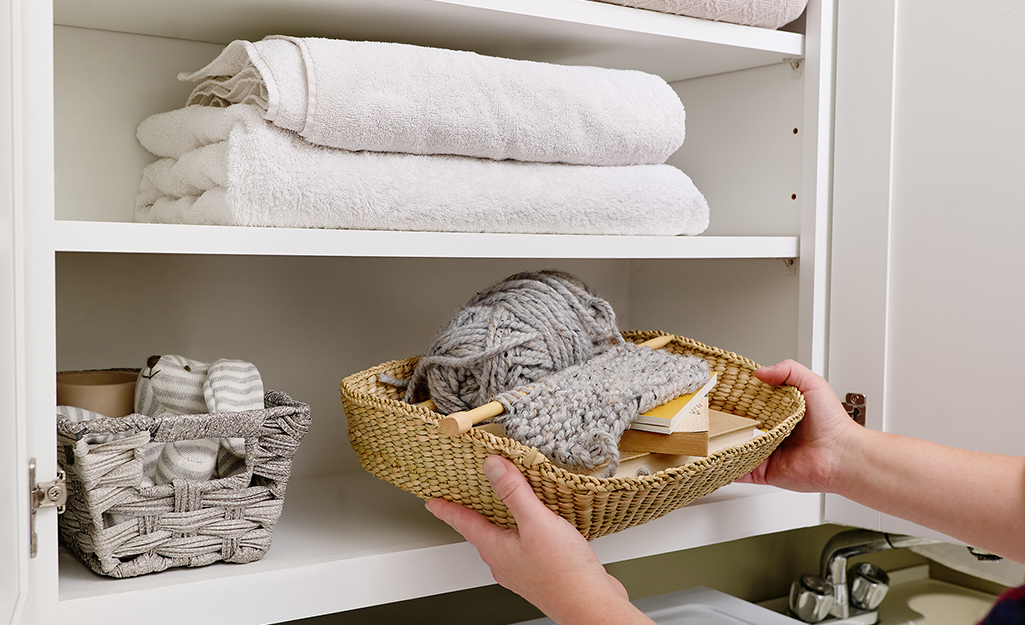 If you'd prefer to keep your space less cluttered, keep your laundry supplies stored behind cabinet doors.
Install a standard two-door kitchen cabinet that matches your home's decor.  
For small laundry rooms, find laundry room cabinets specifically designed to fit around washers and dryers.  
Create a cabinet system to match your exact laundry room measurements and needs with The Home Depot's Closet Design Center. 
Create custom cabinets that hide your washer and dryer. This can be a great solution if your laundry space is in your bathroom or kitchen. Plus, the cabinet doors will help muffle the noise of the machines.  
Install a countertop with cabinets underneath to give yourself both storage and a workspace. 
Laundry Room Hanging Storage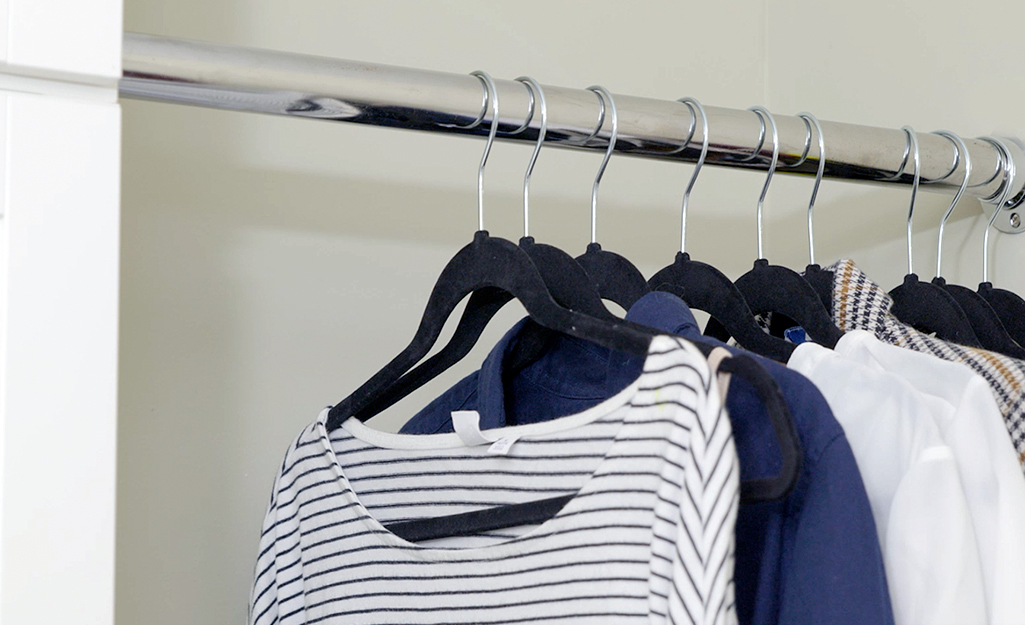 In addition to shelving and cabinet laundry room storage ideas, consider adding hanging storage. Hanging storage is especially helpful in small laundry rooms.
If you have wire shelves, you can hook hangers directly onto the shelf.  
If you have wood shelves, consider designing your shelves to have a tension rod or hanging bar below them. Leave enough room between the bottom shelf and the floor, cabinets or machines to make sure you have enough hanging space.  
Add a freestanding drying rack to your laundry room if you have the floor space. If you don't have much floor space, consider a drying rack that folds out from the wall, door or ceiling.  
Install hooks to the backs of doors or on any free wall space. 
Hang a pegboard wall. A pegboard with hooks gives you adjustable hanging space for laundry and cleaning supplies, plus other miscellaneous items like dog leashes. 
Put a hanging shoe organizer on the back of the door to hold cleaning supplies. 
Tip: For a cleaner and more organized look, use matching clothing hangers. 
Storage Containers and Bins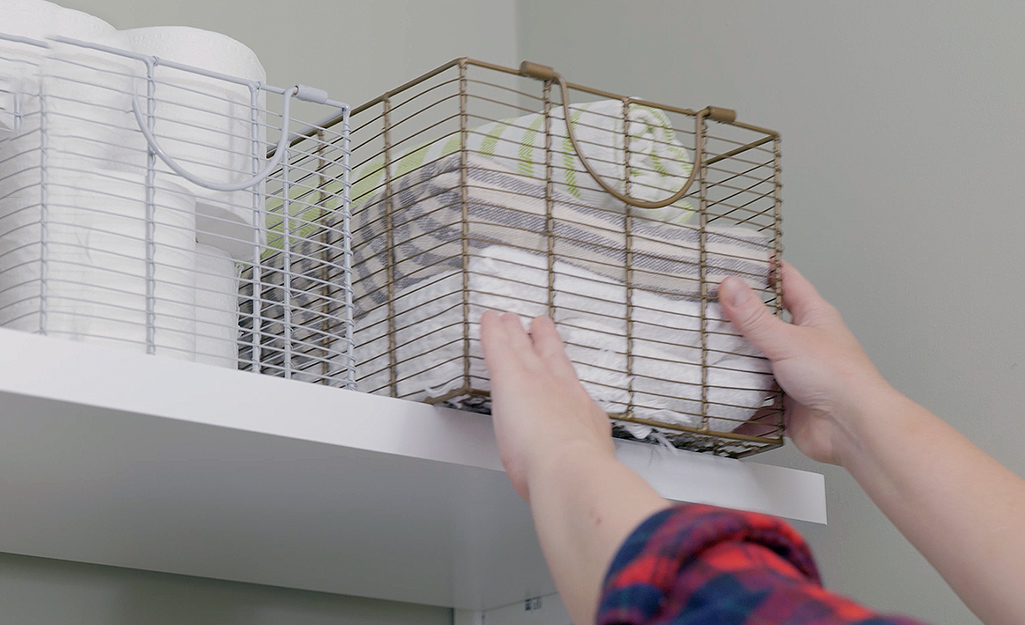 Organizing a laundry room becomes much easier when you have plenty of containers to store your supplies. 
Select from small drawers, baskets, cubbies and cube storage or other storage bins.  
Wire baskets are uniform and clean-looking and allow you to see exactly what's stored in them. 
Fabric cube storage disguises clutter and adds a decorative element to your laundry space. 
Turn powder detergent, laundry pods and clothespins into decor by storing them in glass containers. 
Keep a hamper or handled basket nearby for transporting laundry.  
Use a three-bag laundry hamper to quickly sort laundry into lights, darks and whites. 
Once you have your laundry supplies organized in attractive containers, add labels so anyone doing laundry can quickly find what they need. 
Tip: When storing containers on shelves, keep regularly used items on the lower shelves for easy access and store lesser used items on the top shelves. 
Small Laundry Room Storage Tips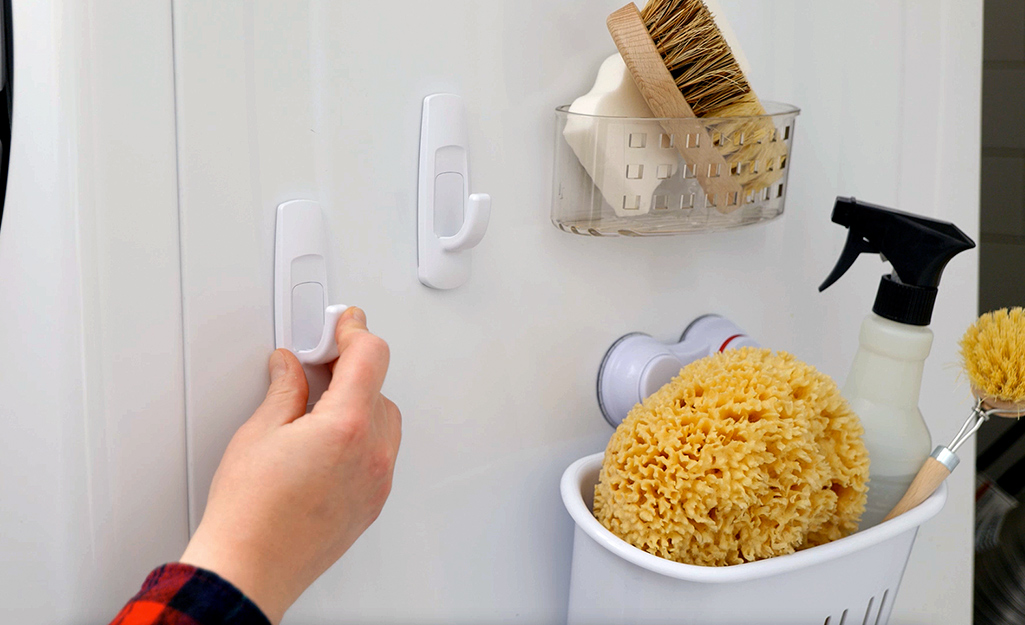 If you're working in a tight laundry room or have your washer and dryer in a closet, try these small laundry room organization ideas:
A vertical wire shelving unit is a great addition to any laundry room, especially laundry rooms with a stacked washer and dryer. 
Add laundry pedestals compatible with your washer and dryer. Many pedestals have a drawer for storage.  
Make the most out of narrow spaces by adding wheels to tall shelving units and tucking them away when necessary. 
The backs of doors are valuable hanging space in a small or closet laundry space.  
Install wall-mounted hanging racks that fold away when not in use. 
If you can't have a door to separate your laundry space, consider using a curtain. Hide your washer and dryer without taking up the space a door would need to open. 
A fold-away ironing board can double as a convenient folding table.  
Put a shelf over your washer and dryer to act as a countertop and a folding station. 
Laundry Room Organization Ideas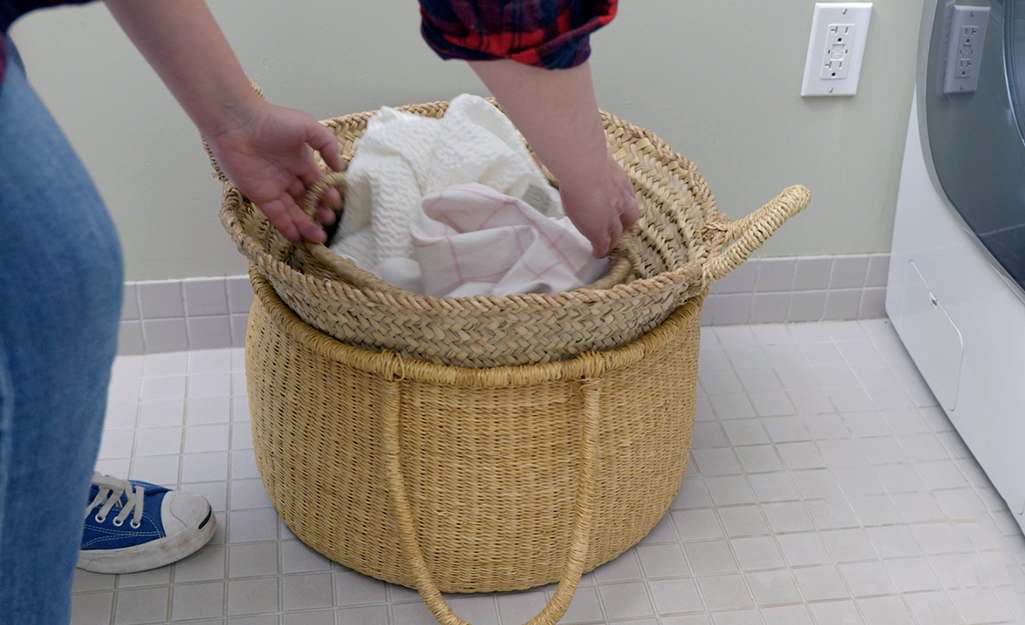 Having a variety of inexpensive, easily accessible laundry supplies on hand can instantly upgrade any laundry room. If you just need a little help cleaning up clutter and keeping your space neat, consider these laundry room organization ideas:
Extra laundry baskets: Whether you call them laundry baskets or laundry hampers, having plenty on hand will help make laundry time easier. Choose from plastic, woven or fabric options and then take advantage of having several baskets. Carry one around the house picking up dirty socks and dish towels, or use them to help you distribute clean clothes once they're folded.  
Laundry sorters: Easily separate colors into separate baskets with laundry sorters that have wheels for increased mobility.  
Flat surface for folding and ironing: Not every laundry room will have a space to add a folding table, but if you can squeeze one in, you'll create valuable space in your laundry room. In addition to being perfect for folding and sorting, it also comes in handy if you need to lay something flat to dry or just need to rest a pile of dirty clothes before it goes into the wash. Try using a laundry sorter that has a folding table on top.  
Step stools: Keep a step stool close by for reaching all your vertical storage. Find a step stool that folds and can fit easily between your washer and dryer for quick access. 
Miscellaneous container: Make sure at least one container serves a "junk drawer" of sorts to collect lonely socks, clothespins or buttons. Store an index card in there with stain removal tips for quick reference. 
Use a mix of these laundry room storage ideas to improve your laundry space. A combination of shelving, cabinets, hangers and containers can open up your laundry room and keep your supplies tidy. Find the types of laundry storage you want fast and easily with The Home Depot Mobile App. Snap a picture of an item you like, and we'll show you similar products. 
Explore More on homedepot.com