Whether you are interested in large area rugs or only have enough space to make small rugs possible, the difference between a hit and a miss when choosing a rug can literally be a matter of inches. The wrong rug sizes can break up otherwise cohesive decor statements and leave all of your rooms feeling slightly askew.
This guide will provide advice on choosing the right size area rugs and teach you how to place them in your home for the best effect and function.
When purchasing a room-size rug, select the rug first and then the furniture, drapes and other features. Large rugs can dominate your room, so it's important that the rest of the room coordinate well to achieve a pleasing and balanced look. Smaller rugs should be selected to match existing decor as much as possible. When choosing a color, darker hues help create a cozy, more intimate feel while lighter colors complement open spaces and make smaller rooms feel more spacious.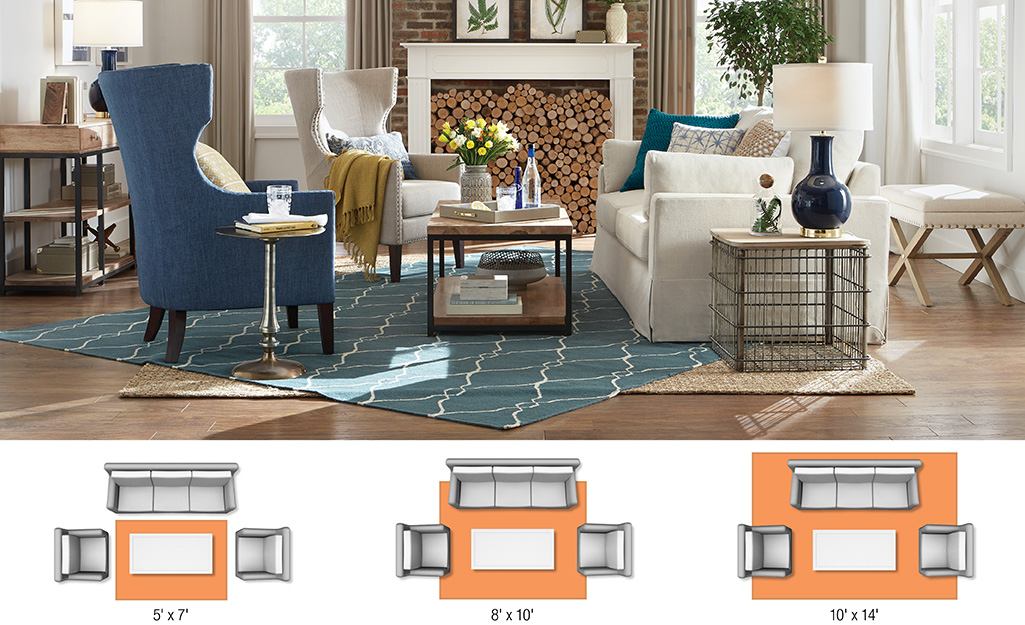 Living room rugs are often the most prominent home decor accessories. The size of the rug you select should take into account how you plan to arrange the furniture, along with the size of the room. Large room-size rugs— 9' x 12' is common—will look best with a floating furniture arrangement, where the furnishings are pulled away from the wall and rest entirely on the rug surface. If you prefer to have furniture hug the wall, a 6' x 9' or 8' x 10' rug can work well. In that arrangement, the front legs of all the room seating should rest on the rug while the coffee table occupies the center.
Trust your instincts when it comes to rug selection, but if you want confirmation that your color schemes work together, consult our information on color theory.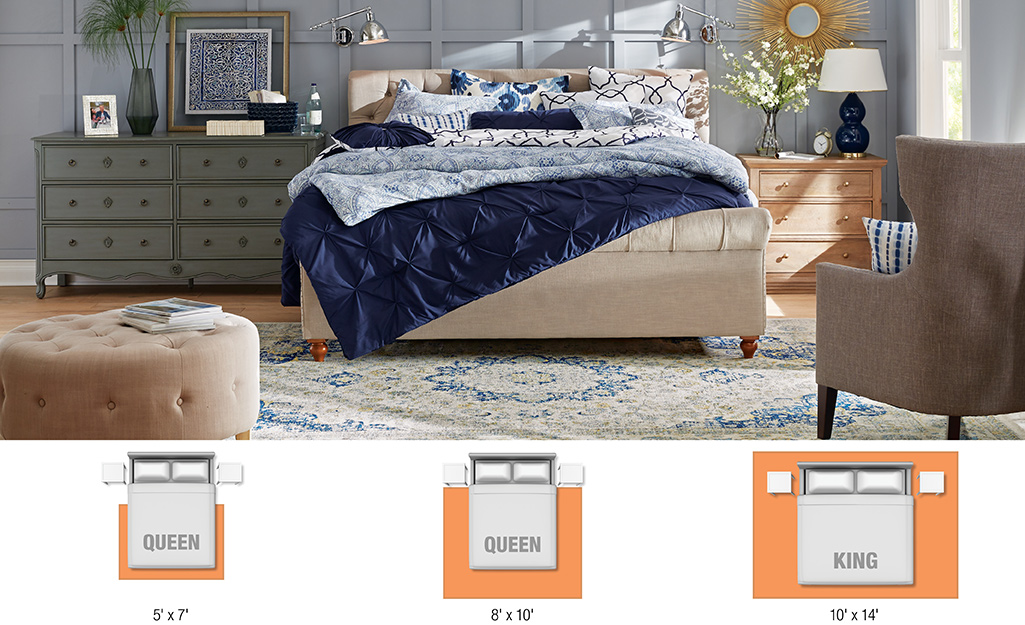 Bedroom rugs do much more than simply upgrade the look of the room. Using rugs to frame the bed ensures a comfortable place to land your feet when you rise or retire and warms up the room's interior to broadcast a cozy look and feel.
The size of the rug that will work best depends upon your preferred placement, as well as room size. Full coverage will align the top edge of the rug with the top of the bed and place any accompanying nightstands on top of the rug surface; an 8' x 10' or 9' x 12' rug will be ideal for this configuration.
A partial coverage configuration leaves the nightstands and top one-third of the bed over the bare floor so that the rug is aligned with the lower two-thirds of the bed. For this configuration, an 8' x 10' rug works well, but you can also get away with a 6' x 9' rug if it is oriented perpendicular to the bed. Partial coverage is also the best configuration if you have a king- or California king-sized bed, but you must use a larger rug.
A great, and less expensive, alternative to a large full rug is to use one or two runners alongside the bed. This works especially well in a bedroom where the bed is located against the wall.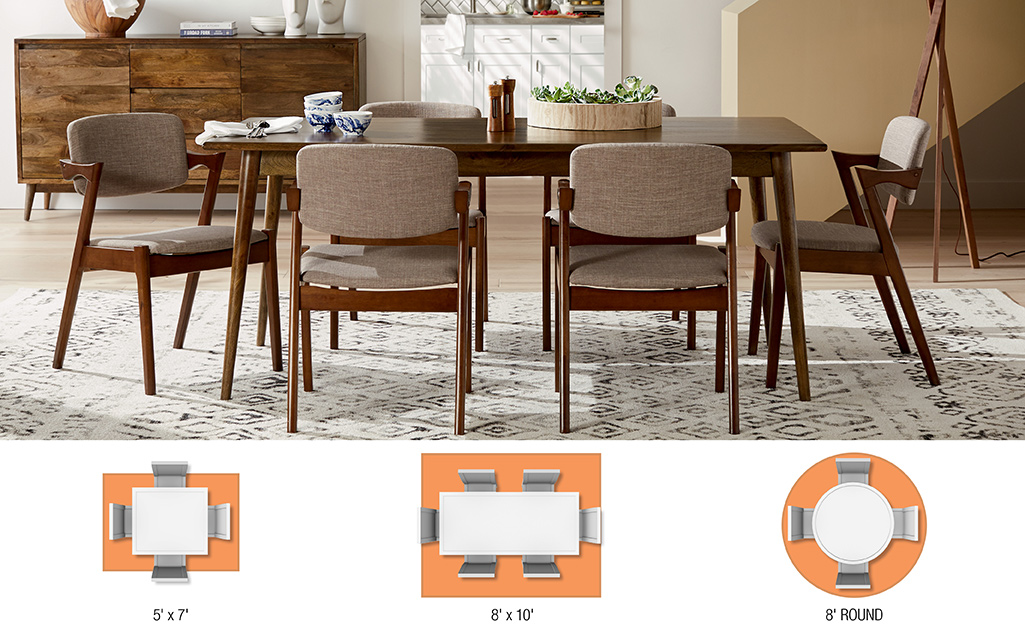 Dining room rugs make a nice frame for table and chair sets. When selecting a rug, ensure that it is large enough to accommodate the table and all four legs of each chair, even when the chairs are pushed back from the table. This is a safety issue as well; keeping the legs on the rug as the chair is eased back keeps it from potentially tipping over. This also helps ensure the chair legs won't scratch the floor surface.
A 9' x 12' rug will easily accommodate most 7-piece dining sets, but be sure to scale the rug to the space. In a small apartment, a bistro set used for dining could be better suited to a smaller rug, such as a 4' or 6' round rug to mimic the silhouette of the table.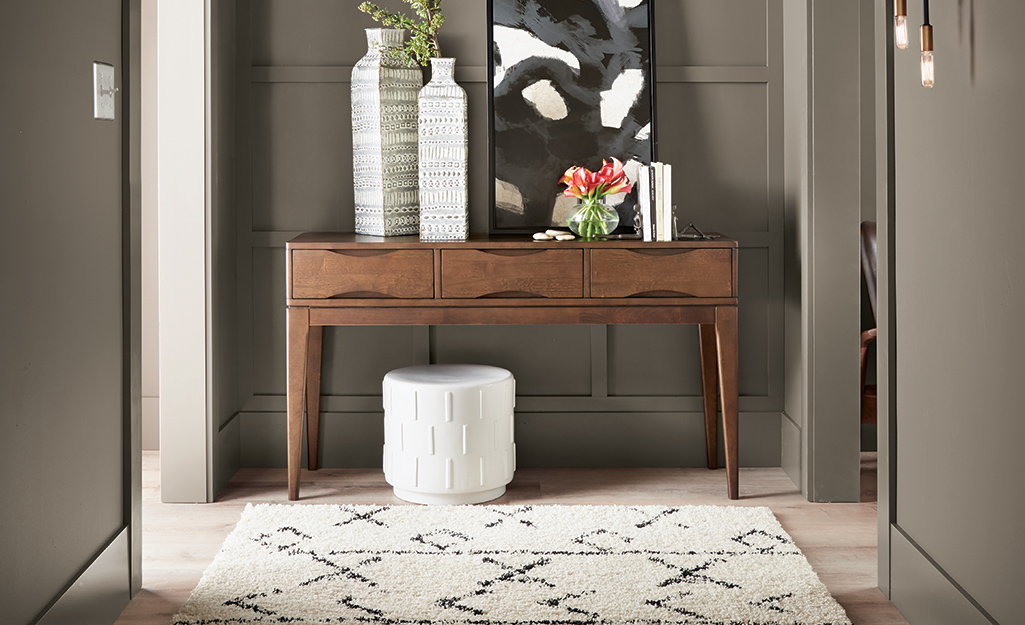 Bathroom: In a bathroom, an improperly sized rug can be a hazard. Too small, and water from the tub can run over onto the floor; too large, and the rug might not lie flat around fixtures and present a tripping hazard. Measure both the bathroom and the open floor space to determine the best rug size and shape. An average home bathroom can usually accommodate rug dimensions of 17- to 21-inch width and 24- to 34-inch length, but base your choice on your measurements. Be sure to select a rug pad that is resistant to mold and mildew to keep your rug in place and in good shape.
Kitchen: There is some contention over whether rugs should be used in a kitchen as a matter of safety, but there is no question that they add warmth and style to the space. In small kitchens with a fair amount of traffic, a single small area rug placed in front of the sink can pick up the decor of the kitchen and provide some comfort underfoot. A galley kitchen is more supportive of a runner to fill up the narrow space between the two walls. Remember again that rug pads are a safety necessity; they will hold the rug firmly in place on a tile, vinyl or hardwood kitchen floor.
Hallway: The most common configuration for hallway rugs is to align any furnishings along one wall and place a runner down the center of the hall. However, runners can be flanked with furniture as well, as long as the pieces are proportional. Most runner sizes are 8- or 12-foot lengths and the width is usually three feet or less. Be sure the rug you choose is narrow enough to leave clearance at the sides so that no furnishings are resting on the rug.
Entry: The entryway is a great place to display a non-standard shape such as a semi-circle or kidney-shaped rug. Let the size of the space inform the size of rug and don't be afraid to pick a rug with some personality. Remember that in most rooms, the rug frames the furnishings, while in an entryway the rug is the central focus. There should be a minimum of six inches of floor space visible around the rug. Ensure that the rug material is durable since it will rest in a high-traffic area.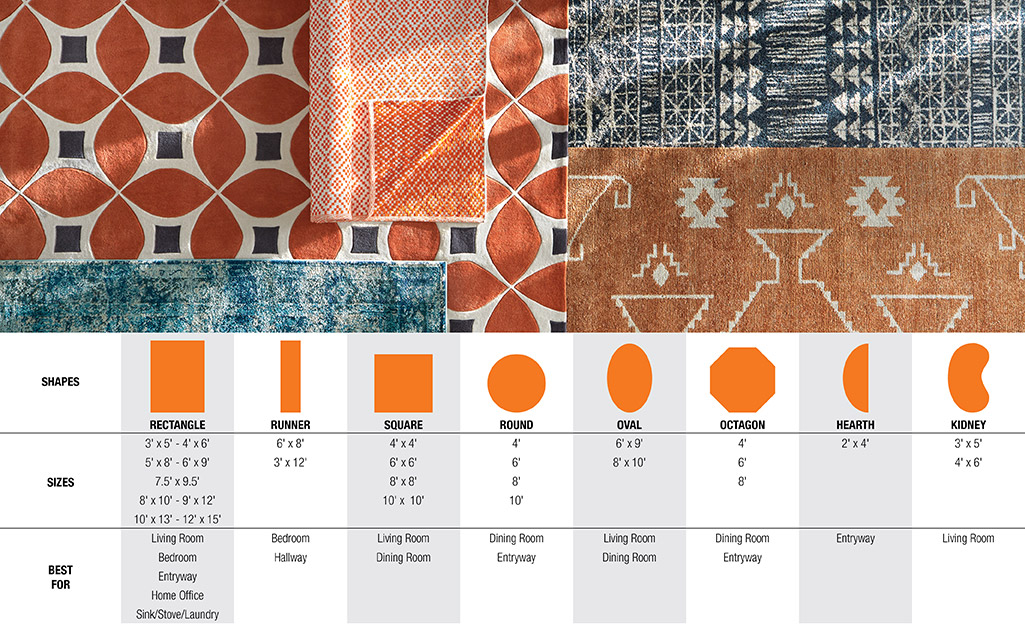 Rectangle rugs are best for living rooms, bedrooms, entryways, home offices, for use in front of sinks, stoves and in the laundry room. Accent rugs in 3' x 5' or 4' x 6' sizes can be used to define nooks or other special areas, while room-size or room-fit rugs are most commonly found in 5' x 8' or 6' x 9' sizes. Common rectangle rug dimensions are:
3' x 5' to 4' x 6'
5' x 8' to 6' x 9'
7.5' x 9.5'
8' x 10' to 9' x 12'
10' x 13' to 12' x 15'
Runner rugs are long, narrow rugs ideal for hallways and areas where you want to define traffic flow. Common runner rug dimensions are:
Square rugs, similar to accent rugs, are great for defining spaces in living rooms and dining rooms. Common square rug dimensions:
4' x 4'
6' x 6'
8' x 8'
10' x 10'
Round rugs work best in dining rooms and entryways to help delineate an area. Common round rug dimensions are:
Oval rugs are similar to round rugs, delineate dining and entryway areas. Common oval rug dimensions are:
Octagon rugs look great in dining areas and entryways. Common octagon rug dimensions are:
Hearth and Kidney shaped rugs are types of scatter rugs. These small rugs are typically 2' x 4' and used in bathrooms, kitchens and entryways. Common hearth and kidney rug dimensions are:
Heath: 2' x 4'
Kidney: 3' x 5' and 4' x 6'
Shop The Home Depot online or in store for a variety of rug sizes that will enhance the look of your space. The Home Depot delivers. Just say, when, where and how.