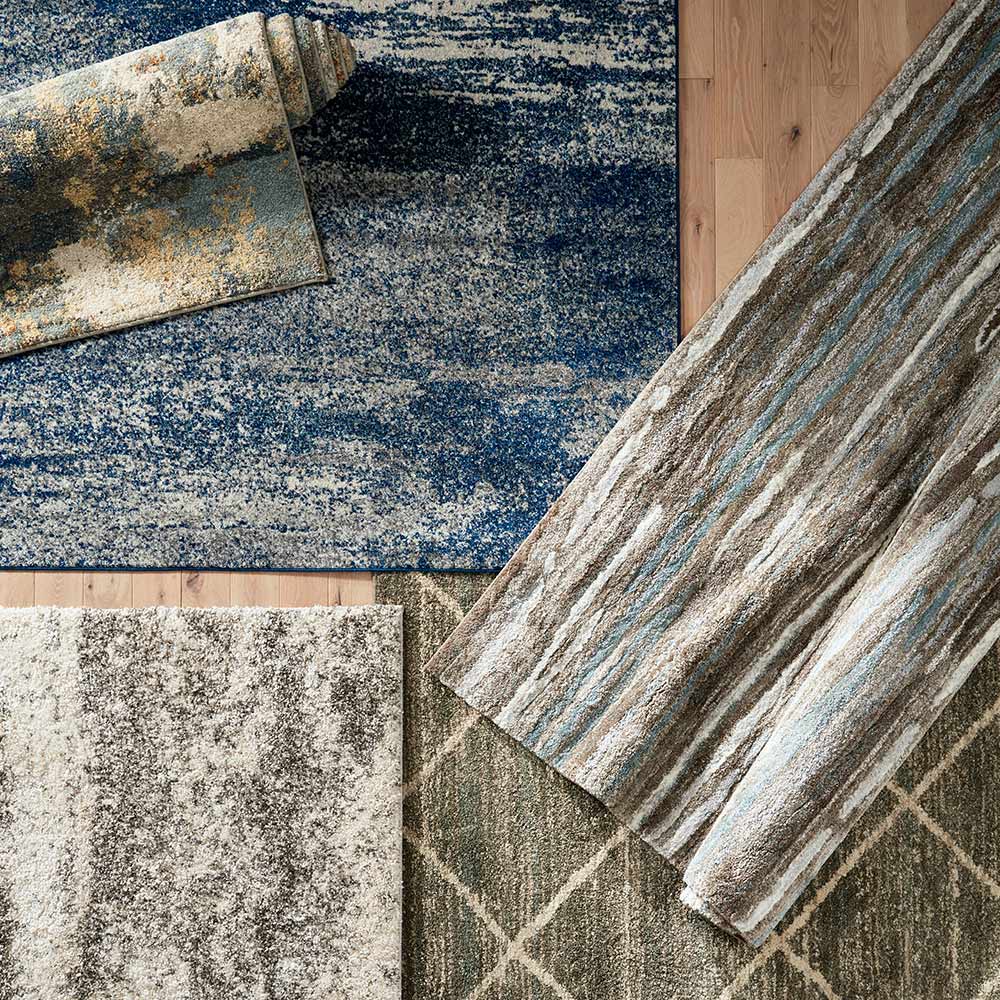 Choosing the perfect rug can be a matter of inches. Whether it's a large area rug or a small accent one, the right size rug can unify your decor and make your room feel put together. This guide provides styling advice on choosing the rug sizes for rooms. Learn how to place the right size rug for the best effect and function in your home. 
The Best Rug Sizes for Your Space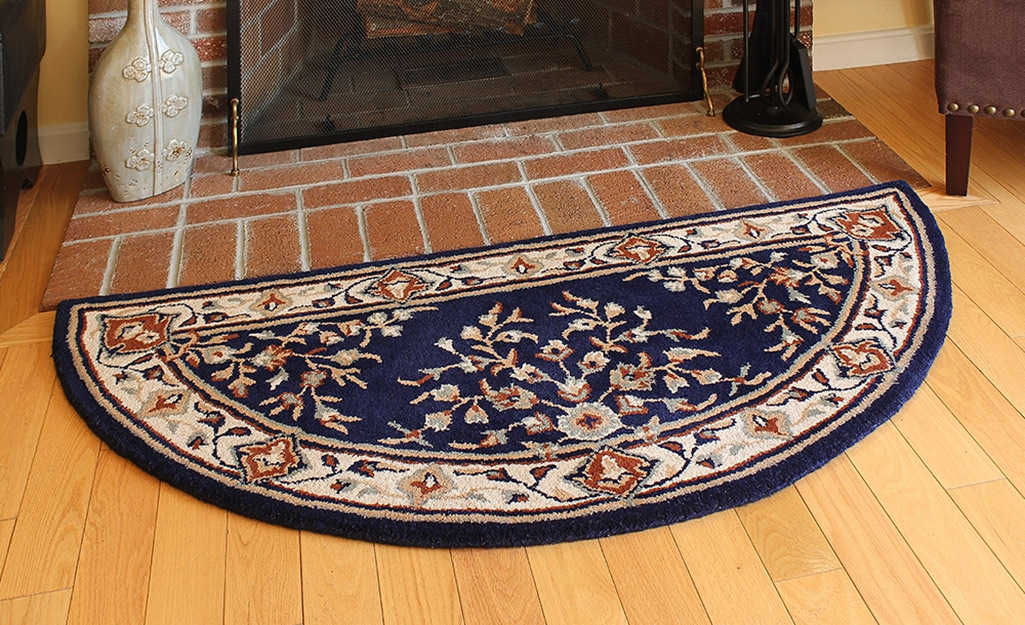 When it comes to what size area rug to choose for your living space, take a look at the room first. Always base the size of the rug you choose on the size of the room. When purchasing a room-size rug, select the rug first. Next, select the complementary furniture, drapes and other decor.  
Large rugs can dominate a room. It's important that the rug coordinates well with the rest of the room to achieve a pleasing and balanced look. Smaller rugs function more as accent pieces. Select them to match existing decor.  
Tip: Choose the rug based on the room it will be in. For example, use rugs crafted from durable material for high traffic areas such as hallways and dining rooms. 
Living Room Styling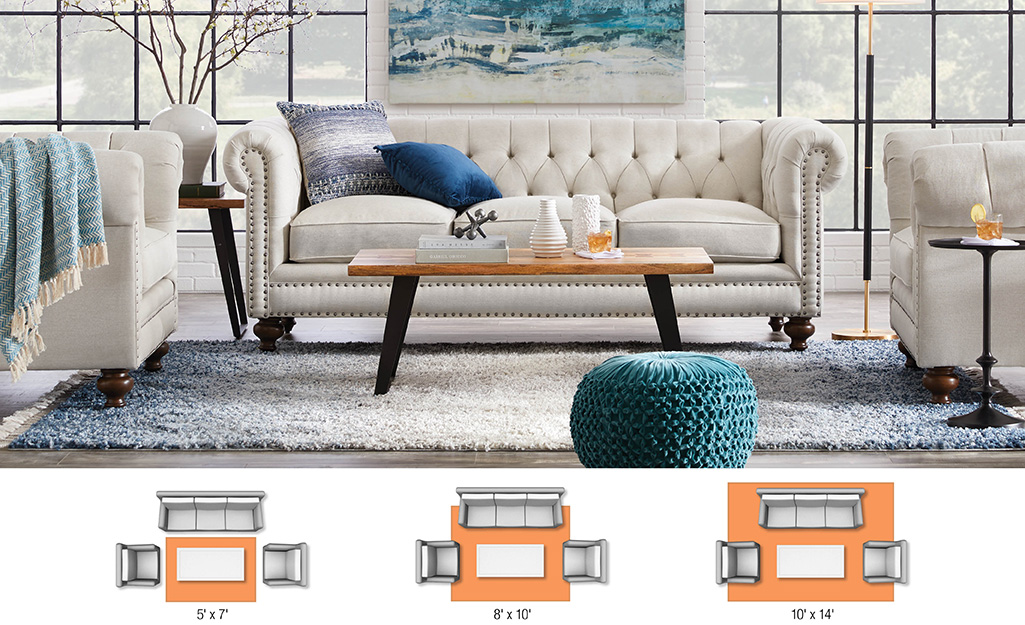 Living room rugs are often the most prominent home decor accessories. A common rug size for living room spaces is 9' x 12'. However, the size of the rug you select depends on both your furniture arrangement and the size of the room.  
Room-size rugs look best with a floating furniture arrangement. Pull the furnishings away from the wall and let them rest entirely on the rug surface. If you prefer to have the furniture hug the wall, consider using a 6' x 9' or 8' x 10' rug size for living room spaces. (See the accompanying rug size guide.) Arrange the seating where the front legs rest on the rug. Place a coffee table or ottoman in the center.  
Bedroom Styling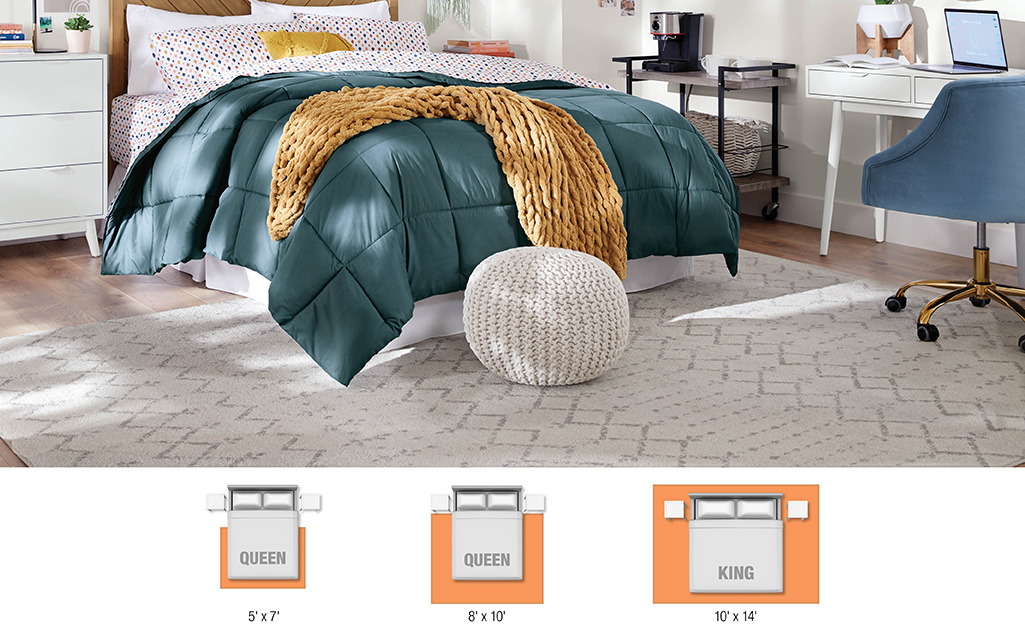 Bedroom rugs do more than upgrade the look of the room. They create a warm environment for the room's interior to give the space a cozy feel. They also provide a comfortable place for your feet when you rise or retire.   
The right size bedroom rug matches the width and depth of the bed. Which dimensions work best will depend on your preferred placement and the size of the room. A budget-friendly alternative to one large full rug is to use one or two runner rugs alongside the bed. This works especially well in a bedroom where the bed is located against the wall or you have a king- or California king-sized bed. 
If you'd like to unify the bed and nightstands, an 8' x 10' or 9' x 12' rug is a good choice. (See the accompanying rug size guide.) This size rug should provide full coverage. This means it will align the top edge of the rug with the headboard and place the nightstands on top of the rug. If you want a more open feel, place the nightstands and top one-third of the bed over a bare floor. The rug sizes for rooms in this case can be 8' x 10' rug, or 6' x 9'. Make sure it is oriented perpendicular to the bed. 
Children's Room Styling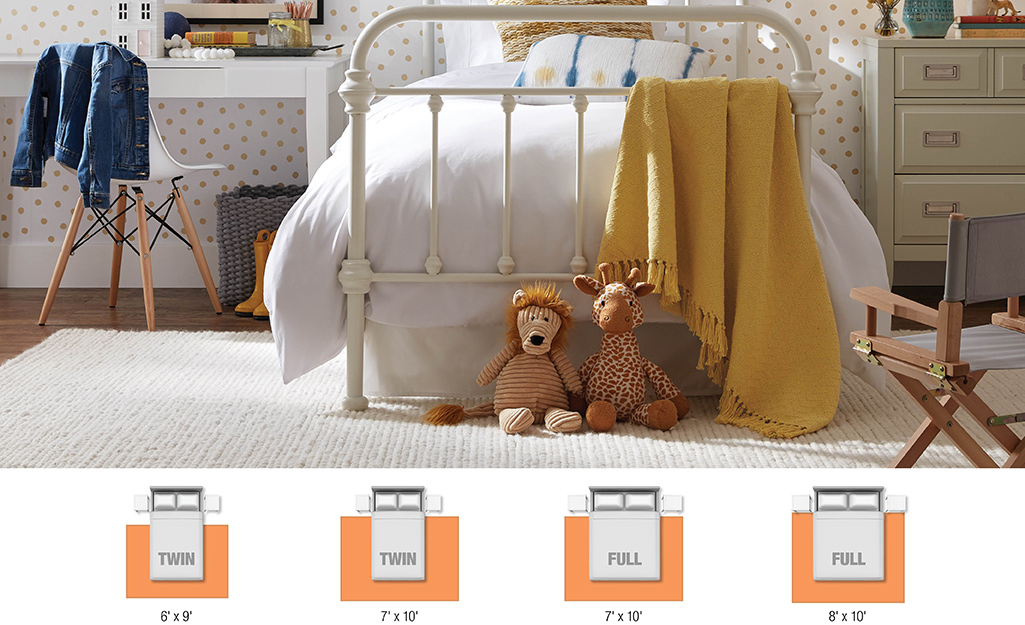 A child's bedroom is different than a master bedroom, in size and in usage. A rug can take a beating from children who lie on them, spill food on them and play on the rug with their toys. 
Choose a child's room rug large enough that you can place underneath the bottom two-thirds of the bed, leaving room for the nightstand and extending enough space for children to play on. A 6' x 9' or 7' by 10' rug is ideal for underneath a twin bed in a child's room, and a 7' by 10' or 8' by 10' works for a full-size bed. (See the accompanying rug size guide.)  
Dining Room Styling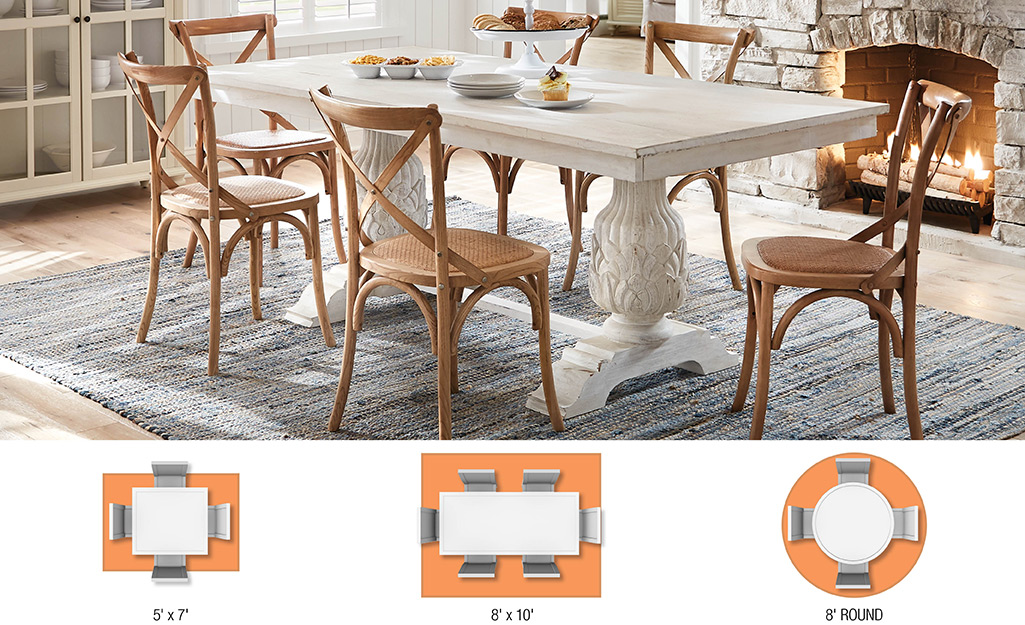 Dining room rugs make a nice frame for dining sets. The rug sizes for rooms used primarily for dining and entertaining will be large enough to fit the table and all four legs of each chair. This should be the case even when the chairs are pushed back from the table. This ensures the chair legs won't scratch the floor surface. 
Scale the rug to the space. A 9' x 12' rug will easily accommodate most seven-piece dining sets. (See the accompanying rug size guide.) In a small apartment, use a rug that's proportionate. For example, a bistro set used for dining may work well with a 4' or 6' round rug that mimics the set's silhouette. 
Halls and Entryway Styling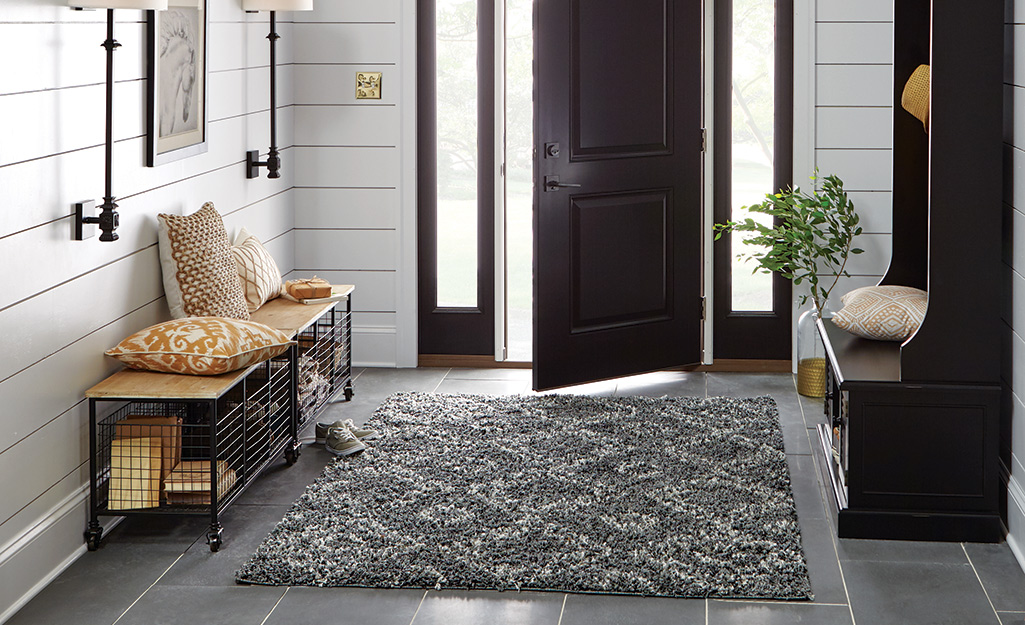 In most rooms, the rug frames the furnishings. In hallways and entryways, the rug is the central focus. The most popular layout for these types of spaces is to align any furnishings along one wall and place the rug down the center. There should be a minimum of 6 inches of floor space visible around the rug. 
A hallway or entry rug can be flanked with furniture as well. Be sure the rug you choose is narrow enough to leave clearance at the sides, so no furnishings are resting on the rug.  
Runner rugs are long, narrow rugs. They are ideal for hallways and areas where you want to define traffic flow. Most runner sizes are 8' or 12' long. They are usually 3 feet wide or less. The most common runner dimensions are 6' x 8' and 3' x 12'. 
Stairway Styling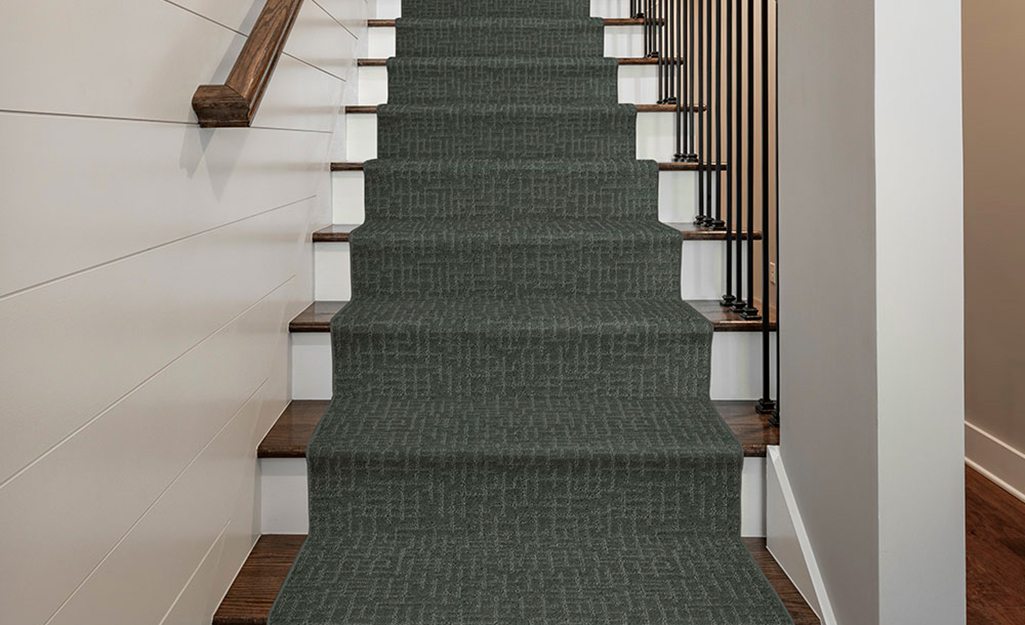 Stair runner rugs create a stylish look and a safe surface for stairways. They come in many widths, but the most common width for a staircase is 27 inches.  
To calculate the length of your choice of stair runner: 
Take the number of staircase steps and multiply by 19 – the total inches of the stair's vertical riser (8") and horizontal tread (approximately 10")  
Divide the number by 12 to convert it into feet 
Add 8 inches for each additional riser 
A 21' stair runner roll is sufficient for staircases that average 13 steps. Add more feet for staircases with 90 degree turns.  
Laundry, Bath and Kitchen Styling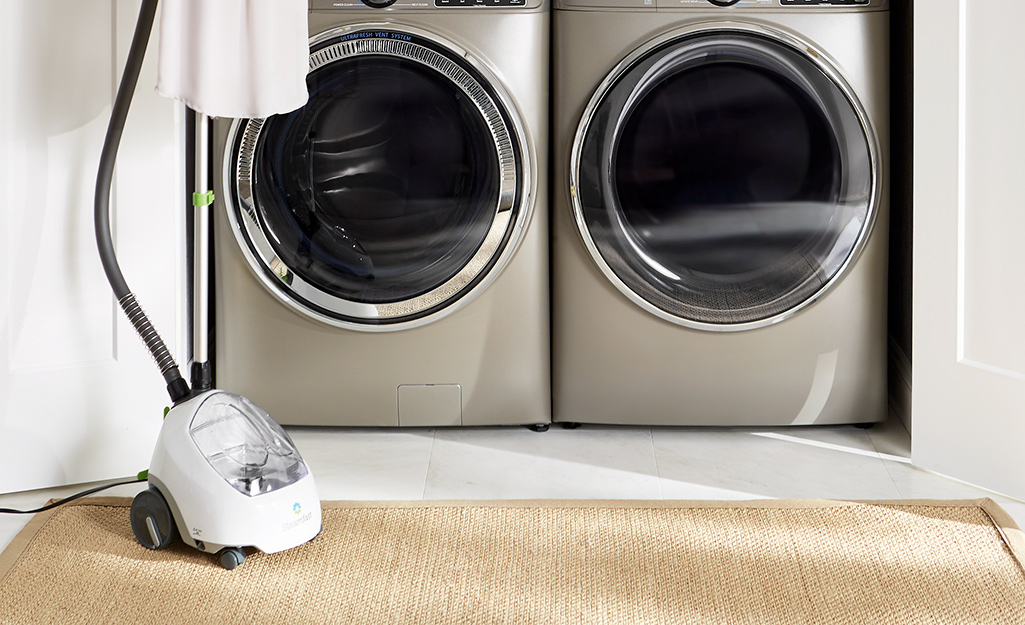 An average home bathroom can usually accommodate rug dimensions of 17 inches to 21 inches wide and 24 inches to 34 inches long. Measure both the entire room and the open floor space to determine the best rug size and shape.   
Kitchen rugs can add warmth and style. Some kitchen rugs or mats are designed to provide comfort when standing. In small kitchens with a fair amount of traffic, choose a single small area rug to place in front of the sink. In a galley kitchen or laundry room, use a runner down the middle. Choose a size that leaves bare floor on either side of the rug.  
Tip: Rug pads are a safety essential in baths, laundry rooms or kitchens. They hold the rug firmly in place on a tile, vinyl or hardwood kitchen floor. Make sure to use a rug pad that is also resistant to mold and mildew. 
Standard Area Rug Sizes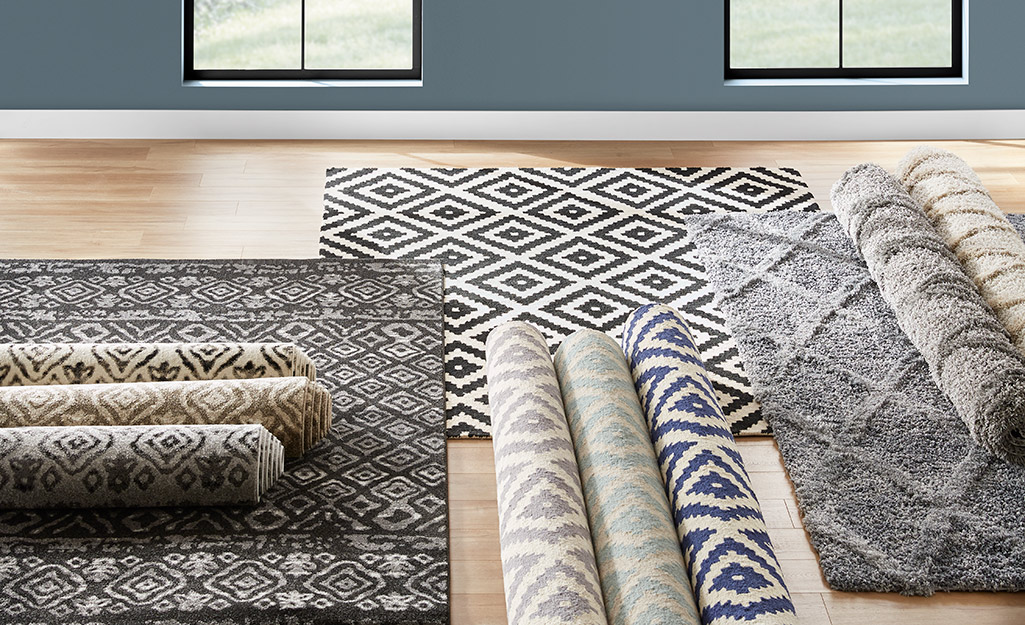 Rectangle rugs are the most popular shape of standard area rugs. They work well in living rooms, bedrooms, entryways and home offices, and as outdoor rugs for patios and decks. Rectangle rugs can be used as full room rugs or as small accent rugs to define a special area. For example, a 3' x 5' rug can look great in front of a sink or in a reading nook. Here are the most common rectangle rug sizes:  
Round and Oval Rug Sizes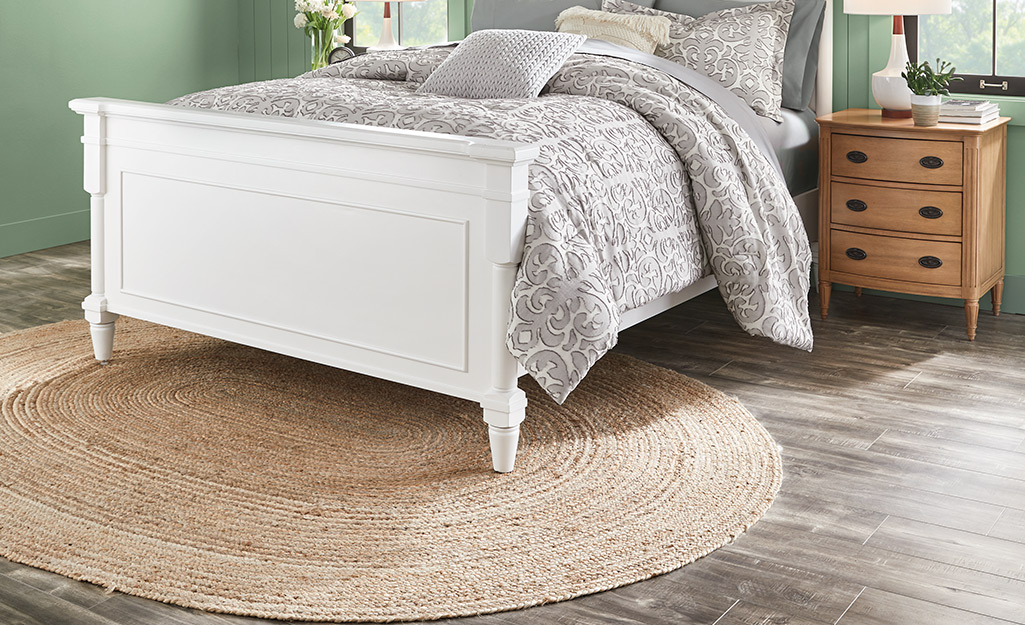 Round rugs or oval rugs provide a functional accent in bedrooms, dining rooms and entryways. They also help delineate an area. They come in 4', 6', 8' and 10' diameters. Oval rugs are also available in 9' dimensions.  Round rugs or oval rugs provide a functional accent in bedrooms, dining rooms and entryways. They also help delineate an area. They come in 4', 6', 8' and 10' diameters. Oval rugs are also available in 9' dimensions.  
Shaped Rug Sizes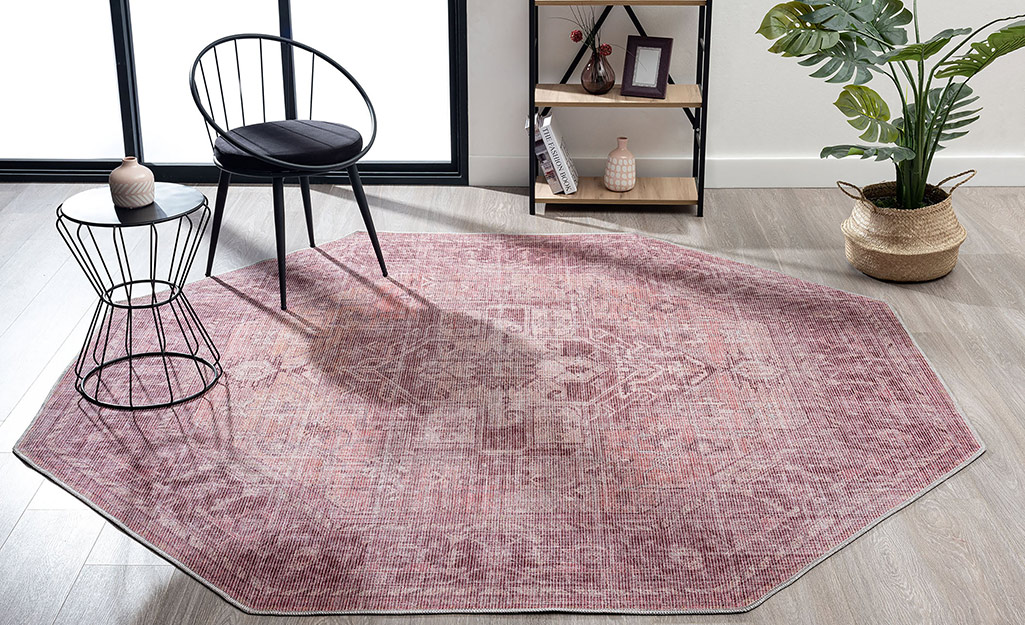 A shaped custom area rug makes a statement in any room. In the right size, a shaped rug adds both function and artistic personality.
Octagon rugs can give a vintage or modern feel to an area. They are especially eye-catching in foyers and living rooms. Octagon rug sizes for rooms come in 4', 6' and 8' shapes.  
Square rugs work well in large rooms and help define seating areas. They also work beautifully in square rooms. Square rugs come in 4' x 4', 6' x 6', 8' x 8' and 10' x 10'.  
Hearth or semi-circle rugs are types of scatter rugs. These rugs are small and often come in striking patterns. Hearth rugs come in 2' x 4', 3' x 5' or 4' x 6' sizes. 
Area rugs come in a variety of sizes and shapes. The most common area rug is rectangular in shape and 8' x 10'. An area rug will anchor your space and make it look more unified. The right choice for your room may literally be just a few inches larger or smaller than you think. Ready to buy the right size rug? Download the Home Depot Mobile App and find products fast with image search. Snap a picture of an item you like and we'll show you similar products.
Explore More on homedepot.com