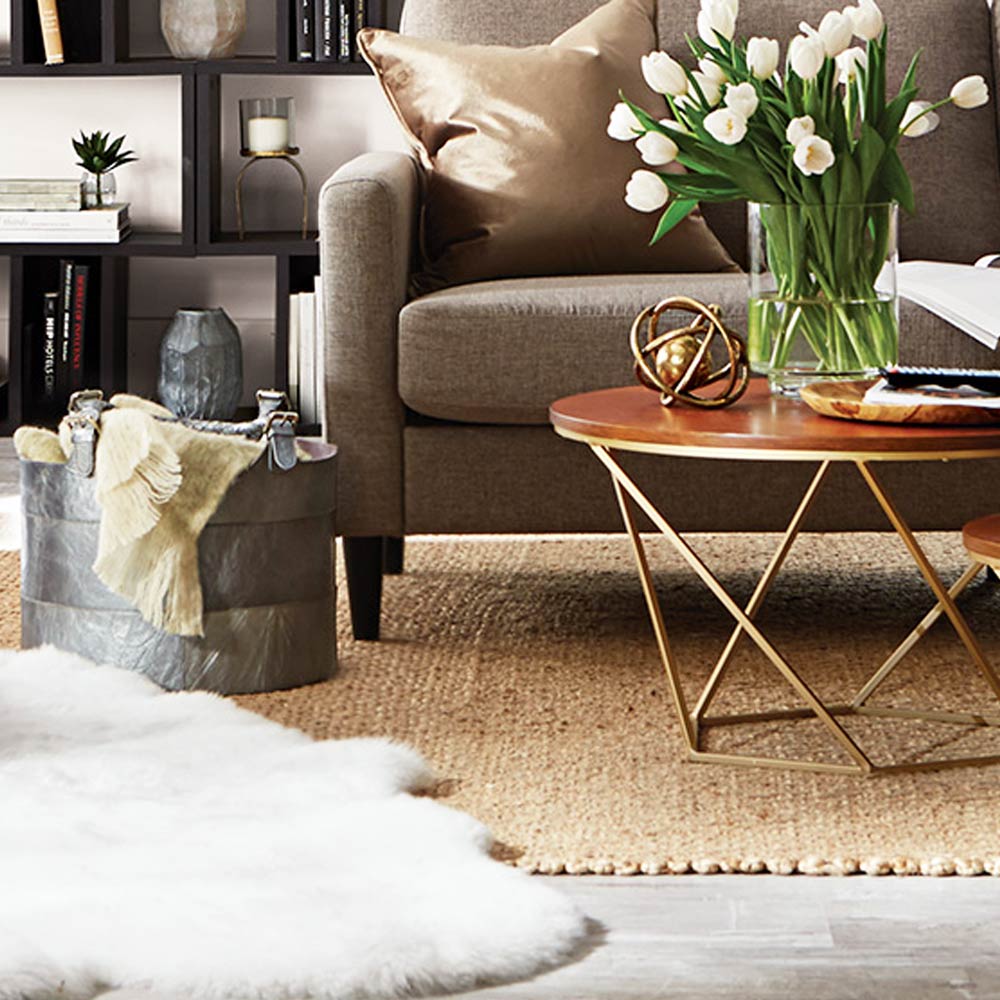 Rugs can be layered on top of carpeting to reduce carpet wear and tear in areas that get a lot of foot traffic, most often entryways and hallways. Rugs are also an easy and comparatively inexpensive way to conceal carpet damage, such as small holes or stains that could not be adequately cleaned.
Besides these very practical reasons, there are aesthetic benefits to layering area rugs that are often overlooked. Carpet is basically meant as a flooring surface - an unbroken expanse, usually in a neutral color, rarely patterned. Layering rugs on top of carpet allows you to add personal style to a decor fixture and also change up styles easily when the mood suits. 
Layering rugs on top of carpet is also beneficial for your wallet. Carpet is a high-commitment investment, but rugs can be found in all shapes and sizes, in various patterns and fabrics and at every price point. Rugs are especially useful if you rent and cannot change your home's carpet. This guide will walk you through a few simple rug layering techniques and tricks so you can style your home like a pro.
Textured Approaches to Layering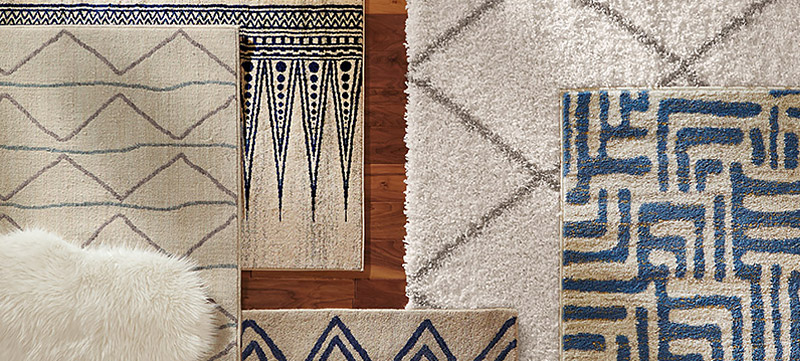 One of the keys to getting a layered rug look right is texture. Start by considering the texture of the carpet and go for contrast in the rugs you select. A looped or low-nap carpet will provide an unfussy base for a thick-pile or shag rug. This can warm up a space and add softness. Alternatively, a more plush carpet will be grounded by a low-profile rug. 
A jute rug makes a great base rug to start layering. It's usually a reasonably-priced choice and highly durable. The texture of jute also feels good under the feet and offers an interesting contrast with the softness of carpet fibers. Further, its naturally neutral color works as a bridge to tie the carpet with the other rugs in your layering as well as other elements in the room. 
Even if jute specifically is not a favorite, the bottom rug in the layer should be a solid color or in a pattern that leaves a lot of open areas. The anchoring rug should not be too busy so that the other rugs in the layers can pop more effectively.
Color Considerations
If the carpet has a distinctive pattern, it is best to choose area rugs without patterns in colors that pick up tones in the carpet design or perhaps other objects in the room. Pattern-mixing can be difficult, and layering rugs that clash will leave you with a decor that feels cluttered rather than eclectic.
Varying tones and shades of the same color is an easy way to create a cohesive monochromatic look. But remember that complementary colors can allow you to bring more color variation to your room. If you want confirmation that your color schemes work together, watch this video about how to style with a color scheme.
Elements of Design
When layering rugs, you get to decide what placement is going to look best to you, but there are a few design guidelines that experts agree are great to keep in mind as you start to experiment:
Either all or at least the front two legs of the room furniture should rest on the rug 
In bedrooms, at least the bottom two-thirds of the bed should rest on the rug. The top of the bed and nightstands can remain on the floor 
Leave 18 inches of space between the rug and baseboards 
Under a dining table, the rug's edge should extend at least 24 inches beyond the table's edge 
The top rug does not have to be parallel to the bottom rug; offsetting the rug can allow both patterns equal weight
Rug Safety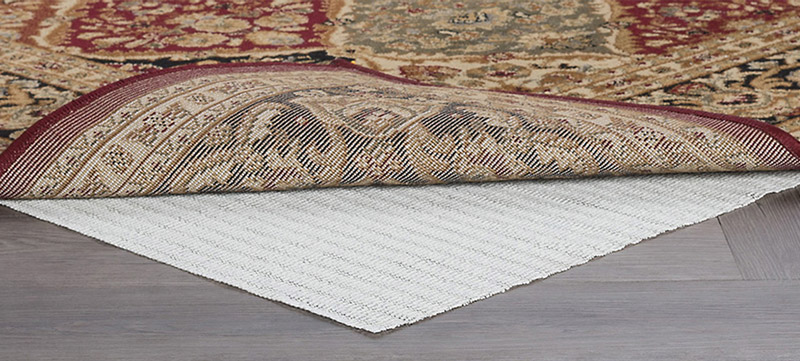 Rugs should always be anchored, whether used on a hardwood floor or on top of carpet.
On a hard floor, an untethered rug is more likely to slide or slip, but when layering area rugs over carpet, the rug is more likely to wrinkle or ripple. The resistance it meets from the underlying carpet or rug causes a speed bump in the rug that has the potential to trip you if you aren't paying attention.
With a few precautions, you can be sure that your rug layers remain safe as well as beautiful.
Tip: Frieze carpet and extra-soft, long strand carpets are not recommended for layering rugs. These carpet types don't offer enough support, making it more likely that the rug will shift and buckle.
Place a non-slip rug-to-carpet gripper or pad under the base rug to keep the rug in place and protect the carpet underneath 
Use double-sided rug tape on upper rug layers to help keep them from moving 
Anchor area rugs by placing their edges under heavier furniture pieces 
Be sure the rug on the top layer is not too plushy to avoid tripping hazards
Explore More on homedepot.com