Shelves are an easy solution for both storage and decor concerns. A shelving system can keep items in order and provide space for display, while the shelves themselves can be an attractive element of your overall room design.
If you are looking for storage shelving ideas, read on to see a lot of ways you can work shelving units into your life and style. Shop over one million products and find the info you need most. Save time with The Home Depot app.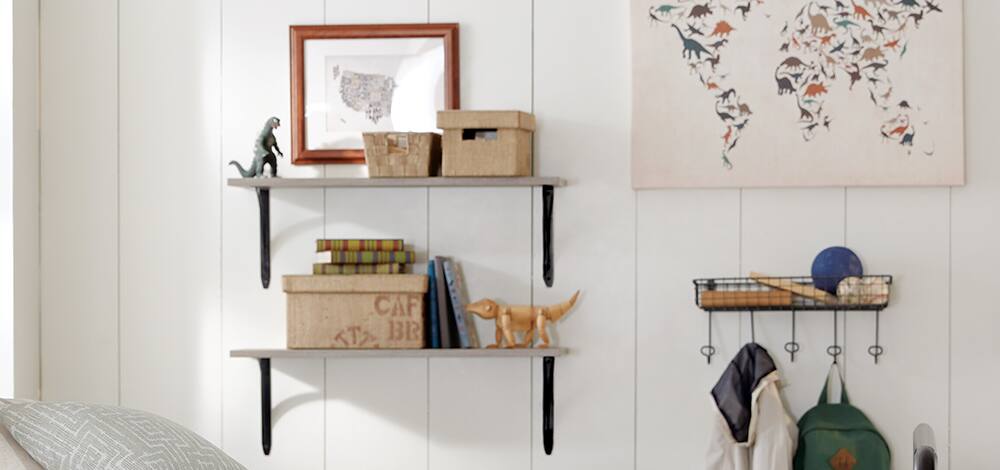 The familiar wall-mounted shelves can take on new life when you rethink the makeup of the shelf brackets. Rather than the typical L-shaped resting spot, fashion shelf supports out of pipe or rope to add interest and open up your decor options.
Floating shelves make a striking addition to decor. Attached by hidden shelf supports, they appear to float artistically over the walls, and display without any visual interference. They are great for showing off art and small collections, and extra-reinforced styles of the shelf can be used as bookshelves.
Safety: Pay careful attention to the manufacturer's instructions regarding weight limits. Going over the limit could result in the shelf failing, causing all of the items on it to crash to the ground.
Corner shelves turn the meetings of walls from wasted space into practical and decorative extra space. From bedrooms to bathrooms, the corner shelf can help clear up clutter as well as blend in easily with established design schemes.
While the most common design is the standard radial corner shelf, which looks like a quarter of a pizza and neatly bridges the gap between the two wall planes, there are other configurations that fit into that space.
L-shaped open shelving is great in a kitchen. The ability to store vertically is useful for keeping kitchen tools and ingredients close at hand.
To avoid a cluttered look, items on the shelves should be carefully considered. A collection of matching airtight storage jars for spices and dried goods is essential, as is a container for kitchen tools large enough to store everything you use regularly in one place.
Slotted shelving systems have the advantage of being highly functional and adjustable, but the visible track often derails a design scheme. These work best in closets or behind cabinet doors.
Tip: Painting the wall behind in a matching color can help diminish the visual impact of the track. Choose an elegant wood system or paint shelves in a color that pops.
Built-in shelving is not only elegant looking, but also useful, turning any existing alcove or recess into storage space. Space that would have been wasted is now flexible storage space, allowing for different depths of shelves to be employed within the same space and leaving both floor and wall space available for other decor pieces.
Free-standing shelves easily work into any decor because of the wide variety of designs, colors and sizes in which they are available. They are easily moved to different areas around the home and don't require dismantling as a wall shelf might, and they can easily be relocated if you move.
In homes where space is at a premium, however, more than one or two of these units might start to feel cramped. From a strictly storage aspect, a unit with doors as part of its makeup can be a lifesaver to hide clutter and maintain a sleek look. If you intend to devote some space to display, some open shelves in the unit are desirable.
Ready to find the supplies you need in your local store? Use The Home Depot app to locate products and check inventory. We'll take you to the exact aisle and bay.