Whether your garage door is front- or side-facing, it plays a big role in the overall look and curb appeal of your home. If you're trying to upgrade your home's exterior, a new garage door can make a major visual impact. This guide offers an explanation of the different types of garage doors.
Tip: The Home Depot offers custom garage door options for a personalized touch.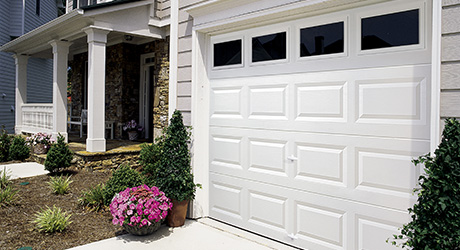 The availability of different garage door styles will vary according to the size of your garage, but traditional garage doors add a timeless touch to any home.
Traditional doors are usually made of steel and come in solid colors for a simple and classic finish.
Choose one with windows if you'd like some natural light inside the garage while the door is fully closed. You can also update the look by painting them to further complement your home's exterior.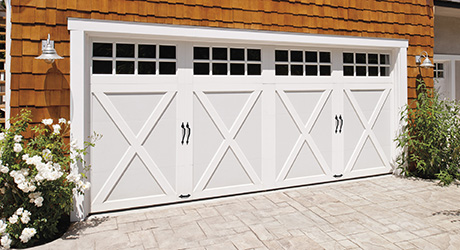 Farmhouse garage doors come in many styles, but they are all marked by their rustic charm and natural finish.
Many options are made of wood and stained or painted in a distinct color to help your home make a statement.
Understated moulding and vintage-style hardware complement and complete the trend. Try barn garage doors for a farmhouse inspired aesthetic that adds a special touch.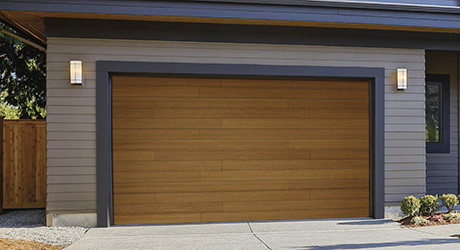 Contemporary, also known as modern garage doors, usually feature a sleek and sophisticated design that is paired with refined, functional details.
These doors are created with the contemporary home in mind and were made to complement the unique architectural characteristics of modern styling.
Single door garage doors are a popular choice in this category, as they offer a streamlined appearance that works to enhance your home's exterior.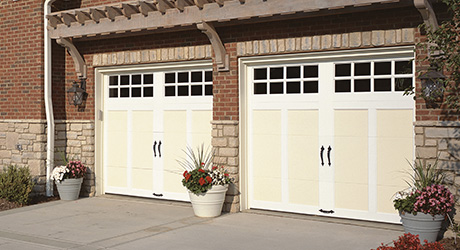 A Craftsman-style garage door typically features simple, structured moulding that enhances the straight lines found throughout the exterior of a Craftsman-style home.
These doors typically have a set of windows along the top of the door and artisan-inspired hardware throughout.
Choose wood garage doors with a classic finish for an authentic, Craftsman-style look.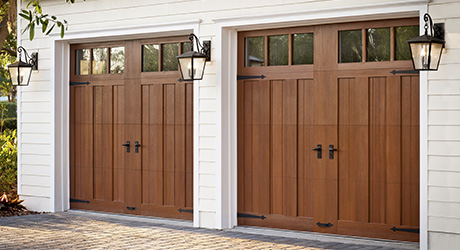 Carriage garage doors are reminiscent of classic stagecoach stables. They are a timeless and elegant accent for both luxury and modest-sized houses, but they're especially well-suited for the Victorian home.
These doors are characterized by stark front panel designs, and some have arched detailing and lustrous wood finishes.
Designs vary to complement a variety of other architectural styles, including shaker, French country and Tudor.