Bathrooms can be a place of escape when you're preparing for a night out or relaxing after a long day. It's where you get stuff done. Whether you're flossing your teeth, sweeping on cosmetics or shaving your face, you need adequate lighting. Vanity lights provide it, but they're not just functional fixtures. The right lighting choices can enhance the appearance of the entire space. These vanity lighting ideas will help you choose the right vanity lighting for your bathroom. 
Vanity Lighting Dimensions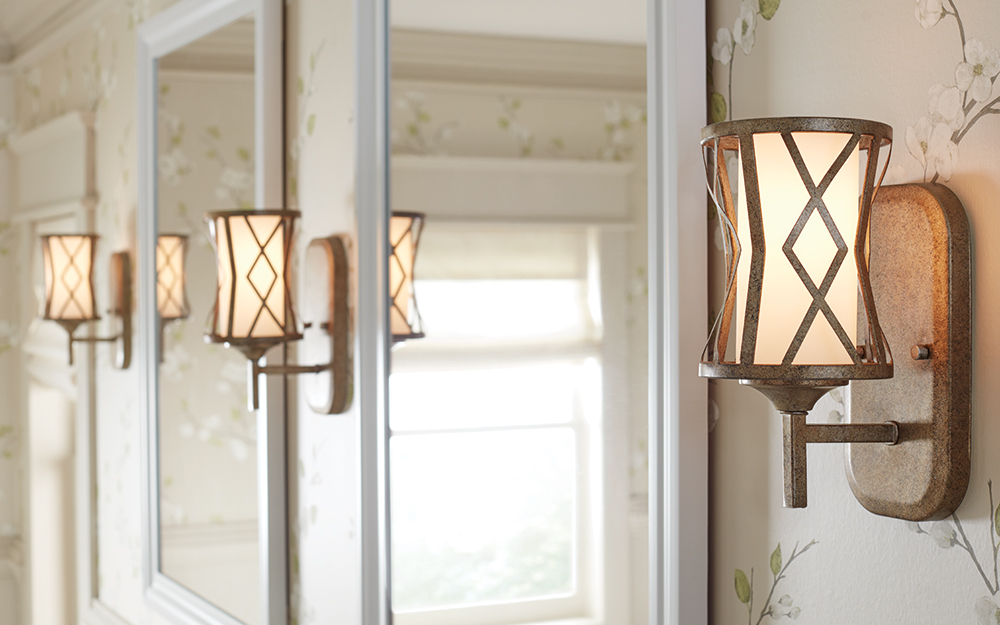 When choosing a light for your vanity, make sure that you select the right size based on the size of your vanity. In general, aim for a fixture that is 4 inches smaller than the total size of your vanity – essentially 2 inches shorter on each side.
Lighting double vanities isn't twice as hard—the key is to match lighting on both vanities for a balanced look. You can:
Install matching bar lights over each vanity.
Use wall-mount sconces on both sides of the double vanity.
Add another sconce between the vanity mirrors as needed to supplement light.
Vanity Light Bar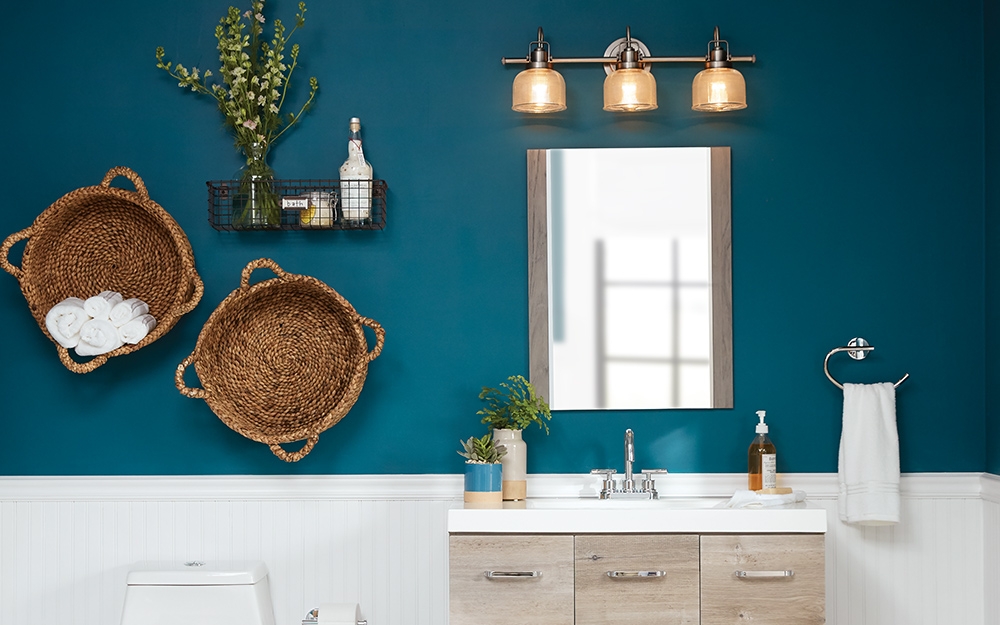 A vanity light bar provides a bright light with clean, simple lines ideal for any contemporary bath. The unobtrusive style can also mix well with other decor styles, as secondary lighting or even task lighting installed over a mirror or makeup table.
Bar lights have two or more lamps mounted on a single frame. Generally, these fixtures work best for task and accent lighting for large vanities. When shopping for bathroom bar lights, choose one roughly 4 inches shorter than the vanity. This leaves 2 inches on each side after installation, giving you a balanced look. Measure before you shop, so you get the right fit.
Sconces and Shades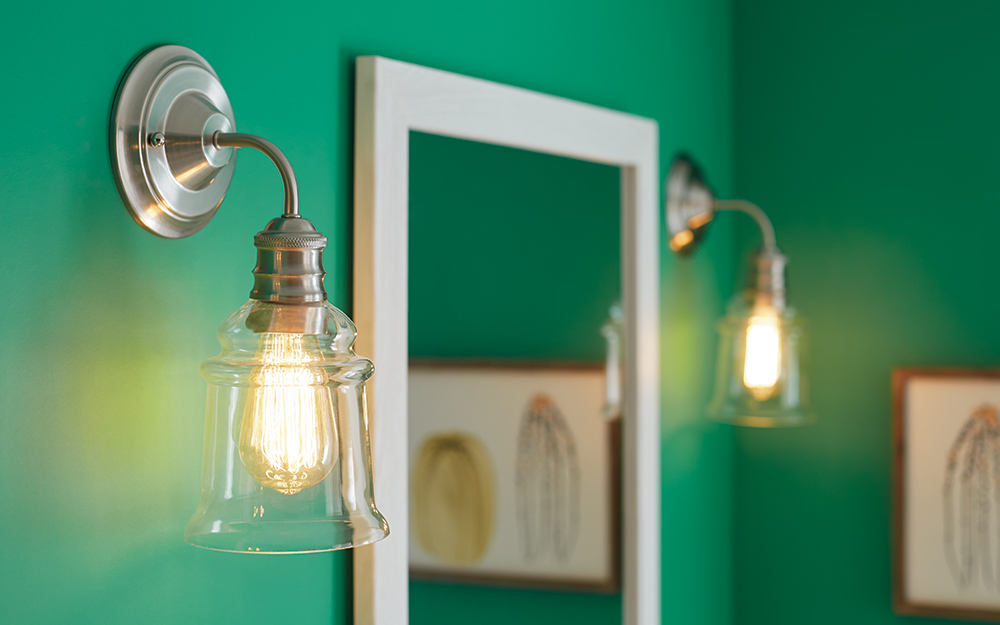 Sconces create a punctuating light statement at any point in the bathroom. Be sure to use them in pairs around the vanity, one on either side for balance.  Single installations can be placed in other areas as supplemental light.
Changing up the shade design of a bathroom sconce is also a great way to remake the design aesthetic. An Edison bulb can look equally at home in a farmhouse-style triangular shade or an industrial-look cage style shade. 
Go for Glam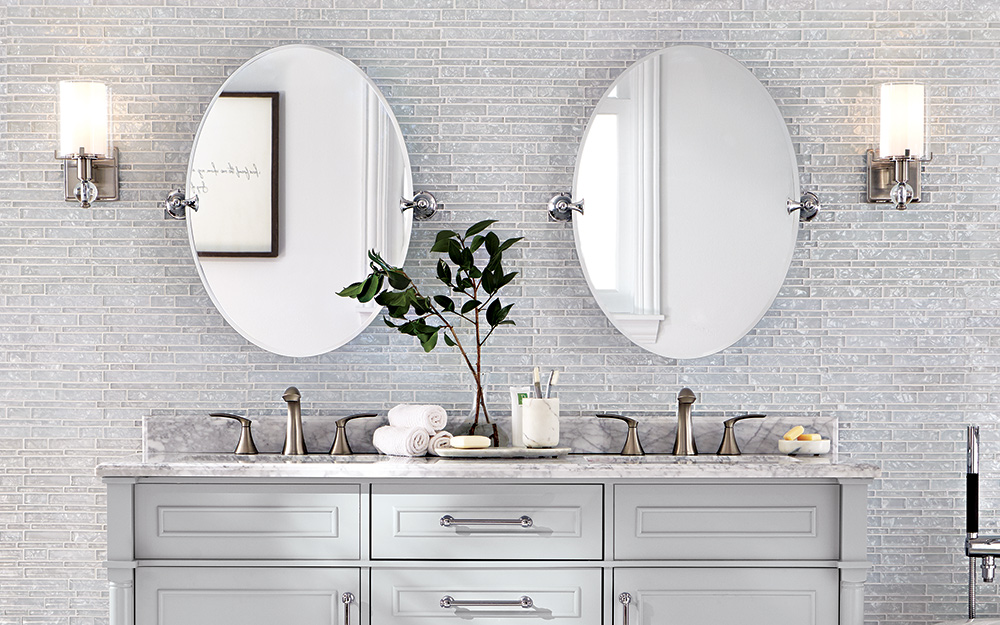 Glam vanity lighting offers a hint of luxury in the bath space with sparkling glass, metallics and unusual designs. You might even see a chandelier or pendant taking center stage in a larger space. Glam lighting shows up well among greyscale and white, colors that are often popular in bathroom designs.
Want to give your bathroom that luxury hotel vibe? Try these glam lighting ideas:
Classic frosted or clear globe shades for a Hollywood dressing table look.
Crystal shades that bring sparkle to a space.
Rich, gold-tone finishes.
Highly polished chrome or stainless steel finishes.
Fixtures with elegant curves or ornate flourishes.
Modern and Clean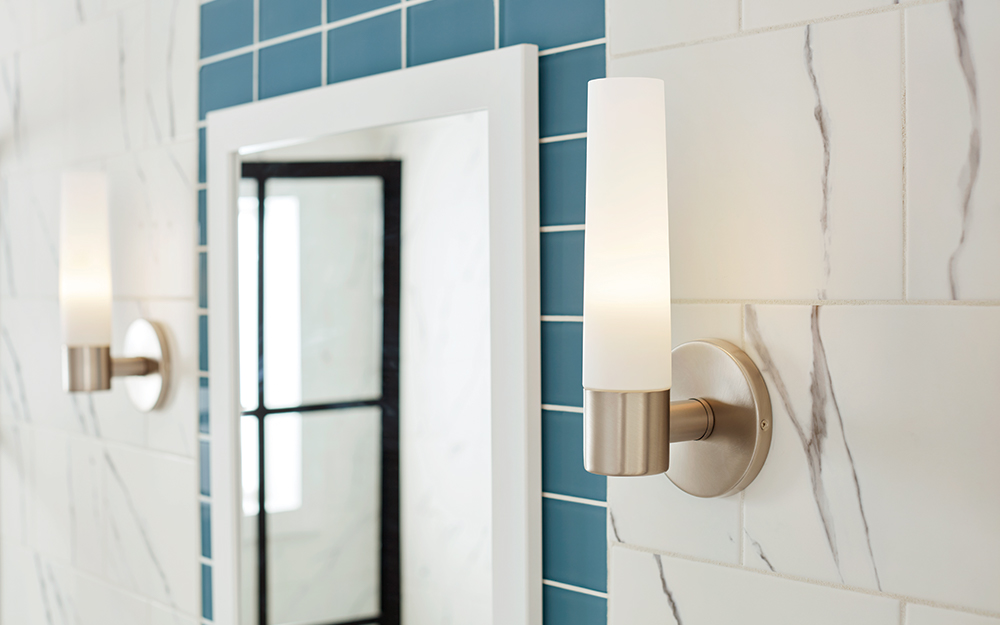 Modern bath vanity lights combine bright metal accents with sleek lines for a contemporary look and feel that makes the whole room seem even brighter and more spacious. Fresh vanity lighting is a simple way to give your bathroom a modern update. To get the look, try:
Simple rectangular bar lights that have lamps placed behind a front shade.
Sconces and bar lights with simple cylindrical, globe or square shades.
High-shine, silver-tone finishes like chrome or polished stainless steel for a sleek look.
Satin and matte silver-tone finishes like nickel and brushed steel for a more minimalist appearance.
White finishes that give your bathroom a clean appearance.
Tip: Don't limit yourself just to vanity lighting fixtures. In bathrooms with high ceilings, single pendant lights with modern shades hung close to the mirror add an unexpected element to the room. Choose one that is damp-area rated for safety's sake.
Industrial Look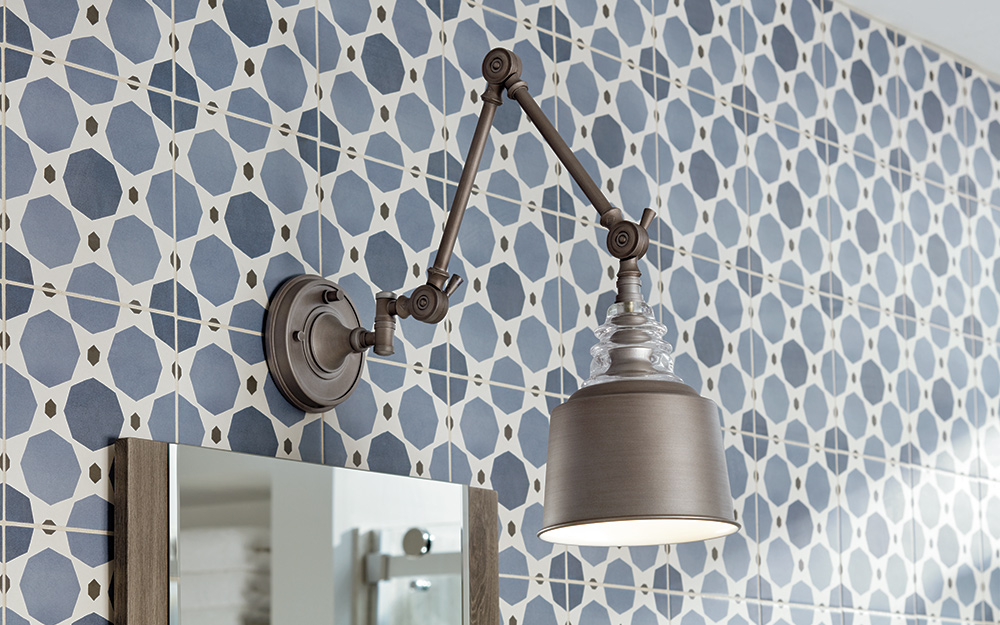 Industrial-style vanity lighting, with its metal accents in both shiny and brushed finishes, adds sparks of creative energy to bath decor and a tough but elegant look.
Classic Style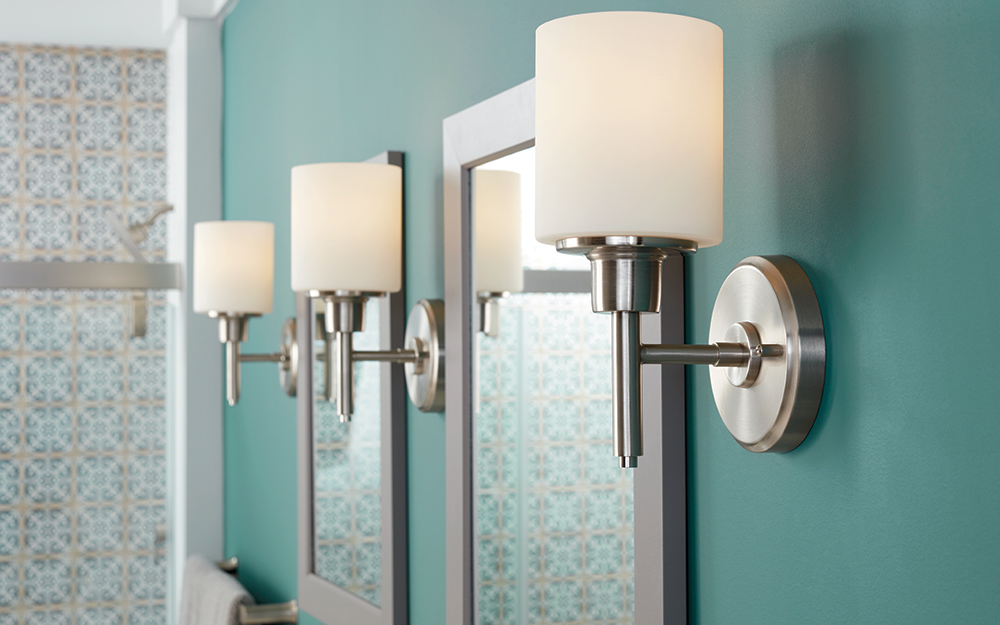 Seek out classic vanity lighting that never goes out of style. Install vanity lights with simple geometric shapes with small flourishes, warm colors and muted finishes that convey a sense of comfort.
To maintain a timeless look in your classic bathroom, opt for:
Simple geometric shapes, like cylindrical, globe and square shades.
Muted finishes like nickel, matte gold and brushed steel.
Fabric shades in tapered or drum shapes that give vanity lighting a soft, warm glow.
Decorative flourishes like scrollwork arms or beveled wall plates.
For a transitional bathroom, you're free to draw inspiration from both modern and classic lighting ideas. If the rest of your space leans more modern, go the more traditional route. Put a fresh twist on a more classic room by adding fixtures that skew modern.
Rustic and Farmhouse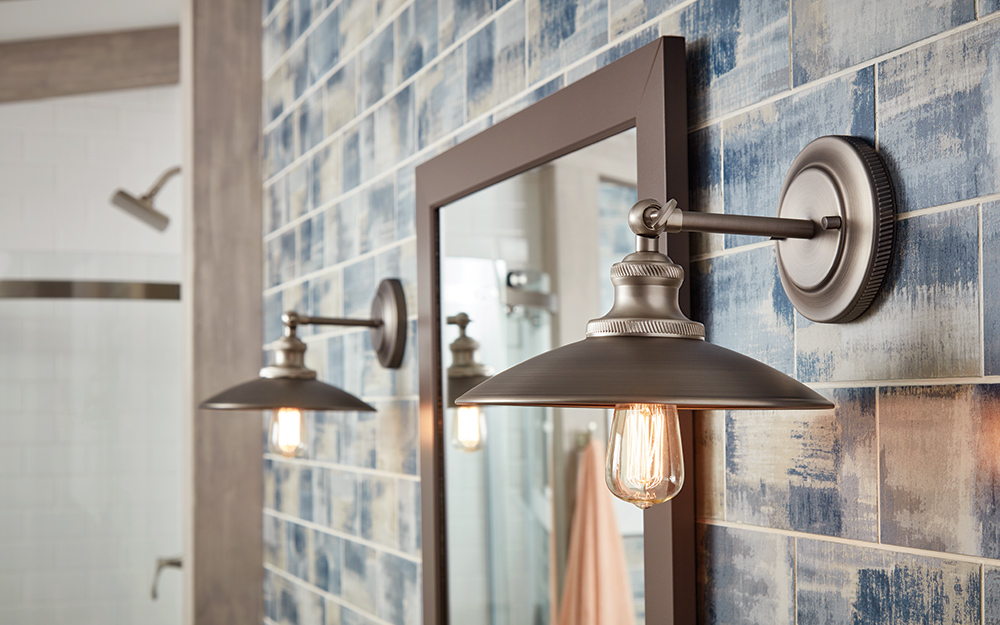 The natural textures and woods of a rustic or farmhouse design call for bathroom vanity lighting that is diffused, embracing frosted shades and distressed metal accents. The whole effect is one of warmth and tradition.
The right vanity lighting can rev up the rustic appeal of your bathroom. Many lighting fixtures work well in cabin, cottage, farmhouse or industrial rooms. Consider:
Barn shades that are beveled at the top and flare out on the bottom.
Wire cage shades that resemble chicken-wire or factory lighting.
Sconces with lantern-like frames or bell shades.
Black finishes that resemble wrought iron.
Oil-rubbed bronze fixtures that have a warm, aged appearance.
Frosted glass shades for a timeworn look.
Frames that resemble pipes or machinery.
Fixtures with visible hardware or decorations that resemble real hardware.
Transitional Mix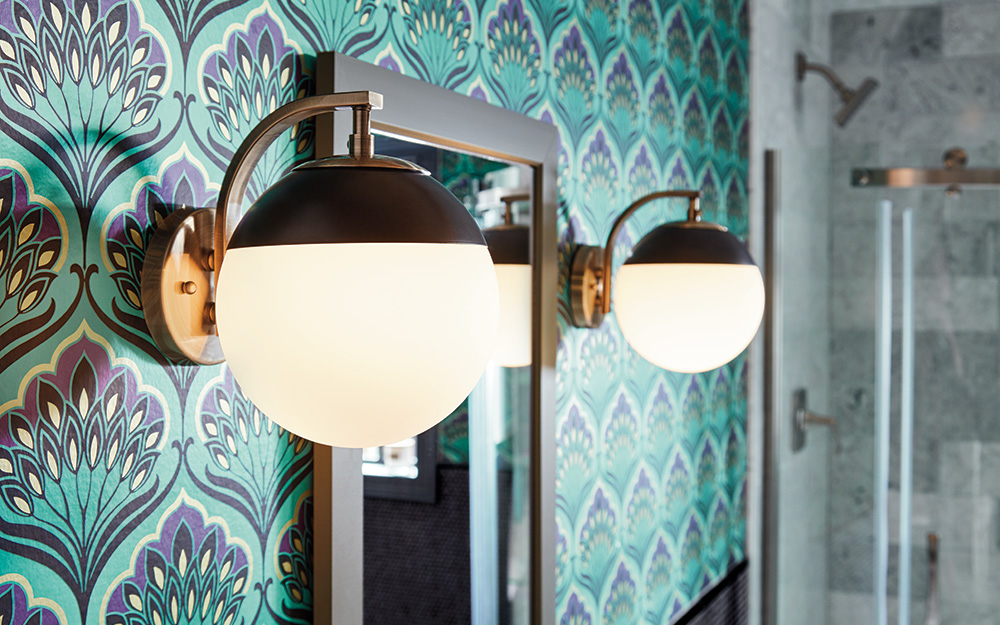 Transitional vanity lighting offers a playful mix of styles in a single fixture. The swoop of a classic shade might mingle with the brushed metal you'd normally associate with an industrial look. The clean modern lines of one shade design might nod toward the glamorous in a shining gold setting. The overall effect is always striking and eclectic without seeming out of place.  
Layer Lighting Right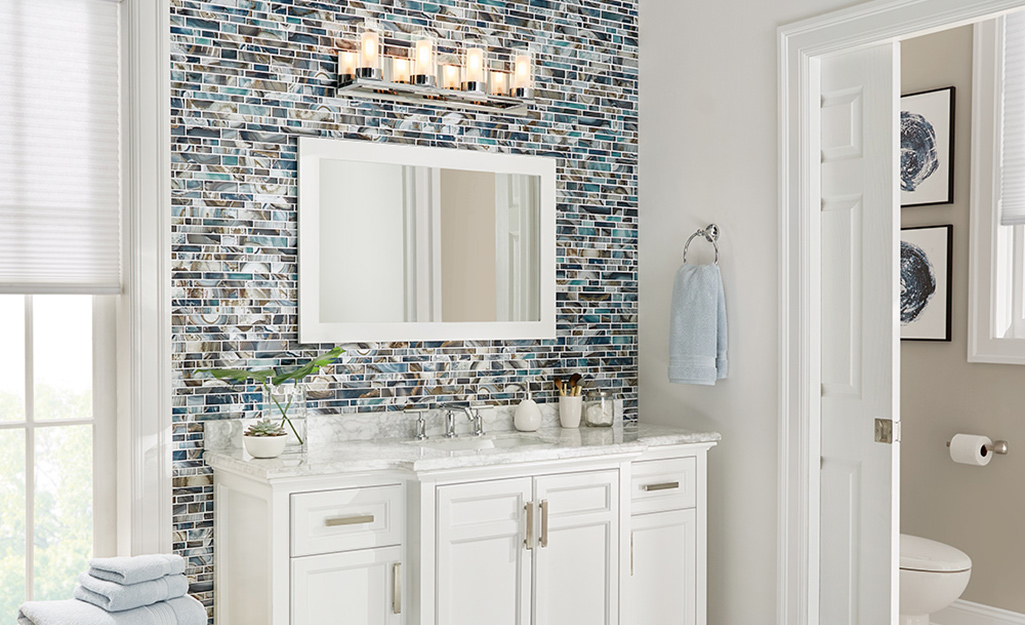 Most rooms require more than one source of light. Bathrooms are no exception. A complete lighting design consists of three parts:
Ambient lighting, which brightens up the entire room.
Task lighting, which shines light on one spot to help you perform specific tasks.
Accent lighting, which calls attention to a specific area and provides minimal illumination.
To properly light your bathroom, start with ambient light. For spaces lacking in ambient illumination, choose bright vanity lights with up-lights that direct their glow up toward the ceiling. For accent lights, up, down or side-mounted fixtures are all options to choose from, depending on where the fixtures will be installed and where you want to direct the light.
If you have a ceiling light already in place, you probably won't need more ambient lighting. Instead, decide whether you want task or accent lighting. Consider the following to decide which is right:
Number of windows in your space: if your space doesn't receive a lot of natural light, you may need task lighting even during the day.
What tasks you perform at the vanity by day and by night: powder rooms that are used mostly during the daytime may only need accent lighting.
How close the ambient light source is to your vanity: if your vanity is far from the light source, task lighting may be just what you need. Vanities that receive lots of ambient light may only require accent lighting. 
Tip: When possible, avoid placing ceiling lights directly over the vanity area. Overhead lighting can produce shadows that may make it more difficult to see yourself clearly in the mirror.
Choose Small vs. Large Lights to Suit Your Space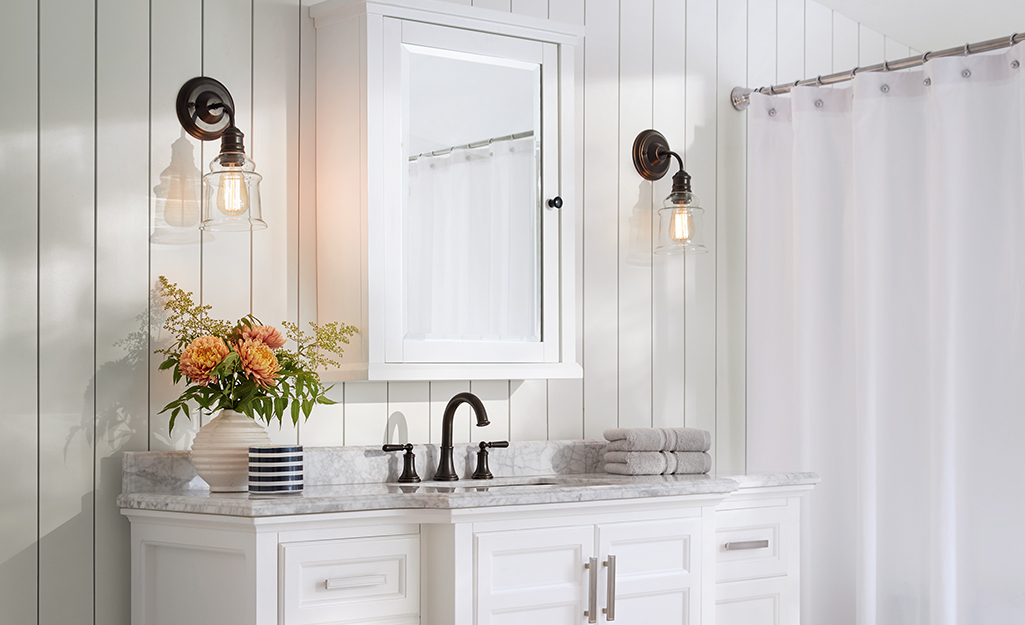 Vanity lighting comes in a variety of sizes. Bar lights are available with two, three, four or more lamps, while sconces vary in terms of length, height and depth.
For a small bathroom, choose a single wall sconce, and mount it directly over the vanity mirror. The sconce will provide plenty of light for tasks without overwhelming the room. Bell and barn shades work especially well, because their shades cast light over a large area.
In larger bathrooms, you can opt for longer bar lights or bigger sconces. As you compare sconces, you can select from numerous shape options, such as round, cylindrical, rectangular, bell, circle, globe and empire.
Light Large Mirror Vanities from the Sides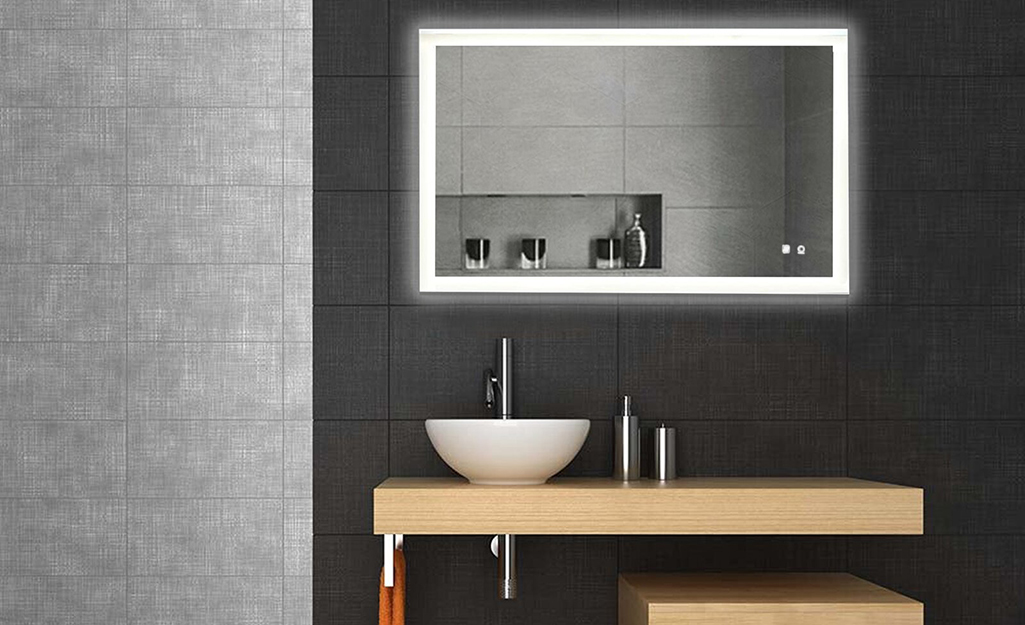 How you position your lighting in relation to your vanity mirror impacts how much task lighting you have at the sink. It also affects the appearance of the entire space. One option is to mount sconces on one or both sides of the mirror approximately 65 inches above the floor.
In spaces where you don't have enough space on the sides, you can install a bar light over the mirror. For a single-lamp fixture, choose a light approximately one-third of the width of your mirror. Multi-light fixtures look balanced when they are shorter, as long as or wider than the mirror. Just make sure it's not bigger than the vanity. With both single and multi-light options, aim to place the bar light 75 inches above the floor.
If your vanity mirror covers the entire wall, approach lighting from a new angle. Install a sconce that has a horizontal arm on the side wall to shine light down onto the vanity. Depending on the layout of your bathroom, you may want to install one on either side of the vanity.
Tip: Whether you're buying bar lights or sconces, match the finish to the color of your faucet hardware for a unified look.
Consider Bulb Options to Suit Your Needs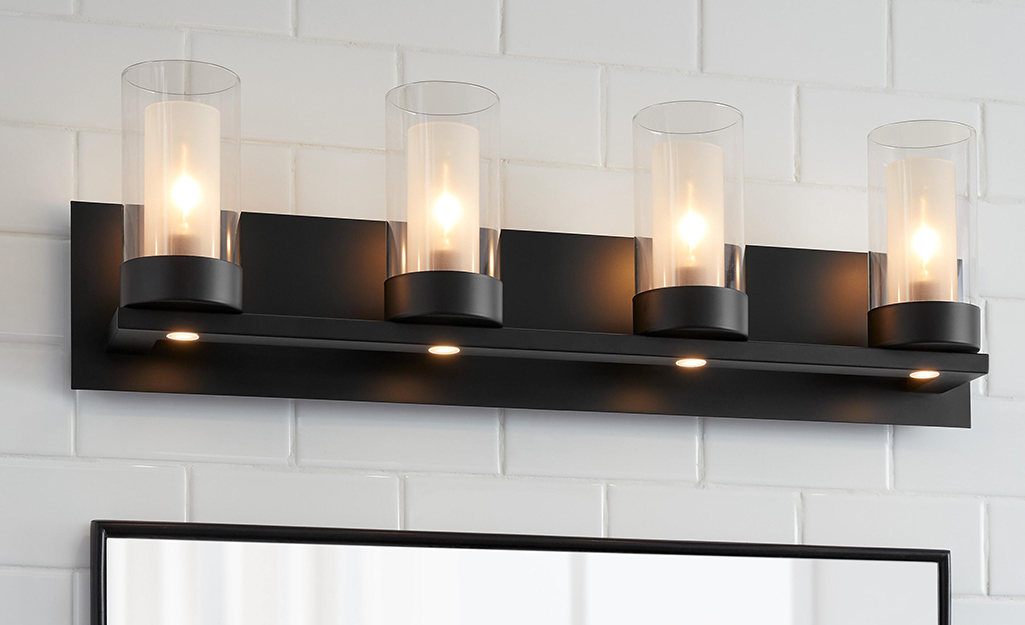 The bulbs that you use in your bathroom vanity lighting will determine the quality of light in your space. Incandescent and halogen bulbs are commonly used. Both types feature filaments that glow when electricity passes through the light fixture. Halogen bulbs differ from incandescent bulbs in that they are filled with halogen gas. As a result, they produce a brighter white light. They also tend to be more energy efficient than incandescent bulbs.
Light-emitting diodes, or LEDs, can help you shrink your eco-footprint. These lights require less electricity to put out the same amount of light as their halogen and incandescent counterparts. This lowers your energy usage, saving you money and reducing your carbon footprint. Some vanity lights have LEDs pre-installed. These fixtures can burn for thousands of hours and never need a bulb change.
Installation Tips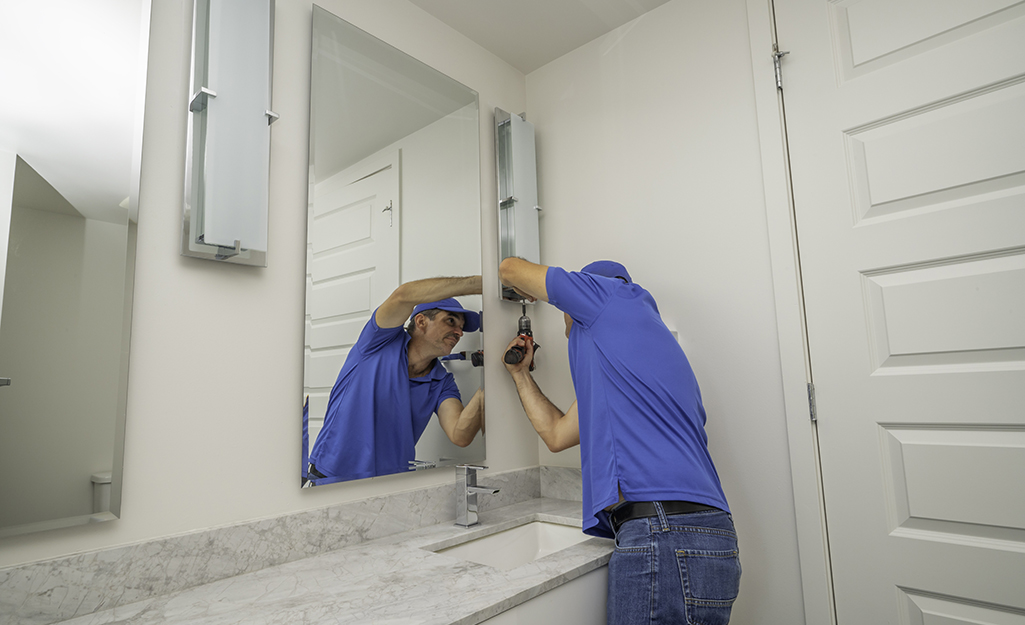 Task lighting, accent lighting and overall placement become very important when trying to create a certain aesthetic while keeping the bathroom functional. While there are a host of bathroom lighting ideas to consider, there are a few placement strategies that work well not matter what the overall decor.

Avoid placing lighting directly overhead. It will cause harsh shadows that won't flatter your features. Rather, position ceiling lights so that they light from behind as you face the vanity or a wall mirror. Generally this means that they should be in ceiling of the central walkway area. 
Keep accent lights symmetrical in the plan of the room. A fixture hung on one side of the vanity should have a corresponding light on the opposite side. This keeps the light balanced, a blessing when one is trying to groom around the vanity. 
These bright ideas for lighting can increase the amount of illumination available to help you complete personal care and grooming tasks and enhance your decorating theme at the same time. Bring any of these vanity lighting ideas to life in your bathroom by shopping online or with The Home Depot Mobile App.
Explore More on homedepot.com