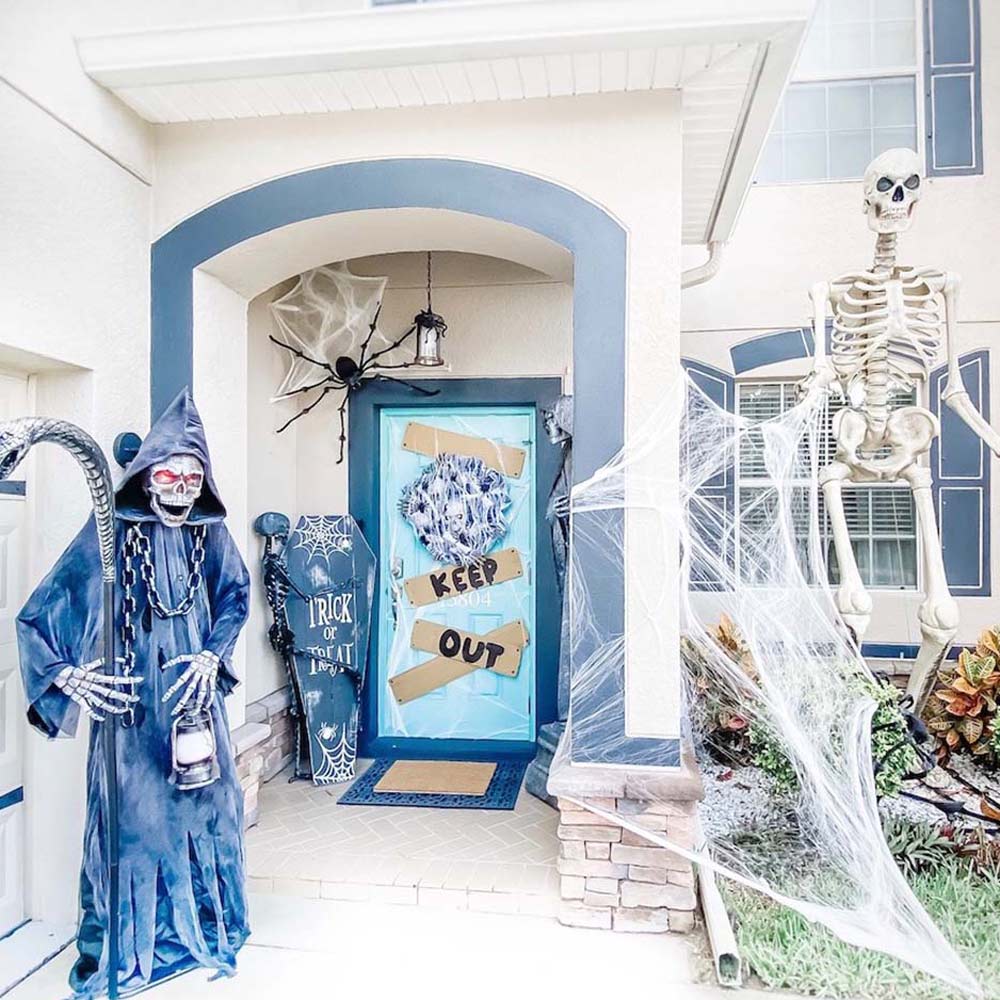 A Note From The Home Depot
When it's finally the time of year for Halloween, everyone loves to decorate their home to celebrate. Christina Brooks of Bee Tree Design Co was able to show off her family's spooky side, participating in The Home Depot's Halloween Style Challenge. With help from The Home Depot's decor, she was able to try something different and celebrate this Halloween season. A cemetery front porch filled with reapers and skeletons.
Halloween is one of my favorite holidays to decorate for! So when The Home Depot invited me to participate in their Halloween Style Challenge, I was thrilled but also scared. I usually stick to a particular theme for Halloween. But this year, The Home Depot pushed me out of my comfort zone and tasked me to decorate with a cemetery theme. I'm so glad they challenged me to try something different! It was so much fun to combine our usual theme of spiders with this years theme: cemetery.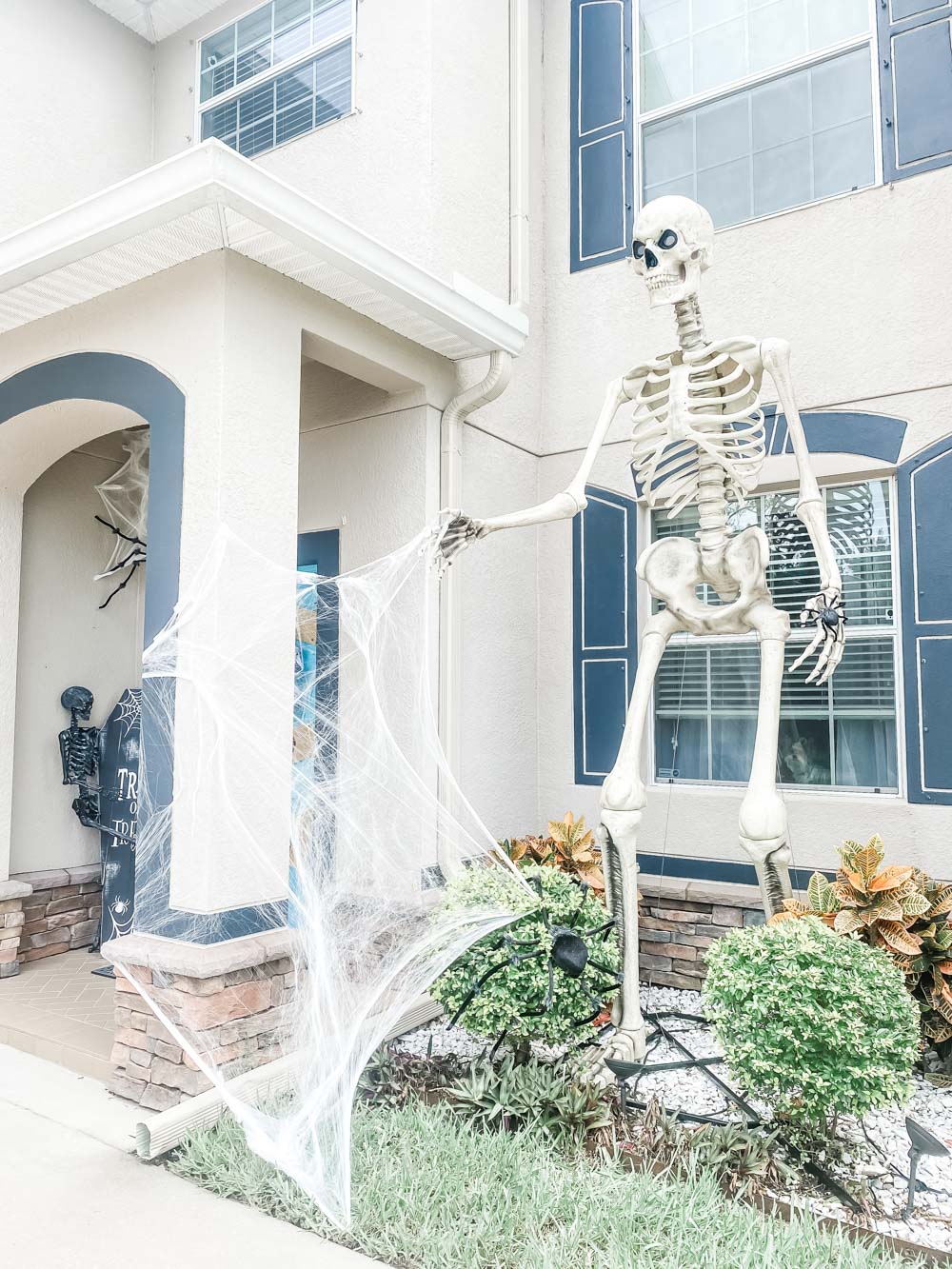 I decided to shop online this year and The Home Depot's website made it easy and fun! The Halloween portion of their website is separated into different themes. This makes it easy to find exactly what you're looking for. I enlisted my husband's help to shop and the second he saw giant skeleton, I knew it was getting added to my cart. We ended up planning our entire front porch design around it. Thankfully, The Home Depot had everything we needed for our design in one place. From the wreath, to the welcome mat, to the wood for our DIY trick or treat sign, it was so convenient to get everything we needed in one spot.
I always have a welcome sign on my front porch. But for Halloween, I like to switch it up a little. This year, as a nod to the cemetery theme, I decided to make a coffin shaped trick or treat sign. Check out this how-to guide on The Home Depot's website to see how I did it!
7
Decorating the Front Door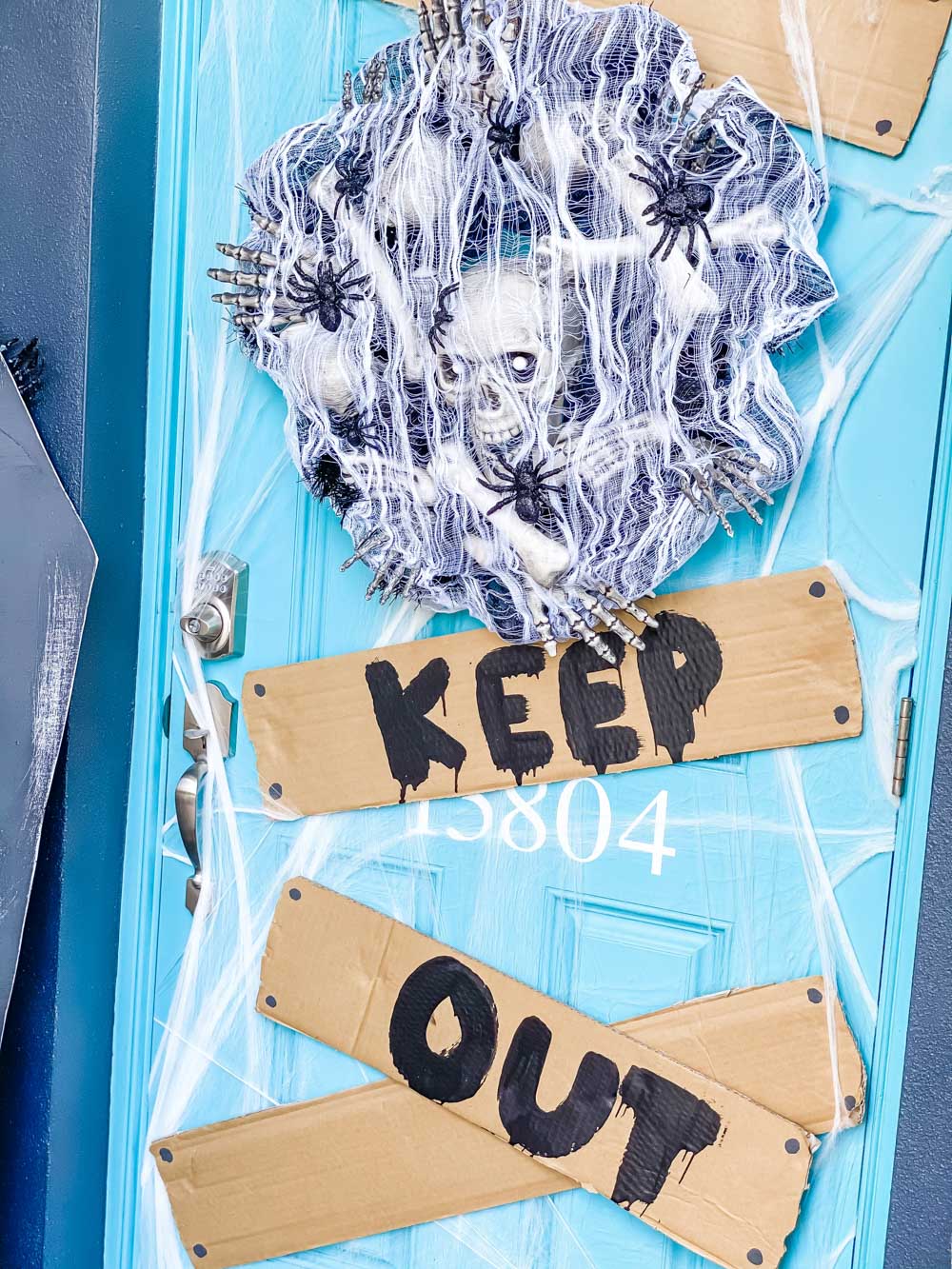 I attached the spider web to the door using a staple gun, but you could use a stapler or heavy duty tape. I dressed it up with a spooky skeleton wreath and added cardboard strips with the words "keep out" painted on them to mimic wood boards and even painted on some fake bolts to make it more realistic.
Building upon the spiders on the wreath, I added a spider and a web above the door and attached them using a hot glue gun. I layered a posable skeleton with the wood sign and since its arms and legs move, I was able to position it hugging the coffin sign to add to the fun factor. Layered outdoor door mats help create a welcoming entryway.
To intensify to the spooky cemetery feel, I added a cemetery statue to the right side of the porch. Since he's animated, he's sure to delight all of the trick or treaters when he comes to life as they knock on the door.
Last but not least, I included an animated reaper at the entrance to the front porch to up the spooky factor. Having two animated characters is sure to delight all of the trick-or-treaters this year!
This post was created in partnership with The Home Depot. The author may have received compensation for this article and associated images or video, potentially in the form of products and/or services. All expressed opinions and experiences are the author's own words.
Explore More on homedepot.com