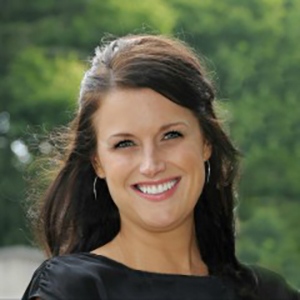 A Note From The Home Depot
Lydia Nordhoff, of Lydi Out Loud, never thought she would love her laundry room because of its small size and lack of functionality. However, in just one weekend, she was able to create a dramatic update with backsplash wall tile.
Read on to see how Lydia transformed her small laundry room into a beautiful oasis by using Smart Tiles.
Hi there, I'm so excited to be here sharing my laundry room refresh with you today! And when I say share, what I really mean is scream from the mountaintops because I cannot believe how much I love it now.
My laundry room is about the size of a minute (big enough to pivot) so I never thought love would come into the equation; who knew that a peel and stick backsplash wall tile would completely transform my mini laundry room into an oasis?
Make sure that the wall that you will apply your Smart Tiles is smooth and free of dust and dirt. Wipe down the wall with TSP or similar to ensure it is free of any grease (or laundry detergent in my case). Allow to fully dry.
Now it's time to cut the tiles. On a cutting mat, cut off the protruding tiles on the left of the tile with a utility knife to make a straight edge on the tile.
Can we just pause here for a sec? A cutting mat and a utility knife is all you need to cut tile. Tile. My mind is still blown over that one.
Start in a corner to make it super easy on yourself; a left side corner to be exact. Line the tile up to the corner where you will begin to get the best measurement. Draw a line with a pencil along the top of the tile, continuing to move the tile along the entire wall/surface and marking as you go. Ensure markings are level all the way across.
Peel the tile lining back about an inch on the straight edge side of the tile and stick it on to the wall at the corner. Peel the remaining lining back with one hand and smooth it on to the wall with the other hand.
You can see on the right side of the tile where to overlap the next one. Peel back the lining and repeat step 4. Use your finger to press and seal the overlapping seams. Repeat this process along the entire wall and start again with step 2 for each remaining row of tile.
When you need to tile around something like an outlet or switch, just hold the tile over the area you need to cut around, mark it off and cut with a utility knife.
And that, my friends, is it. No grout, no messy glue, no tile dust to clean up, no fancy nancy tools needed. Won and done. And they're staying put unless I decide to take them down someday. I'm not sure why I would ever want to do that, but if I would, my wall will be undamaged like the tile was never even there.
To complete our laundry room refresh, we hung two white shaker cabinets on both sides of the wall along with some DIY shelves and a tension rod for hanging clothes. The storage provided by our previous little lone soldier cabinet wasn't cutting it. I made the shelves by cutting 2 pieces from an 8-ft. 1 x 10 pine board to fit the width in between the cabinets and another to fit the entire width of the wall and painted them white.
Quite an improvement, right? There are many other stunning Smart Tiles styles (say that 5 times fast!) that can help you make a dramatic room transformation using backsplash wall tile in a just a day (or less). You can't beat that!
This post was created in partnership with The Home Depot. The author may have received compensation for this article and associated images or video, potentially in the form of products and/or services. All expressed opinions and experiences are the author's own words.
Explore More on homedepot.com