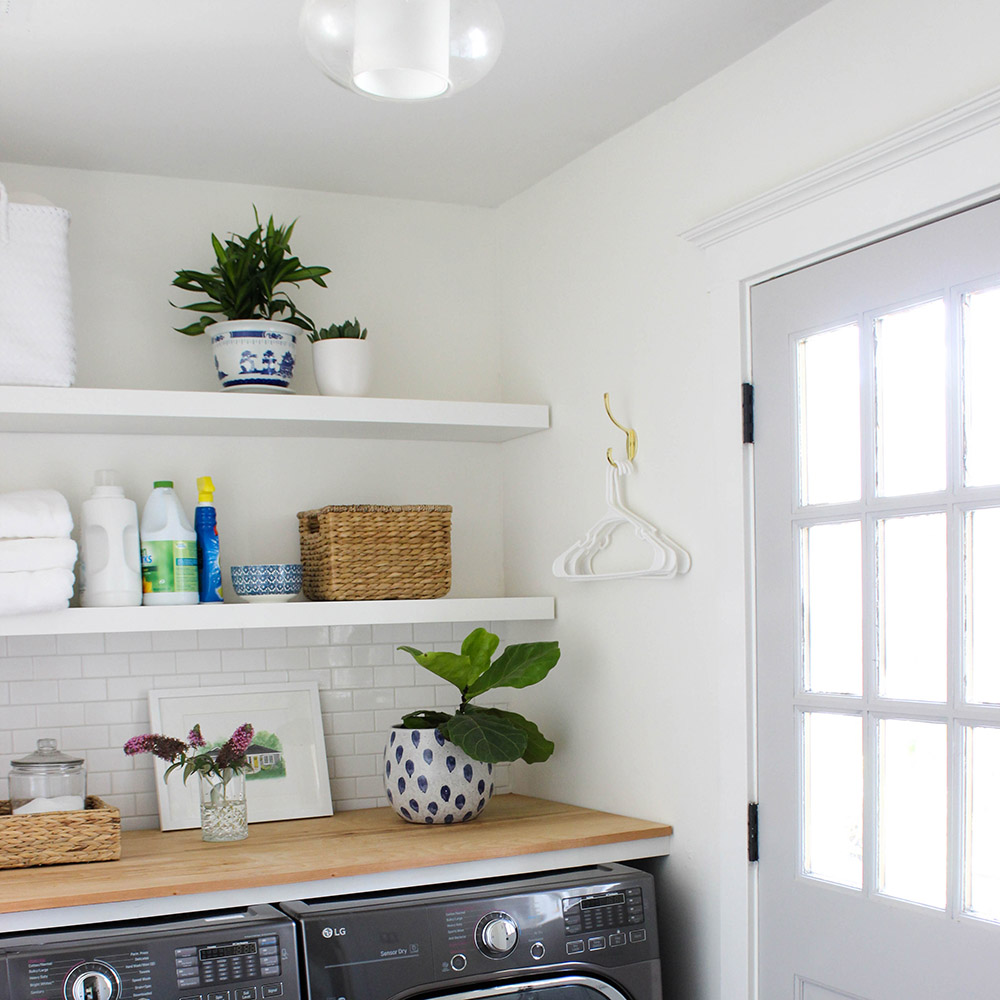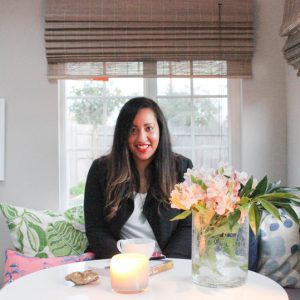 A Note From The Home Depot
Katrina Sullivan of Chic Little House decided to revamp her laundry room to create a space that is organized, inviting, and functional. Her summer makeover is complete with new storage, countertops, fresh paint, and of course, a new LG washer and dryer with all the bells and whistles. With the help of The Home Depot, her laundry no longer feels like a chore and she's here to share her before-and-after experience as well as some of her favorite features of her new appliances.
One of the most underutilized areas in our home is our laundry room. There was no storage of any kind and the appliances did only the bare minimum for our laundry care needs. Our laundry room opens to our kitchen and living room and seeing it in such a sad state was a daily reminder our family's needs weren't being met. We decided to tackle our laundry room this summer and create a laundry room space that feels like an extension of our home.
On the to-do list was new storage, fresh paint, countertop and most exciting of all bringing in a new washer and dryer.
To appreciate how far our laundry room has come, you have to see the before. You won't believe it's the same space, trust me!
We started our washer search by visiting The Home Depot online. We used the filters on the site to help us select a washer and dryer that would work with our family's needs. Since our laundry room is small, a side by side set-up offers us more space, plus allows for me to have a small countertop above to hold everyday laundry essentials and a place to fold clothes.
The Home Depot has videos on their website that share information on how to measure for new appliances. This was crucial since our area is small. We visited the appliances in the store and loved how they looked plus all the features!
The LG washer has several cycles to help to make washing clothes a breeze. I frequently use these laundry cycles for my family. Allergiene is perfect for bedding and clothes; I use this cycle on my son's clothes after playing outside in the grass. The cycle helps get his clothes extra clean. I also love Sanitary cycle for my husband's work clothes and Hand Wash for my more delicate items of clothing.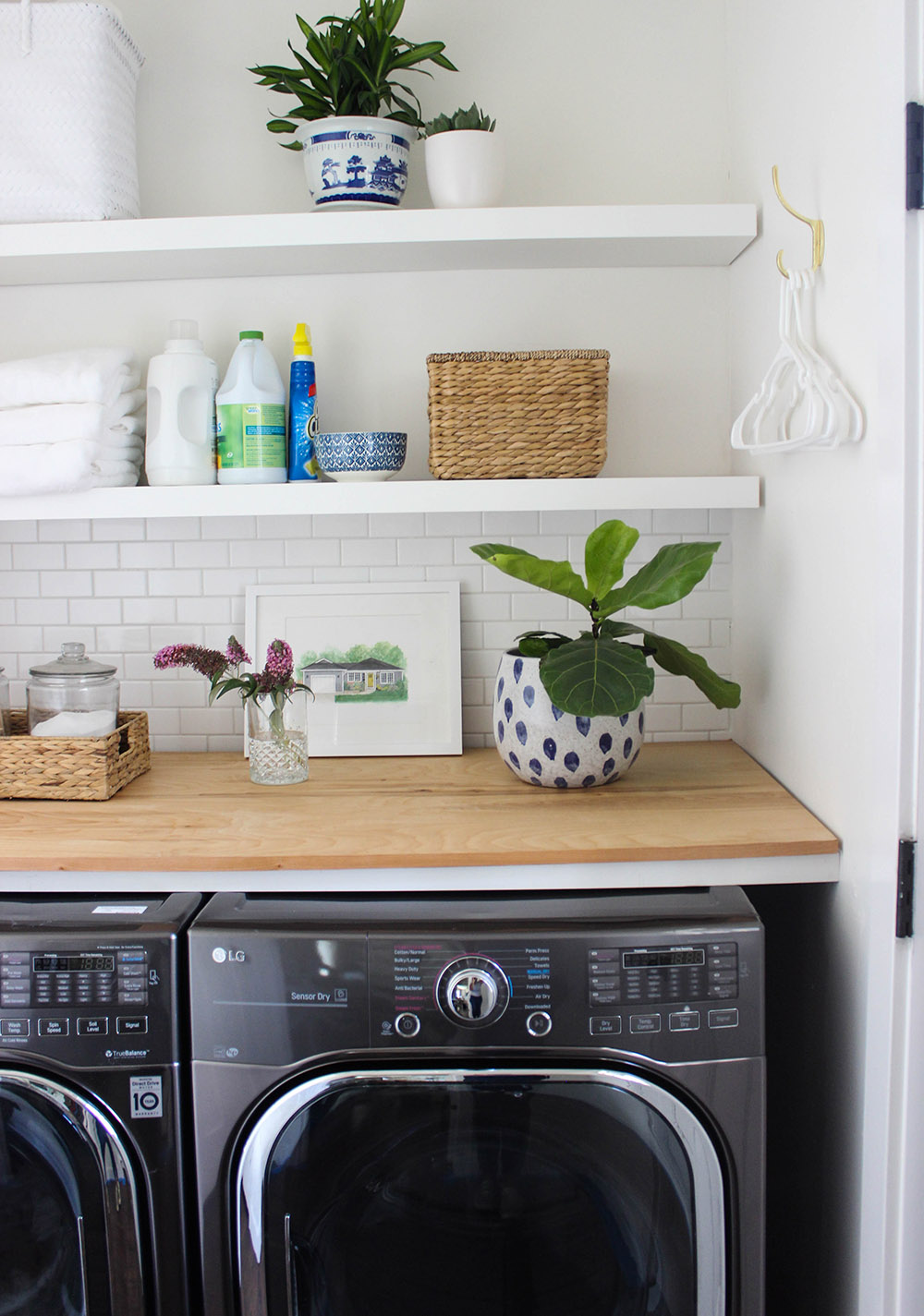 I also love LG's amazing TubWash feature which cuts 20 mins off the washing time for large loads of laundry. No more waiting hours for large loads of laundry to wash, been there done that! Hands down my favorite feature of the LG dryer is the steam option! I use the Steam Fresh cycle on shirts, duvets, and bedding. I'm also a fan of the Freshen Up cycle; I've been using this feature a lot this summer on my son's swim clothes. He swims every day and having this feature keeps his swim clothes and towels fresh.
The ordering process and delivery process were also super easy. The delivery men installed our new washer and dryer in record time and made sure everything was working correctly before leaving. With our new washer and dryer in place, I felt inspired to tackle the rest of our laundry room refresh and finally create a space where laundry no longer feels like a chore.
We have subway tile in our kitchen and decided to carry the same look into our laundry room using Daltile Restore Bright White Tiles. These tiles are a small version of our kitchen subway tile and fit the small footwork of our room perfectly.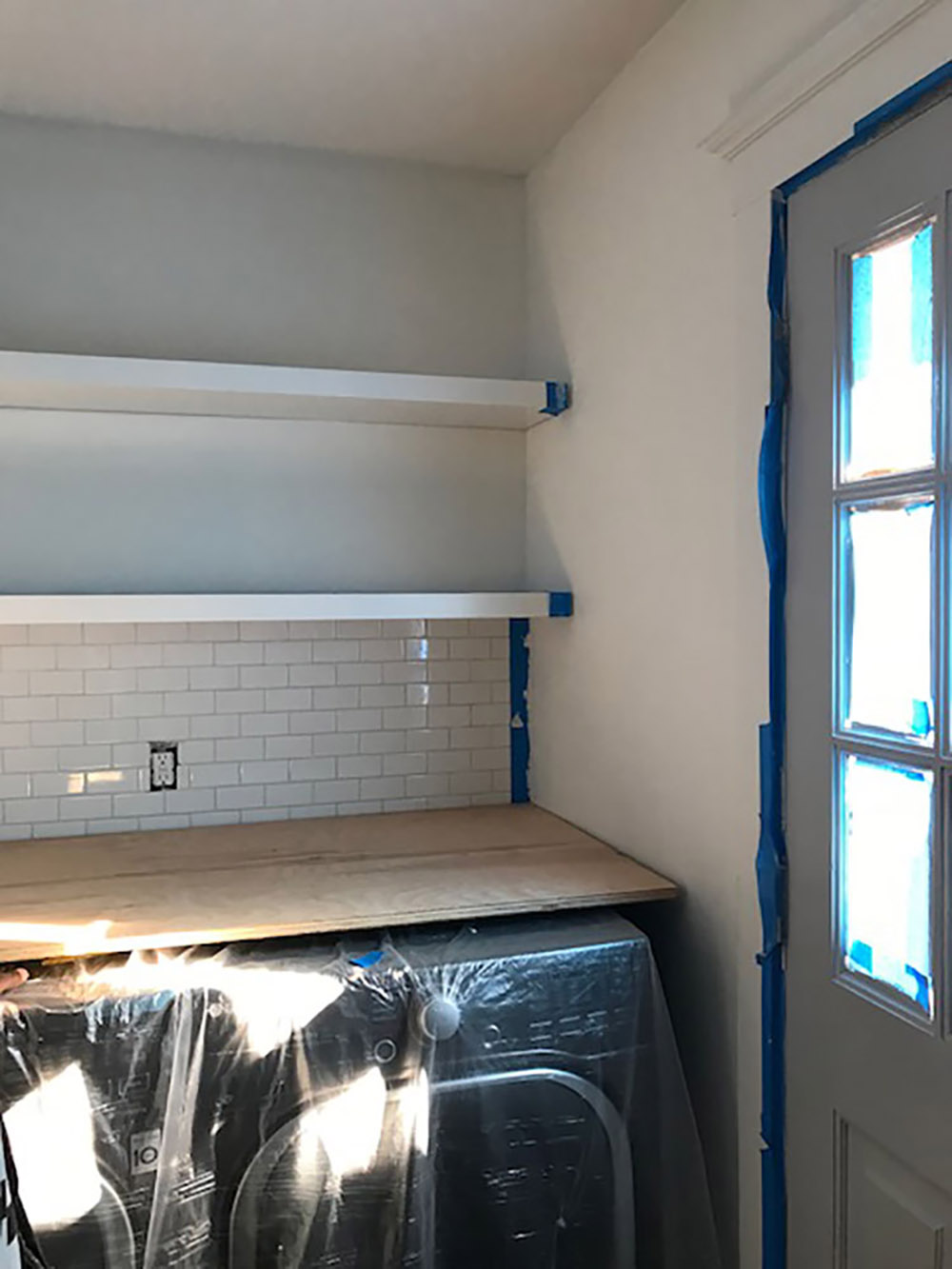 This was our first tiling project, and we went in a little nervous. Thankfully a Home Depot store associate was able to help us pick out the correct materials needed to complete our project. Above our washer and dryer, we also installed floating shelves to provide extra storage. For years we've gone without a countertop in our laundry space and it's been such a hassle. Socks were continually disappearing behind our washer and dryer. When the installers moved our old washer and dryer it was embarrassing to see all the lint and clothes that had fallen behind the machines!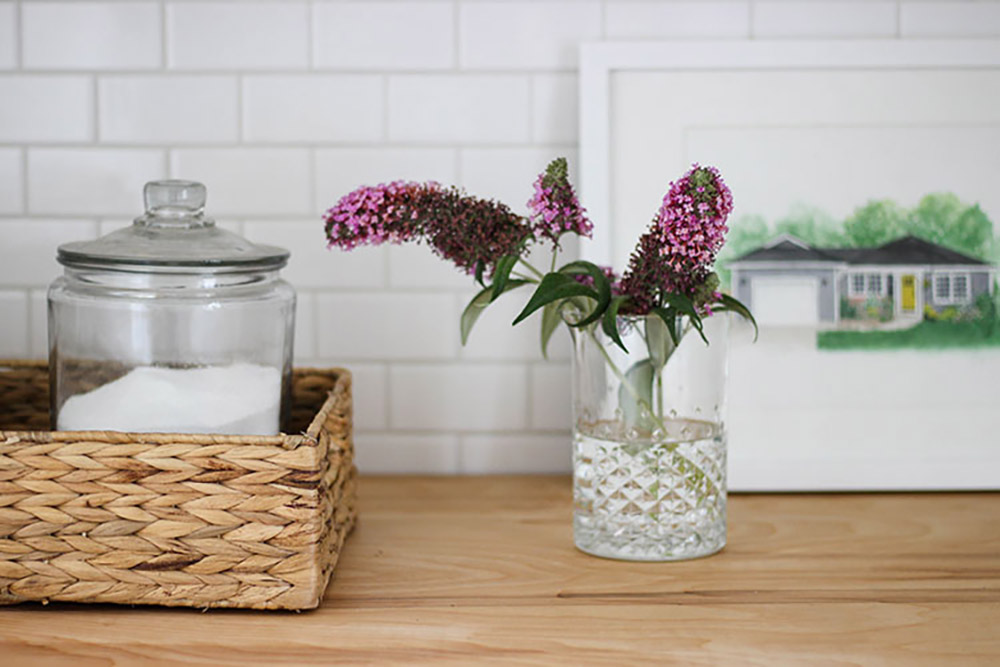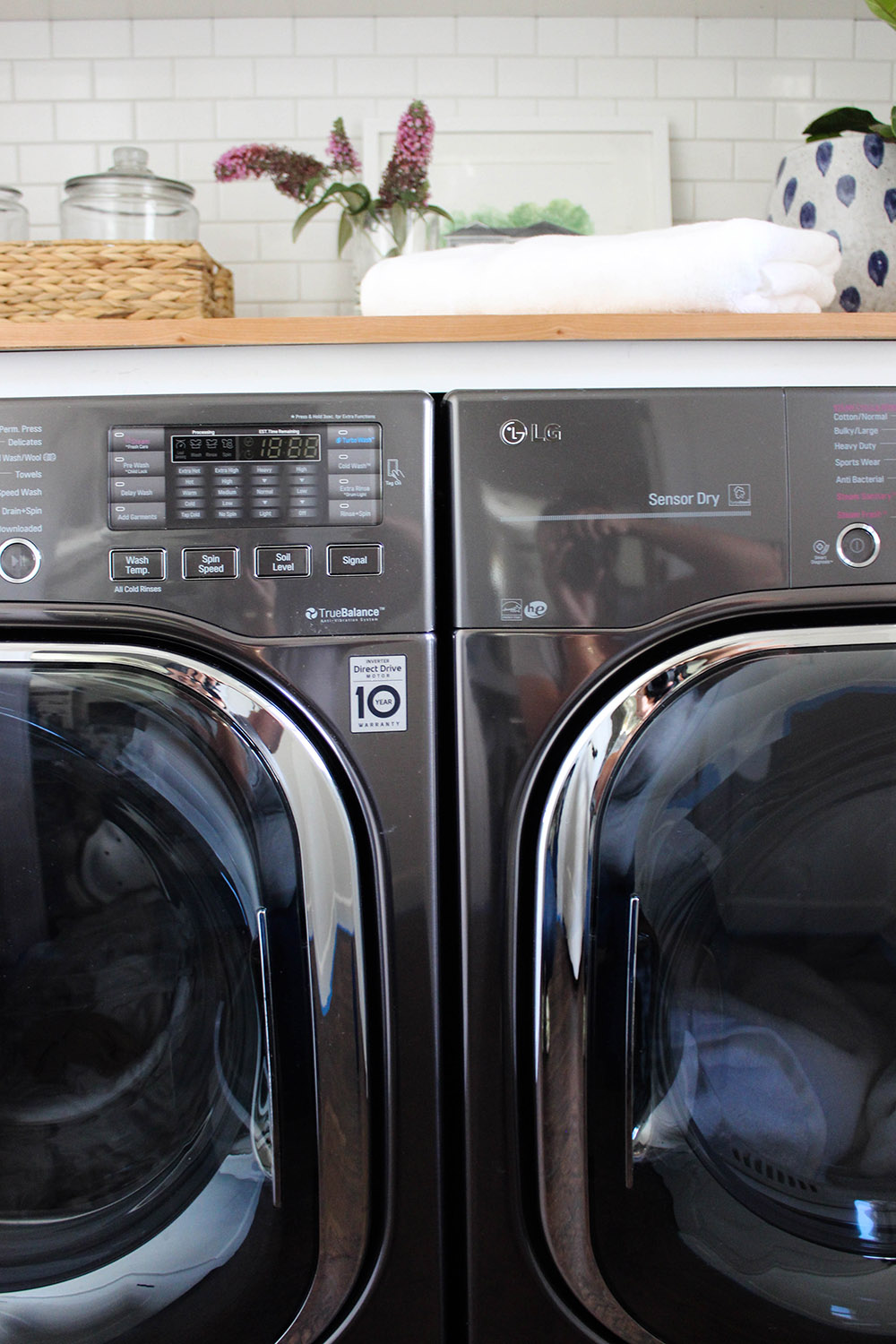 Using the PureBond Birch Plywood we had cut down to size at The Home Depot, we were able to DIY a counter for our space. I walked down the wood flooring department for inspiration to find the perfect stain color. I found a natural wood sample that I loved and used it to help me pick the ideal stain from Varathane. The Natural stain was awesome and helped enhance the beauty of the wood. As a bonus it dries within one hour! I wanted the room to feel bright and open, so I painted the walls Swiss Coffee by Behr. I also gave the trim a new coat of fresh white paint.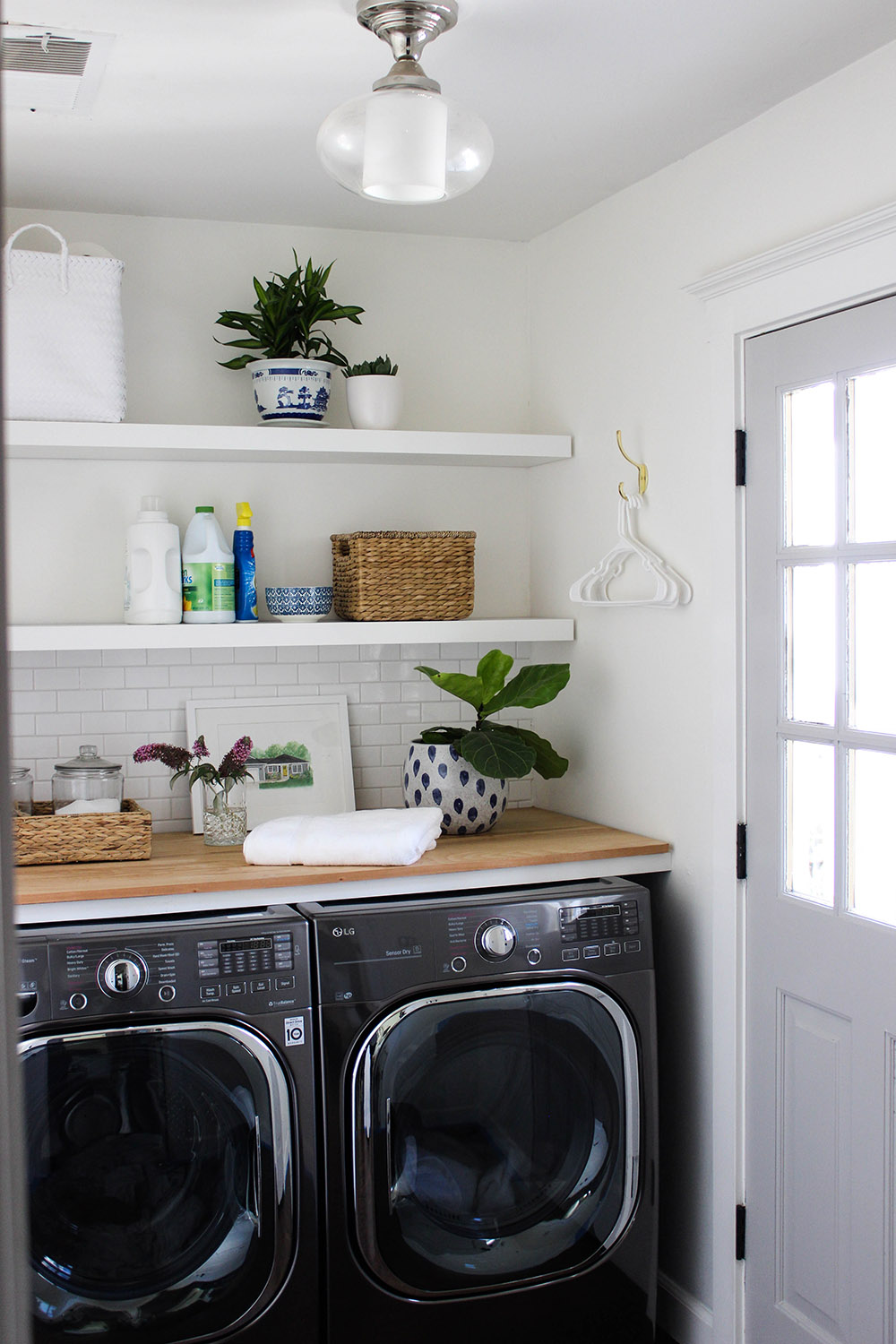 I'm so in love with our new laundry room and love my new appliances. The LG Washer and Dryer in our laundry room have been a real game changer! I love that our space feels larger and brighter. I also love all the storage we now have. Doing laundry is no longer a chore. The room is now a space I now enjoy being in. Plus, since our laundry room is also how our guests enter our backyard patio, it's no longer an embarrassing eye sore. Such a good feeling!
This post was created in partnership with The Home Depot. The author may have received compensation for this article and associated images or video, potentially in the form of products and/or services. All expressed opinions and experiences are the author's own words.
Explore More on homedepot.com