Before you purchase your new washer and dryer, pre-measure the space where they will sit. Having accurate washer and dryer dimensions can help you decide the style and size of your new machines, making the purchasing and installation easier. From dimensions for stackable washers and dryers to standard washer and dryer dimensions, this guide shows you how to determine how much space you'll need. 
Choose Your Setup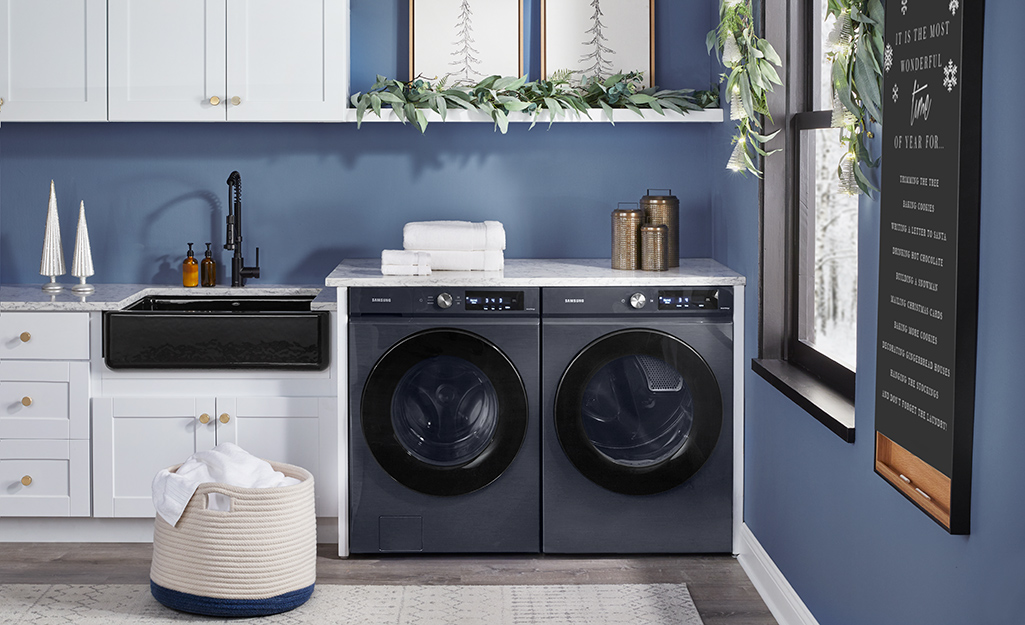 Washers and dryers come in a variety of styles and sizes. All laundry rooms are designed differently, and while you might be coveting a new large capacity washer, your laundry room layout may only have room for a set of stackable or compact washers and dryers. 
Whether you position them side-by-side or plan to stack them, there are a few things to consider before installing your new machines. 
Front loading washer and dryer dimensions will incorporate a bit more room in front of the machines. Additionally, if you plan to stack your front load machines, you will need to consider your laundry area's ceiling height as well.
For front loading washers and dryers, install pedestals underneath to alleviate any back straining.
For smaller spaces, consider compact washing machines and compact dryers as well as stackable solutions.
Make Space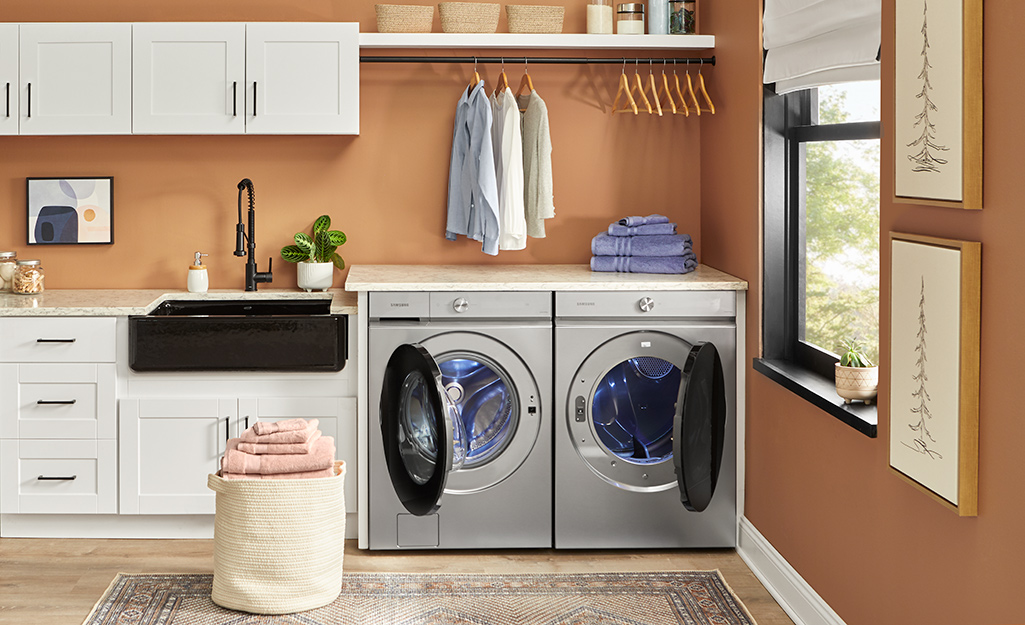 While the majority of measurements will be similar for most machines, it's important to note that there are no standard washer or dryer dimensions. For this reason, you need to leave room on all sides when installing. Here are the areas to measure:
Above: For top-load machines, add at least 20 inches above to allow it to open fully.
In front: When determining the dimensions of a washer-dryer combo, always add in about 3 to 4 feet in front of the pair for loading and unloading. You want to be sure the doors will clear any walls or door jambs.
Behind: Add in about 6 inches for venting space and hoses. Also account for floor trim.
On the sides: Help minimize noise by leaving about 1 inch of space on each side of your washer and dryer.
Pedestals: Don't forget to add these measurements into your calculations if you plan to purchase pedestals.
Measure Twice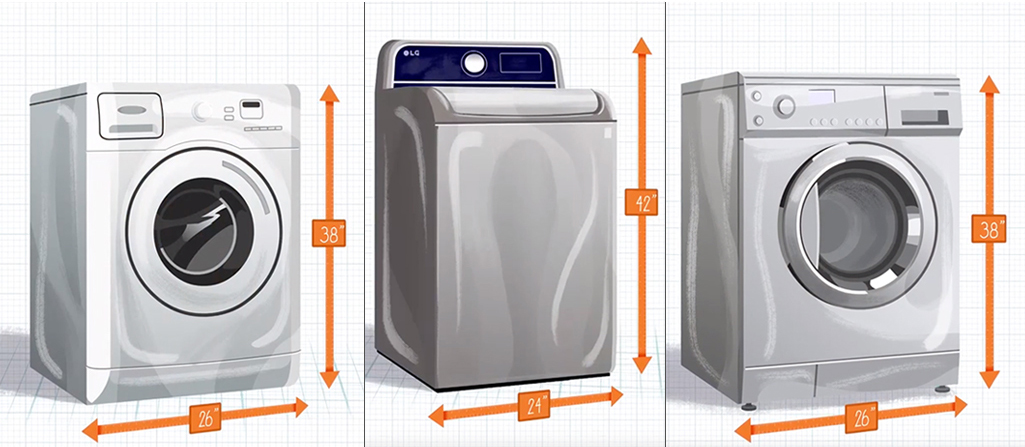 Before you head to the store, research the models you are interested in online and measure space using those dimensions. This helps avoid purchasing a standard model when your space only allows for a small washing machine. 
Although there are no standard measurements, a washer-dryer pair placed side by side will measure about 27 inches wide and 35 to 43 inches high. For stackable models, the width is usually 24 to 27 inches and the height is 70 to 76 inches. It's important to measure the space twice, just to be sure that you have exact dimensions. You will always measure height, width and depth. 
Bringing Your Washer and Dryer Into Your Laundry Area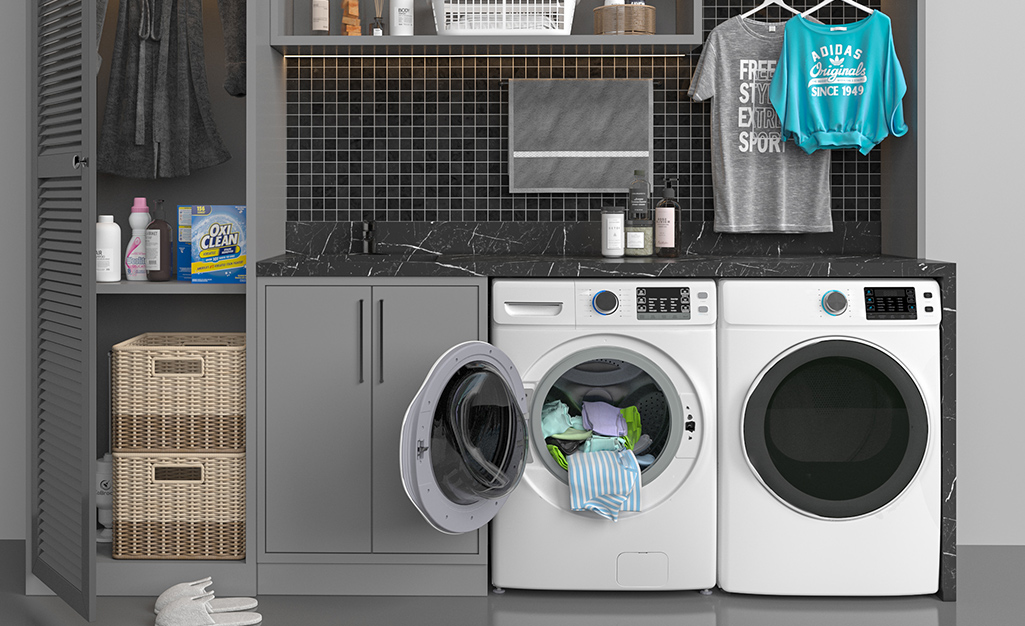 One of the most important steps in figuring out dimensions is to consider how you will bring the washer and dryer into your laundry area. Be sure that the models you've chosen will fit through your entry door and down the hall. Figure out the best route and measure the width of each of those areas before purchasing your washer and dryer. 
Ready to order your new washer and dryer? Knowing how to measure will save you time and headaches. The Home Depot delivers online orders when and where you need them.
Explore More on homedepot.com