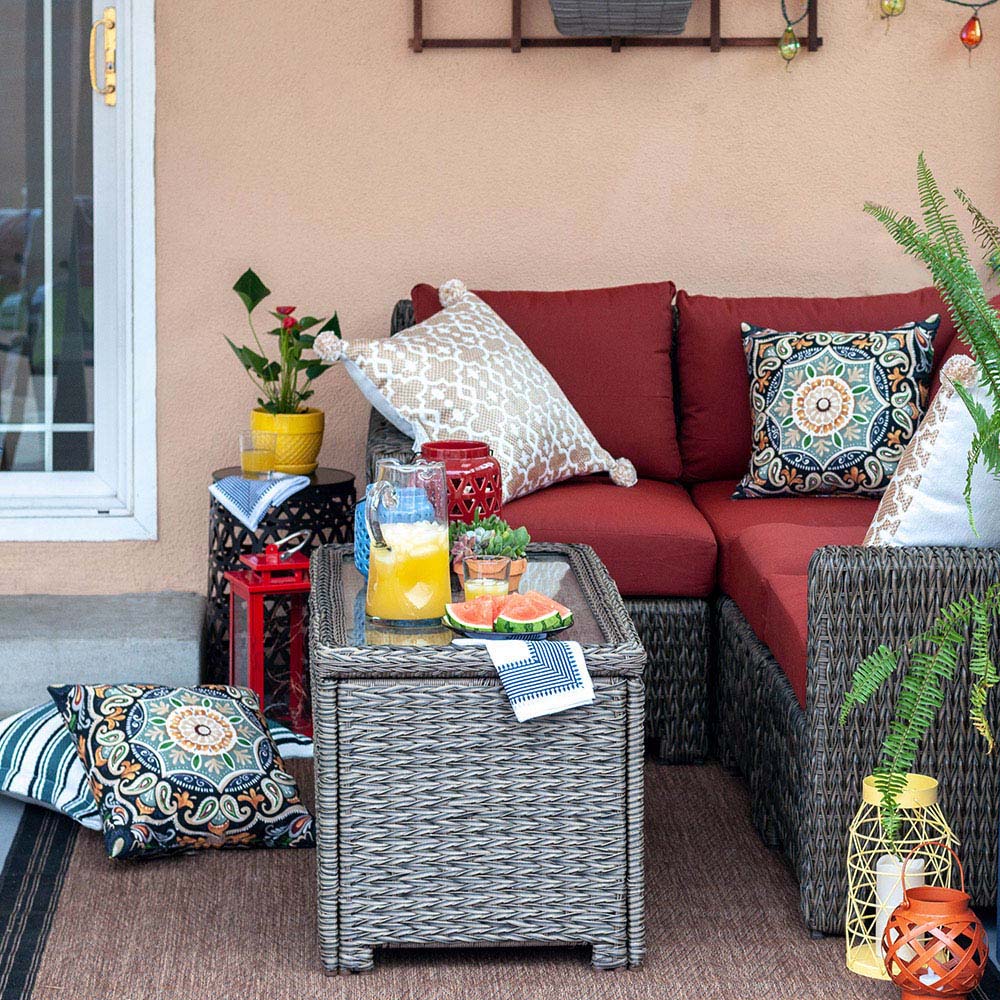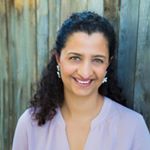 A Note From The Home Depot
Making the most of the small spaces around your house can be tricky, especially when it comes to outdoor patio furniture. Anika Gandhi of Anika's DIY Life was able to use some of The Home Depot's products to create the perfect entertaining corner on her patio.
1
Creating a Colorful and Cozy Patio Corner
Last summer was our first summer in this house. I didn't do much to our patio because I wanted to experience the space and understand how we would use it.
We spent a lot of time out back with friends and family enjoying the pool and just hanging out! So, I knew that this summer – I needed to make this space a nice cozy conversational area.
When we bought the home, the patio was in a pretty sad state.
Last year, I gave it a quick refresh with Behr concrete stain and kept our old curbside rescue patio furniture.
Overall, the patio felt bland and lacking warmth. Also, those chairs – not very comfortable for long afternoons on the patio.
This year, I have been waiting for spring to finally start working on our backyard and patio!
My goal is to create a fun and cozy space where we can hang out and entertain as we enjoy the pool.
Our main living space has a lot of traditional Indian elements.
Since the patio is basically an extension of the living room, I wanted the decor to flow effortlessly to the outdoor space.
I decided to pick earthy and deep hues – brown, orange, and blue and add in a splash of yellow to make it cheerful.
And of course, greenery; There had to be lots and lots of greenery!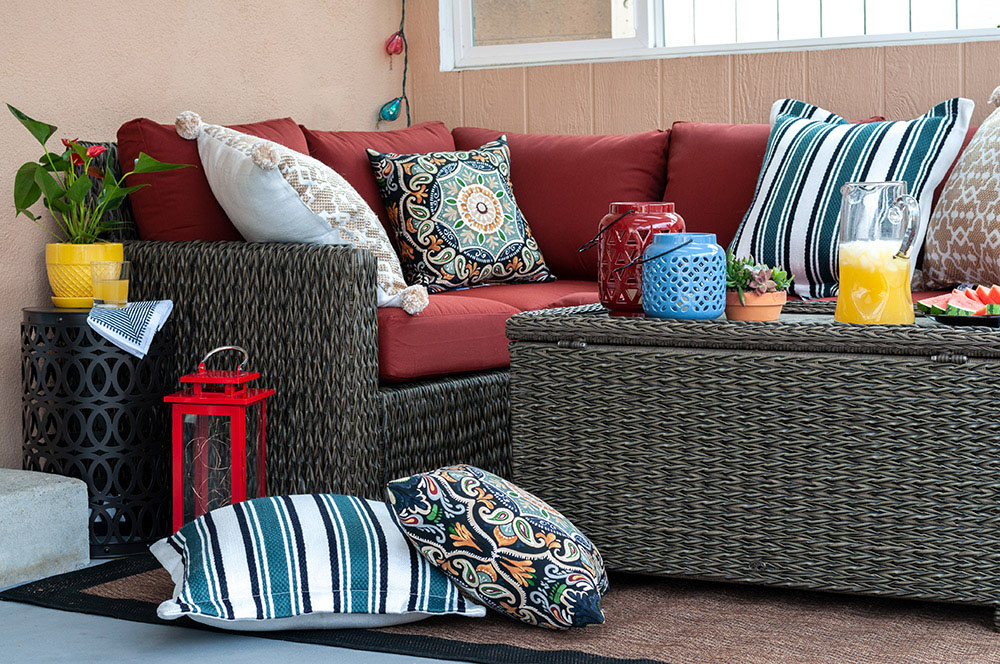 The Hampton Bay Laguna Point sectional is the perfect piece for the space. Its plush cushions add instant coziness to the outdoor area. It makes the perfect corner to have a conversation or cuddle up on a cool night. I love the look of the deep brown wicker against the orange cushions.
The sectional comes with the perfect sized storage coffee table with a glass top. It's a great place to store blankets or all those pillows when not using them!
The entire space is anchored by the Hampton bay black brown rug. Its texture and color flow well with the sectional and is comfortable under those bare wet feet when you take a break from the pool and come to grab a snack or drink.
Add a bronze metal garden stool and you have the perfect setup.
7
The More Pillows the Better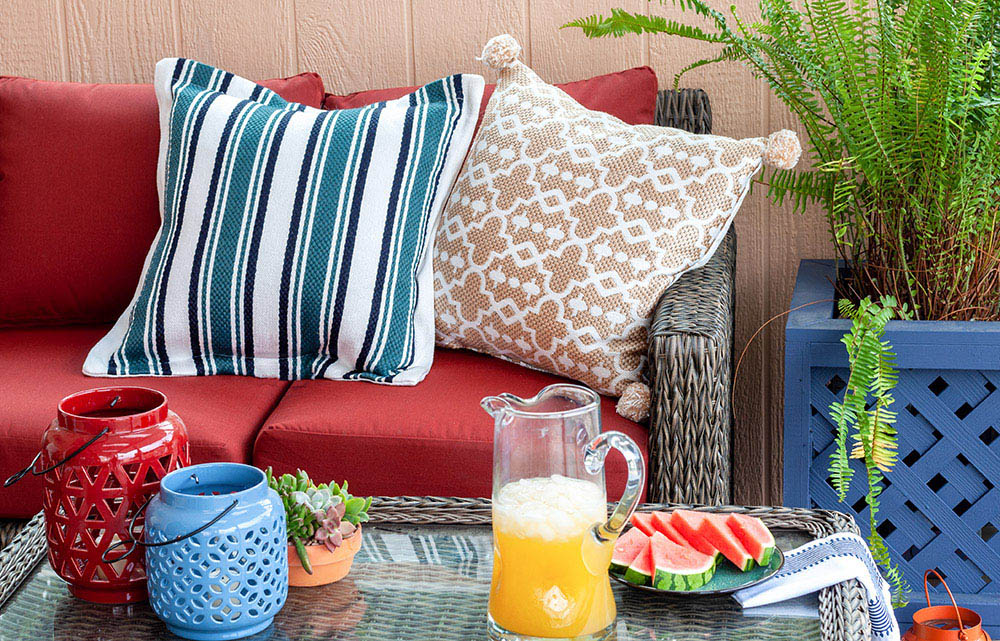 There are three main elements of decor in this space – greenery, lanterns and lighting.
Although I wanted lots of greenery, I also wanted to keep them low maintenance.
For the blank patio wall, I used a wood barrel trellis, cut off the extra legs and stained it using Varathane dark walnut before hanging it up.
I found an amazing succulent arrangement in The Home Depot Garden Center. It was perfect for the wall and a conical succulent arrangement in the windows.
Behind the sectional, I hung a couple strings of the iridescent string lights. I love the colors and shapes. The patio roof got wrapped in outdoor LED string lights.
At dusk, when all the lights are on, it is almost magical.
It is the perfect place to cozy up and read book on a summer evening or have conversations with friends.
I have to admit, ever since I set up this entire space I have taken every opportunity to sit out here – to just hang out or to work.
We are all so happy this corner got the love it deserved and we can't wait for summer!
This post was created in partnership with The Home Depot. The author may have received compensation for this article and associated images or video, potentially in the form of products and/or services. All expressed opinions and experiences are the author's own words.
Explore More on homedepot.com