Give your kitchen a new look with kitchen cabinet refacing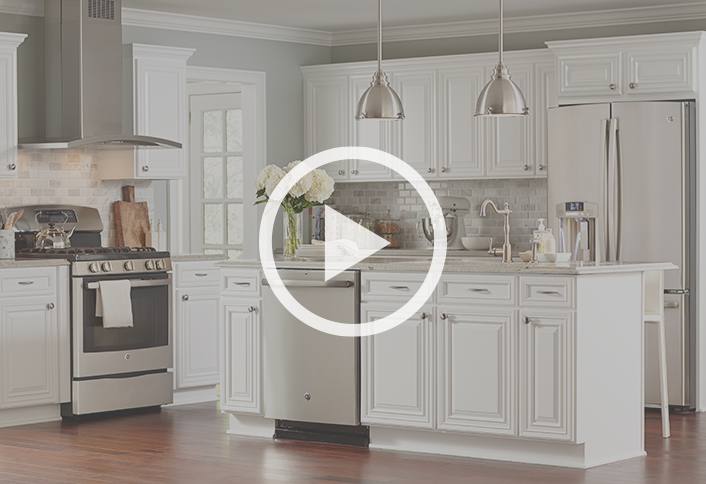 Give your kitchen a new look and avoid a complete remodel by keeping your existing cabinets and simply replacing the doors and hardware. This guide will explain the refacing options available so you can find the style that's most compatible with your home.
Update Cabinet Doors
Select new cabinet doors made from solid wood, rigid thermofoil or bamboo. Then, choose your overlay style.


Solid wood

Available in maple, cherry and oak
Can be personalized with finishes, stains, paint and glazes

Rigid thermofoil

Thin, layered plastic coating fused to medium density fiberboard (MDF) with heat and pressure
Available in a wide range of colors and styles

Bamboo

Attractive and an eco-friendly renewable resource
Available in a large selection of bamboo finishes

An overlay is how the cabinet doors lay on the cabinet face. There are two overlay styles.
Standard overlays (aka "traditional" overlays) leave the face of the cabinet box visible around doors and drawers, creating a type of frame.

Full overlays have the cabinet doors mounted so they completely cover the cabinet box with virtually no cabinet frame showing around doors and drawer fronts.


Cabinet Hardware
Hardware such as cabinet hinges, handles, knobs and pulls can make your cabinets function more easily and are a finishing touch to define your décor.

The type of cabinet you have partly determines the type of hinges used on it.


Framed cabinets have hinges attached to the door and the frame, while frameless cabinets have hinges attached to the door and the wall.


European ("concealed") hinges are not visible when the door is closed. They provide a sleek, clean appearance and are often used with contemporary styles.


Most of these hinges are self-closing and commonly limit the door to opening 110 degrees. European hinges are always used on full overlay cabinet doors or frameless cabinets.


Traditional ("exposed") hinges show on the outside of the cabinet and are used with traditional cabinet styles. Types include spring-loaded self-closing barrel hinges and knife hinges, which allow the door to open 180 degrees.

Cabinet handles or pulls come in a variety of styles and materials, from plastic and wood to ceramic and crystal. Most come in matching combinations with knobs for doors and handles for doors and drawers.