Bathroom exhaust fans improve indoor air quality by quickly venting moist air outside. Removing moisture from your bathroom helps prevent mold and mildew growth, among other types of moisture damage. When choosing the best bathroom exhaust fans for your home, know how to identify and select the right size and features. This guide explains what to look for so you can choose the best exhaust fan for bathrooms in your home. 
How Do Bathroom Exhaust Fans Work?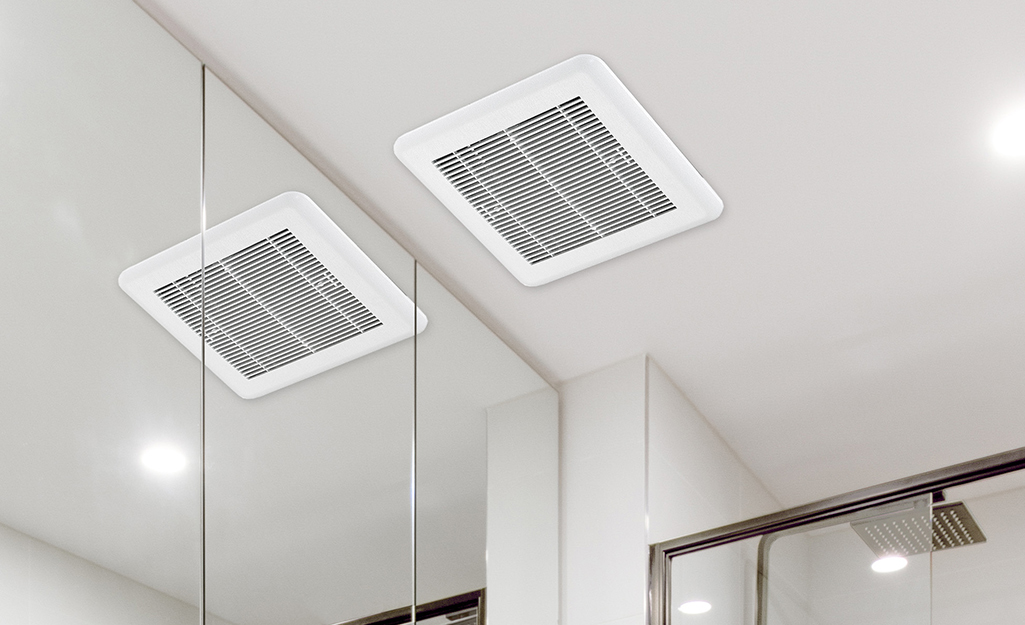 Moisture from hot showers, baths and other fixtures can accumulate on your bathroom walls, windows and cabinets. Without proper ventilation, this moisture can lead to mold and mildew growth, peeling paint, damaged wallpaper and warped walls and cabinetry. 
An appropriately sized and installed bathroom exhaust fan will remove the moist air and prevent these problems. Plus, bathroom fans can help improve overall air quality and remove odors.  
The best bathroom exhaust fans connect to your home's existing vent ducts and channel the moist air outside. Some types of bathroom fans only vent moist air to the space in between your ceiling joists or into an attic. While easier and quicker to install, these bathroom fans can contribute to moisture damage elsewhere in your home in the long run. If your local building codes require an exhaust fan in bathrooms, then they also likely require that the fan vents air directly outside, rather than into other parts of your home. 
We recommend always venting your fans to the outside and never into an attic or crawlspace. 
What Size Bathroom Exhaust Fan Do You Need?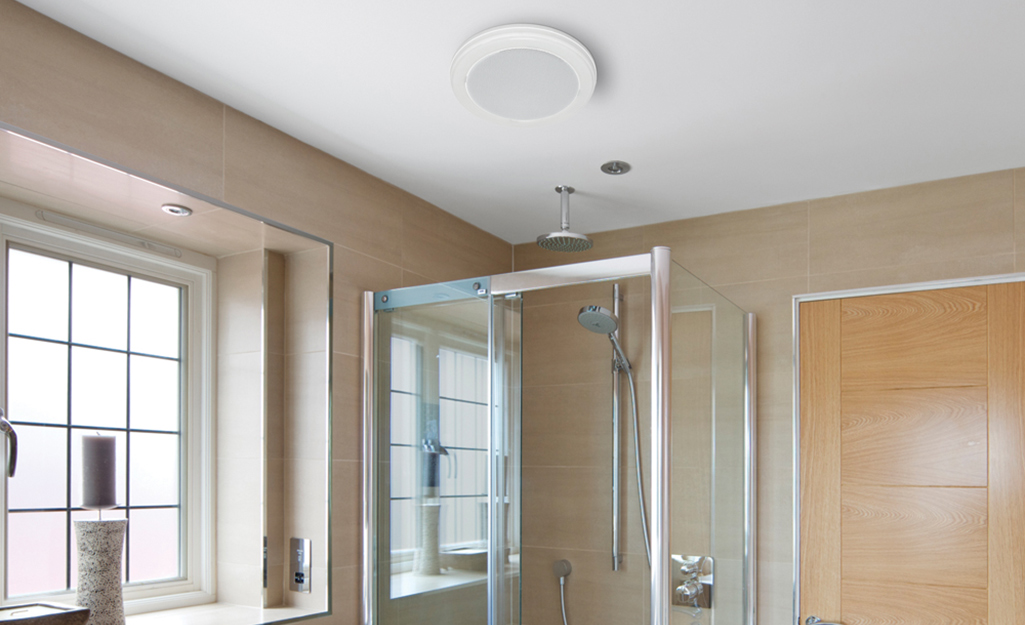 The most important part of choosing a bathroom exhaust fan is determining the right size for your bathroom. A fan's ability to move air is measured in cubic feet per minute (CFM). The bigger the bathroom, the higher the CFM rating you'll need. A fan should have a CFM rating high enough to replace the air in your bathroom at a rate of eight times per hour. 
To figure out the right fan size, first determine the area of your bathroom. Measure the length and width of your bathroom and the height of its ceilings. Then use those measurements in this formula:
Length x Width x Height = Bathroom Size
Once you have your bathroom's size, you can convert it to CFM. Use this formula to determine the minimum CFM rating your bathroom fan needs:
Bathroom Size x 0.13 = Minimum CFM Rating
If you'd prefer to skip the math, or if your bathroom ceilings are too difficult to measure, check the fan's packaging. The packaging should tell you the maximum square footage the fan can ventilate. If you know your bathroom's approximate square footage, you can choose a fan based on the maximum square footage the package says it can accommodate. 
Here are some bathroom exhaust fan size tips: 
Most fans are rated from 50 to 110 CFM, but some models designed for large master bathrooms, rec rooms and home theaters can be rated even higher.
Choose a fan that can ventilate at least 1 CFM per square foot of room. So, for an 80 square foot bathroom, select an 80 CFM fan.
For bathrooms 50 square feet and smaller, it's recommended you purchase a bath fan designed for small rooms. In other words, choose under 79 CFM bath fans.
For medium-sized bathrooms, use 80 to 99 CFM bath fans.
For large bathrooms that are over 100 square feet but under 150 square feet, use over 100 CFM bath fans.
For extra-large bathrooms, add 50 CFM for every toilet, 50 CFM for every bathtub or shower and 100 CFM for a jetted bathtub.
If you are buying fans for a large master bathroom, rec room, home theater or other room over 100 square feet, consider installing multiple fans.
Things to Consider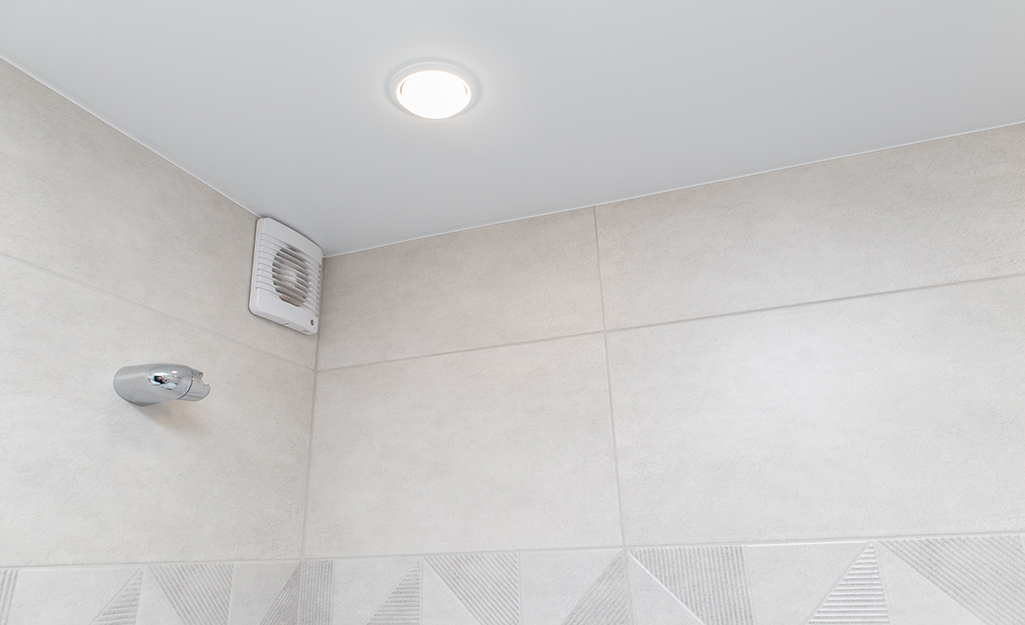 Noise Level: 
The industry standard for measuring the amount of noise a fan makes when it's in use is called sones. Determine how loud a fan will be based on its sone rating. The lower the sone rating, the quieter the fan will be. One sone is equivalent to the sound of a quiet refrigerator, so a quiet bathroom exhaust fan will be rated at about 1 1/2 sones or less.  
Energy Efficiency: 
Energy efficient fans will have earned an ENERGY STAR label. Many energy efficient fans will also have low sone ratings, so you can expect them to be quiet. An ENERGY STAR certified fan will use about 60 percent less energy than standard bathroom fans.  
Mounting Options: 
Bathroom fans are available in three models: those that offer ceiling mounts, wall mounts or both. While the ceiling installation style is the most common, choose the mount type that works best with your bathroom's layout and your home's ducts. Typically, top-floor bathrooms and single-story homes use ceiling bath fans, while bathrooms on mid-levels may have to use wall bath fans that vent out the side of the home.  
Installation: 
Keep these installation considerations in mind when buying a bathroom exhaust fan:
Consider replacing a light fixture with a bath fan model that features a light. This will allow you to use the existing wiring and switch.
If your bathroom fan and bathroom light are installed separately, you will need a combination switch that has two or three controls.
When installing, remember that fans in top story bathrooms will be ducted through the attic to the outside through the roof or wall. Fans in bathrooms in the first story of a multi-story home are vented through the side of the house.
If you are replacing or upgrading a fan, the diameter of the duct connector on the new housing may be larger than the size of your existing duct. To maximize performance, try to match your new fan to the duct diameter.
No cut installation bath fans allow you to easily replace an old fan without making any new cuts in the ceiling or wall.
Special Features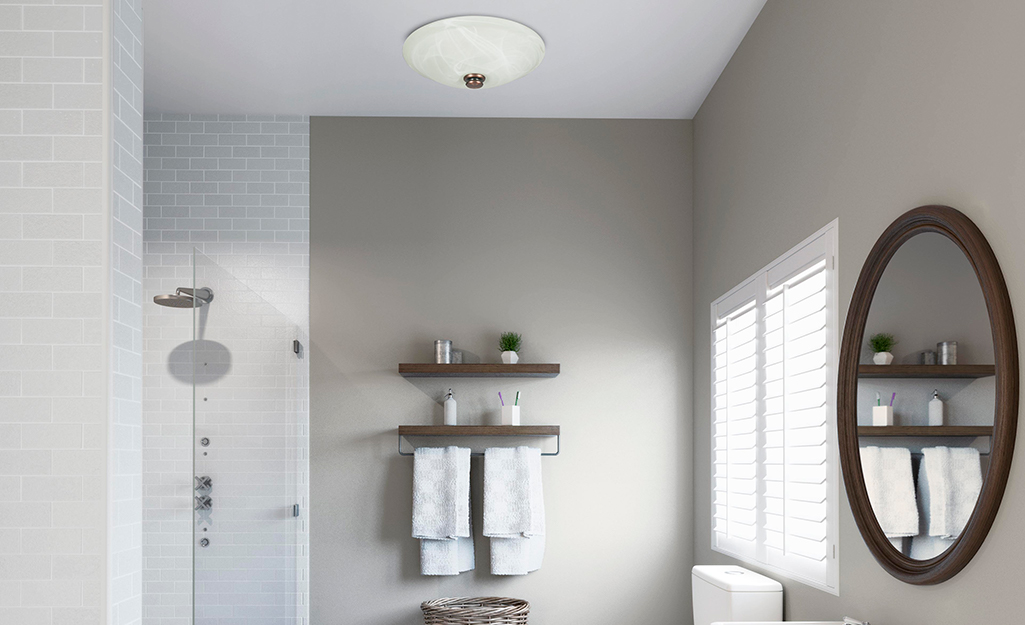 Once you know the size, noise level and mounting type that you want, you can start exploring special features for bathroom fans.
Bath fans with lights: Replace an existing light or add more lighting to your bathroom with a bathroom fan that includes a built-in light. Some fans come equipped with a night light, so you can use the bathroom at night without disturbing your family.
Bath fans with heaters: Built-in heaters improve warm air circulation and keep you comfortable even after you step out of the shower or bath.
Humidity-sensing bath fans: Fans with humidity sensors detect the moisture levels in the air and turn on and off automatically in response.
Motion-sensing bath fans: Often paired with humidity sensors, a motion sensor will detect movement in the bathroom, turning the fan on as a person enters the room and turning it off after detecting no movement for a set amount of time.
Bath fans with adjustable fan speeds: Ensure optimal CFM by setting your desired fan speed. If you find the lowest CFM option isn't venting your bathroom efficiently, change the setting on your fan to a higher CFM.
Bluetooth-enabled bath fans: Some fans are equipped with Bluetooth speakers that can connect to your smart devices, so you can play music while you enjoy a shower or bath.
Most bath fans have a damper that reduces backdraft of cold air from outdoors, preventing you from losing heat through your fan.
Decorative bath fans are designed to blend in with your existing bathroom fixtures. Bath fans with lights can include glass globes that make them look like an ordinary light fixture.
To find the best bathroom exhaust fans for your home, first make sure you know what size you need for your bathroom space. Then you can decide the noise level, installation type and special features that best suit your needs. If you need help identifying a type of bathroom fan or bathroom fan parts, find products fast with image search in The Home Depot Mobile App. Snap a picture of an item you like, and we'll show you similar products.  
If you'd rather let a professional select and install a bathroom fan for you, consider our bathroom installation services. 
Explore More on homedepot.com