Bathroom sink faucets come in a wide array of styles and finishes. Whether you're replacing an old faucet or installing one in a new bathroom, finding the best bathroom faucets can be easy. Read on to learn how to choose the bath fixtures to express your style without sacrificing performance.
Tips Before You Shop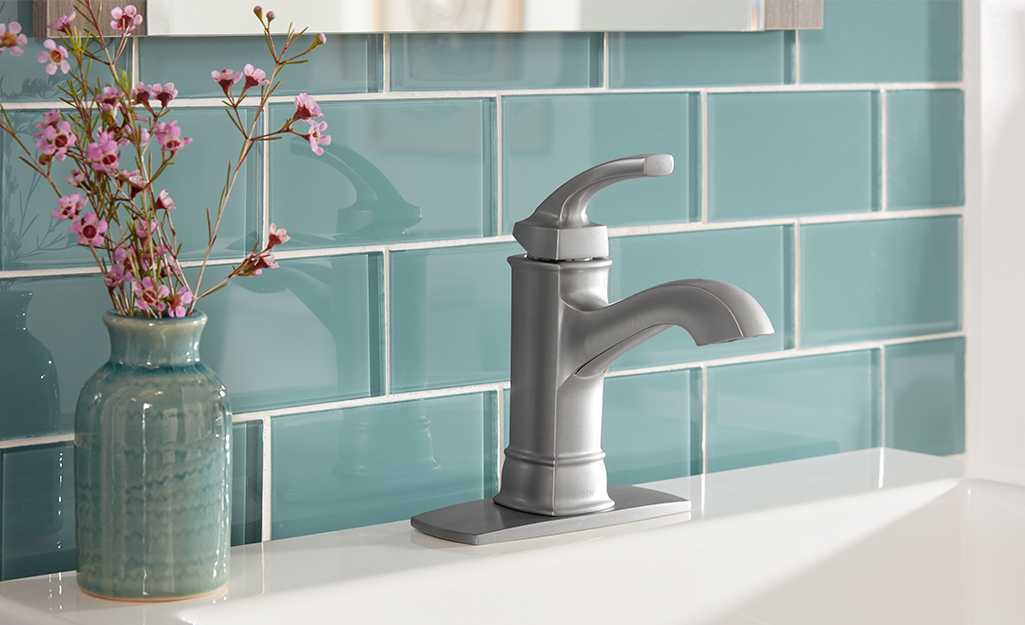 Are you replacing an existing sink faucet or working on a bath remodel? Either way, here are several things to consider before buying a new bathroom faucet. Avoid problems with fit by choosing a new faucet that is compatible with your sink. Also measure the height of the faucet, spout width and curve of the arc to ensure that the faucet will fit.
If you are keeping your current countertop or sink, your new faucet needs to match its spacing and holes exactly. 
If you are replacing the sink or countertop, choose the faucet first. Next, shop for your sink or countertop to match. 
If you plan to mount your faucet on a new countertop, find out if it has pre-drilled holes. If not, you can drill custom holes to fit most any faucet.
Consider whether the arc of your faucet will affect fit. The arc is how high the curve and spout of the faucet are above the sink. A high arc makes it easy to wash large objects. A low arc is less noticeable and best used on smaller sinks such as those in a bathroom. Measurements should be provided in the manufacturer's instructions, but it's always good practice to measure yourself to ensure the faucet is the right size for your sink.
Types of Bathroom Faucets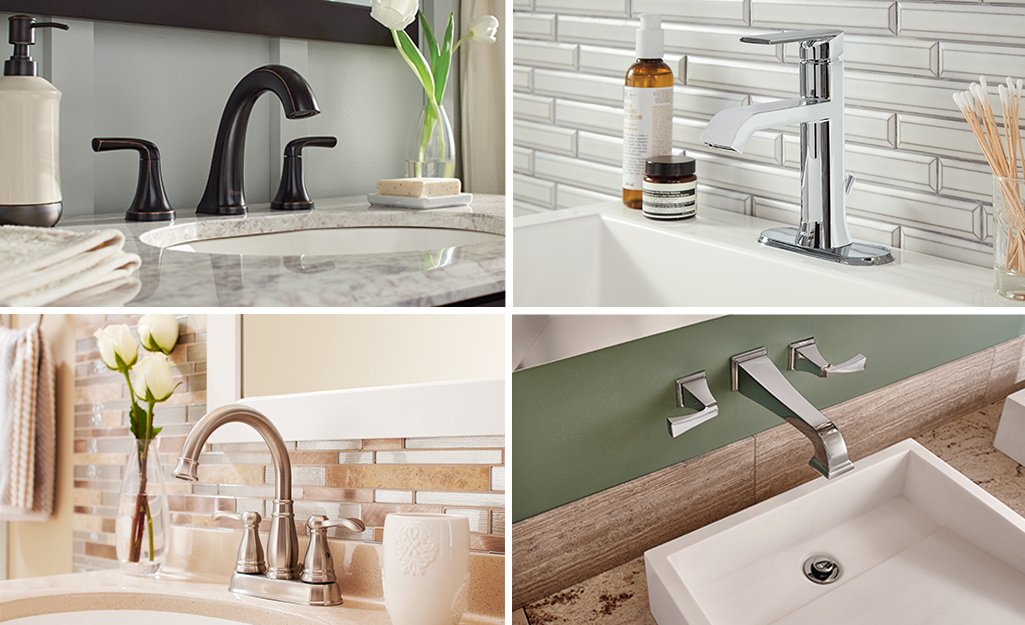 Bathroom sink faucets can either be mounted on the wall, into a countertop or on the sink itself. The most common types of bathroom faucets are single hole, vessel, centerset, widespread and wall mount. 
Selecting which mounting option is best will depend on the size of your sink and how many holes your new faucet needs. Single hole faucets are ideal for small bathrooms and provide excellent temperature control. A centerset faucet require enough space for a 4-inch center hole. 
When it comes to hot and cold water control, a bath faucet sink's handles make a difference. Faucet handles can also be lever, cross, double, knob or "touch-free." Most touchless bathroom faucets are made for one-hole sinks.  
Faucets for One-Hole and Three-Hole Sinks
| | | | | | |
| --- | --- | --- | --- | --- | --- |
| Single Hole Bathroom Faucets | Vessel Sink Faucets | Centerset Bathroom Faucets | Widespread Bathroom Faucets | Wall Mounted Faucets | Touchless Bathroom Sink Faucets |
| Fits on sinks with just one hole. No deck plate needed. Some models feature separate hot and cold handles. Optional cover plate. Usually has one handle connected to the spout. | Tall enough to fit over a vessel sink. Allows water to gracefully cascade directly into the sink. | Countertop or sink mounted. Ideal for smaller, predrilled or pre-existing basins. Combines handles and spout on a 4-inch base unit. | Standard spread of at least 8 inches. | Spout and one or two handles mount on wall above sink. | Mounts on wall or on sink. Available in both hard-wired and battery-operated models. |
Faucet Finishes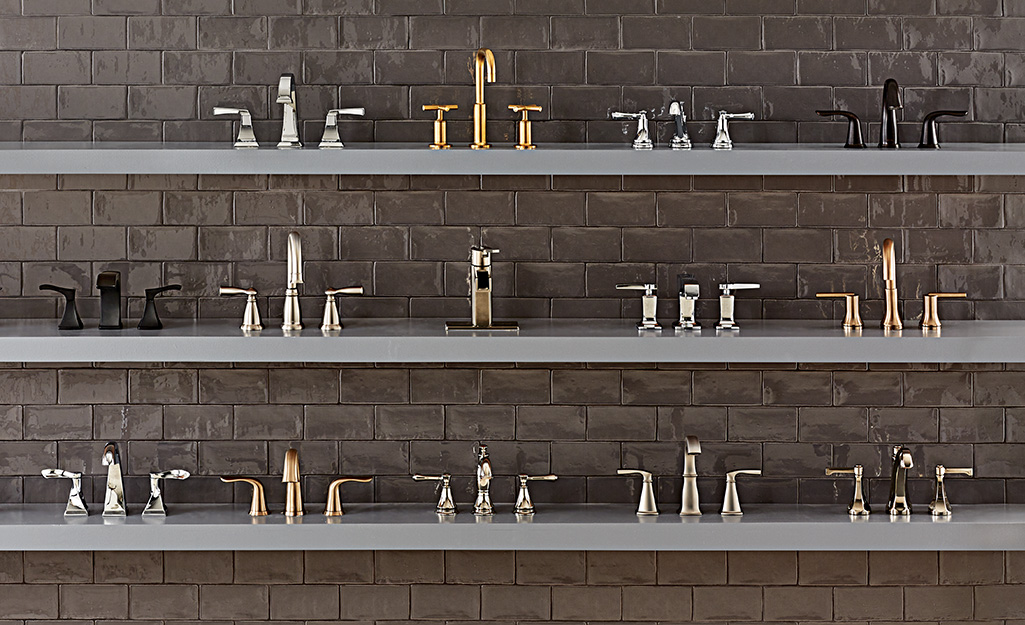 Deciding which finish is best for bathroom faucets comes down to personal choice. Commonly used finishes include chrome, brass, gold plate, satin or brushed nickel, stainless steel and oil-rubbed bronze. 
Chrome may have a polished, brushed or matte finish. It is a popular finish that's both budget-friendly and easy to clean.  
Brass is ideal for traditional styles. Choose one with a lifetime finish that resists fading, scratches and corrosion.
Black and other colored finishes are coated with epoxy or baked-on enamel. They are easy to clean.
High-quality gold plate requires a higher upfront investment but won't tarnish.
Brushed nickel or satin nickel is popular, stylish, durable and easy to clean.
Stainless steel is stylish and won't show water spots, though it is often more expensive.
PVD, or physical vapor deposition, is highly durable and resists abrasion and discoloration.
Oil-rubbed bronze offers a classic look that blends with most any home decor style. It's relatively affordable and high-quality.
Tip: Many manufacturers offer lifetime finishes that won't tarnish. Your faucet will look great for years.
Bathroom Sink Faucet Types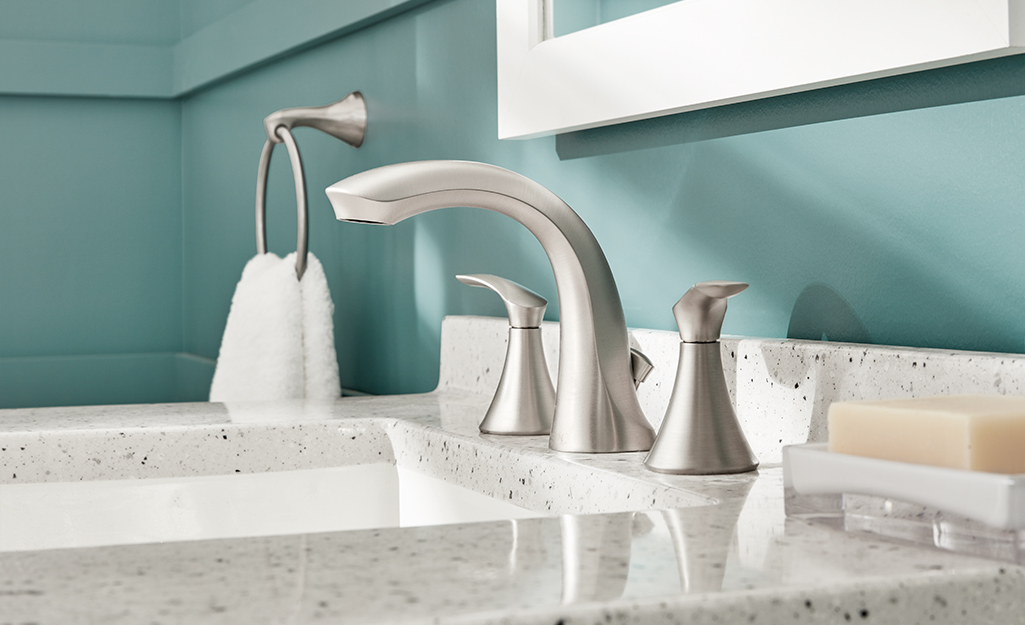 Your new faucet can set a mood for your bathroom. Get the feeling of nature with a waterfall faucet. Be invigorated by a faucet with an aerated spout. Switching out your fixture can brighten up your bathroom decor. 
For a sleek modern look, think a single handle faucet in a polished chrome finish. Go traditional with an antique solid brass bathroom faucet. Brushed nickel is a popular choice, or you can make a statement with a matte black bathroom sink faucet. 
Choosing the Best Bathroom Sink Faucets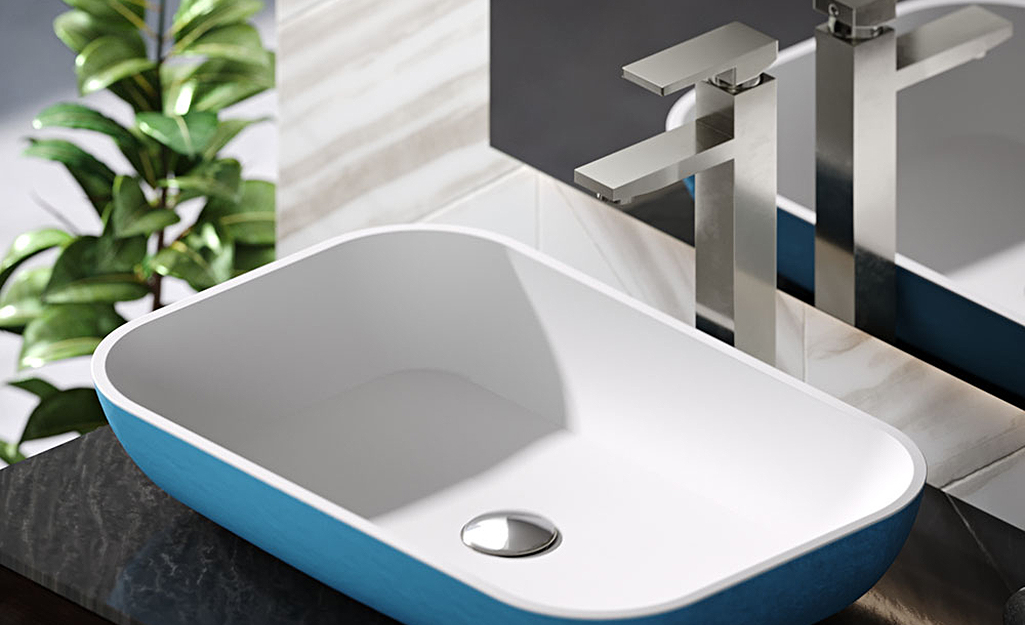 The best sink faucet will fit the space where the sink and faucet are located. For example, a vessel sink needs a spout that is high enough to reach over the bowl. However, using a very tall lavatory faucet for a smaller or undermount sink could leave your countertop drenched. Make sure the faucet won't extend too far over the sink after it's installed. Water from the faucet should hit close to the middle or slightly after the middle of the sink.
Very large vanities look better with the types of sink faucets that take up more space. Think about a 3-piece faucet with the handles spread 8 inches apart. Tighter spaces may be better suited for smaller, compact fixtures. For a small bathroom vanity, a one piece or single handle faucet may be the best choice. Just make sure the plumbing for the faucet you choose also fits the space.
Faucet and Sink Features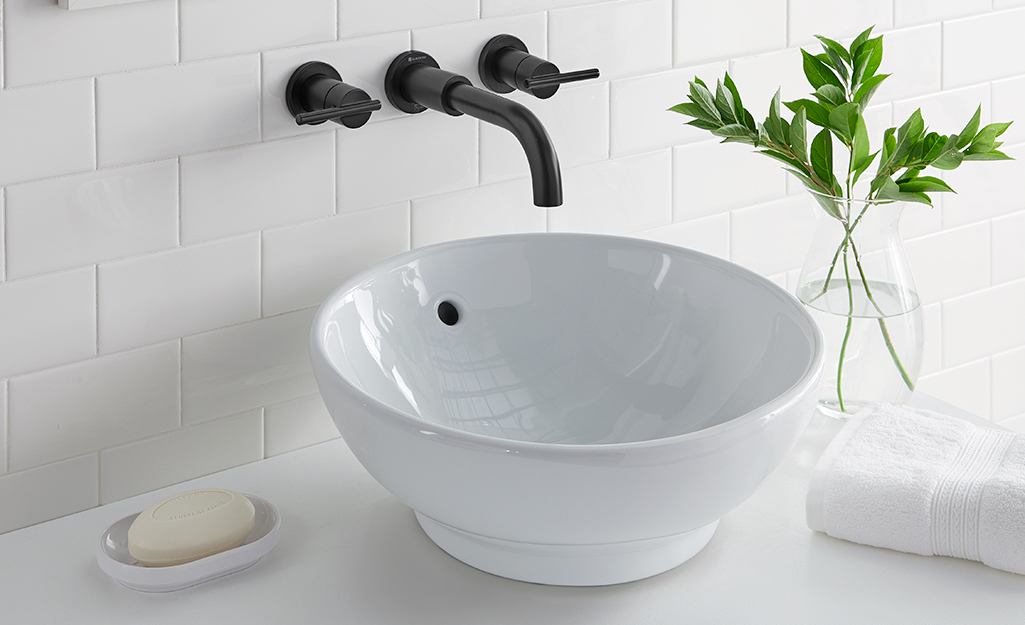 When choosing a new faucet, think about who will be using the faucet and how often. Many types of bathroom faucets can feature:

Anti-scald protection: If you have young children or elderly parents in your home, consider installing a faucet with built-in, anti-scald protection. This can prevent accidental burns.
Filtering: Filtration systems provide high-quality drinking water and are a money-saving option for bottled water.
Water conservation: Choose water-saving faucets, like WaterSense labeled models, with lower flow rates or gallons per minute.
Adjustable flow-rate restrictor: If you live where your water supply is limited, an adjustable flow-rate restrictor can control exactly how much water you use. 
Common-valve set up: Some newer sinks feature common-valve architecture. They are designed to fit a number of different faucet types. You can remodel or upgrade an existing faucet by unscrewing the handle and spout from the top. 
Explore More on homedepot.com