Buying Guide
Best Bathroom Faucets for Your Home
If you are replacing an old faucet or installing one in a new bathroom, you will have no trouble finding one to complement your decor. With an array of styles and finishes to choose from, you can find the bath faucet that best expresses your home's look without sacrificing performance.
This guide will help you understand your faucet options.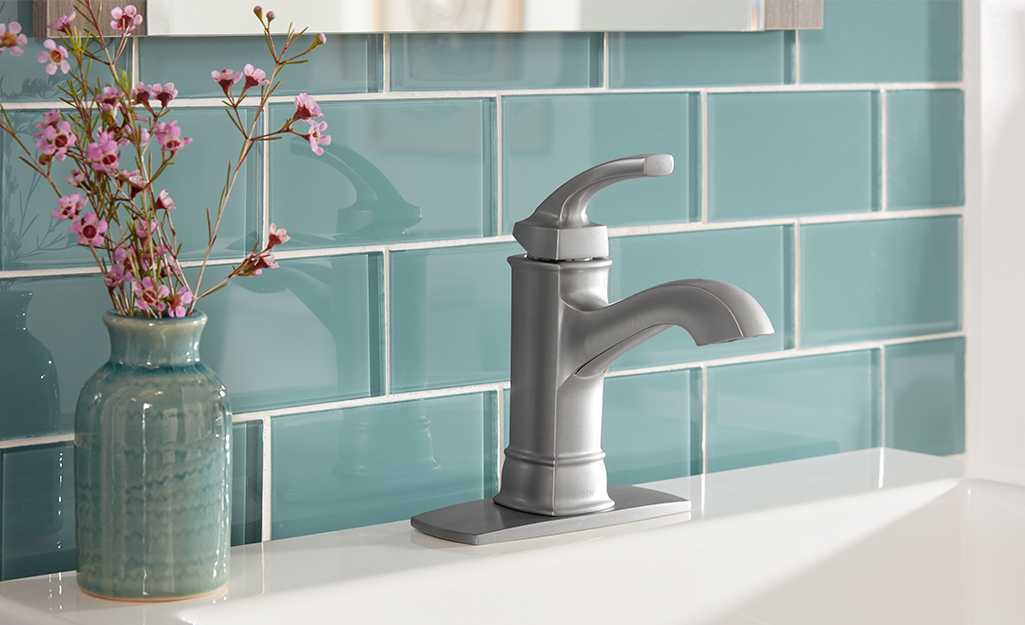 Are you replacing a faucet on an existing sink or starting from scratch? Your faucet needs to be compatible with the number and spacing of the holes on either your countertop or sink. If you are replacing the sink or countertop where your sink holes are located, choose a faucet and then shop for a sink or countertop with compatible hole spacing, or vice versa. If you plan to mount your faucet on a countertop, find out whether or not your new top will have pre-drilled holes. If not, you can drill custom holes to fit any faucet.
Consider the size of the space where the sink and faucet are located. Very large vanities may look great with a faucet that takes up more space, like a three-piece faucet with the handles spread 8-inches apart. Tighter spaces may be better suited for smaller, more compact fixtures, like a one-piece or centerset faucet or a single hole faucet. Also, ensure that the plumbing for the faucet you choose will fit in the space you have.
Think about the kind of sink you're getting and how big it is. For example, a vessel sink needs a spout that is high enough to reach over the bowl, whereas using a very tall faucet for a smaller or undermount sink could leave your countertop drenched. Make sure the faucet won't extend too far over the sink after it's installed. Water from the faucet should hit close to the middle or slightly behind the middle of the sink.
For Your Perfect Sink, Choose Faucet Holes and Faucet Styles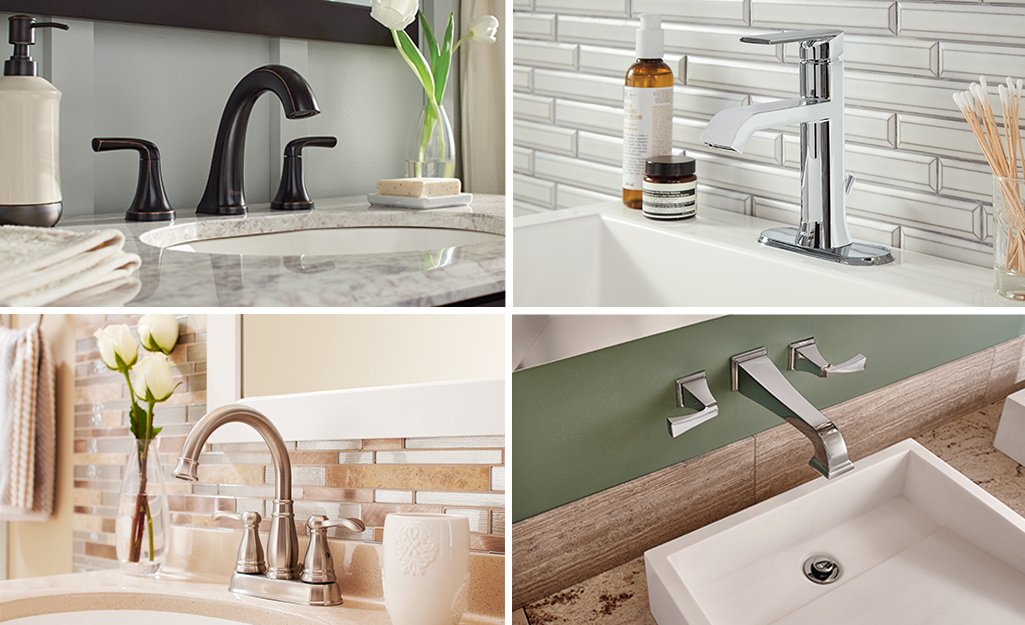 Bathroom sink faucets can either be mounted on the wall, into a countertop or on the sink itself. When shopping for a bathroom sink faucet, check to see how many faucet holes it has and where they are located.
If there is only one hole for the faucet, a single-hole faucet will work best. If there are three holes, there are more options. You can still use a single hole faucet if you have three holes, because you can cover the extra holes with a deckplate.
Faucets are generally available in four types: single hole, centerset, widespread and wall mount. If you are replacing an old faucet, your new faucet may need to be the same type as the old one, depending on the installation setup. Touchless bathroom faucets, once found primarily in commercial bathrooms, are now available for homes. Most are made for one-hole sinks.
The design of your sink plays a large part in determining which type of faucet you'll install.
Faucets for One-Hole and Three-Hole Sinks
| | |
| --- | --- |
| | Description |
| single handle bathroom sink faucets | Feature Benefits: Fit on sinks with just one hole, no deck plate needed. Simple to install and maintain. Compact and easy to use. Often used on smaller sinks and may have an optional cover plate. Usually has one handle connected to the spout. Some models feature separate hot and cold handles. |
| vessel bathroom sink faucets | Feature Benefits: Tall enough to fit over a vessel sink. Feature unique looks ranging from rustic to modern. |
| centerset bathroom sink faucets | Feature Benefits: Countertop or sink mounted. Ideal for smaller, predrilled or pre-existing basins. Combine the handles and spout on a 4-inch base unit. The most commonly used faucet. Least expensive and easiest to install. |
| widespread bathroom sink faucets | Feature Benefits: Standard spread of at least 8-inches. Feature hot and cold water valves separate from the spout. Often more expensive than other types. Allow for a wide range of placement options. Mini-widespread faucets (mini-spreads) have a spread of 4-inches. |
| single handle bathroom sink faucets | Feature Benefits: Fits on sinks with one or three holes. Comes with a deck plate to cover the unused holes. |
| wall mounted bathroom sink faucets | Feature Benefits: Reduce clutter on the sink. Make cleanup easier. Come in both simple, modern looks as well as more traditional styles like farmhouse. |
| touchless bathroom sink faucets | Feature Benefits: Motion sensor allows for clean, hands-free use. Wall mount models, as well as battery-operated, plug-in and hardwired models available. Helps save water by reducing flow. |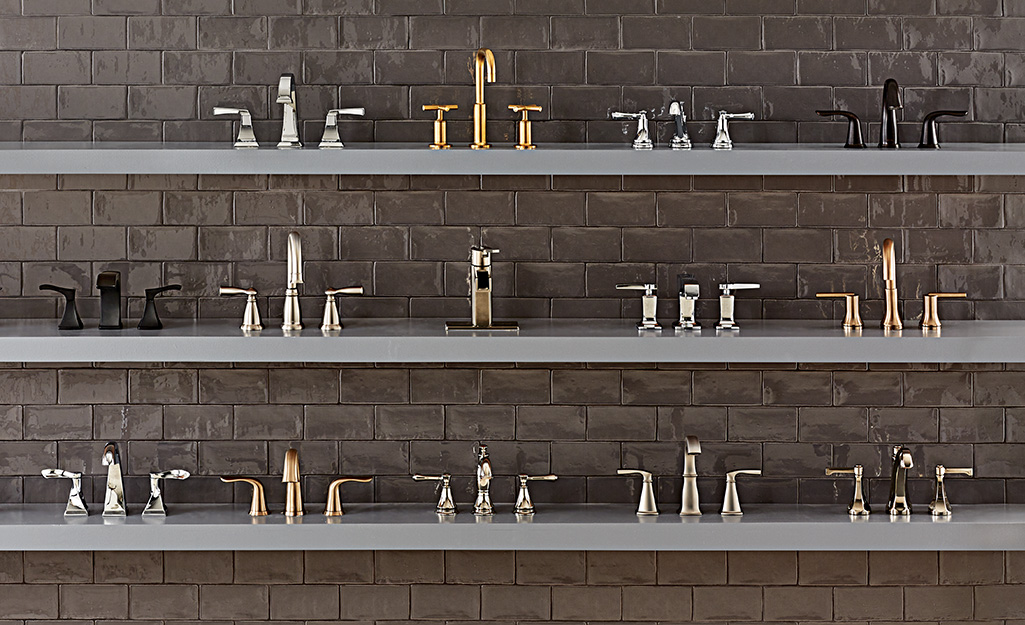 One way to choose a faucet finish is to match it to the other finishes in your bathroom. You could choose to match your showerhead, tub faucet or cabinet hardware. Think about the styles you like and the decor of your space. You might like a more modern bathroom faucet or an antique brass bathroom faucet. Brushed nickel is a popular choice, or you can make a statement with a black bathroom faucet. Your new faucet can set a mood for your bathroom, too. Get the feeling of nature with a waterfall spout. You have many options.
Spout designs may be aerated or nonaerated. Handles come in a wide range of styles including ring-type cylinder, round and cross and lever. There may be a single unit or separate handles for customized hot and cold water control.
Many manufacturers offer lifetime finishes that won't tarnish over time to ensure that your faucet looks great for years. Commonly used finishes include chrome, brass, colored, gold plate, nickel, stainless steel and PVD.
Chrome may have a polished, brushed or matte finish and is durable and economical.
Brass is ideal for traditional styles, and faucets with lifetime finishes resist fading, scratches and corrosion.
Black and other colored finishes may be coated with epoxy or baked-on enamel and are easy to clean.
High-quality gold plate won't tarnish, though it is more expensive.
Nickel may be brushed or satin and is stylish, durable and easy to clean.
Stainless steel is stylish and won't show water spots, though it is often more expensive.
PVD, or physical vapor deposition, is highly durable and resists abrasion and discoloration.
Oil-rubbed bronze offers a classic look that blends with almost any home decor style.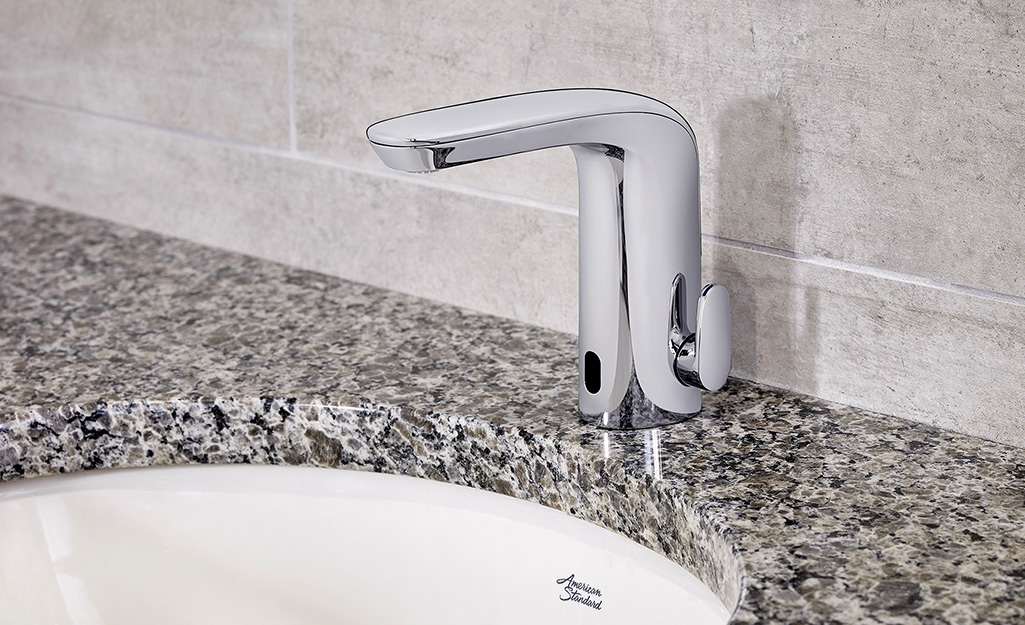 When choosing faucet functionalities, consider who will be using the faucet and how often. Touchless or touch-on faucets are great options for ease of use, whereas faucets with handles allow for more precise pressure and temperature controls. For water conservation, choose faucets with lower flow rates (gallons per minute).
Anti-scald protection: If you have young children or elderly parents in your house, you may want to consider installing a faucet with built-in anti-scald protection so they won't accidentally burn themselves.
Filtering: Filtration systems provide high-quality drinking water, helping you save money on bottled water.
Common-valve set up: Some newer sinks feature common-valve architecture that fits a number of different faucet types, allowing you to remodel or upgrade your existing faucet simply by unscrewing the handle and spout from the top.
Adjustable Flow-Rate Restrictor: If you are concerned about conserving water or live in an area where your water supply is limited, an adjustable flow-rate restrictor will give you complete control over how much water you use.
Ready to find the supplies you need in your local store? Use The Home Depot app to locate products and check inventory. We'll take you to the exact aisle and bay. If you need help identifying a tool or material, find products fast with image search in The Home Depot app. Snap a picture of an item you like and we'll show you similar products.