When remodeling your bathroom or building an addition or a new house, you might feel overwhelmed with all of the varieties of bathroom sinks.
This guide outlines types of bathroom sinks to help you make sense of pedestal sinks, wall-mounted sinks and styles that come in a variety of colors, sizes, styles and shapes to match – or help create – your bathroom decor.
Aesthetics should be considered when you're looking at new sinks but the type of bathroom sink you choose often depends on the amount of available space. Be sure to measure before making a choice and confirm that the outside dimensions of your selection will fit comfortably.
Sink shapes include round, oval, rectangle and even asymmetrical. Some are specially designed to fit into corners while others stand alone on an open wall.
A typical drop-in sink can be 18-inches from front-to-back and 20-inches from side-to-side but there is significant variation among models. A corner sink designed for small bathrooms can measure less than 16-inches across its front.
As with sink sizes, there is no standard for the installation height of bathroom sinks. The top of the sink can range from 29-inches to 36-inches from the floor. Guidelines from the Americans with Disabilities Act stipulate a maximum height of 34-inches for wash basins in public areas.
| | |
| --- | --- |
| | Description |
| drop-in bathroom sinks | Easy-to-install drop-in bathroom sinks, sometimes called self-rimming sinks, fit through a pre-cut hole in the countertop, with the sink rim resting on the surface to finish off the look of the lavatory. |
| undermount bathroom sinks | Undermount bathroom sinks have clean lines and emphasize the look of the countertop. They are mounted underneath the countertop and have no rim between it and the sink. |
| Vessel Sinks | Vessel sinks, sometimes called countertop sinks, are a popular style of bathroom sink that rests directly on a counter. These types of bathroom sinks can make a bold design statement. Faucets can be wall-mounted above a vessel sink but more commonly rise up from the countertop. |
| pedestal & basin combos | Pedestal sinks offer a range of styles from Victorian to contemporary. Because the basin is perched on a pedestal instead of a countertop, this type of bathroom sink is a good choice for smaller half baths. |
| console basin & leg combos | Console sinks can be freestanding or wall-mounted and supported by two and sometimes four legs. This type of bathroom sink has no countertop but some models have a shelf underneath for storing necessities. |
| wall mount sinks | Wall-mount sinks can bring a contemporary look to your space or be used when extra floor space is needed. Wall-mounted sinks can be a good solution for situations where wheelchair accessibility is a consideration. |
| Corner - Bathroom Sinks | Corner sinks are a great solution for small bathrooms where space is constrained. These compact types of bathroom sinks are typically wall-mounted but pedestal models are available. |
| Bathroom Vanity Tops | When bathroom storage is necessary, a vanity is the solution and there are many types of bathroom sinks to complete the space. Some vanity tops have cutouts for under-mounted and drop-in sinks or countertops to accommodate vessel sinks. Other varieties of vanity tops have sinks built-in. These integral sinks are made of the same material as the counter to provide a smooth appearance and seamless transition from sink to countertop. |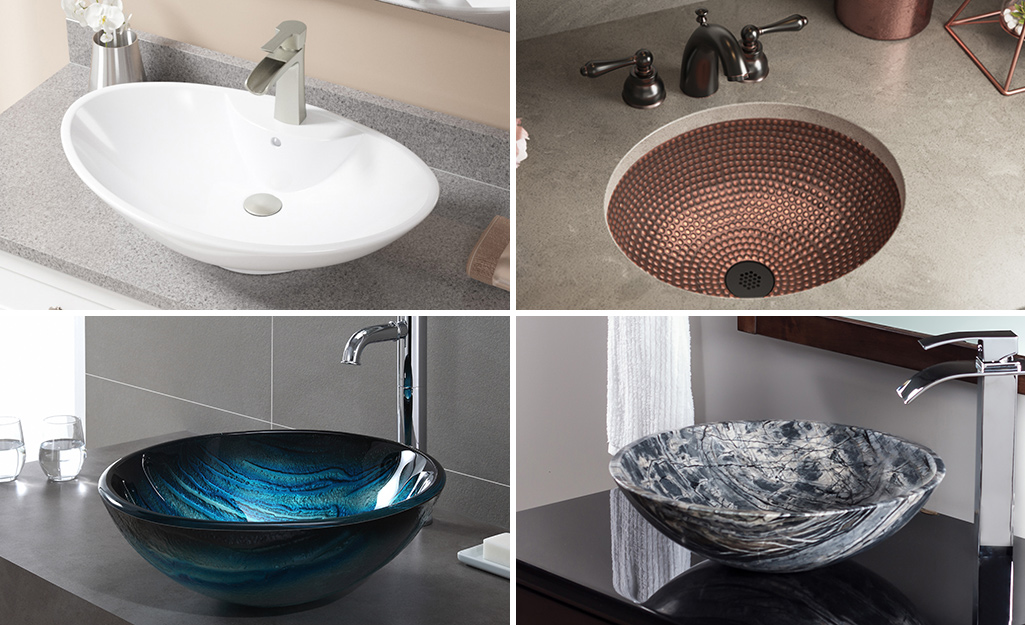 Most shapes, sizes and types of bathroom sinks are available in a variety of materials.
Bathroom sinks made from clay-based ceramic material such as vitreous china, fireclay and porcelain are common and easy to clean.
Metal sinks, including brass, copper and stainless steel varieties, are durable choices. Brass and copper sinks can be a significant component of the bathroom's decor and many metal sinks may require special cleaners to prevent scratches.
Enameled cast iron sinks have a substantive look and are available in a variety of rich colors. These types of bathroom sinks are heavy but are made to last a lifetime.
Glass sinks are made from thick tempered glass to resist shattering. They bring a design element to the bathroom but can be prone to showing water spots and usually require nonabrasive cleaners.
Acrylic, composite, resin and solid surface sinks are durable options and easy-to-clean for highly used bathrooms. These types of bathroom sinks can be attractive options, too, with some varieties resembling marble or granite.