Chandeliers are a decorative focal point that can effortlessly add elegance and character to your home. When working with existing wiring, installing a chandelier is a simple project that only takes a day, so you can easily and quickly make a big impact on your home's decor. This guide will teach you the basic types of chandeliers so you can find the best chandeliers for your dining room, foyer, master bedroom or any other room that needs statement lighting. 
Types of Chandeliers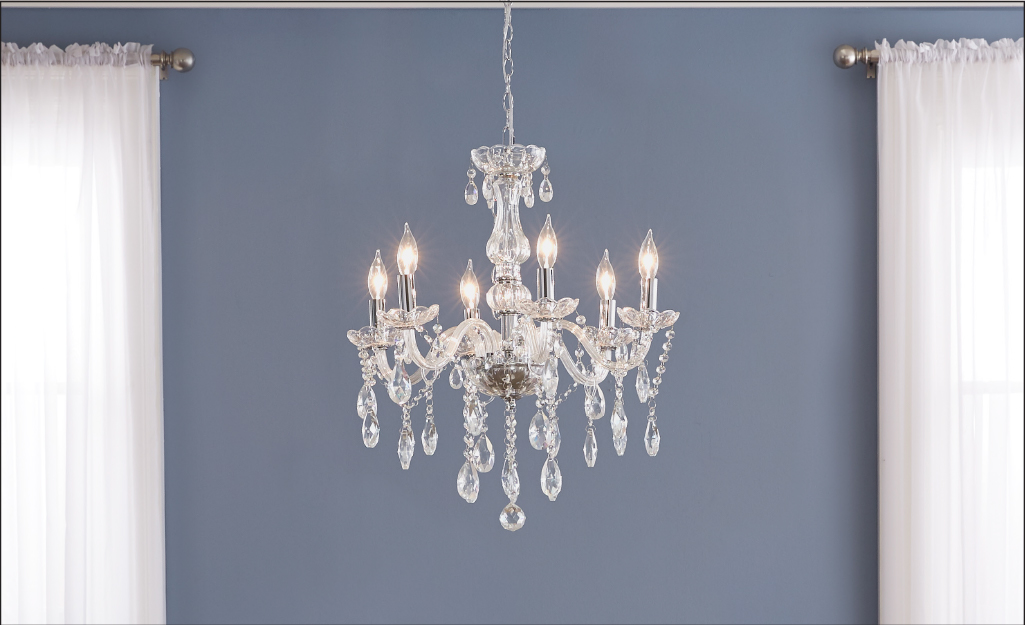 A chandelier's type describes its structure, and each type is available in a variety of styles.  
Crystal chandeliers are the most traditional and popular type of chandelier, but the ornate glasswork may not fit with the look of every home. The right chandelier for your home may not feature glasswork and instead have a design that relies on natural wood, exposed metal or unique pendant shapes. Don't be afraid to consider types of chandeliers that create interesting contrast with your existing decor.  
Chandelier Types
| | | | | | | | | | | | | | | | | | |
| --- | --- | --- | --- | --- | --- | --- | --- | --- | --- | --- | --- | --- | --- | --- | --- | --- | --- |
| Antler - Chandeliers | Cage - Chandeliers | Center Bowl - Chandeliers | Cluster - Chandeliers | Crystal - Chandeliers | Drum - Chandeliers | Empire - Chandeliers | Globe - Chandeliers | Island - Chandeliers | Lantern - Chandeliers | Linear - Chandeliers | Mini - Chandeliers | Schoolhouse - Chandeliers | Sputnik - Chandeliers | Standard - Chandeliers | Starburst - Chandeliers | Wagon Wheel - Chandeliers | Candlestick - Chandeliers |
| Brings outdoor, rustic charm indoors with authentic-looking antlers | Feature a light source surrounded by a metal, wire or wood cage | Feature a large bowl suspended in the center of the light fixture | Several lights hang down in a cluster from one solid base affixed to the ceiling | Have numerous tiny glass or crystal spheres that bounce light around the room | Have a center shade that resembles a drum, with a fabric cover that dims the light like a lamp shade | Crystals and lights arranged in an elegant style to bring glitz and glamour to any room | Clean, spherical lines enclose lights in the center | Feature a modern open design and often have three or more lights hanging in a straight row | Rustic, outdoor look that often features exposed Edison bulbs | Versatile, contemporary look that arranges all the lights in a straight line framed by an oval or rectangular base | Small, compact version of traditional chandeliers; ideal for smaller rooms or spaces | Features a vintage, industrial frame and schoolhouse shades | Modern chandelier with exposed, metallic arms supporting lights sticking out from the center | Clean, basic look that blends in with any room; more affordable option | Unique, modern look that is similar to Sputnik with more decorative accents; looks like a starburst | Offers a contemporary appearance with lights supported by a circular base | Designed to resemble candles and may include fabric shades to cover the bulbs |
Chandelier Styles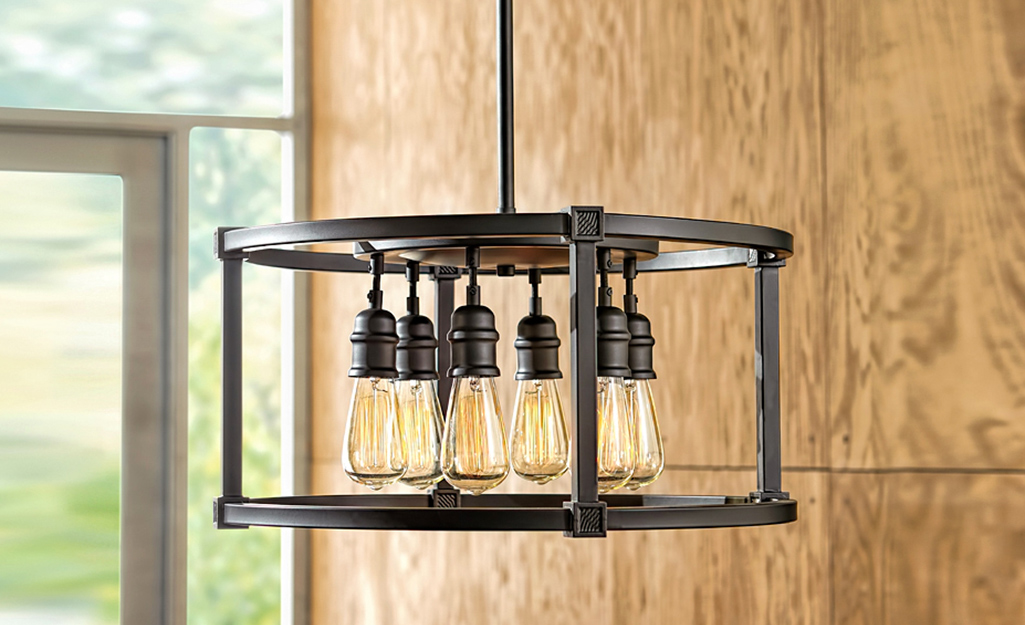 Once you've chosen the type of chandelier you want, it's time to explore styles. The style of a chandelier describes its general look and effect on the room.  
Modern chandeliers, rustic chandeliers and cottage chandeliers have recently gained popularity in the US. 
Bohemian Chandeliers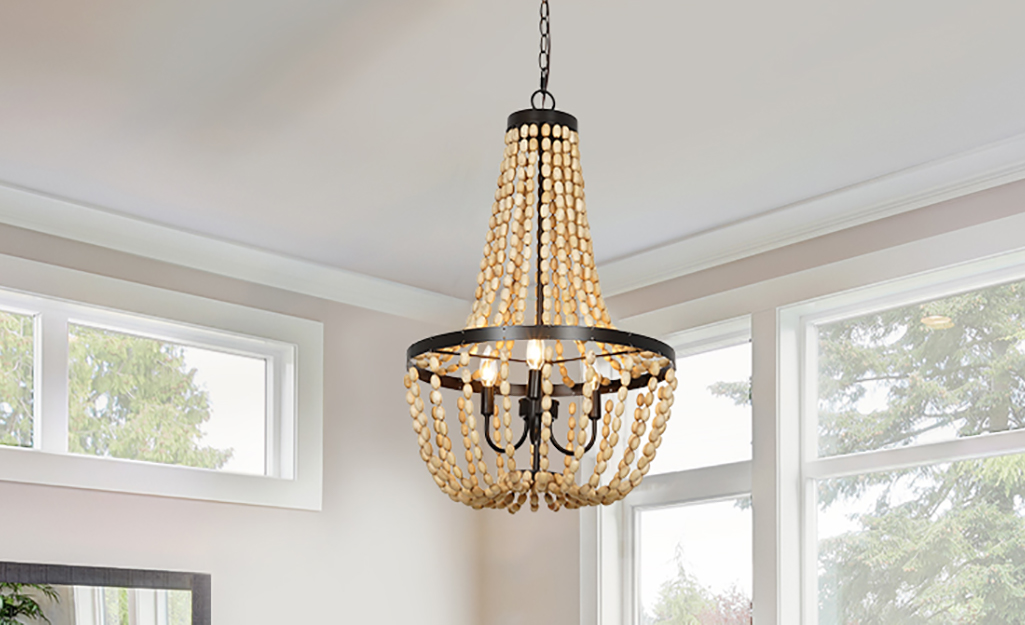 Bohemian chandeliers have a vintage look that often uses bronze with beads and ornate glass. Bohemian style decor embraces the unusual and the artistic. Because this style is naturally unconventional, a Bohemian chandelier might mix and match colors, materials and textures. These chandeliers work as their own statement piece or as a part of a collection of unique decorations. 
Classic Chandeliers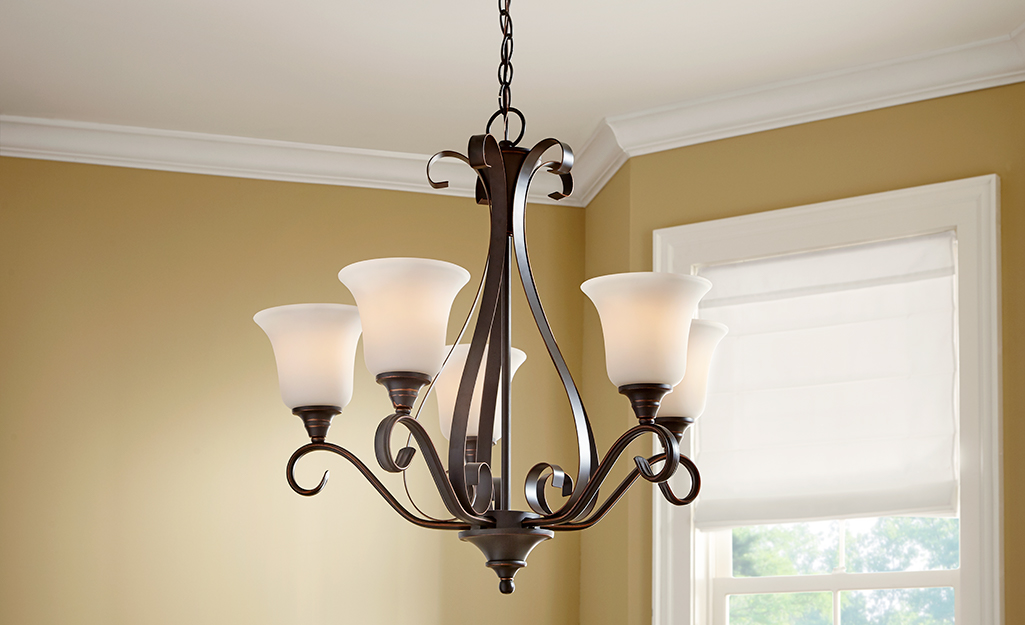 Classic chandeliers have a traditional design that matches any home without much flourish. These are the best chandeliers for when you want an understated look that doesn't distract from the rest of your decor. Typically, classic is the most affordable style because it's so popular and widely used.  
Coastal Chandeliers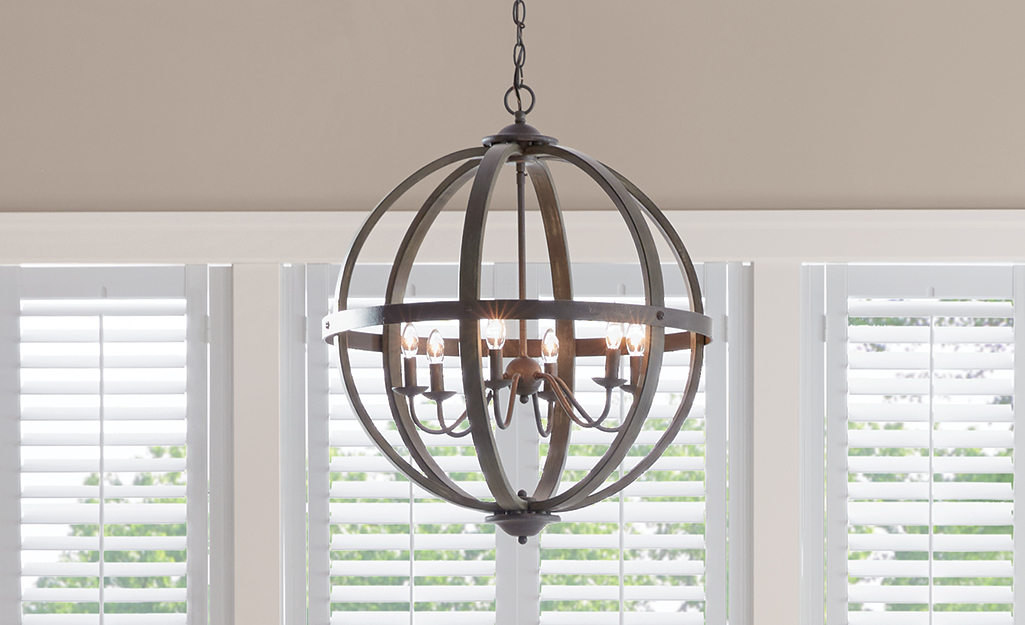 Coastal chandeliers bring the look and feel of the waterside to your home. This style is ideal for rooms with a relaxed, natural feel. Pair these chandeliers with light woods, ocean-inspired hues and soft, inviting furniture.
Cottage Chandeliers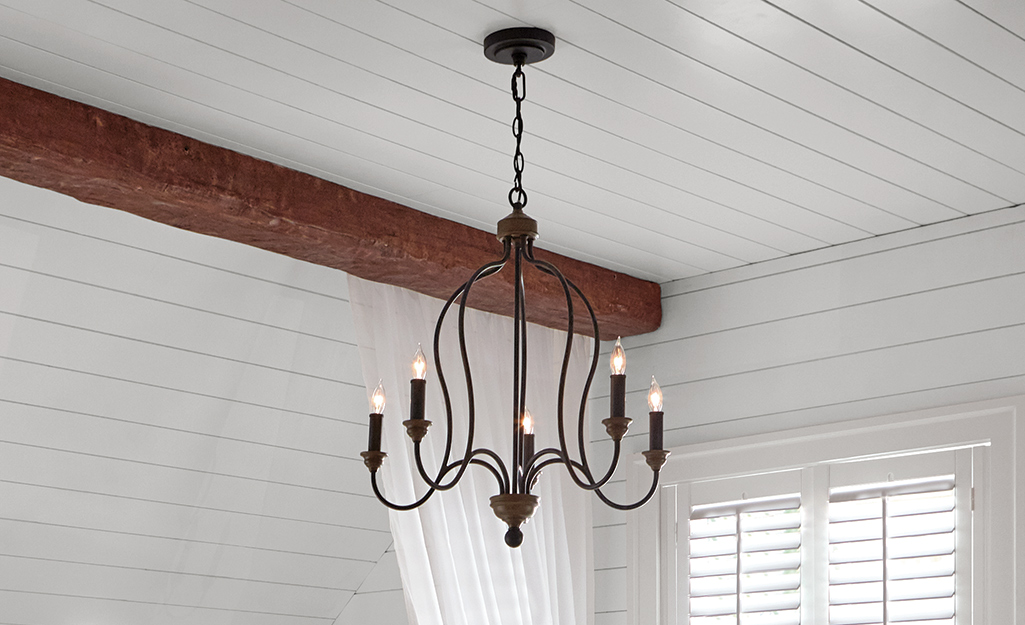 Cottage chandeliers have an elegant simplicity that matches many styles of homes. Cottage decor feels cozy and lived-in, so chandeliers in this style may have elements that appear vintage or repurposed. 
Glam Chandeliers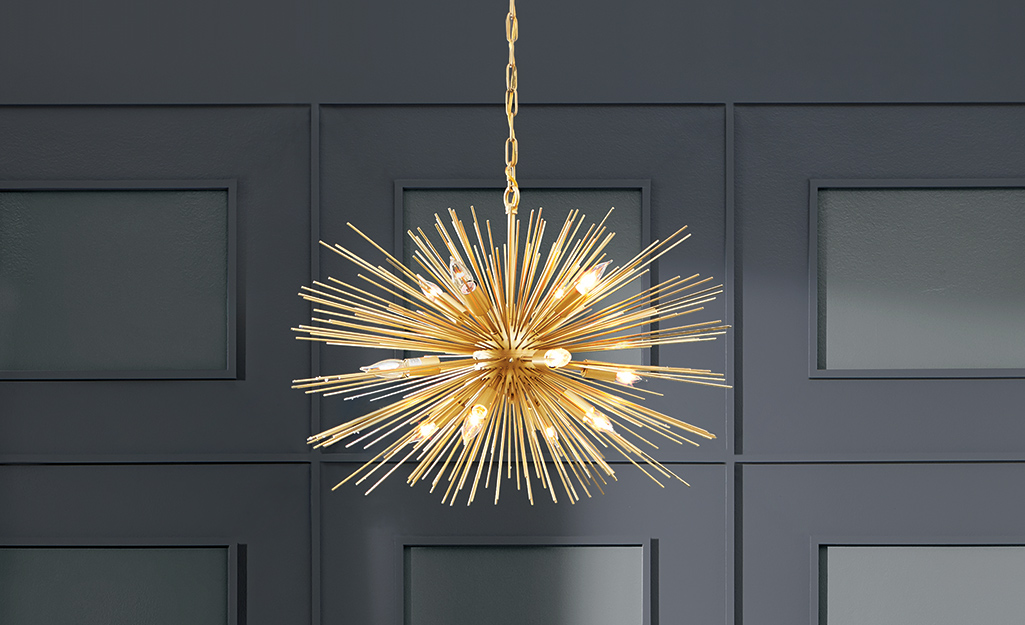 Glam chandeliers have an imaginative and original look that features a lot of glass and glamour. Glass, crystal and mirrors reflect light to create shimmering beauty. These are the best chandeliers for dining rooms or master bedrooms that have a big, luxurious impact. 
Industrial Chandeliers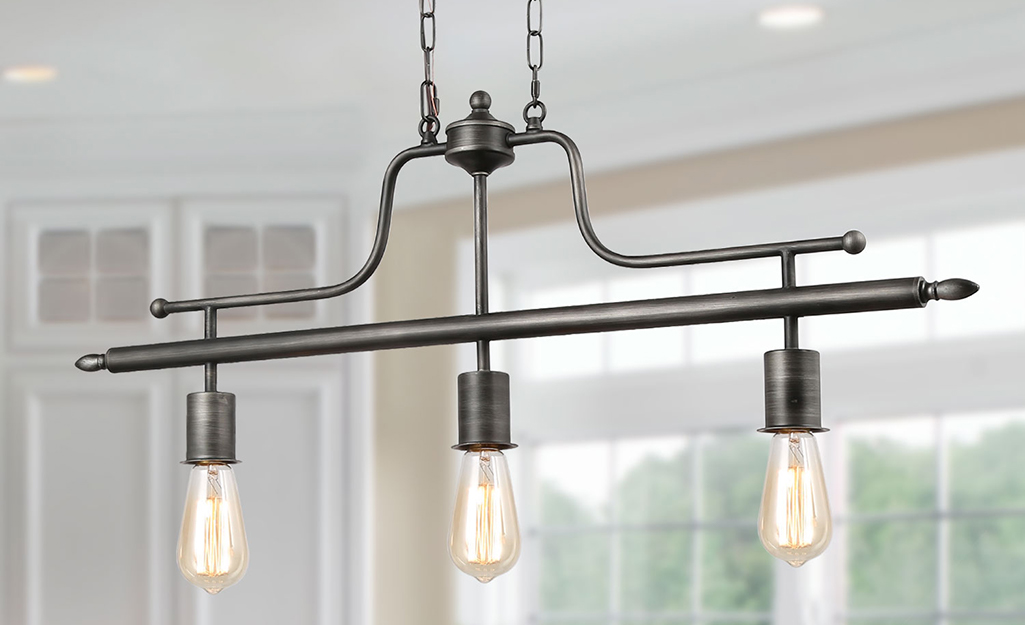 Industrial chandeliers have a modern, bare bones look. This chandelier style often features exposed hardware, bronze or other dark metals and reclaimed wood. Industrial chandeliers suit many contemporary styles, so you don't need to have other industrial pieces to make one of these chandeliers blend seamlessly with your home. 
Mediterranean Chandeliers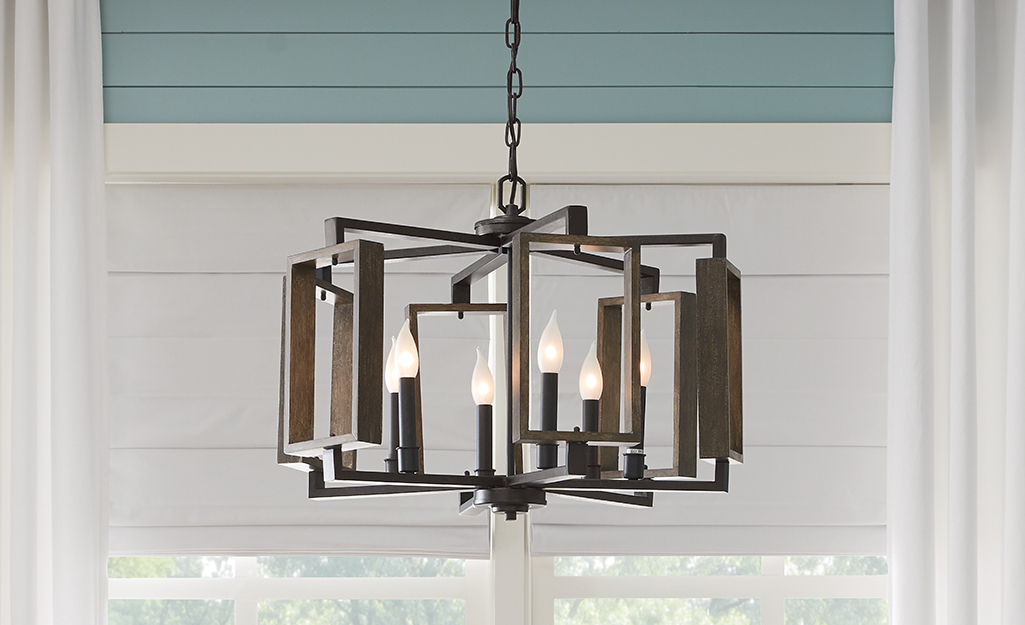 Mediterranean chandeliers are ideal for Middle Eastern looks or glam decor. Bright golds, bronzes, yellows and other warm colors are prominent in this style.  
Mid-Century Modern Chandeliers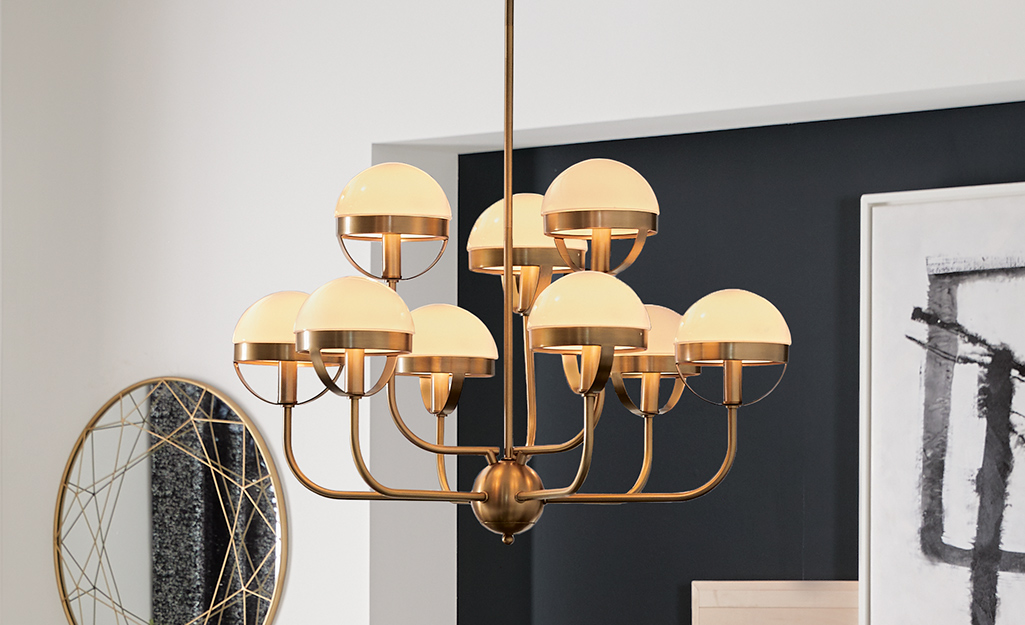 Mid-century modern style embodies clean lines and simple silhouettes. A mid-century modern chandelier often utilizes glass shades and a frame inspired by Space Age styling.  
Minimalist Chandeliers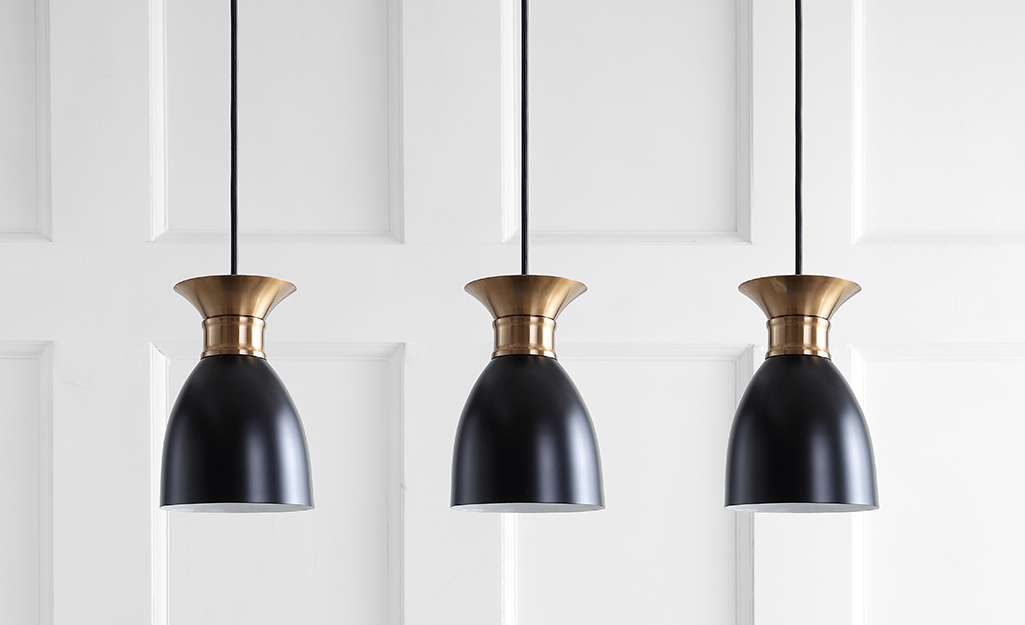 Simple, casual and contemporary, minimalist chandeliers can match any room's aesthetic at a low cost. These chandeliers will never overwhelm a space, making them a great match for smaller rooms that you want to make feel more spacious.  
Modern Chandeliers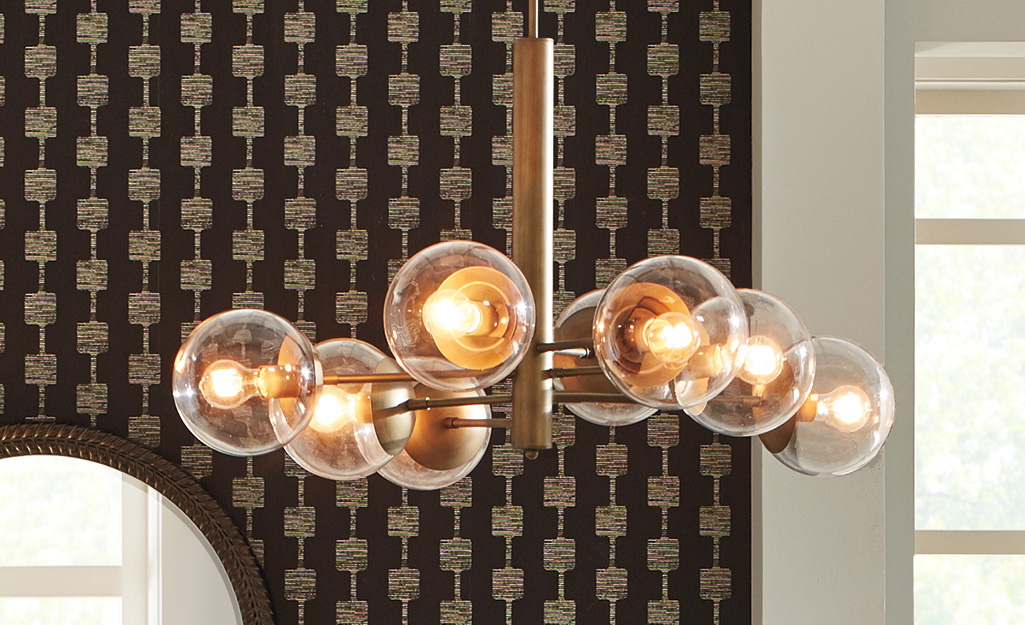 Clean geometry creates contemporary style. Modern chandeliers use natural materials and can feature exposed structural elements similar to industrial chandeliers. While black chandeliers and white chandeliers are the most common colors in this style, modern chandeliers also often feature bold accent colors and metallics. 
Rustic Chandeliers
Rustic chandeliers often utilize wood or wood-look pieces. This style is inspired by nature and ideal for country-style rooms. Rustic pieces can also mix well with industrial decor, since both styles frequently feature bronze chandeliers and distressed wood accents. 
Transitional Chandeliers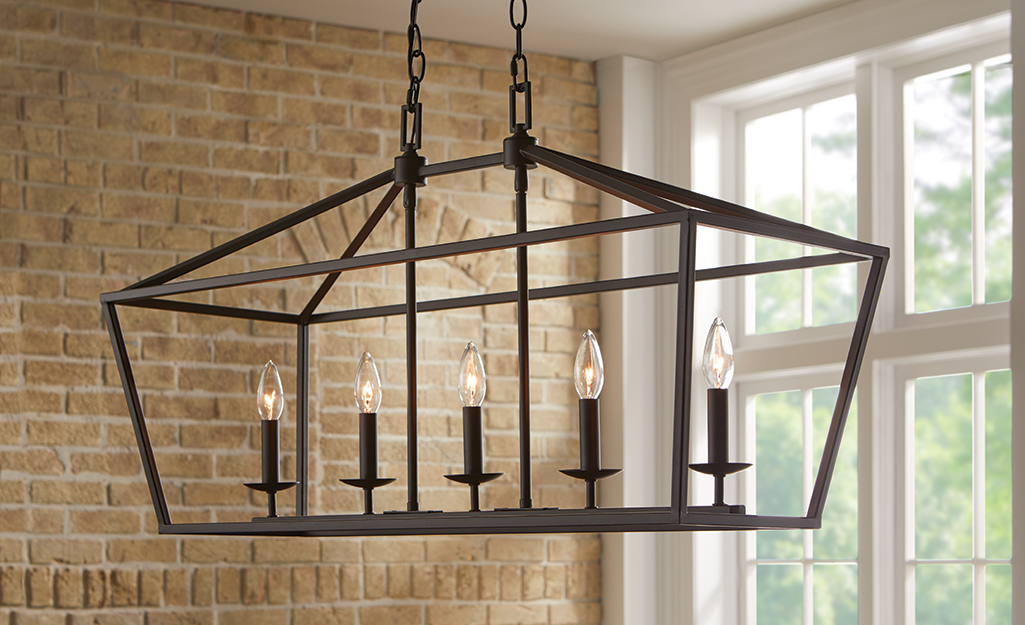 Transitional chandeliers complement a range of decor and can bridge the gap between traditional and contemporary styles. These chandeliers have the most variety and versatility. They capture an ideal balance of function and form.
Chandelier Size & Placement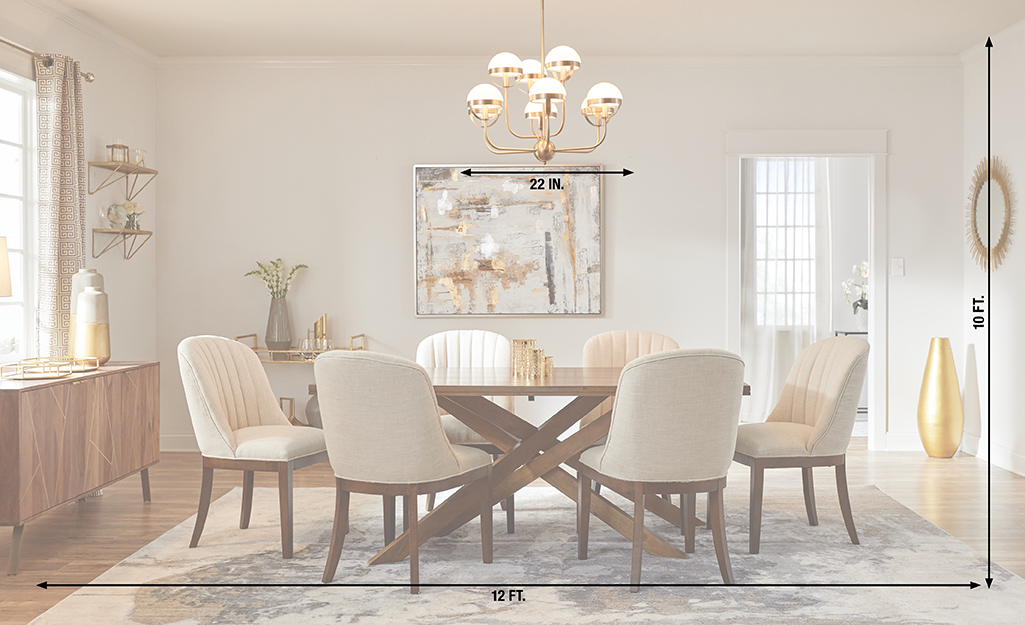 Follow these three easy steps to get the right size chandelier:
Measure the length and width of the room in feet (ex: 12 ft. + 10 ft.) 
Add the numbers together (12 ft. + 10 ft. = 22 ft.) 
This number, in inches, is the suggested width of your chandelier (22 in.) 
Directional Lighting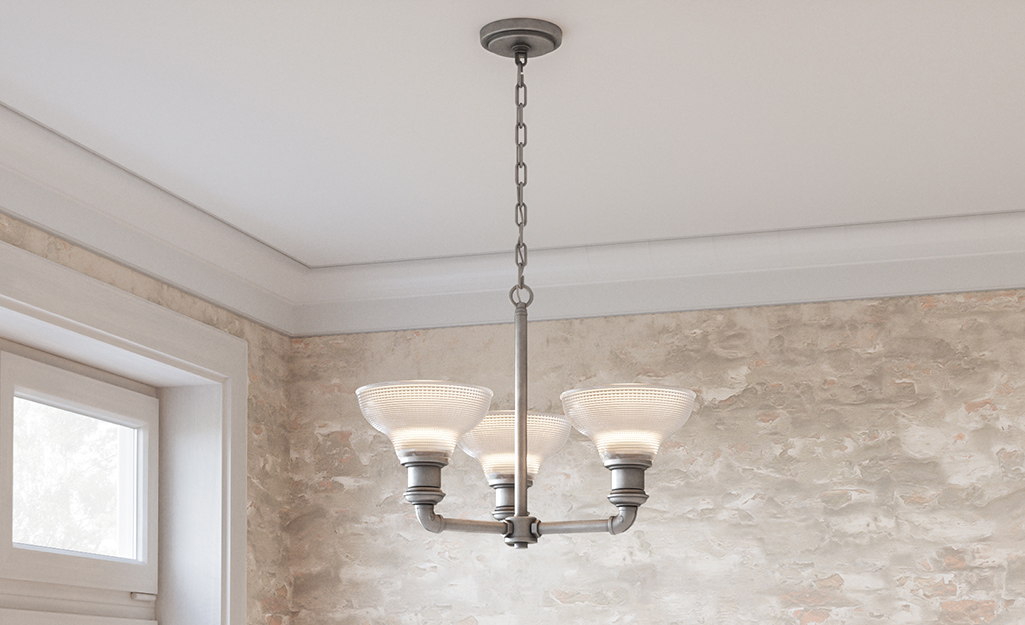 Chandeliers are also classified by the direction in which they cast light: upward, downward or ambient.
Upward chandeliers cast light from the base of the chandelier up to the ceiling. This light direction creates softer lighting that is great for decorative purposes. 
Downward chandeliers cast light from the base of the chandelier down to the floor, table or onto other pieces of furniture or household items. This light direction creates more direct light that is great for task lighting. 
Ambient chandeliers cast light in all directions. This light direction creates a glowing effect for full illumination. 
Some chandeliers are hybrids that cast light in more than one direction. For example, multi-select chandeliers cast light upward and downward. 
Tip: Dimmers work very well with chandeliers to adjust the ambience in the room. 
When choosing the best chandeliers for your home, start with your favorite designs and styles. From there, determine the size of the chandelier you need and decide on details like directional lighting and ambience control. Need help getting your new chandelier home? Use our truck rental services to transport your chandelier safely. 
Explore More on homedepot.com