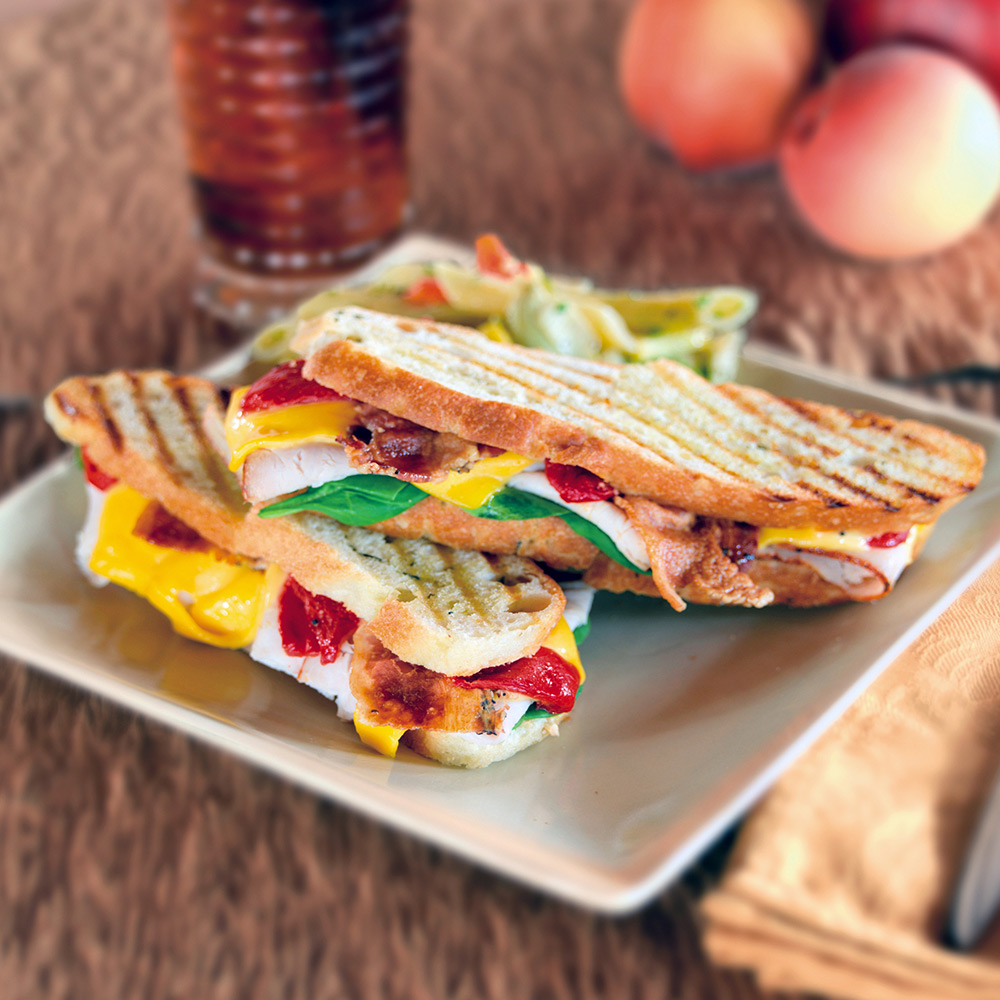 Many restaurants offer delicious grilled sandwiches for breakfast, lunch and dinner. If you know how to make a panini and are interested in finding the best panini press to recreate these sandwiches at home, this guide can help you decide. 
Determining Panini Use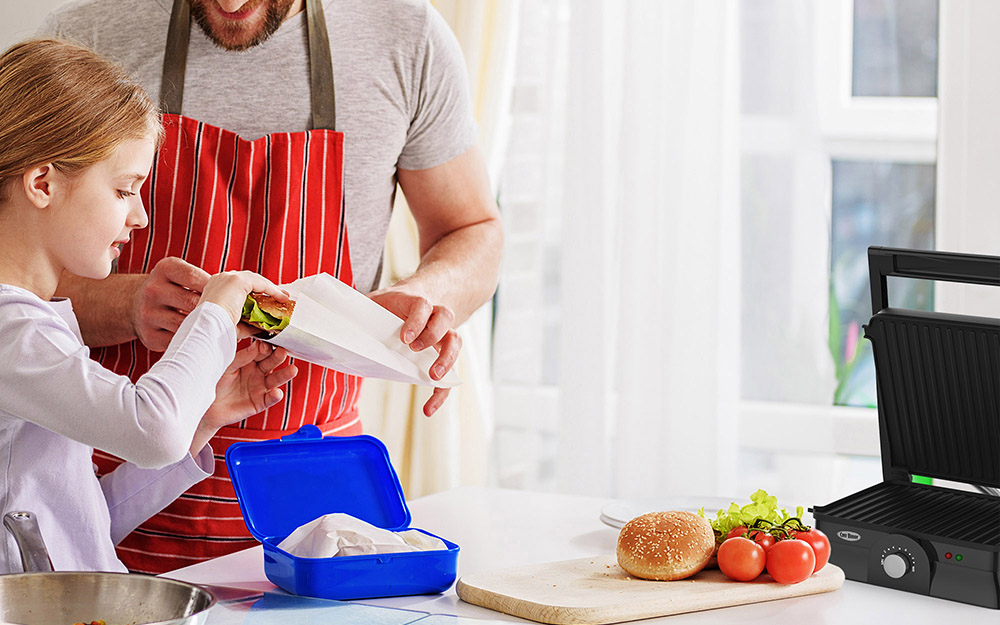 Before you start shopping for a panini press, you need to determine how often you will be using it. The frequency of your application will determine if you need a medium-duty or heavy-duty model. Ask yourself:
How often will you use the panini press?
What types of food will you use on it (other than sandwiches)?
Medium-duty panini grills are great for light use in a home or small business. They work well for warming tortillas, grilling sandwiches or cooking thin cuts of meats.
Heavy-duty panini grills work well in restaurants or if you plan to press sandwiches on a regular basis. They have more durable hinges and robust bodies and are designed to stand-up high-volume use.
Plate Materials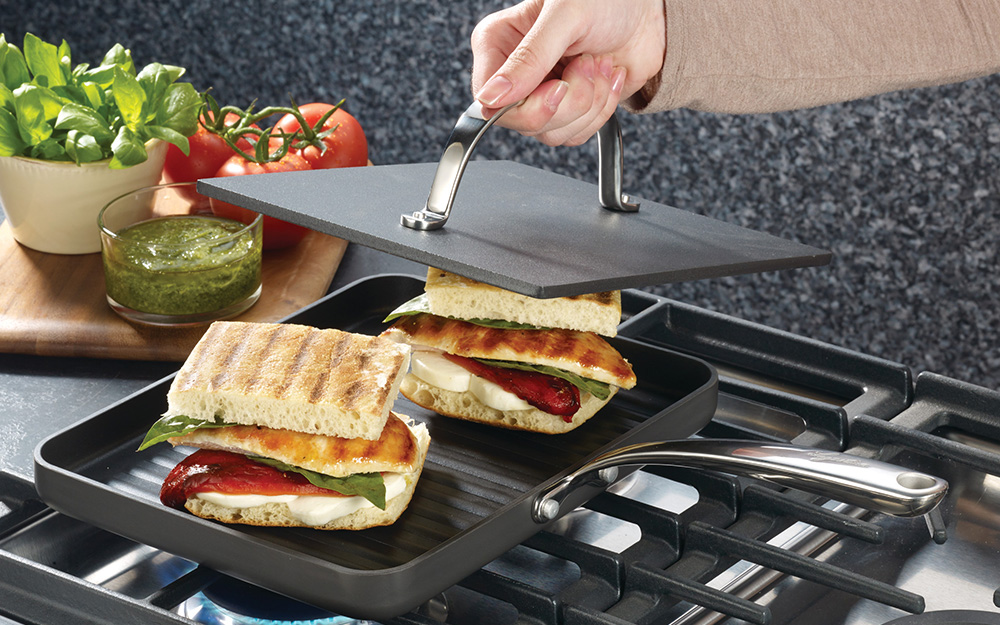 When it comes to choosing the best panini press for perfectly grilled sandwiches, the most important factor is the plate material. After all, this is what determines heat distribution across the surface of the sandwich. The best panini maker options for your home include cast iron, coated non-stick plates and aluminum.

Cast iron plates are good for heavy use in restaurants or other eating establishments.
Pros:
Provide constant, even heat
Non-stick surface when properly seasoned
Excellent heat retention
Cons:
Needs to be seasoned
Longer to preheat
More expensive
Aluminum plates are great for intermittent heat.
Pros: 
Heats up fast
Good heat transfer
Inexpensive
Cons:
Loses heat fast
Requires oil on plates for release
Coated non-stick plates are great for health-conscious individuals who want to reduce oil or fat when cooking.
Pros:
Easy to clean 
Reduces the need for oils and sprays 
Heats up quickly
Cons:
Easily damaged
Low heat retention
Plate Configurations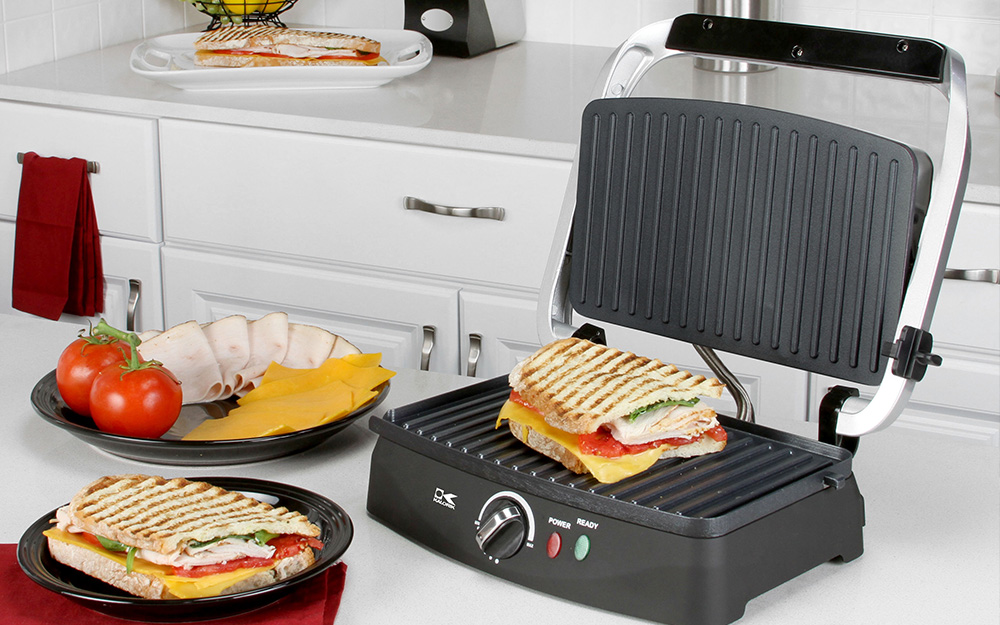 Another important consideration when choosing the best panini press for your needs is the plate configuration. Depending on what type of food you're cooking, you can pick from grooved plates, smooth plates or a combination of the two. Grooved plates provide aesthetic appeal by adding grill lines to food like grilled sandwiches. Smooth plates offer a more even cook and are ideal for making grilled cheese. And, for the ultimate versatility, choose a plate configuration that presents both options.
Single vs. Dual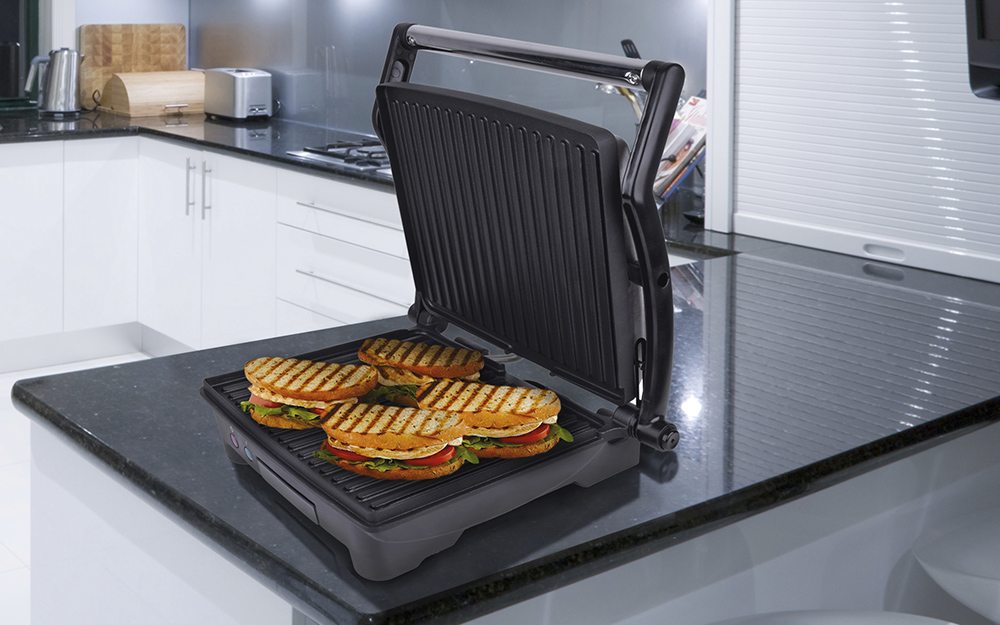 Panini grills are available as a single or dual unit. Both types of panini press present different benefits as well as disadvantages. 

Single panini makers:
Work better for small spaces where counter space is limited
Good for small quantities of food.
Economical choice for small households.

Dual panini makers:
Takes up more space
More efficient when preparing meals for more than one person
Can cook different food items at once at different cooking times 
More expensive than single panini maker
Floating Hinge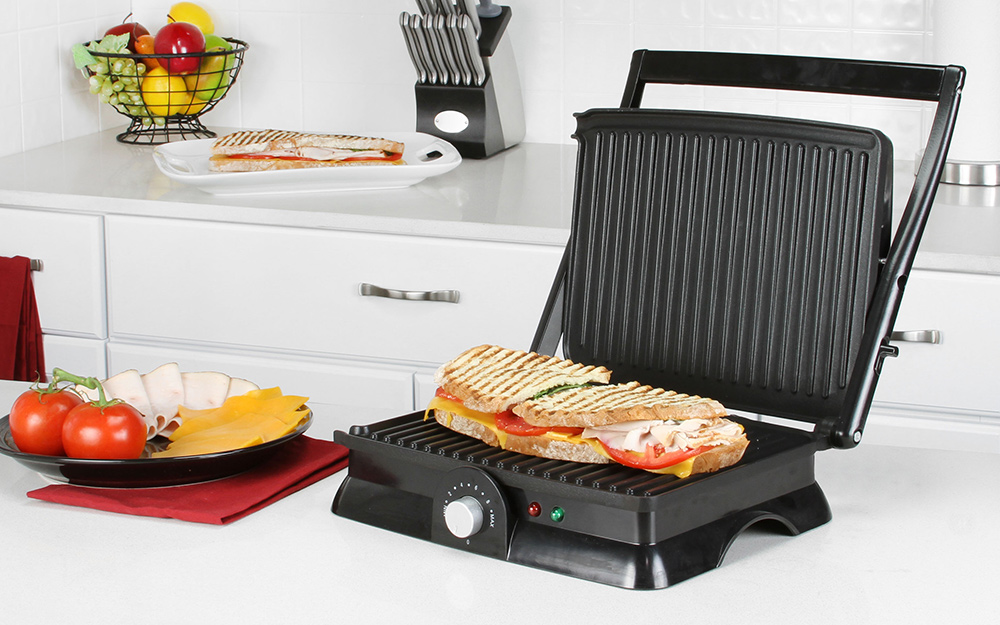 A floating hinge allows you to adjust the panini press to suit your sandwich needs. The hinge can be adjusted to suit breads of different thickness from flour tortillas to puffy French bread.
Ergonomic Handles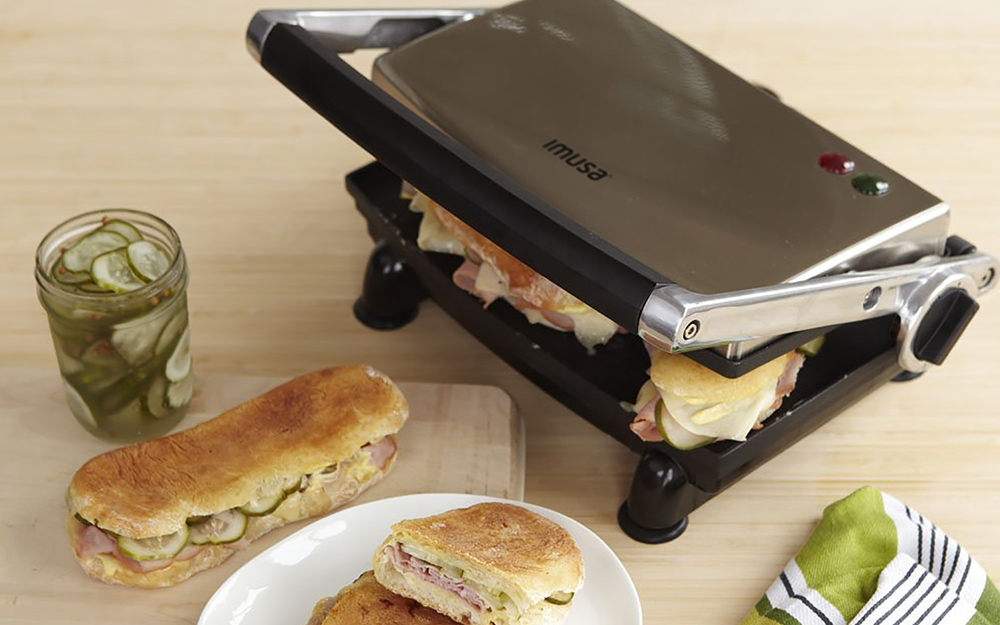 Most ergonomic handles can be operated with one hand, so you can use one to open the press and the other to take out the sandwich with your kitchen tongs. Also, the thoughtful design helps keep you from straining when operating the panini press.
Adjustable Thermostats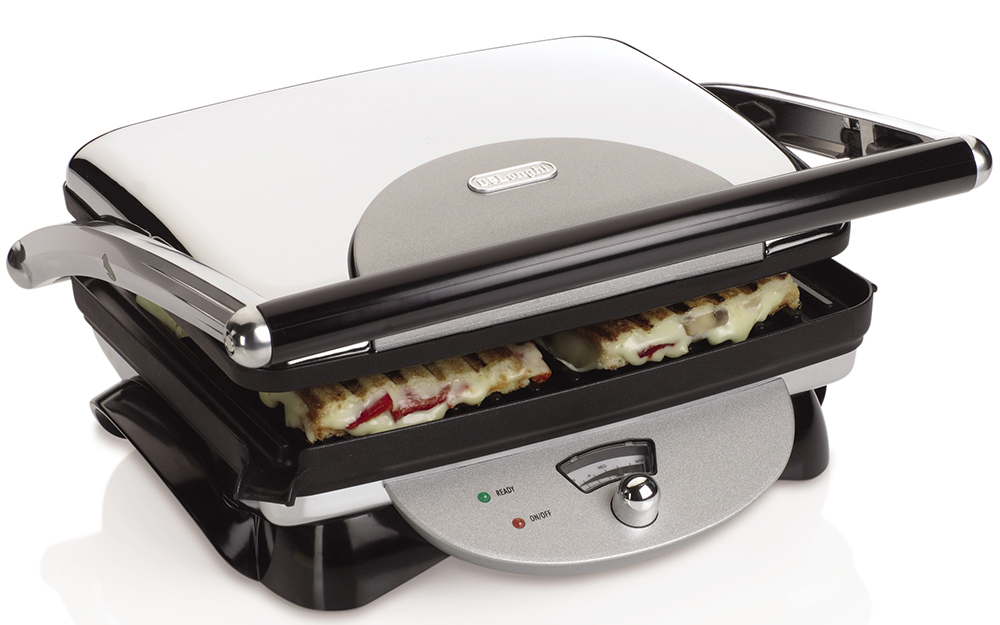 Like other indoor grills, most panini makers offer adjustable thermostats. This helps ensure your food is cooked at the ideal temperature and comes out heated evenly.
Timers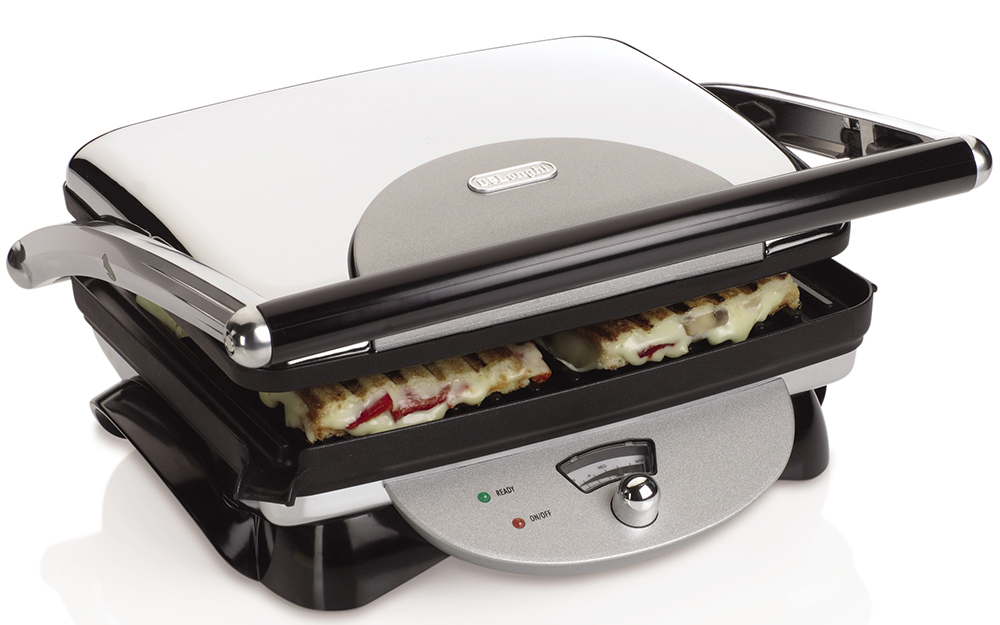 The best panini press for creating grilled sandwiches also offers a timer to help keep you from burning your food. Timers let you set precise cook times and offer peace of mind if you're multitasking in the kitchen.
How to Clean a Panini Press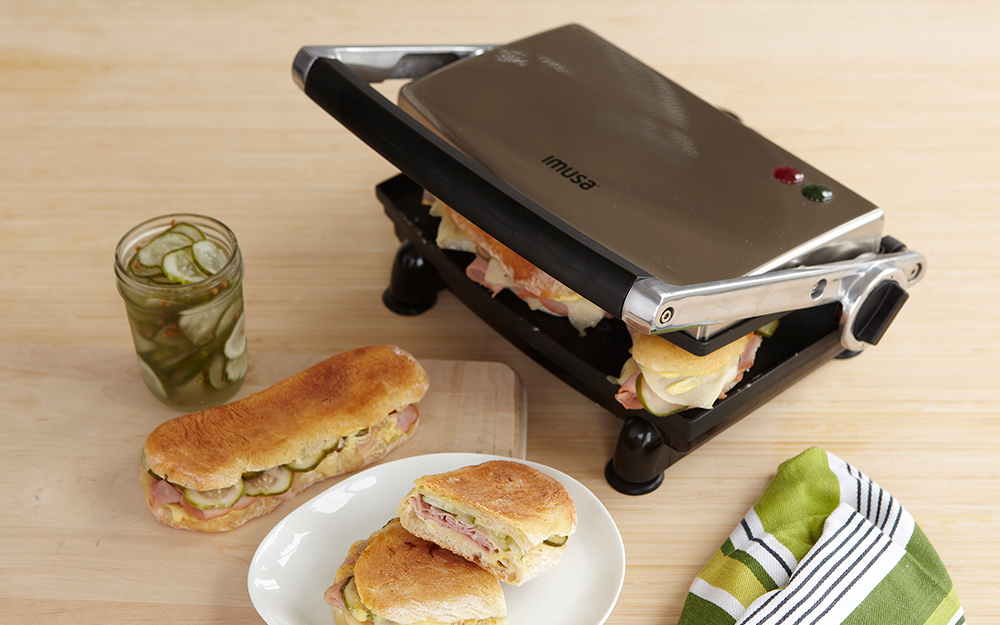 A clean panini grill is essential for keeping the appliance in shape. Allowing buildup to accumulate on the plates will reduces the grill's non-stick abilities and effective cooking. Here are a few tips to clean your panini grill:
Tip: If you have non-stick plates, follow the manufacturer's recommendations to prevent damage.
Unplug the unit.
Let the plates cool to the touch. It's better to have the grill plates slightly warm from cooking when starting to clean, since the food bits will easier to remove.
Use a grill brush to remove food buildup. If you have heavy buildup, you made need to use a commercial cleaner/degreaser.
Use warm, soapy water to clean the grill plates thoroughly.
Dry the plates.
If the plates are cast iron, you may need to re-season after several heavy cleanings.
Wipe down the outside of the unit with a damp cloth. 
Remove and wash the drip tray and dry. Put it back into the unit.
Whether you are cooking up gourmet grilled cheese or making delicious quesadillas, having the best panini press will make your job easier. Shop The Home Depot for panini grills, indoor grills and the best sandwich press tool for your kitchen. 
Explore More on homedepot.com