The best range hoods work to clear the air in your kitchen by venting smoke, odors and heat. There are different types of range hoods available in a variety of finishes, including models that add style to the basic function of the appliance.
This guide will explain the difference between ducted vs. ductless range hoods and outline other features to help you find the best hood vent for your kitchen.
What is a Range Hood?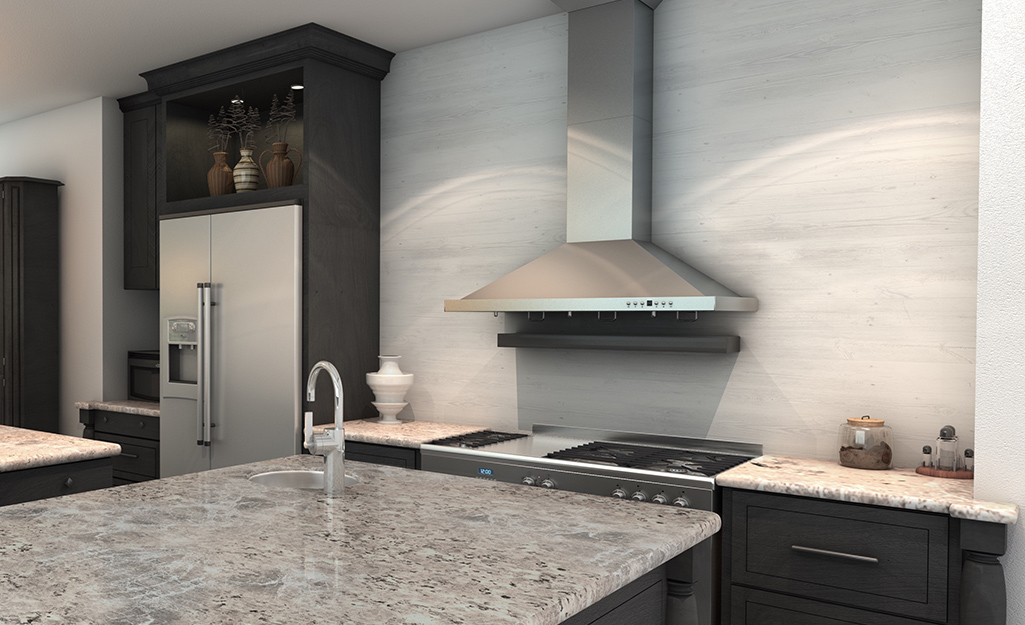 Range hoods are simply kitchen exhaust fans. These kitchen ventilation systems are installed over your stove to draw unpleasant air through a filter and disperse it.
Some vents exhaust odors and hot air outside to remove it from the kitchen. Other types recirculate the kitchen air, which usually takes longer to clear it.
Because they're used over cooking ranges, where they're easily seen, the best range hoods are both stylish and useful.
Range Hood Ventilation types
| | | |
| --- | --- | --- |
| Ducted - Range Hoods | Ductless - Range Hoods | Convertible - Range Hoods |
| Unpleasant air is vented outside the house through vertical or horizontal ducts. | A filter system cleans the air before circulating it back into the house. | Convertible range hoods can be used with external ducts or for recirculation. |
Range Hood Mounting Types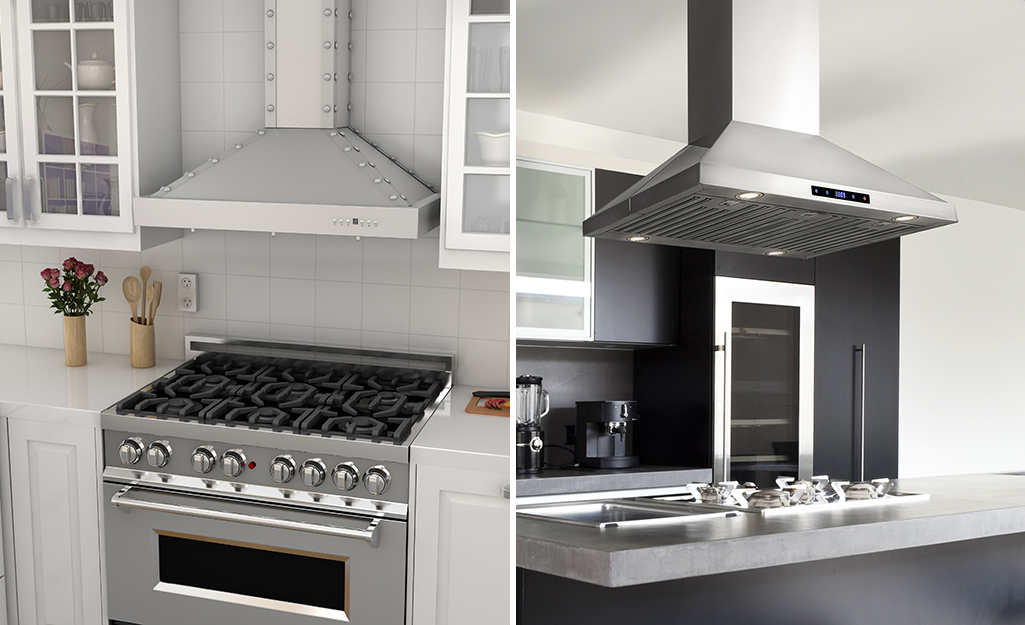 Finding the best hood vent for your situation depends mainly on the layout of your kitchen. Also, decide how you will mount it above your cooking surface. 
Before you buy a range hood, make sure you have the right amount of space for it. A hood should be at least as wide as the cooking surface it will be installed above. Ideally, look for a kitchen hood that is wider than your stove or cooktop. When installed, the bottom edge of the hood will be about 30 inches from the top of your range. 
Undercabinet range hoods mount to the bottom of a wall cabinet. This is the most common method of mounting. If the undercabinet range hood has ducts, the vent is often routed through the upper cabinet. Ductless models keep the upper cabinet free for storage.
Wall-mounted range hoods are attached above the stove to a wall without cabinets. This type of hood is wide at the bottom and gradually narrows before venting outdoors.
Island range hoods, or ceiling-mount range hoods, are mounted to and vented through ductwork in the ceiling. These are popular for home remodels where a kitchen island or peninsula has a built-in stove or cooktop.
Range Hood Features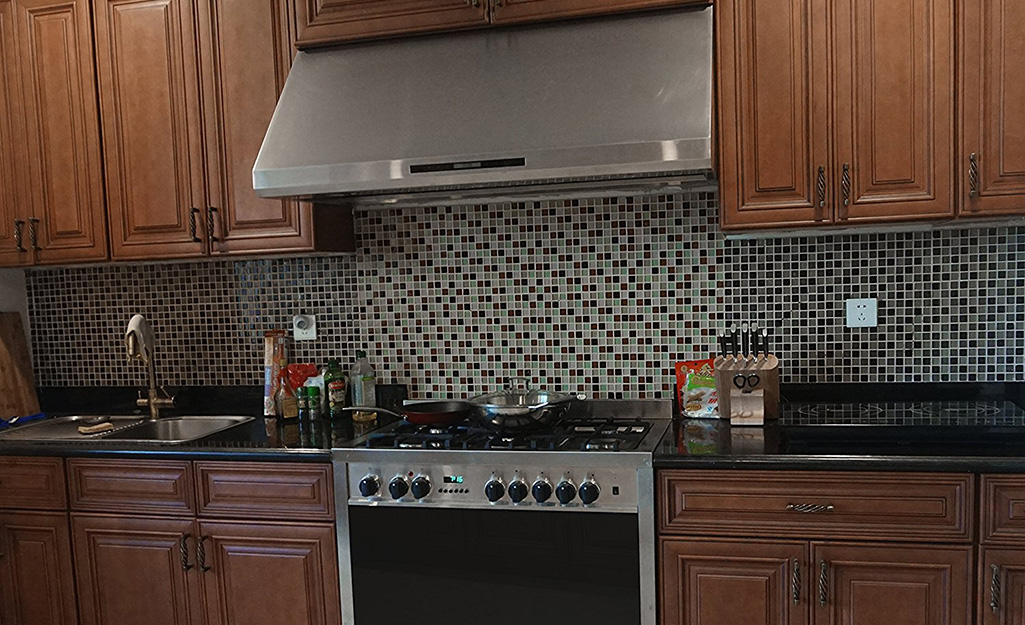 All types of range hoods are measured in cubic feet per minute (CFM) units. This tells you how much air the fan can move. In general, the higher the CFM, the better. 
The fan inside the range hood can be a rotary fan with blades, like a box fan. It could also be a centrifugal fan shaped like a barrel or a wheel. Centrifugal fans are usually more powerful and better to use with long ducts.
Range hoods are also rated in sones. Sones refer to how much noise the fan makes when it's running. In general, the higher the speed setting, the higher the sone level. 
A  one-sone rating is about as loud as a refrigerator. At two sones, the fan sounds like a relatively quiet office. Three sones is as loud as the average TV. Four sones is conversation level. Five is like a conversation with additional noise. Six and seven sones are comparable to the sound levels in restaurants. At eight sones, the fan is as loud as traffic.
As a rule of thumb, look for a range hood with a higher CFM rating and adjustable speed settings, so you can control the sound of the fan.
Exhausting air is the primary function of a range hood, but there are other considerations and features to look at when shopping for the best kitchen hood for your home:
Heat sensors on some models automatically turn the unit on when the range hood senses high heat.
A filter monitor with indicator lights tells you when it's time to change the filter.
Some models have self-cleaning or filterless operation.
An exhaust timer turns off the fan after a set period of time.
Lights make it easier to see what you are cooking. Night lights under the hood provide soft illumination when walking into the kitchen.
Electronic touch controls offer precise operation. You can also use them to preset on and off times.
Variable-speed fans with heat sensors speed up to handle more heat. Most range hoods have at least two fan speeds, high and low. In variable-speed fans, sensors automatically increase the speed or sound an alarm when things get too hot. 
Range Hood Finishes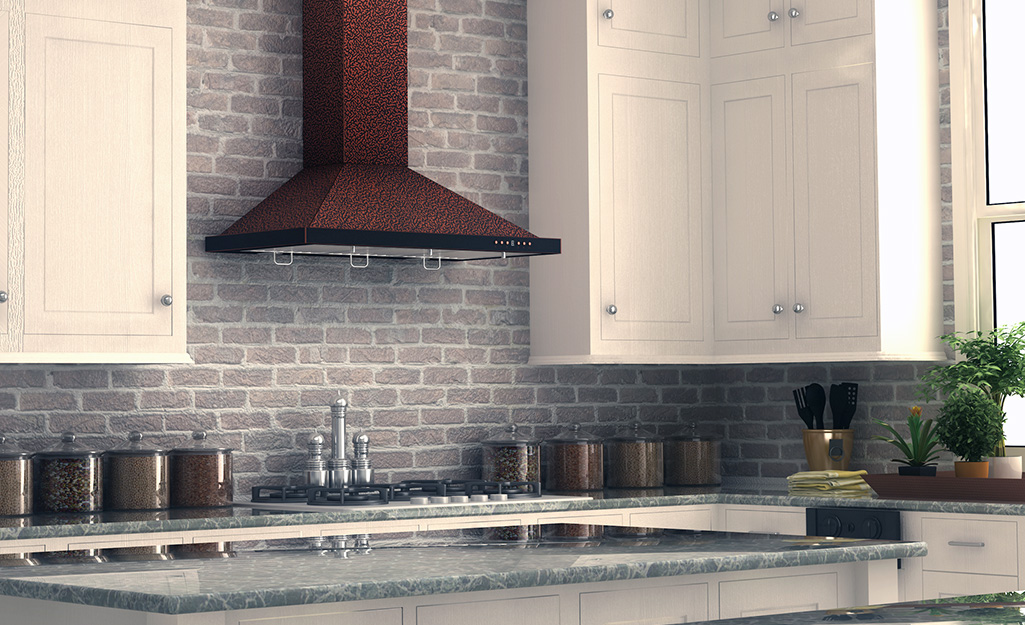 A range hood is a functional part of a kitchen. It can also be a stylish element in the room's decor.
Range hoods are available in a variety of eye-catching materials. You can select an easy-to-clean stainless steel range hood to match your appliances. Choose a copper hood vent for an elegant statement. With a broad variety of colors and finishes to pick from, you can easily find the best range hood to complement your cabinetry and the rest of your kitchen.
Maintenance and Installation Tips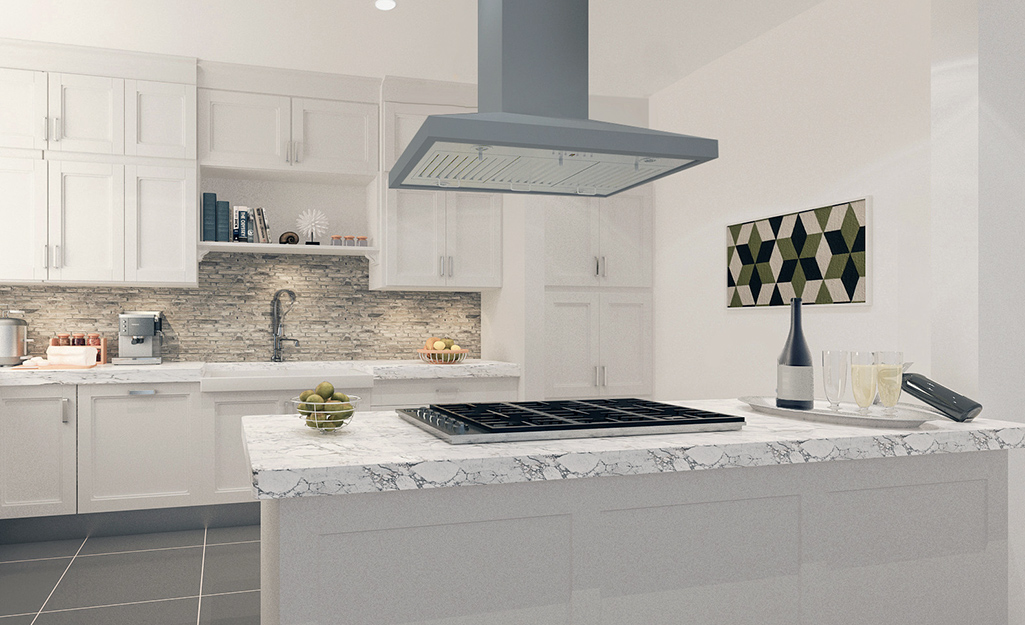 For houses that already have ductwork in place, make sure to get a replacement range hood with a compatible design. For new construction, determine whether vertical or horizontal positioning will be more efficient.
Remember that exhaust from a ducted range hood must be vented outside the house and not into a crawl space or attic.
Models that can use either round or rectangular ductwork are more versatile to install.
Gas ranges usually need a range hood with a higher CFM rate than electric stovetops.
Wash or replace range hood filters regularly or as needed. You can wash aluminum mess filters in your dishwasher as often as once a month. Charcoal filters aren't washable and should be replaced according to the manufacturer's recommendations.
You may need to clean or replace filters more often is you do a lot of deep-frying and cooking.
Wipe down range hood surfaces after use with warm water and mild soap, or follow the manufacturer's cleaning instructions.
Find the best hood vent for your kitchen by selecting one with enough power to help eliminate unwanted odors, smoke and heat when you're cooking. Also, choose a range hood that fits the physical space as well as a style and finish that matches your decor. Need range hood parts or another product, tool or material? Use our mobile app to search by voice or image. 
Explore More on homedepot.com