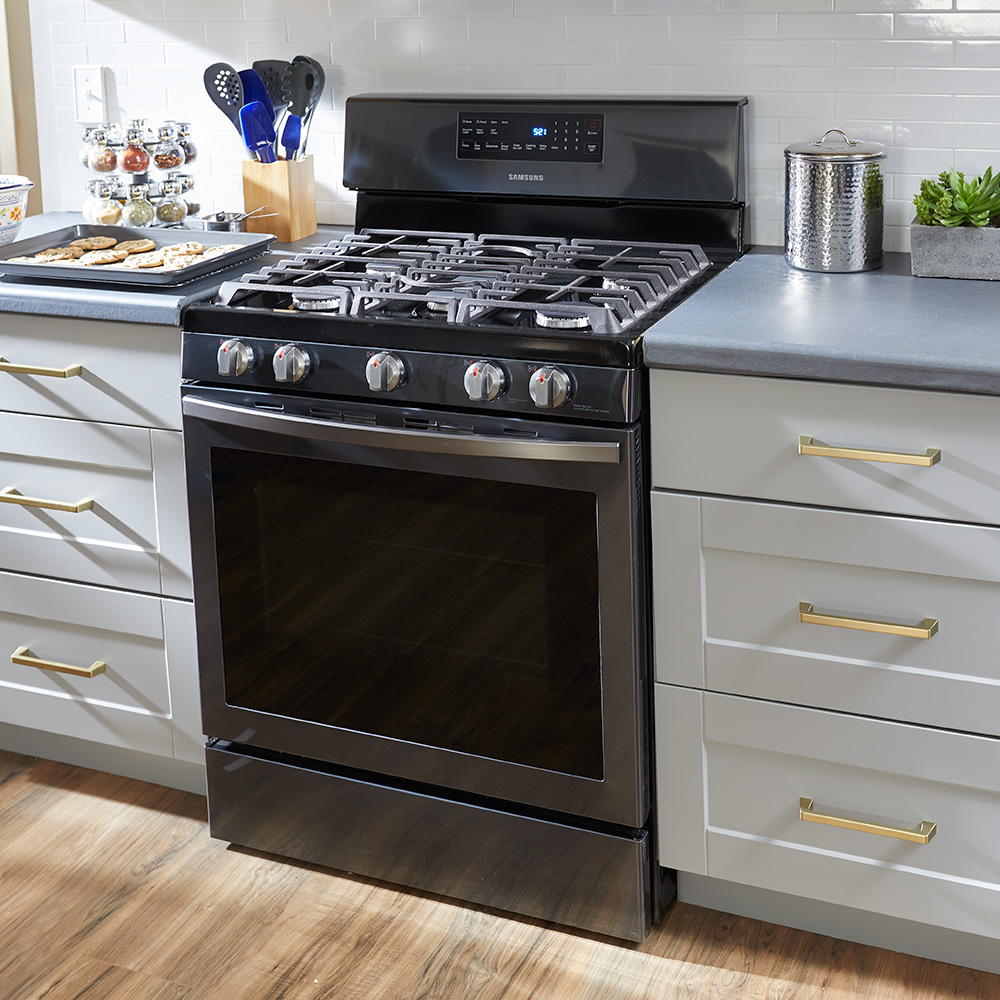 Kitchen ranges typically consist of a stovetop and attached oven, and they are available in a wide variety of styles. Ranges are available with different options in fuel type, size, cooking capacity and more that allow you to personalize your kitchen to your cooking habits. Whether you prefer electric ranges or gas ranges, this guide will help you determine the best kitchen range for your home.
Fuel and Cooking Type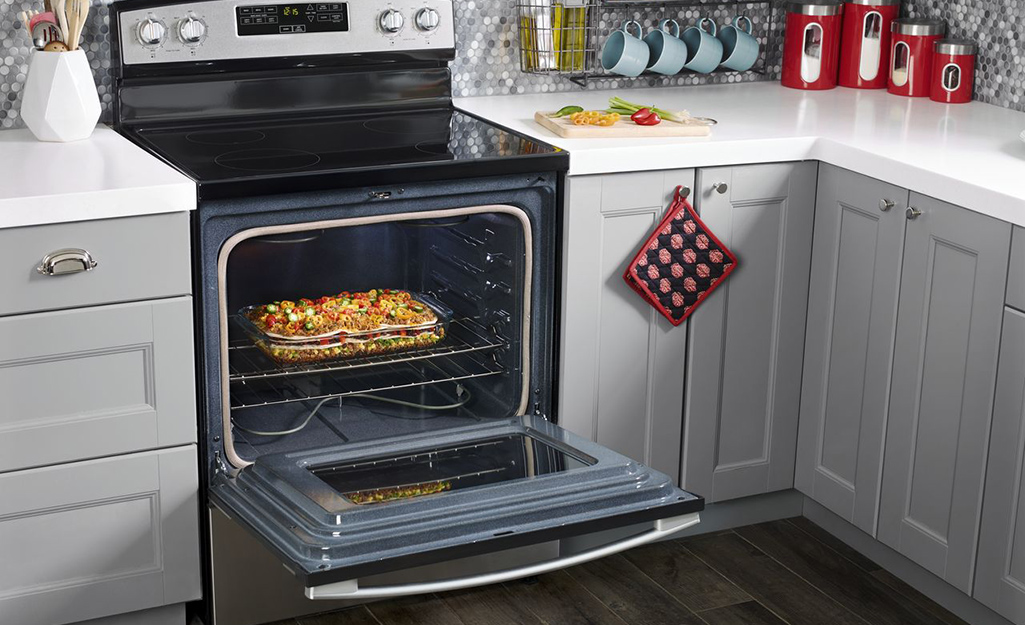 Your cooking range can be fueled with electricity, gas (natural or propane) or both in the case of dual-fuel ranges. 
Tip: Propane conversion kits are typically included with gas ranges to accommodate the type of gas your home is equipped to use.
Stovetop Heating Options
Gas ranges: Provides heat quickly and allows you to easily control the level of heat. Requires natural gas hookup for installation, though a majority of gas ranges also come with a liquid propane conversion kit.
Electric Ranges: Can be installed in most kitchens. Available in three stovetop varieties: coil, radiant/smooth-top and induction.
Dual Fuel Range: Typically comprised of an electrical oven for optimum baking as well as a gas cooktop.
More traditional electric stove 
Most inexpensive 
Slow to heat and cool 
Cookware is placed directly on heat source
Features flat, ceramic glass cooktop surface 
Burners heat up from a solid disk/radiant heat element under the surface 
Some models feature warming element between burners 
Easier to clean than coil-top ranges
Features flat, ceramic glass cooktop surface
Burners heat up using magnetic coils under the surface 
Energy-efficient 
Most expensive range 
Provides fast heat to magnetic cookware 
Doesn't work with aluminum, glass, copper and some stainless steel cookware
What's the difference between conduction and induction heating?

Conduction heating: Gas and electric cooktops heat only the part of the cookware that the heat touches. This is why food needs to be turned and rotated during the cooking process to ensure even heating.
Induction heating: The cookware itself becomes the heating surface. Electromagnetic fields transfer the heat to the cookware and allow for more precise temperature control and cooking power than traditional cooktops.
Oven Heating Options:
Conventional ovens utilize a top and bottom heating element to cook. 
True convection (also called European convection) ovens include a third heating element and a fan in the back of the oven. The fan blows heated air throughout the oven to ensure even cooking. Some convection ovens are known as "fan convection" ovens and don't include the third heating element and rely on the fan to blow around the air heated by the existing two heating elements. 
Installation Type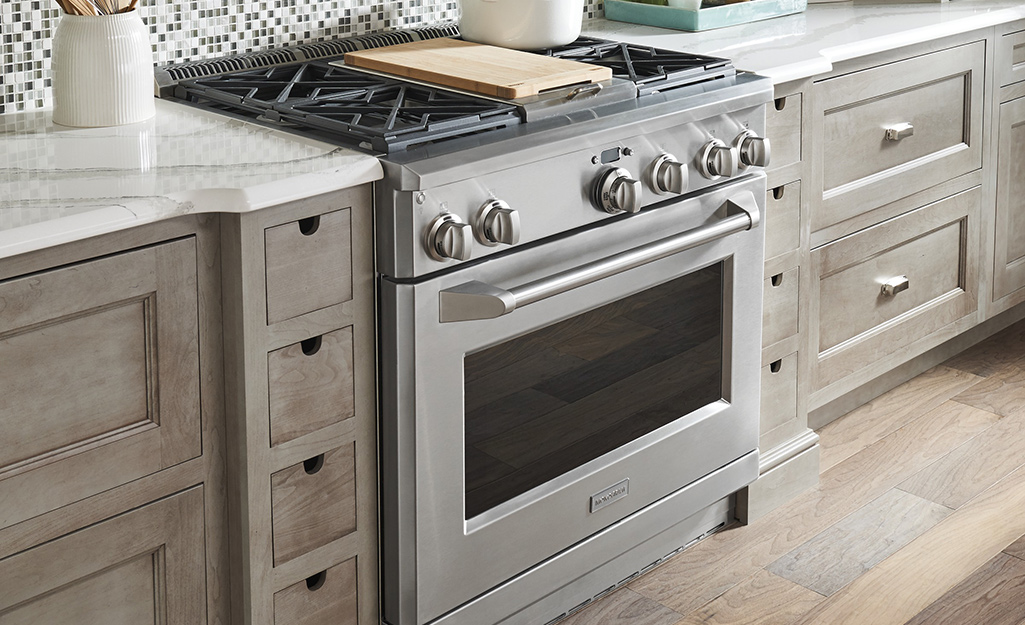 The arrangement of your kitchen's cabinets will dictate whether you need a slide-in, drop-in or freestanding range. No matter the type of range you select, each variety is available in a range of looks, including the ever-popular stainless steel stove and oven combo.

Consider the following when shopping for new appliances:
3-prong plugs are used for homes build before the year 2000. 
4-prong plugs are used for homes built after the year 2000. 

When you add professional installation to your new appliance purchase from The Home Depot, a compatible cord is required. The delivery agent carries both types of cords to make sure your home is covered.

When you purchase a new appliance from The Home Depot without professional installation, a 4-prong cord is sent by default. If your home is equipped with a 3-prong outlet, you will need to purchase a 3-prong cord or connector adapter separately. 
Range Installations
| | | |
| --- | --- | --- |
| Freestanding - Ranges | Slide-In - Ranges | Drop-in - Ranges |
| The most popular range style. Has finished sides. Easiest to install – can fit between other appliances or cabinets or standalone. Has traditional look with controls on a backsplash panel. | Slide-in easily between surrounding cabinets. Available with either finished or unfinished sides. Does not have an attached backsplash panel. Sit flush with the tops of your cabinets. | Rest on pre-built cabinet base that eliminates bottom storage/warming drawer. Does not have an attached backsplash panel. Require custom-designed cabinets. |
Size and Cooking Capacity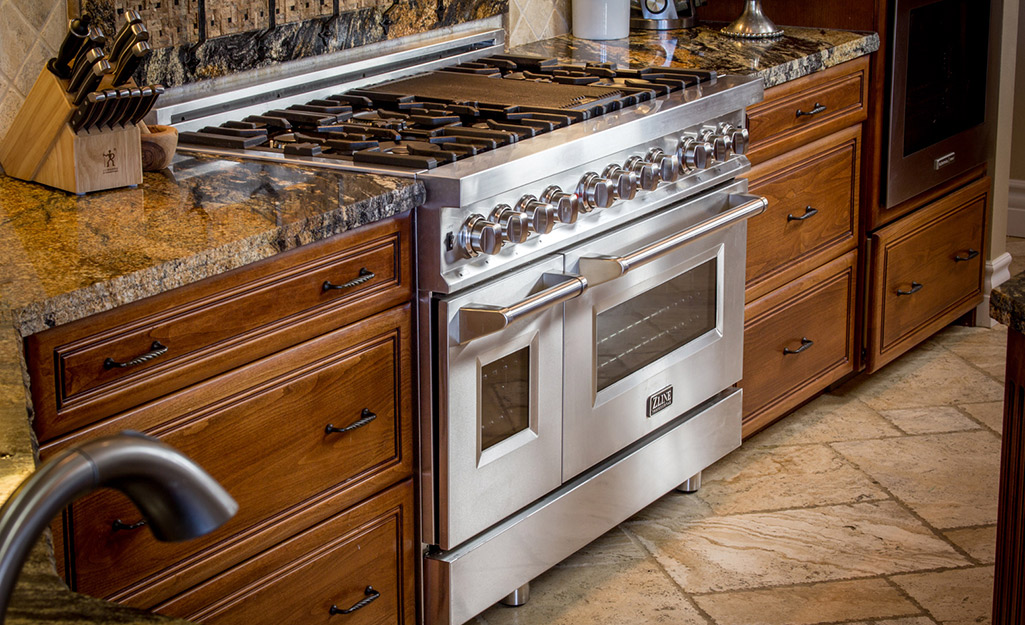 Range widths: 
Most standard ranges are 30 inches wide, with professional or dual-fuel ranges slightly wider, up to 48 inches. 
Cooking capacity: 
When choosing your oven's capacity, a good rule of thumb is to consider how many people are in your home. Allow one cubic foot of space for each person in your household. An oven with four cubic feet of interior space should be sufficient with homes of four or more people.
Finding the best range for your kitchen is simple with The Home Depot Mobile App. Whether you're looking for something stylish or traditional, we've got you covered. It's so convenient to purchase a range that you and your family will love at The Home Depot.
Explore More on homedepot.com