Buying a microwave means selecting from among many types, from basic models that make heating up a frozen meal easy to high-end models such as microwave drawers and convection microwaves. This guide will show you how to choose a microwave that will meet your needs. 
Types of Microwaves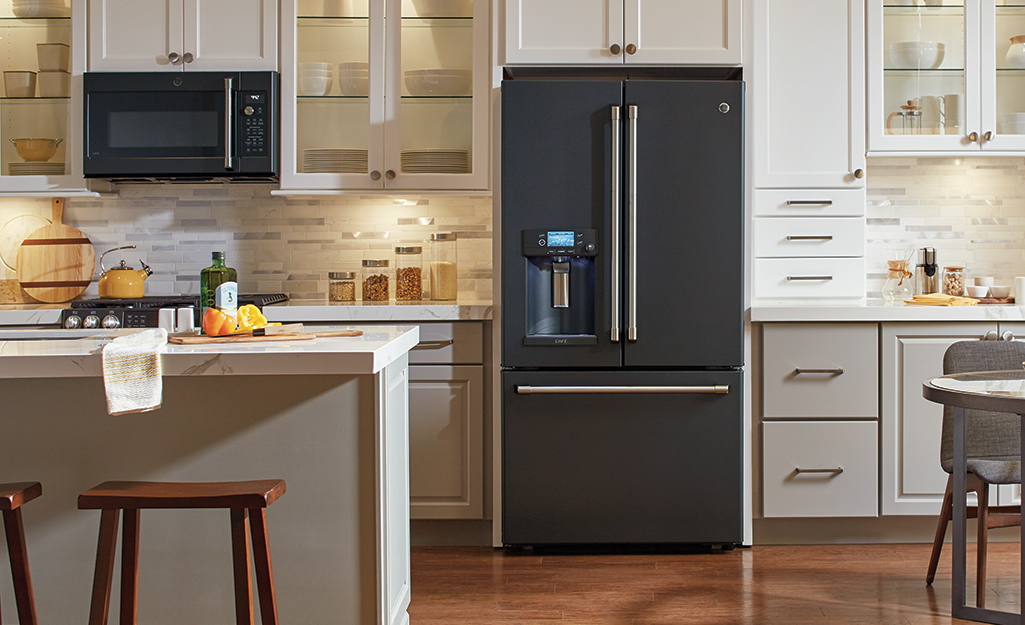 When buying a microwave that fits in your kitchen, consider your home's style and choose the best microwave that provides enough cooking power to handle the needs of your family.
Countertop Microwaves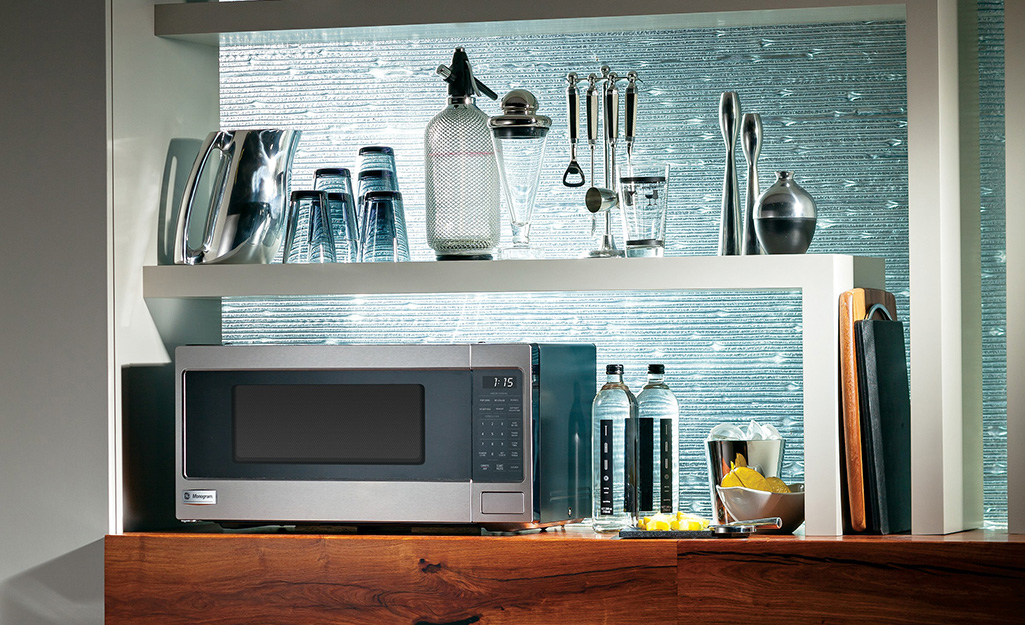 Countertop microwaves are a traditional, standard microwave. Measuring from 0.5 to over 2 cubic feet, they can rest on any open surface in your kitchen. These freestanding microwaves are easy to move. A few benefits include:

Widest variety of capacity and power ranges.
Some models have a coordinating trim kit; allows the microwave to be built-in to the wall, freeing up counter space.
Offers economical solutions for any budget with versatile features and functionality.
Sizes for countertop models range from 18 to 24 inches wide, 10 to 18 inches high and 18 to 22 inches deep.
Over-the-Range Microwaves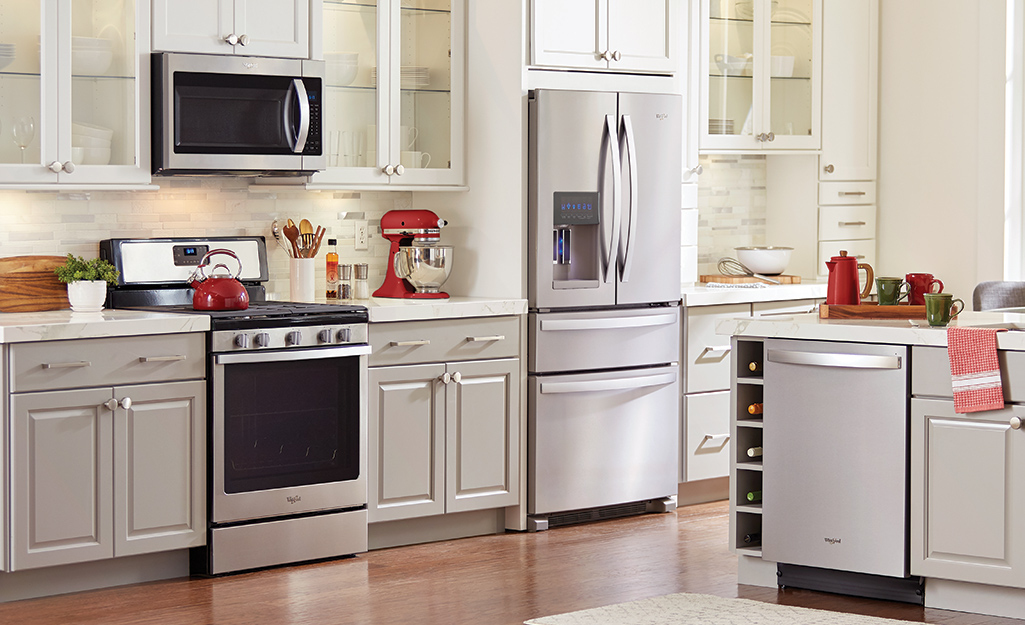 Over-the-range microwaves install above your range or cooktop in place of a range hood. They function like countertop microwaves, but also eliminate smoke, steam and cooking odors through a built-in ventilation system. Additional considerations include:
Select models have a sensor cook feature for easy reheating or a convection feature for enhanced cooking capabilities.
Built-in light that brightens the cooking surface.
Available in a range of sizes and wattage; usually over 800 watts.
Different venting options: External venting sends the smoke through an outside exhaust vent, whereas a recirculating venting microwave pulls air through a charcoal filter then vents it back into the house.
Low profile microwaves are slightly shorter and much wider than conventional microwaves, allowing them to fit in the same space as an under-cabinet range hood. (Based on a 24-inch minimum install height.) Despite their compact size, they are still large enough to fit tall glasses and wide dishware.
Sizes for most over-the-range models have a width of between 29 to 30 inches, a height between 16 to 18 inches and a depth of between 15 and 16 inches.
Built-In Microwaves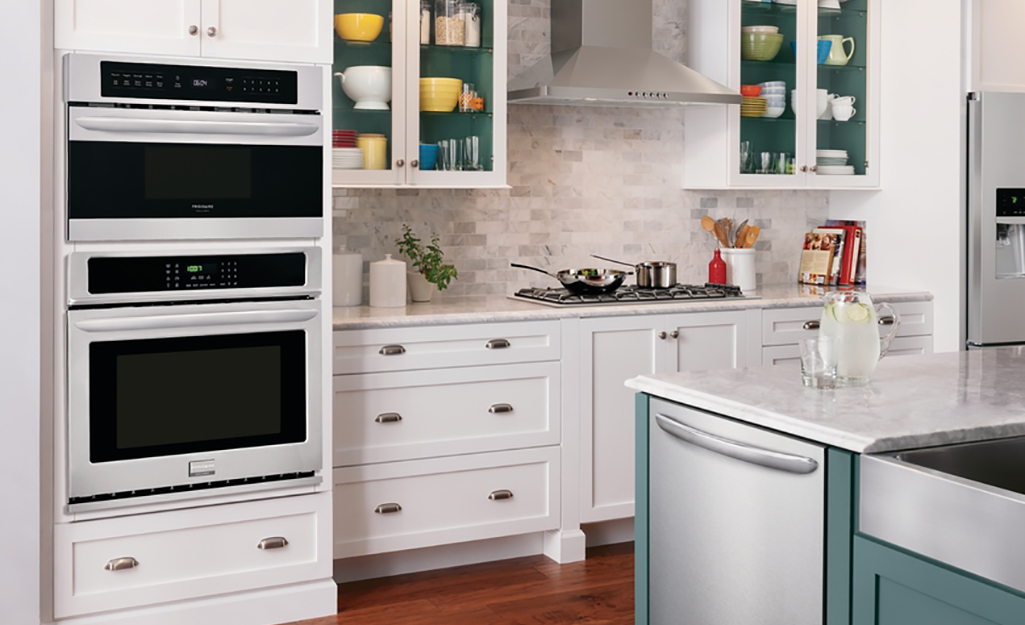 Built-in microwaves can be installed into a wall or cabinet for convenient operation. With a similar capacity to other microwave styles, the built-in design has the advantages of saving counter space and being able to be installed away from the range, allowing multiple people more space to cook together. 

Requires larger upfront investment.
Professional installation is recommended.
Available in a range of sizes and wattage; usually over 800 watts.
The exterior dimensions for built-in models are similar to that of countertop models with comparable capacities.
Microwave Drawer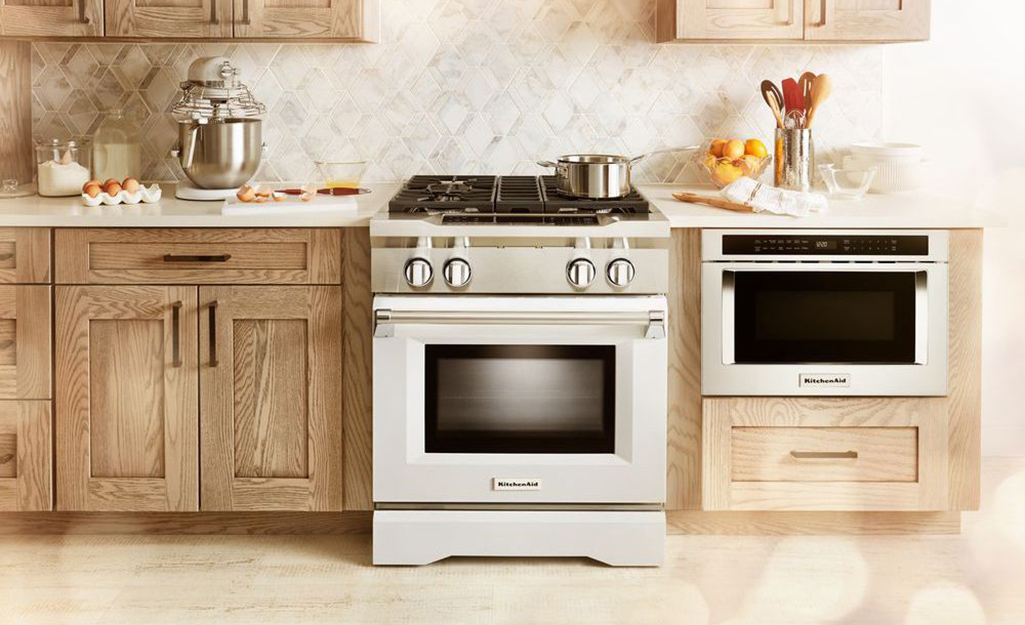 Microwave drawers are installed below a countertop or wall oven and pull out like a drawer. Food is placed and removed from the top rather than the front of the microwave. While they tend to be slightly more costly than other types of microwaves, they have more significantly more features and offer a sleek, modern look in the kitchen.

Most drawer microwaves come with safety locks to prevent curious, eye-level children from exploring the machine.
The drawer design eliminates the need to reach overhead or twist, making it easier for anyone who is shorter or physically impaired to add or remove heavy dishes.
Because there is no door swing to contend with, a microwave drawer is equally easy to open or close whether one is left or right-handed.
There are two sizes of microwave drawer widths, but the interior measurements are the same. Outside width is either 24 or 30 inches (24 inches is the more popular size.) Interior dimensions are 7 5/16-inches wide x 7 1/8-inches high x 16 9/16-inches deep or 1.2 cubic feet.
Convection Microwaves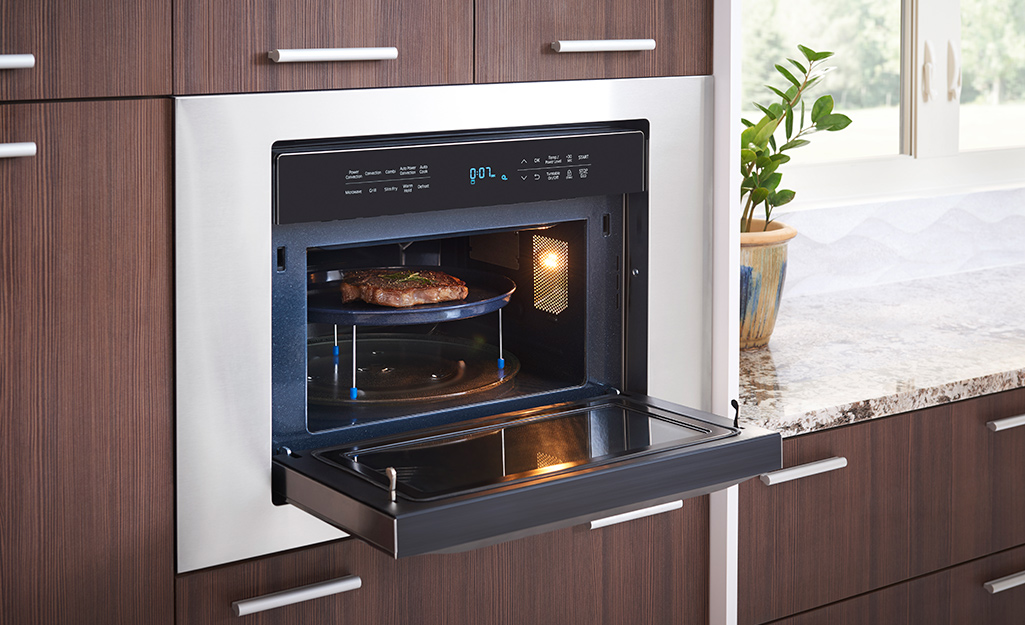 Standard microwaves can defrost, reheat and cook a variety of foods. However, convection microwaves combine microwave and convection heating in one convenient appliance to expand cooking options.

In convection microwave cooking, circulated hot air helps foods cook more evenly and achieve crispy browning more effectively than a microwave alone can. Along with the speed of interior cooking that the microwave provides, the combined methods means that a wider variety of foods can be cooked faster and better, particularly baked goods.

Capacity ranges from compact (0.5 – 0.8 cubic feet), mid-sized (0.8 – 1.4 cubic feet) and large (1.4 to over 2 cubic feet).
Exterior dimension ranges, but are offered in sizes similar to countertop microwaves. 
Power varies from 600 to 1,300 watts.
Convection microwaves crisp and brown, as well as quickly heat food.
Metal utensils and pans cannot be used in a convection microwave oven.
Microwave Features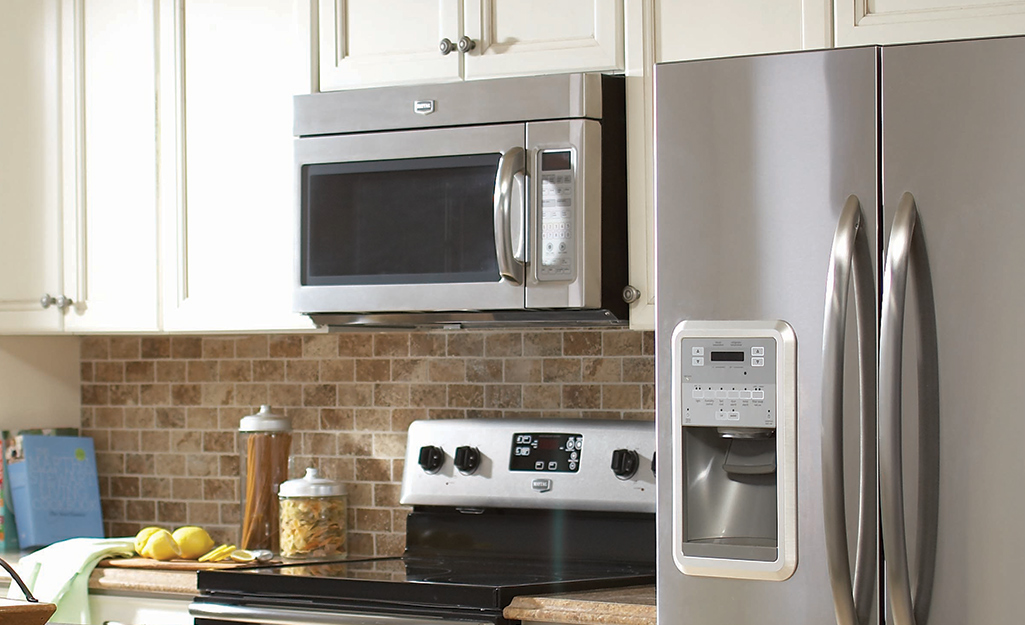 Automatic defrost allows you to select the type of food and weight you wish to defrost and automatically determines the optimum power level and cook time. 
Easy cleaning/nonstick interior simplifies cleanup by only requiring a damp cloth. Microwaves with stainless steel interiors remain odor-free. 
Sensor cooking assesses moisture levels in food as it cooks and automatically adjusts power levels and remaining cook time to ensure even heating. 
Power levels vary according to microwave models, so remember that the higher the wattage, the faster and more evenly your food will cook.
Stainless steel microwaves have a stainless steel exterior, making clean up easy while adding to the modern look of your kitchen.
Child locks allow you to prevent accidental use by locking the control keypad. 
Turntable/removable trays and racks rotate food to ensure even heating, and can be removed for easy cleaning. 
Shortcut/convenience keys allow you to prepare specific foods with the touch of a single button. 
Time cook allows you to program two different cook times and power levels for a single dish. 
Ventilation levels are indicated with cubic foot per minute (CFM) to indicate how much air the microwave can circulate. The higher the CFM, the higher the airflow. 
Shop online at The Home Depot for the latest styles of microwaves. The Home Depot delivers online orders when and where you need them.
Explore More on homedepot.com