When you need to make your laundry room more space-efficient and accessible, consider using washing machine stands or stacking kits. Washing machine stands, or laundry pedestals, raise washers and dryers by approximately a foot for added convenience and extra storage. Washer and dryer stacking kits enable front-loading washers and dryers to stack vertically to save space in a laundry room or fit into a closet laundry space. 
Laundry pedestals and stacking kits are sold separately from washers and dryers, so you can alter your existing laundry set up. However, not all washer and dryer models can be stacked, so check your units for stacking and pedestal compatibility before making a purchase. This buying guide will teach you about the best washing machine stands and kits for your laundry space and how to stack a washer and dryer. 
How Do I Choose Dryer and Washing Machine Pedestals?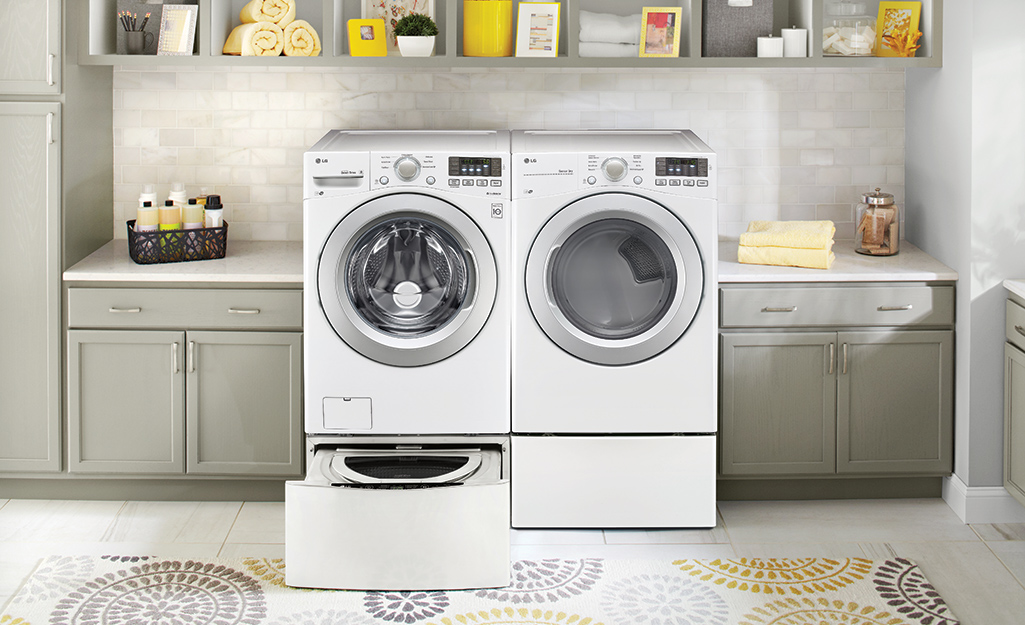 Washer and dryer pedestals are metal platforms or risers installed beneath front-load washers and dryers. Laundry pedestals, also known as washing machine stands, can add visual appeal to a laundry room. 
They make the washer and dryer openings easier to access, since they require less bending to load and unload laundry. Many also have convenient drawers to provide extra storage. Storage below your washer and dryers can help keep your laundry area neat. This storage creates a dedicated space for heavy detergent containers so you don't have to lift them onto high shelves. Some advanced pedestals hold up to six months of detergent and fabric softener that dispenses automatically with each wash cycle.  
When choosing dryer and washing machine pedestals, consider the following: 
Pedestals raise the height of washer and dryer units 12 to 16 inches.  
Pedestals are made for front-load washers and dryers. Top-load washers and dryers will be more difficult to unload with the added height of a pedestal. 
Only use pedestals for side-by-side washer and dryer installations. You cannot use a pedestal to stack a washer and dryer. 
Laundry pedestals that match your washer and dryer models may be available when you purchase the appliances from The Home Depot. If you purchase both the appliances and matching pedestals at the same time, pedestal delivery and installation is included in your purchase. 
Double-check that the width of your chosen pedestal is appropriately matched with your washer and/or dryer size. Not all stands and pedestals will be compatible with your washer and dryer models. 
Pedestals are sold separately from washing machines and dryers at an additional price.
The best washing machine stand for your laundry room will be the right size for your washer and/or dryer. It will lift the appliance to a comfortable height and offer storage to make doing laundry as easy as possible.
How Do I Choose a Washing Machine Stacking Kit?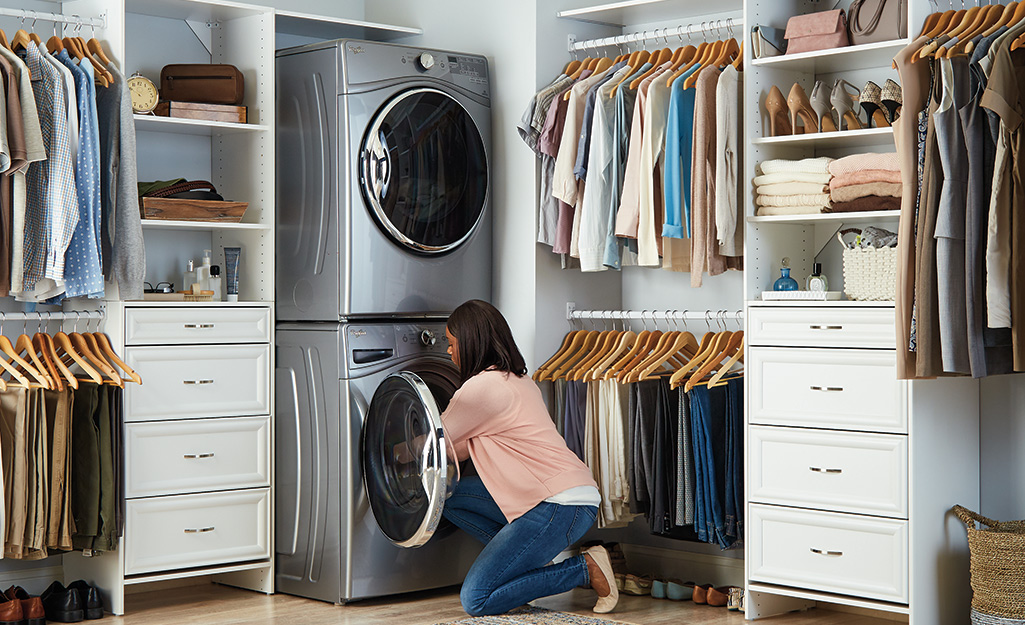 Washer and dryer stacking kits are metal brackets that stack front-load dryers on top of front-load washers to save valuable floor space. 
They allow you to install your washer and dryer in locations other than a dedicated laundry room. You can stack the appliances in a closet or a corner of your home. A stacking kit secures the dryer on top of the washer. The stacking kit will absorb vibrations as the machines run, keeping the setup stable and quiet. 
To find the best washing machine kit for stacking your appliances, keep these considerations in mind: 
Stacking kits only work with front-load washers and dryers, which are usually more energy and water efficient than their top-load counterparts. 
Washers and dryers from different brands may not be stackable.
Stacking kits are designed by the manufacturer for specific models and should be ordered when purchasing your laundry appliances. They are sold separately. 
Homemade stacking kits can void machine warranty. Only use manufacturer-approved kits. 
Not all washing machine and dryer models are compatible for stacking. Check the manufacturer's website or your owner's guide to be sure your specific washer and dryer can stack together.  
Because it weighs much less than the washer, the dryer must always be stacked on top. 
Avoid stacking machines from different brands. If the mounting points do not match up, the stack may not be stable and could possibly topple during use. 
Washers and dryers cannot be stacked with a pedestal beneath. A pedestal cannot support the weight of stacked units. 
Some stacking kits include added features such as a pull-out shelf for resting or folding laundry.
Stacked dryers may be inaccessible to people in wheelchairs. Shorter people may have a hard time reaching a stacked dryer without a step stool.
How Do I Stack a Washer and Dryer?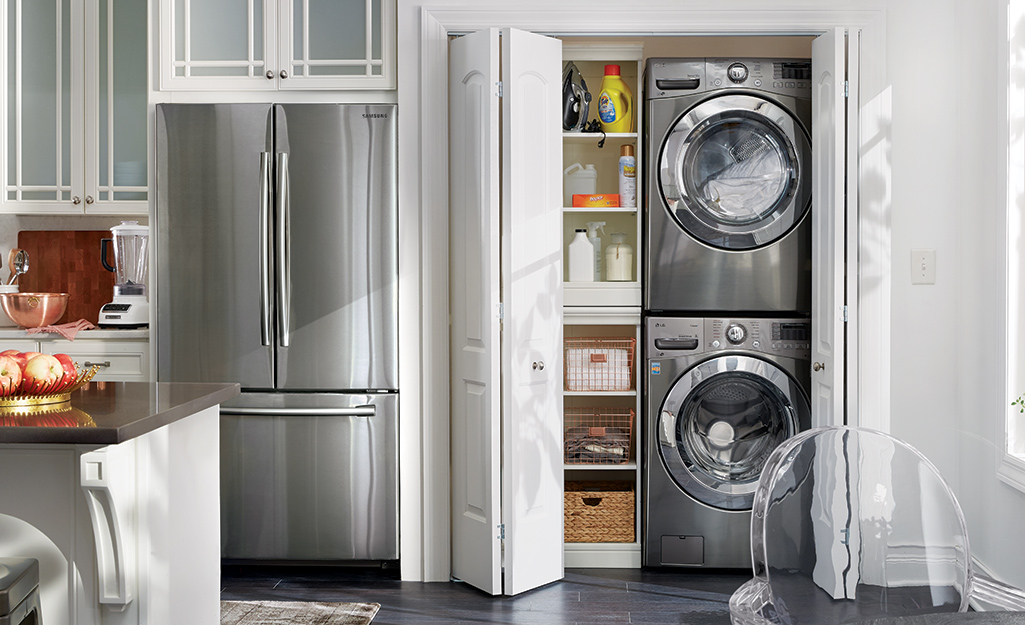 To stack a washer and dryer on your own, you will need a measuring tape and at least two people who together can safely lift a dryer. 
Measure your space. The washer and dryer will need to have at least a couple inches of free space on all sides for proper ventilation and air circulation.  
Measure your washer and dryer. The dryer must be the same size or smaller than the washing machine underneath. 
Measure the final height of the washer and dryer prior to stacking and be sure you can comfortably reach both the washer and dryer openings.  
Research the best washing machine kits and ensure the stacking kit you choose will be compatible with both your washer and dryer. 
Stack your appliances per the manufacturer's instructions of the stacking kit. 
Run a test cycle to ensure the stacked units are stable.  
If they sway or vibrate excessively, adjust the brackets of the stacking kit. 
 
If you are purchasing a new washer and dryer with a stacking kit from The Home Depot, you can avoid learning how to stack a washer and dryer yourself and instead have your appliances delivered and stacked for you through a professional installation. When installing new appliances, make sure you have the right appliance parts for your home. 
3-prong plugs are used for homes built before the year 2000.  
4-prong plugs are used for homes built after the year 2000.  
When you add professional installation to your new appliance purchase from The Home Depot, a compatible cord is required. The delivery agent carries both types of cords to make sure your home is covered. When you purchase a new appliance from The Home Depot without professional installation, a 4-prong cord is sent by default. If your home is equipped with a 3-prong outlet, you will need to purchase a 3-prong cord or connector adapter separately. 
Tip: As an alternative to stacking individual appliances, you can purchase and install a laundry center, which is a vertical, combined washer and dryer unit. 
The best washing machine kits and stands for you will make laundry an easier task by making your laundry units more accessible and convenient. Be sure to check your washer and dryer models for pedestal and stacking compatibility before making a purchase. Once you're ready to find the washer and dryer parts you need in your local store, use the Home Depot Mobile App to locate products and check inventory. We'll take you to the exact aisle and bay. 
Explore More on homedepot.com