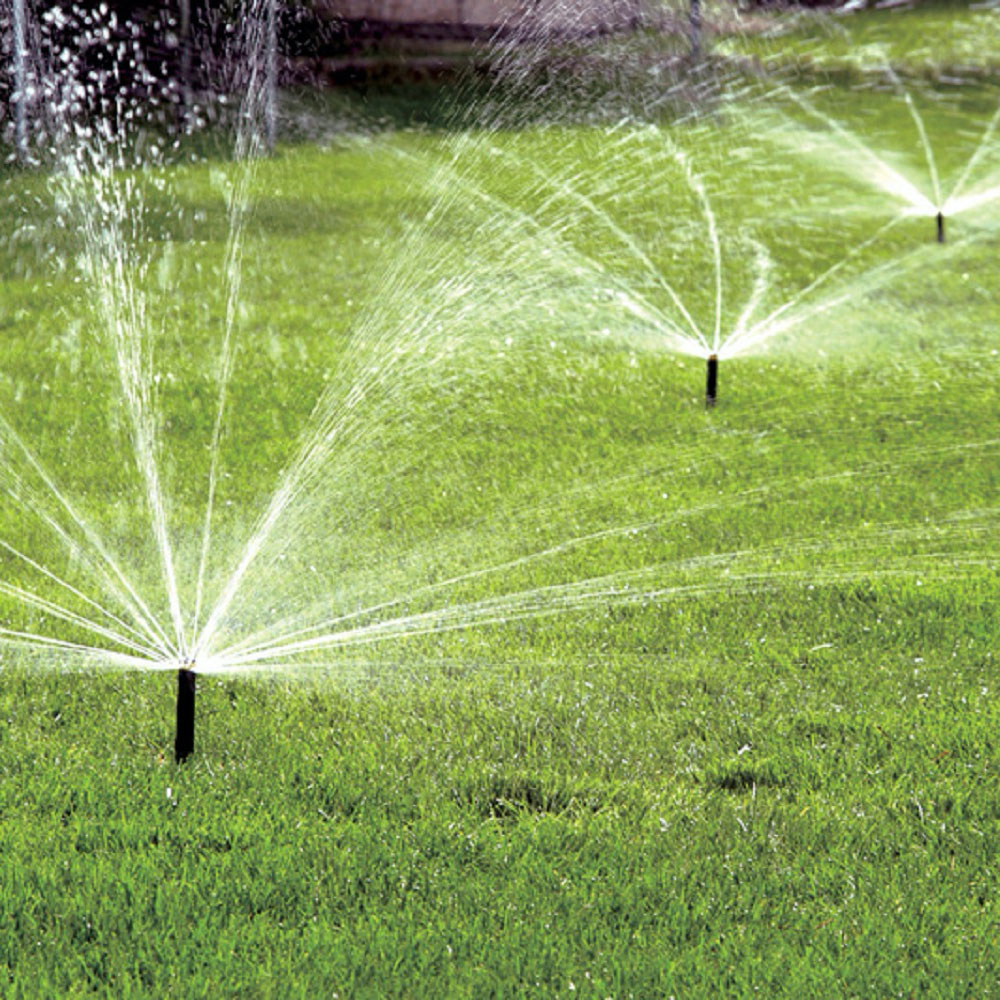 The right commercial irrigation system can ensure your property's yard or other landscaping looks its healthiest and most attractive. A properly installed and maintained irrigation or sprinkler system will reduce water waste, save on utility bills and improve your property's image. 
The water capacity and piping materials of your plumbing system influences the cost of an irrigation system. These irrigation system installation and maintenance tips will ensure you use water most efficiently and make your property look its best.
Sprinkler Systems vs. Drip Irrigation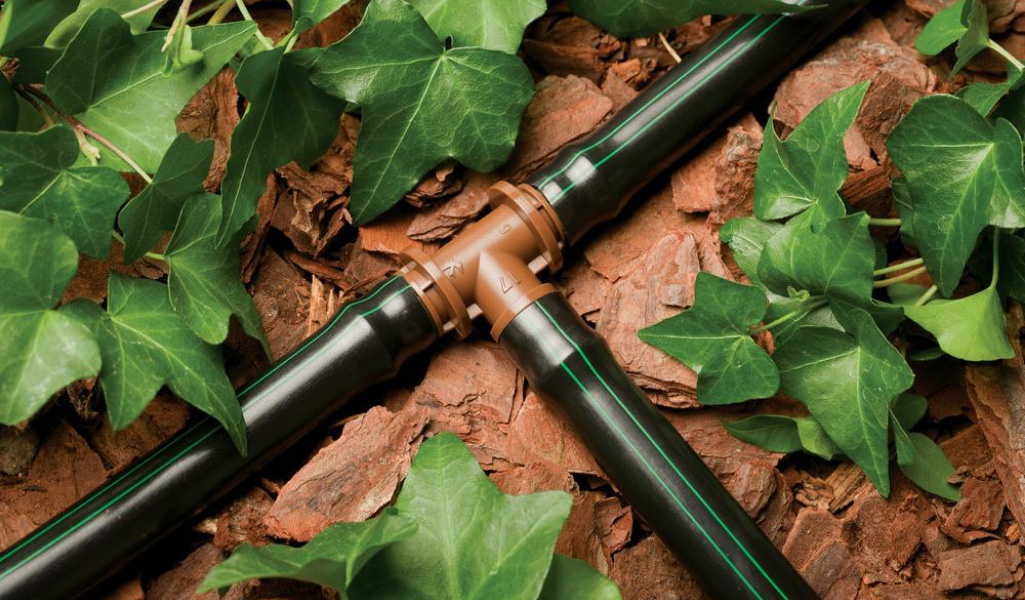 Sprinkler systems are designed to imitate rainfall and spray water over a wide area. They are commonly used in larger commercial properties. 
They are most effective with large, flat areas that may need a higher volume of water. 
The pipes are generally buried underground, with the sprinkler heads sticking above ground level. 
They can be easily automated or given smart upgrades. 
Drawbacks include increased risks of overwatering and plant diseases. Poor placement can lead to slippery walkways. 
Traditional sprinklers can have higher upfront costs. 
Drip irrigation releases water more slowly, giving it more time to soak into the soil and reducing the amount of runoff. They are increasingly popular options at properties with green initiatives. 
Drip irrigation places pipes low to the ground, arranged to water the plants more directly. 
Drip irrigation systems are more effective with smaller areas or with plants that require a specific watering schedule. The low-volume irrigation reduces water bills. 
Drawbacks include more maintenance compared to other systems.
Some people may find the visible piping to be unattractive. 
Pro Tip: HomeAdvisor reports that the U.S. average cost to install a sprinkler system on a one-acre lot is around $10,280, while the cost for drip irrigation ranges between $1,800-$2,500.
How to Determine Water Capacity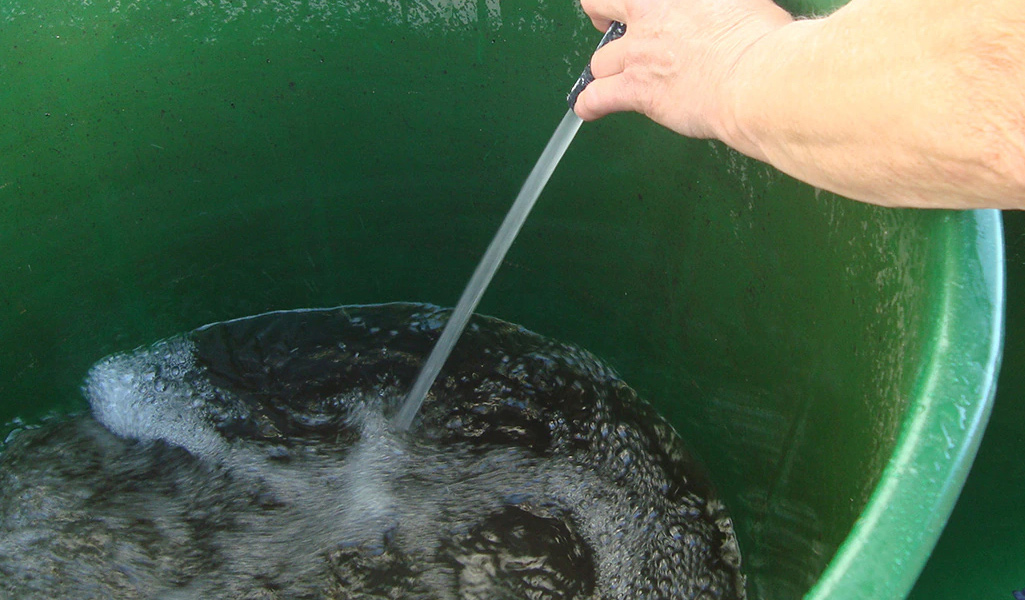 Before choosing the components of your irrigation system, you must know the current water capacity of your property's plumbing. Your system's water capacity can influence important decisions such as the right type and quantity of sprinkler heads as well as irrigation zone size.
Follow these steps to calculate your system's water capacity in gallons per minute (GPM):
Turn off all faucets and water sources so you can accurately measure water capacity.
Attach a pressure gauge to an outside faucet, turn it on until the gauge reads 35 psi and leave it running.
Locate the outside faucet closest to your property's main water source and turn it all the way on.
Place a 5-gallon bucket underneath the faucet, and record how long it takes to fill. Turn the water off once the bucket is filled.
Determine water capacity in gallons per minute (GPM) based on how long it took to fill the bucket using this chart.
10 seconds = 30 GPM
15 seconds = 20 GPM
20 seconds = 15 GPM
25 seconds = 12 GPM
30 seconds = 10 GPM
40 seconds = 7.5 GPM
50 seconds = 6 GPM
Alternately, you can determine the flow rate by multiplying the bucket size by 60 and then dividing the time in seconds. For a 5-gallon bucket that takes 18 seconds to fill, the equation would be 5 x 60/18 = 16.67 GPM.
Maximum Recommended Flow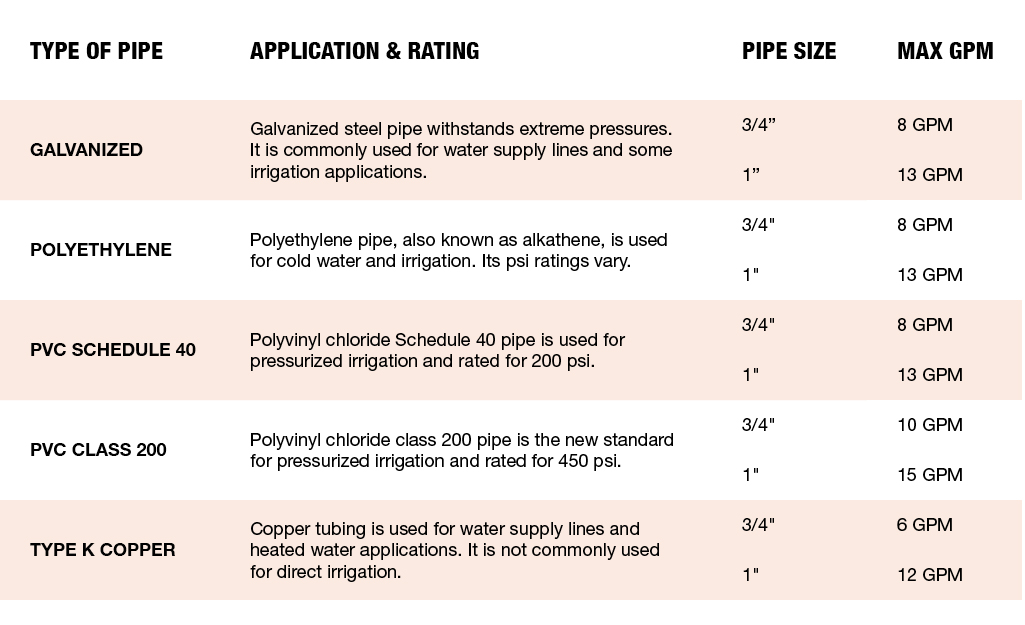 Different piping materials suit different irrigation needs. All pipes have a maximum GPM rating that should be followed for the safest, most efficient performance.
What Are the Costs to Install Sprinkler Systems?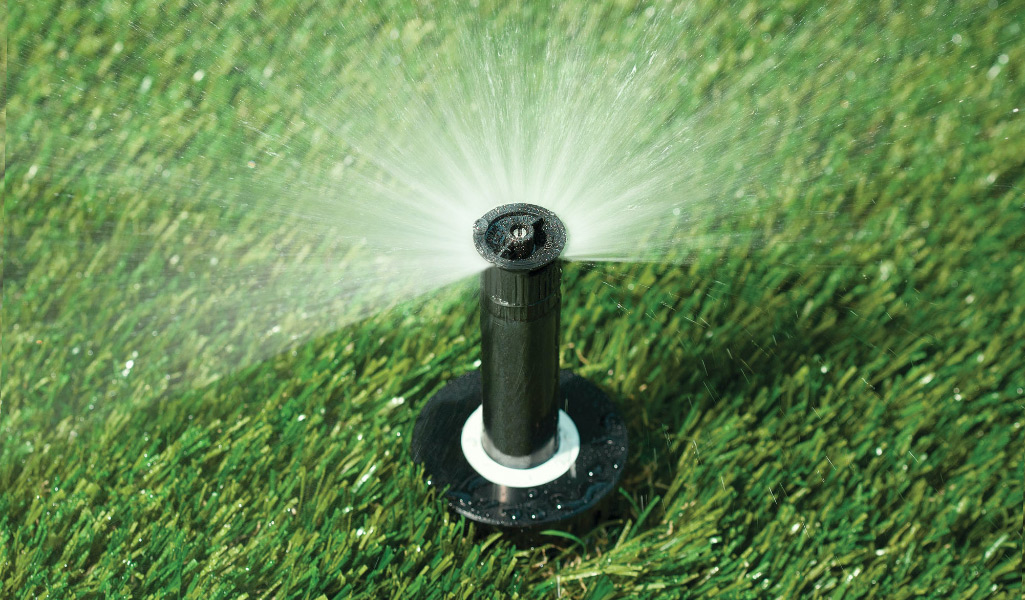 The costs of irrigation systems can vary widely based on such factors as the size and terrain of your property, the number of irrigation zones, the types of plants to be watered and the type of system installed.
Irrigation zones refer to areas of a lawn or greenspace that require a specific form of irrigation. For example, if a property has both a lawn and a flower bed, those should be separate zones. 
Before determining your zones, consider the type of sprinkler heads you're likely to use and the amount of coverage they provide.
Rotor heads can spray about 25-30 feet in diameter in arcs, semicircles or full circles. Place the heads about 14 feet apart to ensure enough overlap for sufficient watering.
Fixed pop-up head sprinklers spray about 10 feet and should be installed about 18 feet apart. They are ideal for watering areas adjacent to the sides of buildings and other structures, aimed away from the walls.
Different sprinkler heads have different capacity in GPM.
To determine how many sprinkler heads are needed per zone, first estimate how many total sprinkler heads you need for the property. Make a diagram of the yard and estimate where you'll need the sprinkler heads based on spray direction and distance. Add up the required flow rate of all the heads and divide by the GPM of your water supply. For example, if you need 26.2 total GPM, and your property has an overall capacity of 16.67 GPM, you'll need two zones. 
Some companies offer a rule of thumb that the installation of a commercial sprinkler system should cost about $1,000 per zone. Due to economies of scale, the cost per zone goes down with the more zones you add.
Pro Tip: Expect large commercial irrigation systems to cost more than smaller residential ones. Larger irrigation systems require larger pipes and more durable materials to handle the higher capacity.
Installation, Watering & Winterization Tips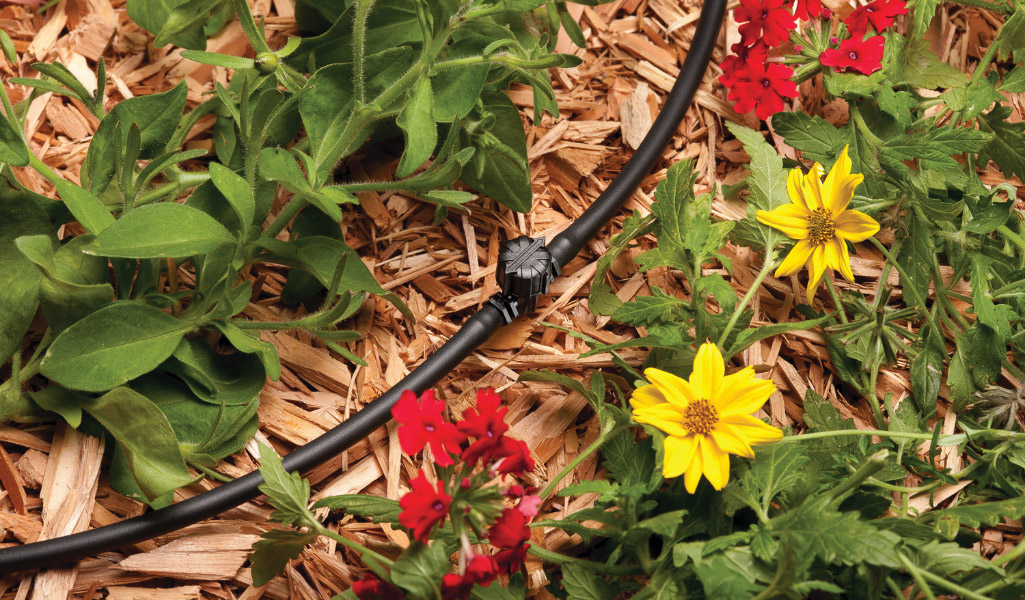 Follow these tips when installing and maintaining a commercial irrigation system to ensure it works most efficiently. 
Make a water audit to determine the zones that need the most irrigation before installing or upgrading your system.
Call your utility company and have them mark where pipes and power lines are before digging. 
Install irrigation pipes 8-12 inches deep to avoid accidental damage. 
Perform periodic maintenance "wet checks" on your system such as making sure nozzles are not damaged, clogged or pointing in the wrong direction. 

Different plants require different amounts of water. Follow these recommendations when scheduling irrigation. 
Plants and flowers need more water than grass.
Grass needs more water than trees and shrubs. 
Run your system early in the morning to avoid overwatering. 
Consider drip irrigation for trees, shrubs and areas that lack grass. 
Install a rain sensor to ensure your sprinkler system does not run during or after a soaking rain. 

Depending on the climate, your property will not need irrigation during the winter. Consider these tips for winterizing your irrigation system. 
Insulate all aboveground pipes, valves and backflow preventers to prevent cold damage. 
Check air vents and drain outlets and clear any blockages. 
Blow air through your irrigation system to remove excess water and protect against freezing. 
Deactivate timers and controls so your system's valves and pumps cannot activate in the off-season.
More Tools. More Products. More Savings.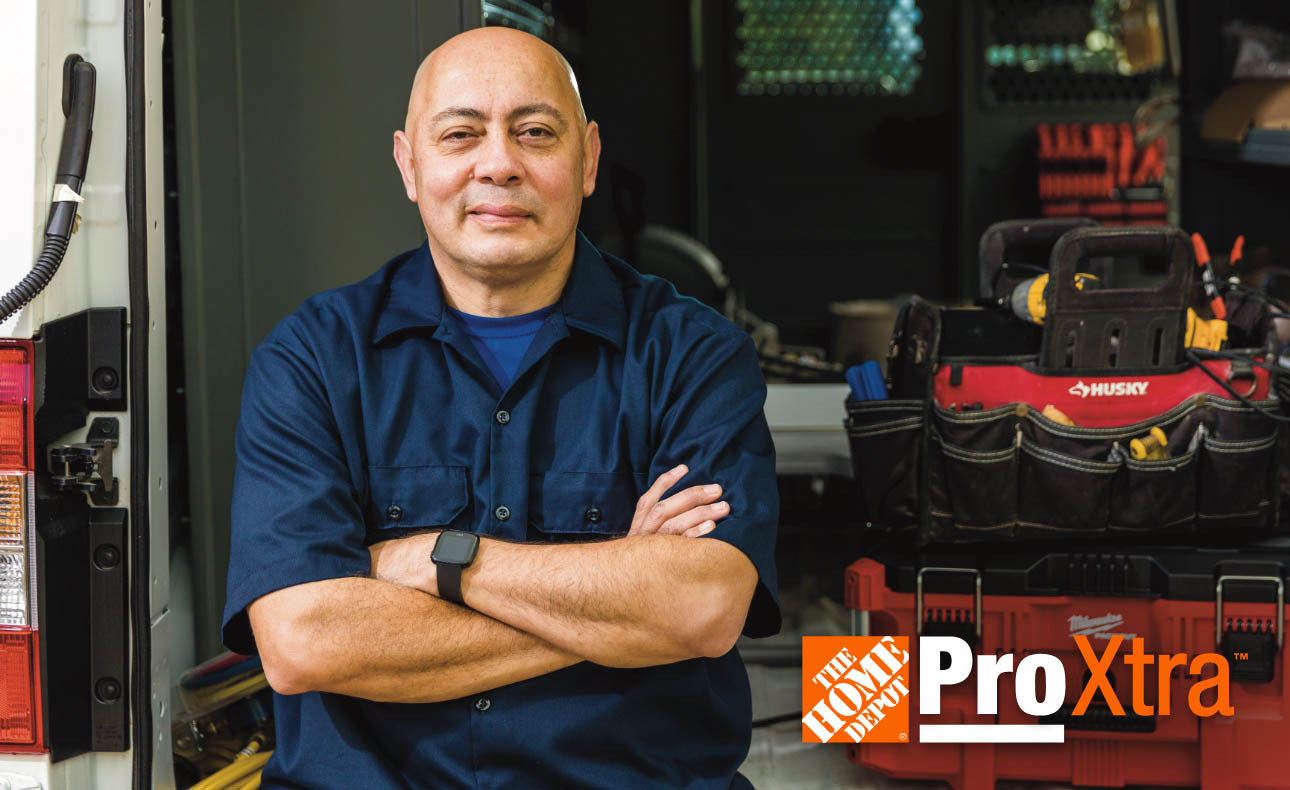 Be more competitive and boost your bottom line with Pro Xtra, The Home Depot's loyalty program built for Pros. Sign up today to access the enhanced Pro Online Experience, built with the online business tools and time-saving features Pros need. 
The cost of an irrigation system depends on such factors as your choice of irrigation, the water capacity of your plumbing system and how many sprinkler heads you need per zone. Whether you install a traditional sprinkler system or a low-volume drip irrigation system, follow the best practices for watering plants to ensure your property looks its best for current and future residents.
When installing or upgrading an irrigation system, use direct delivery from our 2,500+ stores to your business or job site. Choose from free two-day delivery, same-day or next-day express delivery.