Cats enjoy their freedom and like to roam. Learn how to choose a cat door to give your pet easy access to the outdoors. You can also keep a cat safe inside when you control the direction of a cat door or its flap. 
This guide will help you decide which kind of cat door will work best for you and your cat. It'll also teach you how to choose the size of a cat door opening. You'll learn about different cat door features and installation options as well. Choose the cat door that's right for you to allow your feline friend to find their outdoor personality.
Know the Weight and Size of the Cat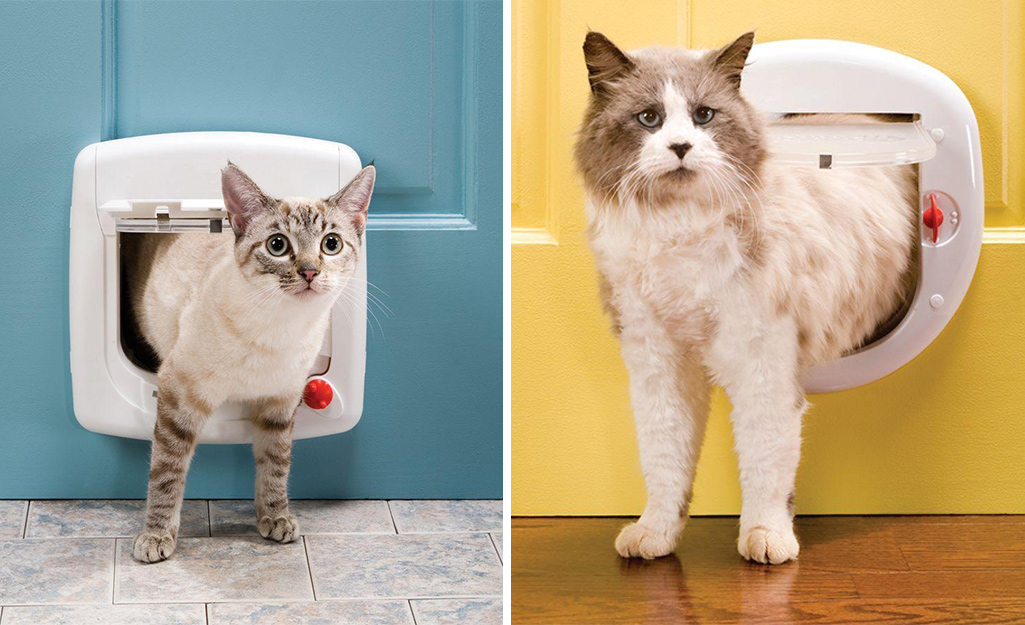 One basic guideline for choosing a cat door is to know the weight and size of the cat(s) using the door. Most cats can maneuver through small spaces. You won't need to cut a giant hole into a door just for their convenience. 
Cat doors come in varying sizes, from about 5 to 10 inches wide and high. A smaller cat, under 12 pounds or so, can go through the smaller cat doors. Larger cats, over 12 pounds, will need a bigger cat door.

If your cat allows it, measure their height and width. Then, match those numbers to the inside dimensions of a cat door. Read the dimensions associated with any cat door model carefully before you choose one. The size of your cat bed might also hint at the cat door size you need.

Other pets can use a cat door to come inside your house as well. Choose the smallest size that is comfortable for your cat. This will cut down on the number of other animals that can fit through the cat flap.
Other pets can use a cat door to come inside your house as well. Choose the smallest size that is comfortable for your cat. This will cut down on the number of other animals that can fit through the cat flap.
Choose a Standard Cat Door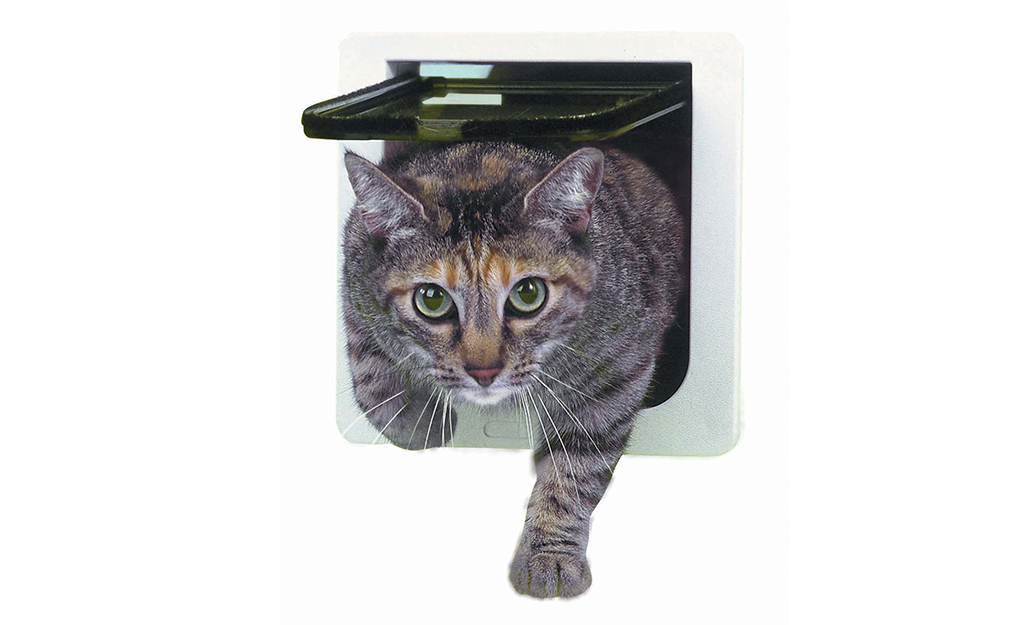 A flap opening is a simple concept for any free-roaming cat. If you have no need to control a cat's outdoor or indoor access, choose a flap model for doors or windows. 
Most flap doors have magnetic weights in the flap to secure it to the frame. This prevents rain, dirt and debris from blowing indoors while allowing the cat to nudge the flap open in any direction. 
Tip: Anything your cat brings home from a hunt can also enter through the flap door. A neighbor's pet, a small dog or random critter might follow your cat indoors too.
Choose a 4-Way Cat Door for Control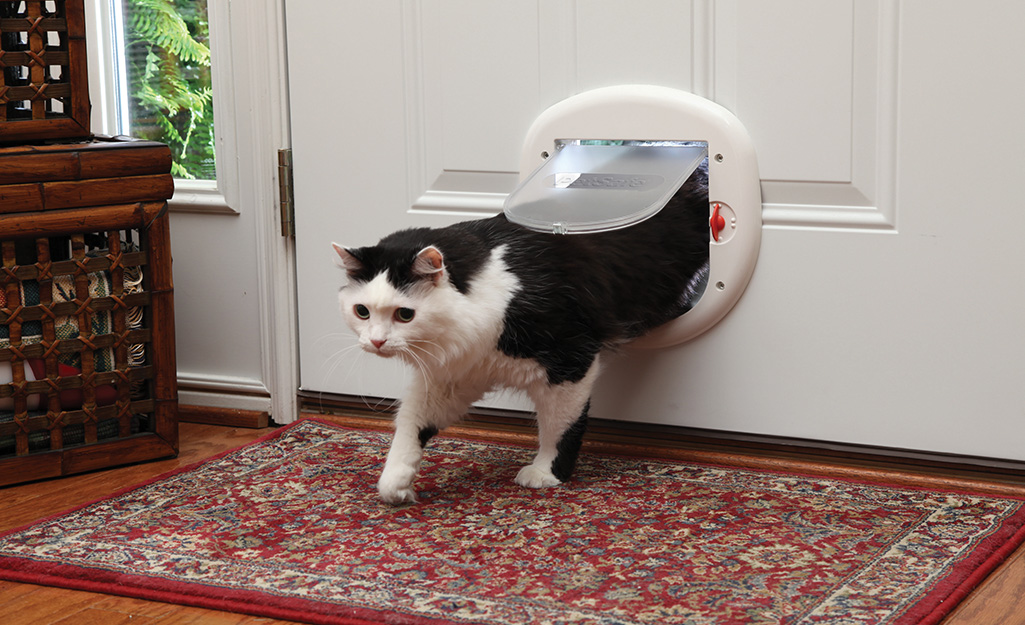 If you need to keep your cat indoors or outside for any reason, consider a 4-way model of cat door. The four ways you can set access on this kind of cat door are as follows: 
A cat can only come inside.
A cat can only go outside.
A cat can go in or out. 
The cat door stays closed. 
Choose a Microchip Reader Cat E-Door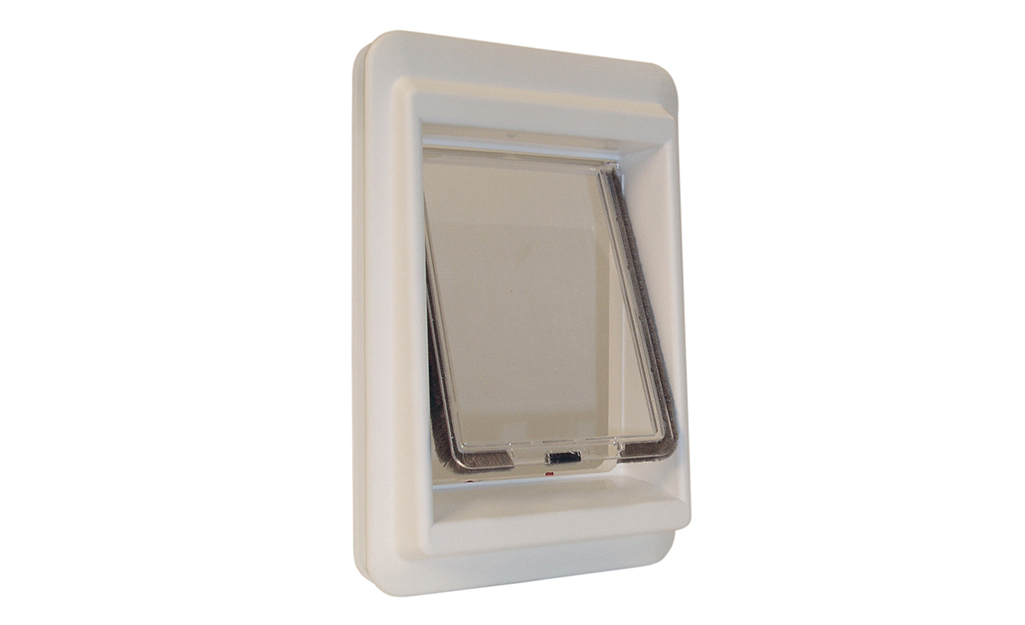 Some models of cat doors, or "e-doors," come with a microchip reader. E-doors give your cat exclusive access. With a chip reader built into the frame, the e-door can only be opened by a cat wearing a collar with the matching chip.
This door is a good choice if there are small wild animals near your home. Possums and raccoons might be curious, but this cat door can help keep them out. 
A microchip reader door can't prevent your cat from dragging things indoors with their mouth or paws. However, it does provide more lockout control for other animals in the neighborhood.
Choose an Interior Cat Door
An interior cat door is a great option to keep a litter box and its odors away from the rest of the house. Install a cat door in an interior door, such as a laundry room or basement. That way, your cat can use the pet flap to access the litter box. No one else will smell where the kitty litter is.
Choose a Prehung Door with a Built-In Cat Door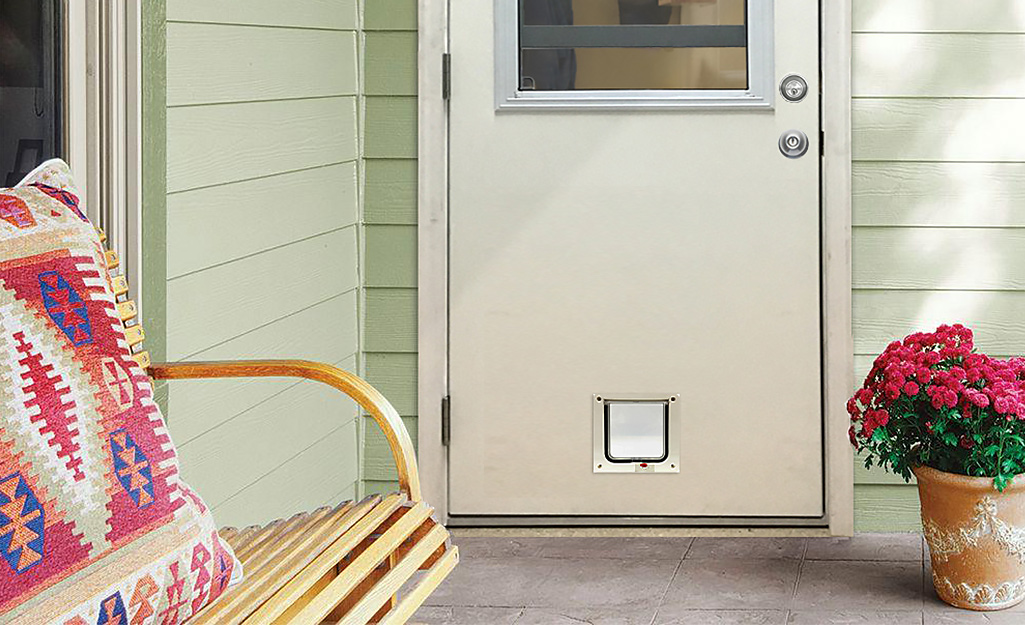 If you don't want to install a cat door into an existing door, choose a prehung door that's got the pet flap built in. Simply remove an existing door from the hinges and install the new door. 
Prehung pet doors come with a variety of cat door options built in. You can choose from the following models:
Standard flap
4-way version
Microchip-reader cat door opening 
The 4-way version is usually included on most in-stock prehung doors. Check that the door you're considering has the type of cat door that you want.
Choose an Insert Cat Door for Windows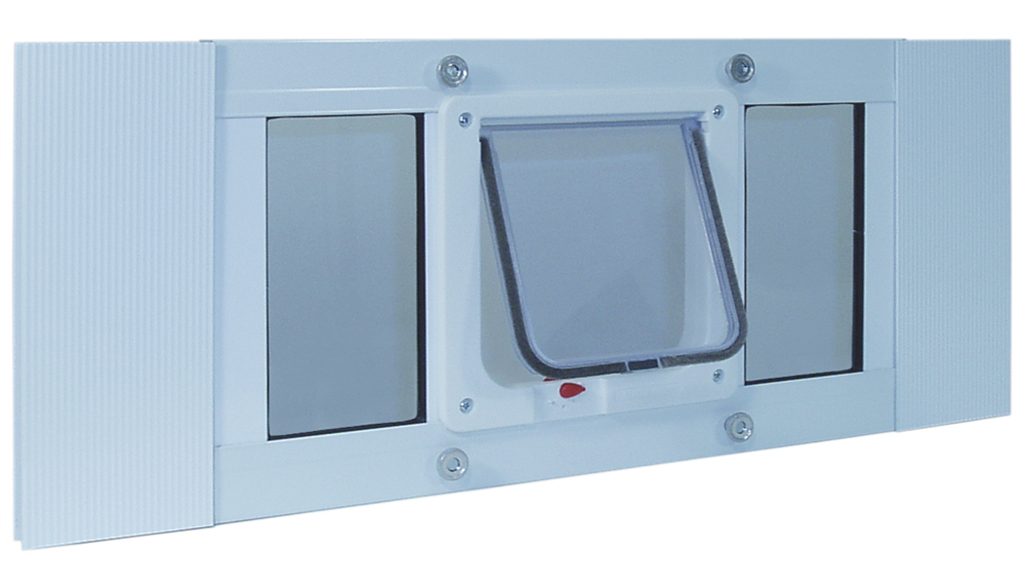 Another cat door option is the window insert variety. This type of pet door insert fits into a window's sash where the glass pane would normally go. The insert lets your cat access the world outside through a window instead of a door.

This is a good choice if the cat door fits better into a window. It also works if you don't want a custom-made door. Some cats might prefer the height of a window better than a door flap.
When you install a cat door, your cat will enjoy their newfound freedom. As a caring and responsible pet owner, you'll be happy knowing you've chosen the right type of cat door. You may even cut down on midnight meows asking to go outside.
Ready to choose a new cat door or other pet door accessories? Locate products and check inventory with The Home Depot Mobile App. We'll take you to the exact aisle and bay. For free design, purchase and installation help with windows and doors, call us any time between 9 a.m. - 9 p.m. EST at 1-833-HDAPRON (432-7766). 
Explore More on homedepot.com