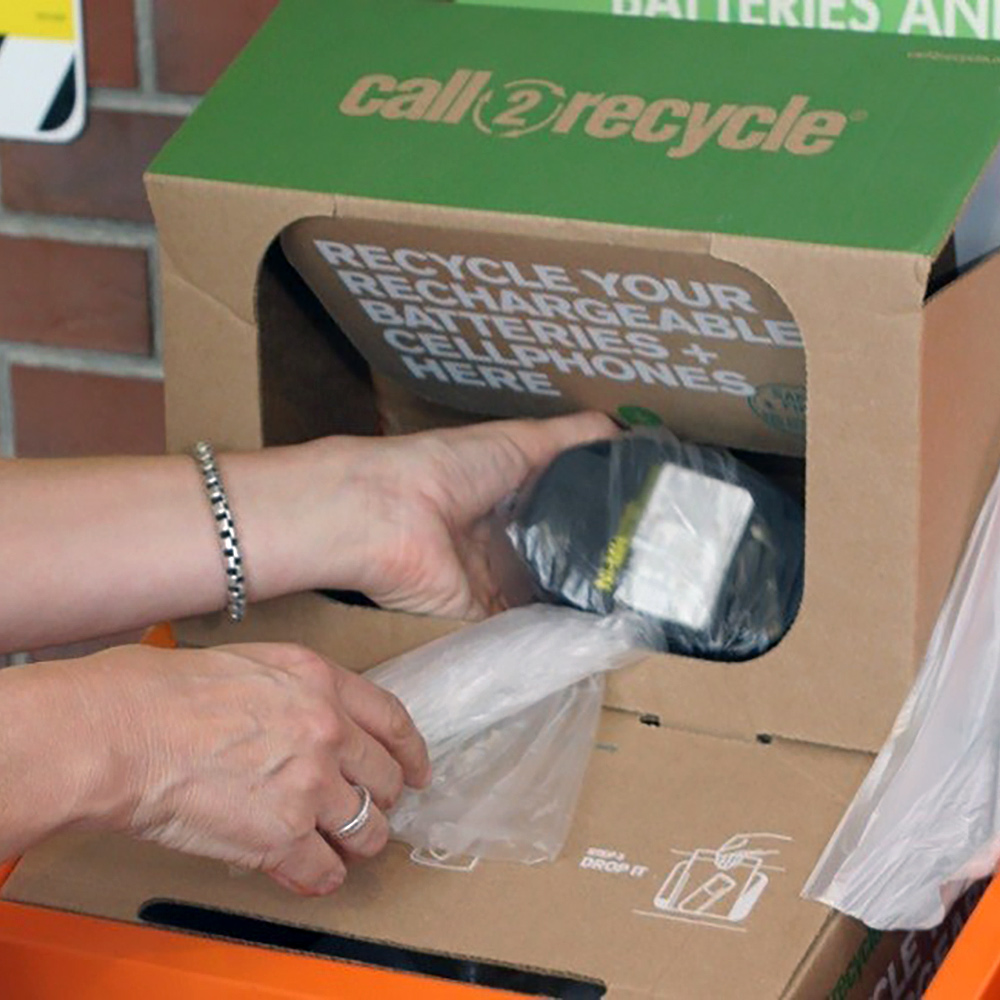 Batteries power a range of items and make life much easier. But when batteries die or won't charge, it's time to get rid of them. The ways to get rid of batteries can vary, depending on the battery type and where you live.
This guide will review how to dispose of batteries and covers how to recycle batteries. It includes information on single-use batteries and rechargeable batteries. 
Battery Basics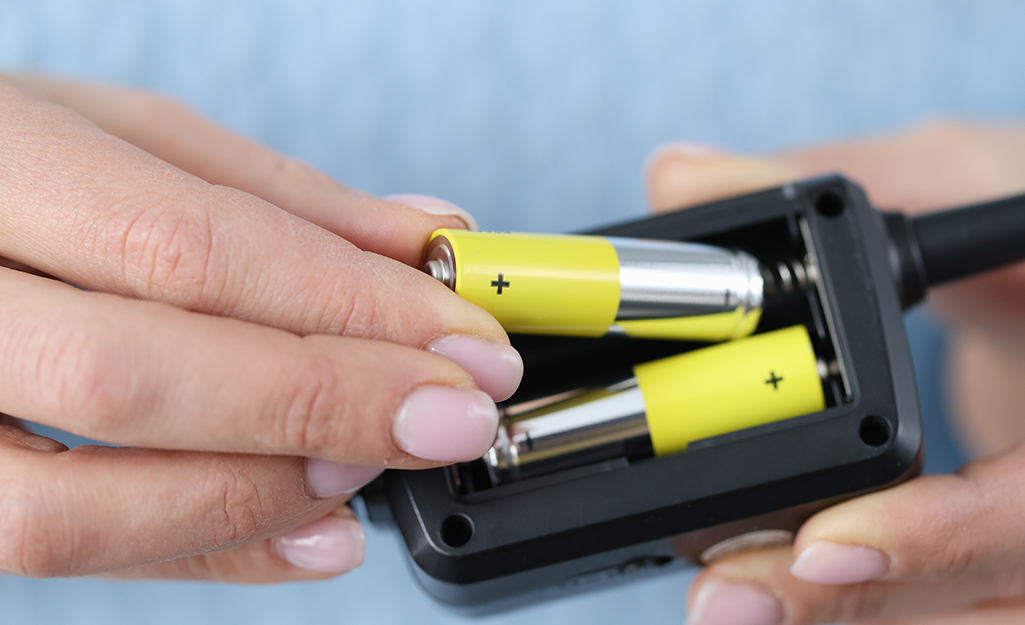 There are two main types of batteries, single-use and rechargeable.
Single-use batteries only work for a limited amount of time. Single-use alkaline batteries include AA, AAA, 9 volt and D cells. You'll find these batteries in alarm clocks, remotes, flashlights, smoke detectors and other items. When single-use batteries are dead, they must be replaced.
Rechargeable batteries can be charged many times. You can use them over and over. They're found in cordless phones, smartphones and digital cameras. Cordless power tools and similar devices use them too. 
Batteries contain reactive chemicals and metals that generate electrical energy. Recycling these valuable materials helps protect the environment. Single-use alkaline batteries are considered nonhazardous, though. They can be thrown away in most places.
Recycling Rechargeable Batteries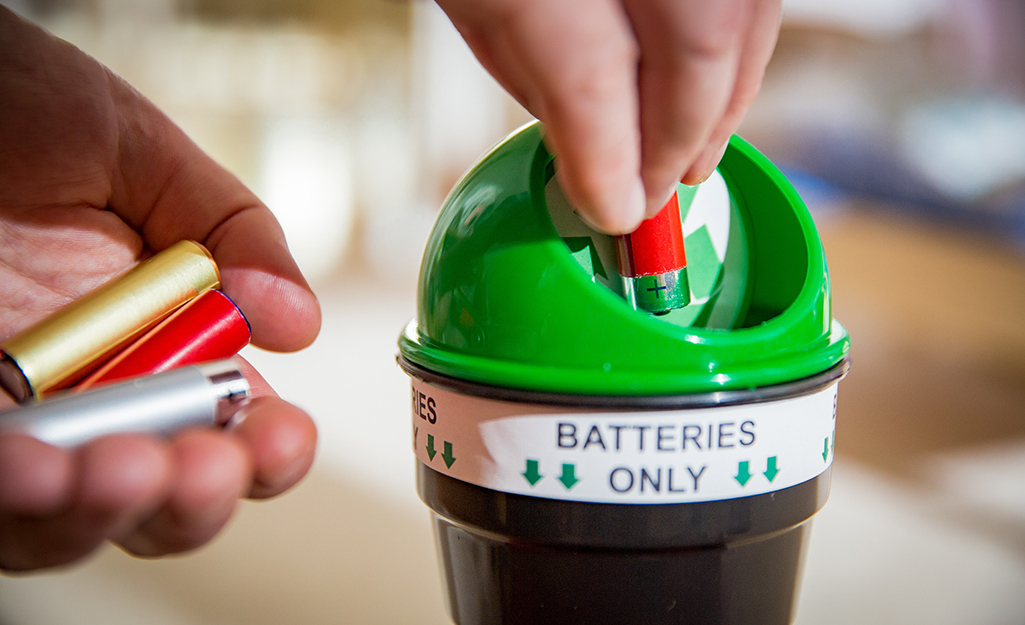 The types of rechargeable batteries in use include lithium-ion and nickel-cadmium. Other types are nickel-metal hydride, nickel-zinc and small sealed lead batteries. The toxic metals used in these batteries can hurt the environment if thrown away. 
Rechargeable 9-volt batteries, AA and AAA batteries and D cells for household use look like alkaline batteries. But they can be reused with compatible plug-in chargers. Rechargeable batteries can be recycled. Look for the battery recycling seals on rechargeable batteries.
Recycling companies dispose of the components of rechargeable batteries properly. The metals and chemicals don't end up in streams and landfills.
The Home Depot has partnered with Call2Recycle, a nonprofit battery recycling program. Rechargeable batteries can be dropped off in Call2Recycle bins at the store. Any rechargeable battery that weighs up to 11 pounds and is under 300 watt hours is accepted. There's no charge for recycling.  
Many local districts host collection events for residents to drop off batteries.  
Some battery manufacturers and recycling facilities have mail-in programs. Before mailing batteries, be sure to follow postal shipping precautions. 
Disposing of Alkaline Batteries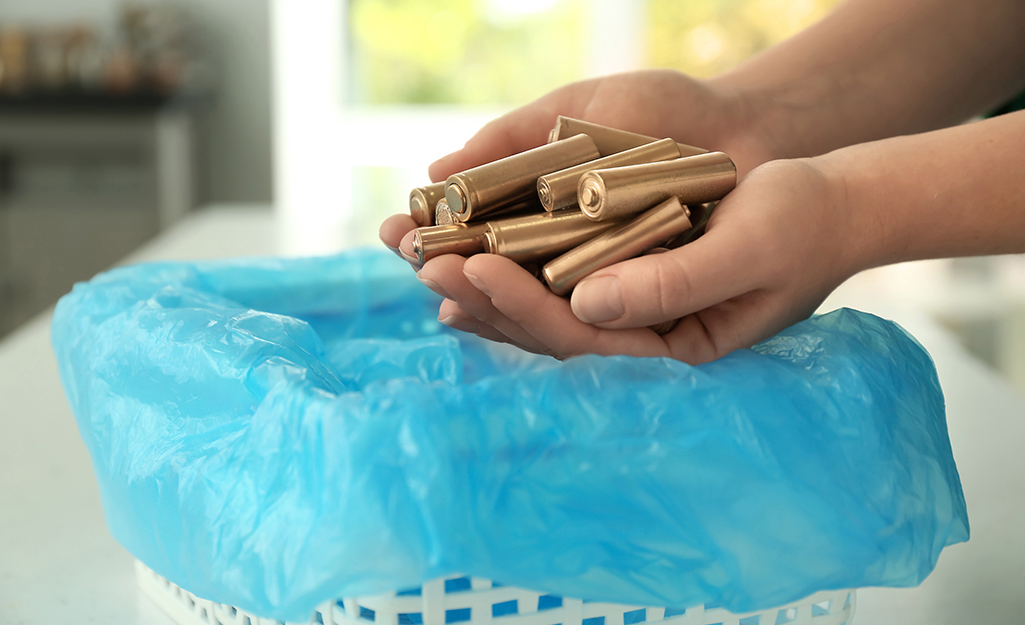 Most places don't accept single-use alkaline batteries for recycling. You can't take single-use batteries to Call2Recycle drop-off sites at The Home Depot. 
In most places, you can put alkaline batteries, such as AA, AAA and D batteries, in the trash. They can be carried out to the curb with the rest of your household garbage. Many landfills will also accept trash bags that contain alkaline batteries. However, in the state of California, it is illegal to throw away any kind of battery, including alkaline batteries. 
Even when single-use batteries can no longer run devices, they can still produce current. They can be hazardous if discarded improperly. Collect used household batteries in a container. A cardboard box or plastic tub is a safe option. Prevent any fire risk by taping 9-volt battery terminals before getting rid of them. You can use a piece of masking, electrical or duct tape.
Recycling Single-Use Batteries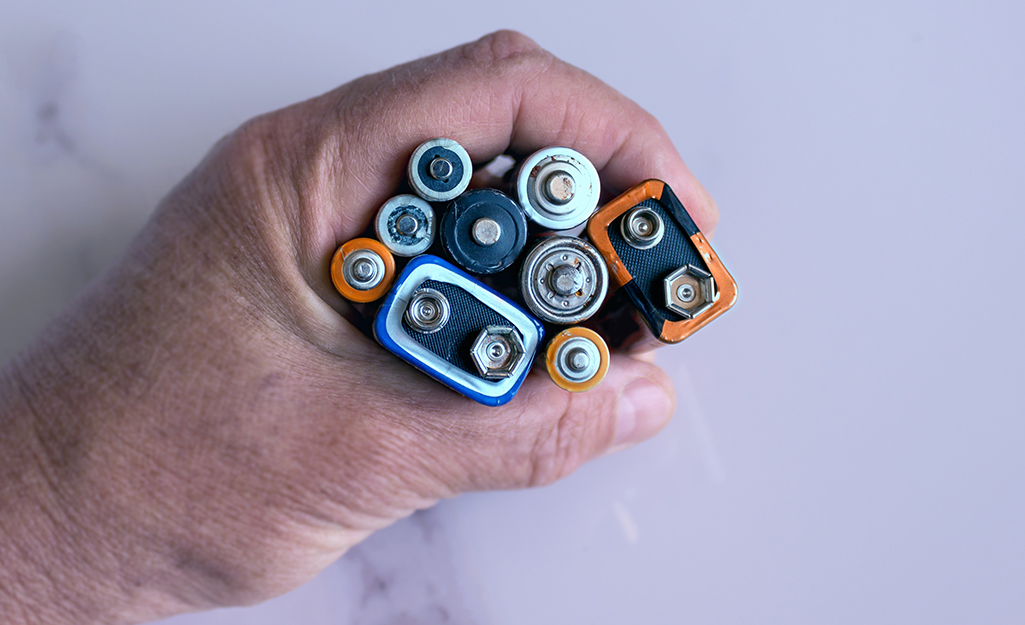 Alkaline batteries, like AA, AAA and D batteries, contain valuable materials. These batteries can be harmful to the environment when thrown away. You should recycle them when possible. 
Alkaline batteries are not accepted at The Home Depot or at most places that offer battery recycling. Instead of dropping off your alkaline batteries in person, you can mail order a recycling kit for them. Call2Recycle is one of the companies that offer mail-in battery recycling kits. The kit comes with a container that you can use to collect dead single-use batteries.
When the container gets full, you can mail your alkaline batteries to a recycling center. The fees for the recycling kits vary, depending on size and the company you order from.
Disposing of Other Types of Batteries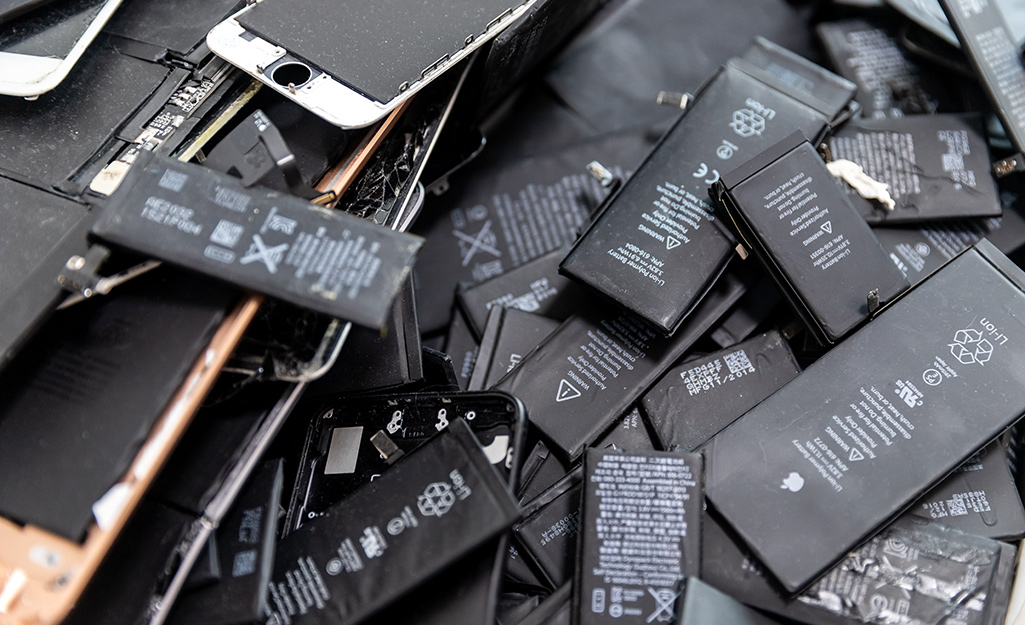 Button Cell Batteries
These batteries are also known as coin batteries. They are used in watches, toys, remote car starters and other items. Button cell contain silver and mercury. They must be recycled. You can take them to Call2Recycle drop-off sites, like those at The Home Depot. Watch repair shops may also take these batteries for recycling.
Keep all batteries out of the reach of children, but especially button batteries. Because they are shiny and small, these batteries are attractive to kids. Button batteries can be easily swallowed and cause medical problems and even death.
Car Batteries
Because car batteries contain lead and acid, you can't put them in the trash or take them to the dump. They also are not accepted at most battery recycling collection sites. Still, you shouldn't leave old car batteries sitting around your garage or storage shed. They can leak damaging fluid. 
When you buy a new car battery, the store will often take your old battery. Even if you aren't buying a battery, many auto retailers accept old car batteries. They will dispose of them properly. Your city or county may also offer car battery collection sites.
Laptop Batteries
Lithium-ion batteries are accepted at Call2Recycle sites at The Home Depot. You can also drop off old laptop batteries to be recycled at some office supply stores. Don't put them in the trash or take them to the landfill. 
Disposing of Batteries in California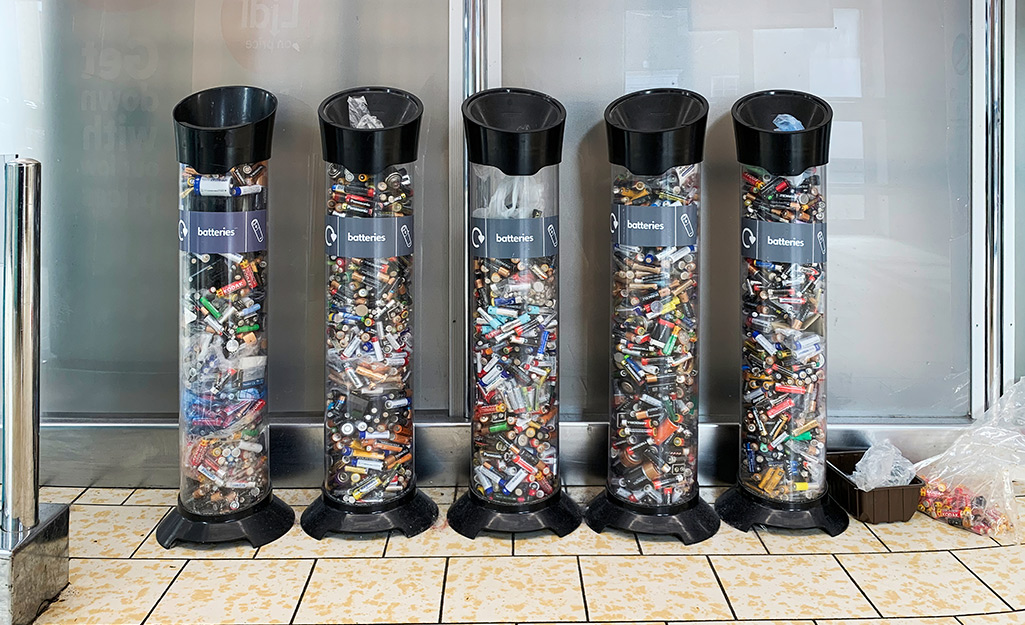 If you live in California, state law mandates how you dispose of batteries of all kinds. The state considers batteries hazardous waste. Putting all types of batteries in the trash is against the law.
You must take batteries to an authorized recycling center, a universal waste handler or a household hazardous waste disposal facility. 
When you know how to dispose of batteries, you can help the environment. Dropoff sites typically accept rechargeable batteries for recycling. For single-use batteries, you can get a mail-order recycling kit. Putting alkaline batteries in the trash is allowed in many places. However, recycling these batteries when possible is the best choice.
Want to shop for single-use and rechargeable batteries? The Home Depot delivers online orders when and where you need them. 
Explore More on homedepot.com