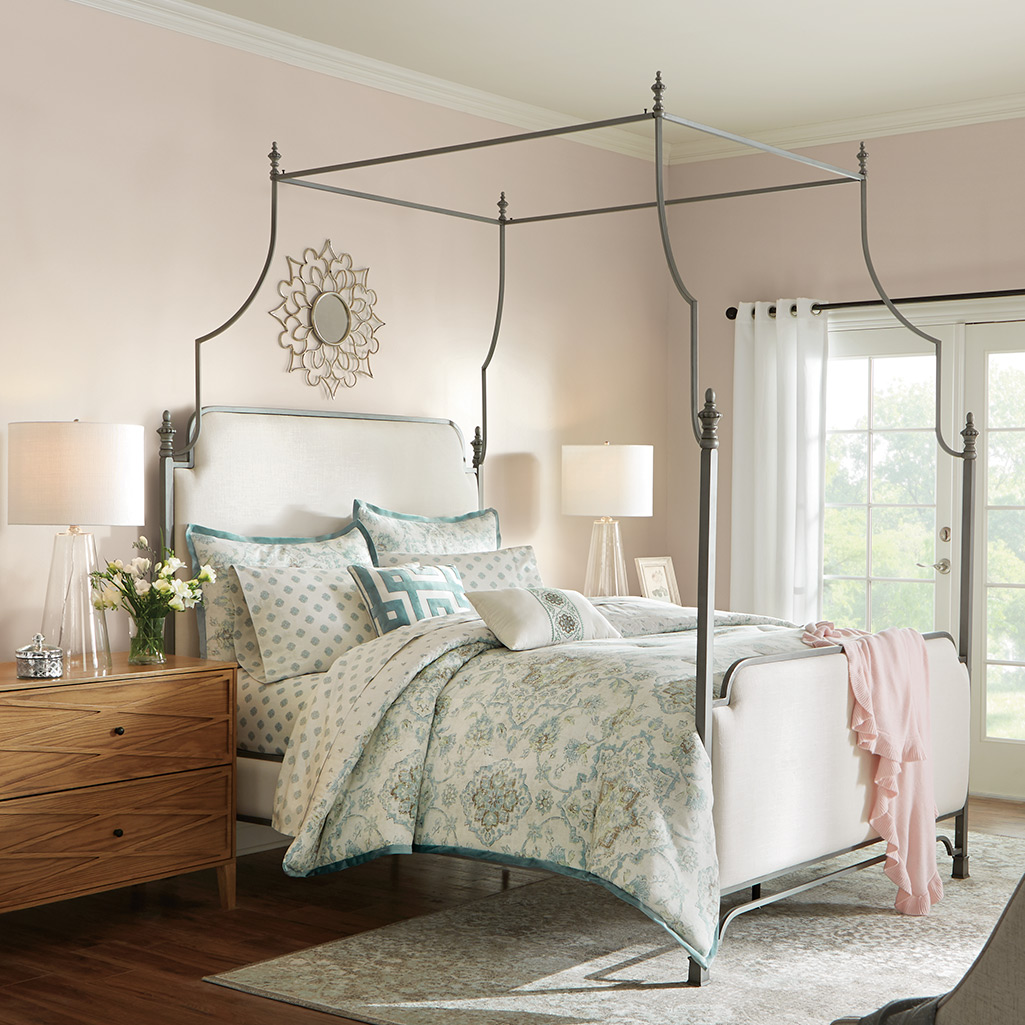 Comforters keep you warm as well as add a decorative touch to the bed. Keeping them clean is a must to prolong the life of a comforter. This guide will show you how to wash a comforter and provide tips on how to wash a down comforter.
Types of Comforters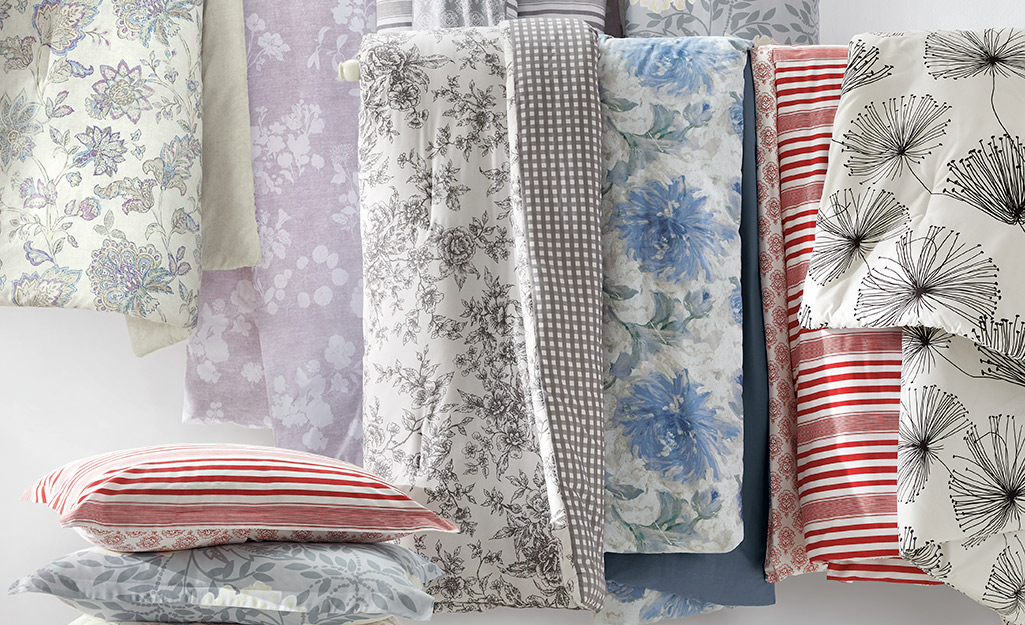 Comforters are categorized by the type of materials that they are filled with. They usually have one of the following fillings:
Down 
Polyester or down alternative
Wool
Cotton
Silk
The most common fillers are down or polyester. Either filling is washable at home. Cotton, silk and wool are harder to wash at home, and it's normally recommended that they be professionally cleaned.
How to Wash a Down Comforter vs a Polyester Comforter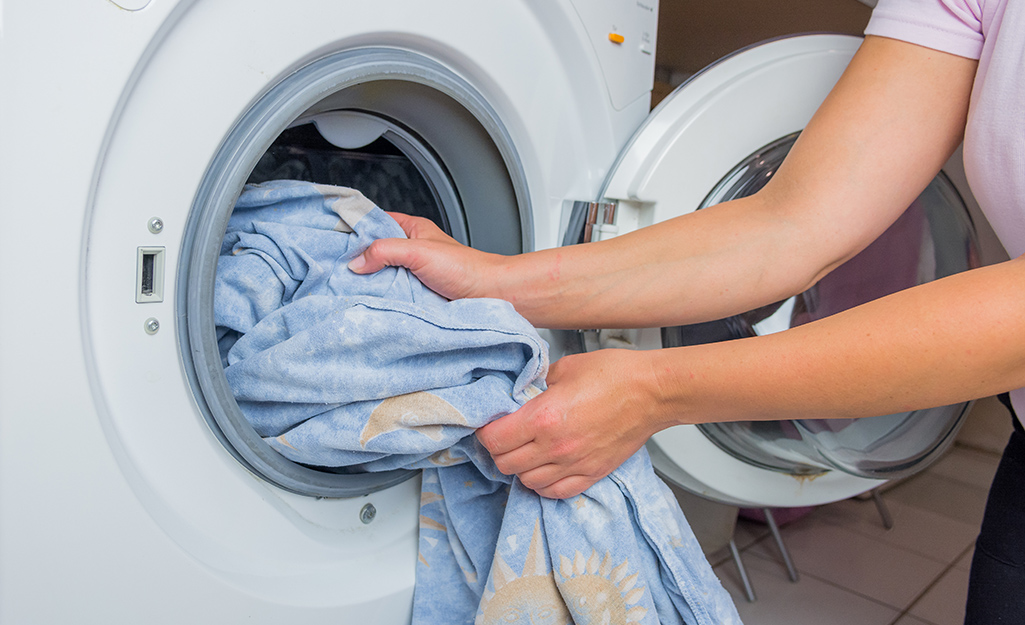 Can you wash a down comforter? Contrary to popular belief, washing a down comforter is easier than washing a polyester one. Natural down filling washes easily. Knowing how to clean a down comforter will keep the natural fibers fresh and make the comforter last longer. 
As for polyester-filled comforters, the ease of wash will depend on the quality of the filling. Lesser quality polyester will bunch and clump, so it may be worthwhile to get it dry-cleaned. 
Tips for Washing a Comforter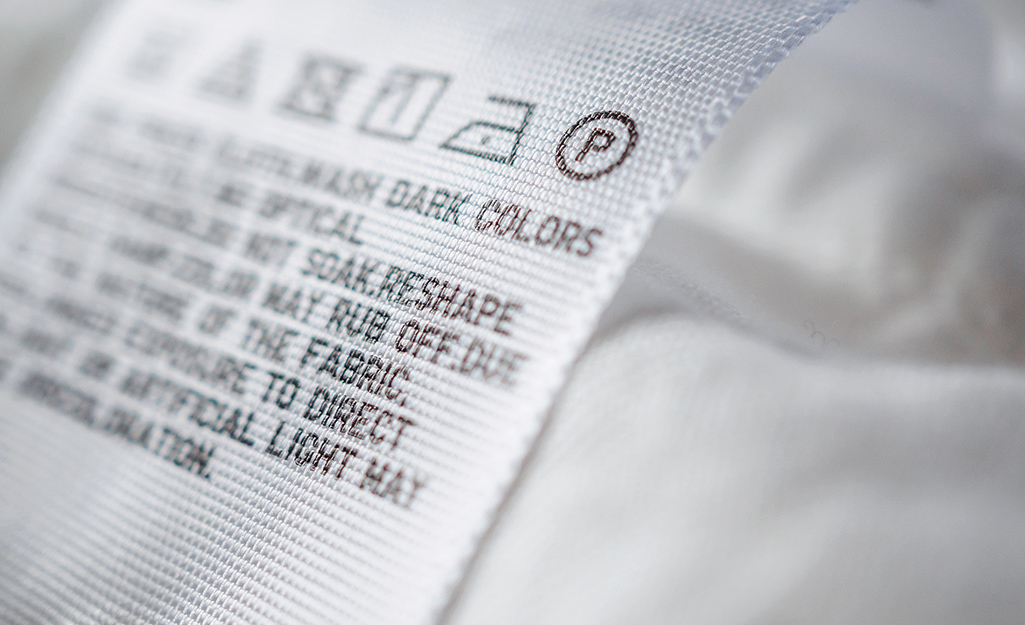 Before you pop your comforter in the washing machine, there are a few things to take into consideration.

Read the label: The product care label will give you the washing recommendations for your comforter. If it says "dry-clean only" do not attempt to wash it at home, since it may ruin your comforter.
Use a large capacity machine: Comforters are bulky. Putting it in a small washer or dryer may damage the machine and comforter. If you do not have a large capacity machine, go to a laundromat. Laundromats typically have larger capacity machines for use, and it's less expensive than taking your comforter to a dry-cleaner.
Wash alone: Comforters, especially king-size comforters, will take up most of the room in the washing machine and dryer. It needs space in order to get properly clean.
To whiten a yellowed comforter, soak it in a well-mixed solution of 1/2 cup of regular bleach and 2 gallons of cool water for five minutes. Then wash as directed.
Other general washing recommendations:

Mild detergent
Warm or lukewarm water temperature
Delicate cycle
Low drying cycle 
Do not iron
How to Clean a Comforter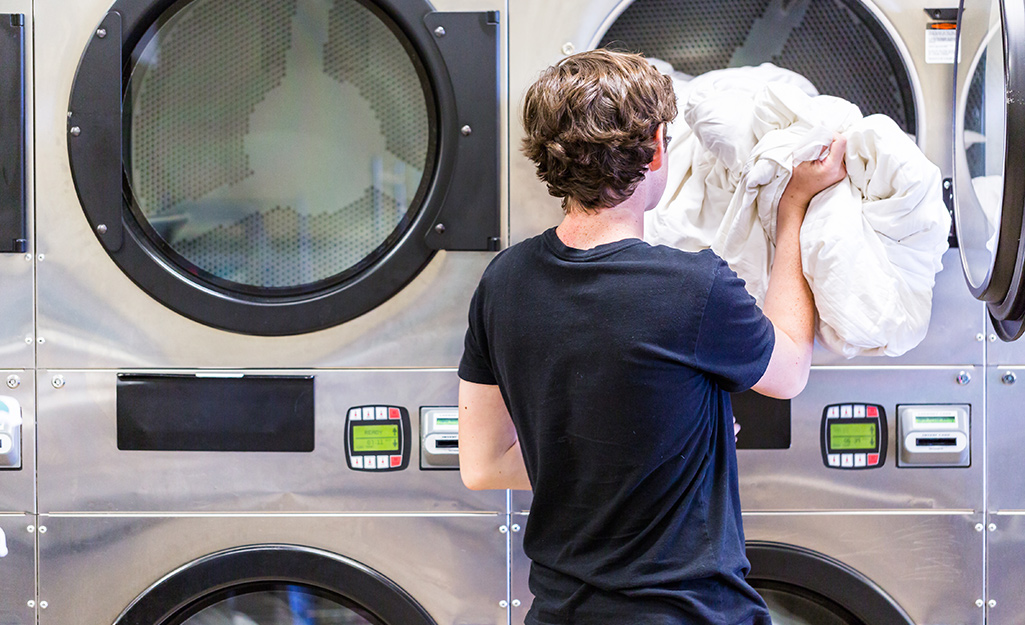 The steps for how to wash a down comforter and a synthetic comforter are similar. Washing comforters will take some time. Make sure you have plenty of time set aside to ensure your comforter gets dry, especially if you have to go to a laundromat.

Select water temp: Set the washing machine to warm-cool water. Never use hot water. This can cause the down material or duvet cover to shrink.
Select delicate cycle: Set the washing machine cycle to delicate. If possible, set the machine for an extra or extended rinse cycle. This will help remove more water from the comforter to speed up drying.
Add laundry detergent: Add a mild detergent to the washing machine. Use one with little to no additives. Turn the washer on and let it run through the full cycle.
Check: Once the cycle is complete, check the comforter for any residual soap or moisture. It you feel any, rewash. Soap residue causes clumps in your down or polyester-fill.
Dry: Put the duvet or comforter into the large capacity dryer. Spread the comforter out then add the tennis balls or wool dryer balls. The balls will help keep the down or down-alternative comforter from clumping. Toss in fabric softener sheets, if using.
Check: Once the dry cycle is complete, pull the comforter out and give it a gentle fluff to keep the fill evenly distributed. Gently feel around the comforter to make sure it is completely dry. 
Tip: Expect the drying process to take around two to three hours for the comforter to get completely dry. It's imperative to throughly dry your comforter. Leaving any part of the comforter damp or wet can lead to mildew growth and mold.
How Often Should You Wash A Comforter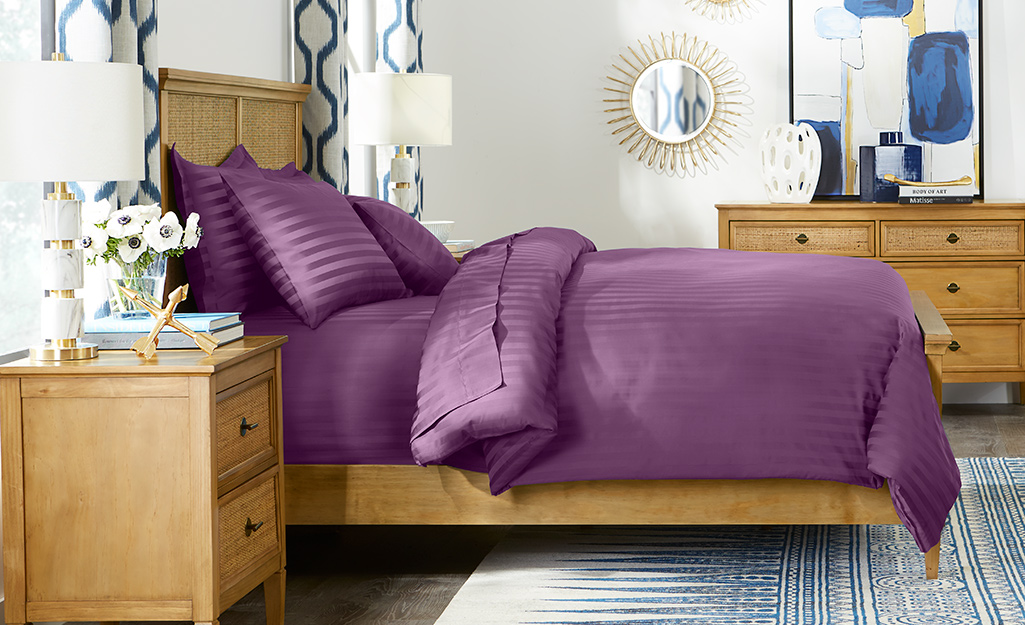 If the comforter is protected by a duvet cover, you only need to wash your comforter every three to five years. If you do not use a duvet, you should wash the comforter every one to two years. When you comfoter is not in use, place in an airtight linen bag and store it in a cool, dry area.
It's recommended to cover your comforter with a duvet to keep dirt at bay. Anti-allgeren duvet covers can help protect against dust mites. The duvet cover itself can be washed weekly, if needed.
Knowing how to wash a comforter will help prolong its life and keep your family healthy. Shop The Home Depot for down comforters and inserts, duvet covers, washing machines and other cleaning supplies you need for washing a down comforter.
Explore More on homedepot.com