When you can design the area surrounding your pool, you can transform it into a comfortable and attractive entertainment space with the right lounging and poolside furniture. 
If you will not be storing these particular additions to your outdoor experience, the best poolside furniture to purchase must be built to withstand the changing weather year-round, even if it is seated on the nearby deck or patio.
With a wide variety of seating, colors and designs available, The Home Depot offers pool deck and poolside furniture to complement your home. 
This pool furniture buying guide will show you how to choose items for your outdoor aquatic areas.
Poolside Lounge Furniture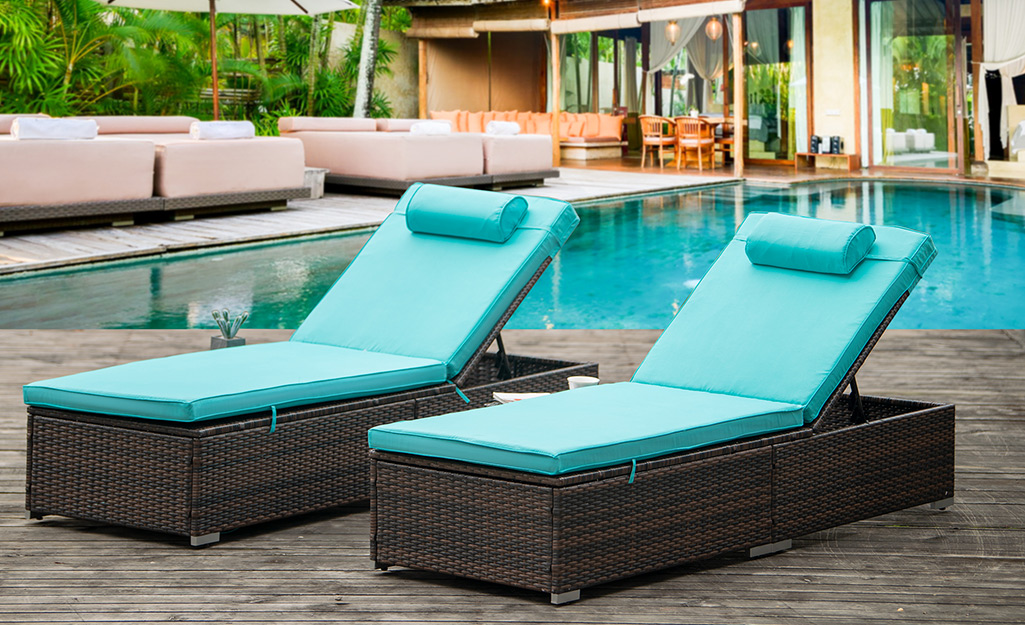 Your pool will need comfortable chairs for you and guests to relax in the sun and rest from swimming. The Home Depot offers more than the average outdoor lounge chairs, patio furniture and recliners that are typically added poolside. 
You can step up the standard poolside furniture with chaise lounges or a sofa made of wicker, teak, wood or plastic with added cushions for comfort. Wicker and metal materials for the outdoors are designed to be water-resistant and quick to dry after catching water from pool splashing or rain.
Free-standing hammocks next to your pool are a charming addition to help you relax and delight in your backyard's sparkling pool water. This type of poolside furniture comes in many colors and fabrics to accommodate your outdoor look.
Poolside Dining Set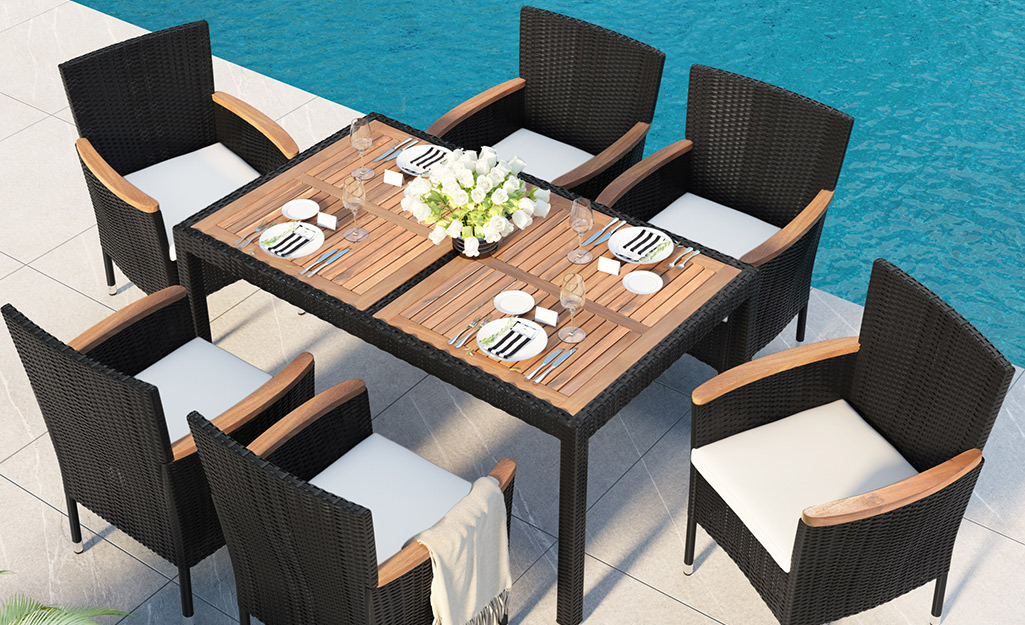 During the warmer months when you're enjoying the fresh air, you may want to have meals as part of your outdoor entertaining or grilling with friends and family. Outdoor furniture allows you to truly enjoy your outside space.
Enhancing your poolside with outdoor dining sets will let you enjoy a bite and drink comfortably by the water. Some dining sets come with an awning or a patio umbrella to provide shade from the UV rays.
An alternative and fun option for your poolside adventures is a patio bar or bar cart. Both of these items can store tableware, utensils and glasses to quench your thirst when swimming outdoors. 
Poolside Storage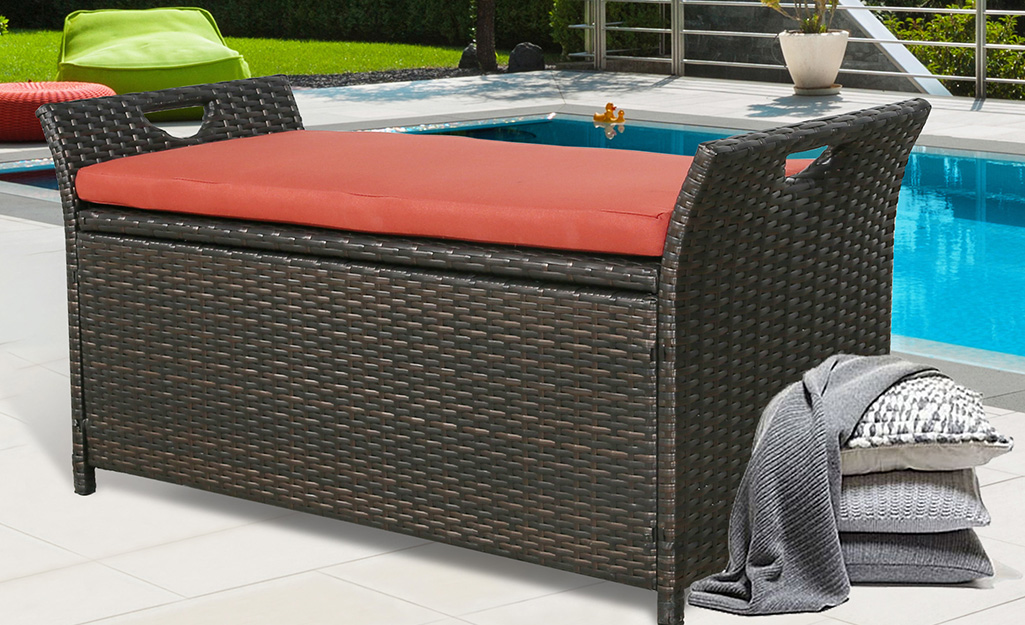 Sturdy outdoor storage with sleek finishes and natural design elements are perfect for protecting your extra poolside furniture pieces. Determine what pool items you need to put away and look for storage that has multiple shelves and deep compartments. 
A water-resistant ottoman that matches your poolside furniture and has a towel bar is perfect to dry out wet clothes after a swim.
Poolside Gazebo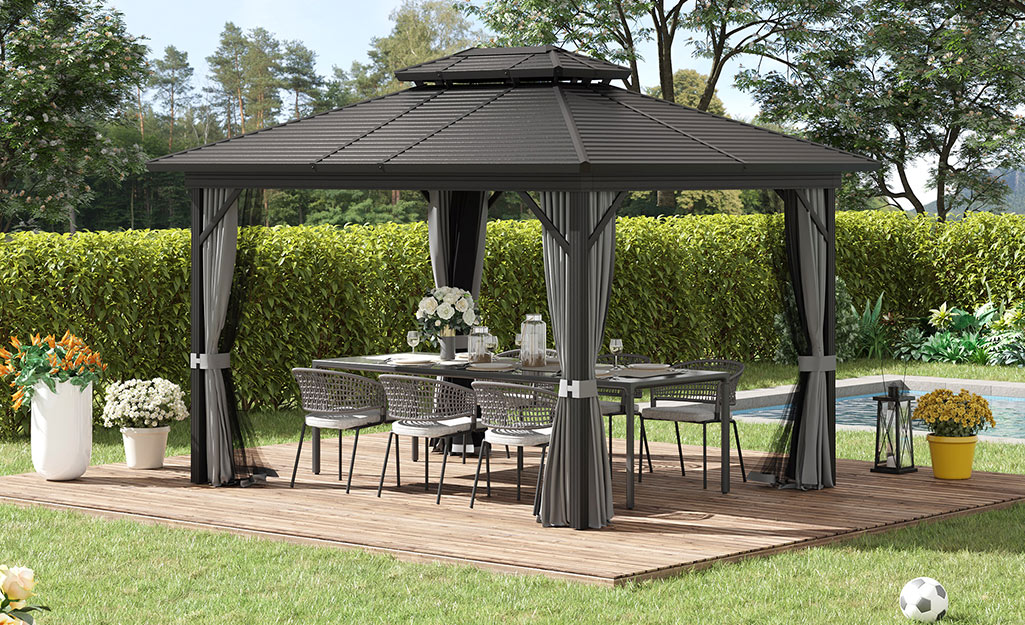 An outdoor living space like a cabana or gazebos can give you shelter from harsh sun rays and provide the ultimate relaxation near your pool. This poolside furniture is an easy addition to your backyard and is manufactured with durable materials to keep maintenance low.
Pergolas are another type of poolside furniture for hosting any celebration.
Put a chaise lounge or poolside daybed underneath any of these outdoor living additions to improve the pool area.
Poolside Lounge Set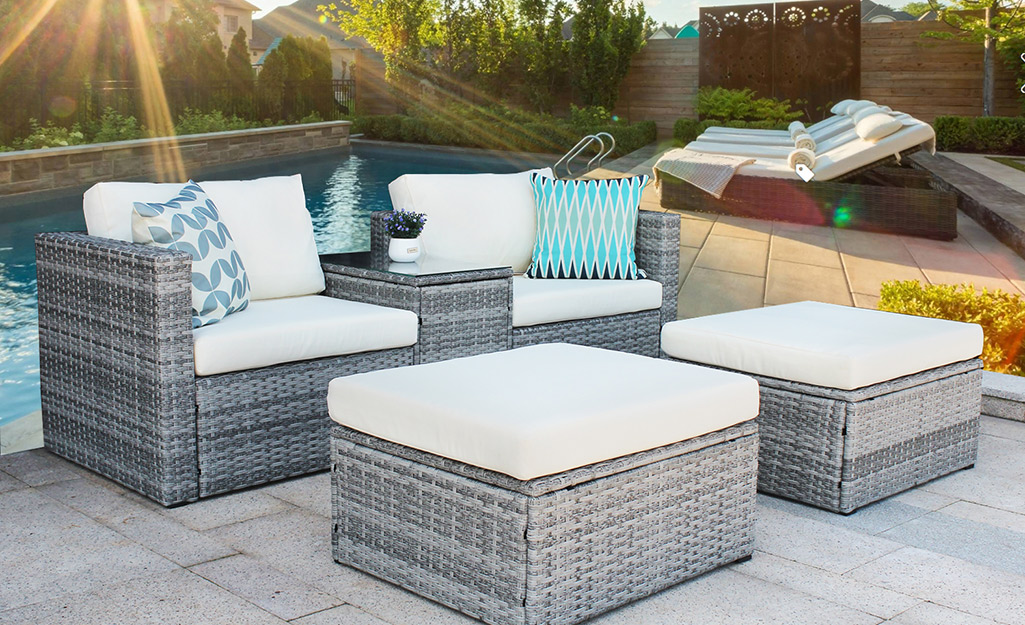 A lounge set combines many of the above items to give you the most enjoyable poolside experience. The best poolside lounge set includes lounge chairs, an outdoor sofa and an outdoor coffee table like the products mentioned above.
Even for smaller poolside areas, a 2-piece lounge set with cushions will be your best option. 
Replace the lounge set's center table with a poolside fire pit set to add warmth during the cooler months, when you want to enjoy dinner and the view of your pool from the sidelines. 
Buying pool furniture doesn't have to be complicated. The Home Depot has various practical and stylish outdoor furniture sets. Use The Home Depot Mobile App to view our wide selection of poolside furniture and enjoy the spring and summer months.
Explore More on homedepot.com