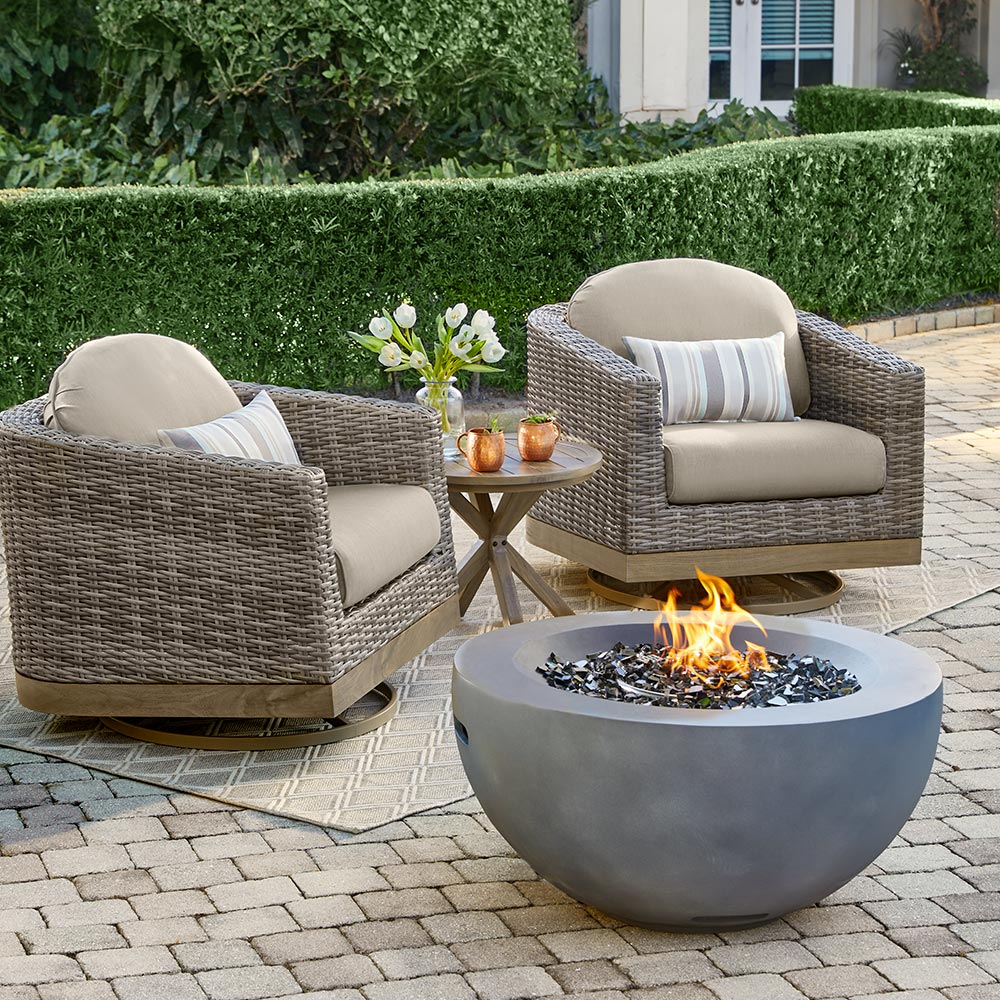 Get ready for outdoor entertaining by creating a retreat right outside your door. Whether it's in your backyard or on your front porch, an outdoor patio can be a space to relax, unwind and escape. Your private oasis can also serve as a gathering place filled with memories of the family, friends and neighbors who come over to enjoy it.
These outdoor patio ideas can help you create an enjoyable outdoor space, one element at a time.
Start with Outdoor Heating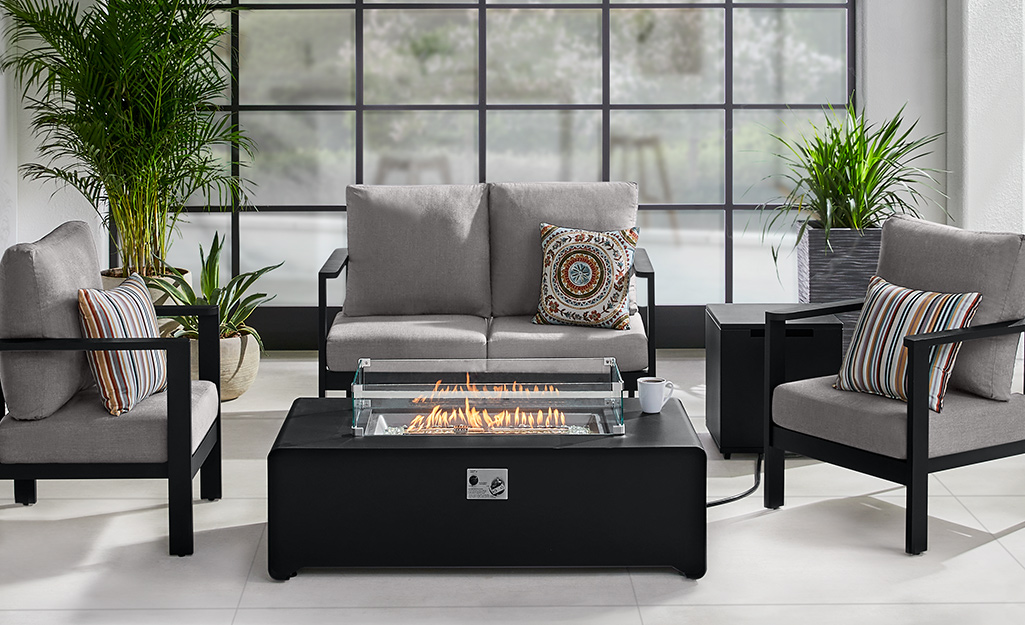 Imagine entertaining or taking it easy by the glow of a fire. A built-in stone fireplace can become the focal point of any outdoor room. It also means you can spend more time outdoors, including the cooler nights of spring and fall.
Adding a fireplace to your outdoor living space can be a DIY project. Many fireplace kits come with sturdy blocks that fit together for easy installation. For smaller spaces, try fire pits or compact fireplaces, such as chimeneas. Patio heaters can work to keep a larger area warm.
Throw Down a Rug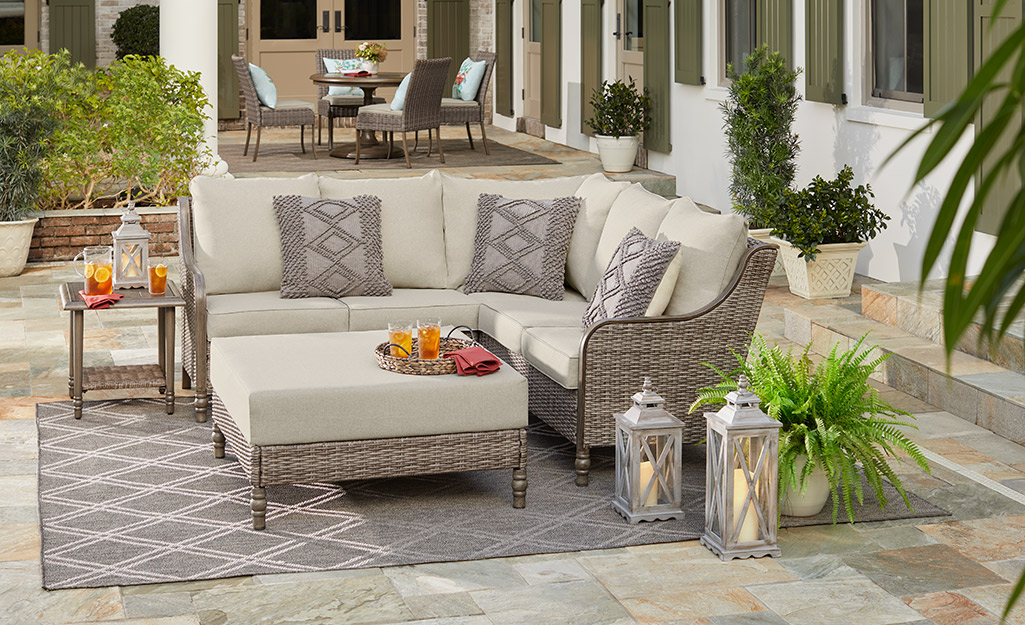 Define your space with a durable outdoor rug to handle traffic from both people and pets.  If you choose a neutral rug, you can bring in color with the rest of your decor.
Outdoor rugs clean in a snap. Just wipe the rug down with soap and water. Most rugs made for outdoor spaces come with skid-resistant backing so they won't slide around. Rugs with UV protection are fade-resistant.
Add Outdoor Lounge Furniture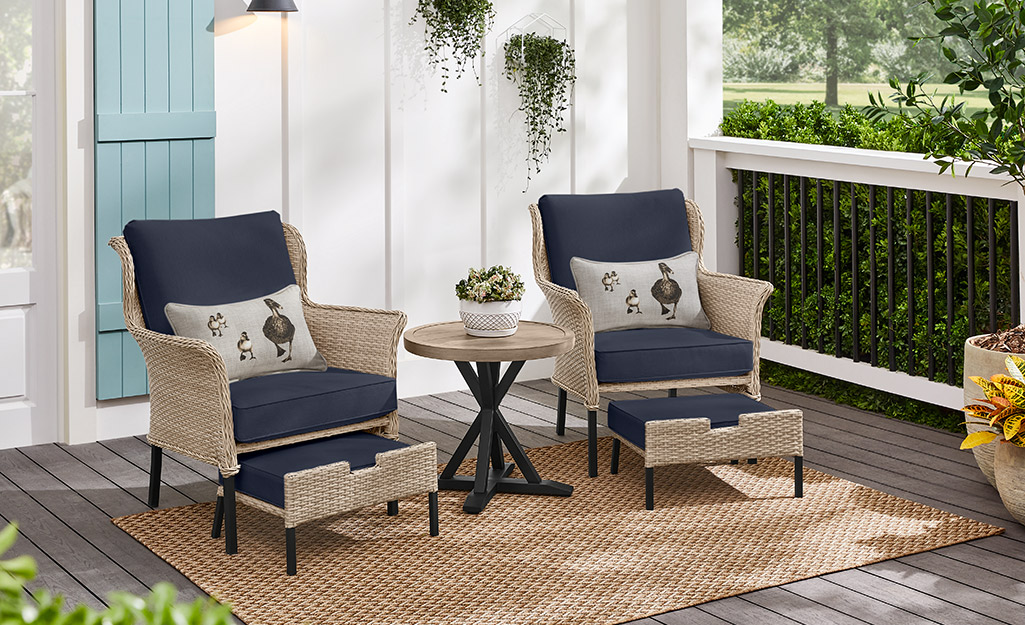 Sink into a cozy couch or an armchair with an ottoman and enjoy lazy days hanging around outdoors. All-weather patio furniture withstands the elements. Even when splashed with rain or sitting in the sun, the fabrics will repel water and resist fading. If your outdoor space has no covering, you can always add a pergola or patio umbrella for shade and protection.
Some patio furniture comes with a choice of fabrics, so you can select the colors and patterns you like best. If you're going for a matching look, you can select furniture that all comes from the same patio collection. For a more eclectic look, gather a variety of pieces. 
A budget-conscious option is adding furniture to your patio a piece or two at a time. You might start with a pair of chairs or a couch and then add side tables and an ottoman as your budget allows. 
Turn up the Ambience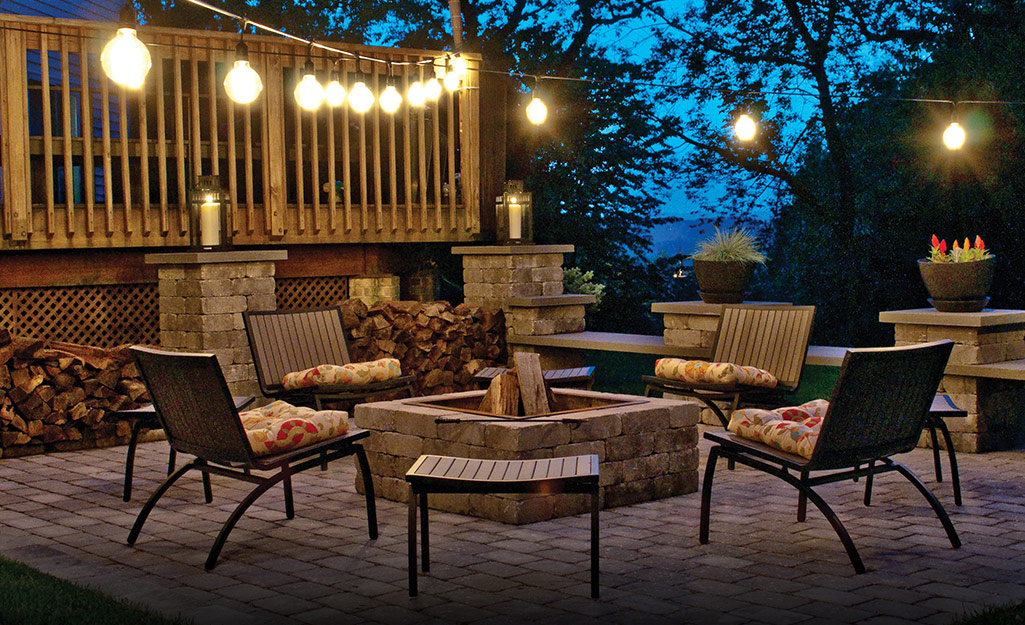 Switch on some mood lighting by hanging string or cafe lights. Weatherproof string lights keep your space lit with a warm glow. Many sets allow you to connect multiple strands together so you can put lights across or around your entire space. 
Typically, string lights don't use much power. Still, for greater energy savings and increased durability, you could choose strands of lights with LED bulbs.
Add Your Accessories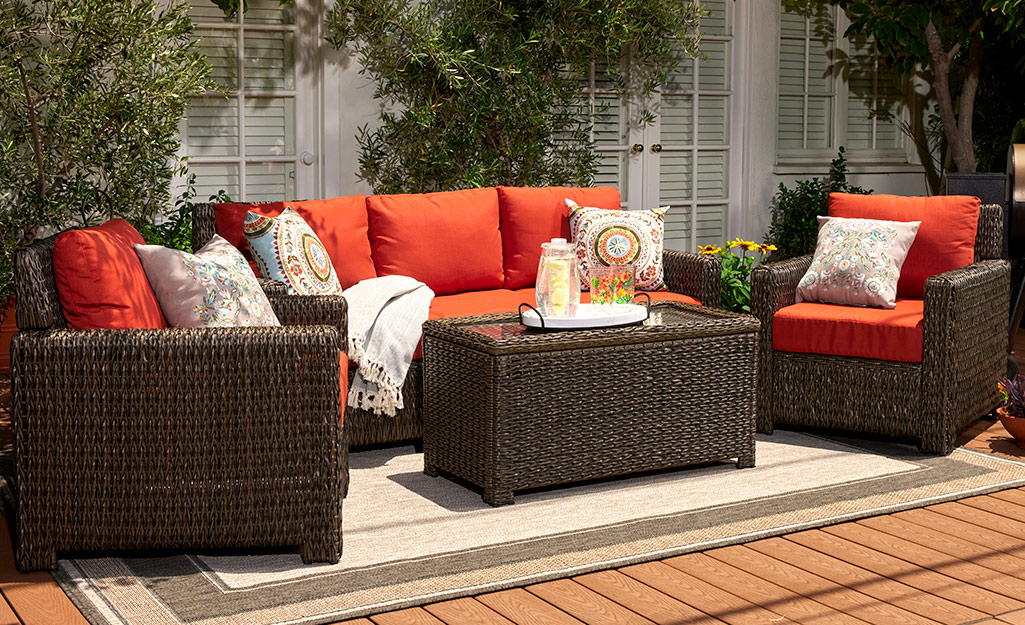 Put the finishing touches on your space with comfy outdoor throw pillows. Add some additional lighting with lanterns and tiki torches. Fill your lanterns with regular or LED candles. Some LED candles come with automatic timers and remote controls. 
Put up Your Feet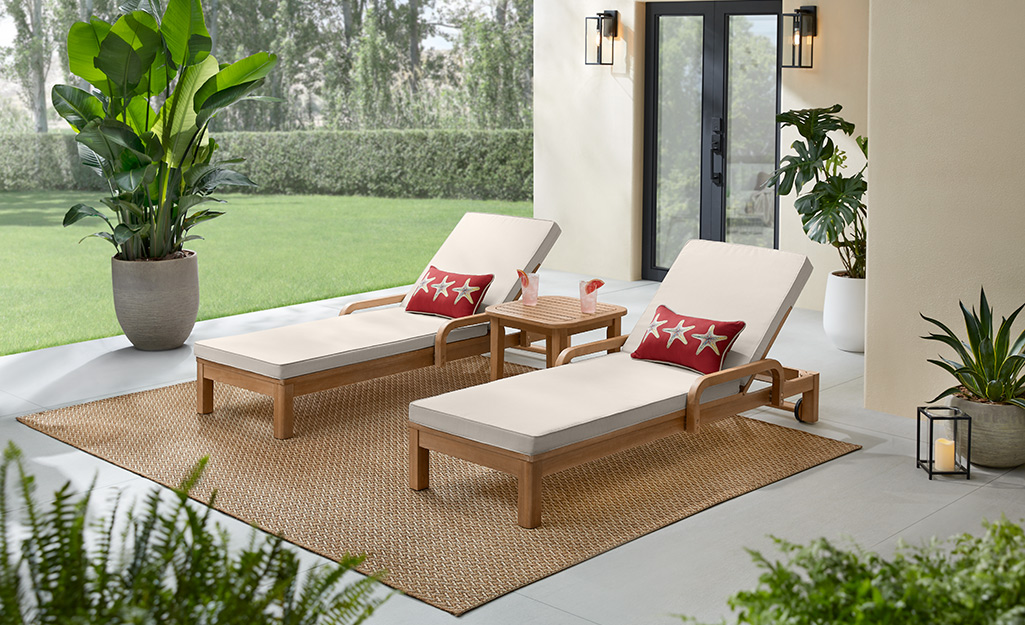 For the ultimate way to relax outside, put lounge chairs or ottomans on your patio. 
When your space is complete, light your fireplace and get ready to relax and enjoy your ultimate outdoor retreat.  
Set Up a Table or Two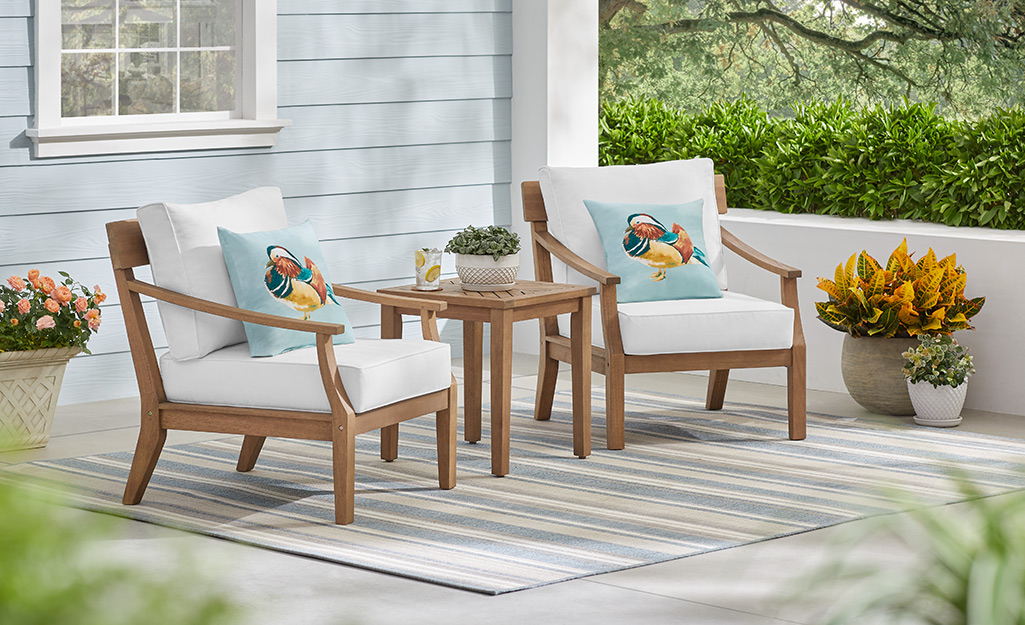 As you enjoy time outside, you need a place to put drinks and snacks. If you have a conversation set, you may want to arrange it around an outdoor coffee table. Consider adding a side table next to each individual chair. Outdoor coffee tables and side tables are available in styles to match any outdoor decor.
Place Some Plants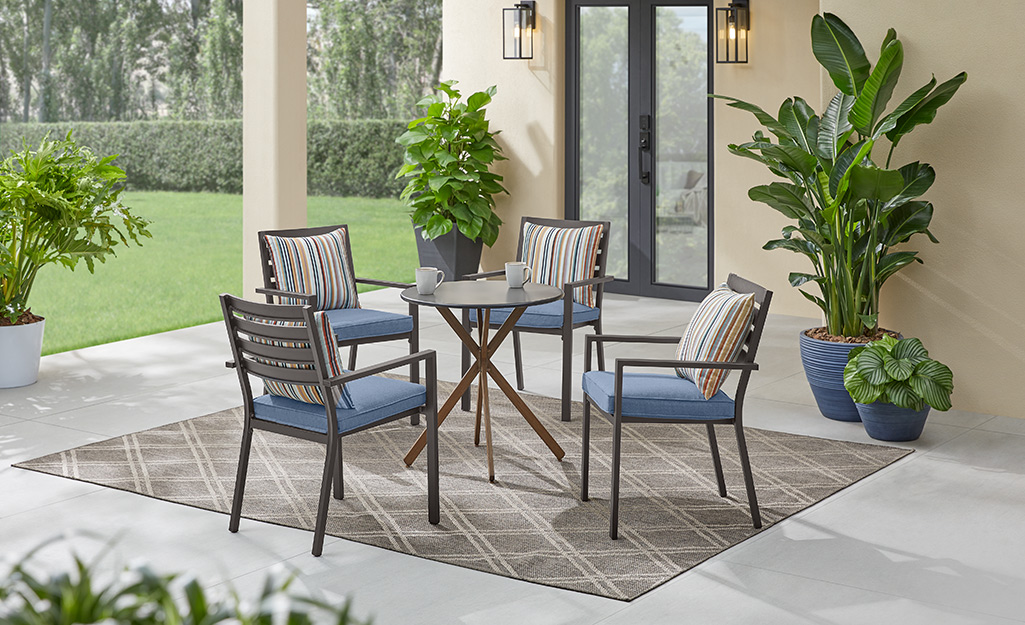 Accent your patio by adding some greenery and flowers. Try caladiums for color or cut fresh flowers. Add plants such as palms, succulents and cacti to give your space a filled-in look. Place flowers and plants a safe distance away from the fireplace.
Cut flowers are another way to add color to your outdoor space. They work particularly well for special occasions. Keep some unbreakable vases and containers on hand to use on your patio. If the arrangement takes a tumble, cleaning up shards of glass won't be a concern. 
Weatherproof furniture and an outdoor rug are key pieces for an outdoor living room. As you consider additional outdoor patio ideas, think about how you'll be using the space. Will just a few members of your household be hanging out or will you be hosting friends and neighbors regularly? Whatever your plans, adding a fireplace or fire pit can give your patio a focal point. 
Ready to make your outdoor patio ideas a reality? The Home Depot delivers online orders when and where you need them. 
Explore More on homedepot.com