When it comes to sprucing up your bathroom, luxurious towels and smart storage solutions get all of the attention. The humble shower curtain deserves a little love, too. Most shower curtains do more than keep water in check. The right ones can add a ton of style to your small space. Some even come with built-in liners that snap on and off, making cleaning easy. They are available in a variety of materials, prints and colors. Use this complete guide to select the best shower curtain for your bath. Get information on everything from picking the right size, fabric and hardware to keeping it clean and mildew-free.
Shower Curtain Sizes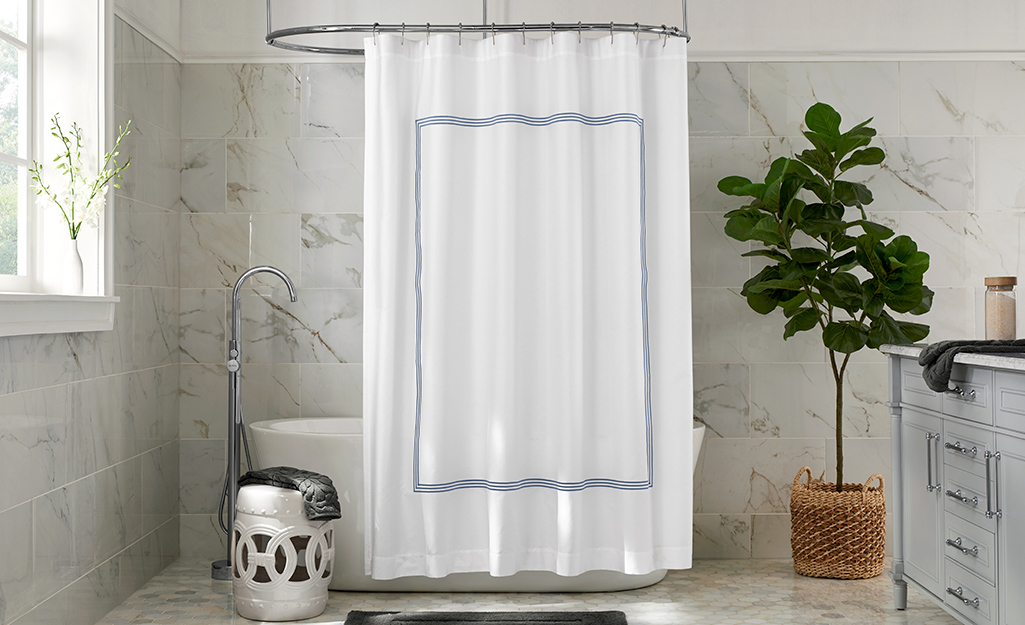 Before you default to the standard size for a shower curtain, measure your shower opening and the height of your showerhead to determine the best fit. Older homes may have a standard height for a shower head that's 72 to 78 inches. Newer homes usually have a shower head height that's 80 inches. 
If your showerhead is installed on the higher side, a 79- or 84-inch length curtain might better protect from overspray without allowing water to leak at the base. An extra-long shower curtain that reaches from floor to ceiling creates a more tailored look. It also feels more lavish and upscale. 
If you have a shower stall without a tub, look for a narrower curtain to avoid excess bulk that not only looks odd but also traps moisture. While you should always double-check shower curtain dimensions because they can vary, here are some common sizes (width by length): 
Shower Curtain Styles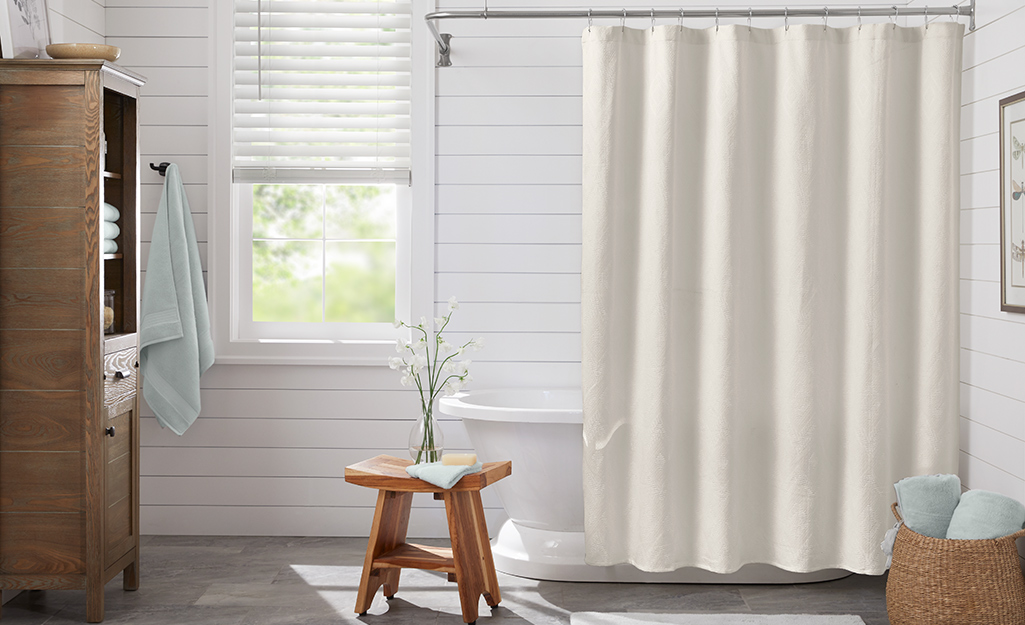 Neutral:
When you want your shower curtain to be a supporting player rather than a star, go for calm hues like white, gray, cream, taupe or sand. A neutral design works with every decor style—minimalist to traditional and every style in between.
Solid:
Whether one hue or a color-block design, shower curtains can introduce bold swathes of color in a bathroom with a lot less commitment than painted walls or permanent fixtures. The color you choose sets a tone. For example, think pretty powder blue for a spa feel, bold navy for a nautical or preppy look, soft blush for sweet vintage space or olive green for an eclectic boho vibe.
Textured:
A textured shower curtain brings sophistication and depth to a bathroom in the same way nubby throws and woven baskets add subtle interest to a bedroom or living room. Waffle, jacquard and diamond textures are go-to classics, while ruffles, ruching, tassels or pom-pom trim are trendier choices.
Patterned:
When you want your shower curtain to be the focal point, a pattern is a no-brainer. Bold or delicate, multicolor or monochrome—with all the options available, settling on just one is the biggest challenge. Let your overall vision for the space guide you. For instance, floral or botanical designs can swing cottage or contemporary. Abstract looks feel modern or eclectic. Geometric designs or stripes can feel classic and traditional or sleek and minimalistic. Scenic mural or themed motifs feel whimsical and fun.
The best part? If you grow tired of a look or want to switch things up every so often, you can swap out a shower curtain easily and affordably.
Fabric Shower Curtains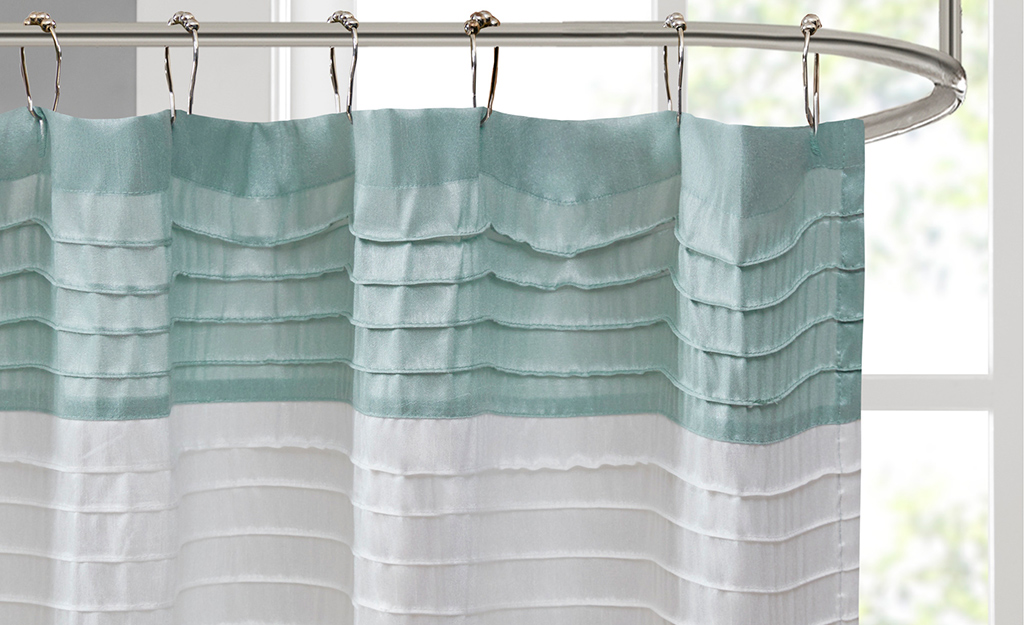 A fabric shower curtain adds a layer of warmth and softness that ups the cozy factor in a room filled with hard surfaces. While a decorative fabric shower curtain offers a lot in terms of form and feel, most aren't water-resistant. Pair it with a liner to keep water inside the tub or shower and prevent the curtain from molding or mildewing. 
Fabric curtains are made from natural materials (cotton, linen, canvas), synthetic (polyester) or a blend of the two for the best of both worlds. Natural materials feel luxurious and usually have a price tag to match. They are durable and available in a range of colors and textures, but they tend to wrinkle and need to be washed more frequently than synthetic materials. 
Polyester curtains often imitate the look of cotton, linen, silk or satin at a lower price point, but may not be as soft. While not completely waterproof, polyester can be water-resistant, so it's less likely to mildew. They also come in a range of styles and patterns. When in doubt, go for timeless over trendy. 
Vinyl Shower Curtains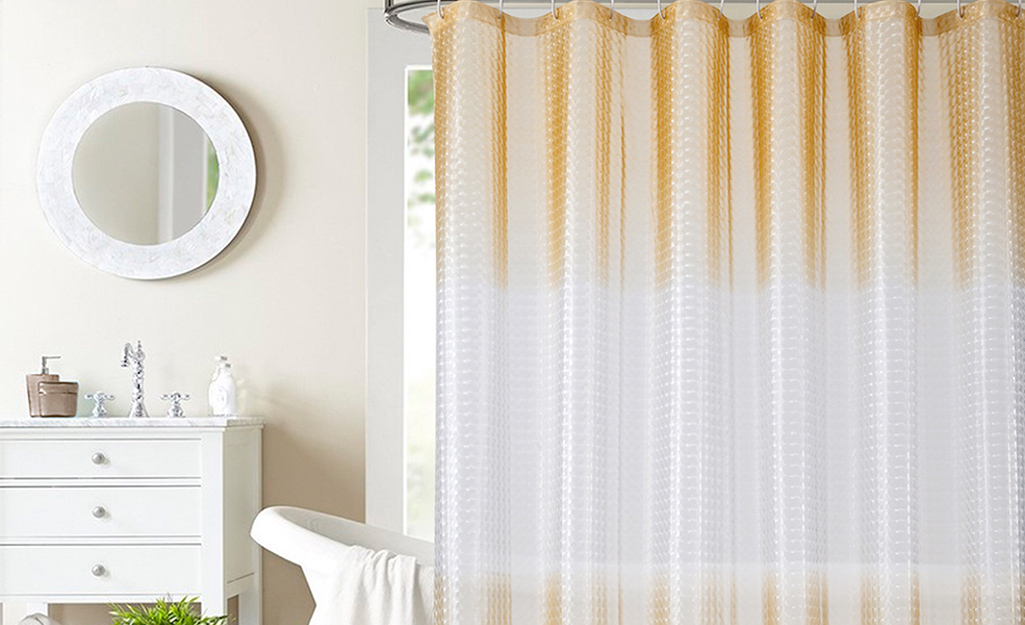 If low maintenance and simple is more your style, a vinyl shower curtain might be right for you. This two-in-one option is water-resistant, so no additional liner is needed; just be sure to tuck it into the tub before turning on the water. Budget friendly, easy to clean and available in lots of fun colors and prints, vinyl curtains are great in a kids' bath or if you like to switch up looks often. Opt for PEVA or EVA materials, which are chlorine-free, less toxic and more eco-friendly. 
Shower Curtain Liners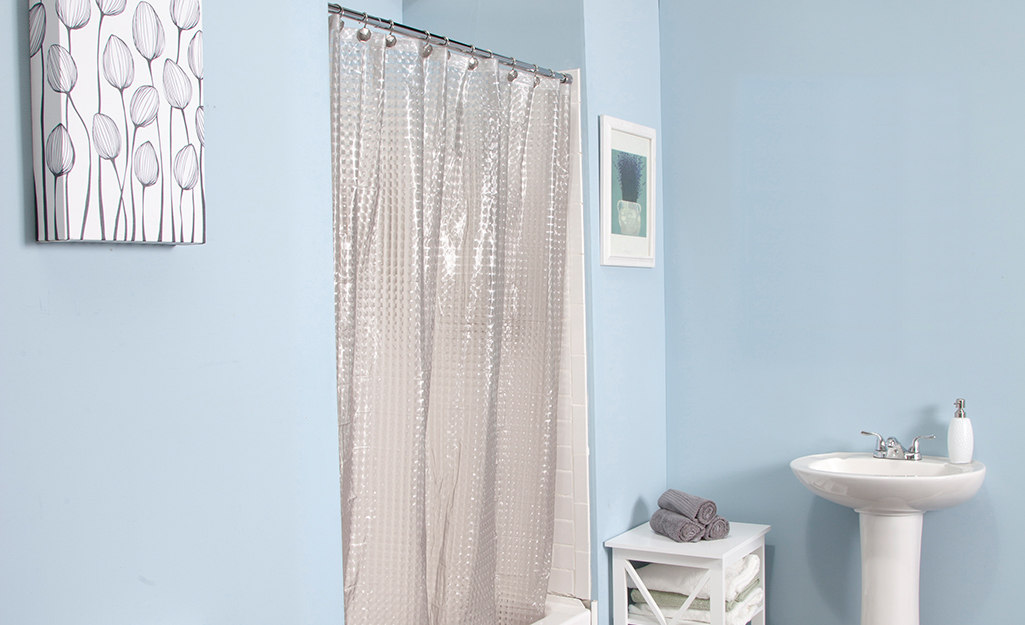 When paired with a decorative curtain, a shower curtain liner's top job is to keep spray and splashes contained inside your tub or shower. A weighted or magnetic bottom hem ensures the edge stays in place at the tub or shower pan so water can't splash out from below. 
They are usually clear or white vinyl, and you can find different weights at different price points. Some are also available in water-resistant polyester, which is softer but tends to require more frequent washings than vinyl.
Shower Curtain Hardware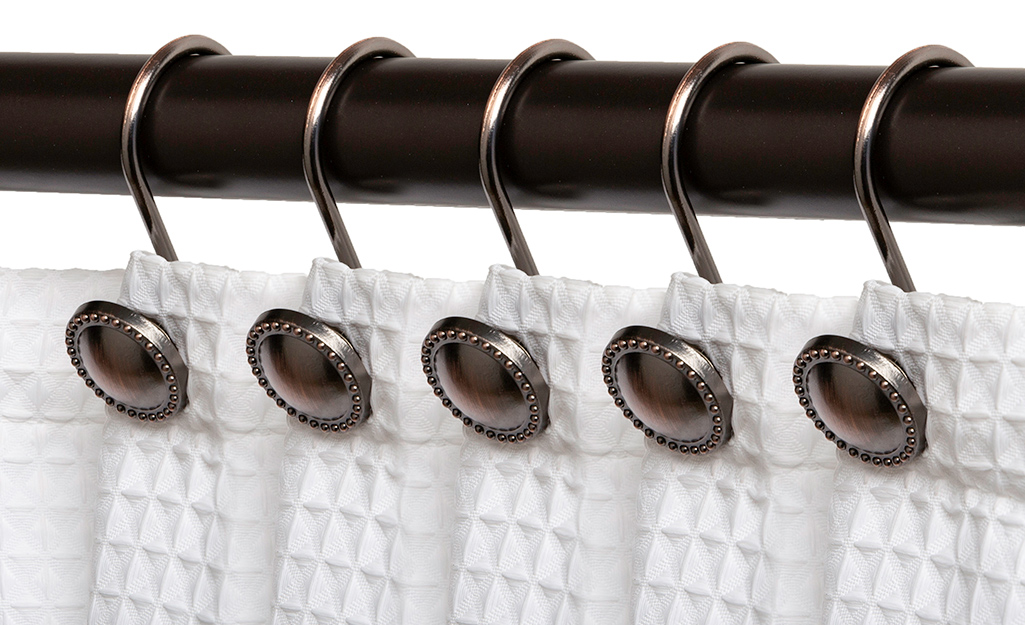 The shower curtain rod may seem like the simplest decision, but there are a few features to consider. A straight rod is the most common, but a curved rod can make a tight shower feel more spacious. Tension rods are a less permanent installation, while fixed rods are installed by drilling holes into the walls. A single rod can accommodate a shower curtain and liner if you layer both on the same set of rings. A double rod leaves a little more breathing room between the two to help with dry time. Choose a metal finish that coordinates with other fixtures in your bath, or go with classic white. 
Shower curtain rings and hooks are your final hardware decision. Many shower curtains come with slits or small holes along the top edge for inserting shower curtain rings. Others have the newer grommet-style options that slide directly onto the rod. For a cohesive look, choose a finish that coordinates with your rod. Options run the gamut from super decorative to super simple in various metals or plastic. Roller hooks or rings have rolling ball bearings that glide effortlessly on a rod. Double hooks make it easy to hang both a shower curtain and shower liner. 
Caring for Your Shower Curtain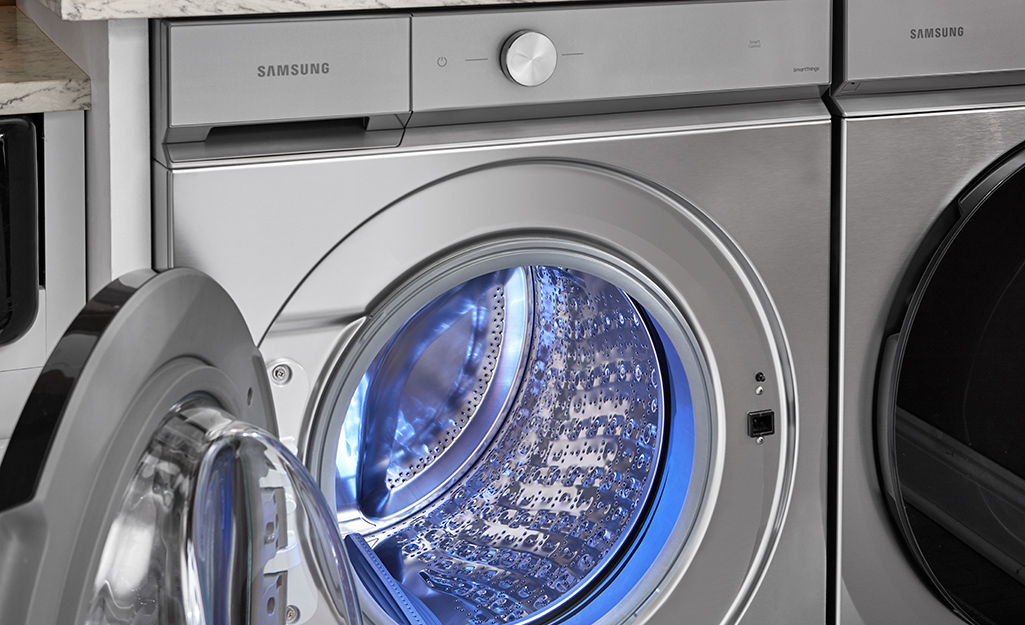 Daily maintenance:
After showering, spread out your curtain and liner so they can fully dry. If they're scrunched up to one side, moisture can become trapped and mold can grow. Let the liner hang inside the tub and the curtain hang outside the tub for better airflow between the two. To help keep mildew at bay between washings, spritz a vinyl liner with a daily shower cleaner. If possible, turn on the exhaust fan or crack a window a bit after you shower to help clear excess moisture from the air.
Washing:
A shower curtain that doesn't have direct water contact will stay in tip-top shape if you remove it from the rings or hooks to wash it every couple of months. Always consult the care tag first, but, in general, wash a fabric shower curtain with warm water, a small amount of mild detergent, and on a gentle cycle, using the highest water setting. For a vinyl curtain that sees daily water contact, wash using a similar method at least once a month. Just be sure to use cold water instead of warm and add a cup of bleach, along with a couple of towels to prevent it from becoming tangled and wrinkled. Instead of bleach, you can use a laundry booster like oxygen bleach or borax to clean soap scum or buildup. Do not mix cleaning products.
Drying:
Shrinkage can be a concern with natural fabrics, so when in doubt, line dry. While some fabric curtains can be dried on low heat (consult the care tag first), vinyl is not a candidate because it may melt in the dryer. It's easy to line-dry a shower curtain or liner; simply hang it back up on the rod while still wet and spread it out so it can dry in place.
Now that you know about the many shower curtains options, it's time to start browsing. The Home Depot has all of your shower curtain needs and delivers online orders when and where you need them. 
Explore More on homedepot.com