DIY wiring projects require expertise and concentration to ensure safety and success. In addition to know-how, you need to use the right materials to get the job done. Understanding the differences between various types of conduit fittings, also known as electrical fittings, allows you choose supplies for your project with confidence. Read this guide to learn about conduit fittings such as adapters, bushings, couplings, elbows, straps and other connectors.
What Are Conduit Fittings?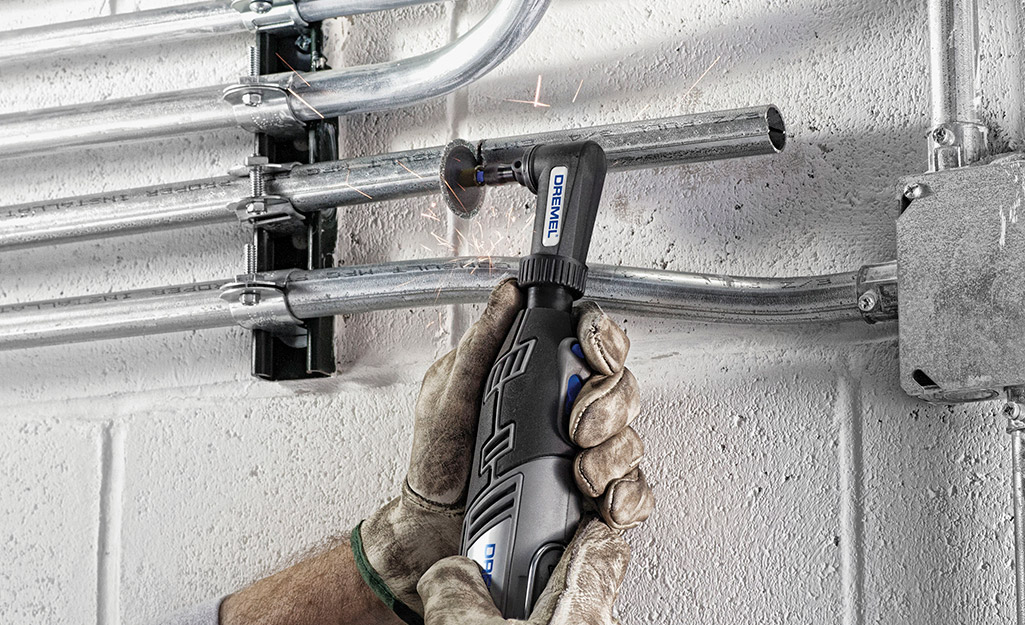 Conduit fittings allow you to make connections in an electrical system. They can connect two runs of conduit or secure conduit to an electrical device. These types of fittings are commonly called conduit fittings and electrical fittings to separate them from types of fittings used for plumbing.
Conduits vary in size. The size refers to the diameter of the raceway (thread). Conduit fittings should be selected based on tye type of raceway (thread) used and the size of the raceway. Make sure the fittings are listed for the type of raceway.
Safety Tip: Have a professional inspect your electrical project before you use it. An electrical inspector ensures that wiring meets all safety codes. Any mistakes can pose a risk for fire, injury or damage to your home's wiring.
Types of Conduit Fittings: Adapters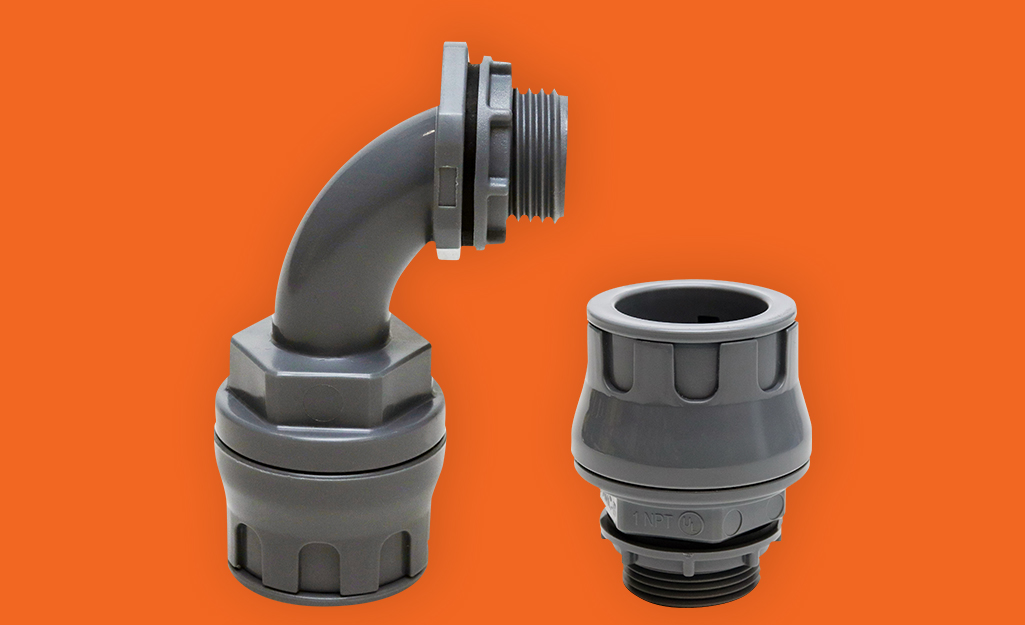 Adapters serve as connectors in an electrical system. Adapters are designed to:
Connect two different thread sizes
Convert a conduit from male to female to make a connection
Connect two different materials
Types of Conduit Fittings: Bushings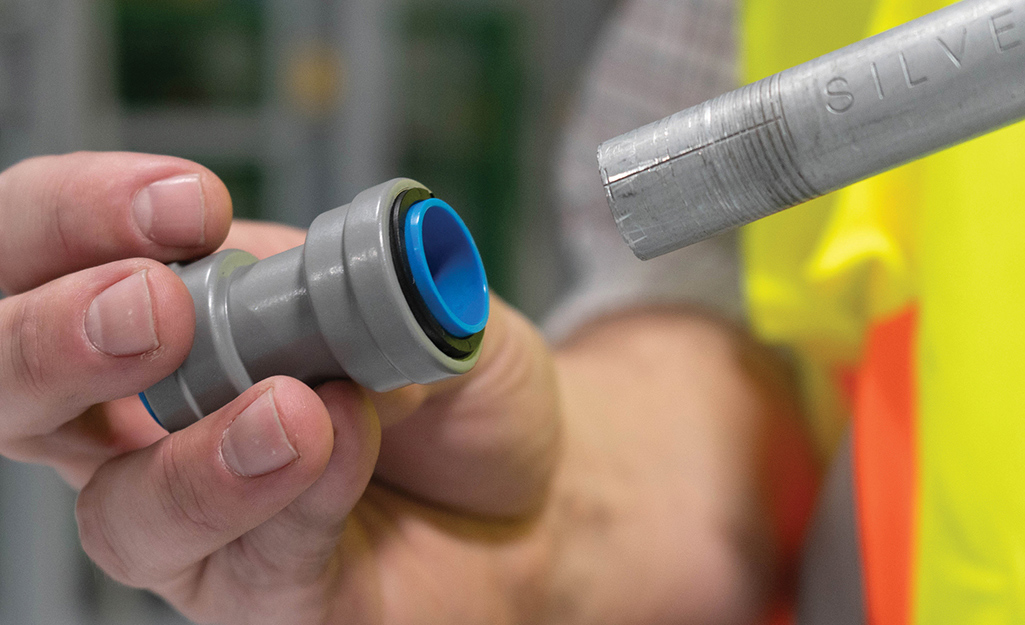 The raceways (threads) on metal conduits may have sharp edges after being cut. To protect wires, all raceways must be reamed before installing a fitting. All raceways with 4 AWG wires installed require a bushing to be installed on the end. To install a bushing on any raceway, make sure it is listed.
Types of Conduit Fittings: Couplings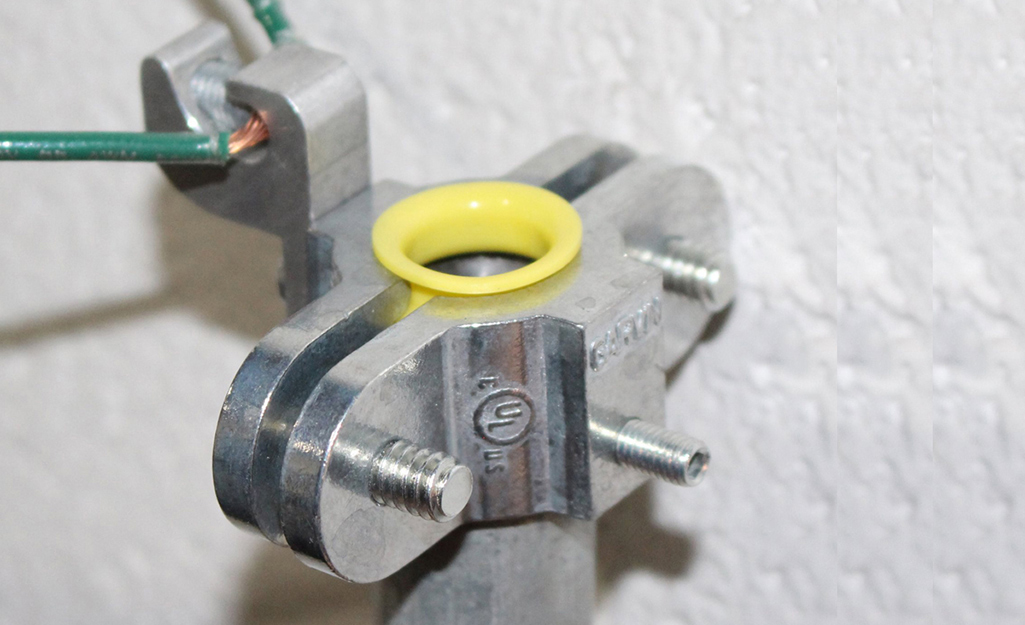 Couplings join materials of the same type together to form a longer straight line of conduit. Three main types of couple fittings are available:
Metallic couplings are for metallic conduit. You secure them with set screws or via compression.
Threaded couplings screw onto couplings that have threaded ends.
Nonmetallic couplings are for nonmetallic conduit and are usually attached with solvent cement.
Make sure couplings are listed for the raceway.
Types of Conduit Fittings: Elbows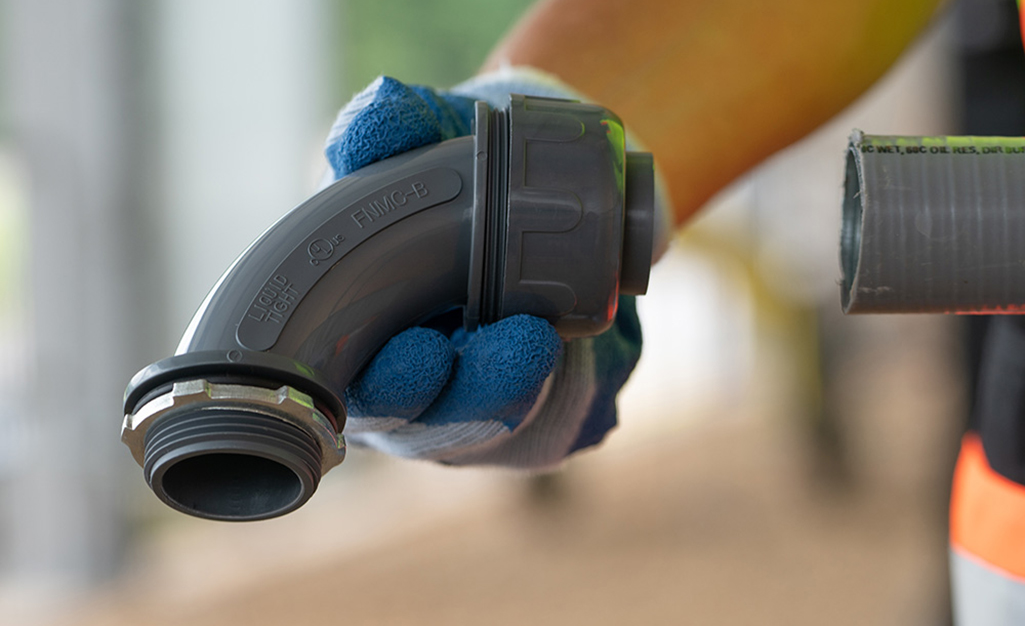 Similar to couplings, elbow fittings join like with like. The difference is that elbow couplings introduce a gentle curve to the length of conduit. Pulling wire through an elbow coupling is often easier than trying to thread wires through a sharp 90-degree right angle.
Types of Conduit Fittings: Straps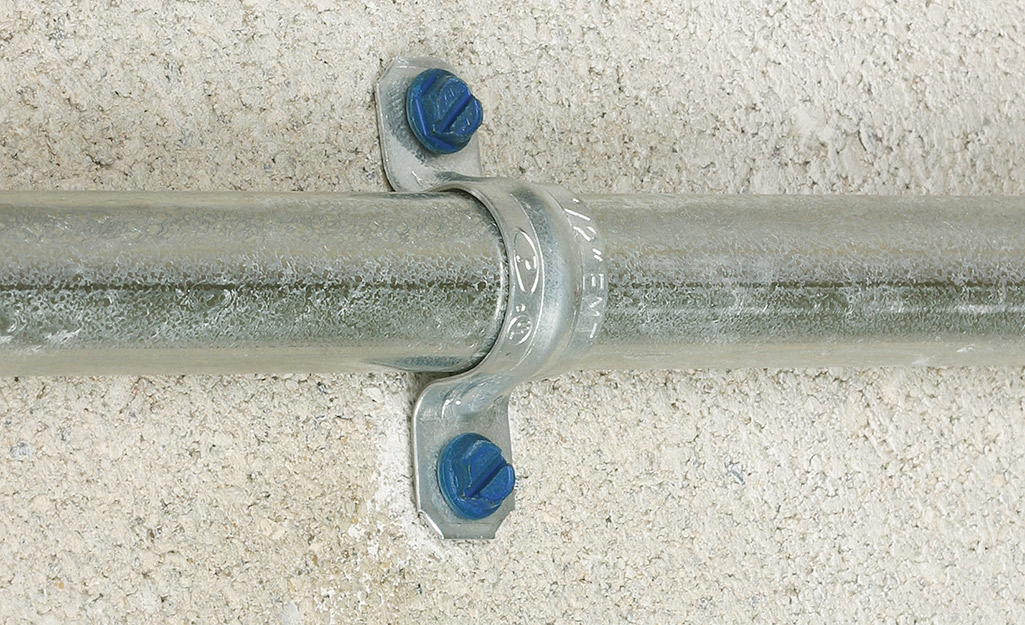 A conduit strap secures a length of conduit to a wall or a joist. Using one helps reduce sagging that can cause conduit to break. Many straps have an arch that fits around the conduit. One or two holes may be pre-drilled into the strap to simplify mounting.
Types of Conduit Fittings: Connectors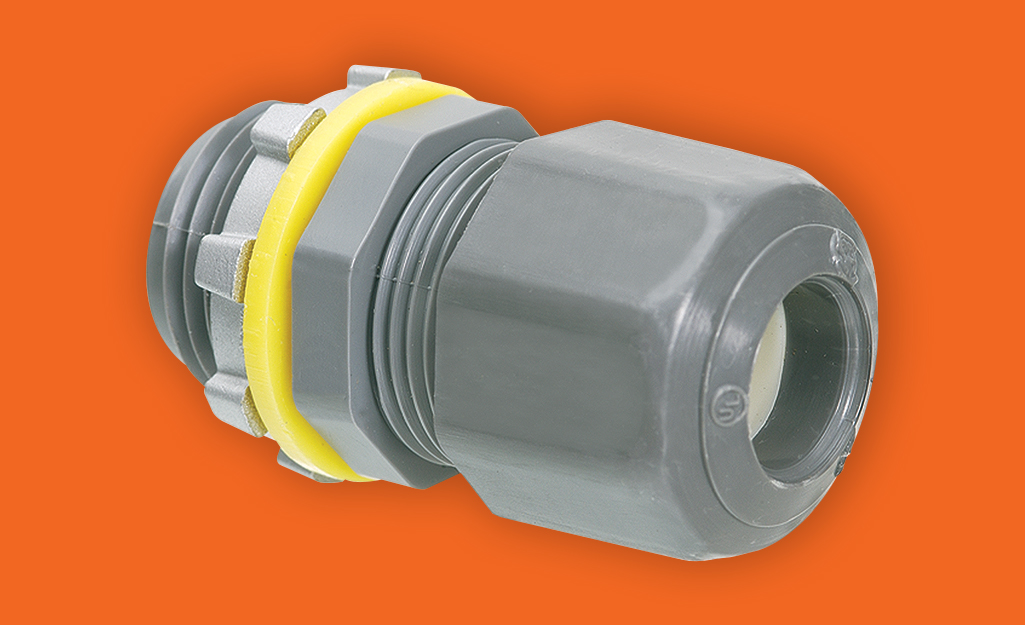 Connector fittings live up to their name by connecting components of an electrical system. Make sure connectors are listed for the raceway. You may use them to:
Join two runs of conduit
Connect conduit to an outlet box
Connect conduit to a load center
Connect conduit to another type of device
Types of Conduit Fittings: Specialty Conduit Fittings
Some projects may involve the use of specialty conduit fittings, such as:
Weatherheads are a waterproof cap installed outside of your home to provide access to wiring for maintenance and repairs.
Reducer couplings allow you to connect two conduits of varying size.
Offset couplings are used for wiring devices that may be pushed or pulled. The couplings help to ensure that energy flow remains stable even when the surrounding shaft becomes displaced.
Rigid conduit locknuts have internal threads, allowing them to lock in place more securely.
Hangers, clips and clamps hold up and secure conduits.
Choosing Conduit Fittings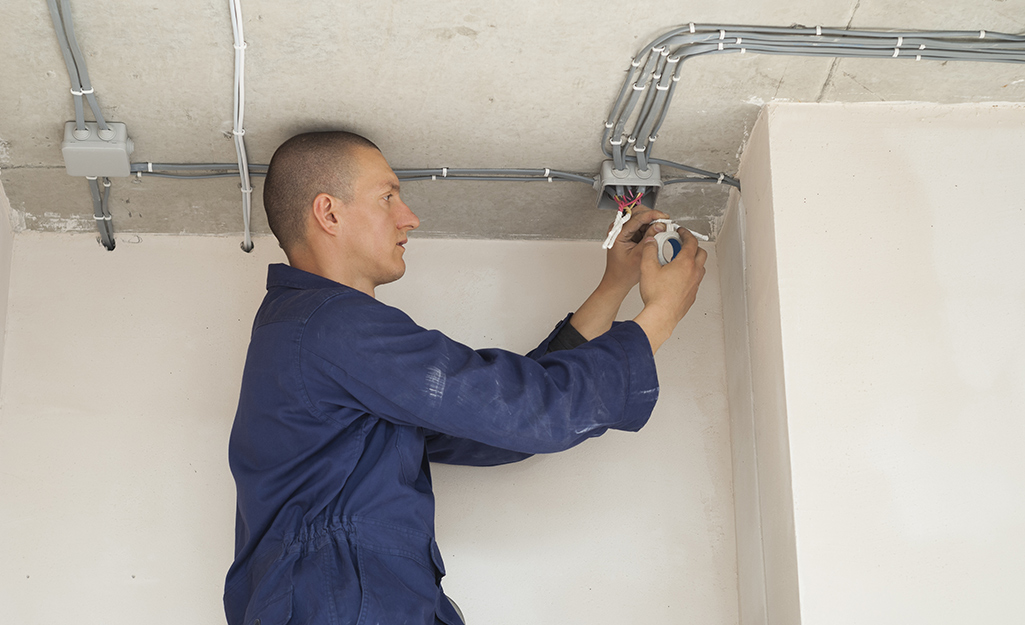 Application type plays a large role in determining what type of conduit fittings you need. Common application types include:
EMT, or electrical metallic tubing, is metallic conduit with thin metal walls. Normally, EMT is used indoors. For outdoor areas, you'll need to use compression fittings.
RMC, or rigid metallic conduit, has much thicker walls than EMT. The thickness increases strength, making it better able to withstand harsh conditions, such as temperature extremes.
ENT, or electrical non-metallic tubing, has thin walls like EMT, but is made of a material other than metal, like polyvinyl chloride (PVC).
RNC or rigid non-metallic tubing is non-metallic tubing with thicker walls. It is the non-metal alternative to RMC. Due to its strength, PVC tubing is often used to make RNC.
Liquid tight conduit has an outer, nonmetallic jacket that seals out water and resists UV damage when exposed to sunlight.
Flex conduit is made out of flexible material. This type of conduit makes it easy to run conduit with many curves and bends.
Certain conduit fittings may be required at various points in an electrical system for grounding or service access.
Tip: Consult local building and electrical codes when considering applications. Regulations may require you to use specific types of conduit fittings. A permit may also be necessary to begin work.
Conduit Materials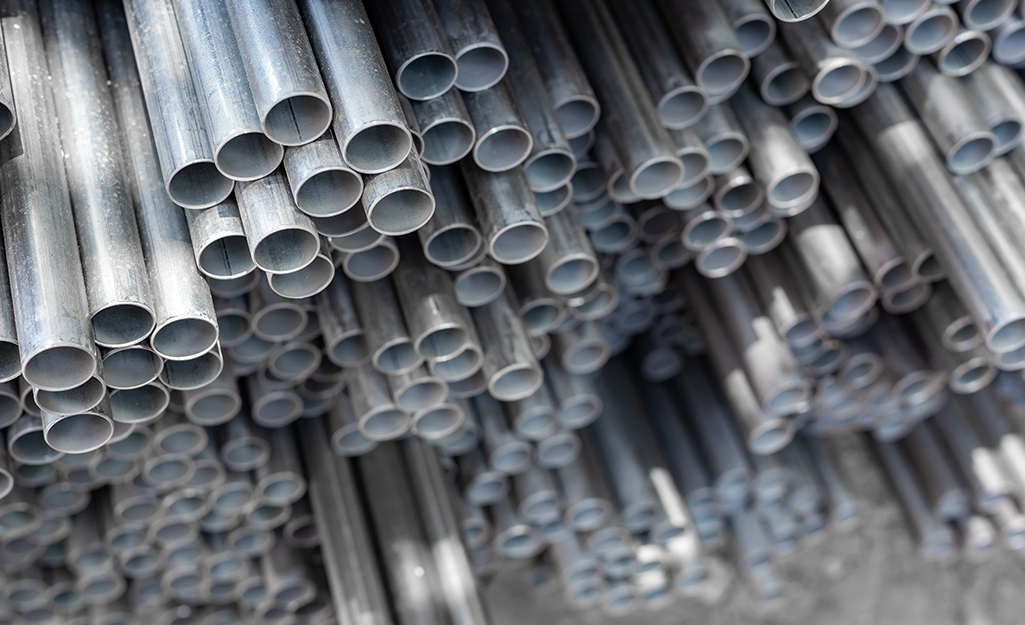 Conduit fittings are made out of many materials. Which type is right for your project depends on the application type, environmental conditions and other factors. Some common metallic conduit fitting materials include:
Galvanized steel
Zinc
Iron
Aluminum
Brass
Bronze
Copper
Alloys (made of two or more types of metal)
Some non-metallic conduit fitting materials are:
Nylon
Polypropylene (PP)
Polycarbonate (PC)
Polyethylene (PE)
Other plastics and thermoplastics
Conduit Sizes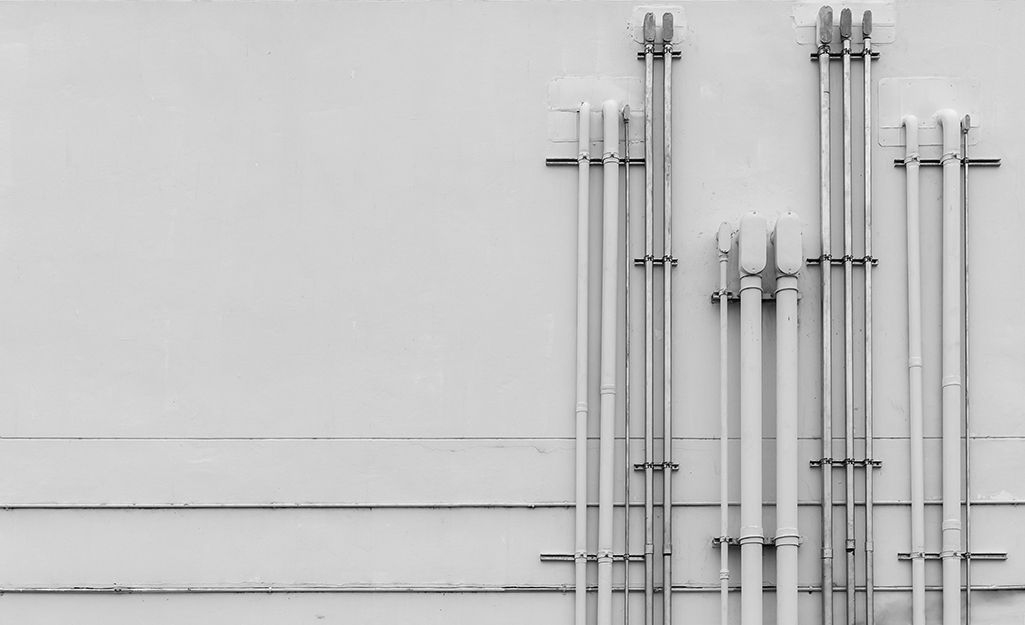 In the United States, the electrical industry has adopted a set of standard sizes known as trade sizes. Trade sizes ensure universal inner diameter, outer diameter and radius measurements to take the guesswork out of purchasing conduit and fittings. The larger the trade size, the wider the conduit. Standard trade sizes include:
3/4 inch
1 inch
1-1/4 inch
1-1/2 inch
2 inch
2-1/2 inch
3 inch
3-1/2 inch
4 inch
5 inch
6 inch
The actual dimensions vary between conduit applications and the type of raceway sizes will be limited. For example, trade size 1 refers to EMT tubing with an outer diameter of 1.163 inches and RMT with an outer diameter of 1.315 inches.
Outside of the U.S., the outer diameter measured in millimeters determines the conduit size. Some common metric conduit sizes include:
Size, application, materials and function help determine the type of conduit and fittings you need to make connections in an electrical system. Conduit fittings enable you to connect conduits to an outlet box or to each other. They make it easy to secure conduit to the wall, reduce rough edges and connect different sizes of conduit. Once you're ready to shop for essential supplies, use The Home Depot Mobile App to locate products and check inventory. We'll take you to the exact aisle and bay.
Explore More on homedepot.com