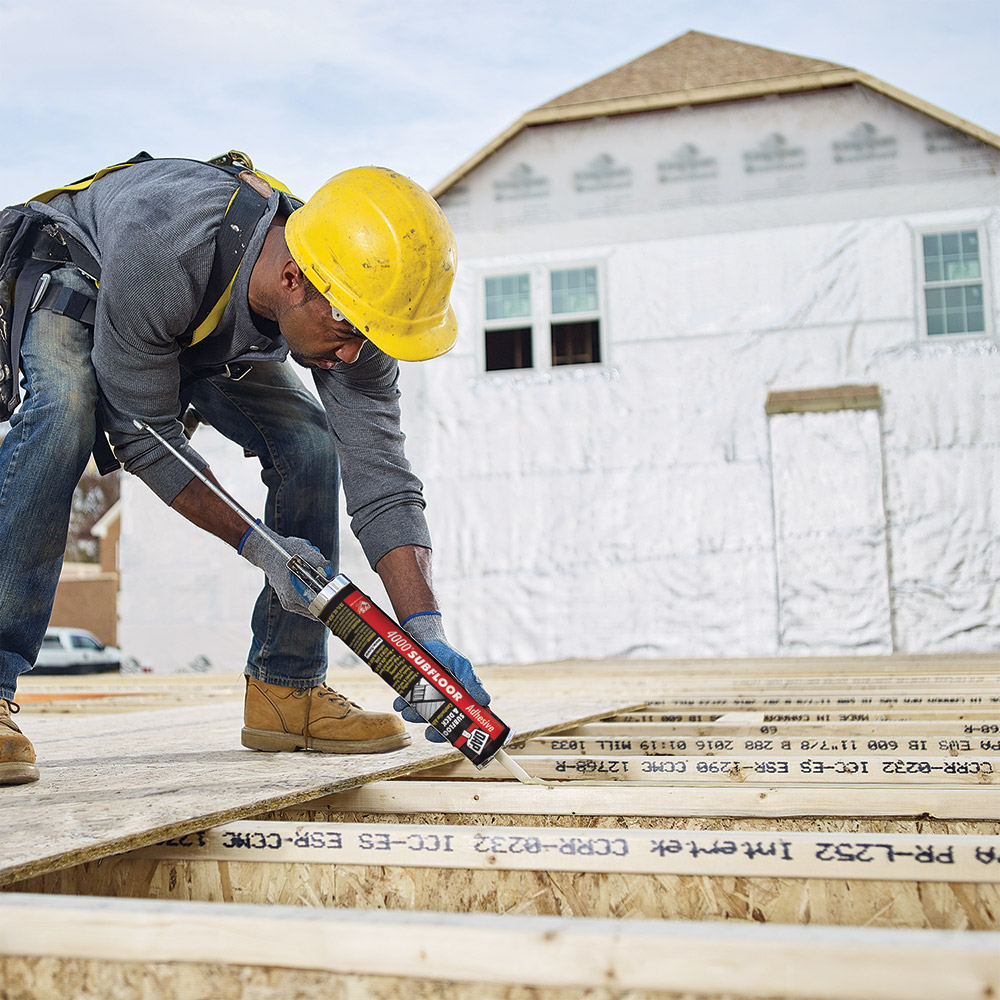 When taking on a new project, you may find that not every material can be drilled, hammered or stapled. Projects like shower installs, countertop renovations and simple craft projects will call for adhesive or glue to get the job done. This guide will teach you about different types of glue, so you can find the right adhesive for your next project.
Construction Adhesive
Construction adhesive is high-strength and water- and weather-resistant. It helps bond common materials found in construction, renovations and home projects. Construction adhesive is popular because it works with a variety of materials such as foam board, plywood and fiberglass. Most packaging will list what materials they are used for and will let you know if it is the best adhesive for a specific material.
Usually available in cans or tubes.
Thick consistency; apply with putty knife or trowel.
Typically dries within 24 hours.
While some are specifically designed for wood, there are other types that are the best adhesives on granite, marble or plastic.
Heavy-duty construction adhesive works indoors and outside and can be used on a variety of surfaces. 
From wood to nuts and bolts, there are specialty use adhesives (shoes, porcelain, UV resistant, nuts and bolts) available.
Wood Glue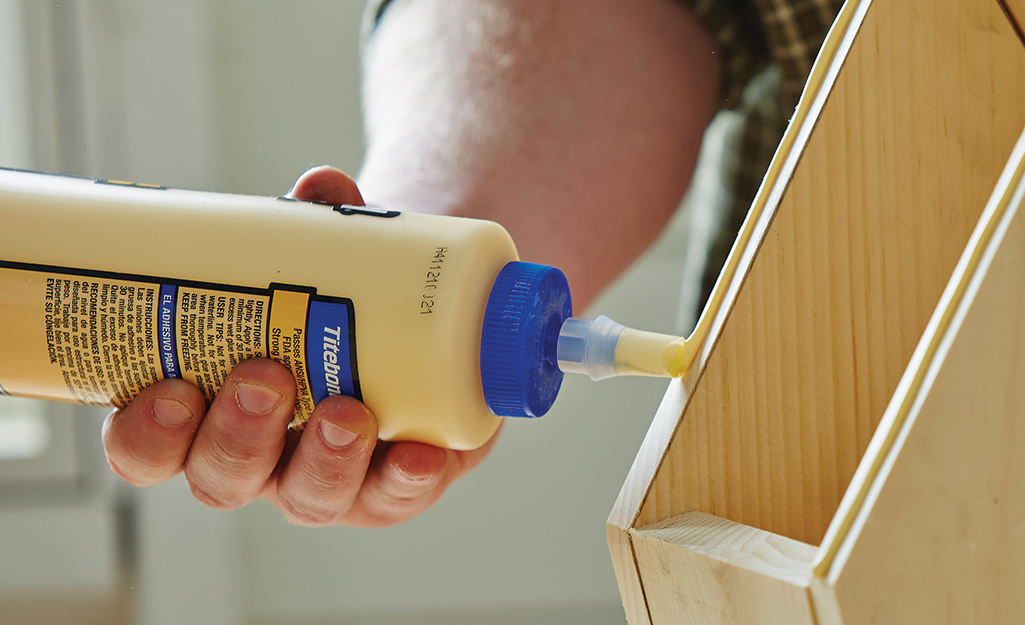 Used to tightly bond pieces of wood together, wood glue is designed to set items, making it useful as a filler as well. Using wood glue on a project may require the use of clamps to ensure the pieces of wood bond. A strong adhesive, this type of glue is available in interior, waterproof and water-resistant varieties. Typically, wood glue sets in about an hour but could take up to 24 hours. 
There are three main types of wood glue:
PVA: Traditional wood glue, PVA creates a strong wood-on-wood bond but will not adhere as strongly to metal, plastic or other non-porous materials. Also available in water-resistant formulas, for exterior use.
Polyurethane: Waterproof, this type of wood glue can adhere to wood, stone, ceramic, plastic and metal. 
Hide glue: Used in cabinetmaking, on chairs and other woodworking projects, hide glue stays in place but can be reactivated by water, making it less preferred than other types of wood glue. 
Super Glue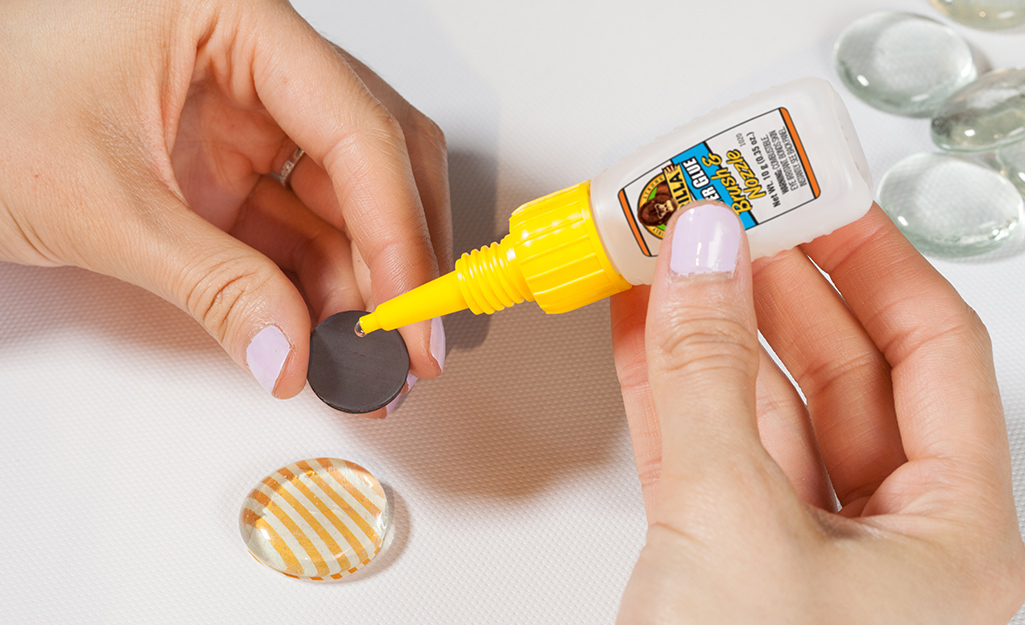 Also known as cyanoacrylate, super glue is a type of glue that bonds quickly and works with a variety of materials and surfaces. A benefit of this fast-bonding glue is that nails, clamps and other fastening devices are not needed.
Super glues will dry clear and are waterproof and fast-setting. 
Often the best glue for household projects. Repairs broken ceramics as well as industrial uses like automotive assembly.
This type of glue can vary in toxicity, so it's important to check the label before use. 
Epoxy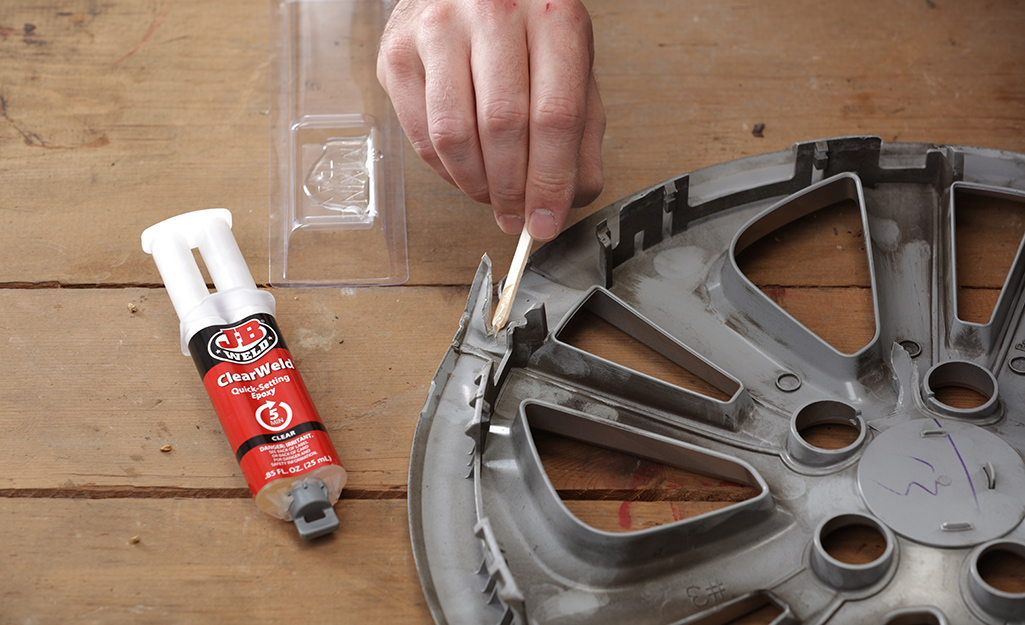 A mixture of two compounds, a resin and a hardener, epoxies are used in a variety of repairs and home improvement projects. When it comes to high-performance bonding, epoxies have you covered.
Made to work on a variety of materials, this type of glue is very durable and can bond materials, even in extreme conditions. 
Perfect for filling gaps in wood. 
Available in liquid and paste formulas. Liquids can be easier to use for smaller projects while paste will cover larger areas. 
Contact Cement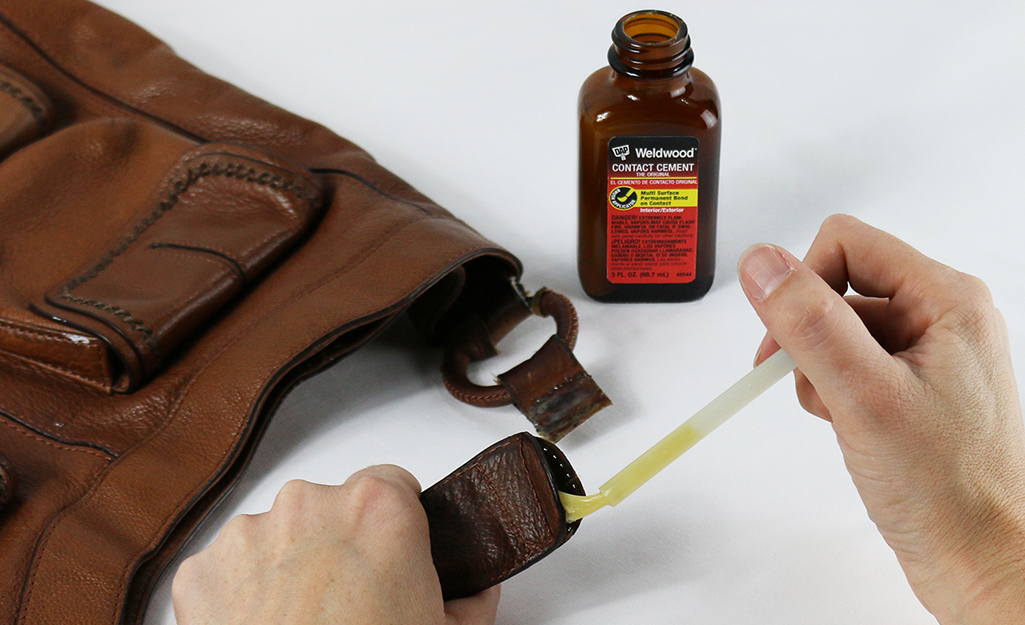 Contact cement is a rubber-based adhesive that is effective at joining surfaces that may not work with other types of adhesives. It is one of the best glues for nonporous surfaces but will bond almost anything. It creates a permanent bond.
High-strength bond on wood, metal, glass, plastic and more.
Bonds on contact; eliminates the need for clamps and long sets.
Optimized for both interior and exterior applications.
Dries in 15 to 20 minutes.
Excellent water resistance.
Resists the effects of heat, weather, grease, oil and household chemicals.
Tip: Do not confuse contact cement with rubber cement. Unlike contact cement, rubber cement forms a non-permanent bond with non-porous materials. It can be removed from most hard surfaces with simple friction. Contact cement, on the other hand, forms a lasting bond that usually takes heat or solvents to break.
Spray Adhesive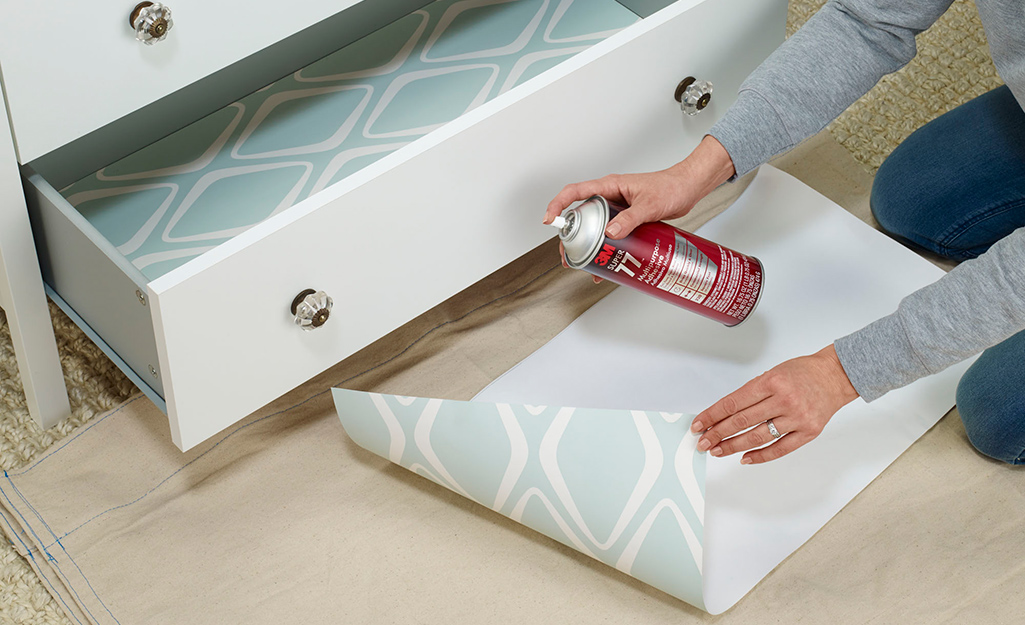 A contact adhesive with a solvent base, spray adhesive can be an easy way to make a quick repair. While a general-purpose spray glue will be great for crafting, high-performance spray glue is needed for wood and metal projects.
Should be used in a well-ventilated room. 
Can be used with fabrics, paper or foam board, while some specialty spray adhesives can be used to adhere wood, metal and plastic to other surfaces. 
When using this type of glue, allow it to evaporate before applying it to its intended bonded surface. Note if your spray adhesive can be repositioned before use as some cannot be moved once applied to a surface. 
Check the strength and adhesion levels before using. 
Glue Sticks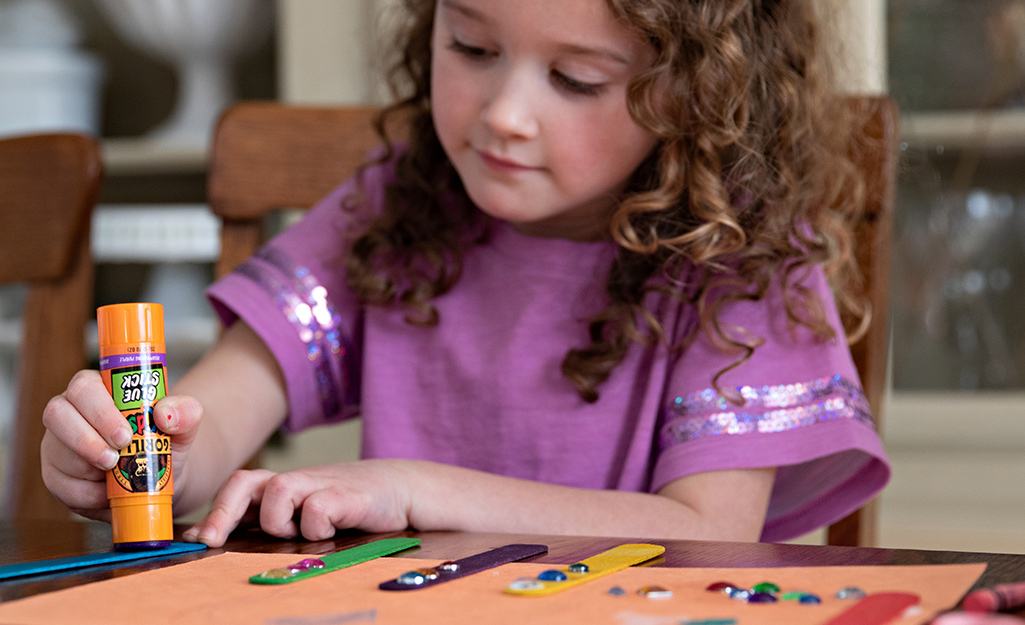 Low bonding, this type of glue is ideal for craft projects, especially craft projects for kids. There are handheld glue sticks with a paste consistency as well as glue sticks that are used with a glue gun.
Glue sticks (handheld):
Provide a permanent bond on a variety of materials such as poster board and foam board. 
Washable and safe for children's use. 
Dries clear.
Glue Sticks (heated): 
Work with a glue gun to bond fabrics, leather, cardboard and other materials. 
The heated glue solid flows through the gun, turning into a liquid adhesive perfect for ceramics, woodworking and other crafts and repairs.
Typically resists moisture, solvents and UV rays. 
While glue guns can be used for kids' school projects, always supervise children when they are using one. Both the melted glue and the metal tip of the glue gun carry a small burn risk.
Craft Glue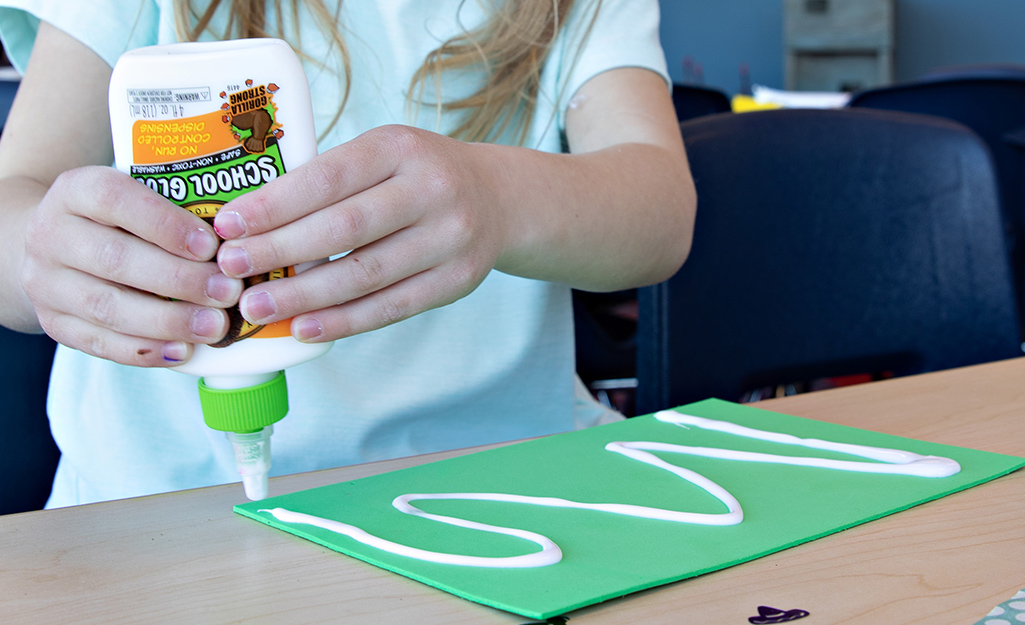 Craft glues are just as varied as craft projects themselves. In some cases, a non-toxic multi-purpose glue can get the job done, but other times, a heavier adhesive is needed. Always read the label to determine durability and recommended use. 
Generally water-based and ideal for simple DIY repairs, school projects and fun activities like making slime. 
Usually white, these types of glue dry clear and can be cleaned up with soap and water. 
You can find craft glue in liquid or stick form and use them when working with fabric, metal and more. 
Craft glue usually takes up to one hour to set. 
Always use the glue or types of adhesive recommended by the manufacturer when you are beginning a new home repair or renovation. Be sure to look at the drying times for any specialty adhesive.
Use gloves and proper safety gear when working with various types of adhesive or glue, and work in an area with good ventilation.
Ready to start your project? The Home Depot delivers online orders when and where you need them.
Explore More on homedepot.com