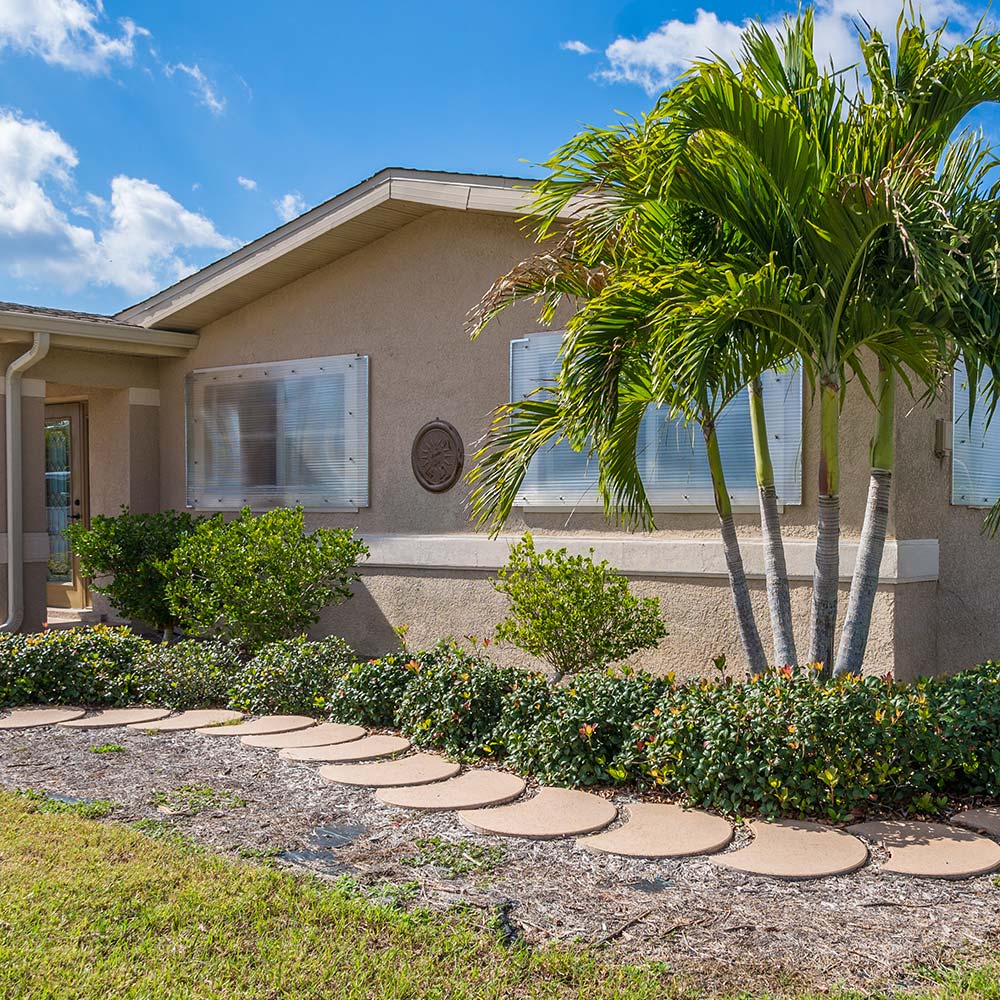 If you live in an area that's prone to hurricanes, storm season means protecting your home from damage. Keeping doors and windows intact with the help of hurricane shutters will help keep your family and home safe. This guide will teach you about different types of hurricane shutters and as well as how to protect your windows during a hurricane, so you're ready for storm season. 
What are Hurricane Shutters?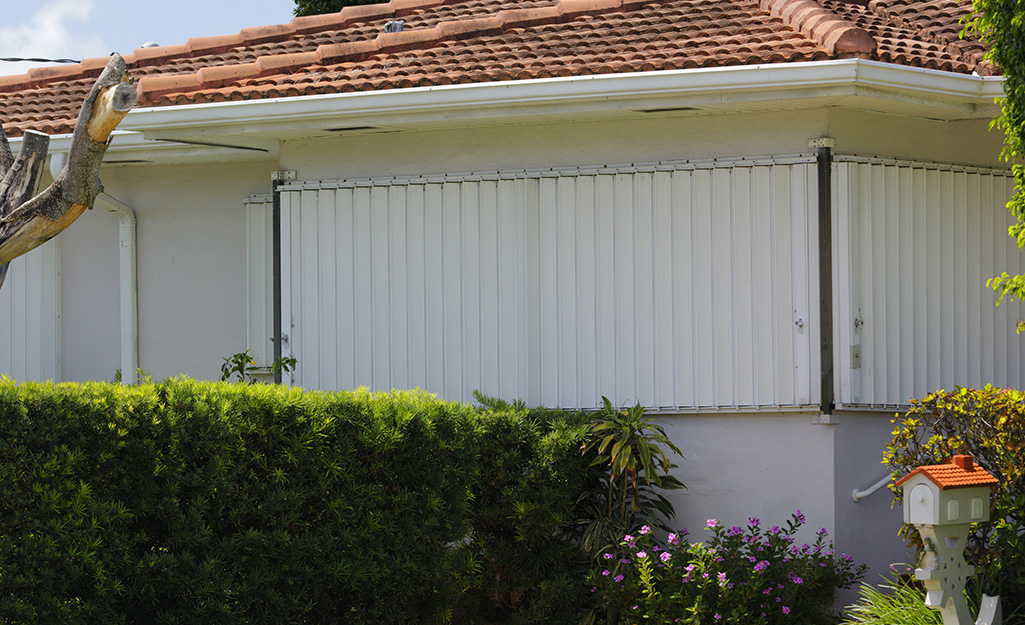 When a hurricane or severe storm hits, the strong winds can be damaging to your home. Windows, specifically, can shatter, letting in rain, wind and debris. Additionally, broken windows during a hurricane can cause pressure to build up inside a home, resulting in roof damage and more. 
Hurricane shutters, or storm shutters, act as a barrier against the wind, protecting windows and preventing flying debris, rain, hail and damaging wind from entering your home. While they are essential for those living in certain geographic areas during hurricane season, hurricane shutters should not be left up year-round. Additionally, proper cleaning and storm shutter maintenance will protect your investment as well as your home. 
Advantages of Hurricane Shutters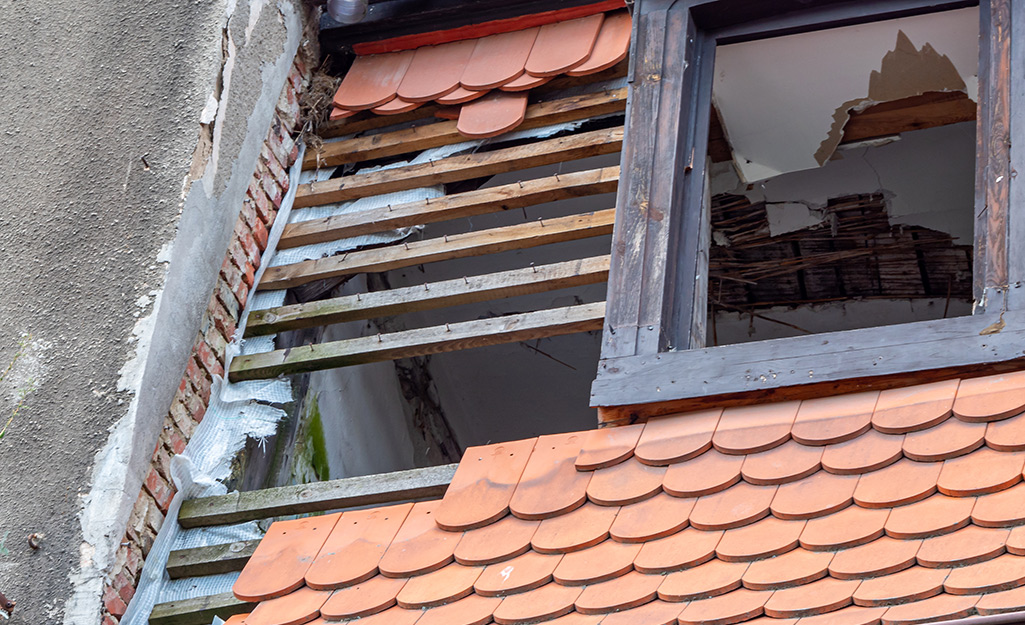 Unlike boards, hurricane shutters are built to withstand forceful winds that can impact windows. While boarding up windows with plywood shutters is an alternative, especially in an emergency, hurricane shutters are a worthwhile investment that can protect your home for many storm seasons. 
Made from a variety of materials, hurricane shutters are durable and won't warp when hit by the elements, unlike plywood boards. When determining how to protect your windows during a hurricane, it's important to consider the argument of shutters vs. boards. When compared to plywood boards, shutters not only look nicer but they are stronger and more reliable, making them worth the investment if you live in an area prone to hurricanes. Additionally, boards may tear off easier in a storm, damaging your home. They may also be harder to remove when the hurricane has passed, while properly installed hurricane shutters can be quicker to put up and take down after initial installation. For these reasons, installing shutters is one of the best long-term solutions for homeowners. 
Types of Shutters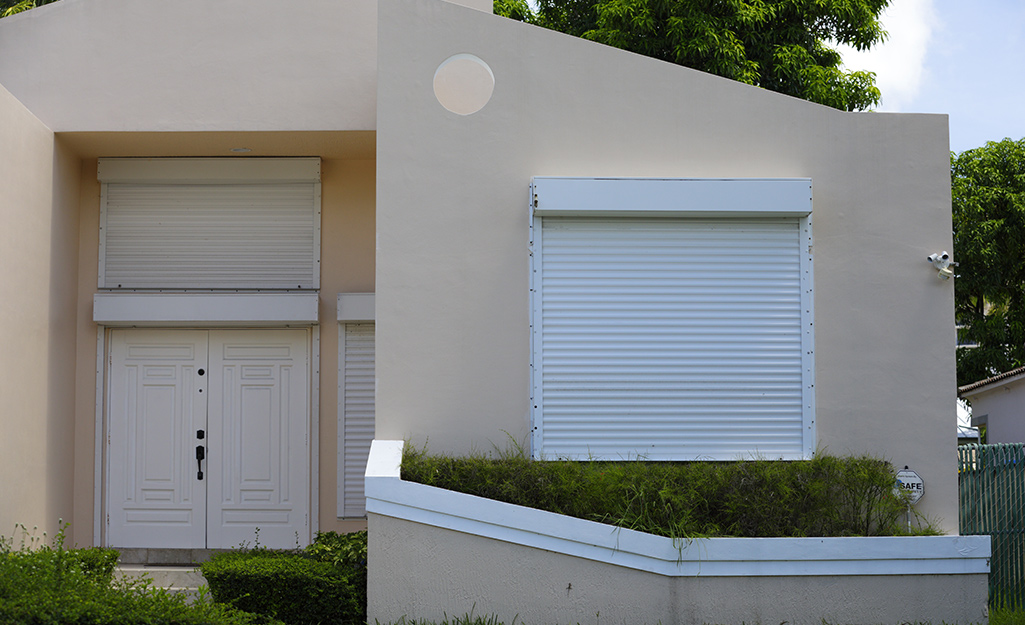 The type of shutters you choose will depend on your needs, home style and budget. Let's look at the most common types of shutters as well as the features and benefits of each, so you can find the best hurricane shutters for your home. 
Storm Panel: Made of either aluminum or steel, storm panel shutters attach to the walls around your doors and windows with either bolts and tracks, a C-track that goes around your window or permanent bolts. With this style, grooved panels lay over one another to form a secure barrier against the elements. The most cost-effective option, these removable shutters are a bit more difficult to install and will need to be stored properly when not in use.   
Automatic Roll Down: Made of polycarbonate or metal, this type of hurricane shutter attaches to the window, rolling down when needed and rolling up into a box when not in use. While they are one of the more costly options, many people choose this style for its ability to be permanently secured to the window and ease of use. Roll down shutters can be manually operated if there is a power outage. 
Accordion shutter:  Permanently attached to your window, this type of hurricane shutter is made of metal or polycarbonate. When not in use, accordion hurricane shutters will fold up, accordion-style, as to not block your view. This budget-friendly style also works well with larger windows and glass doors. 
Colonial shutter: Often chosen for their aesthetics, colonial shutters attach to the sides of a window and can be folded up, giving the appearance of normal shutters, when not in use. When a storm approaches, the shutters are unfolded to cover the window and secured with a storm closure bar. More customizable than other options, colonial hurricane shutters can be comprised of wood, metal or fiberglass. They will take a bit longer to install when compared with other storm shutters and can be more of an investment. 
Bahama shutter: Another stylish option, Bahama hurricane shutters consist of one louvered exterior shutter that is attached to the top of your window. This style of shade can be left open to let light in on typical days but can quickly be shut and locked to protect your home from a storm when a hurricane hits. Bahama style shutters are typically made of aluminum but can be made of wood or fiberglass. 
Tips for Choosing Hurricane Shutters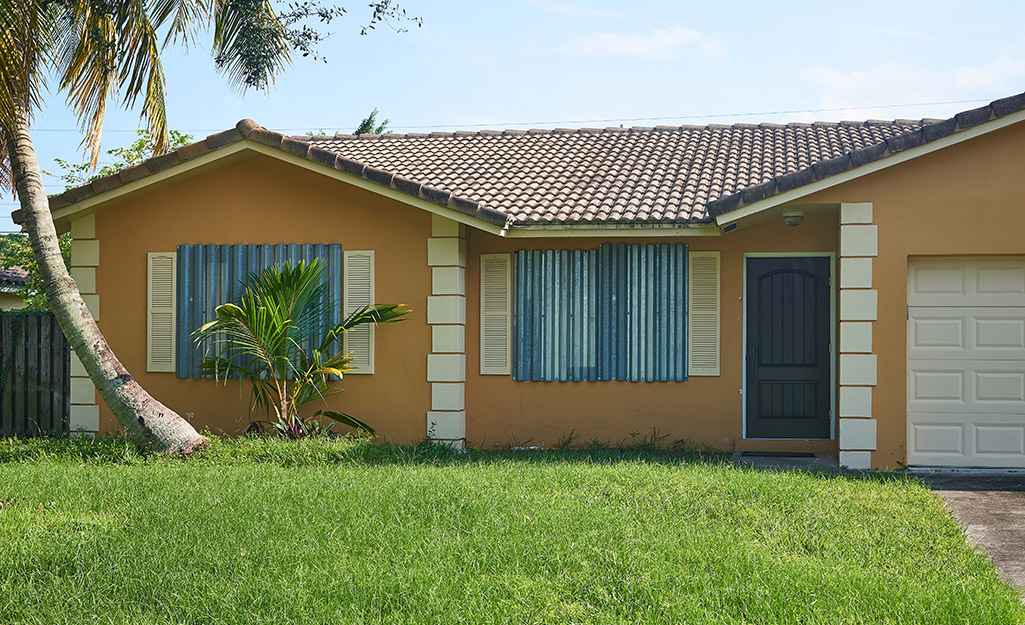 When deciding on the best hurricane shutters for your home, there are a few things to keep in mind. 
Materials: Different types of materials can withstand different wind speeds. For instance, hurricare shutters made of aluminium or steel will be able to hold up against at least 110 mph, according to standard building codes. 
Installation: Will you be installing these on your own or will you have help? Certain styles, like storm panel shutters, will require more than one person to complete the installation. 
Timing: Always plan ahead. If you are purchasing your hurricane shutters for an impending storm, consider the amount of time you have. An option like roll down shutters may be what your home needs but they will require professional installation. 
Home style: How you protect your windows during a hurricane can be solved by taking things like home style into consideration. While Bahama shutters may appeal to your eye, they may not be the right fit for your home's style, size and storm protection needs. 
Alternatives: There are alternative types of hurricane shutters available, including fabric storm panels, which are made of ballistic nylon, allow light through but can easily get fogged. When protecting the rest of your home against a hurricane, be sure to safeguard wooden structures with hurricane ties meant to withstand damaging winds. Most new roofs are installed with these. 
Understanding the differences in types of shutters can help you make a choice that's right for your home. Whether you decide on storm panels, Bahama shutters or another option, how you protect your windows during a hurricane will depend on your budget and needs. The Home Depot delivers online orders when and where you need them. 
Explore More on homedepot.com