Using pressure-treated wood for projects like wooden decks and fences will keep your outdoor structures beautiful for years by resisting termites, rot and fungal decay. Few homeowners really understand what pressure-treated wood is and why you should use it, though.
This guide outlines the benefits and uses of different types of pressure-treated wood and helps answer the common question of what is in pressure treated wood that makes it resistant to Mother Nature. You'll also learn what pressure-treated wood is most commonly used for.  
Don't guesstimate, calculate. Know exactly how much pressure treated wood you need with our project calculators.
What is Pressure Treated Wood?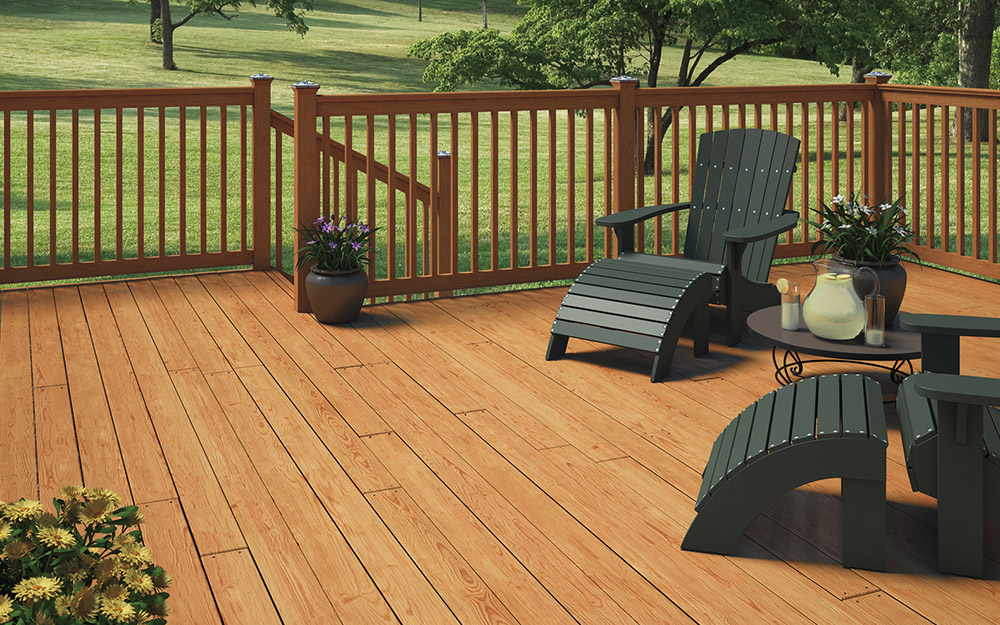 Pressure-treated wood has gone through a process that uses high pressure to force a solution of water and preservative agents deep into the lumber to help extend its useful lifespan.
The active ingredients commonly used in treated wood are alkaline copper quaternary (ACQ), copper azole (CA) or micronized copper azole (MCA). These compounds react with the wood fibers to slow natural decay and have properties to resist termites, fungus, moisture and other elements that promote rot and cause structural degradation.
This preservation process enables pressure-treated fence posts, for example, to withstand years of being embedded in soil.  
Because pressure treated wood absorbs a significant amount of liquid during the manufacturing process, it typically arrives at stores still wet and can take up to several weeks to completely dry out. The preservatives remain in the lumber after the water evaporates.
Types of Pressure-Treated Wood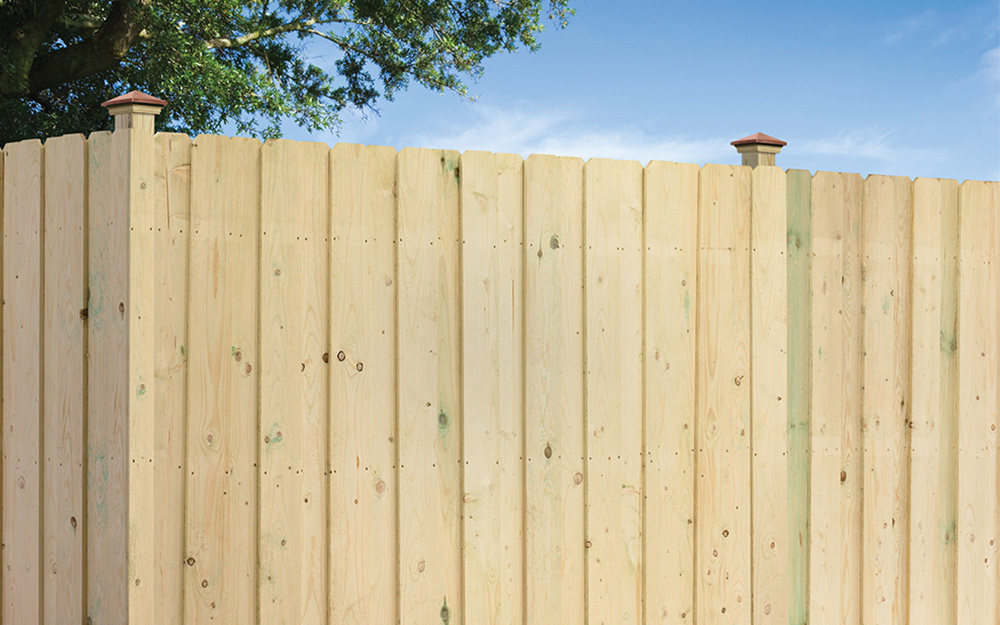 There are two basic types of pressure-treated wood. Individual pieces of pressure-treated lumber will have a tag on one end of the board to indicate its permitted use.
Above-ground pressure-treated wood: 
Can be used in applications that are easily maintained or replaced.
Can only be used in applications more than 6 inches from the ground. 
Can only be used when the wood has proper ventilation and drainage.
Ground-contact pressure-treated wood:
Ground-contact pressure-treated lumber can be used either above ground or in contact with the ground.
Has twice the level of chemical retention and protection compared to above-ground treated wood.
Must be used when lumber is less than 6 inches from the ground or has poor ventilation.
Must be used for applications where wood is difficult to maintain or replace.
Pressure-treated lumber grades are assigned based on appearance. Boards with fewer knots or other cosmetic blemishes get a higher grade, but a premium grade comes with a higher price. Use #2-grade lumber when appearance is not crucial to your project.
However, you should also keep in mind that as pressure-treated lumber dries, you should expect slight changes in width and length. Sometimes it can split, cup or warp, which is more likely to occur in lower-grade boards.
Uses for Pressure-Treated Wood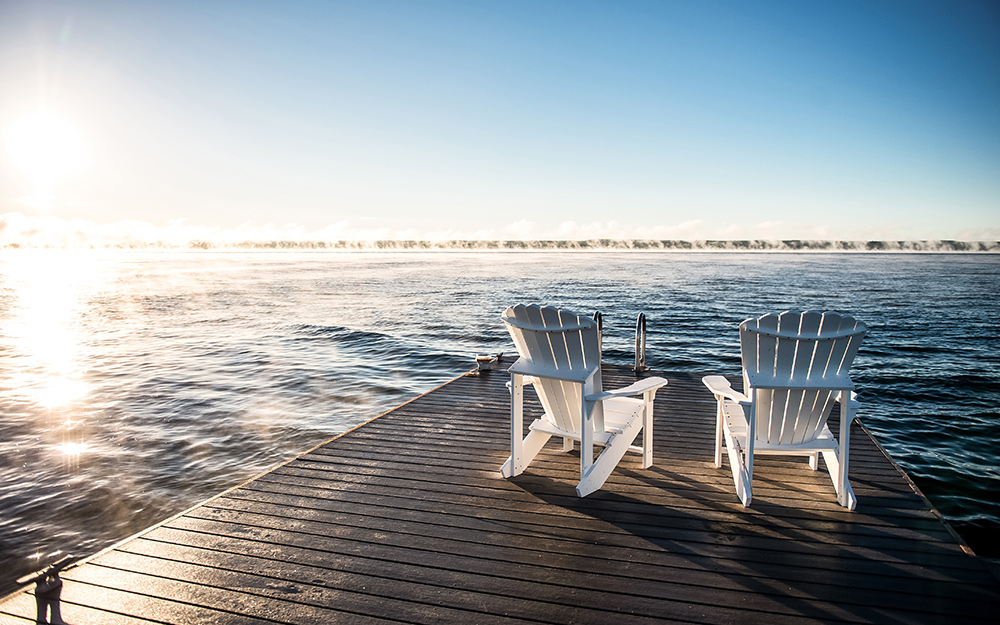 Decks and fences are the most common uses for treated wood, but it is ideal for a variety of applications. Pressure-treated decking can extend the longevity of wooden walkways, freshwater docks, accessibility ramps and other outdoor structures that are exposed to the elements. You can find a range of pressure-treated wood sizes to match your project as well, so it can be used in many different applications, including custom projects.
Ground contact lumber can be used for raised garden beds for ornamental plants. If edibles are to be planted, you can line the pressure-treated boards with plastic. This will keep soil from making contact with the wood. Don't use plastic across the bottom of the garden bed, as that will prevent drainage. Natural cedar and fir can be used for raised garden beds for edibles.
Pressure-treated wood should not be used for any indoor applications.
You can paint or stain treated lumber for decks or any structure, but it is important that the wood be dry enough to accept a coating. To determine if it's sufficiently dry, sprinkle water onto the wood. If the droplets are absorbed, the treated wood is ready to be painted or stained. If the water beads on the surface, you should wait a few days before attempting to stain it the shade of your choice or brush on a coat of paint.
When looking at non-structural applications, there are a number of synthetic products like composite decking available. These can work as well as many types of pressure-treated wood depending on the application.
Some DIYers might have questions such as what is pressure treated wood or how is wood pressure-treated with regard to safety? The preservatives used in treated lumber since 2003 are not harmful in small amounts. To reduce exposure and possible irritation, take simple precautions like wearing gloves or washing hands after handling the lumber. Use eye protection and a dust mask when cutting the wood and, because of the protectants, never burn it.  
Ready to take on a building project or home upgrade with pressure-treated wood? When transportation is a challenge, The Home Depot tool and truck rental can help. From pickups and vans to moving trucks, we've got you covered, whether you're moving a mountain of materials or hauling heavy tools, furniture and more. 
Explore More on homedepot.com