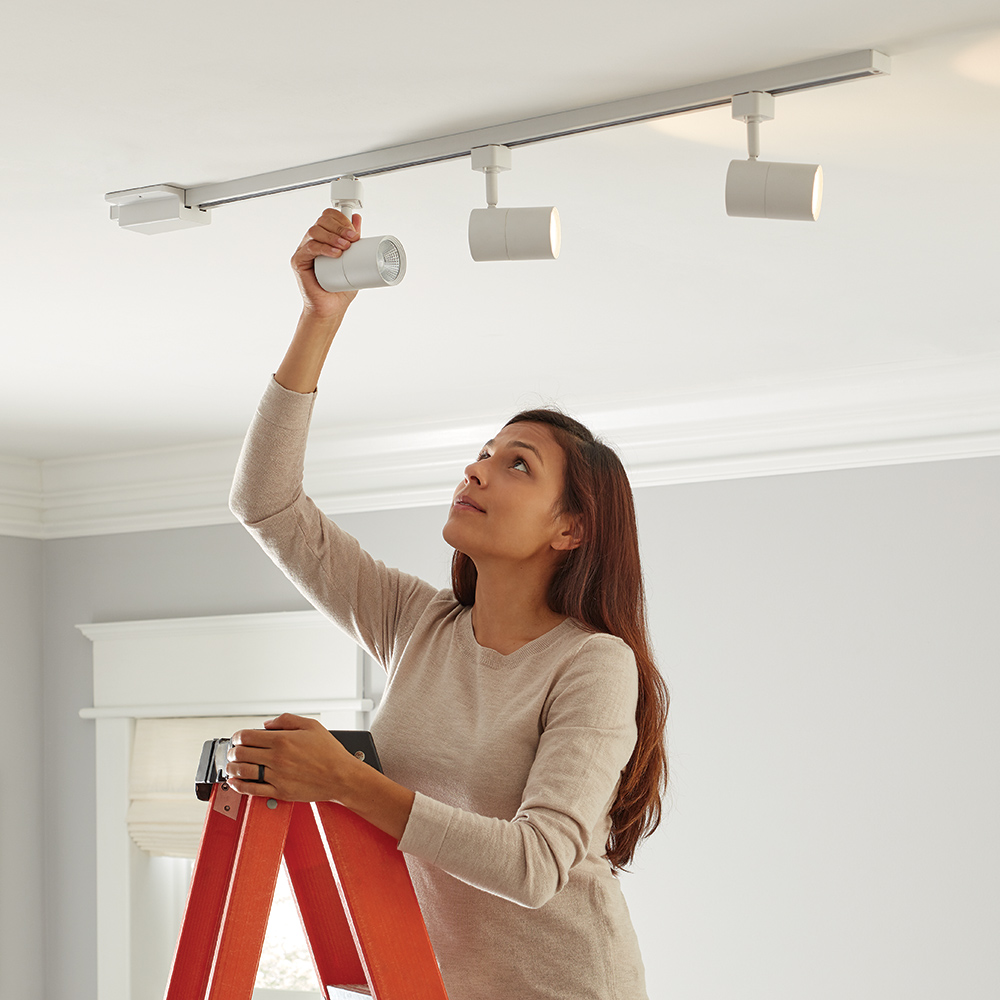 Use different types of track lighting to vary the light fixtures in your home. No longer dated and old-fashioned, modern track lighting can be customized to light a room how you want it. Highlight your favorite photographs or add depth and dimension to any space. You can also use track lighting for general illumination. They lend greater visibility around a kitchen island or a transitional area between rooms.
Read this guide to find out about the types of track lighting available, including J, H and L types. It will also help you choose the bulb type, finish and a curved or straight track. Learn to match track lighting fixtures to your decor for a well-lit and stylish room.
What is Track Lighting?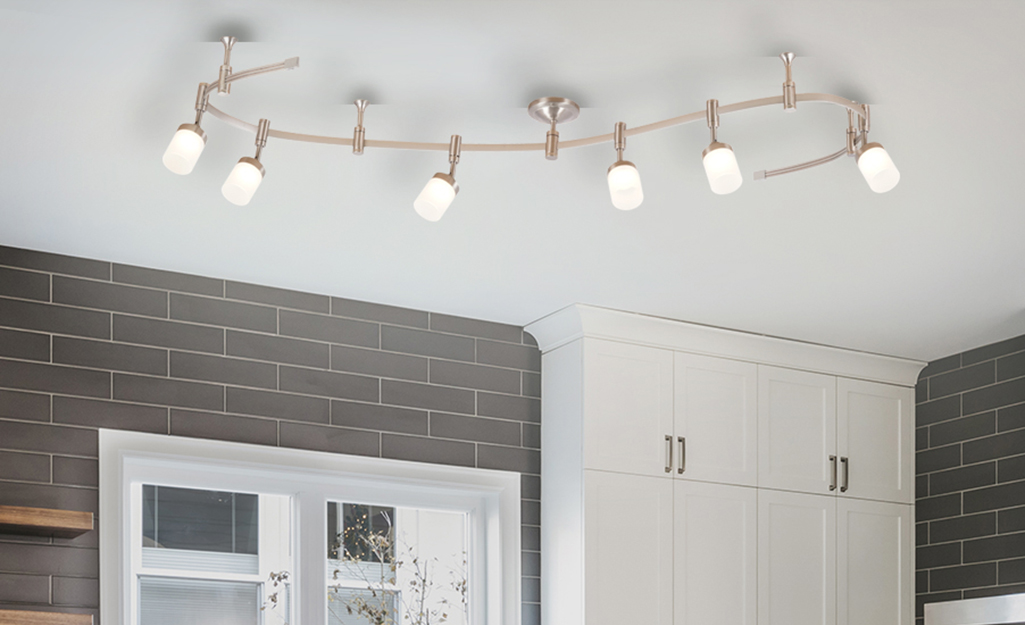 Track lighting is a type of lighting fixture that has individual lights along a track, also called a bar or rail. The lights, known as track heads or track lighting fixtures, slide along the track. Adjust them to fit the angle and position you need. You can tailor your illumination to hit an exact spot or brighten a general area.
An important part of choosing the best track lighting is finding the perfect color scheme. Depending on your decor, you may have several matching options. Track lighting comes in a wide variety of finishes, including the following:
Oil-rubbed bronze
Brushed nickel
Black 
White
Polished chrome
Brass
Track Lighting Options and Considerations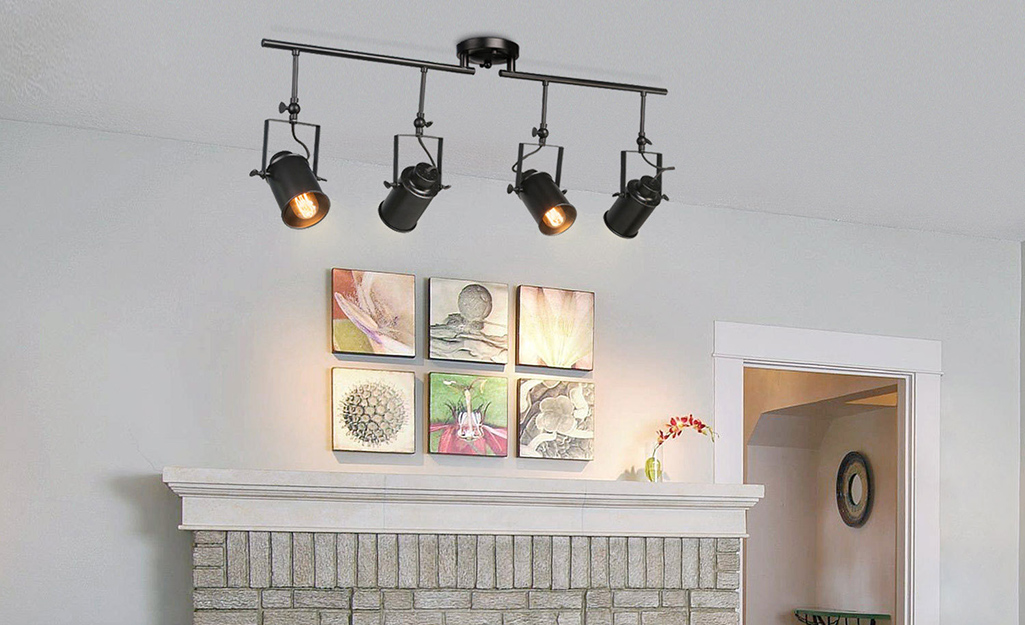 Track lighting can be customized to fit your needs. The best track lighting for you is the type that fits your decor, needs and budget. Simply decide how you'd like to shine it:
Ambient or general lighting provides overall illumination in smaller rooms. Use it to add more light than what's streaming in from the windows. It's an interesting alternative to a typical overhead light. Multiple tracks allow you to cover a large area with light.
Accent lighting is a higher intensity light used to highlight an area or object. Focus on an ornate wall, artwork or any other place you'd like to draw attention. Track lights let you position the lights to draw the eye to a perfectly lit area. 
Wall wash lighting makes rooms appear larger, lighter and more airy. It's commonly used to highlight paintings and photographs. When you angle the lights, you minimize glare. This illuminates artwork without distracting reflections.
Task lighting is directed where you perform detailed tasks. It gives an extra boost of light when overhead ambient light isn't enough. Task lighting is a good option for working at a desk, kitchen island, favorite armchair or even a piano. Because it's not needed all the time, it's energy efficient as well.
Types of Track Lighting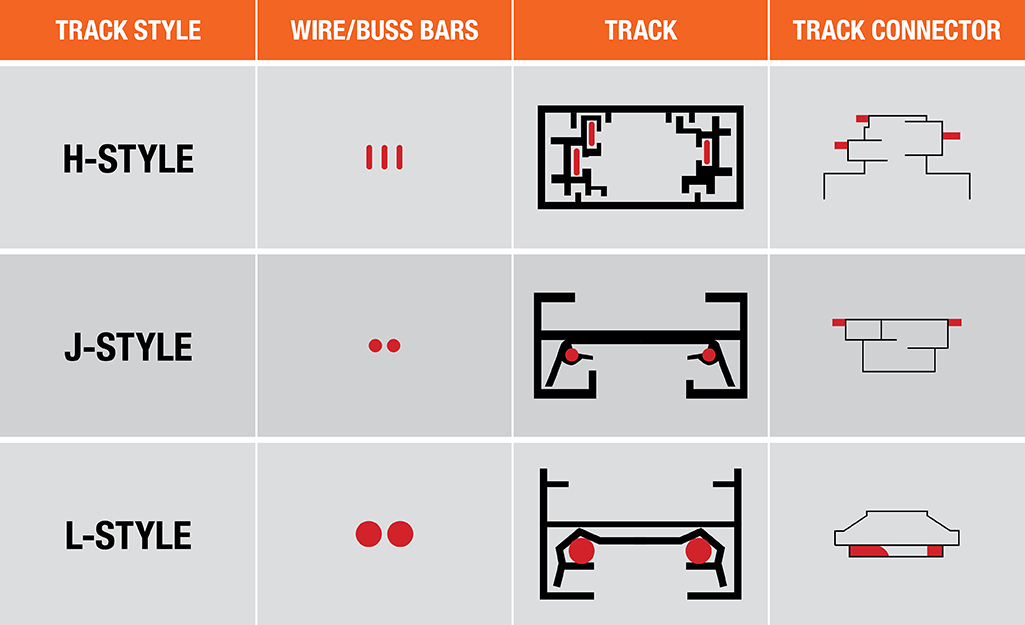 The best track lighting for you is the type that fits your home. Tracks, sometimes called rails, come in four general categories:
A standard track lighting rail is a straight track. It's also called linear track lighting because it's one line of track with lighting attached. It's the most traditional option.
Swing arm track lighting mounts only the center of the track, like a standard lighting fixture. Sections of the track are jointed and swivel around a pivot point. Move or swing the sections to create angled or zigzag track lighting designs.
Monorail track lighting isn't mounted directly to the ceiling. Instead, it hangs from bars called standoffs. They come in curved designs for a more organic feel. They're often low-voltage, but you can find monorail models in 120-volts too.
Fixed track lighting is attached to the wall instead of the ceiling. They're an alternative to a standard bathroom vanity light. These fixtures have adjustable track heads like linear track lighting.
All track lighting is on a H, L or J track. Types of track lighting aren't named for their shapes. Instead, the names relate to the first manufacturers. H tracks were made by Halo, J-tracks by Juno and L tracks by Lightolier. 
They're difficult to tell apart. Narrow down the type by seeing how many wires the track has. L- and J-tracks have two wires. H-tracks have three. 
The three types of track lighting parts don't mix and match. They only work within that single type:
H track parts are compatible with other H-track pieces. 
J-track parts work together, and L-track pieces fit each other. 
Stick to just one manufacturer, brand and model when choosing parts. Small variations across brands could cause fit problems otherwise. 
Finding parts for an existing track can be challenging. Try these tips to see if a pro can help you figure out the track type:
Take a photo of your track and light heads.
If shopping in person, take a track light head with you.
Track Lighting Head Types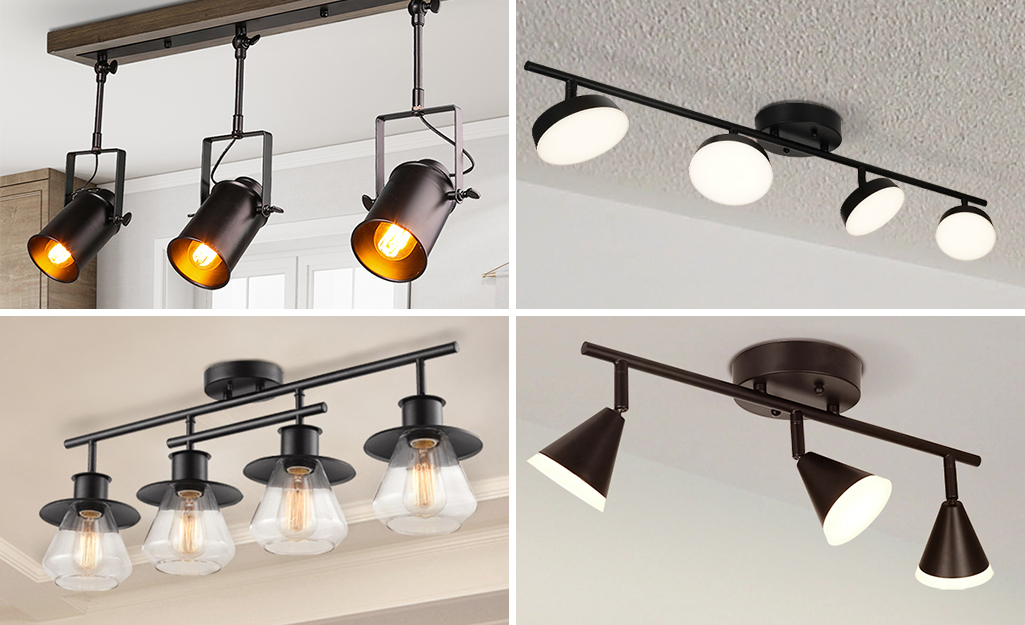 Depending on the track lighting head type, you'll generally have three to six lights. The available voltage affects how many lights you can add. Choose from many track head light shapes:
Cylinder: These common track heads have a cylindrical shape. Many track heads take this basic shape and alter it for a variety of looks.
Round Back: This light is a cylinder track head that's rounded on the back. It's more modern than the basic cylinder light.
Pinhole Head: These have an open and rounded cylinder back that shows the bulb. It fits utilitarian and industrial decor, like a loft apartment with open ceilings.
Cube: A typical cylinder light is encased in a cube shape. This gives a modern or futuristic look.
Octagonal: This is an angled variation on a cylinder track head. The eight sides lend a sharper shape to the track heads.
Stepped: These track heads are a fancier type of cylinder. They incorporate a flared width, or step, for variety. A stepped head is a cylinder fused with a funnel shape.
Multistepped: Another cylindrical head, multi-stepped cylinder track heads have many levels of flared widths. These steps give a dramatic look.
Wireback: Often a stepped head light, these lights have a partially open back. The portion around the light is a wire mesh or metal with tiny holes. The bulb is exposed. They're well ventilated compared to other track light heads.
Gimbal: A gimbal track head is suspended in a ring or horseshoe-shaped bracket. The head rotates up to 350 degrees, depending on the fixture.
Clasp-Fingered: A striking option, a clasp-fingered track head has a unique feature. Instead of a solid piece, multiple prongs curl around the bulb like the fingers of a hand.
Barn Door: Straight off the lighting grid of a theatre, these lights are surrounded by four rectangular panels. They fan out like flower petals. Adjust the panels to whittle the beam of light.
Pendants: Although it's not a traditional choice, you can hang certain pendant lights on your track. Try mixing in small pendants with complementary track heads. If you keep the shapes similar, your lights will match.
Track Lighting Power Options and Tips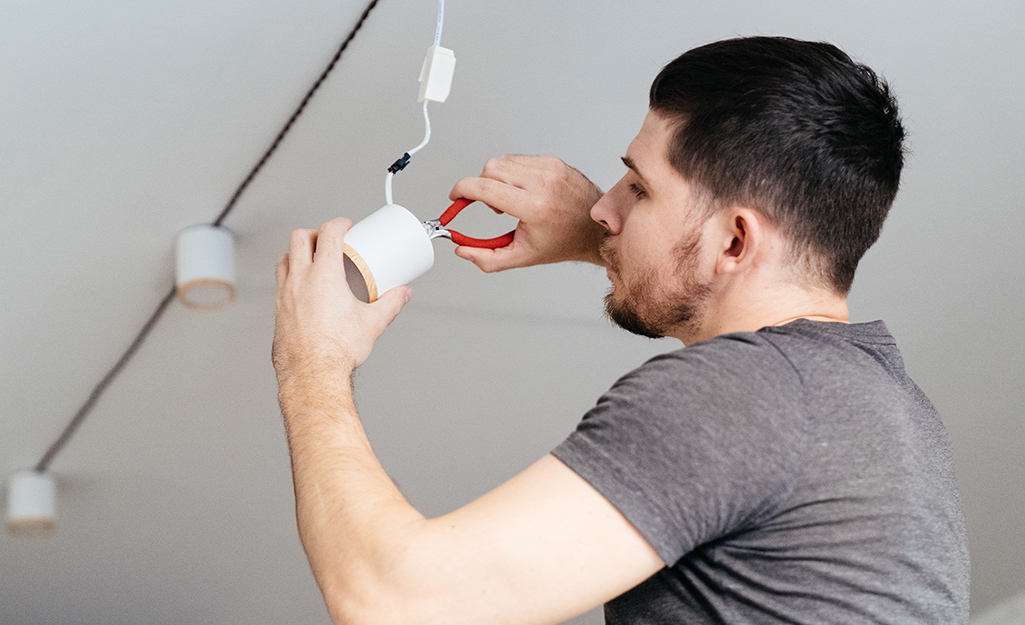 Most track lights need to be hard wired into your home's electric. For renters and frequent decorators, try a track light that plugs into an electrical outlet. A few are even battery powered.
Track lights come in single or dual circuits. You can turn off only selected lights if you have a two-circuit fixture. Single circuit track lights control all the lights together. Keep these tips in mind with your track lighting setup:
Junction boxes may require professional installation.
Use a floating-canopy connector with a junction box for power along the track's length.
Use a live-end connector with a junction box if you need power at the end of the track.
Cord-and-plug connectors allow you to connect to a standard outlet.
The number of track light heads is determined by the total wattage of the fixtures. Stay 20 percent below the total wattage for the circuit to avoid overloading it.
Low-voltage track lights use a transformer to convert the voltage down to a tenth of what it was. Go from 120 volts to 12 volts to use smaller bulbs for a different look. 
Track Lighting Bulb Types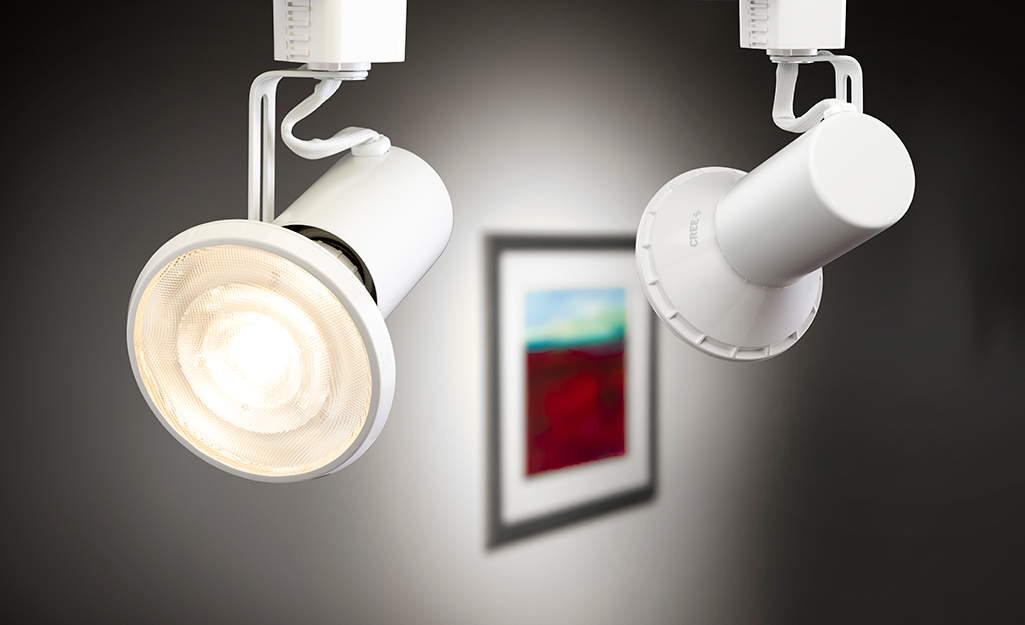 When it comes to bulb types, you've got several options. Check that the type of bulb you want is compatible with the track head. Not every bulb works with every type of track lighting. 
If you're using LEDs in fixtures made for halogen or incandescents, check the voltage and wattage. The bulb bases must match so the LED fits snugly. Make sure that they're compatible, as you don't want the risk of an electrical fire. Contact the manufacturer if necessary to confirm.
Track lighting bulbs include four basic types:
Specialty Features for Track Lighting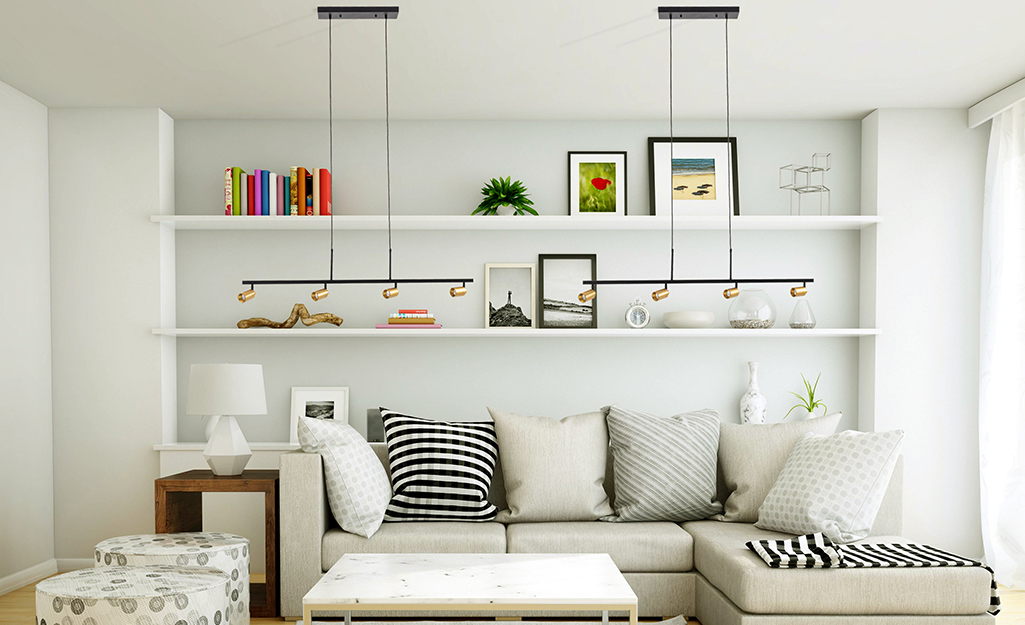 Depending on the dimmer brand and model, you may be able to customize your track lighting even further:
Dimmer switches allow you to adjust the level of light. These are excellent in any room, but especially useful in kitchens, living rooms and bedrooms. Ease into the day or prepare for bed by setting the perfect level of light.
Track suspension kits are for rooms with vaulted, lofted or high ceilings. They allow you to bring the light source closer to the ground. These kits include cables and stems that extend from the ceiling. Track suspension kits safely support your track lighting.
Track lighting kits are an easy way to make sure all the parts are compatible. There's no need to worry if the track heads fit the chosen track type. Find the kit that has the fixture you want. Many even come with the light bulbs you need. Be sure to check the measurements and installation requirements. If you're swapping out the bulbs, assure they're within the voltage limit.
Track connectors let you create the perfect length of curved and/or straight track. When you have a long area that needs lighting or a unique shape in the ceiling, highlight it by connecting multiple tracks. Find the best configuration for your space with this customizing option.
Lenses can alter the shape and color of the light. Create unique effects to accent a painting, sculpture or area of the room.
Knowing the types of track lighting means you can find the right one for your home. Ready to start shopping? Use The Home Depot Mobile App to locate products and check inventory. We'll take you to the exact aisle and bay.
Explore More on homedepot.com