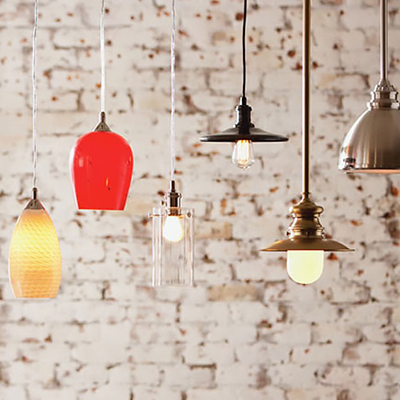 Lighting is one of the most important elements of interior design. Well-planned lighting designs improve a home's functionality while creating a welcoming ambiance. Yet different rooms have different lighting needs. Whether you're looking for cutting-edge contemporary light fixtures, transitional modern light fixtures or something more traditional, you can find stylish and affordable lighting solutions for any room at The Home Depot.
Kitchen
This busy high-traffic area is as much a cooking space as it is a gathering place for the family, so address varied needs with multiple kitchen lighting solutions. For overall room illumination, install a dimmer switch to instantly control brightness and ambiance. For more targeted lighting, opt for under-cabinet and recessed lighting fixtures over work areas. For both task and accenting lighting, choose a track light fixture. The flexible design of track lighting makes it easy to angle and spotlight specific areas of your kitchen.
Bathroom
Refresh your bathroom with a wide selection of contemporary light fixtures from The Home Depot. Keep in mind that ambient and task-oriented bathroom light fixtures should be safety rated for damp or wet areas. For the best illumination over your mirror, opt for track lighting; lights set in strips minimize shadows by providing even, consistent illumination. For a warm glow that reduces glare, choose fixtures with frosted-glass designs. Recessed lighting opens up small bathrooms and enhances safety in darker spaces such as the shower.
Living room
Whether it's a relaxing oasis or the social hub of your home, you can dress up your living room with decorative light fixtures. Track lighting is a great choice for highlighting the room's focal points, such as artwork or furniture. Table and floor lamps are best for reading and other tasks that require direct light. Installing a dimmer switch is a smart way to control your living room's ambience from day to night.
Dining room
More than just somewhere to eat, the dining room is an ideal space to entertain friends and family. A dimmable statement light is a great way to set the mood here. For added drama, consider installing a hanging fixture such as a chandelier.
Bedroom
Add elegance to a small bedroom with decorative yet discreet flush-mount ceiling fixtures. For larger bedrooms, opt for stylish pendant lights. Bedside-table lamps are a practical and attractive lighting option, especially if you like to read before going to sleep.
Tip: Make the most of your new lighting by swapping incandescent bulbs for money-saving, energy-efficient LED light bulbs.
Ready to upgrade your home lighting? Find the products and know-how you need at The Home Depot.
Explore More on homedepot.com