Project Guide
Garage Storage and Organization Solutions
Time Required:

Under 2 hours

Difficulty:

Beginner
---
From automotive tools and sports gear to home improvement hardware and recycling bins and boxes, garages have to store a wide variety of household items. This guide will provide garage organization ideas, storage options and a few other tips to help you maximize your garage storage space.
Garages have to store so many different kinds of equipment, including gardening and lawn care tools, recycling bins, automotive tools, cleaning supplies, home improvement tools and materials, sports gear and general hardware, not to mention your car. This guide will detail the specific types of shelving and cabinets you need to regain control of an overwhelmed garage, along with instruction on how to install them properly.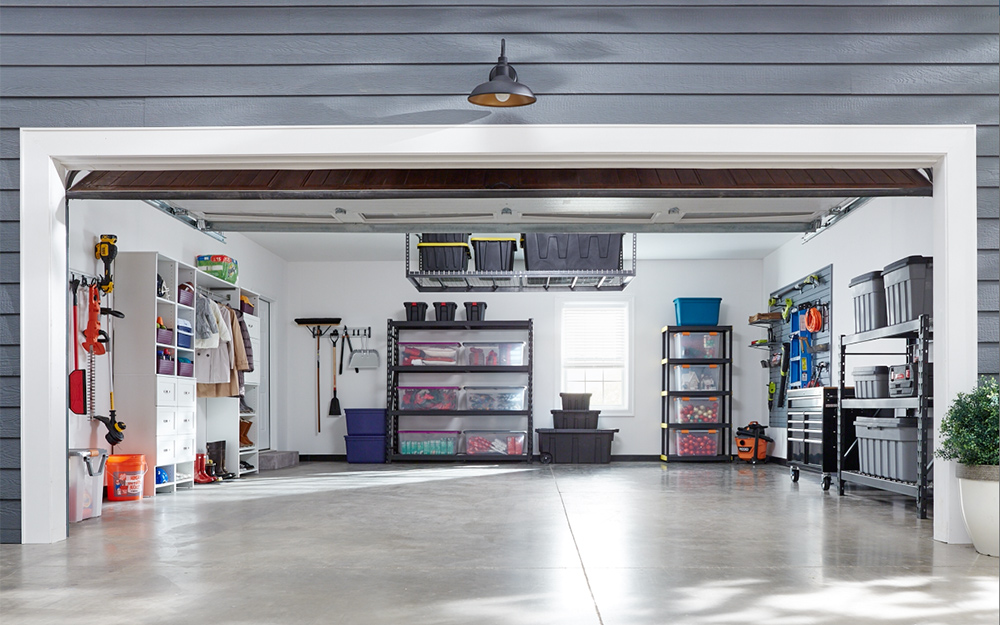 Before you begin installing your garage storage systems, it's important to clear out the area and sort items. This will make it easy for you envision a garage design that works for your space as well as sort what needs to be saved, donated or thrown away.
As you reorganize your garage, don't forget to pay attention to the flooring. Storing items in shelves and cabinets will expose more of the floor. Installing tile flooring or foam mats and strategically placing doormats around entryways can help you keep things neat and tidy.
Once the area is cleared out, you can begin implementing the following ideas and storage items to create zones such as a trash and recycling area, a work station and more.
Tip: Add casters to storage options to allow easy movement of cabinets susceptible to your flooring.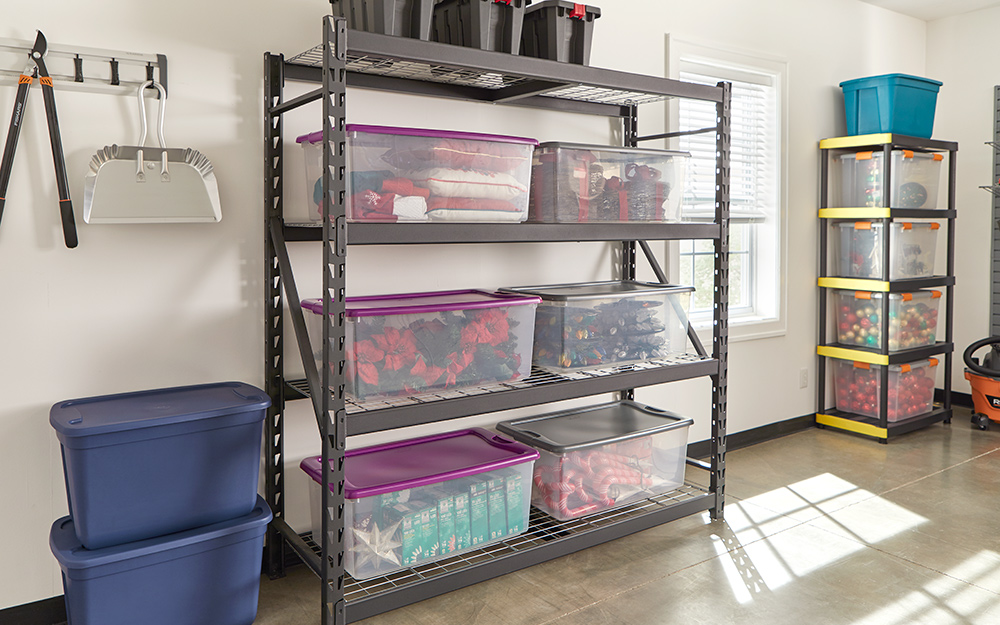 It can be tricky knowing where to begin with garage organization. Think off the wall, literally.
Wall-mounted cabinets offer smaller amounts of storage space to hold your supplies, but they take advantage of often-wasted wall space. You will likely need a friend to help you safely install wall cabinets.
Freestanding cabinets placed against the wall offer a lot of storage space and don't require any installation, but they do require floor space. Don't forget to allow space to fully open the doors.
Store frequently used items in these accessible areas, and seasonal items such as holiday decorations or camping equipment in higher, more remote spaces or wall shelving units. Totes and baskets, hooks, racks and wall panels provide other storage options.
Open shelving units like sturdy wire storage racks with adjustable shelves provide easy access for frequently used items like garden tools, car supplies and sports gear. Durable wire racks and wood cabinets make a nice combination of open and closed wall storage. Overall, these are inexpensive options that work well in combination with multiple racks as well as with other solutions like wall hooks and garage cabinets mentioned further below.
Tip: A wall-mounted towel holder and soap dispenser will come in handy if you do a lot of work in the garage.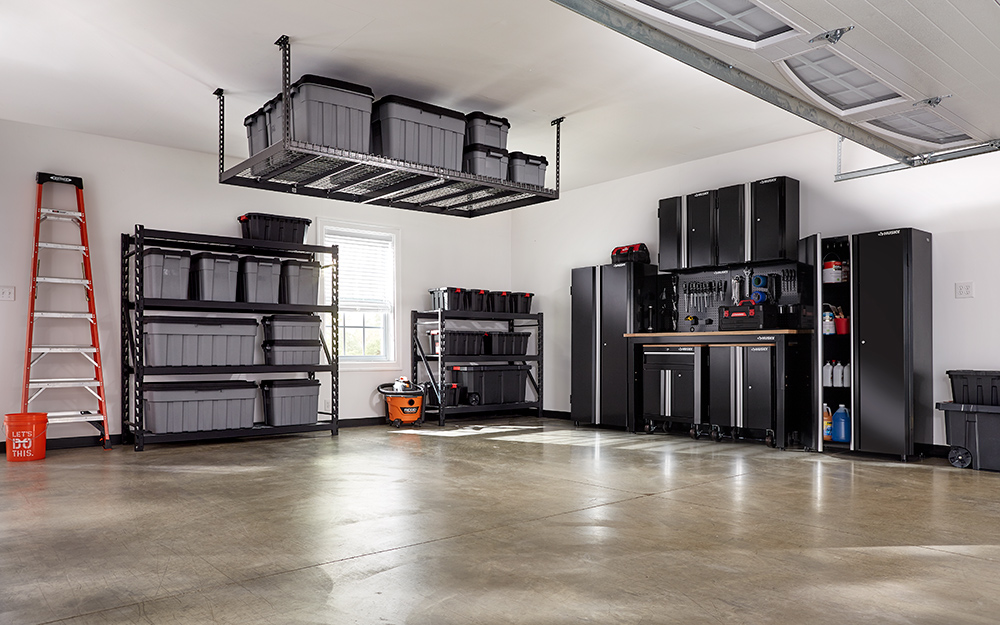 Shelves can be freestanding units, anchored to the wall, or attached to the ceiling to maximize every available inch of potential storage.
Easy to assemble and capable of holding heavy weight, overhead shelving can often free up floor space to create one large, custom garage storage system that's out of plain sight on an everyday basis.
Overhead storage racks attach to the ceiling, making use of otherwise wasted space while providing a safe, dry area for storing items like luggage, seasonal decor and bulkier items inside boxes or storage bins. Racks can be configured to hold specific items or for more general use. Bike racks lift bikes up off the floor to get them out of the way. Racks designed to hold sports equipment can keep skis, bats, balls, cleats and more all in one spot. Corner racks help save space.
Choose from shelving made from different materials such as steel, plastic, or wood depending upon the desired strength. Check the manufacturer's instructions for the weight limit of each shelving system.
Tip: While you may not have considered the upper walls and ceiling of your garage for storage, you can easily reach items stored there with ladders, pulleys and hydraulic lifts.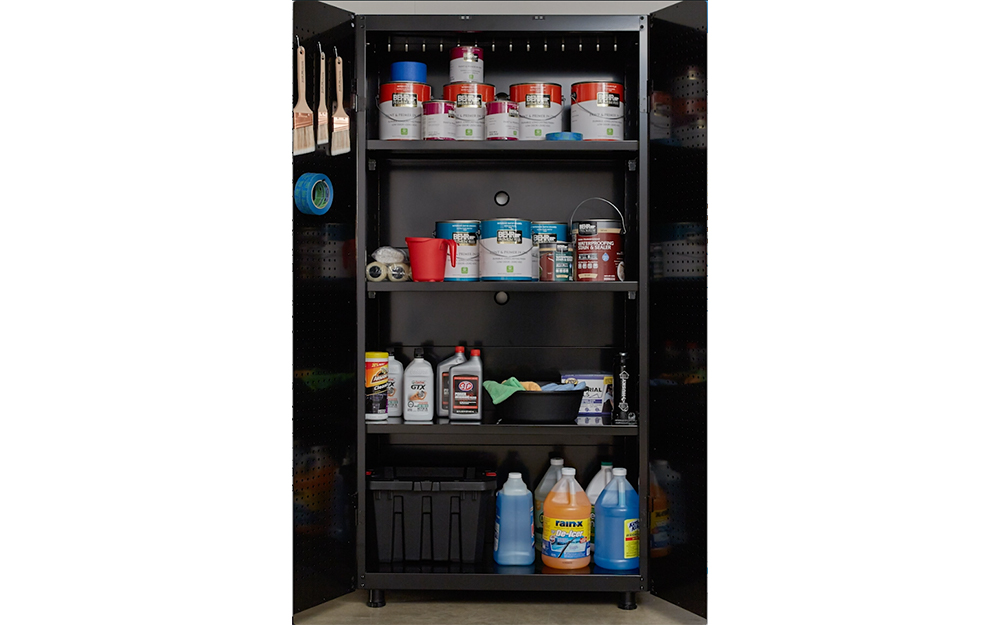 One of the most useful things about storage cabinets are the locks available to keep dangerous items like paint and chemicals out of the reach of children. Cabinets also make it easy to keep the garage looking tidy by hiding lawn tools, garden supplies and other equipment out of sight but easily accessible in one central unit. Many of these cabinets will also include adjustable shelves and drawers to keep hardware and tools organized.
Consider the weight of what you will store in your cabinets. Make sure your cabinet can hold that weight. Certain cabinets feature zero-tolerance doors that allow you to fit them into tighter spaces, hanger hooks for extra storage and removable or adjustable shelving for maximum versatility.
Tip: If you have a large family or like to buy in bulk, putting extra refrigerators and freezers in your garage can provide the space you need to keep extra meat, juice and more on hand. Place the fridge or freezer away from windows to avoid sunlight shining directly on them and decreasing efficiency.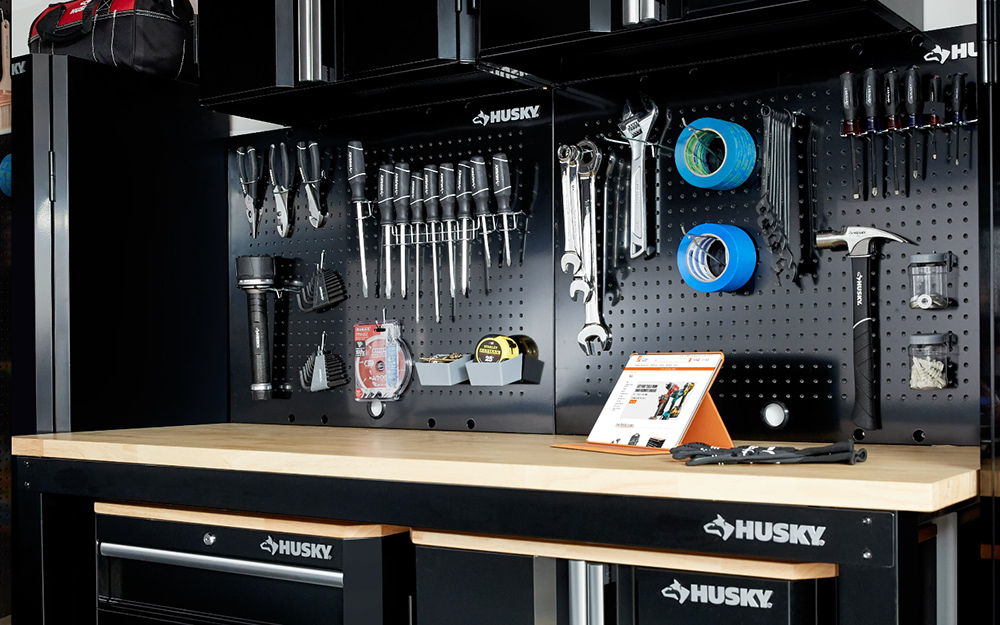 Hang a peg board to turn a wall into a vertical shelf. They also provide a contrast color to your walls that makes the tools more visible while adding a large splash of color.
When hanging peg boards on drywall, install 1-inch furring strips first so there's room behind the board for the foot of the hooks.
Once the peg board is hung, attach storage accessories like hooks, tool holders and organizers to hang frequently used essentials such as hoses, extension cords, hand tools and more. Versatile and easy to install, most peg boards can be cut to size so you can plan out a vertical storage system that truly works for your garage space.
Tip: If you like the benefits of a pegboard but need more room or desire to store larger tools such as shovels or power drills, consider installing slatwall panels or a track system.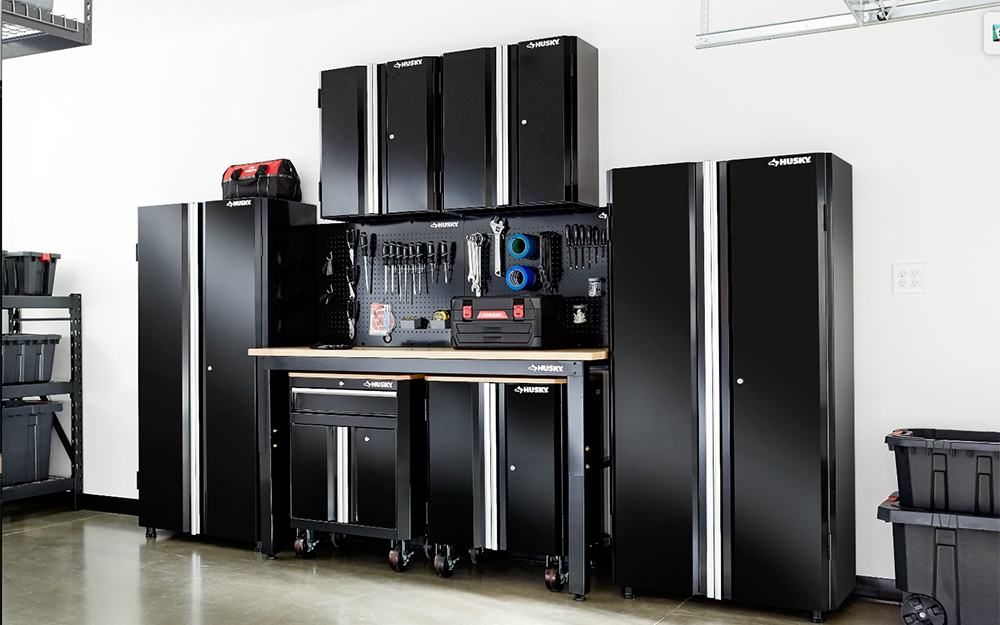 Give tools and hardware such as wrenches, screws and car supplies that you use time and time again an organized space to call home with a tool chest. Available in a wide variety of sizes and designs, tool chests feature multiple drawers that can be locked for safety as well as wheels for portability. Additionally, many tool chests feature shelving and work surfaces so you have space to work on your projects.
Stack and store tools and supplies using a heavy-duty steel cabinet system.
For drawer units, look for those that ride on ball-bearing glides.
If you don't want to commit to a storage layout, invest in cabinets with wheels so you can move them to fit your needs depending on each project.
Choose cabinets made from materials of different strengths, including aluminum, plastic, steel and more. If you frequently use your storage units and are often in and out of your garage, you may want cabinets with higher durability.
Additional Garage Storage Ideas to Consider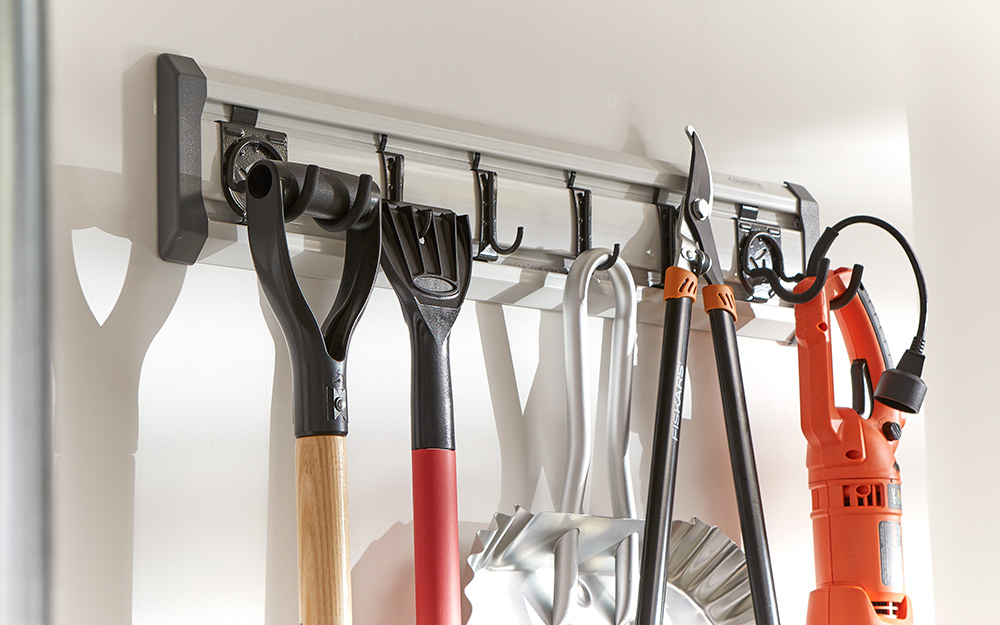 Bins and Baskets
Once you have installed your garage storage systems, you will need bins and baskets to keep your supplies organized. Boxes tend to weather over time, while plastic bins, tubs and baskets offer durability. Bins and baskets are used to store a variety of items, including toys, seasonal decorations, camping gear and more. Typically made from plastic materials. Lids help protect items from dust and moisture May hang on hooks or wall panels Look for stackable units to maximize space.
Wall Hooks
Keep bikes off the garage floor by adding wall hooks they can easily hang from. Hooks not only provide a spot for bikes but are also useful for keeping ladders and sports gear like baseball gloves in an organized area. Smaller hooks can hang tools, cords, keys and more. Larger hooks can hang bikes and other equipment. Typically constructed from metal or plastic-coated metal. Used to hang objects from the wall. Types include cradle, scoop, tool, twin, utility and more.
Work Bench
If you often take on a weekend project, a workbench can help streamline the job. Many designs include adjustable legs so you can sit or stand while working as well as shelving. Additionally, the open area beneath most units is spacious enough to use in combination with storage cabinets. Work benches offer storage through cabinets and legs, pegboard space, back walls with hooks and even lighting. They offer one of the most versatile garage storage solutions.