Buying Guide
Best Storage Containers for Your Home
If you're looking for a place to store those holiday decorations, guest linens, baseball card collections and more, you need storage containers that are right for the job. Create home storage solutions to fit your exact needs by choosing from a host of different container options in a wide range of styles and materials. This guide will help you select the right totes, cubes, boxes, bins and other storage devices that help reduce clutter and improve organization.

Storage Solution Features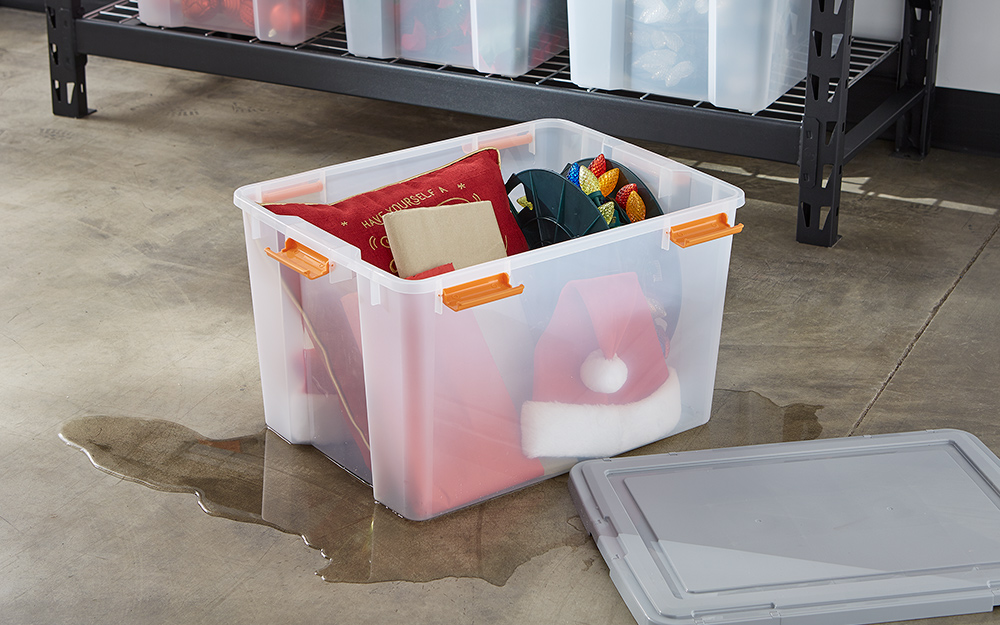 Storage container types can typically be divided into open-top containers and closed-top containers. Among the open top container options, you'll find a wide cross-section of bins, crates, and tubs for various purposes. Open-top containers are usually a good choice for items that will be used regularly, requiring easy access and the ability to see at a glance what the container holds.

Closed-top containers, typically boxes and storage totes, are best for long-term storage, particularly in areas that are seldom accessed or may have climate issues such as an attic or garage. In smaller sizes, closed-top containers are also good for collections of items that need to be easily portable, such as craft or first aid supplies.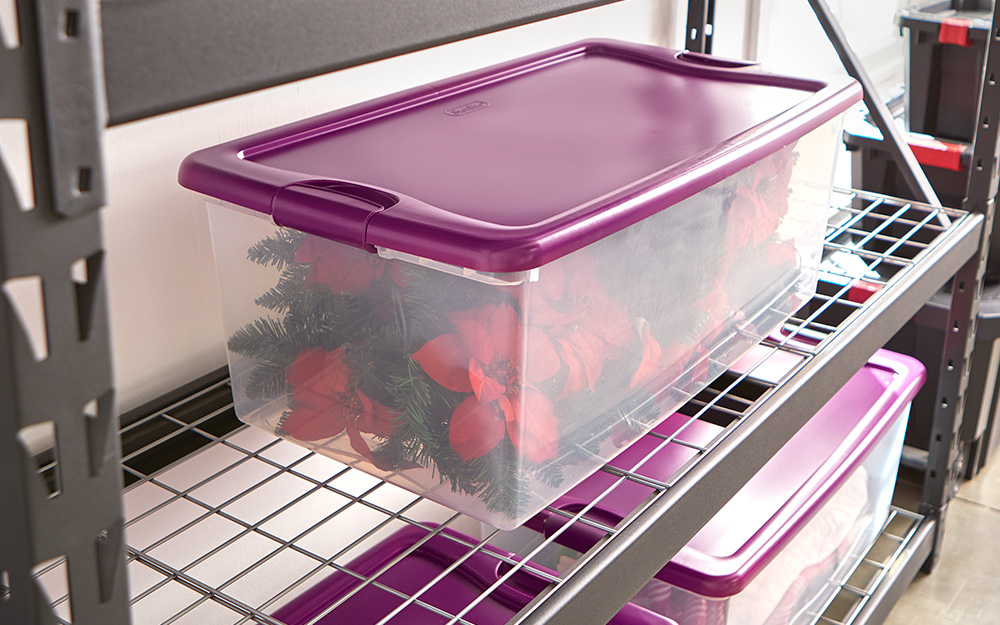 Storage bins come in many different designs and colors for maximum versatility. If you're storing items in a space with a hard floor surface, consider using rolling storage bins for ease of movement. See below for a list of bin types and their accompanying features:
Attached lid
Features a hinged lid that opens and closes
Provides protection and keeps out dust
Comes in multiple sizes for a range of applications
Bottom hinged
Features a top lid and hinges on the bottom that allow items to be removed from the top or bottom
Provides convenient access from two directions
Useful for storing heavy objects
Multiple drawers
Features several sliding drawers
Provides storage space for a number of items
Perfect for craft or hobby storage
Nestable
A group of different-sized bins that can fit inside one another
Provides multiple storage bins
Takes up less space when not in use
Stackable
Designed to be used in conjunction with other bins by allowing for vertical stacking
Allows for more efficient use of space
Comes in multiple sizes for a range of applications
May lock into place with other containers
Under bed
Features a long, shallow body designed for storing underneath beds and other furniture
Allows for more efficient use of space
Ideal for storing out-of-season clothing, shoes and accessories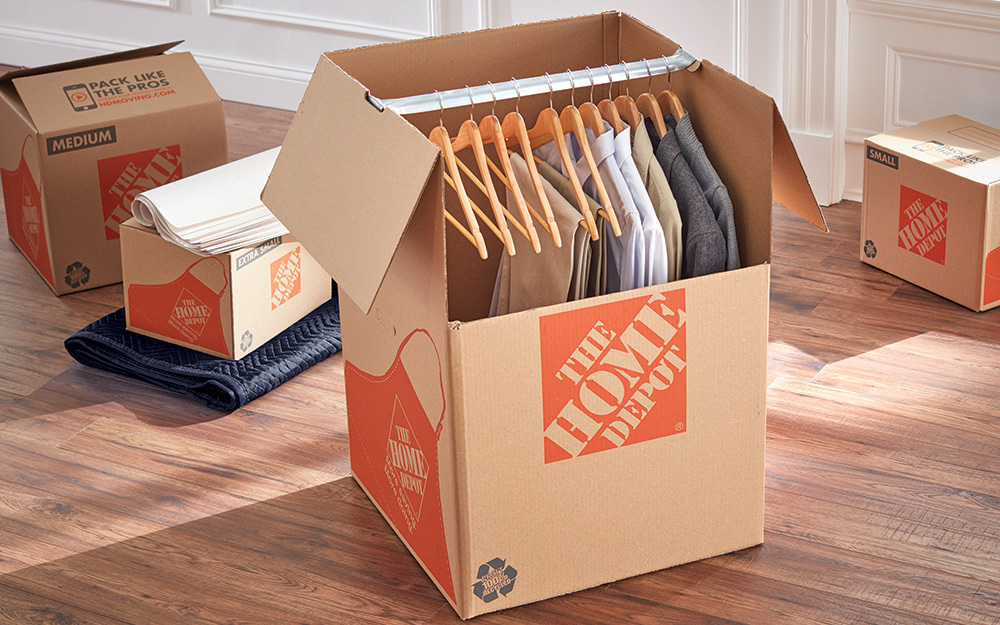 Corrugated cardboard boxes come in an wide range of sizes and are easy to assemble. While you won't want to use them in areas that are susceptible to dampness, they are perfect for moving or storing items in clean, dry locations.

If you're using them to transport items during a move, use a tape gun to make sealing them quick and easy.
Acid-free boxes are ideal for storing delicate linens over long periods of time.
Label or mark boxes so you don't always have to open them to know what's inside.
If you need lots of boxes, purchase unassembled ones for easier transport.
Boxes can be broken down when not in use for easier storage.
Boxes with dividers make it easier to store small items without getting them mixed up.
Use plastic boxes in areas where moisture or water damage may happen.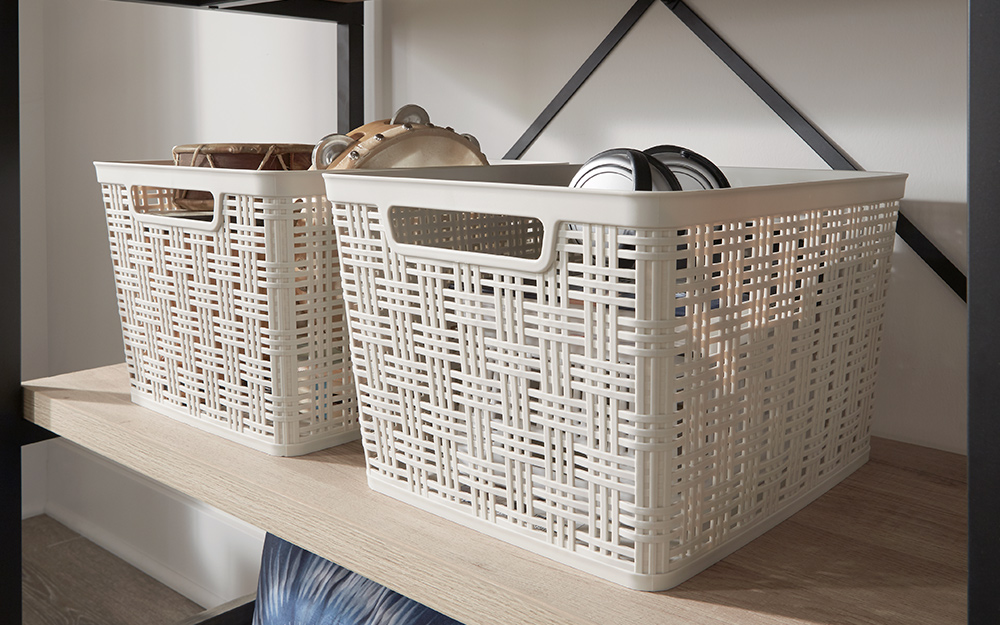 Tubs and buckets can be used both for storage and transportation. They come in different sizes and usually feature handles.

If you are interested in incorporating more style into your storage solutions, baskets provide an easy-to-transport storage solution while also serving to enhance and complement the decor of a room.

Wood crates and milk crates are viable options for storage and have long been used as inexpensive alternatives to bookcases or media shelves. They can be positioned to accommodate different types of storage, and depending on their design, can be used as ottomans when you add a cushion.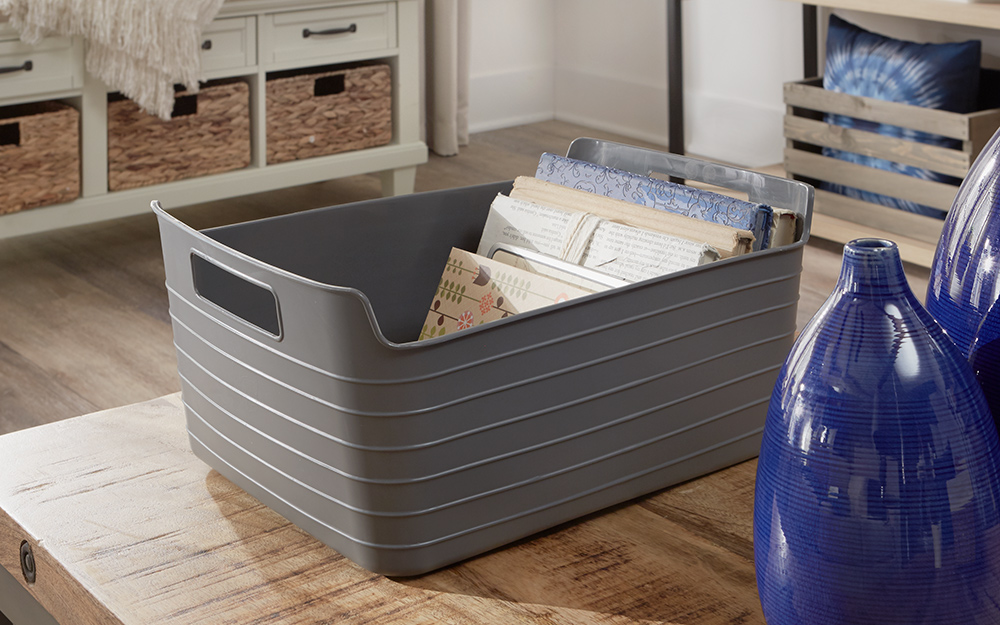 Storage totes are ideal for both storage and transportation. Most are made of plastic and have handles built in so they are lightweight, easy to move and won't scratch or dent surfaces they bump up against. Many come with snap-on lids which help protect the contents from dust.

Stackable storage totes are designed to be easy to store as the lids are slightly recessed and the bottom of the tote fits neatly on top of one placed underneath. While most plastic totes offer some degree of water-resistance, there are styles specifically designed to offer waterproof storage.
The waterproof varieties are usually made from a denser grade of plastic and are designed with waterproof seams, tightly locking lids and gaskets around the rim of the openings. Since they are more expensive than ordinary storage, these are best for important papers, heirlooms or other items that might be difficult to replace if damaged.

Rolling storage and storage drawers with casters can be very useful in garages and other workrooms. These allow you to keep your supplies organized and conveniently at hand.

Storage drums are not commonly used for day-to-day storage, but they can be useful in case of emergency. Drums can be used to hold large amounts of food, water, first aid supplies or other materials.

Chests and trunks are more decorative types of closed storage. They provide ample storage room and are nice enough to display as decor or even incorporate as furnishings.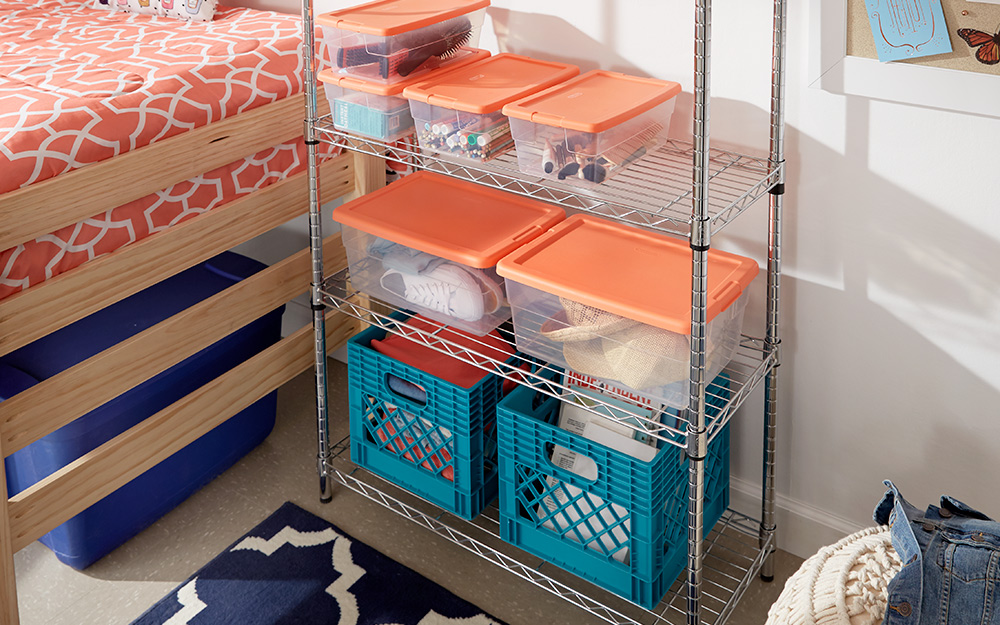 Utilize clear plastic containers so you can instantly identify what's inside without having to open it.
Color-coded storage containers can help you organize more effectively.
Keep in mind the weight of objects you plan to store. If they're heavy, look for reinforced containers that can handle the load.
Use label makers to label or mark boxes so you don't always have to open them to know what's inside. If you choose not to get a label maker, look for boxes and bins that feature slots for inserting a name card.
If you need lots of boxes, purchase unassembled ones for easier transport. Boxes can be broken down when not in use for easier storage.
Damp basements can wreak havoc on boxes and other storage devices. Use plastic boxes in areas where moisture or water damage may happen. Chloride pellets, which are both odorless and nontoxic, absorb excess moisture to help keep boxes dryer.
Cedar blocks or balls will prevent moths from damaging clothes in storage.