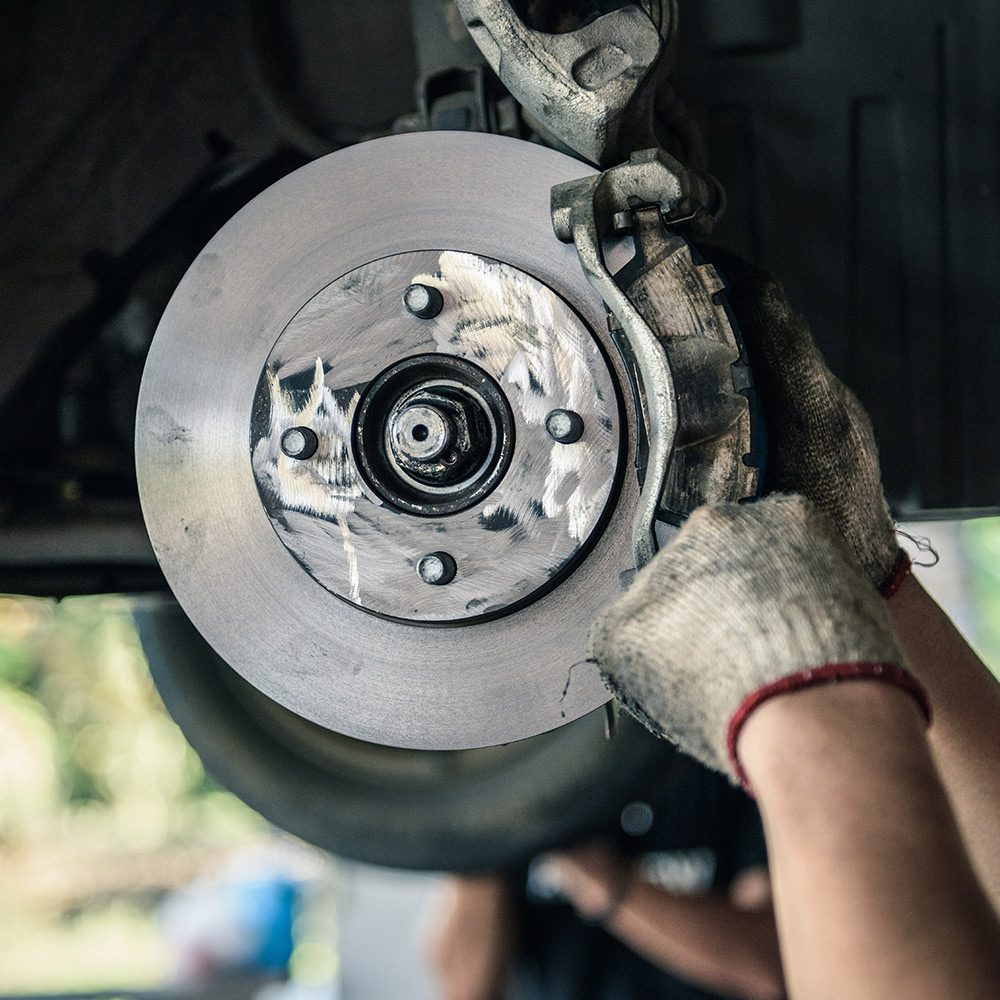 Brake pads serve an important function in your car, helping you slow down and stop your vehicle while you're on the road. Over time, they will wear down and you may notice that slowing or stopping your car isn't as smooth or efficient. In most cases, that means that it's time for a brake pad replacement.
While maintenance routines often vary according to each make and model, you can tackle this task on your own car with the right tools. This guide will explain how to change brake pads. 
Note: In most cases, brake pads and brake rotors should be changed at the same time. These instructions will focus on brake pads and can be applied to ceramic or traditional semi-metallic varieties on most cars.
1
Determine If Your Brake Pads Need Changing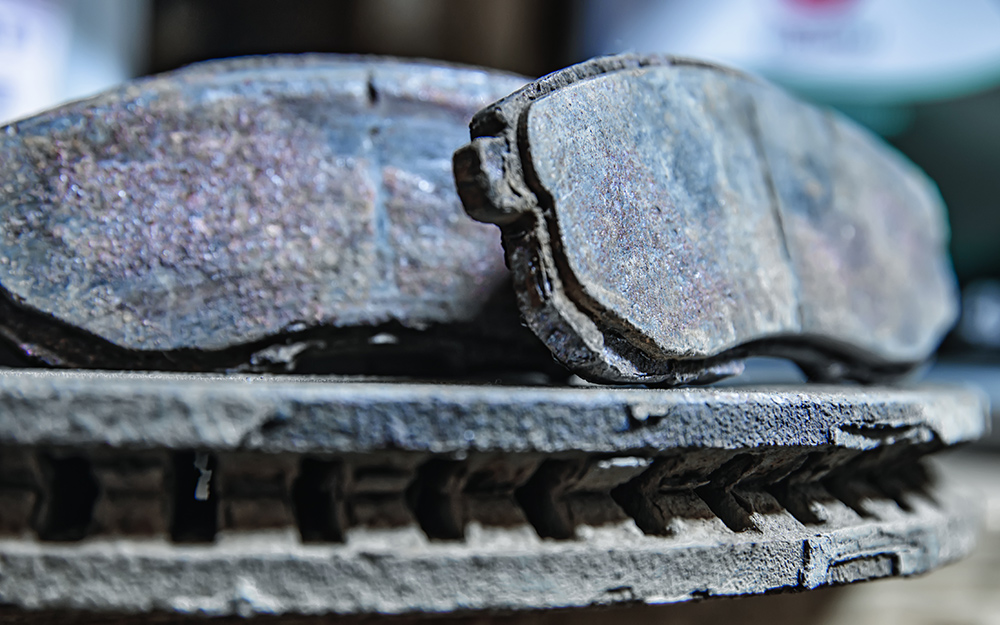 Brake pads, depending on your vehicle and your driving habits, need to be changed every 25,000 to 75,000 miles. On average, you'll find that many mechanics and car manufacturers recommend you change your brake pads every 50,000 miles.
Have your brake pads checked regularly by your mechanic as part of your routine inspection. If you prefer to do your own vehicle check-ups, remember to check your brake pads and see if they look worn. Brake pads help keep your vehicle safe, so if you spot signs of significant wear, replace them as soon as possible. 
Signs of wear include squealing, squeaking and grinding noises. If your car pulls to one side more than the other when tapping the brake pedal, or if you notice a bouncing sensation when coming to a stop, it's likely time for a replacement.
Changing out brake pads can improve your car's performance, reliability and safety. If you're comfortable with doing your own car maintenance, you can take on replacing your own brake pads as a DIY project. As with all auto repairs or upgrades, consult your owner's manual for specific instructions or special information before you begin.
2
Loosen the Lug Nuts and Position the Car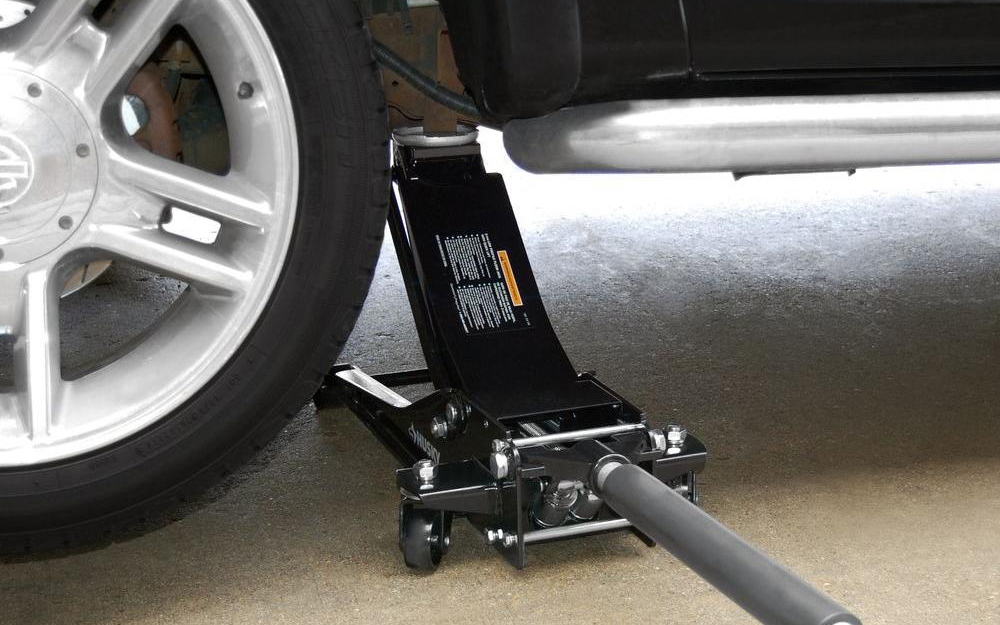 Loosen the lug nuts on the appropriate tire using your tire iron. Do this before you lift the car on your jack.
Position the floor jack beneath your car where it is safe to do so. Check your owner's manual if you're unsure of how to do this. Use the jack to raise your vehicle high enough for a jack stand to fit in place.
Position the jack stand to support the weight of your vehicle, then remove the jack from beneath your car.
3
Remove the Lug Nuts and Caliper Bolts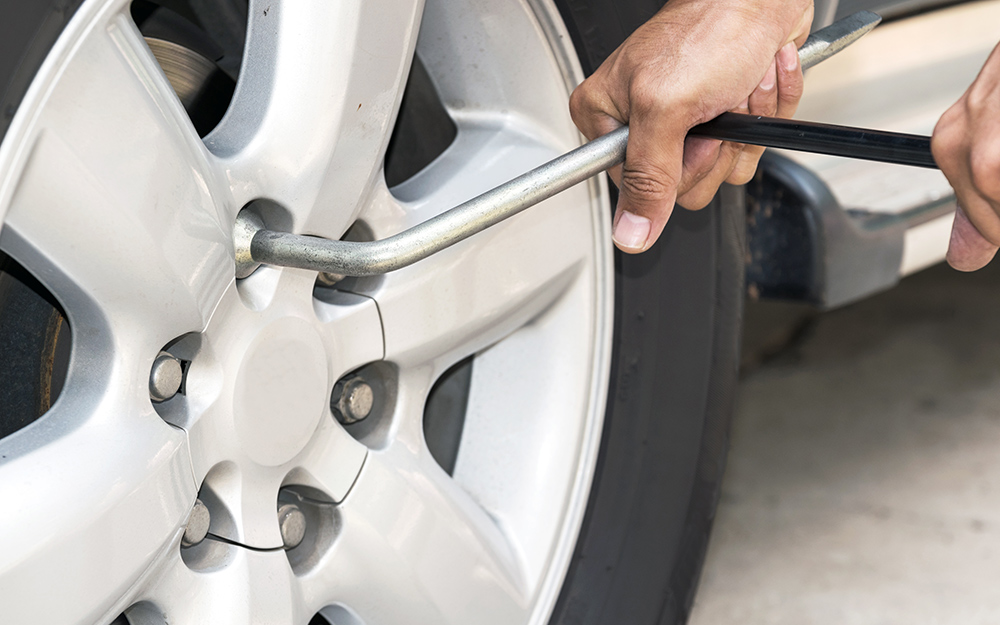 Remove the lug nuts from your tire. 
Set them aside and remove the tire, putting it safely out of your way. The brake caliper assembly and rotor should now be visible.
Locate the bolts on the interior side of the caliper assembly, and use a ratchet and socket set to remove them. 
Remove the caliper assembly, placing it on top of your rotor. 
Keep the brake line firmly connected.
4
Remove the Old Brake Pads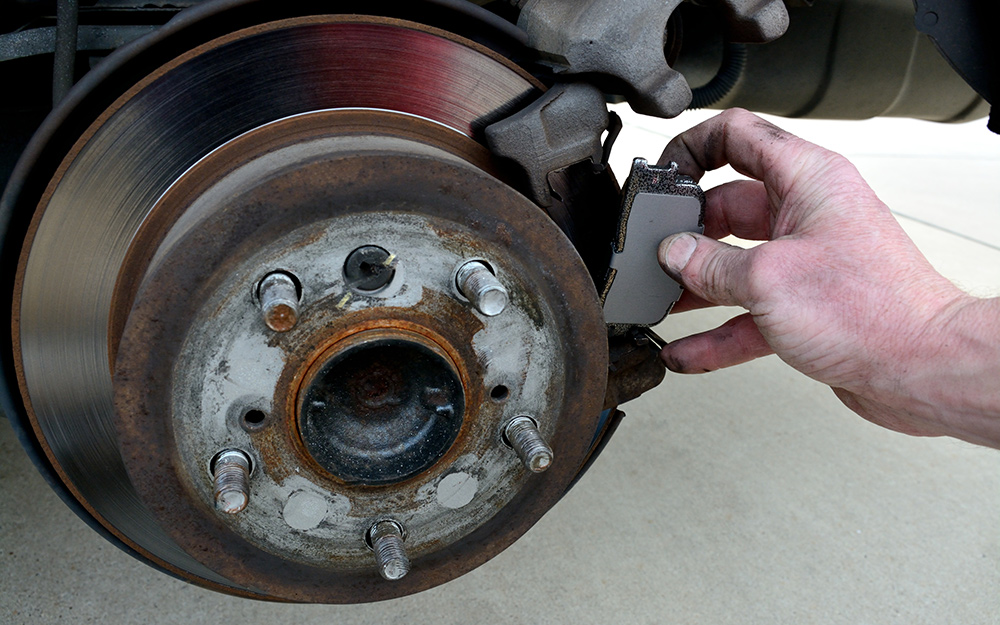 Remove the brake pads from both sides of your brake rotor. Note the orientation to make installing the new pads easier. 
Check to see if the clips that hold them in place are damaged. If they are, use the clips that come with your new brake pads or seek out other replacements before installing new brake pads. 
5
Prepare and Install the New Brake Pads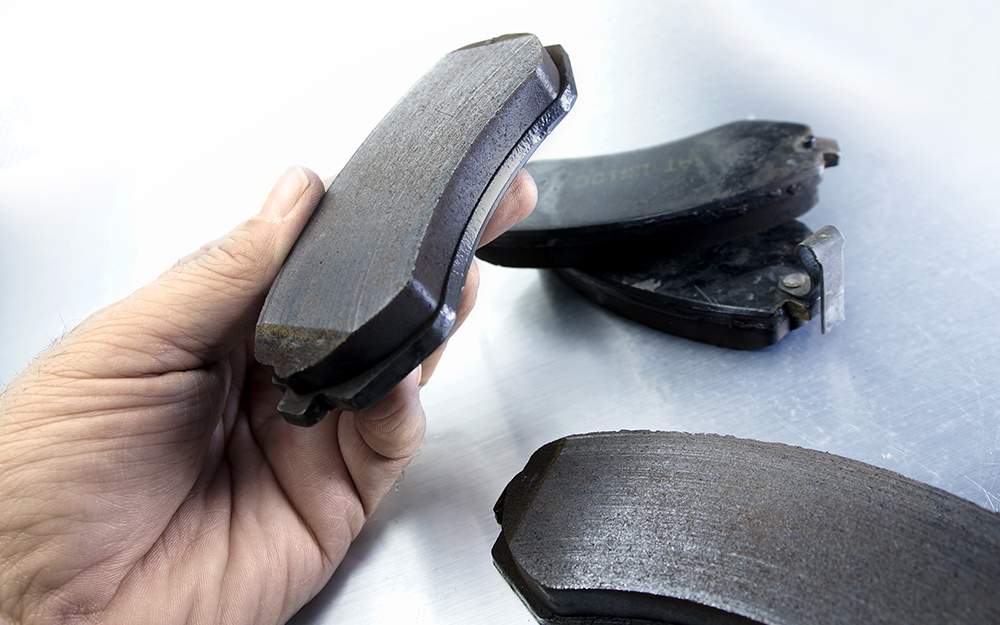 Apply brake grease to the metal plates on the backs of your new brake pads. A dime-sized amount is enough.
Install the new brake pads. They should be placed in the same position as your old ones. 
As previously mentioned, make sure to double-check the orientation before brake pad installation and consult your owner's manual if you need more specific guidance.
Tip: Some brake pads need to be cleaned and lubricated before installation. Use the appropriate brake cleaner or fluid as outlined by the manufacturer.
6
Adjust the Caliper Assembly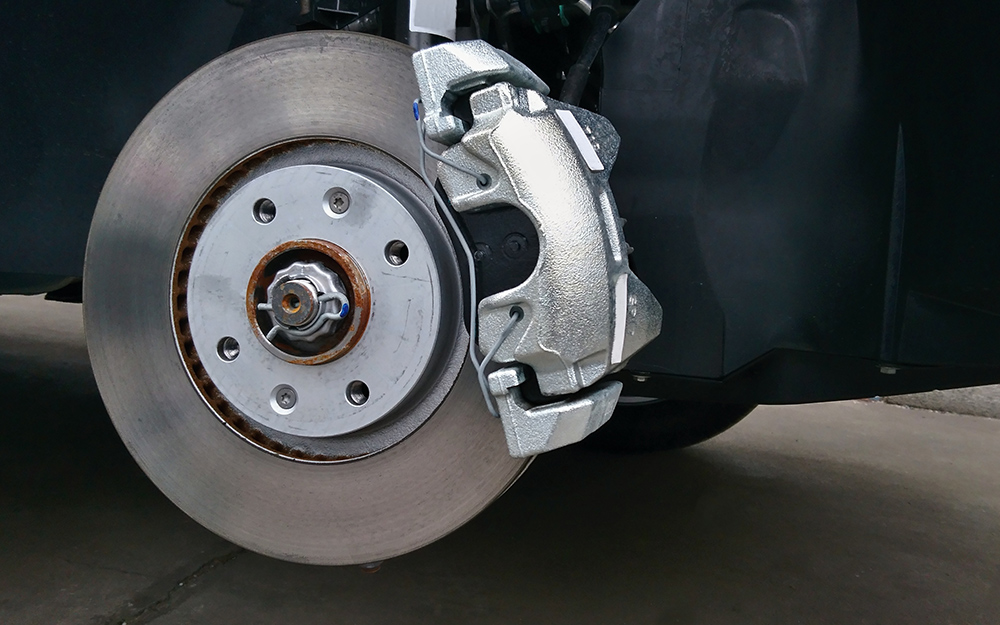 Adjust the caliper assembly to fit your new brake pads. Do this by putting one of the old brake pads inside the caliper assembly. 
Position it against the circular piston and use the brake tool to tighten it against the old brake pad until it creates a secure, firm fit. This should allow the caliper assembly to fit over your newly installed brake pads.
Put the caliper assembly back in place and tighten the bolts using your hands. Use your socket wrench to finish the job.
7
Re-Install the Tires and Lower the Car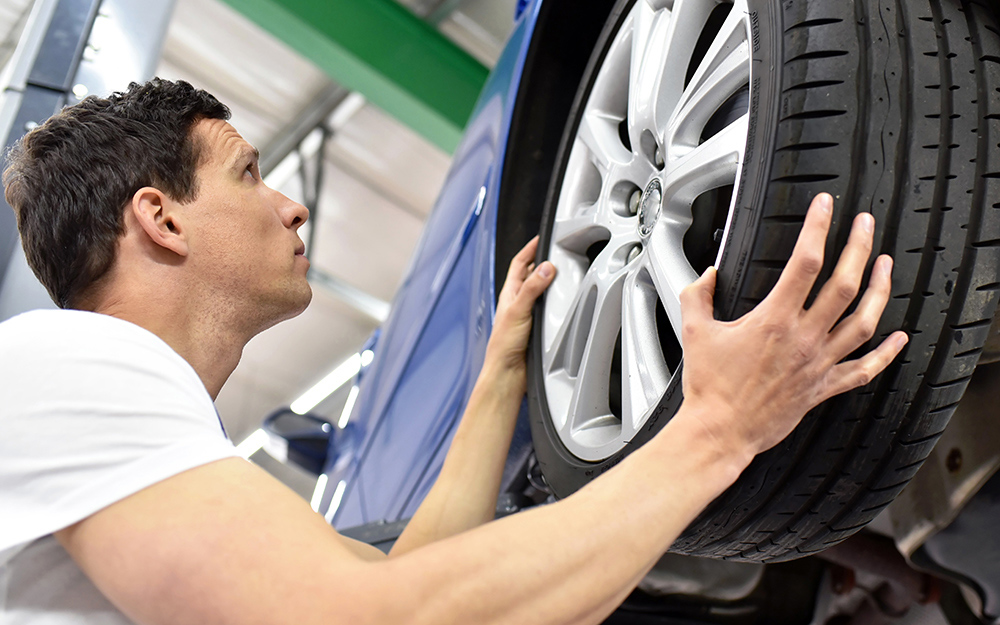 Put your tire back on, tightening the lug nuts by hand. 
Re-insert the jack and lift your car until you can easily remove the jack stand.
Lower your car back to the ground and remove the jack. 
Use the tire iron to secure your lug nuts in place before operating your vehicle.
Explore More on homedepot.com