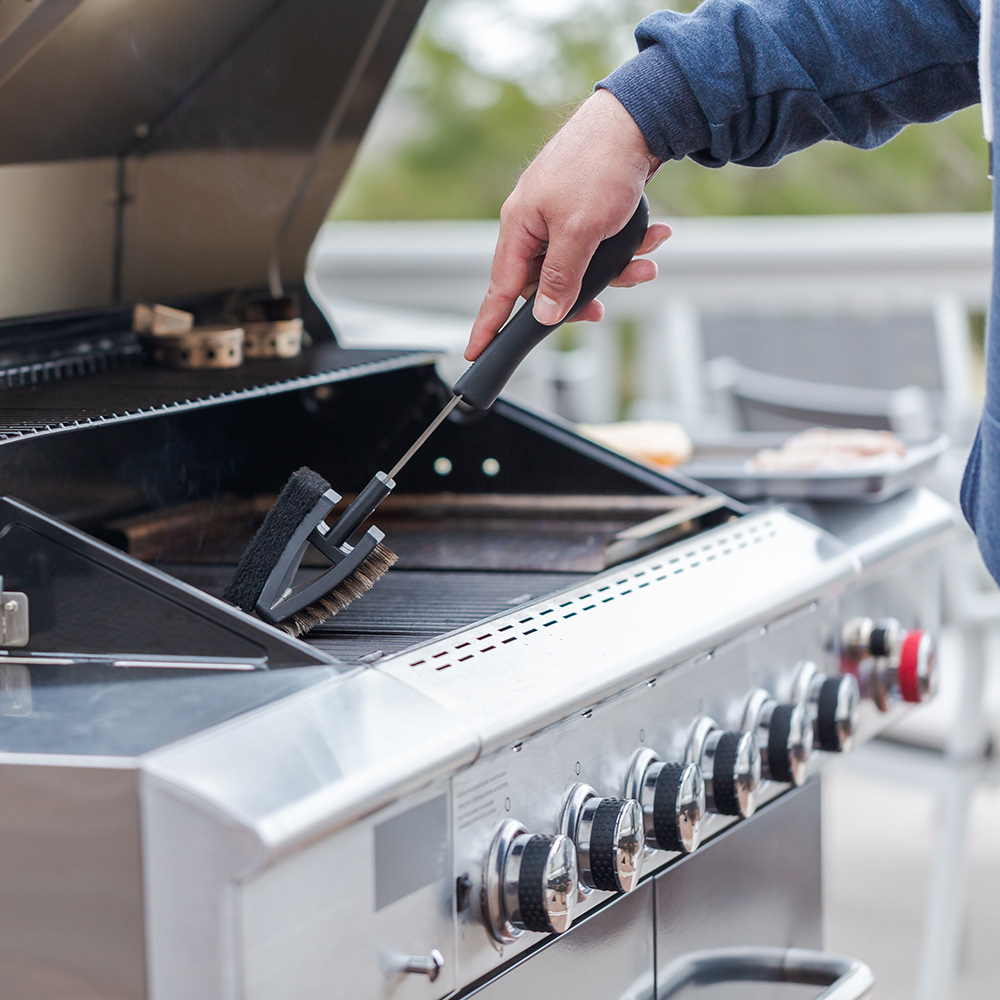 There's nothing quite like a home-grilled meal, prepared in your own backyard. However, the more you grill, the more you need to clean and maintain your grill for the best performance. Keep your grills in tip-top shape throughout the grilling seasons. Follow these basic steps below for the best way to clean a grill. Read on to learn how to clean a grill.
1
How to Clean a Charcoal Grill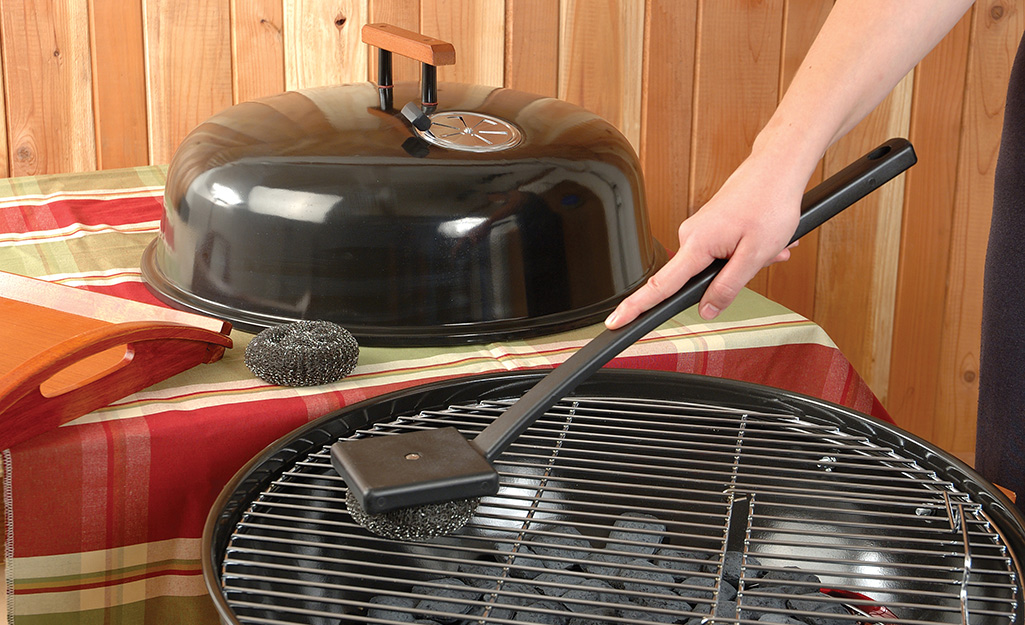 Out of the many different types of grills, the varieties that heat using charcoal require the most cleaning. Keep charcoal grills in peak condition by cleaning them during, before and after grill season. Here's how.
Charcoal ash gathers at the bottom of the grill every time it's used. Built-up ash can block vents in the bottom of the grill. This will make it difficult to control cooking temperature and increase fire risks.   
Once the charcoal has cooled, remove the bricks and brush out the ash.  
Cleaning grill grates is best done with a long-handled, stiff-wire brush. If you don't have a brush, ball up some aluminum foil. Hold it with long-handled tongs.  
Use a rag or folded paper towels to apply vegetable oil to the clean grates. This will help prevent rust and food build-up.  
Clean the inside of the grilling bowl and lid using mild dish soap and a steel brush.  
Keep your charcoal grill in peak condition with regular maintenance before and after grilling season. Follow these cleaning tips at the beginning and end of each grilling season. 
Clean the outside of the lid and bowl with soap and water or grill cleaner. 
Towel dry to prevent rust.  
2
How to Clean a Gas Grill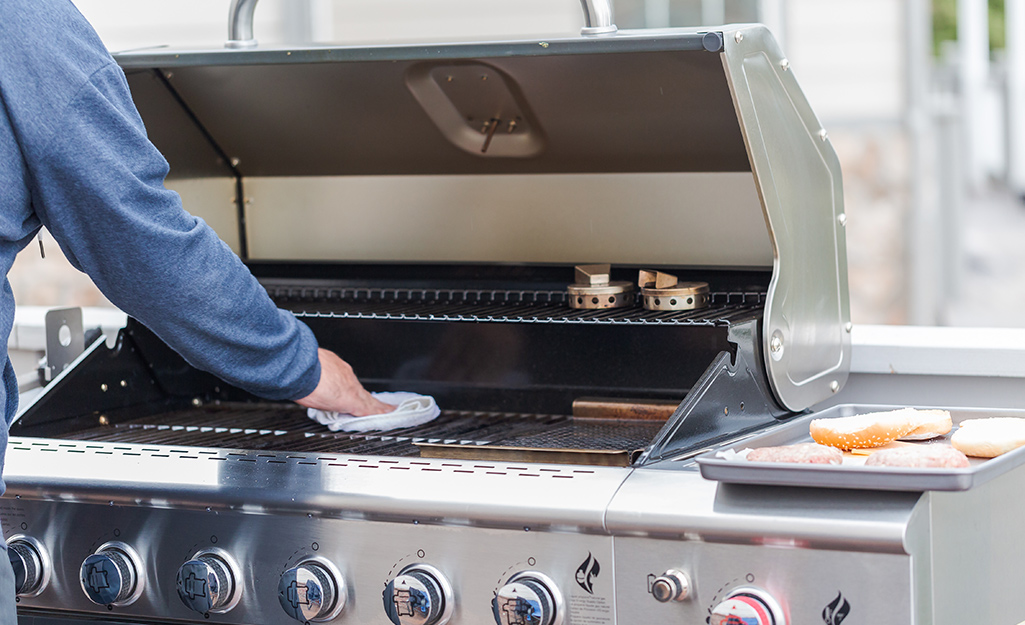 Natural gas or propane-powered gas grills don't require the level of cleaning required of charcoal grills. However, they should be thoroughly cleaned at the beginning and end of each grilling season. Doing this will help remove grease and smoke buildup. 
After each use:  
Cleaning grill grates is easier with a long-handled, stiff-wire brush. 
Use a rag or folded paper towels to apply vegetable oil to the clean grill grates. This will help prevent rust and food build-up. 
Clean the inside of the grilling lid using mild dish soap and a steel brush.  
Remove the heat deflectors located over the burners and wash with dish soap and water. 
Dry thoroughly with a rag.
Before and after each grilling season:  
Pre-heat the grill for 15 minutes on high heat, then turn off the grill. 
Turn the gas off; either on the propane tank or the gas line.  
Clean the grill using a stiff wire brush dipped in water. Do not lean over the grill while cleaning, as this will create plenty of steam.  
For tough grease spots, add dish soap to the water or a grill cleaner.  
Once the surface has cooled, wipe the grate with a damp cloth to remove residue or brush bristles.  
Remove burners from the gas supply line and remove blockages to the burner's gas ports using a dry wire brush. Clean the ports by brushing side-to-side instead of up-and-down, as the vertical motion may push debris into the ports.  
Clean the burner valve with soapy water and run water through the inside of the valve.  
Clean the inside of the grill using a wire brush and warm soapy water and rinse with water. Towel dry the burners and reinstall.  
Refer to the instruction manual for specifics on how to clean the outside of a grill. Certain materials may be sensitive to harsh cleaning agents. For a stainless-steel grill, use a specially formulated stainless-steel BBQ grill cleaner and microfiber cloth. Ceramic, porcelain and painted steel surfaces can be cleaned using soap and water.  
If you have a propane grill, you can store it outside with the propane tank attached. If storing inside, remove the propane tank and keep it outside, away from direct sunlight.  
3
How to Clean a Flat Top Grill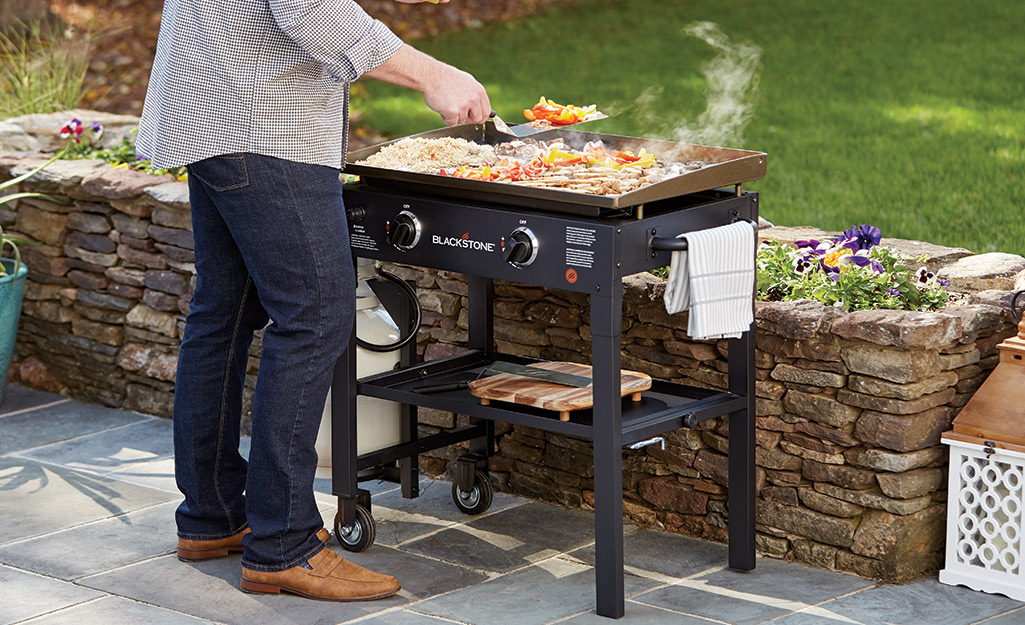 Flat top grills are more commonly used in commercial spaces, but they can be a great addition to your backyard setup. They don't have regular grill grates, so use a different method to clean them. 
Start cleaning the surface while the burner is still hot. Use caution to avoid getting burnt from the steam.
Spray a cleaning solution along the top and let it sit for about 1 minute. You can use dish soap, a degreaser or a homemade baking soda mixture.
Use a grill brush to scrub away any stuck-on food and debris.
Wipe it down with a dry cloth and repeat the process as needed.
4
How to Clean a Pellet Grill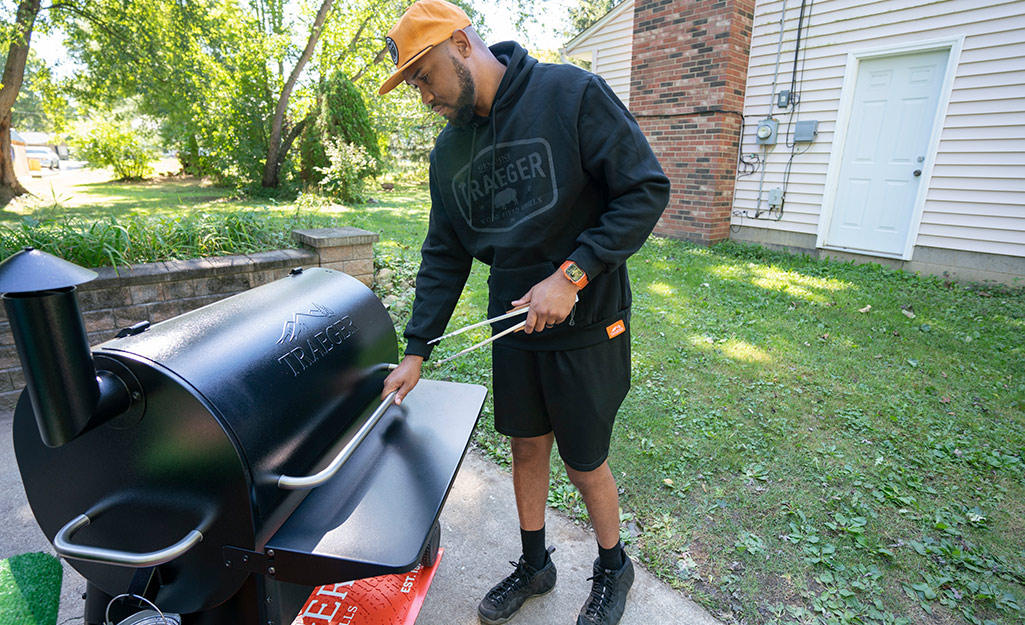 Make sure the pellet smoker has completely cooled before cleaning a pellet grill.
Remove the grill grates and place them in a bucket of warm, soapy water.
Take a wet-dry vac and clear out the ash and debris from the grill's interior. 
Use a scrub brush or abrasive sponge to clean the drip pan.
Remove the chimney cap and clean the inside with a scrub brush. 
Wipe down all parts with a damp cloth.
5
How to Deep Clean Grill Grates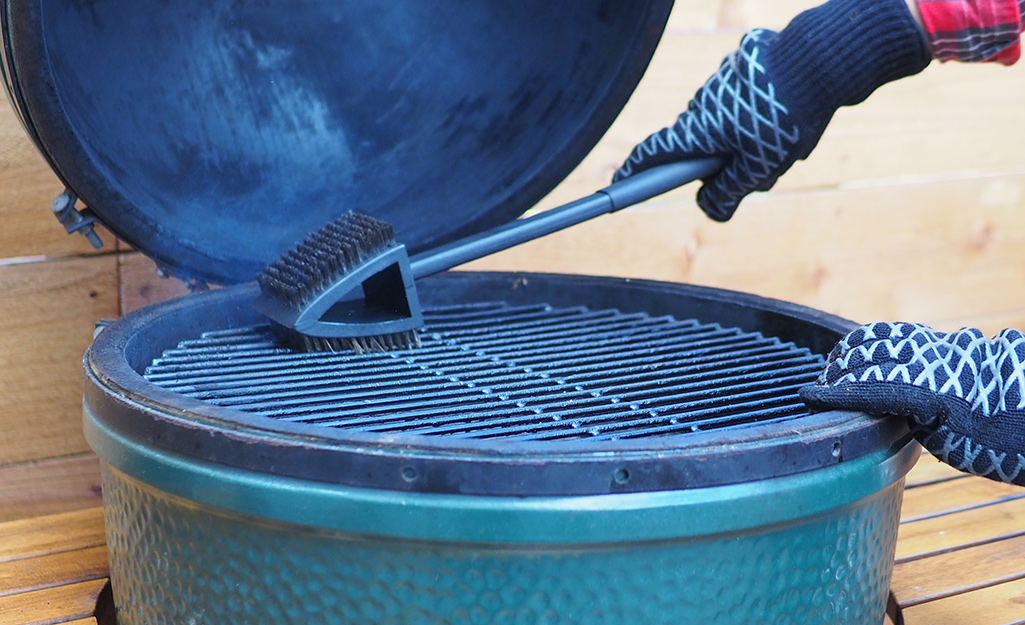 If your grill grates are still dirty after a regular scrubbing session, it's likely time for a deep clean. Soak them in a mixture of vinegar and baking soda. Together, these ingredients break down any stuck-on food. See below for more specifics on cleaning different types of grill grates:
Stainless steel grill grates are generally the easiest to clean. Cover the top with aluminum foil and let the grill heat up for about 15 minutes. This should burn off the remaining food bits and make it easier to scrub once they've cooled down.
For porcelain grill grates, try to burn off any lingering bits of food. Then let them cool completely. Remove them and use a nylon or soft bristle brush to scrub the surface. Don't use a brush with wire or metal bristles, as those will damage the surface.
For cast iron grill grates, burn off any lingering bits of food. Once they're cool, use a soft bristle brush to scrub any remaining debris, using minimal water to prevent rust. Finish them off with a light coating of vegetable oil.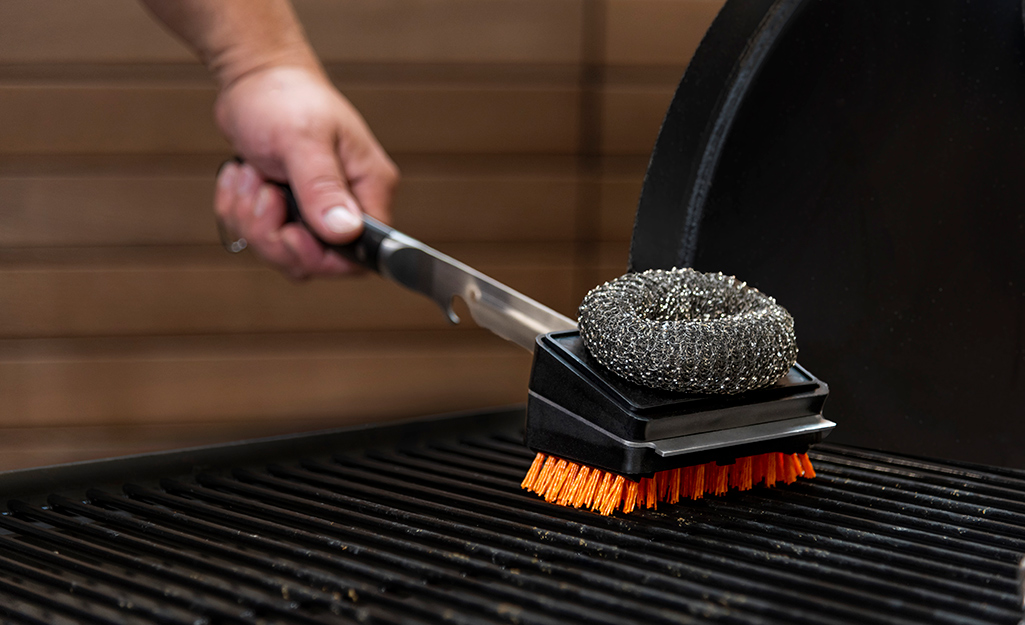 When cleaning grills with bristle brushes and other grill cleaning tools, always thoroughly wipe down the cleaned area afterwards. This will remove any bristles that may have come off during the cleaning process and get stuck to the grill. 
Except for flat tops, the best way to clean a grill is to start while the grilling surface is warm. Make sure to wait until the surface has cooled enough that it will not burn you.
Keep the grill protected with a grill cover.  
Replace your grill brush annually.
A grill can quickly build up grease and smoke residue. This can cause it to not keep a consistent temperature, or can affect the flavor of grilled food. Now that you know how to clean your grill properly, you'll keep it working at its peak performance. Cleaning and maintaining gas, charcoal, flat top and pellet smoker grills takes a little time and few tools. Clean your grill after each use. Make sure to also clean it before the grilling season starts and after it ends. 
Ready to get the right cleaning brushes and cleaning supplies? Use The Home Depot Mobile App to locate products and check inventory. We'll take you to the exact aisle and bay.
Explore More on homedepot.com