Flux core welding uses a hollow wire electrode fed through the welding gun and into the joint. It has a variety of benefits over standard welding. The flux core process also doesn't require a shielding gas to protect the weld pool. This guide explores flux core welding and how it is a useful skill for DIYers.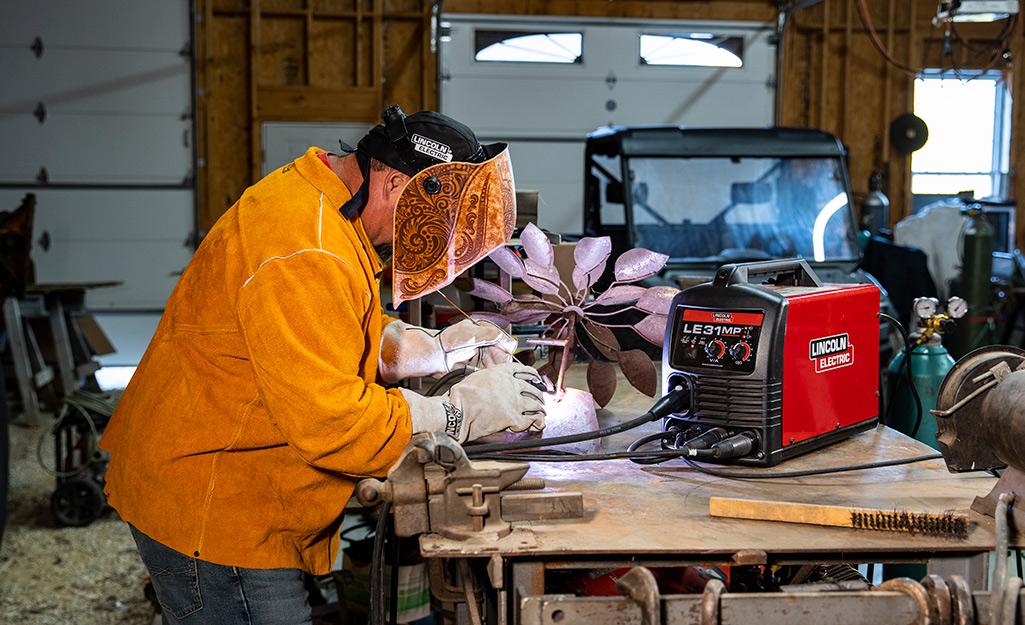 Why Flux Core Welding?
Flux core welding is used to weld thicker metals. 
It differs from flux core soldering and is ideal for heavy-duty or industrial applications since the finished bond is much more secure. This is essential when working on things like machine parts.
 
Flux Core Welding Benefits
One of the main benefits of flux core welding is that it can be easily performed outside in a variety of conditions, quickly and effectively.
The flux core process leaves slag on top of the weld joint, which typically must be removed once the welding process is complete.
 
Tip: For indoor use, MIG welding is recommended if you have a power source that can handle the MIG process.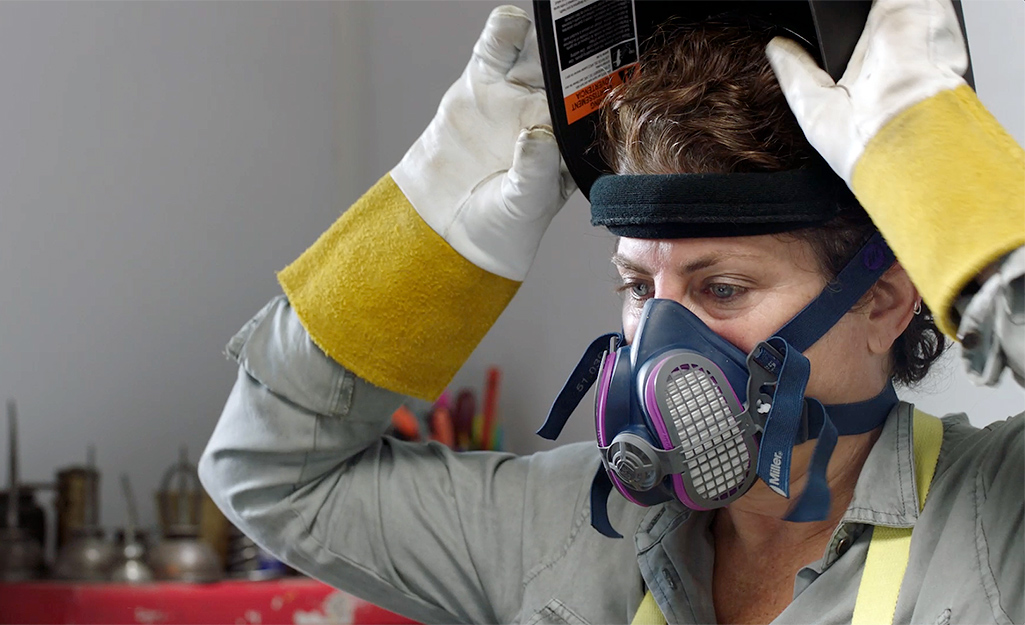 Before you start working on your welding techniques you must take time to ensure that you have the proper safety equipment. Here's a guide to help you get the right welding safety equipment and purpose-specific safety gear:
Safety glasses. Always wear safety glasses rated for welding.
Welding bandana. A welding bandana is flame retardant and designed to be used during the welding process.
Auto-darkening helmet. A secure fit is essential to protect your eyes while you're welding. 
Welding jacket. Look for a fit that's not too loose or too tight. Full range of movement is important, but you don't want excess material that may get in your way while you're working.
Welding gloves. Look for gloves designed specifically for welding since you'll be dealing with high temperatures and very hot metal that could cause injury.
Proper work pants. Denim is often the best, easiest choice for comfort and safety. Avoid cuffed pants since they can trap hot material during the welding process. Be sure to avoid any clothing with holes or frayed hems as well. 
Leather apron. Leather is an ideal protective material for a welding apron.
Work boots or shoes. Leather work boots or shoes with adequate tread are your best bet when you're learning how to flux core weld.
3
Gather Flux Core Welding Supplies and Equipment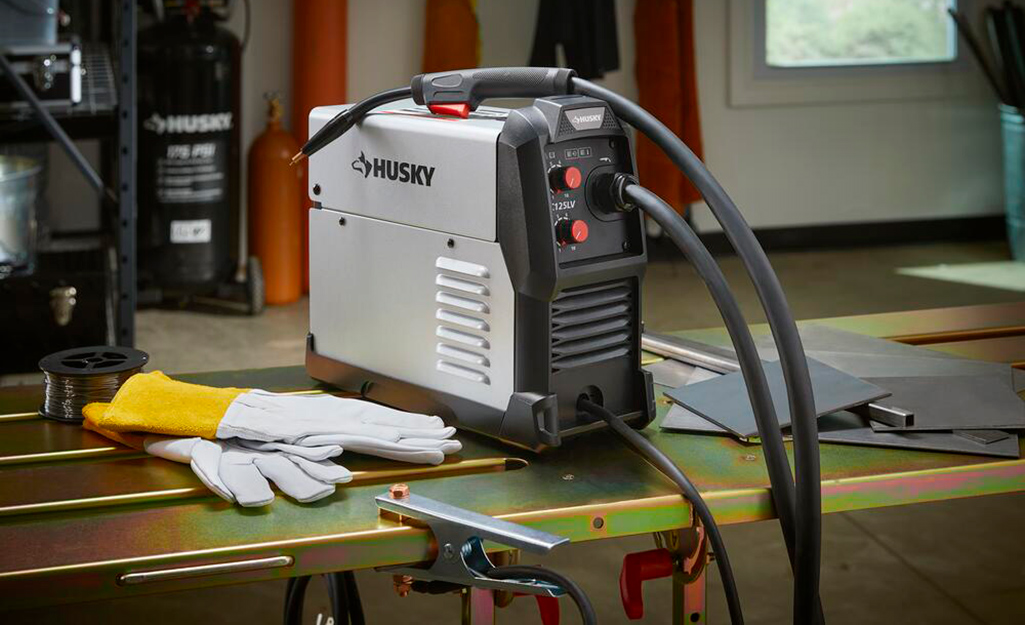 Flux core welding requires a few specialized tools:
Flux core stick welders. Machines designed specifically for this purpose are a great way to get started. Some also come with the accessories you'll need to begin. Look for a model with continuous wire feed control for faster welding.
Stick electrodes. These account for most of the filler metal used during the flux core welding process. 
Trigger-activated welding gun. A trigger activated model can help prevent arc flash.
Ground clamp with appropriate length cable.
Spare contact tips for the welding gun.
Flux welding wires. E71T-11 wire with a .030-inch diameter will work well for welding both thinner and thicker material. As you become more comfortable with flux core welding and take on different jobs, you may need different wire types.
Chipping hammer and wire brush. Flux core welding requires slag removal upon completion.
Tip: Flux core welding machines are an excellent starting point, but some models allow for both flux and MIG welding capabilities. Consider a larger machine with more options if you do a lot of welding for work or are outfitting a shop or business.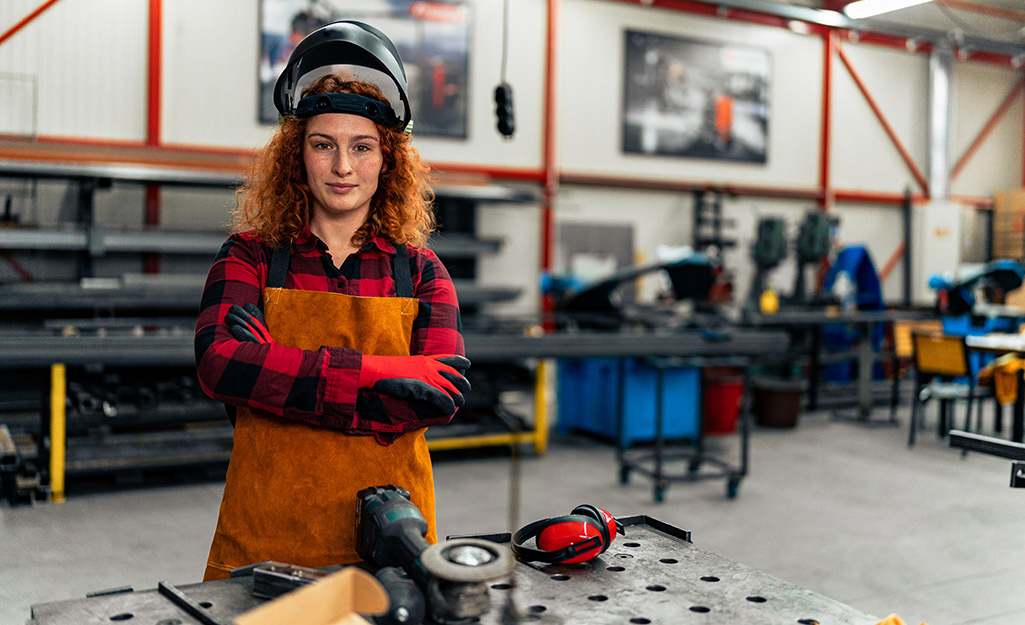 Start with a clean surface. 
While flux core welding can be performed on dirty or rusty pieces, you should always do what you can to clean your starting material first. 
Make sure the area where you'll be attaching the ground clamp is as clean as possible.
5
Metal and Wire Selection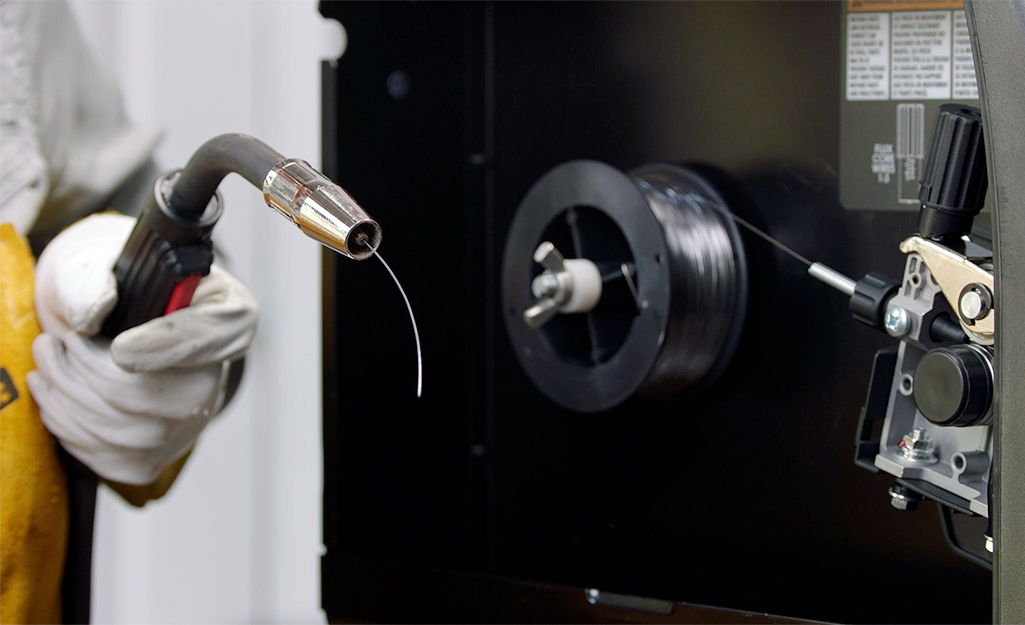 Choose E71T-11 wire for most projects. This works for a wide range of metals and thicknesses, so it's an excellent all-around choice for beginners.
You'll also need to select the right wire diameter for the job. 
.030-inch wire is great for general purpose use. For thicker materials, choose a heavier gauge .035 or .045-inch wire instead.
6
Set the Voltage and Amperage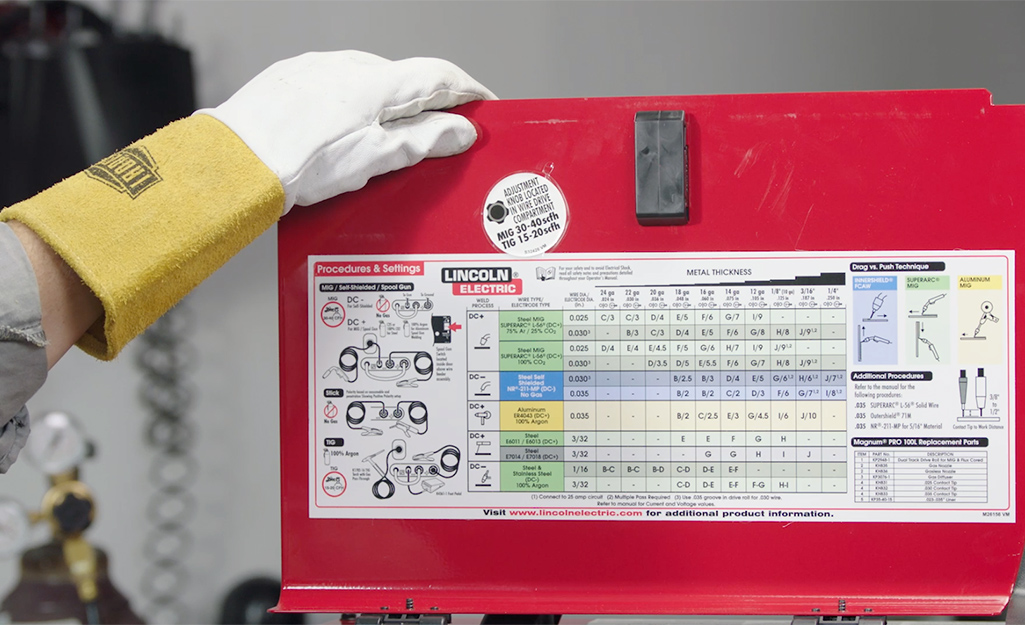 Set the correct voltage, amperage and wire feed speed for your project. 
Your power source should have a reference guide to help you with this, but online calculators can be found as well.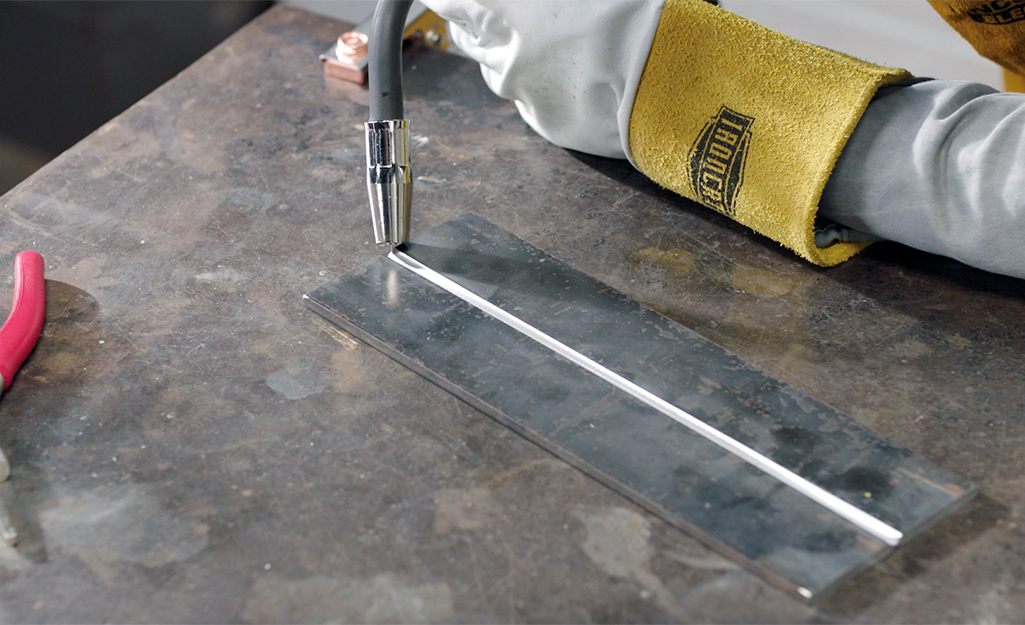 Start with a 3/4-inch wire stickout. This is more stickout than you'll need for MIG welding, but it is the ideal starting point for flux core welding.
Use a pull or drag technique when flux core welding. 
To achieve this, you'll need to remember that you should always be moving away from your completed weld.
Point the welding gun so it's facing the weld puddle, and start dragging it away from the metal. This method offers deeper penetration and makes it easy to see when there's too much buildup.
Tip: Practice on scrap or test projects before taking on tougher work. Flux core welding can take time to learn so don't jump into a complicated project first. Make a few test welds even if you are already familiar with other types of welding.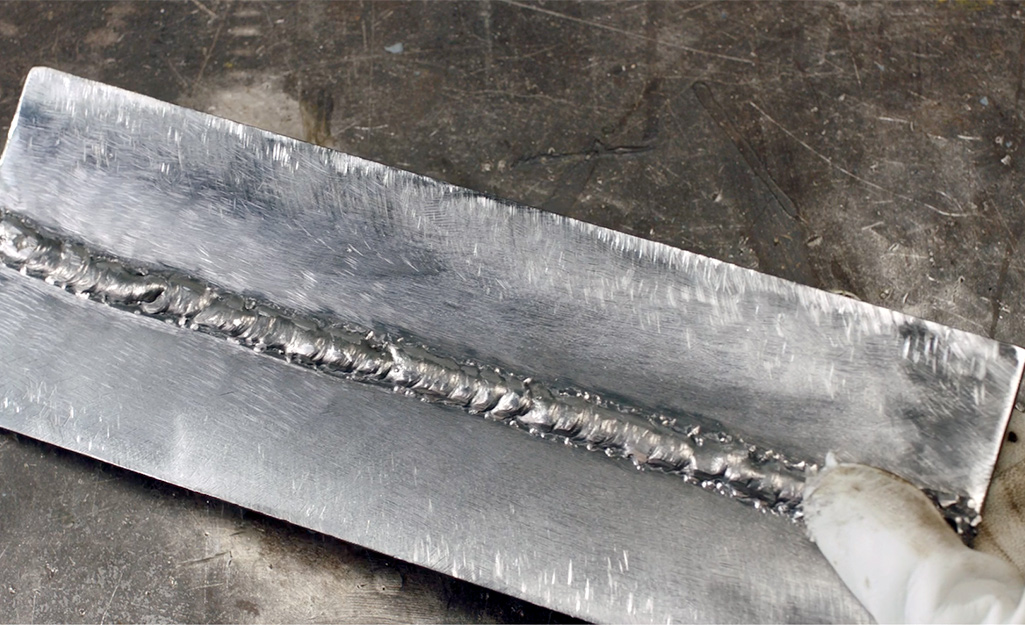 Flux core welding is something you can master only with experience. However, there are some tips that can help you avoid making common mistakes when you start out. Use these to guide you:
Maintain proper drag angle. Flat, overhead and horizontal positions require an angle of around 15 degrees to 45 degrees. Vertical positions prefer 5 degrees to 15 degrees.
Avoid burnback. Burnback is what happens when the wire melts into a ball at the end of the contact tip. Prevent this by using the correct wire feed speed for the job and keeping your welding gun an appropriate distance from your work.
Prevent bird nesting. This occurs when the wire gets tangled and can't be fed properly. Use U-groove or knurled-V wire instead of GMAW wire.
Keep marks at the top of your weld. Often referred to as worm tracking, avoid this by using the correct settings recommended by the filler metal manufacturer. If worm tracking still occurs, step down your voltage about one-half volt at a time. 
Learning how to weld flux core can take some time, so be patient when you start the process. Ideally, you'll learn with somebody who is familiar with how flux core welding works so they can explain the proper procedure and safety requirements. With a little practice, you can figure out how to weld flux core on even the most difficult, hard-to-reach jobs. Shop The Home Depot Mobile App to see all the welding safety equipment and supplies available for DIY and professional welders.  
Explore More on homedepot.com