Curtains can give any space a polished look. They can also provide privacy, protect furniture from sun fade and help to regulate heat. Learning how to hng curtain rods can help you update any room in your house in a just few steps and with just a few tools. Use this guide to learn how to hang curtain rods in your home or office.
1
Determine Where to Mount Hanging Hardware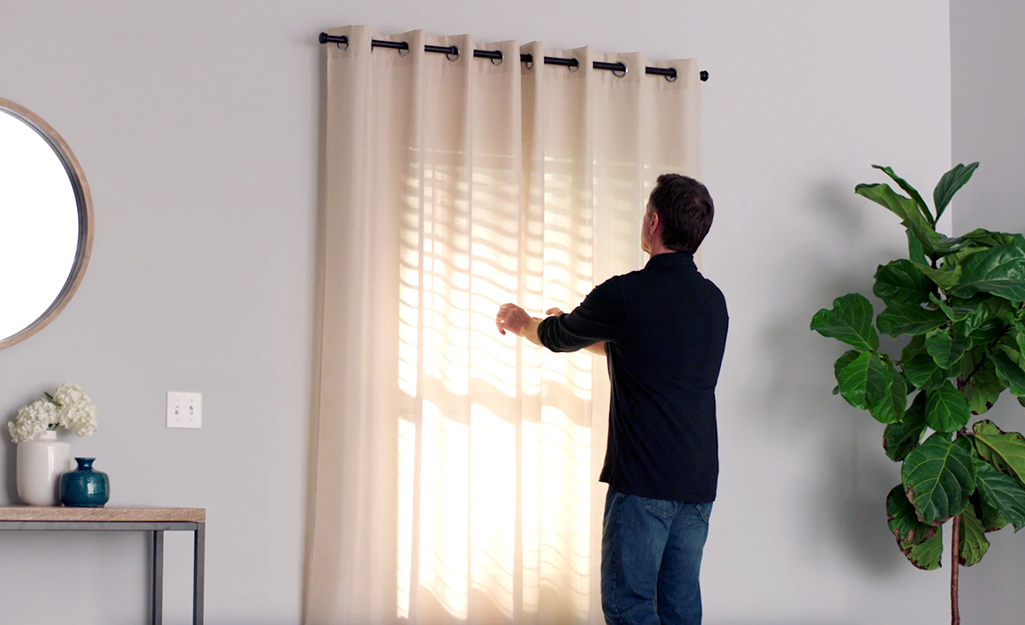 Decide where to mount your curtain hardware based on the style and look you want. 
An outside mount allows more light into the space when the curtains are open
A high outside mount can make your ceilings appear taller
A wide outside mount can make your window appear wider
An inside mount is ideal for windows with deep or extended sills and can create a neat, clean look
Tip: If you use a rod with decorative finials, set the mounting hardware wider than the window to provide the best coverage.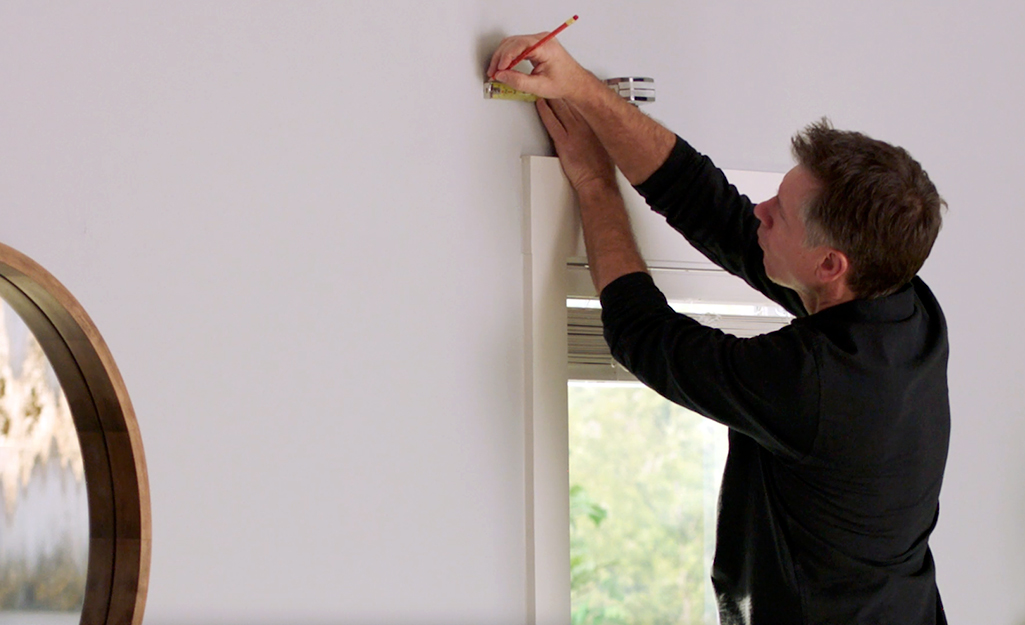 Once you've decided on the look you want for your curtains, measure and mark your mounting hardware position.
For an interior mount, use a tape measure to find the depth of your frame and then locate the center point. Mark the spot on the inside window jamb.
Next, measure from the top down at least 1 inch, depending on the rod mounting hardware. If you install your hardware too high, you won't be able to insert the rod into the mounting hardware. For grommet curtains, measure down an additional inch to account for their placement in the curtain. Grommets are usually about 1 inch from the top of the panel. 
For an interior-mount cafe-style look, measure and mark the center point in depth and height on the interior window jamb. 
For an outside mount, measure and mark 3 inches on each side of the window for your width distance. 
Next, measure 4 inches above your window, in line with the width mark. Measure higher or lower, depending on the height of your ceiling and the length of your finished curtains. Grommet curtains hang about 1 1/4 inches shorter than the curtain length. 
If you're using a long curtain rod or need extra support for heavyweight curtains, mark a midway point between for a center bracket. 
3
Install the Mounting Hardware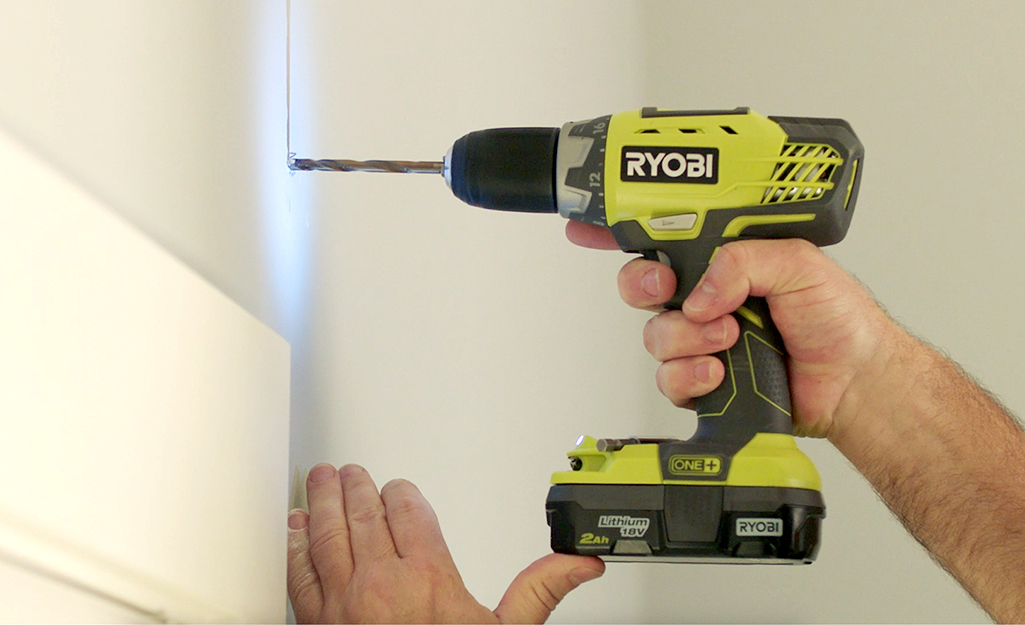 Most homes have drywall-covered walls. Here are the steps for installing into drywall using anchors:
Position your first wall-mount bracket on the wall where you made a mark
Mark the location of the screw holes with a pencil
Repeat the first step on the other side of your window and for the center bracket if you are using one
Drill guide holes where you've placed your marks for the mounting hardware. You'll need to use plastic wall anchors to provide proper support if you're installing into drywall and not into wood or a stud.
Fasten the brackets to the walls using your drill or screwdriver
Put the curtain rod in place. Insert the back curtain rod if you're using a double rod setup.
Hang the curtains. Open and close them to check that they're functioning before finishing.
An inside mount will likely go directly into the wood jamb. Pre-drill your holes using your mounting hardware as a guide for your screws. Use the screws that came with your mounting hardware to secure them into place.
Tip: This method works well for hanging wall rods, French window curtain rods and even arched window curtain rods, though you may need to take the unique shape of those styles into account. 
4
How to Hang Curtains Without a Drill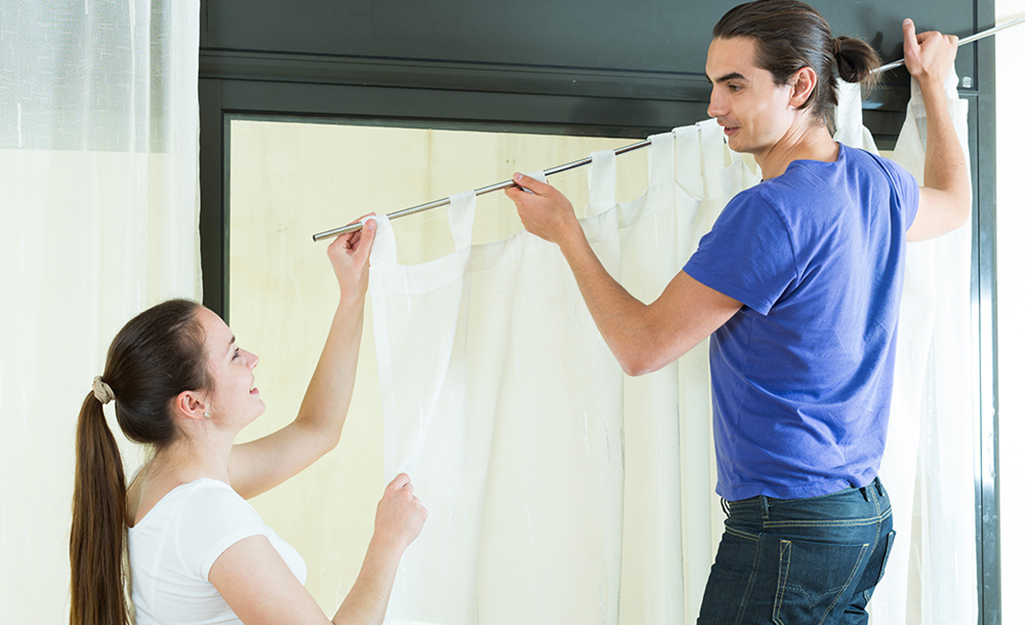 If you don't own a drill or cannot perform this kind of major installation in a rented space, tension curtain rods are a great option for hanging curtains between two walls. Here's how to install them:  
Measure the space between your two walls. You'll want to buy a rod that's a little bit longer than this measurement.
Push the rod through your curtain if the curtain has eye-holes. You'll need to get the curtain on the rod before you hang it, unless you're using rings. If using rings, put them in place on the rod now.
Unlock the curtain rod ends and get a friend to help you extend both sides of the rod against the walls. You'll want to expand your rod as much as possible for a secure fit. Remember that these rods rely on tension to hold your curtains up.
If you're using curtain rings or grommet curtains, go ahead and hang your curtains on them now. Double-check to see that the rod is secure after adding the weight of your curtains.
Installing curtain rods is a job that you can tackle in an afternoon with the right tools at your disposal. Best of all, it can save you a lot of money over hiring a professional, and done correctly, it will look every bit as good.
Ready to find the supplies you need in your local store? Use The Home Depot app to locate products and check inventory. We'll take you to the exact aisle and bay.
Explore More on homedepot.com