Curtain rods are essential to hanging curtains in your home. While you can hire a pro to help you hang curtain rods in your master bedroom, dining room, home office or any other space, it's a simple job you can tackle on your own. Use this guide to learn how to hang curtain rods throughout your home.
1
Choose Curtain Rods and Determine the Proper Placement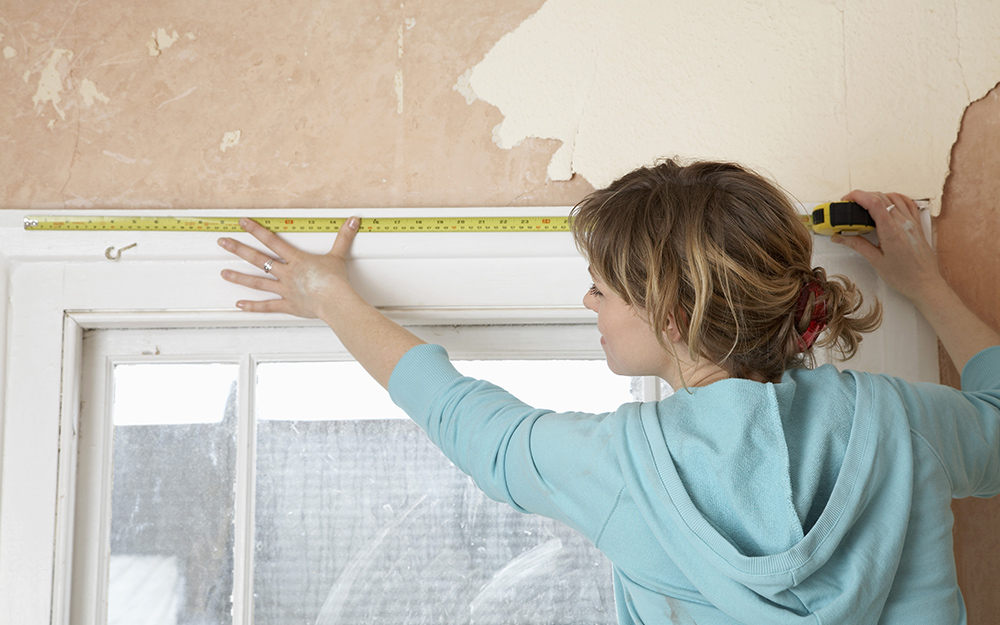 Proper installation starts before you break out the tools. You must first choose where to hang curtain rods and select the best type for your windows:
Measure the width of your window frame. Take note of this measurement.
Decide whether you want your curtain rod to hang on the window frame or extend past it. In most spaces, a rod with decorative finials hung on the wall outside of the window frame will look best and provide the most coverage.
Allow about 3 inches on each side of the window. Mark the wall with a pencil to indicate this area. By doing so, you'll make sure you get adequate light when the curtains are open.
Make a mark about four inches above your window for mounting hardware. This is a traditional height, though you can cheat an inch or so, either way, depending on the height of your ceiling and the length of your finished curtains.
For grommet curtains, you will need to take into account the placement of the grommet. On most curtains, the grommet is set down about 1 inch from the top of the panel. This means the curtain will hang about 1 1/4 inch shorter than the curtain length. To get the right length measurement for grommet curtains, measure from the very top of the curtain (not the top of the grommet) to the bottom.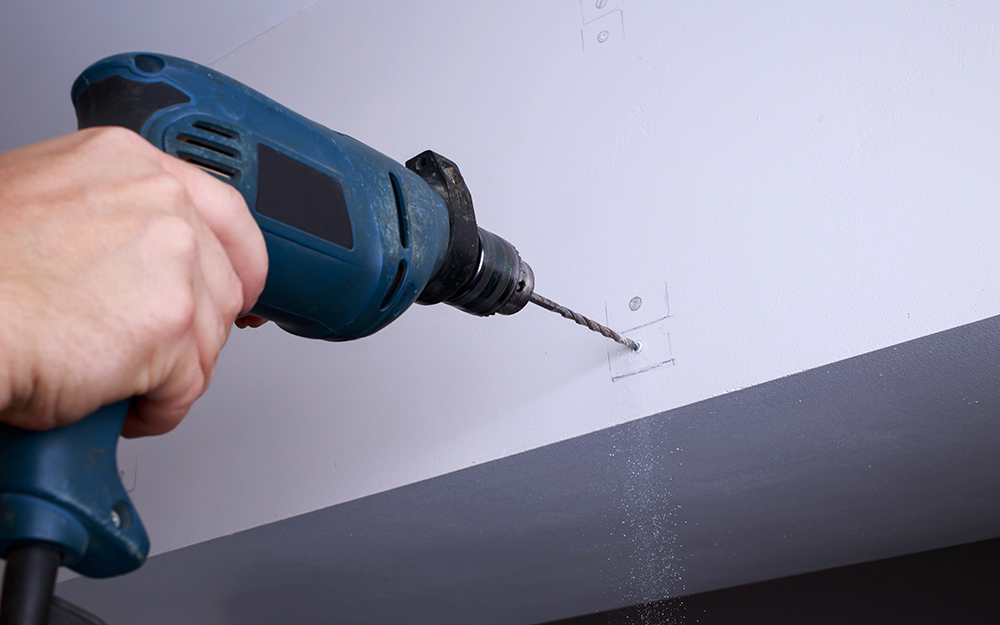 Hanging curtain rods is fairly simple and you don't need many tools to do it. This quick guide is designed to help you learn how to hang curtain rods in drywall, but the same basic process applies, with only minor variations, if you're mounting your hardware on another surface.
Position your first wall mount bracket on the wall where you made a mark. Use a carpenter's level to make sure the mounting bracket is straight. Mark the location of the screw holes with a pencil.
Repeat the first step on the other side of your window. If you're using a long curtain rod or need extra support for heavyweight curtains, you can make marks for your center bracket after completing the end brackets.
Drill guide holes where you've placed your marks for the mounting hardware. You'll need to use plastic wall anchors to provide proper support if you're installing in drywall.
Fasten the brackets to the walls using your drill or screwdriver. Having a hand tool ready often makes this job easier, since it can be hard to use a larger electric drill when mounting curtain rod hardware to the wall.
Repeat step four to fasten all of your mounting hardware to the wall. Double-check to make sure each bracket is secure.
Insert the back curtain rod if you're using a double rod setup. Then you can hang your sheer curtain or blackout curtain. If you're not using a double rod you can skip this step.
Put the main curtain rod in place. Attach curtain rings if they are part of your setup.
Hang the curtains and double-check to make sure your brackets are still secure. Open and close to check that they're functioning properly before finishing. 
Tip: This method works well for hanging wall rods, French window curtain rods and even arched window curtain rods, though you may need to take the unique shape of those styles into account. If you're using traverse curtain rods, the process will be similar, but some steps are different. Follow manufacturer instructions to ensure proper installation.

3
How to Hang Curtain Rods Without a Drill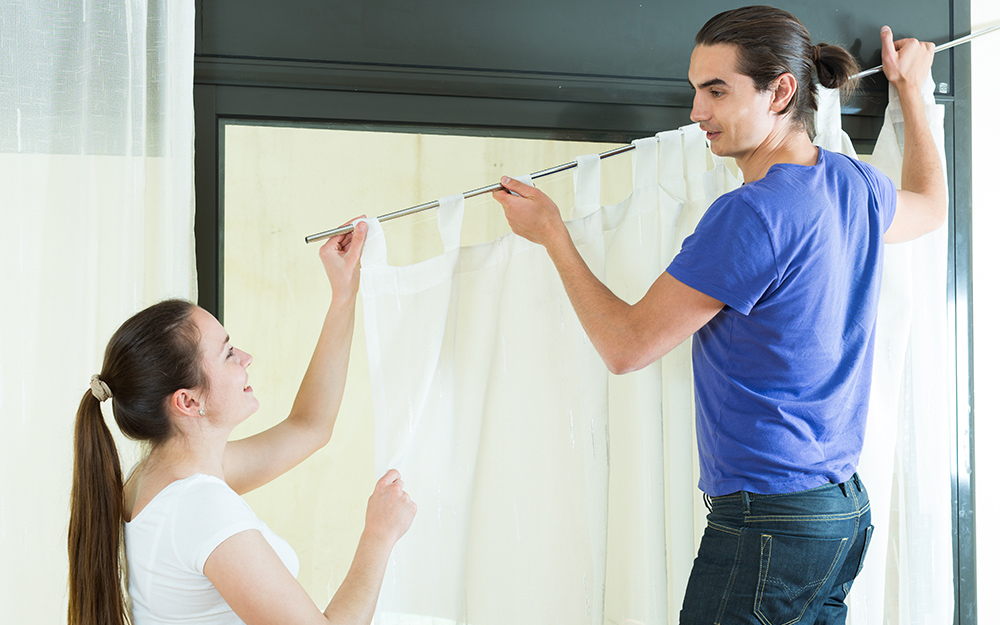 If you don't own a drill or cannot perform this kind of major installation in a rented space, tension curtain rods are a great option for hanging curtains between two walls. Here's how to install them:
Measure the space between your two walls. You'll want to buy a rod that's a little bit longer than this measurement.
Push the rod through your curtain if the curtain has eye-holes. You'll need to get the curtain on the rod before you hang it, unless you're using rings. If using rings, put them in place on the rod now.
Unlock the curtain rod ends and get a friend to help you extend both sides of the rod against the walls. You'll want to expand your rod as much as possible for a secure fit. Remember that these rods rely on tension to hold your curtains up.
If you're using curtain rings or grommet curtains, go ahead and hang your curtains on them now. Double-check to see that the rod is secure after adding the weight of your curtains.
Installing curtain rods is a job that you can tackle in an afternoon with the right tools at your disposal. Best of all, it can save you a lot of money over hiring a professional, and done correctly, it will look every bit as good.
Ready to find the supplies you need in your local store? Use The Home Depot app to locate products and check inventory. We'll take you to the exact aisle and bay.
Explore More on homedepot.com