Project Guide
How to Install a French Drain
Time Required:

Over 1 day

Difficulty:

Intermediate
---
Drainage problems in your yard can lead to unsightly pooling and even mold or water damage in or around your home. Fortunately, you can collect runoff water and channel it to an appropriate outlet with a French drain.
What is a French drain? A trench filled with a perforated pipe and gravel or rock that allows water to drain naturally. Depending on the size of your yard and the scale of your drainage issue, you can purchase the pipes and equipment to install a French drain yourself without the expense of calling in a professional.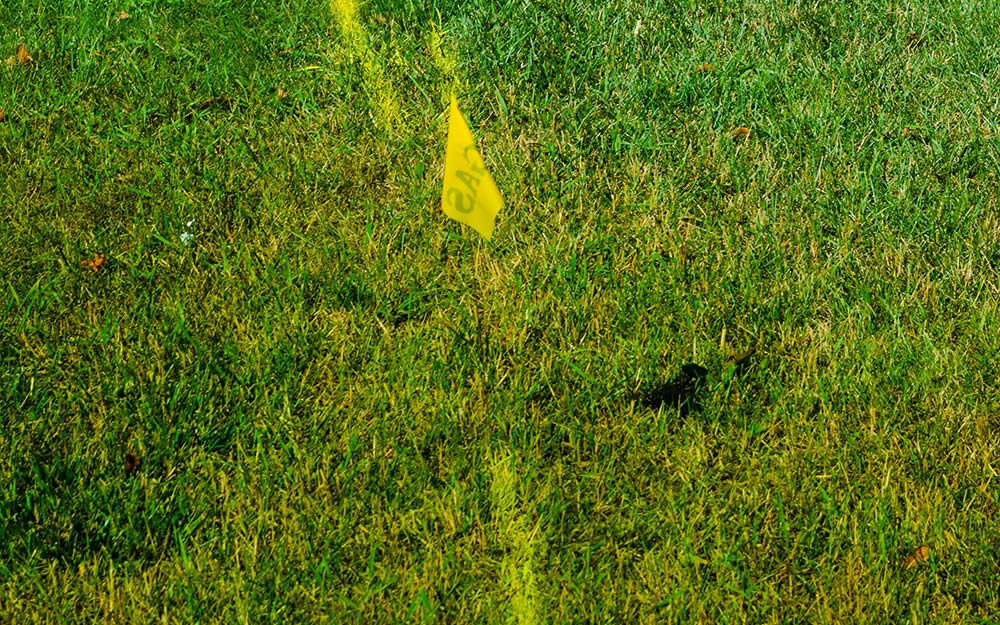 Figure out the where the excess water is pooling and where you want it to go. When choosing an outlet, look for retention ponds or other bodies of water, or tap into existing drainage. You can even divert the water run-off curbside if that's easiest. Definitely avoid draining onto a neighbor's property.
Use striping spray paint, stakes or another method to mark the direction and length of the trench.
Before French drain installation, make sure your neighborhood has no zoning restrictions and get necessary permissions.
Tip: Confirm that your water issue is not caused by leakage from underground pipes that need repair.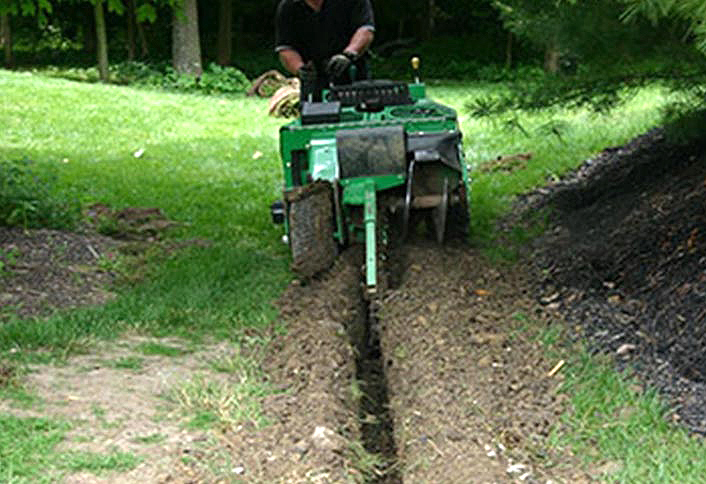 Dig a trench from the place in your yard that needs runoff water relief to your chosen outlet. The trench should be about 18 inches deep and 9-12 inches wide. Ideally the trench will run horizontally across a slope and have a grade of at least 1% (estimate a slope of 1 inch per 10 feet of grade) so the force of gravity will work for you.
Depending on the size of your trench, you can either dig the trench with shovels or rent a trencher.

Tip: Always check for underground utility lines and pipes before digging.
Line Trench With Filter Fabric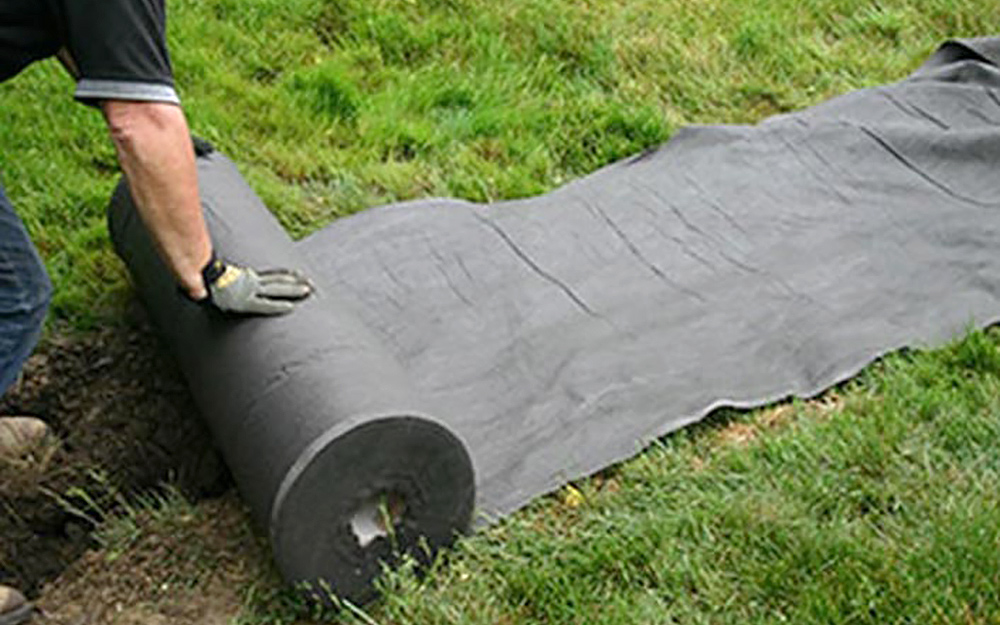 To keep the French drain free of dirt, silt and tree roots, line it with water-permeable filter fabric or weed barrier.
Leave it open with at least 10 inches of excess fabric at the sides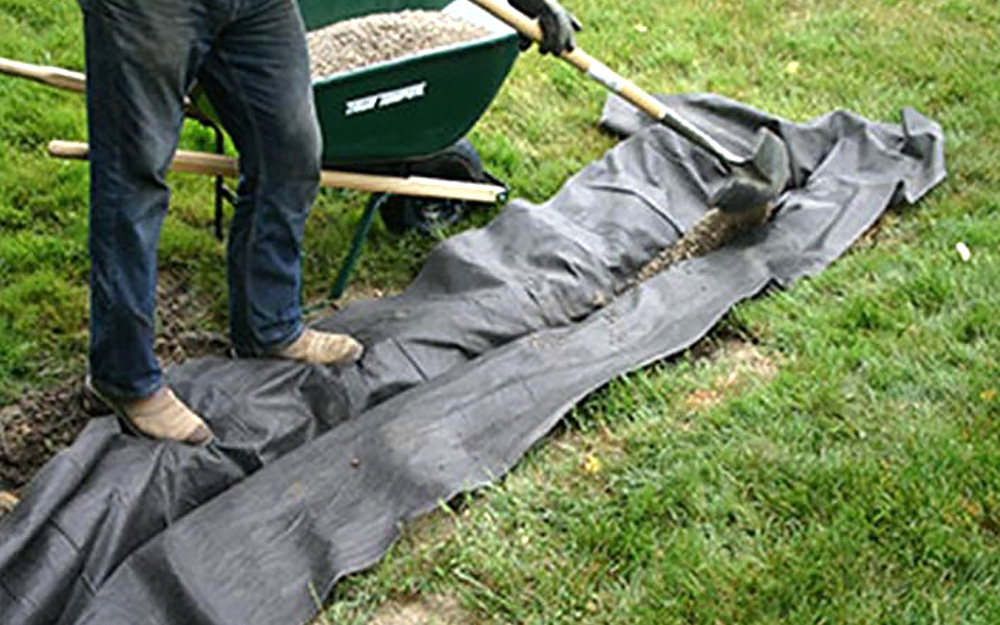 Pour and compact about 3 inches of gravel or landscaping stone along the bottom of the trench. This will act as bedding for the drainage piping.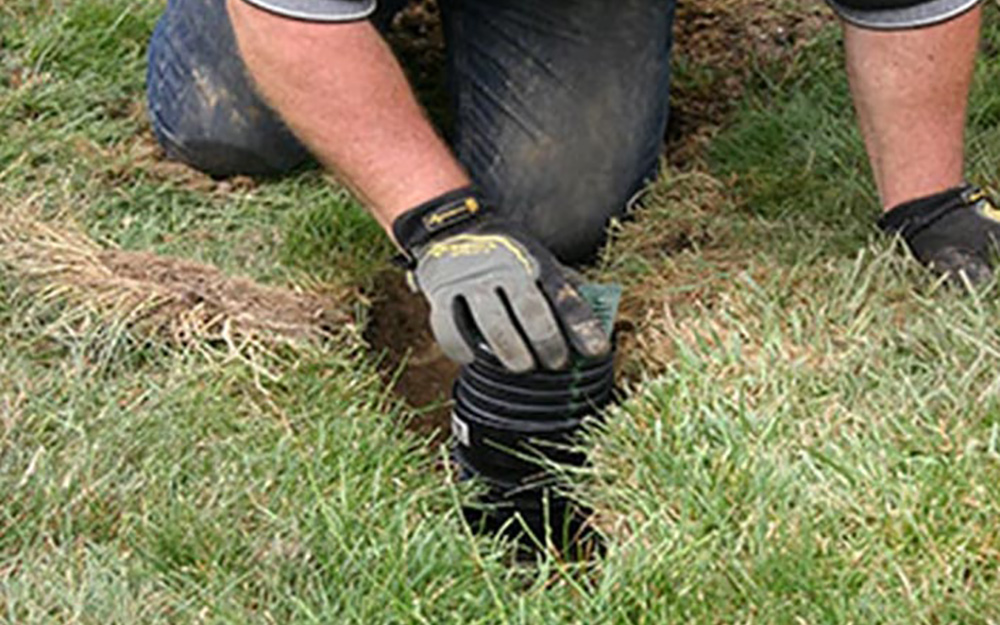 Install an inlet grate at the point where the water pools the most. Secure as many fittings as necessary for your pipe system to extend from the inlet grate to the water outlet point.
You can use inexpensive, flexible drainage hose if you need a curved drain, or longer-lasting PVC pipe if you want a more durable system. If you choose the latter, drill holes about 6 inches apart along the length of the pipe.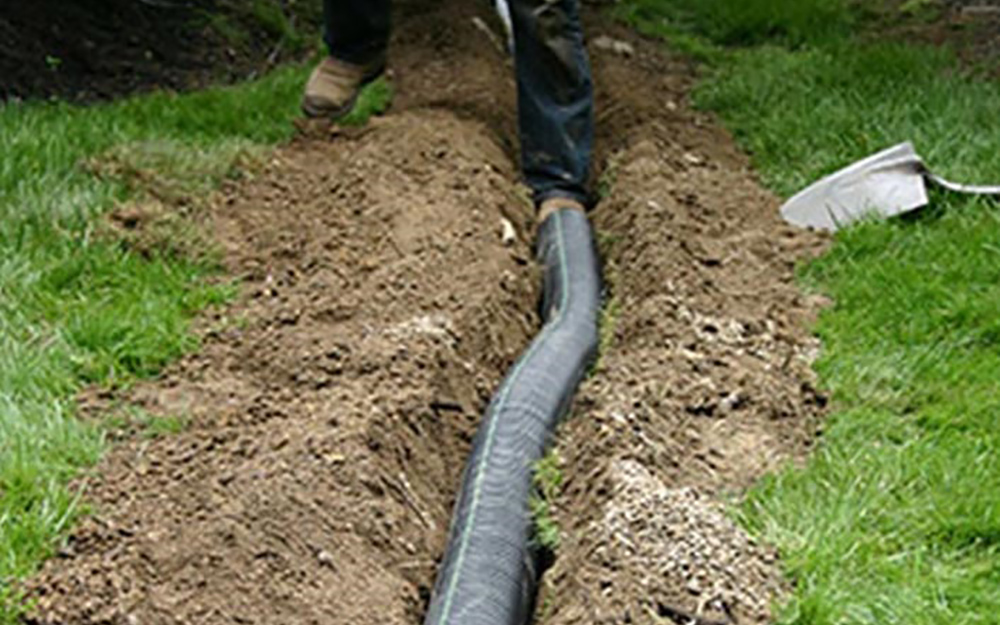 Lay the connected pipe structure in the trench on top of the layer of crushed stone, and make sure the drainage holes in the perforated pipe are pointed downwards.
Test the flow of the drain by pouring water in the inlet grate.
Cover With Gravel and Filter Fabric
Cover the pipe with about 3 inches of gravel or crushed stone, but not enough to cross above ground level. Then wrap the filter fabric over it for another layer of protection.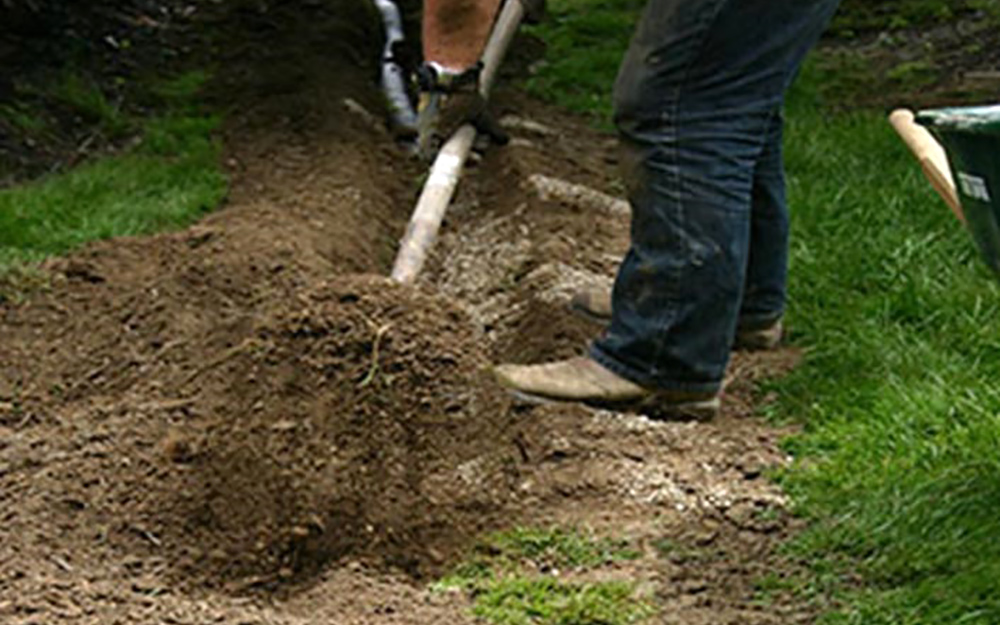 Fill the trench with topsoil and compact to completely cover the entire French drain system.

Tip: When filling the area around the inlet grate, temporarily cover the grate to prevent any stones or soil from falling in after installing the French drain.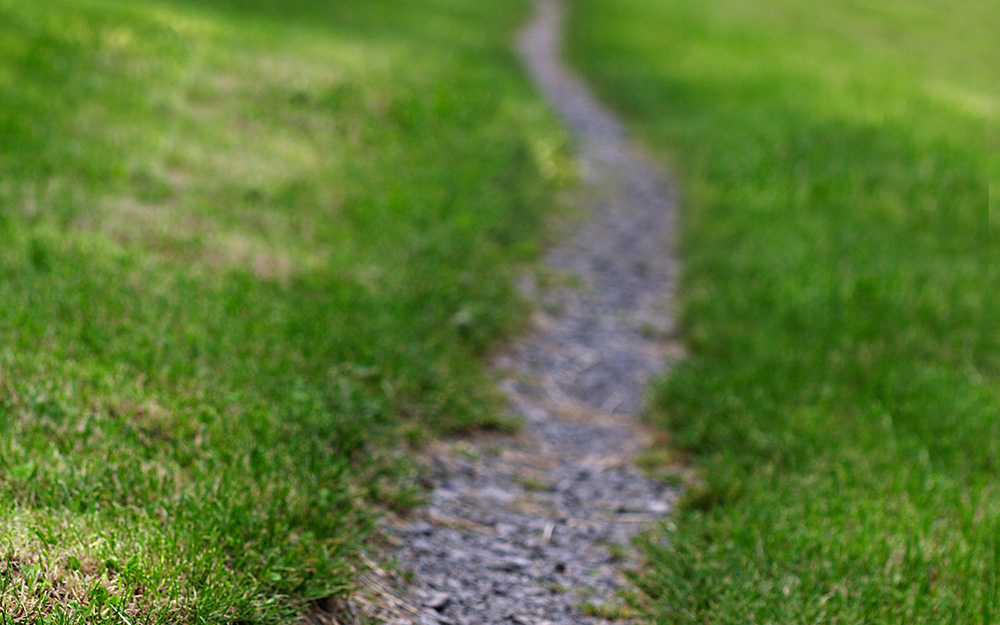 Reseed the surface if necessary or cover with landscaping stone.
Regularly inspect and clean the inlet grate and outlet point. Flush debris when needed to ensure unhindered water flow.
Tip: If your French drain breaks or gets clogged, you may have to dig up part of it for inspection or repair, which is easier if it's covered with gravel and not grass.
Alternative Method: Gravel-Free French Drainage System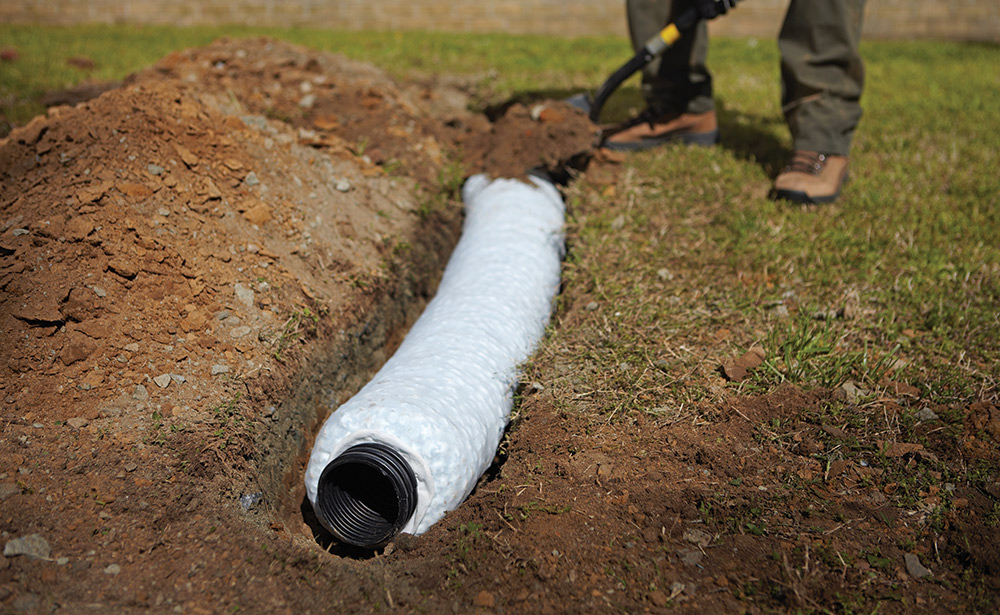 To save some steps in the process of French drain installation, consider purchasing an alternative, gravel-free drainage pipe system. Such a product consists of corrugated slotted pipe surrounded by polystyrene aggregate, wrapped in filter fabric.
If you choose this approach instead of manually building a French drain, skip the filter fabric and crushed stones steps listed above. Just place the product in the trench following the manufacturer's instructions and cover with soil.
Building French drains has been a method to redirect the flow of water since the 19th century: the name comes not from France, but from Henry Flagg French of Concord, Mass., who popularized the system.
While digging the initial trench can be labor intensive – try to get friends and family to help, if possible – installing a French drain is a relatively straightforward process that can get runoff water under control, protect your basement and keep your yard from becoming a washout.