Project Guide
How to Install a Mini Split
Time Required:

Over 1 day

Difficulty:

Advanced
---
Mini split installation can save money over choosing a traditional air conditioning and heating unit that requires ductwork. DIY mini splits are typically quicker to install, and the systems are designed to adjust the temperature in just one room, not over a large area of square footage. Use this guide to learn how to install a mini split system in your home or business. Need supplies fast? Order before noon for convenient scheduled same-day delivery.

Tip: Mini split A/Cs and mini split heat pumps can be very difficult to install, so make sure you're fully comfortable with the process before moving forward. Installation instructions may vary across manufacturers, so make sure to check the manual supplied with your unit for more specific details on how to wire a mini split system.
Choose a Mini Split System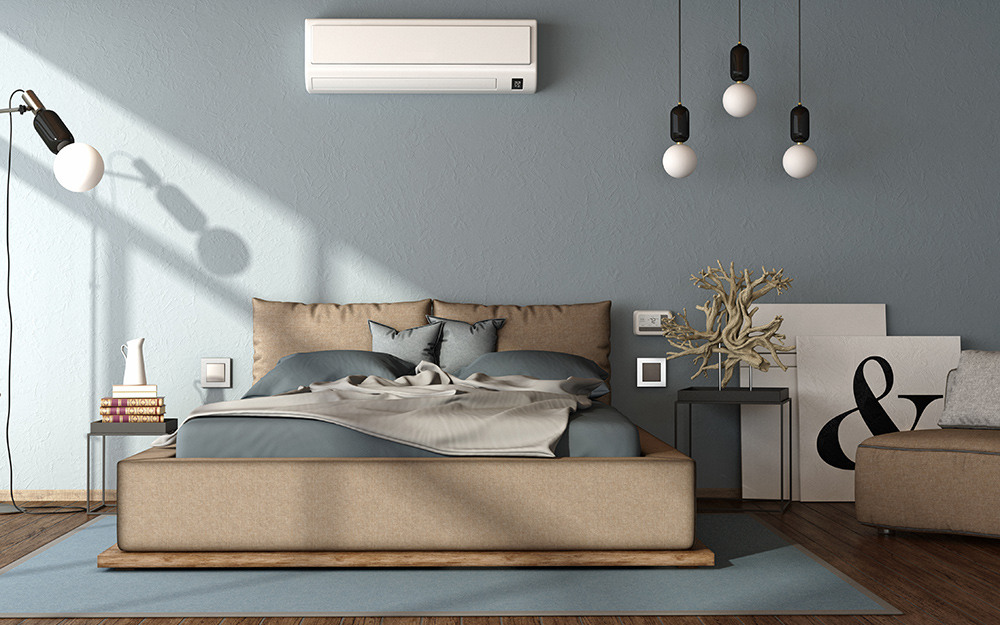 Before you can start the installation process, you'll need to choose a mini split system that works for your space. Here are a few popular models to choose from:
Multi-zone mini splits. Designed to control separate areas for heating and cooling, multi-zone mini splits have a condenser designed to accommodate multiple air handlers. Installation for these systems can be more complex than others, so always refer to manufacturer instructions when determining how to install mini split heat pumps on multi-zone varieties.
Dual-zone mini splits. These are a popular kind of multi-zone mini split featuring one condenser and two air handlers. Dual-zone mini split A/Cs and heat pumps are ideal for a whole home where the temperature needs to be regulated in multiple rooms.
You'll also need to choose the correct size mini split for your space. Two-ton mini splits and four-ton mini split systems are common choices that can provide proper temperature control for a variety of big and small spaces. Before you buy, take the time to measure your space and get square footage calculations so you can choose a properly sized mini split.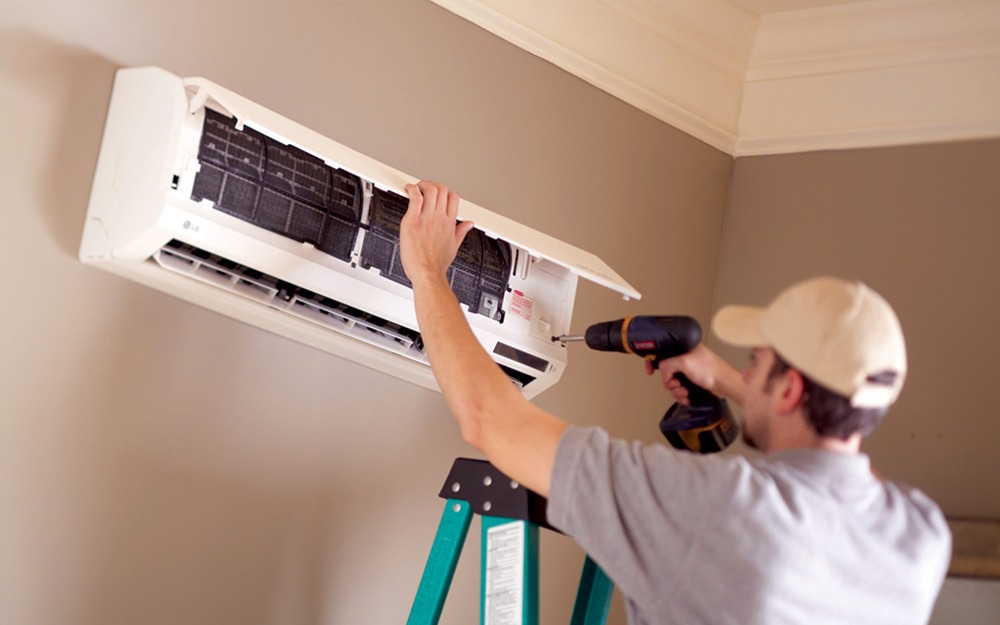 Step 1: Check to make sure you have all of the appropriate mini split parts listed above. These are typically sold as a set to make installation easier and ensure your components work together.
Step 2: Choose the area where you want to place the indoor wall unit. Look for a spot that isn't blocked by furniture. Installation should typically be performed at least six feet from the floor. This wall must lead to the outside, since you'll be running refrigerant lines from the indoor unit to the outdoor unit.
Step 3: Place the bracket designed to hold your wall unit in place in the desired location. Use a level to make sure it's straight. Mark the screw holes with a pencil.
Step 4: Create pilot holes with your drill. Use self-tapping screws with anchors to firmly secure the wall bracket in place.
Step 5: Create a hole in the wall next to your bracket mount. A 2 to 3-inch hole is typically used, but this will depend on lines provided with your mini split. This hole is used to run your refrigerant lines, drain tubing and control wires to the outside unit.
Step 6: Use a hole saw bit to drill the hole. Angle the saw downward slightly for better drainage.
Step 7: Connect the control wire to your indoor unit. This process varies by mini split model, but it typically requires you to remove a back plate and attach the control wire by hand. Check your installation manual for precise instructions.
Step 8: Unfold the refrigerant pipe so it can be pushed through the hole in the wall you just made. You'll want to use electric tape to keep the refrigerant pipe, control wire and drainage tubing together.
Step 9: Lift your indoor unit to the mount and put the bundled pipes and tubing through the hole. Secure the indoor unit on the wall mount.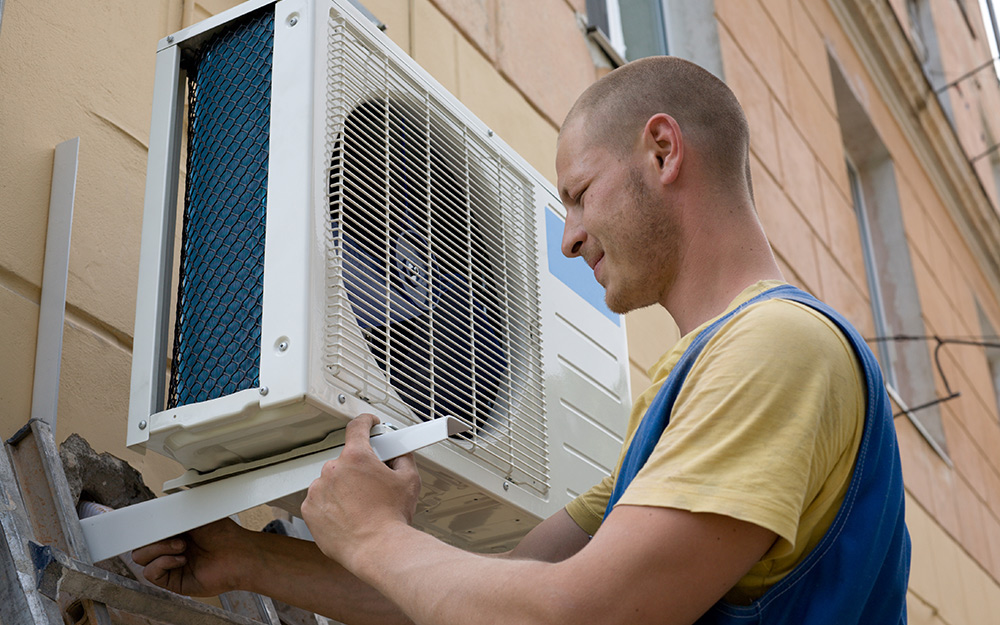 Step 1: Choose the location of your outdoor unit. It can be placed on your rooftop or on an outside wall using a purpose-specific pad. If you choose a pad, make sure you mount the outdoor unit securely with nuts and bolts before making connections.
Step 2: Connect the pipes and tubing from your indoor unit to the outside unit. You'll need to follow model-specific instructions to connect these properly. This process typically requires an adjustable wrench and torque wrench, so have those handy before you begin.
Step 3: Attach the wires and tubing to the exterior wall to keep them securely in place. You can use covers for a neater appearance.
Step 4: Connect the correct pipe joint to the line set on the back of your outdoor unit. You'll also need to connect the multi-conductor wiring that runs from the indoor unit to the outdoor unit. You'll likely need your torque wrench to complete this job.
Follow Up with a Professional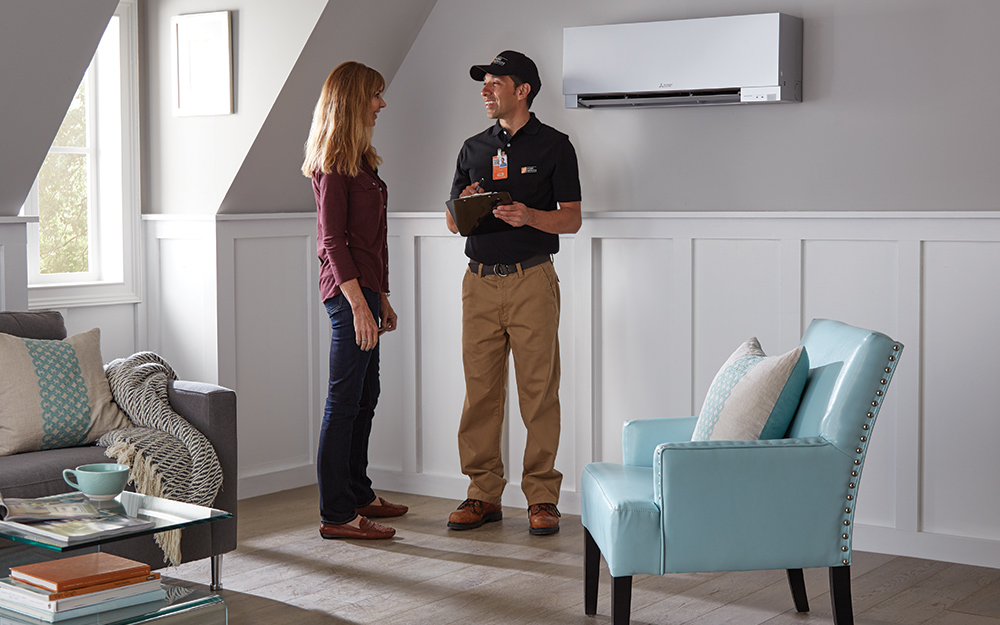 Once you connect the indoor and outdoor units, it's recommended that you call a professional A/C and heating provider to tackle the rest of the job. They'll make sure your connections are secure and handle dangerous dry nitrogen and refrigerant.
Qualified pros can also make sure you've got the proper high and low voltage connections to power your mini split system.
Installing a mini split system can be a tough job, so tread carefully and take your time even if you're experienced. Also consider a wall-mounted ductless air conditioner for your cooling needs in smaller rooms.