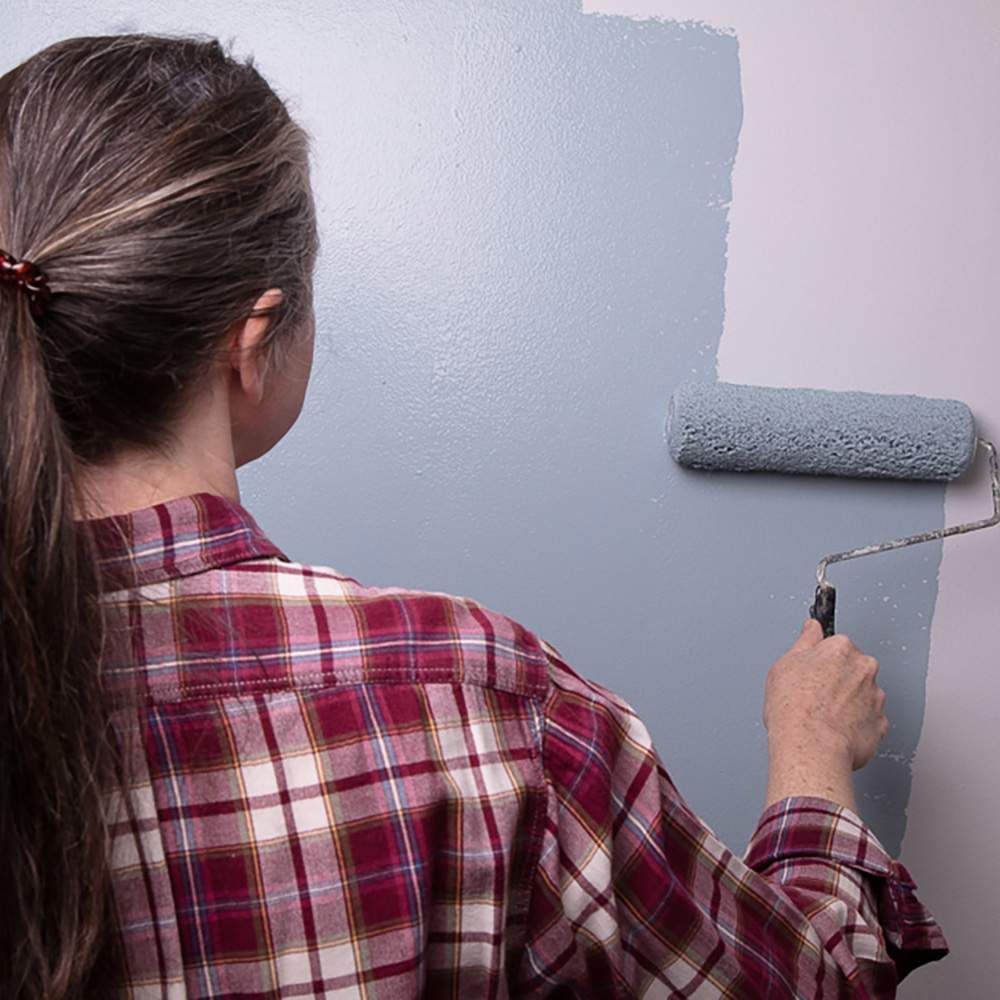 Ever finished a painting project and didn't know what to do with the leftover paint? You're not alone. Since paint is a hazardous material, knowing how to store and dispose of it is important for your safety and for the health of the environment. Storing leftover paint is a good idea for several reasons. You can use it to touch up scuffs and scratches, or paint new accents in the future. And most of all, you can save money in the long run.
The tips in this guide will help you keep your leftover paint for years to come. In case your paint simply isn't usable any more, you'll learn how to properly dispose of it. Practice lead paint safety. If the house or surface you're painting was built before 1978, see EPA's renovation, repair and painting program for guidelines. 
1
Transfer Usable Paint to a Smaller Can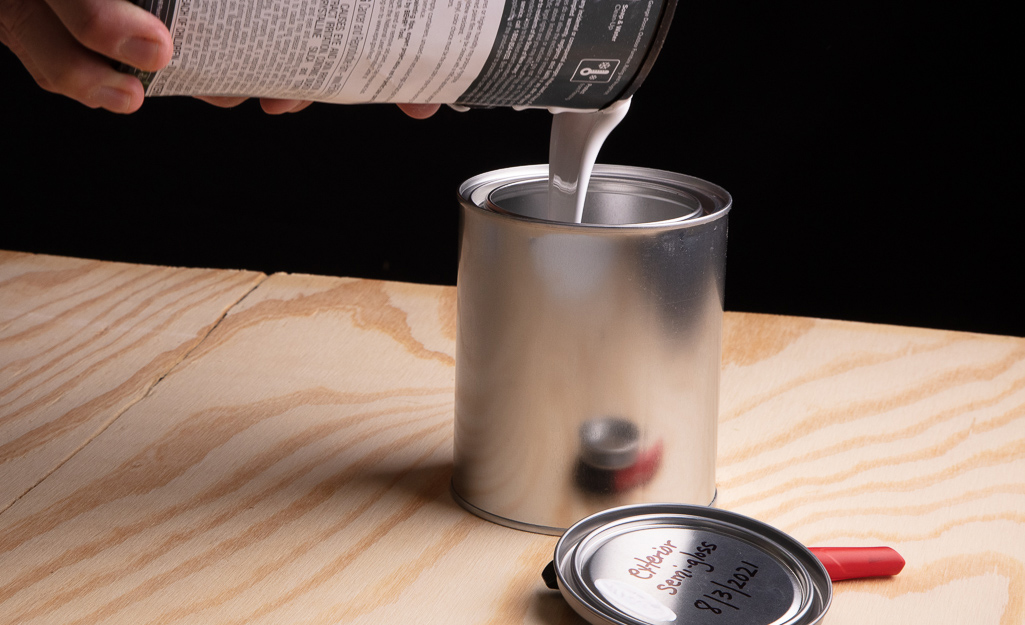 If you find yourself with enough leftover paint to keep – but not enough to fill a gallon or quart can – transfer it to a smaller, air-tight paint container that leaves as little room for air as possible, since air will cause the paint to go bad quickly. These are the best options for storing paint in a smaller container:
A wide-mouth glass or plastic jar with a screw-top lid. 
A clean, dry pint or quart size paint can.
Tip: Store a clear paint container out of the light. A dark storage room or closet will help keep the color from fading.
2
Remove Excess Paint from the Paint Can Rim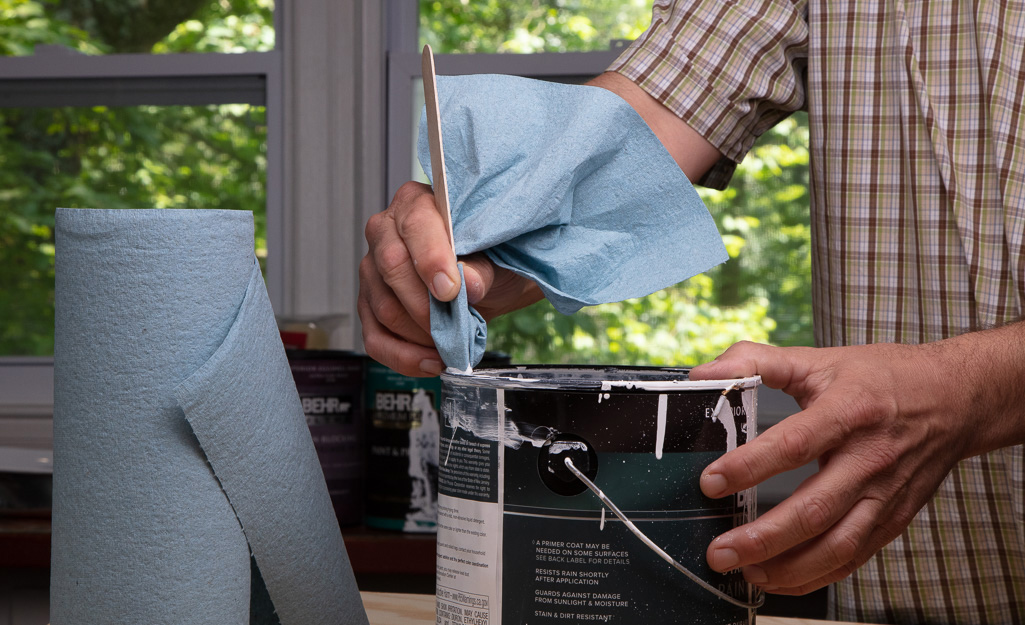 If you're using the original paint can to store your leftover paint, remove excess paint collected in the can rim to ensure an airtight seal when you put the lid on. Doing so will also make the lid easier to get off later — excess paint in the rim will make it nearly impossible to remove once it dries. Use a stiff paint brush or a small screwdriver wrapped in an old cloth to clean the rim. You may need to use paint thinner or mineral spirits to remove excess oil-based paint. 
Tip: Place a sheet of plastic wrap across the paint can before replacing and securing the lid. This will help make the seal airtight and prevent metal-on-metal corrosion.
3
Write Key Information on the Lid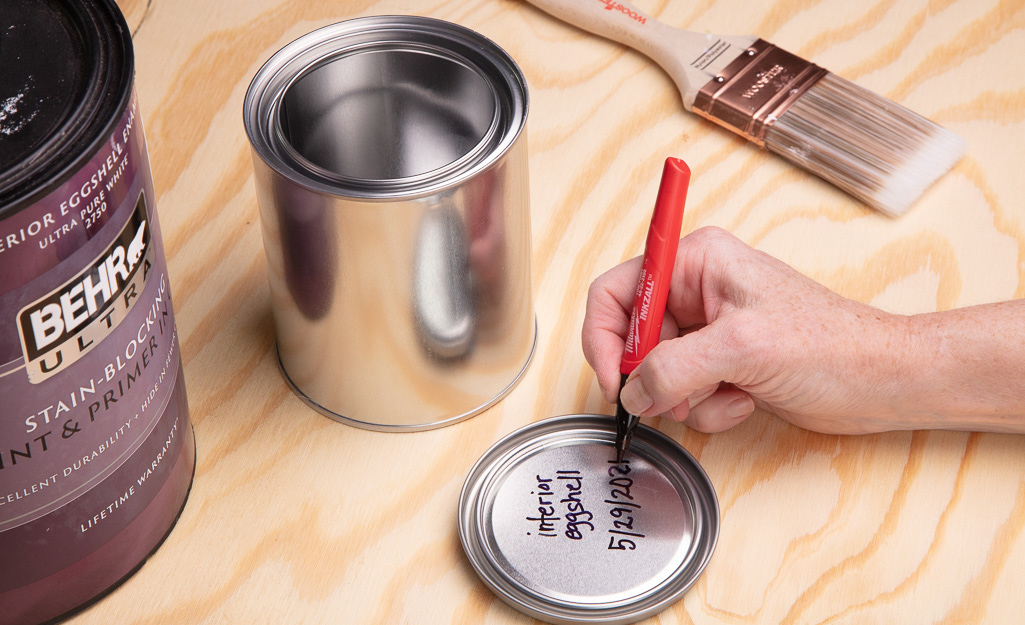 Along with the paint color sample on the lid, include some key points about where and when you used the paint. With a permanent marker, write the following on the can lid:

Date: Paint won't stay usable forever, so you'll need to know when it's no longer good so you can dispose of it.
Where it was used: Be specific! If you used the paint for your kitchen, for example, specify whether it was for the kitchen walls or the kitchen cabinets.
Paint brand and store information: If you have transferred leftover paint to a new container, or the original lid and can are unreadable, you may not remember the brand of paint or where you got it. Write this information on the lid, just in case you end up needing more later on.
4
Apply a Dab of Paint Onto the Lid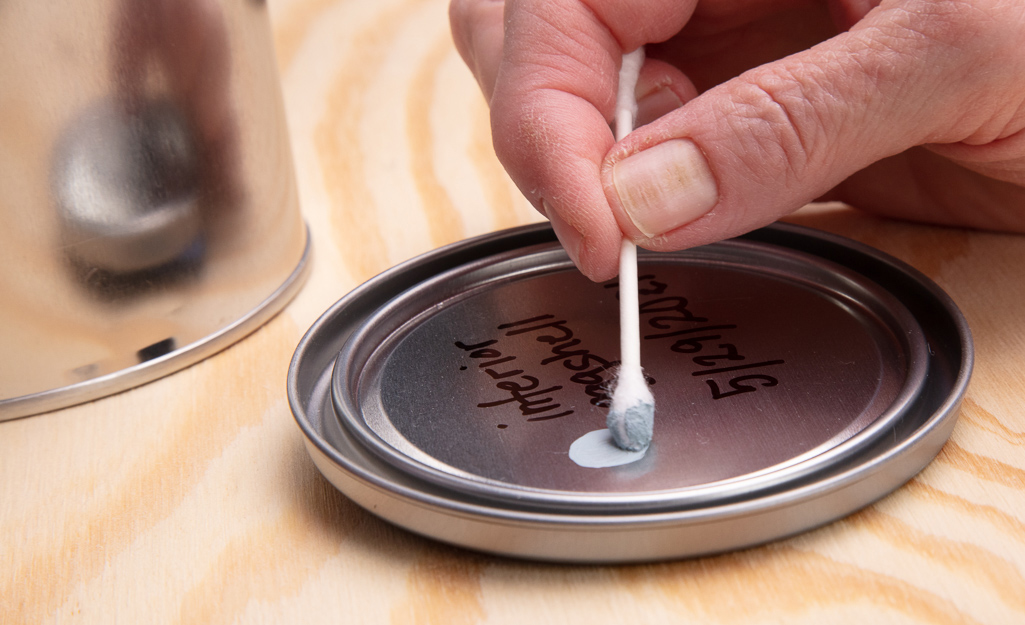 The main reason to store leftover paint is to use it for touch-ups down the road. But if you have several cans of paint in your storage closet, how will you know which one is the right one? Easy: Before you seal the can, use a small craft paintbrush or cotton swab to dab a dime-size dollop of paint on the lid. This will save you from having to open multiple paint cans to find the right one – potentially causing all of your stored paint to go to waste.
5
Tap the Paint Can Lid Until Secure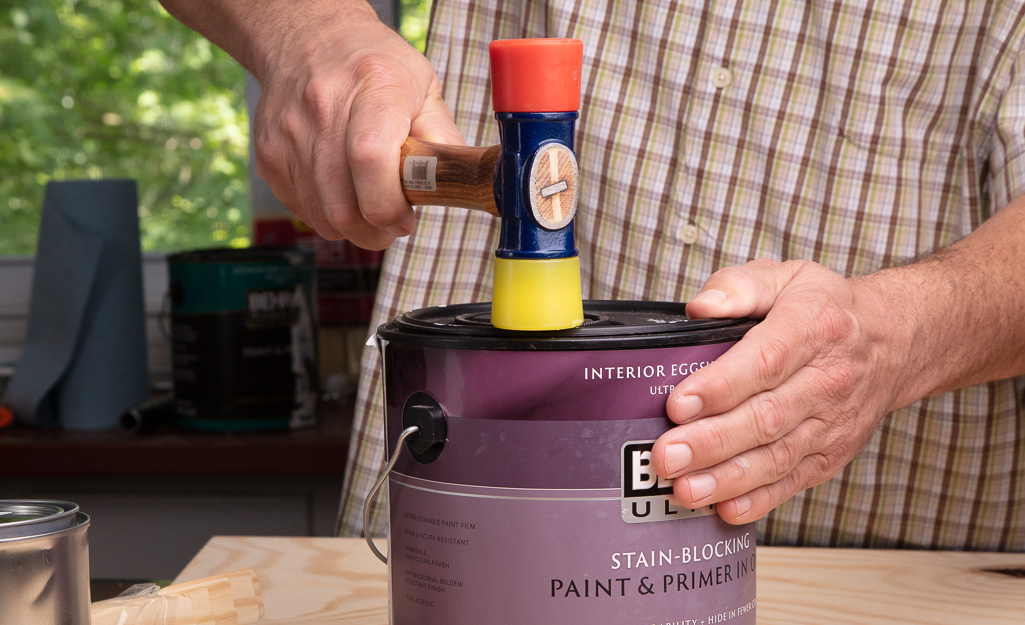 Air is the enemy of paint. The most important thing to remember when storing paint is to make sure the container lid is on tight. A jar with a screw-on lid makes this easy, but if you're using a paint can, here are some tips to close the can securely:

Use a rubber mallet to tap around the edge of the lid until it's secure.
Don't tap the middle of the lid, since this could damage or distort it and break the air seal.
If you don't have a rubber mallet, place a board over the can lid, and tap on the wood until the can is sealed.
Tip: Purchase a paint can storage lid to make this step easier.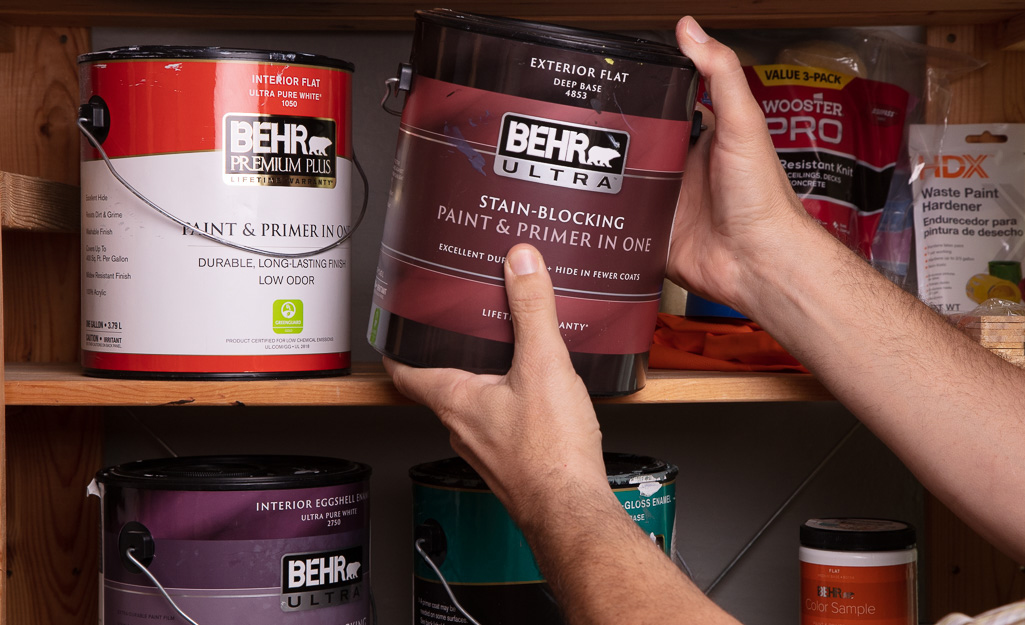 Unopened water based paint and latex paint will last for 10 years if they don't freeze. Leftover paint should be used within two years. Once your paint is safely stored in an air-tight and labeled paint container, follow these storage tips to ensure your paint lasts as long as possible.
Store liquid paint in a cool, dry place where temperatures stay above freezing 
Store paint cans upside down once they're sealed to prevent air from entering the container
Put a barrier between the can and cement floor, or store your leftover paint on shelves. The bottom of metal paint cans will rust faster if they're stored directly on a cement floor.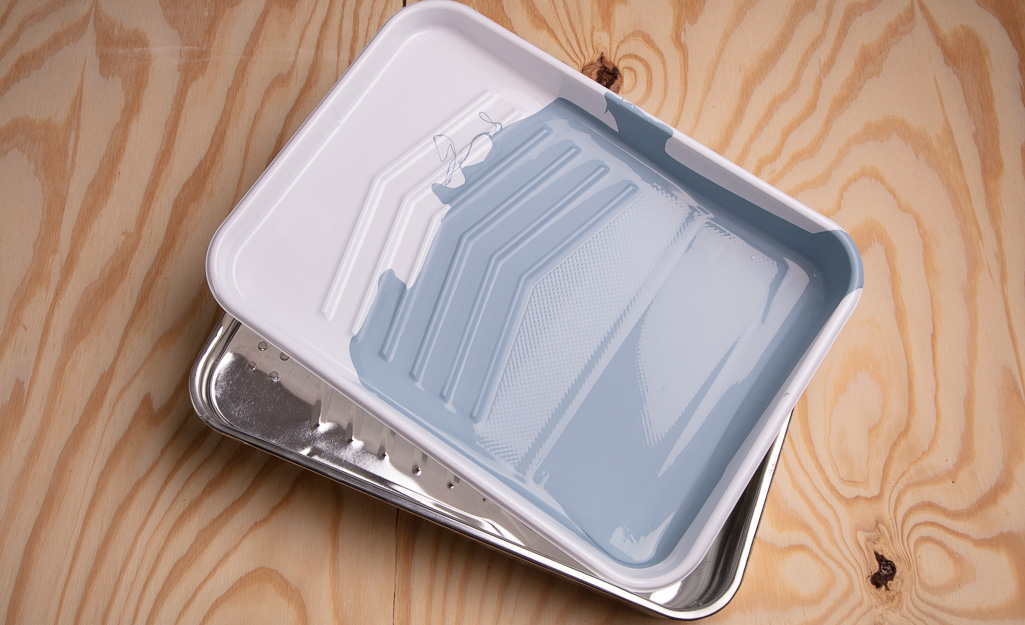 By volume, old paint is the largest category of waste brought to household hazardous waste collection sites. If you have oil based paint you need to dispose of, call your local Health Department for your community household hazardous waste collections sites and regulations. Oil paint is treated differently than latex and water based paints.
If you do a lot of painting at home and don't want to store leftover paint — but you don't want to waste it, either, consider these ways to recycle your paint:
Set up a paint exchange with friends and neighbors.
Donate leftover paint to charities, churches, service clubs, theater or school groups.
Calculate the right amount of paint you'll need so you don't over-buy.
If you don't have enough water-based paint or latex paint leftover to give away or store, you may be able to dispose of paint through your household trash collection. Call your provider to ensure they pick up paint that's dry. If so, they'll likely have you follow these guidelines:
Brush the leftover liquid paint on cardboard or newspaper, and allow the empty can to dry with the lid off.
If the paint can is less than one-quarter full of paint, remove the lid and leave the paint to dry in a well-ventilated area away from open flame, children, pets and rain. Stir the paint every few days to speed up the drying process.
If you have larger quantities of water based paint or latex paint that have been stored for too long or gone bad, it may still be possible to dry the paint and set it out for household trash collection. Check with your local hauler to be sure, and then:
Pour a half-inch layer of paint in a cardboard box lined with plastic.
Allow the paint to dry, then pour on another layer.
Use paint hardener, cat litter, sawdust or other absorbent material to speed up the drying process.
Continue pouring half-inch layers until all of the paint is dry.
Leave the lid off the can to dry out the can completely.
Dispose of the can and the cardboard box of paint with your household waste.
After you complete a painting project, allow your paint tray and paint brush to dry, if you're not going to clean and re-use them, and toss those out, too. And don't forget about old paint cans down in the basement or out in the garage — as long as the paint inside is dry, they're solid waste, and you may be able to toss them in the trash.
If you have old spray paint cans cluttering up your garage, you can recycle them. Make sure they're completely empty by spraying a piece of cardboard with the paint until nothing else comes out. Then, place the aerosol cans in your regular recycling container for pickup.
Tip: When leaving old paint cans out for your regular trash hauler, leave the lids off so they know they are empty or dried.
Ready to find the supplies you need in your local store? Use The Home Depot app to locate products and check inventory. We'll take you to the exact aisle and bay.
Get just the amount of paint by using The Home Depot's project calculators to determine exactly how much you'll need, then follow this guide to store or dispose of the rest.