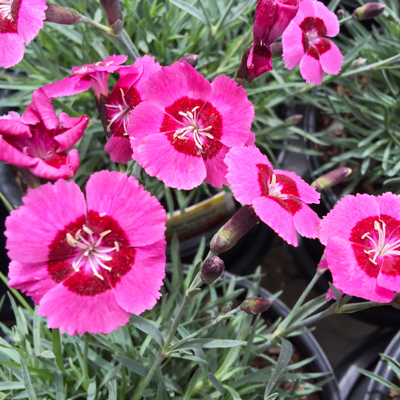 Now's the time to plant quick-to-bloom annuals that grow best in cool weather.
Choose colorful spring flowers that provide nectar for hoverflies and other early-season beneficial insects.
Celebrate Spring with Easy Annuals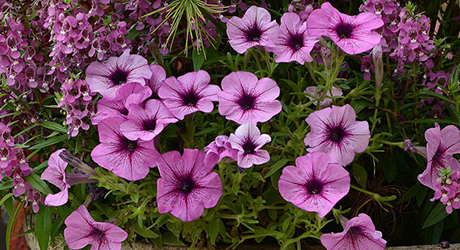 Determine colors. Decide on a color scheme and place seedlings near each other in various combinations to preview how they will look when grown together. High-contrast pairings such as dark pink dianthus, pictured above with light gray Dusty miller always look exciting, while fragrant sweet alyssum has a softening effect wherever it is grown. White flowers lend a fresh, clean look to blooming combos, so try adding a few white candytuft (pictured below), petunias or pansies to your planting plan.
Prepare your space. Prepare a planting space by cleaning up a bed or favorite container. Dig a 2-inch layer of compost into flowerbeds, and use fresh potting soil in containers. If you are working with large containers, move the pot to its permanent spot before filling it with soil and plants.
Water flowers. Water your seedlings thoroughly before gently removing them from their containers. After transplanting flowers to their new home, press them in gently to make sure there is firm contact between the soil and the plants' roots.
Prevent weeds. Prevent weeds in flowerbeds by covering the soil between plants with several thick folds of newspaper or pieces of damp cardboard. Finish by covering with a 3-inch layer of wood chip mulch.
TIP: Consider making dianthus the stars of your garden. Annual dianthus often flower for months and come in many shades of red, pink and white. They're often called "pinks" because the zigzag edges of the petals look like they have been trimmed with pinking shears. Dianthus are closely related to carnations, but are much easier to grow. In addition to brightening your yard, colorful dianthus plants attract hummingbirds with their sweet nectar.
Explore More on homedepot.com