While a walk-in closet is made to store a lot of items, you may not be using it to its fullest potential. With the right walk-in closet ideas, you can create a space that is beautiful and functional. This guide includes closet design ideas, walk-in closet organization tips and closet systems to help you streamline your space. 
Consider Your Closet Needs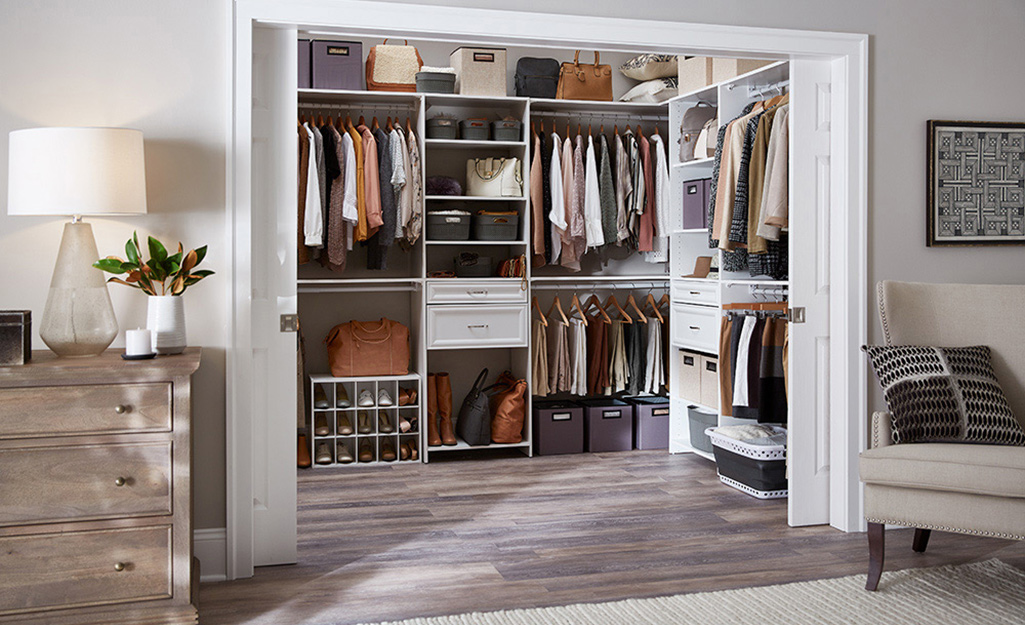 Whether you're planning to turn your walk-closet into a dressing room complete with seating and lighting or you just need a few good spots to store your favorite shoes, there is a closet system for you. But there are a few things to consider before purchasing. 
Do you need a simpler design featuring wire shelving that will provide storage at different heights? 
Will you be storing more than clothing? Do you need closet accessories like hooks, shoe racks, cabinets and drawers? 
Do you have the space to transform your entire walk-in closet with a larger modular system? 
Would you prefer to mix and match your closet design by incorporating a mix of wood and wire shelving as well as baskets, totes and bins for organizing?
Tip: Always measure your space to be sure your closet system and storage solutions will fit well in your closet.
What Is A Closet System?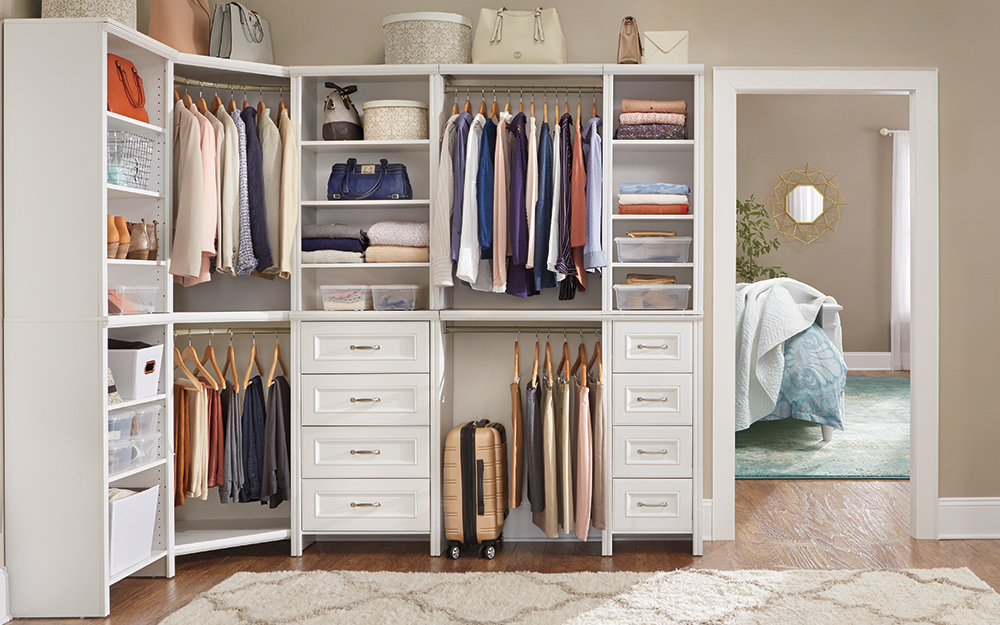 Pre-designed, yet flexible, modular closet systems help take the guesswork out of master closet design by providing one sleek, streamlined look. 
Depending on the type of accessories, closet hardware and other storage options you need, you can choose from collections that feature things like adjustable closet shelves, standard-width closet drawers and cabinets or more simple designs that consists of basic wire shelving. If you're thinking of small walk-in closet ideas, closet systems can be configured to fit spaces of all sizes. 
Tip: Before you start organizing, consider cleaning out your closet to get rid of items you no longer need or use.
Closet Design and Planning Tips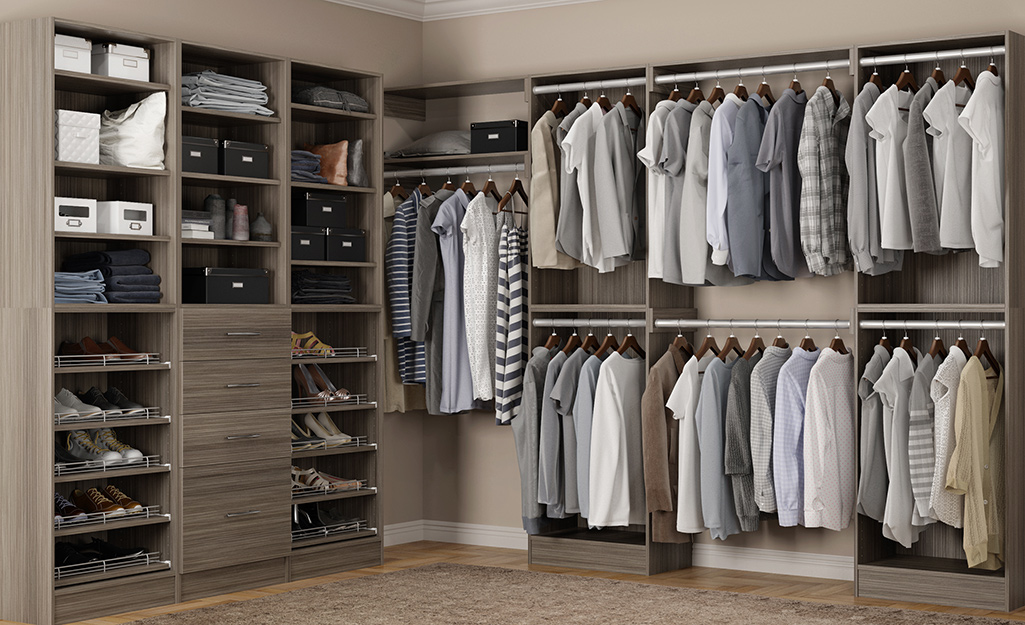 Your closet system can be customized to match your lifestyle.
Design your closet for functionality so that everyday use items are kept within reach. 
Keep like items together to cut down on searching. 
Shelves are ideal for storing purses and shoes. Drawers and closet organizers keep accessories like scarves and jewelry neatly sorted and tucked away. 
For function and beauty, vary your hanging heights. Utilize the full height of your closet for clothing racks. Tall rods will come in handy for hanging robes and long dresses. Hang rods and shelves at lower levels for sweaters, shirts and clothing you may wear more often.
When in doubt, add more closet accessories. Drawer dividers and hanging rods can help increase your storage space. A hamper can conceal dirty laundry to keep your closet more tidy. 
Wire Shelves for Walk-In Closets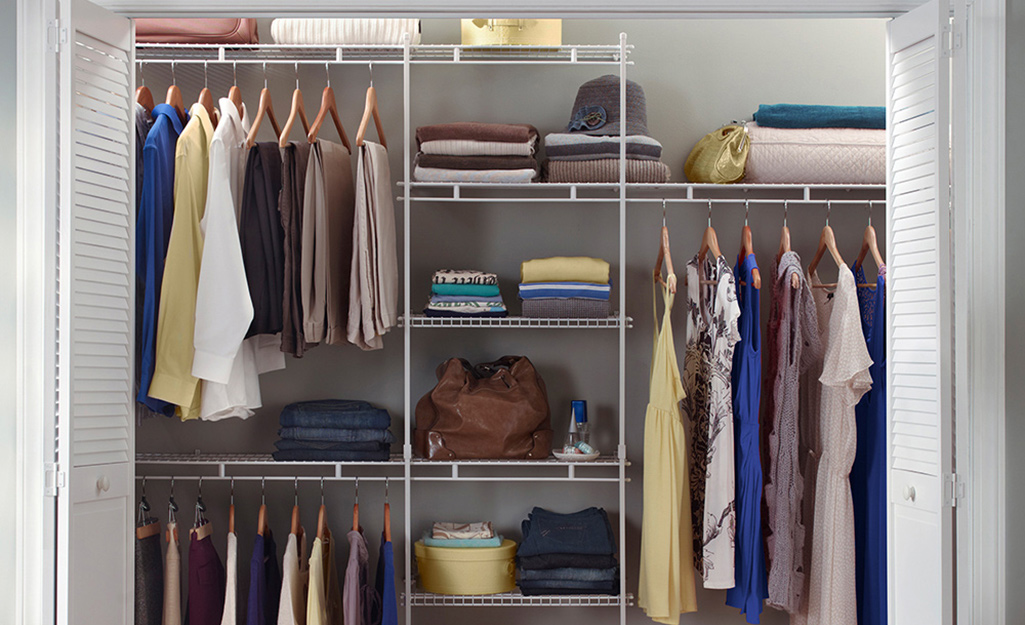 Walk-in closet systems and closet shelving are available in both wood and wire options. It's important to determine kind of shelves will be best for your closet before starting your project. Each type of shelf has its own features and drawbacks. 
Wire shelving:
Versatile and cost effective.
Available in fixed and adjustable options.  
Sturdy to support everyday items like shoes and bags as well as heavier items like luggage and overflow storage. 
Easy to install on your own 
Most are available in a classic white color, so if you are looking for a truly customized look, wire may not be your choice. 
Slatted shelves may not be ideal for smaller items, so think of using baskets and bins to house smaller items you plan to store on the shelves. 
Ideal for hall closets, kids' rooms and areas with smaller closet space. 
Wood Shelves for Walk-In Closets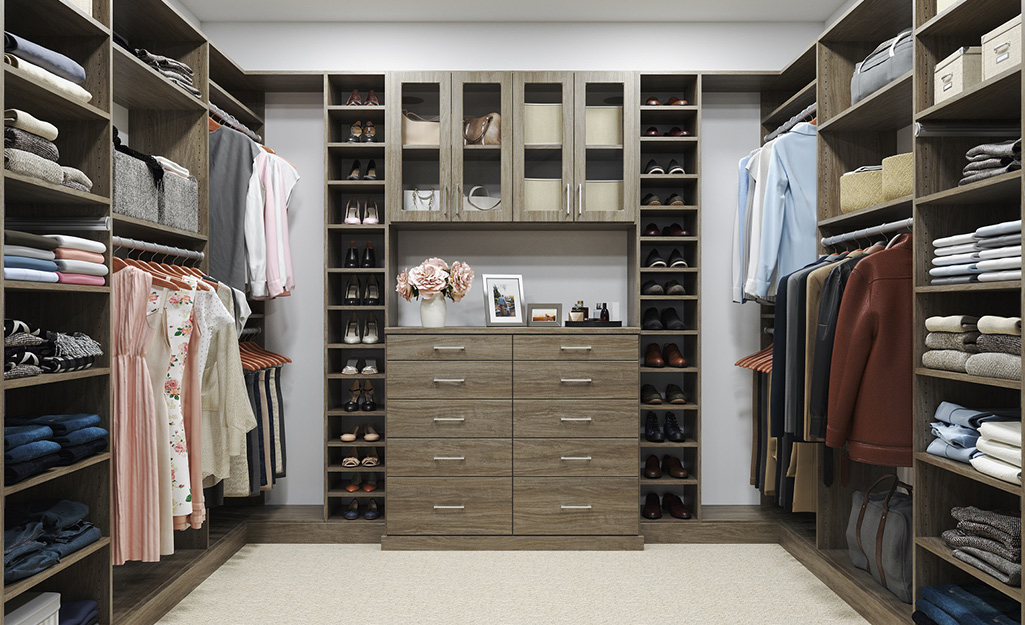 You don't have to choose either wire or wood shelves for your walk-in closet. You can have both. For instance, a master walk-in closet with ample space could utilize wire shelving for overflow storage and wood shelving for something like shoe or bag storage.
Wood shelving:
Adds instant appeal with a clean, streamlined look.
Ideal for larger, walk-in spaces such as master closets.
Can be installed by the homeowner or by closet design professionals.
Cost a bit more up front. 
Sturdy and able to handle heavier storage.
Provides a smooth, flat surface for clothing. 
Color-Coordinate Closet Storage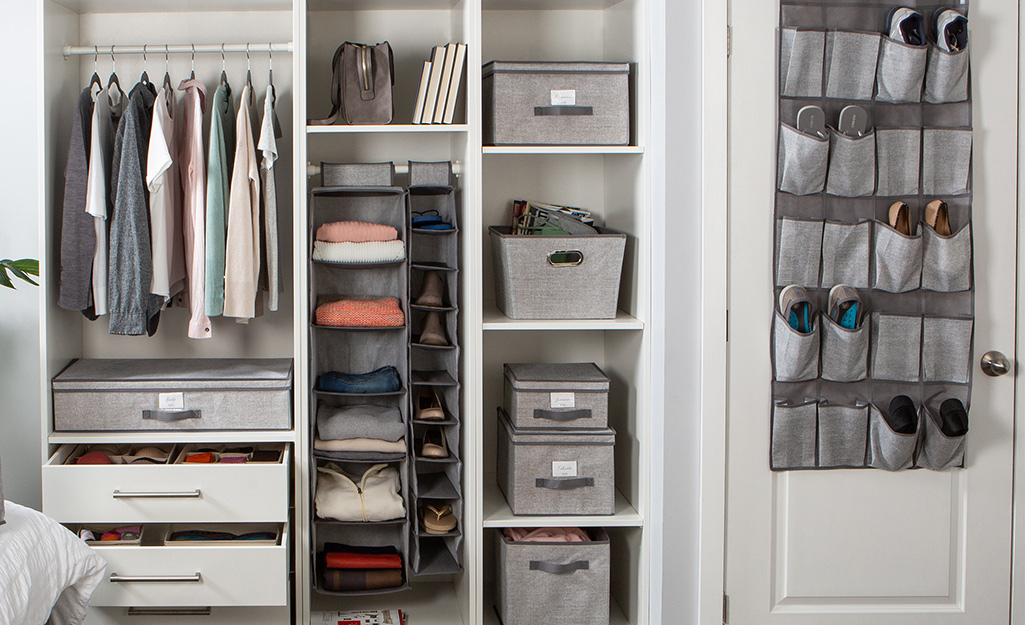 When you buy items for storage haphazardly, your organization efforts can end up looking messy. Choose a color palette for your closet storage to keep everything in harmony. It doesn't have be too matchy-matchy, but selecting a main color and a couple of accent shades can make your closet more picturesque than you thought possible. 
Bring In Baskets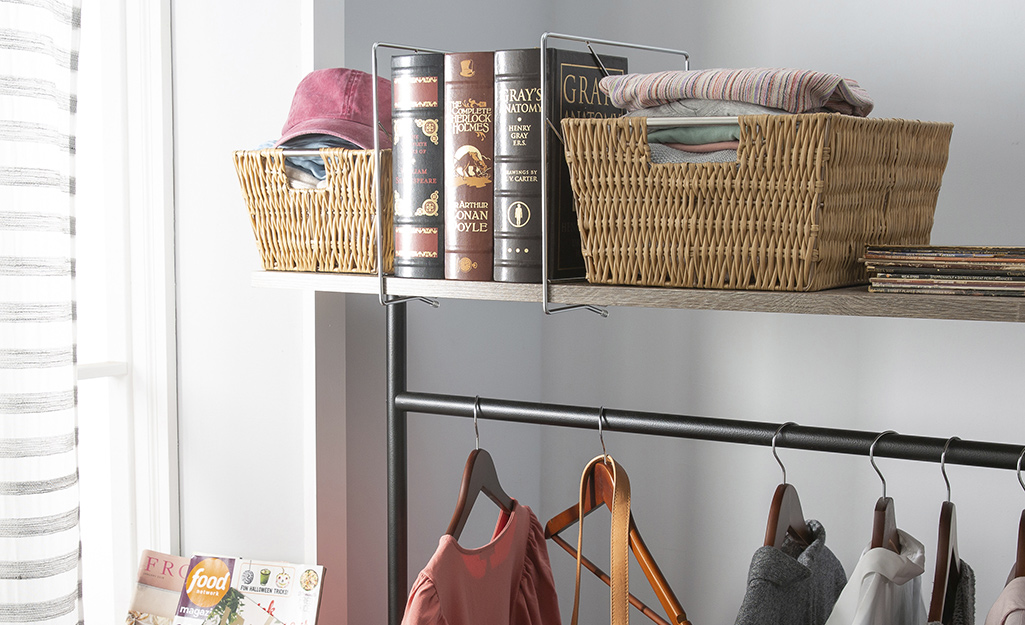 When it comes to small walk-in closet ideas, storage baskets are an excellent choice. Thet're great place to store folded shirts, sweaters or pants. They're also ideal for stashing shoes and accessories. Storage baskets are available in a variety of sizes and materials. You can get wire baskets to go with your wire shelves or woven baskets to place on wood shelves. 
Choose Cabinets for a Walk-In Closet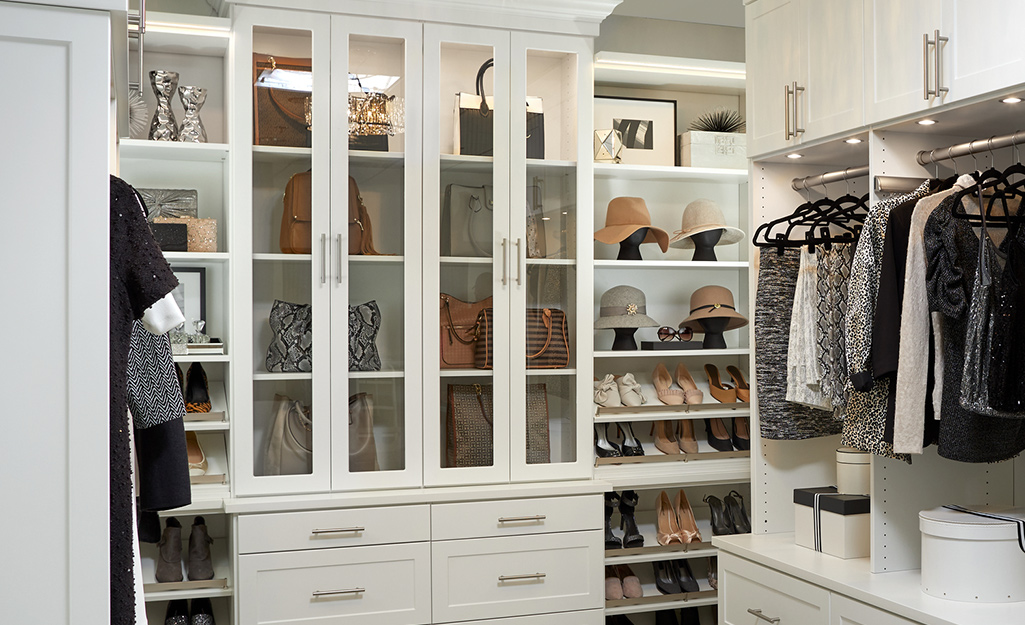 Your walk-in closet ideas don't have to be limited to clothing rods, shelves, baskets and boxes. Cabinets offer maximum storage potential. If you want to hide what's inside, opt for solid doors. 
Choose cabinets with glass doors to showcase your favorite pieces, from sequined purses and wigs named for your friends to signature watches and the ultimate sneakers. You can even install lights inside the cabinets to truly spotlight the ultimate accessories.
Incorporate An Island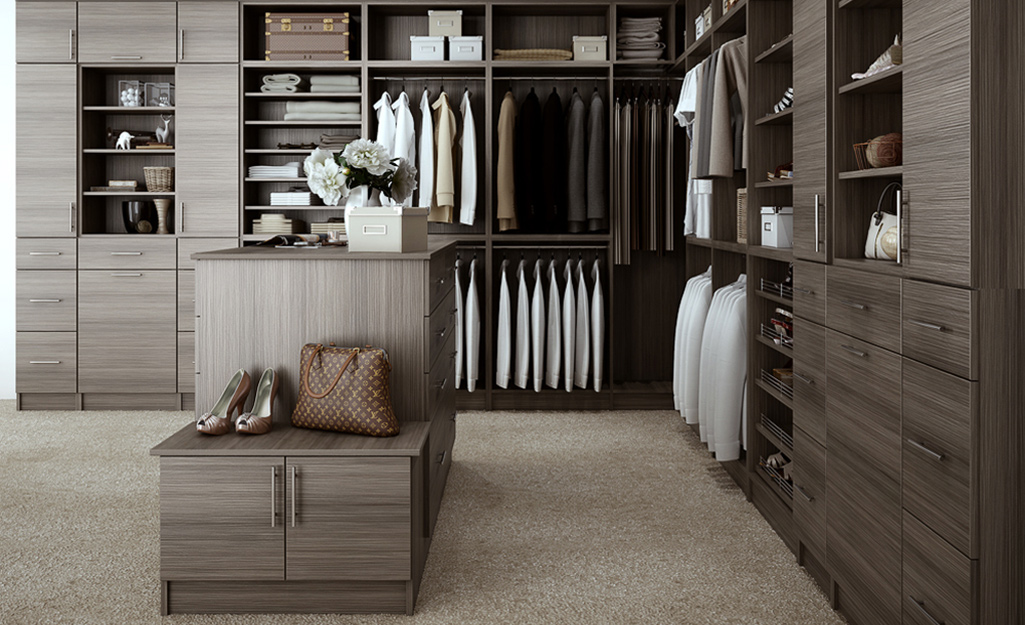 Think of how useful a kitchen island is. Now, consider how you could use an island in your closet. You can use the surface for folding clothes, laying out an outfit of the day or packing for a trip. Storing items inside the island's cabinets or drawers (or both) opens up a realm of new organizational possibilities. 
Move In a Mirror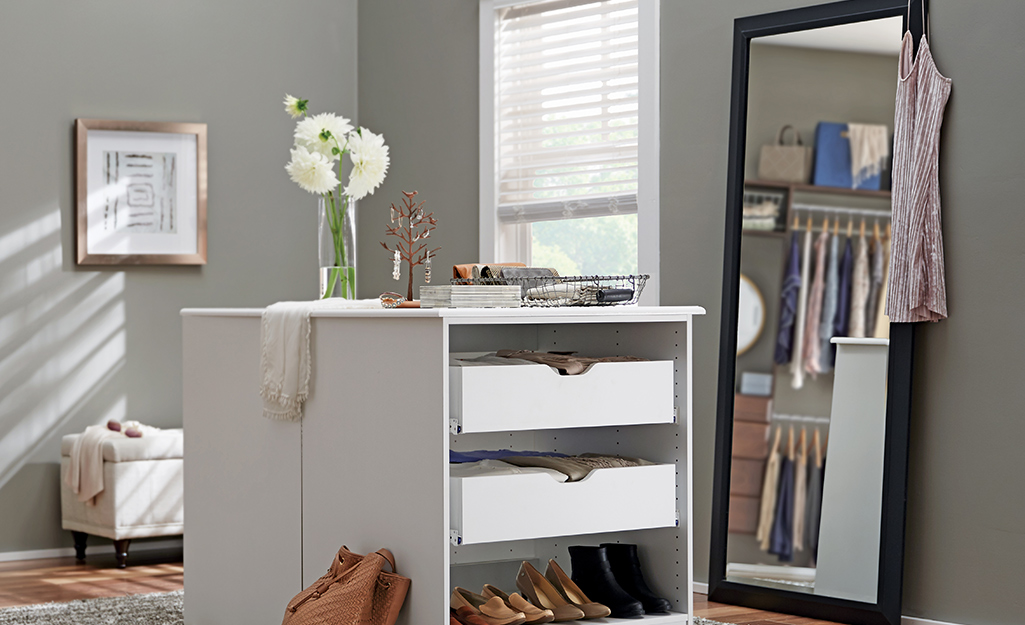 When you have easy access to all your clothes, you're also going to need to see how they look while you're wearing them. At the very least, a walk-in closet should have a full-length wall mirror. 
Plus, mirrors in a closet can also make even the smallest space seem bigger. You don't have to spend a lot on a mirror. If you buy a less costly one, you can customize the frame with a bright paint color or other decorations.
Enhance the Lighting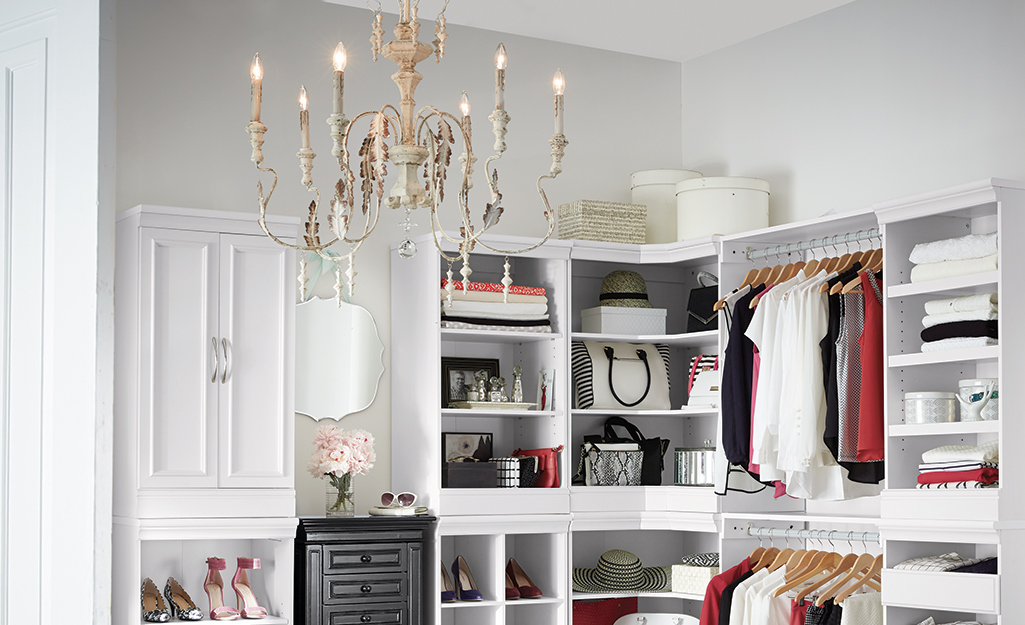 Having the best mirrors in your closet won't matter if the lighting isn't good. For the ultimate lighting update, hang a chandelier in your closet. However, you don't have to rewire your closet to change the lighting. Bringing in a floor or table lamp might be exactly the change you need.
Add a Vanity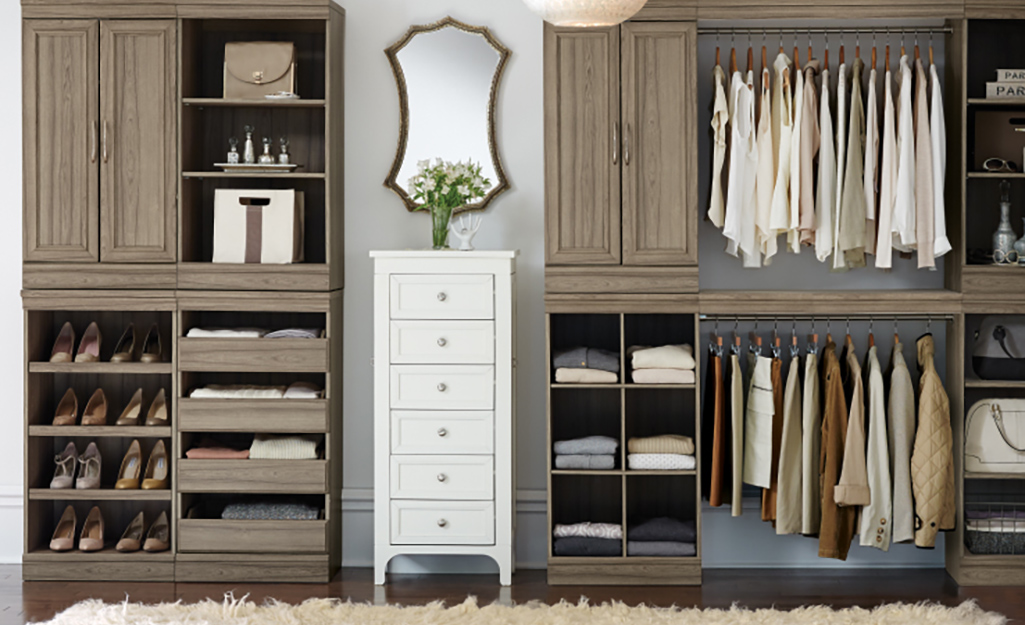 A vanity or dressing table offers the ideal place for applying makeup and deciding which pieces of jewelry best complement your look. The ideal vanity is well-lit. It should also have a room for a chair or stool that you can push underneath when it's not in use.
Add Seating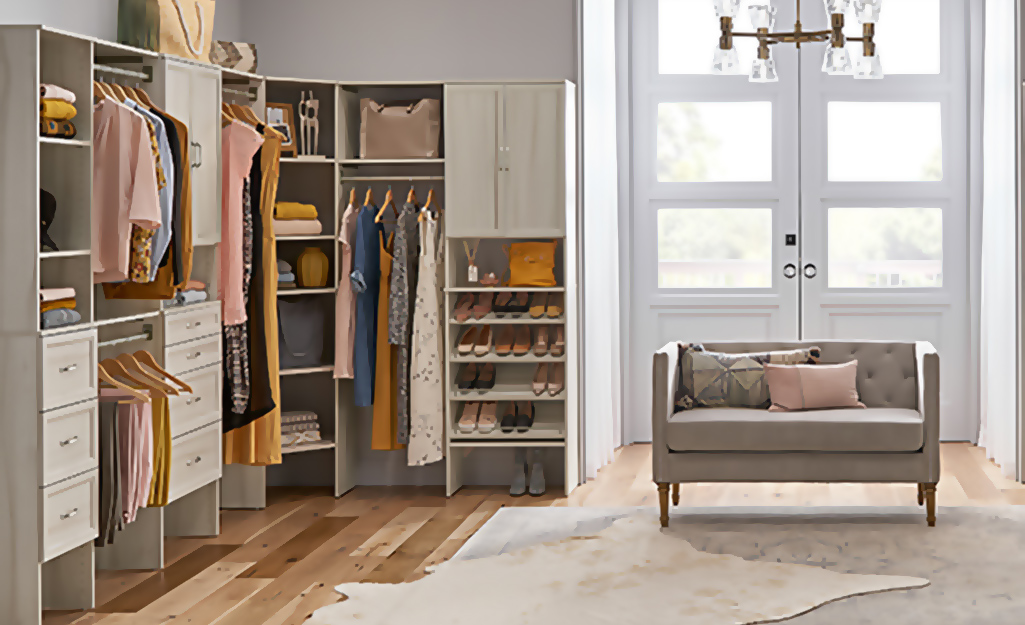 Your walk-in closet can serve as not only a dressing room, but also as a retreat. If you have the space, put a chair or stool in your closet. A chair will also give you a place to relax and admire all the hard work that went into organizing your closet.  Plus, you can sit down to put on tights, zip up a pair of boots or tie your sneakers. 
Roll Out a Rug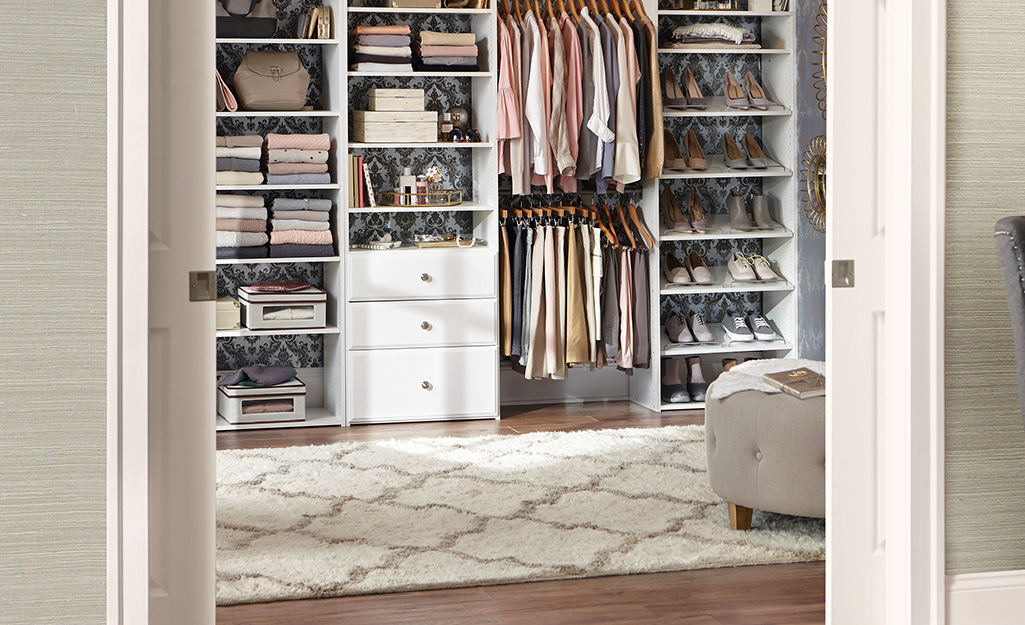 A rug can soften up the look of your walk-in closet, as well as giving you a more comfortable place to stand while choosing your outfits. You might choose a rug in a favorite color to coordinate with the clothes hanging in your closet. A rug in a luxurious texture can add both visual and tactile appeal. 
Display Some Artwork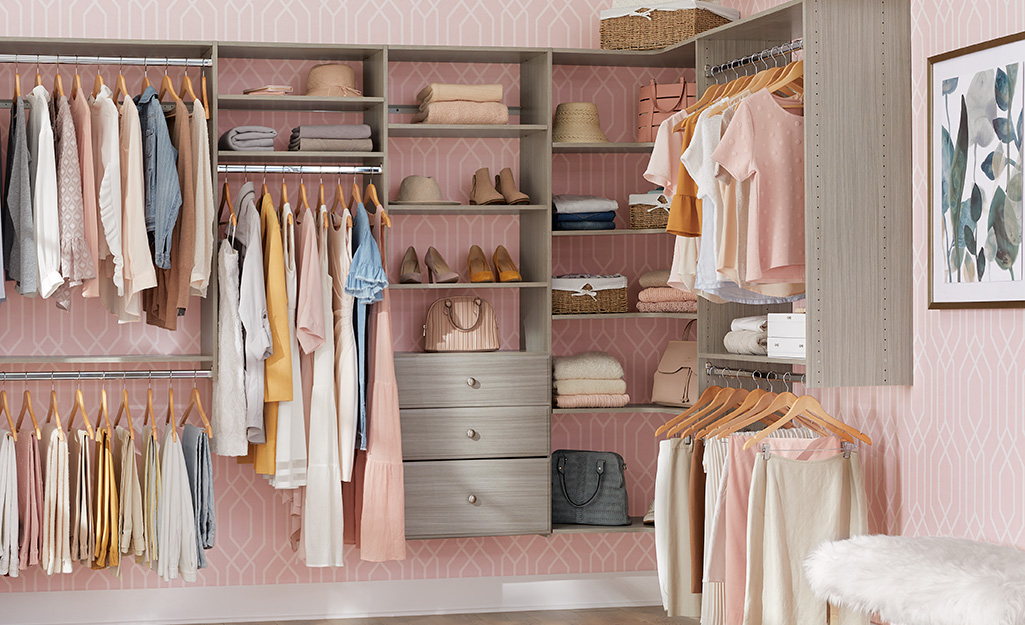 A piece or two of artwork can add to the atmosphere of your walk-in closet. You might consider a glam black-and-white photograph from old Hollywood. The framed cover of a fashion magazine, whether vintage or contemporary, can give offer style inspiration. A landscape painting can give you a moment of relaxation as you scramble to get ready or simply remind you of a favorite spot.
For walk-in closet organization, there are a countless number of storage options, from bins and baskets to wood shelves and complete closet systems.  Adding visual appeal to your walk-in closet can help encourage you to keep the space arranged neatly. 
When it's time to make your walk-in closet ideas a reality, The Home Depot's Custom Closet services can help. Get modular closet kits, storage solutions and professional closet design and installation.
Explore More on homedepot.com