New tile can give your bathroom a fresh look. A bathroom tile installation is a relatively simple do-it-yourself update. Most bathroom tile is moisture resistant, durable and easy to maintain. With so many colors, styles and materials to choose from, this guide of bathroom tile ideas makes it easy to narrow your choices and find the tile that fits your style and your budget. 
What Types of Tile Fit Your Bathroom Style?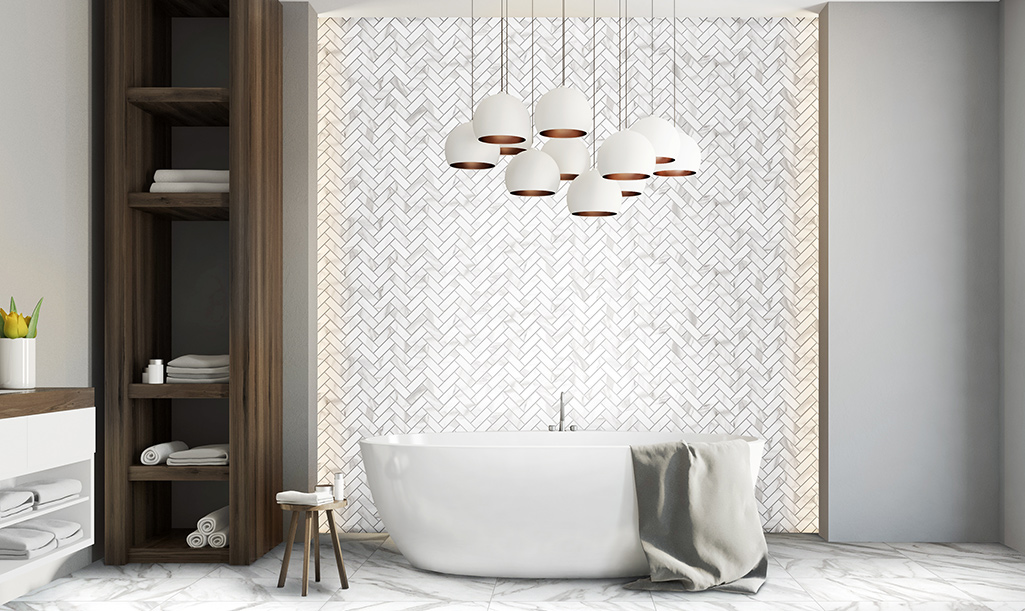 Homeowners are more aware of their personal spaces. This heightened awareness is reflected in the latest bathroom tile trends. There is an emphasis on easy-to-clean surfaces that are stylish and provide pizazz to the bathroom. Textured finishes and graphic mosaic tile patterns are in. Matte finish tiles and neutral colors like white, gray and cream are highly popular among bathroom tile ideas.
Here are a few things to think about when it comes to your bathroom style:
Look at how to use colors and patterns to make parts of the bathroom stand out.
Think of the textures and graphics of your bathroom tiles and how they can create the decor you want.
Check out pictures of bathroom tile designs and layouts for creative encouragement.
Be creative in your choice of wall and floor tile to create a seamless experience. 
Patterned and Solid Ceramic Tile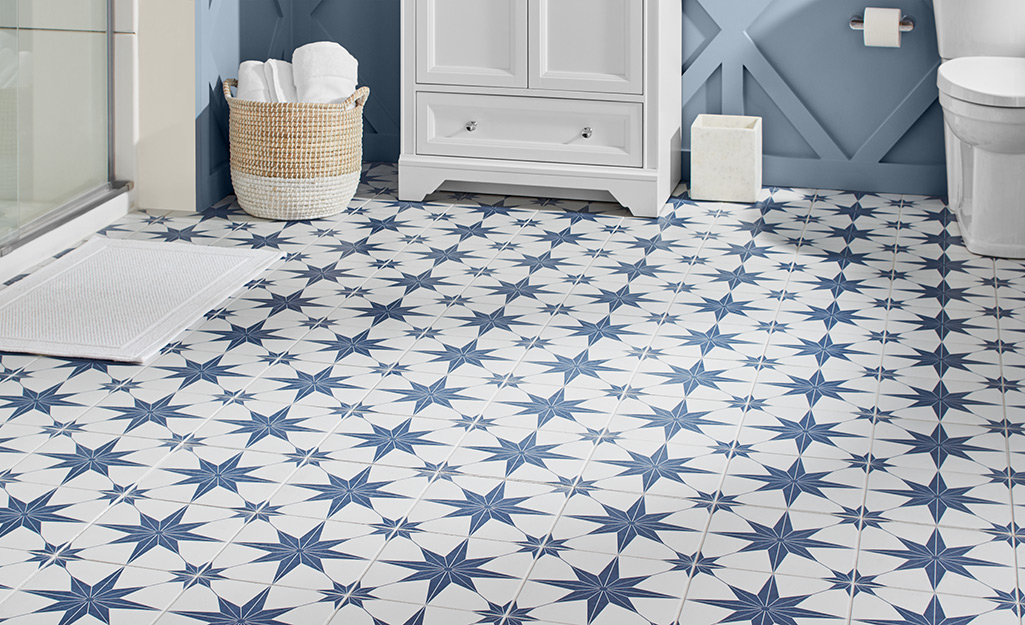 Ceramic tile lasts long and is easy to maintain. Available in striking herringbone patterns, colorful graphics and all white, ceramic tile is versatile and a practical way to express your style in a bath. Its countless designs range from traditional and transitional to modern or vintage inspired. 
Patterned and solid ceramic tile work equally on floors and walls. They allow for some creativity; for example, ceramic black and white patterned tiles in bathrooms with a built-in tub can create a retro-modern look.
Subway Tiles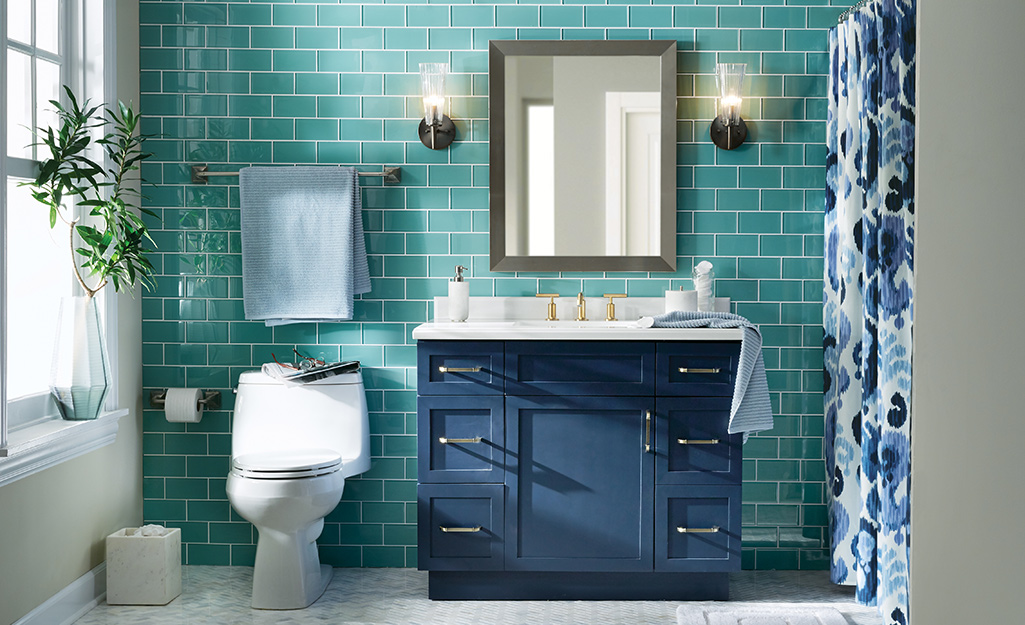 The bathroom tile go-to, subway tiles are by far the most popular bathroom tile. Subway tiles can be used on walls and floors for a seamless look and glossy tile finish. Easy to install and budget friendly, subway tiles in contrasting colors like gray and blue tile for the bathroom wall can be used to create colorful horizontal lines and other patterns.
Natural Stone Tile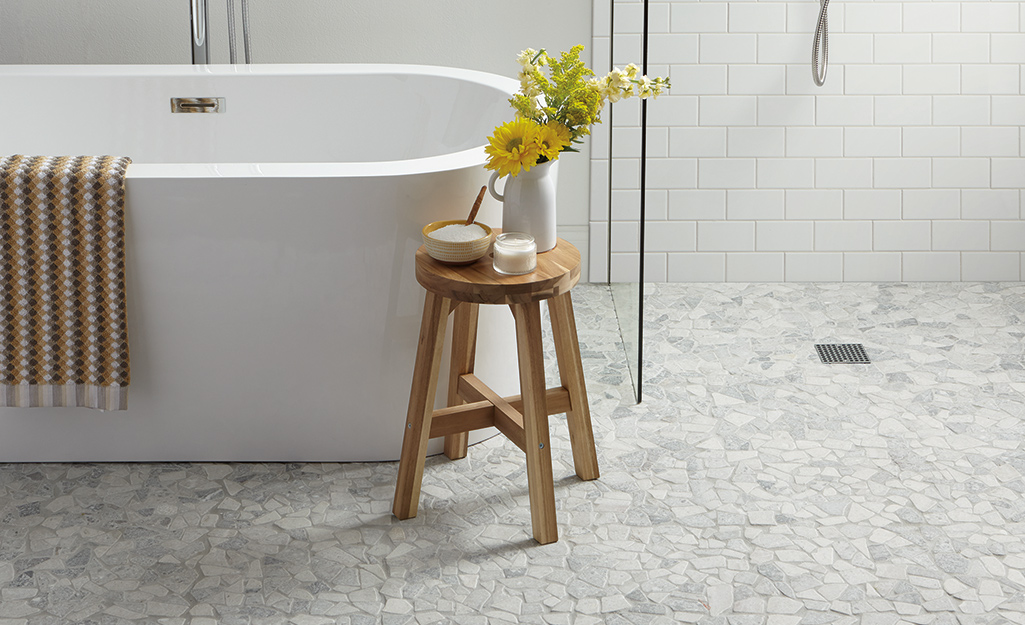 Natural stone tile is a classic and timeless accent. You can find stone look bathroom tile in an array of sizes and colors, making it easy to opt for a sophisticated look with texture or to create striking tile patterns for bathrooms.
Natural stone tiles are often seen as a modern and refined bathroom option. Mix and match different sizes to give your bathroom a structured feel. This works especially well when paired with a modern glass shower. Choose natural stone tile in neutral colors for any transitional or contemporary bathroom.  
Glass or Mosaic Tile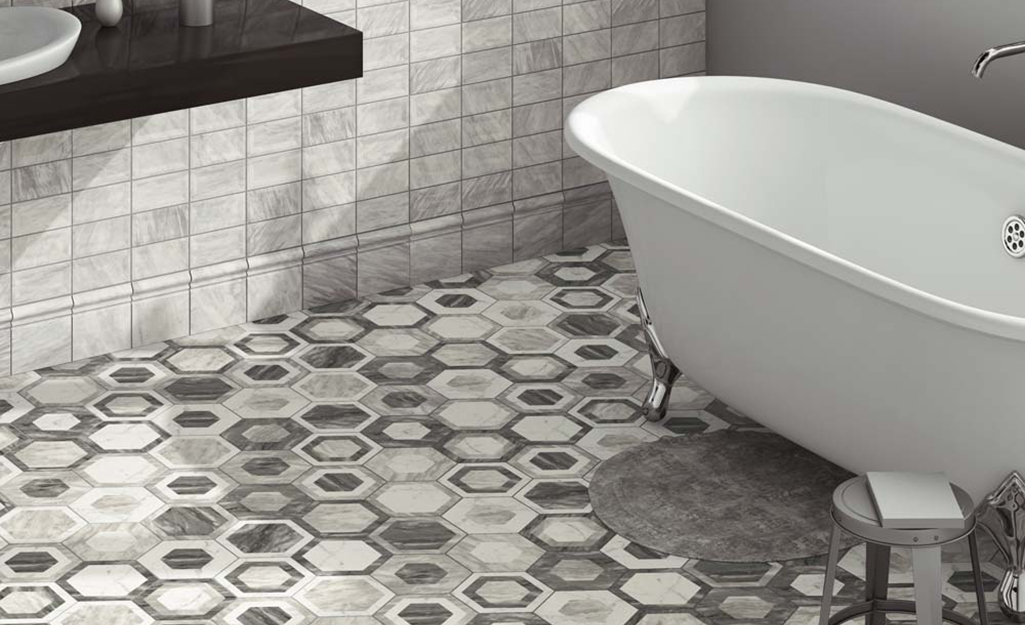 Colorful glass tile fits contemporary and minimalist spaces and provides a dynamic contrast to natural stone walls. Ideal for wet spaces like your shower and above the bathroom vanity, glass and other mosaic tiles come in many colors and shapes. The added sheen of glass tile also adds depth to your bathroom. Try using a combination of glass, porcelain and ceramic tile for a casual yet refined look. 
Glazed Porcelain Tile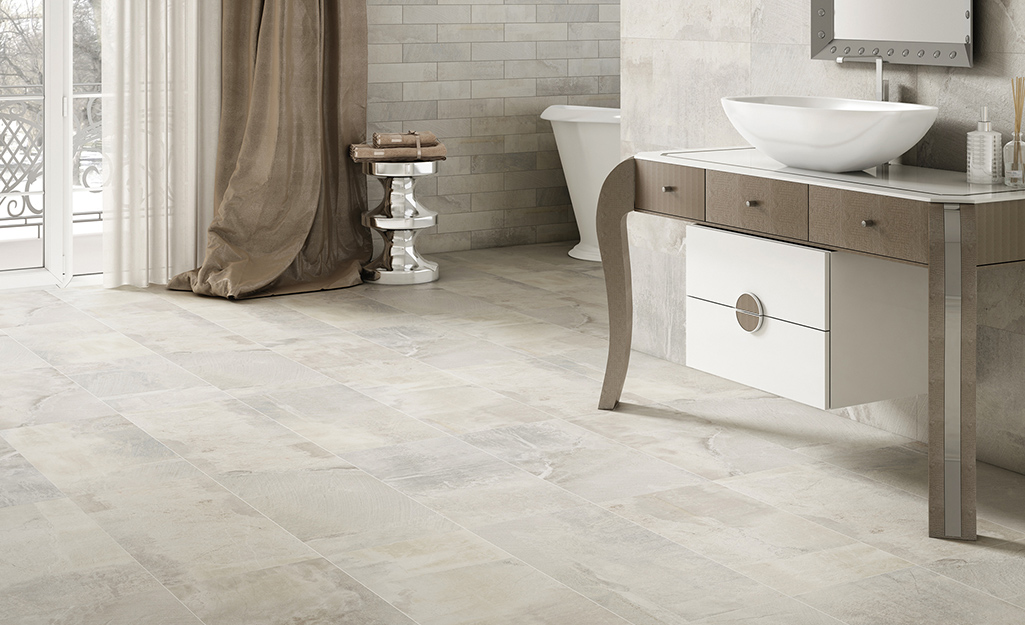 Porcelain tile is rich, warm and inviting. It is available in a wide range of colors and looks, is durable and is designed to last in any bathroom. Porcelain mosaic tiles add a unique and vibrant depth to the walls of your shower. Use porcelain tile in complementary bold colors to perk up a neutral bath. Although you can use glazed porcelain on the floor of your bath, it is not as durable as ceramic.
Using Tile Colors and Patterns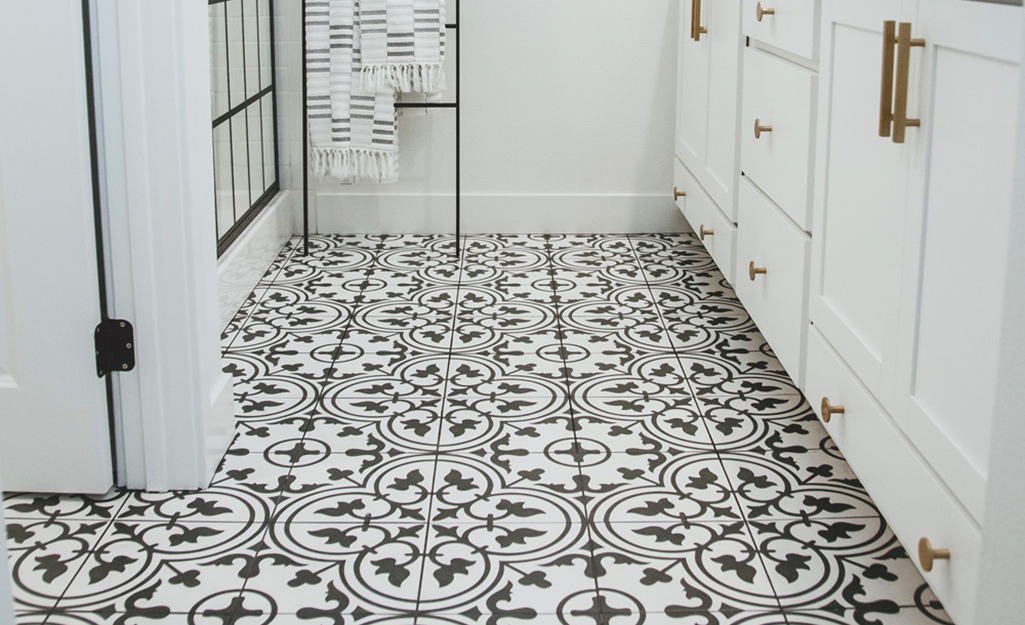 Keep tile flooring simple with an inspired color scheme or feature hues in a particular color palette. Classic white ceramic tile brings clean lines and modern simplicity to any bath. Decorative patterned tile is ideal in transitional spaces. It also complements art deco and vintage styles.
Gray Tile Ideas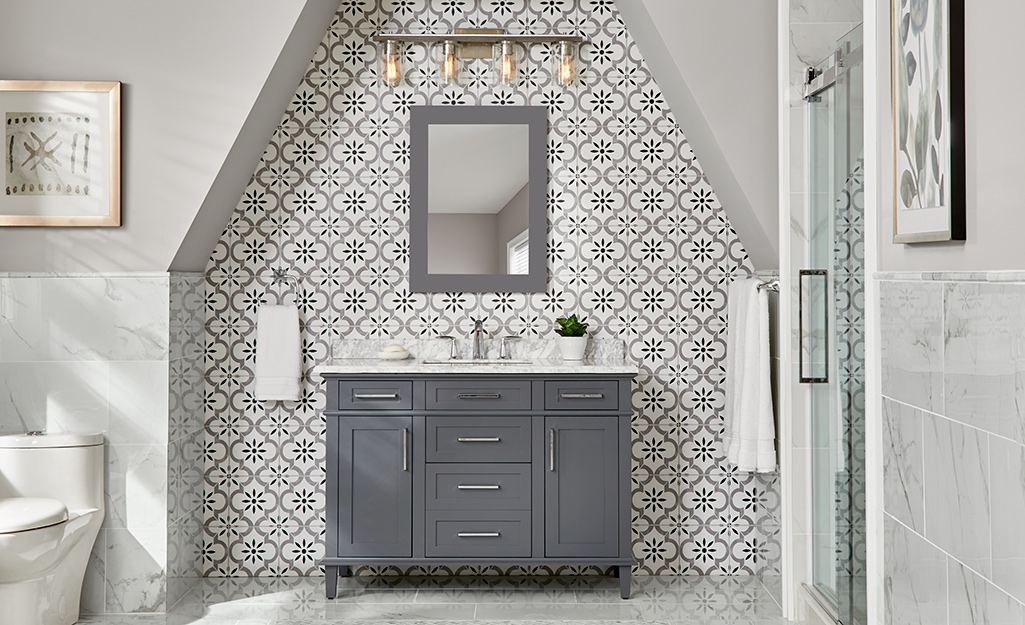 Gray is a neutral color that works with complementary tones like green, teal and turquoise. Install patterned gray tiles around a bath or shower to highlight those areas. Try mixing light and dark shades of gray in parts of the bathroom for a coordinated effect. 
Shower Tile Ideas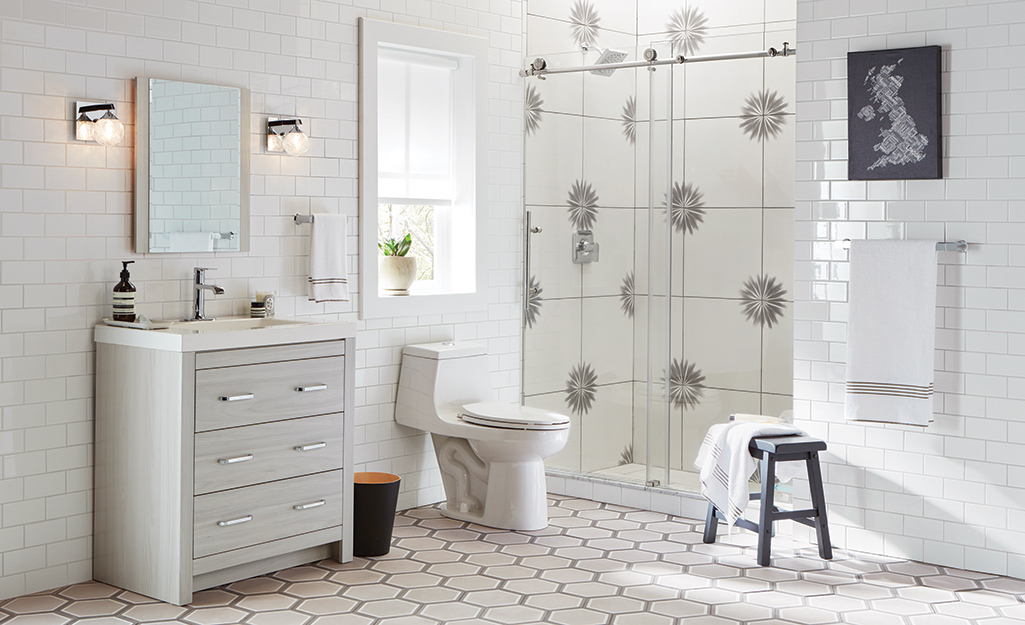 Consider bypassing the traditional small ceramic squares and go for bathroom tile ideas that will really wake up your shower. For example, choose larger squares of porcelain tiles with a bold graphic such as a freeform flower design. Keep the look crisp with a white and gray palette. 
Small Accent Wall Tile Ideas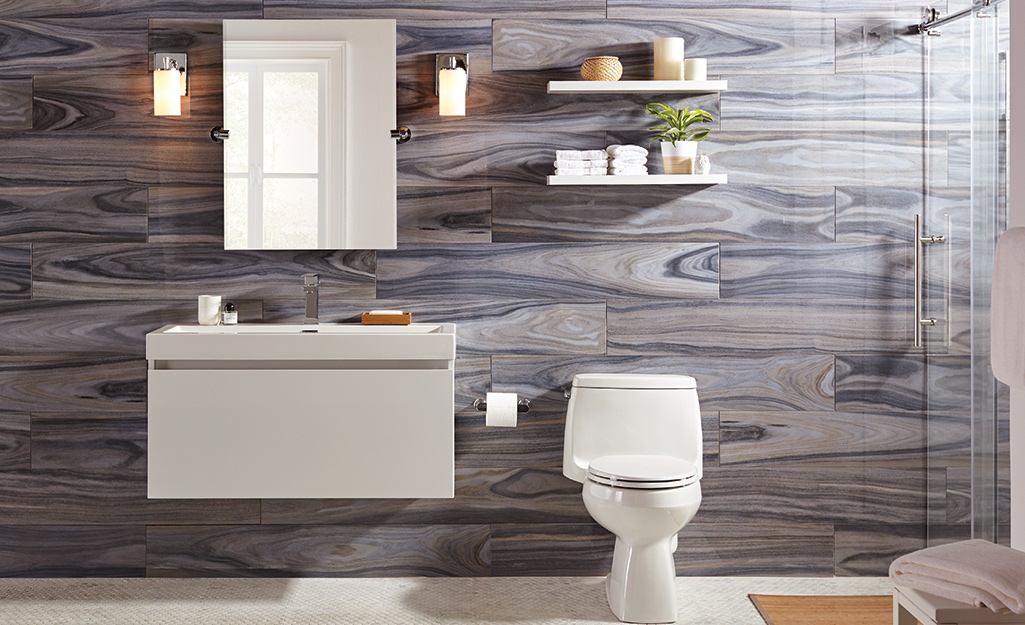 A popular tile design for a bathroom is an accent wall using small tiles in a contrasting color Try something a little different by choosing a wood floor tile on your bathroom wall or pictures of bathroom tile instead. 
The surprising contrast of "real" wood grains and sleek porcelain fixtures will give your bath an upscale, spa-like feel. 
Charming Tile Ideas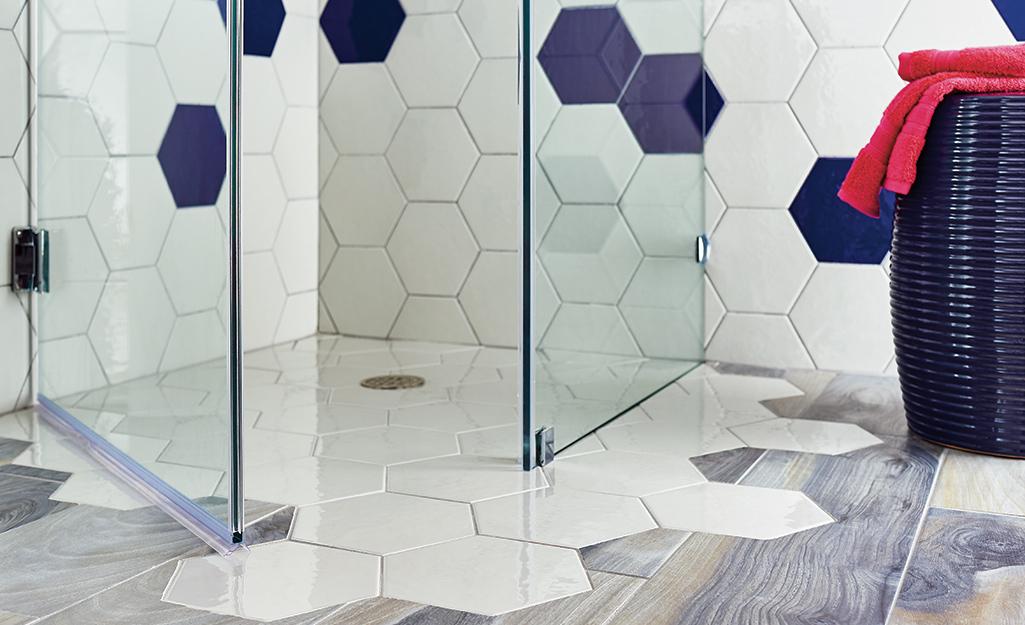 Place a simple vanity in warm wood tones against a honeycomb of blue and white small wall tiles for an unexpected touch of charm to your bath. Use large ceramic or porcelain floor tile squares in beiges or tans to ground the look. 
Modern Tile Ideas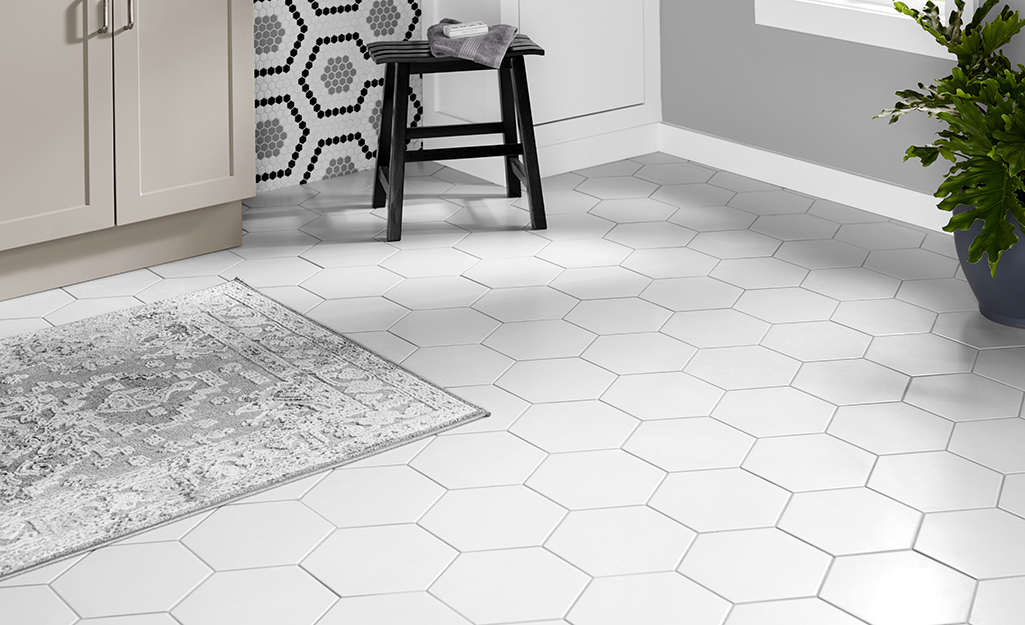 Tiles of hexagon shapes, Moroccan-influenced patterns and art deco shapes are showing up in homeowners' bathroom floors and walls. Textured finishes and graphic mosaic patterns are trending among tiling ideas for bathrooms. Matte finish tiles and neutral colors like white, gray and cream are highly popular bathroom tile ideas.
Best Bathroom Floor Tile Ideas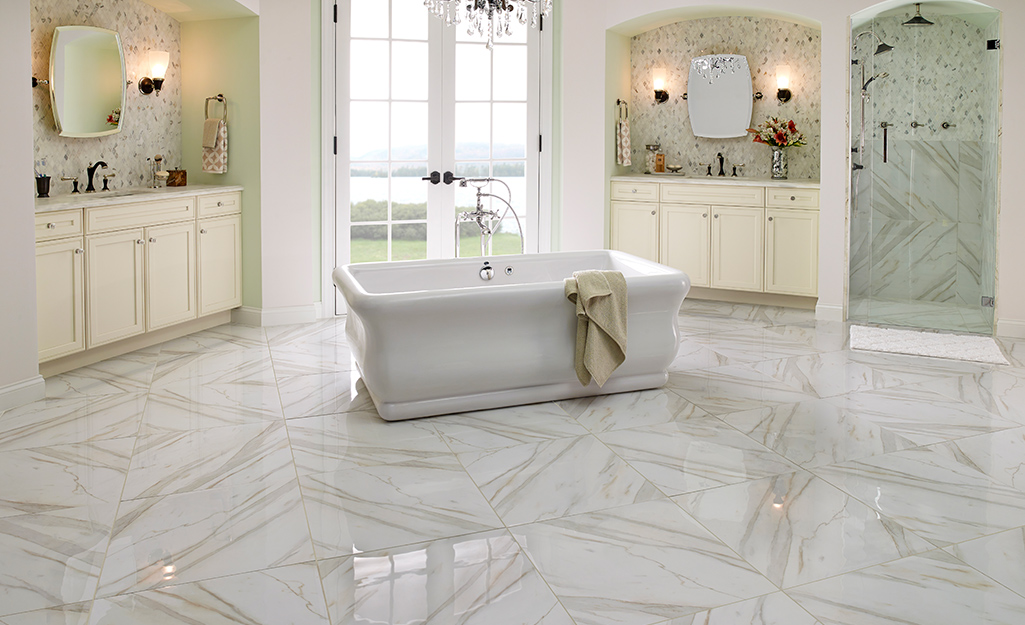 The best bathroom floor tiles are those that are durable and thick enough to not crack or break under heavy traffic. It should also be easy to clean and sanitize. Slip-resistance is a plus.  
One of the best tile bathroom floor ideas is marble. Marble look bathroom tile really elevates the look of a master bath. 
Best Bathroom Wall Tile Ideas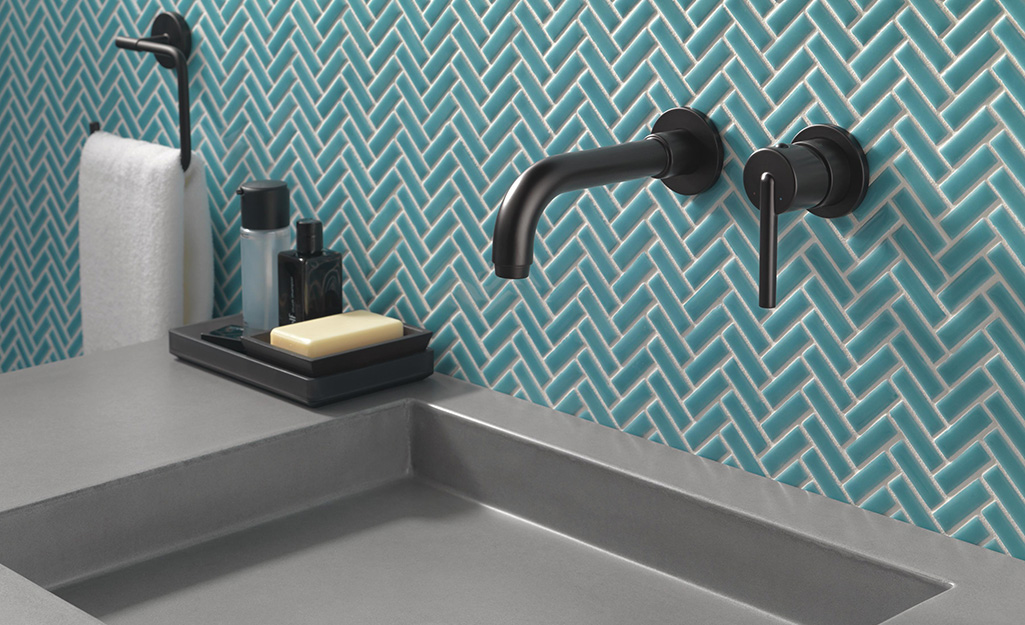 Any time you're putting any tile on a wall, a key consideration should be weight. 
Most real natural stones, such as marble and granite, are very heavy and should be installed by a professional. You can, however, use a ceramic or porcelain wall tile made to look like natural stones. They are also much easier to install and more budget-friendly. 
Stylish Small Bathroom Tile Ideas
Tile ideas for small bathrooms cover everything from plain and simple to luxe and indulgent. They are an ideal space to get creative with a bathroom tile wall. 
Mix different tile materials to match your personal style. Plus, small bathrooms make high-end tile options such as granite more affordable. Look at pictures of bathroom tile that display unusual colors or patterns and apply these ideas to your own small lavatory space. 
Try Oversized Tiles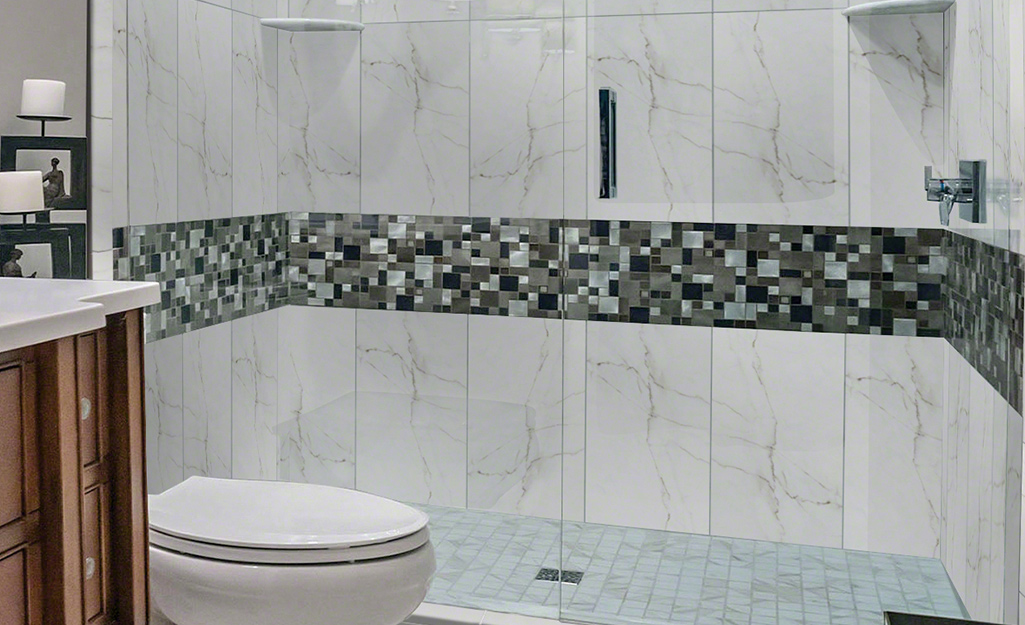 Small tiles can make a small bathroom feel busy and crowded, but big tiles in a small bath can give it a more spacious feel. Large format tiles also reduce the appearance of grout lines. 
Choose neutral colors or white tile for the bathroom floor to create a calming effect. Add graphic pattern tiles to wake up the bathroom's look. A horizontal stripe made of medium tiles at eye level can also give the illusion of wider walls. 
Mix Up Tile Patterns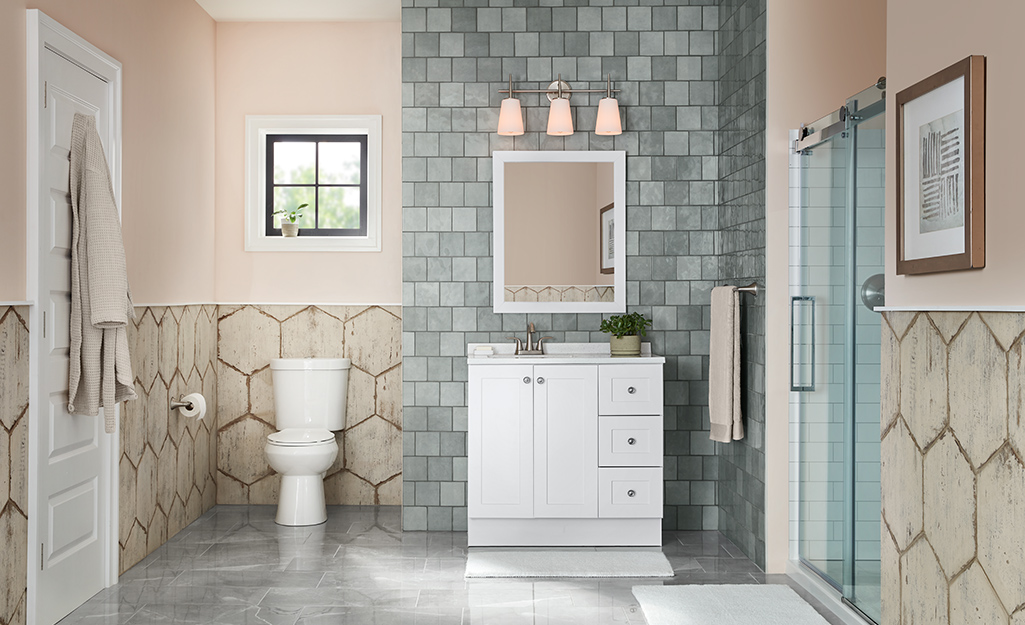 Play with pattern in a small bathroom. Bathroom floor and wall tiles don't have to match. Different sized tile designs in a monochromatic color palette keep the eye moving, making a small bath appear more interesting and less cramped.  
If you're ready to have tile installed, The Home Depot's tile installation services can help. Need help identifying a tile, tool or material? Download The Home Depot Mobile App to find product images fast. Snap a picture of an item you like and we'll show you similar products.