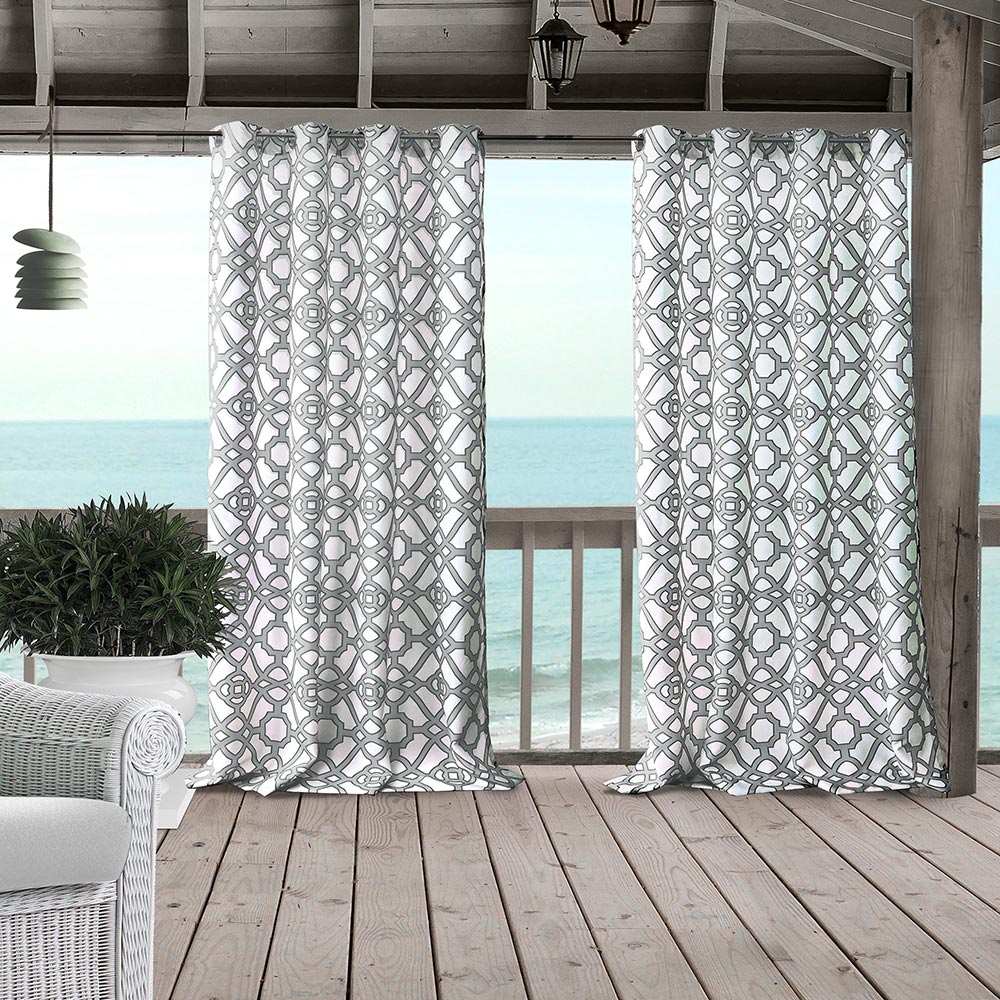 Curtains and drapes provide privacy and help accent your existing decor. This added style and privacy can also be applied to your outdoor spaces. Read on to learn more about choosing and hanging outdoor curtains that suit your outdoor space.
Choosing Your Outdoor Curtains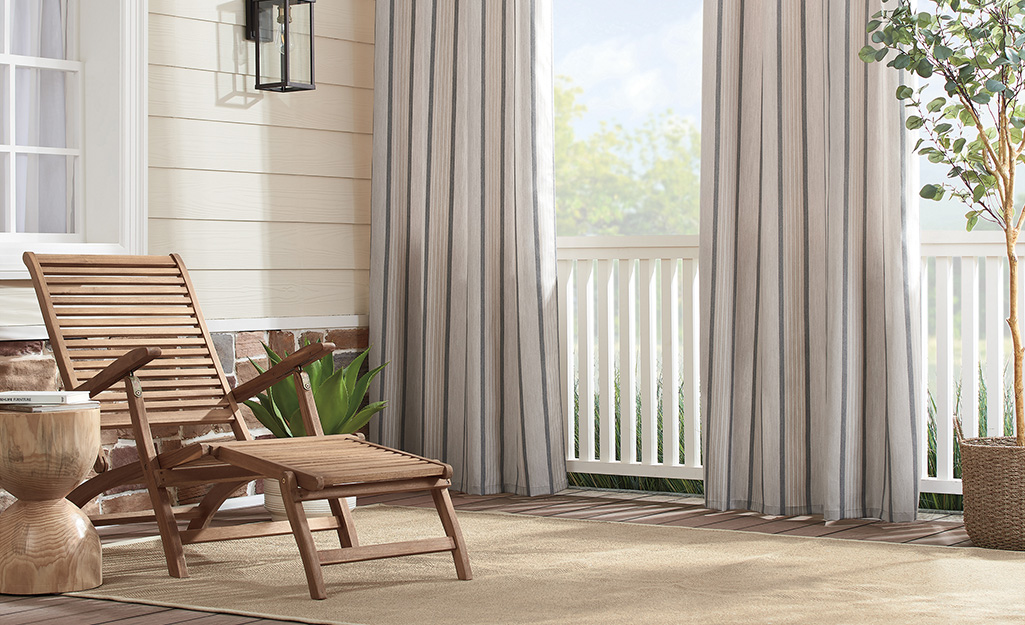 Outdoor curtains come in a wide range of fabric and material types and various different styles. Here are a few things to look for when shopping for outdoor curtains:
Waterproof and weather resistant: Certain materials are created for spaces that are exposed to rain and rough weather. These outdoor curtains can stay up even it's too cold for you to be outside.
UV ratings: Some outdoor curtains are designed to block harsh UVA and UVB rays. Look for UV-rated outdoor curtains if you're outfitting a deck or patio that gets excessive amounts sun during the day.
Built-in grommets or tab tops: These are easy to hang and don't require extra work on your part.
Width and length: Outdoor curtains come in an array of widths and lengths. Find where you want to hang your curtains and take measurements of the space. You can hem and alter outdoor curtains, but a variety of sizes makes it so you can buy and hang them in one day instead.
Outdoor Curtains Colors and Styles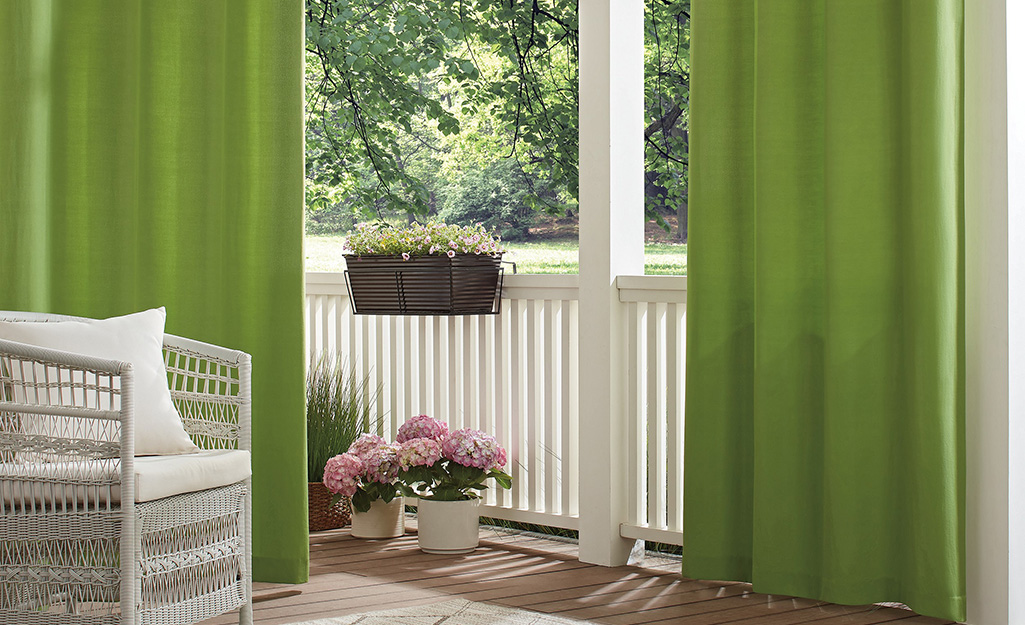 Outdoor curtains should blend in with your outdoor furniture, rugs and accessories, giving your exterior space a comfortable, stylish appearance. Look for these styles when shopping for outdoor curtains for your deck or patio:
Plain and textured curtains: Not every outdoor space needs lots of patterns or splashes of color. Let the natural beauty of nature shine with neutral or single-colored outdoor curtains. Outdoor curtains in darker hues can also add drama to your outdoor space.
Stripes an geometric patterns: Make your outdoor space more modern with curtains featuring stripes or geometric patterns. Monochromatic or multi-colored options are available. 
Floral and nature prints: Play up the outdoor motif with floral and nature print curtains. Look for bold, colorful styles, or more subdued, neutral options to create a relaxing space. 
Sheer and lightweight curtains: Dark decks and patios don't need UVA and UVB protection. Instead, choose sheer curtains to let some natural light in. Look for lighter options to allow extra light into your space.
Hanging Outdoor Curtains with Curtain Rods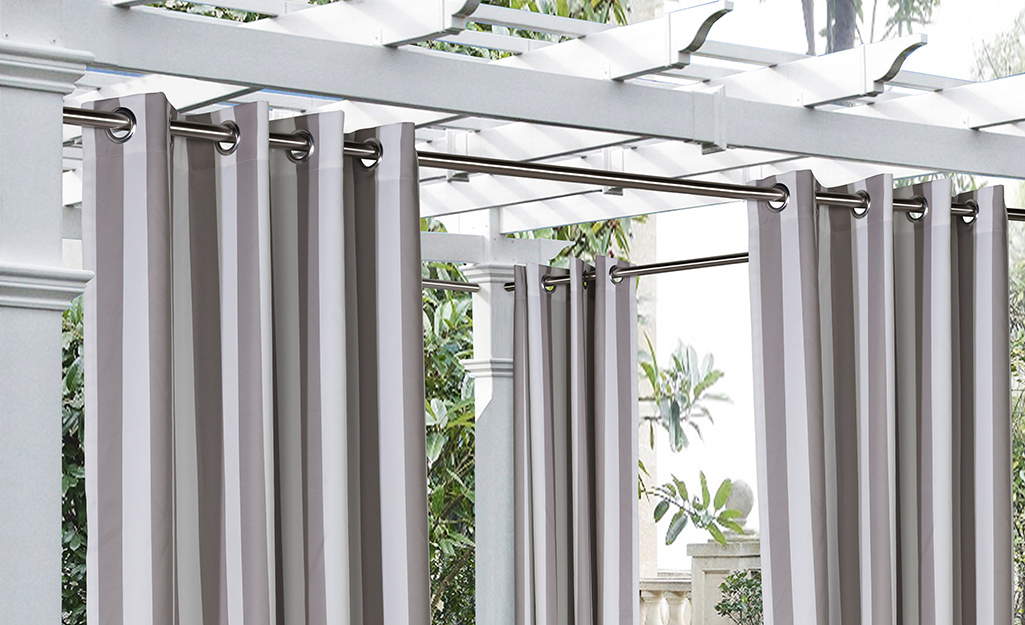 Many outdoor curtains come with grommets already built into the header of the curtain. Others have a tab top made from the same material as the curtain itself. 
If you find a style that you like with built-in grommets or tab tops, you can simply use a traditional drapery rod to hang your exterior curtains.
Measure each individual area where you want to hang the curtains and decide where they will open and close. Drapery rods can be easily mounted into wood with drapery hardware, so your patio or deck covering is an ideal choice for this type of installation. 
You can also use rods that work on tension if you're using lightweight curtains. Once you measure the opening where you want to mount the rod, you can look for an adjustable mount or a tension-style rod that offers a more secure fit.
Ultimately, make it a point to choose the outdoor drapery rod you like best. Try to accent or match your existing decor, like door handles, to give your exterior space a well-designed look. 
Hanging Outdoor Curtains without Curtain Rods
Drapery rods are an easy, simple solution for mounting outdoor curtains around your deck or patio area. However, some exterior spaces don't have the kind of structure that supports rod installation. If this is the case for your patio, consider using heavy-gauge exterior steel wire rope to mount your draperies. 
Eye hooks and wall anchors can be used to secure one end of the wire to a nearby structure, post, beam or the exterior of your home. Run the other side of the steel wire through the grommets or tab top on each drapery panel you want to hang before mounting the other side with additional eye hooks and wall anchors.
Important Curtain Features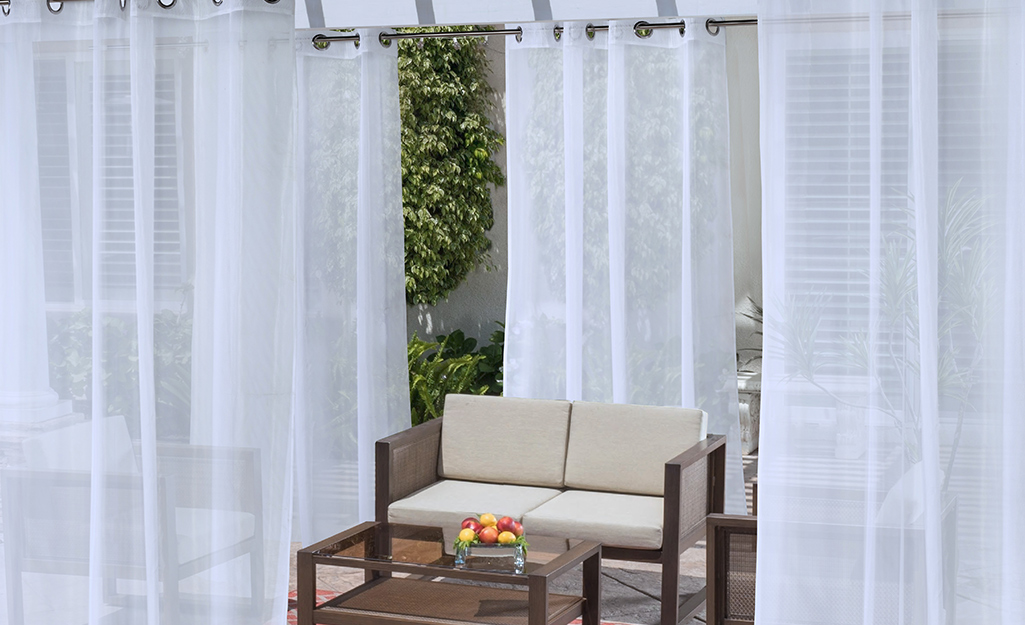 Curtain rods are the easiest method for hanging. After measuring your outdoor space and deciding where you want to hang your curtains, choose the kind of rod you want to use. Drapery rods can be mounted into wood with hardware. Your patio or deck covering is an ideal choice for this type of installation. 
Tension rods are a good option for lightweight curtains. First measure the opening where you want to mount the rod. Then find an adjustable mount or tension length that fits best.
Whether your curtains have tab tops or grommets, simply thread the rod through the openings to hang them.
Tip: Use rod connectors on corners to avoid issues when separate rods meet at an angle. If you find your curtain is sagging in the middle, add additional support.
Measuring Outdoor Curtains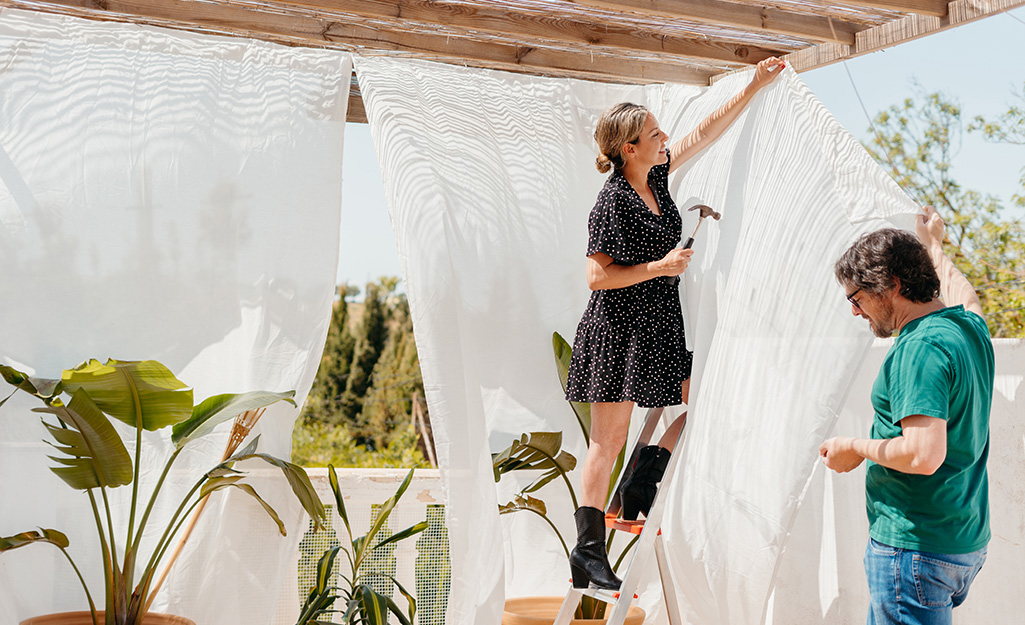 Choosing the correct curtain size is important. Think about where you'll mount your curtains. Your rod should be mounted two to three inches above the opening. 
Make sure to choose the correct curtain length. It should hang a couple inches off of the ground. If you choose panels that are too long, they'll collect dirt and soak up water.
Consider adding extra width to create a fuller look. Standard panels are usually 50 inches across. Purchase two to three additional panels and hang them together. This adds fullness and coverage without pulling the curtains tight.
The Home Depot is your DIY headquarters. Looking for a product to complete your project? We have options to deliver online orders when and where you need them.
Explore More on homedepot.com